There comes a time in a car enthusiast's life  when they are faced with a very important  decision while considering their next car purchase. Form? or Function? We've all been there, and for most it's an easy decision to make. We ask ourselves: do I want to be able to put the worry of destroyed roads and speed bumps in the back of my mind while being able to take total advantage of the performance features of my car? Or is it totally worth it to have to drag the 2×4's out of the garage every morning just to get out of the driveway, dodging every bump in the road to ensure my car gets me to work in one piece? But why has everyone's own opinion led us to believe that we really do have to ask those questions and choose one or the other? With so many performance-packed production cars on the market today, and so many different suspension options to choose from, it really is possible to have the best of both worlds.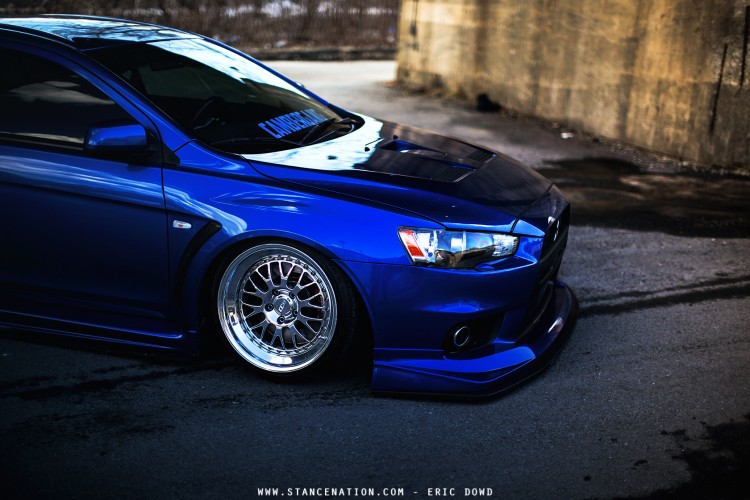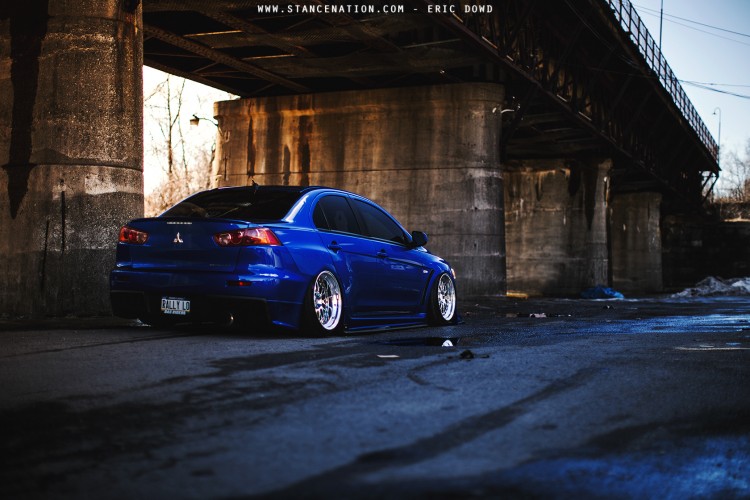 Sam has owned four other cars before purchasing the car you see here, and is going on his third year owning it. The diversity of the Evo played a big factor in his decision to purchase one . "There's an endless amount of possibilities of what you can do with it, as well as different styles that the car can pull off, with its aggressive body lines and the superior AWD system."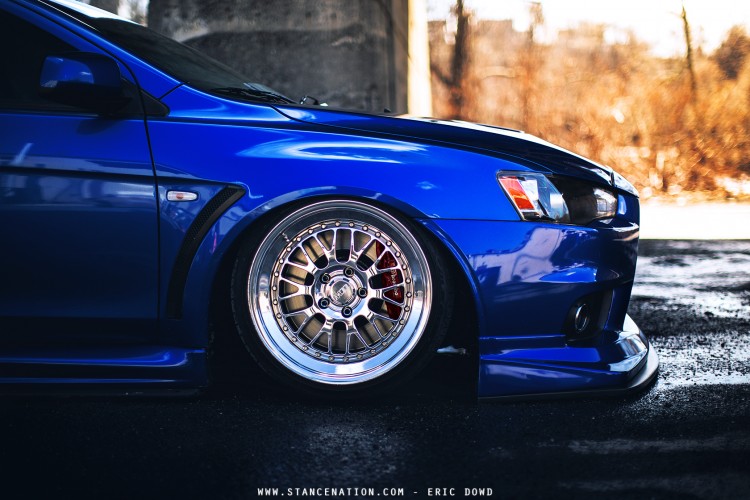 Though the decision on which platform to build off of was easy, having the best of form AND function didn't come without it's own set of challenges. With no available air suspension on the market for the tenth generation Evolution, Sam had to set out to find a company willing to build a kit for the car. His persistence paid off, and the car lays out nicely on Ksport air suspension. Making it easily adjustable when he really needs to get somewhere and use the car as some would say it was intended. Another problem he ran into while building the car was trying to get wheels to clear  the massive Brembo brake kit up front, but with the help of CCW, the LM20's clear them flawlessly.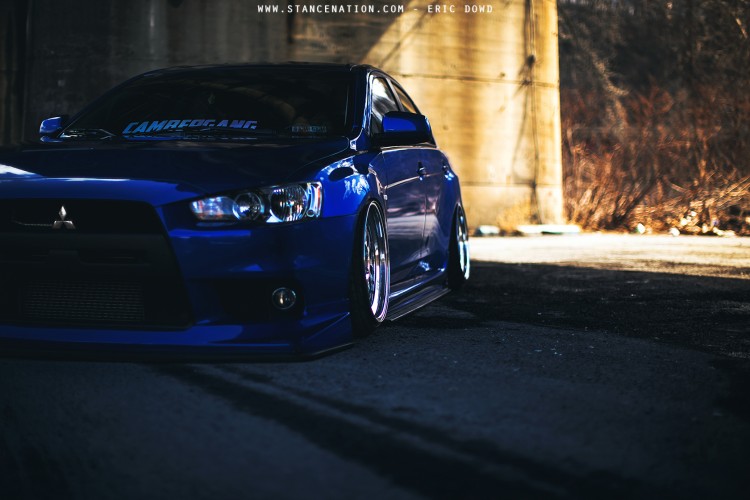 Out front, Sam chose to go with an aggressive Voltex front lip and splitter, and tied it into the rest of the car with a set of sideskirt extensions.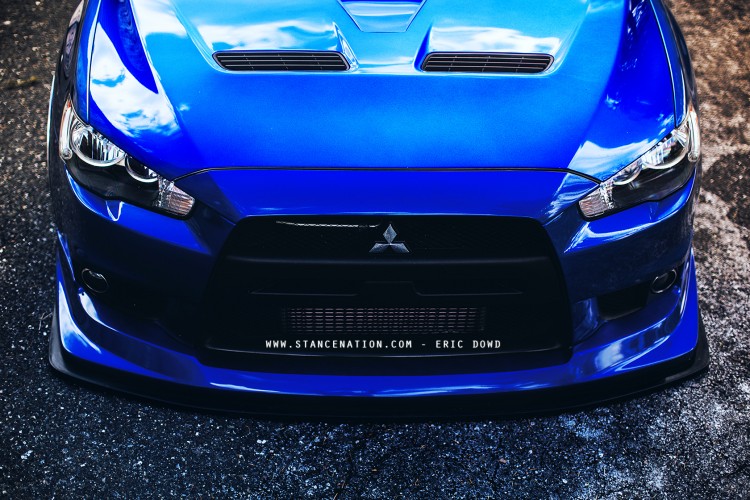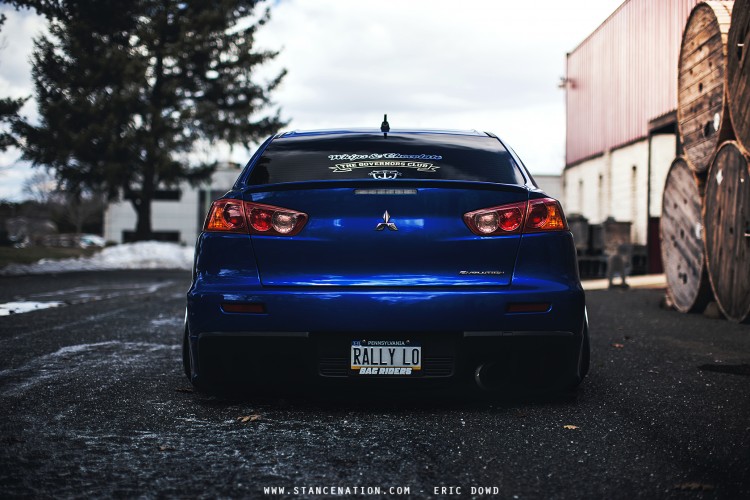 To achieve in my own opinion, "the perfect fitment"  Megan racing toe and camber arms were added to tuck the Falken tires neatly behind the fenders with the touch of a button.
The car sits on a square set of 18×11 polished CCW LM20's with -6 offset up front with 3″ lips, and -16 offset in the rear with 5″ lips. All wrapped in 235/35/18 Falken Ziex 912 tires for just the right amount of stretch.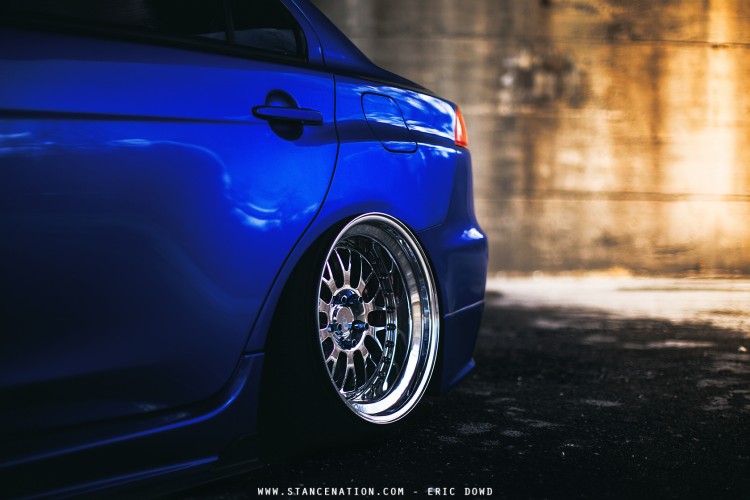 For performance modifications, Sam kept things simple. "As for the engine, Mitsubishi built a pretty much bulletproof 4b11 which you can get easy bolt on power. So until I have problems with it, I don't plan on getting too crazy with engine mods. The 352whp by Iveytune is still enough to have fun with that's for sure."  Just for good measure though, an Invidia N1 race turboback exhaust, Injen fmic piping and intake were added to the car.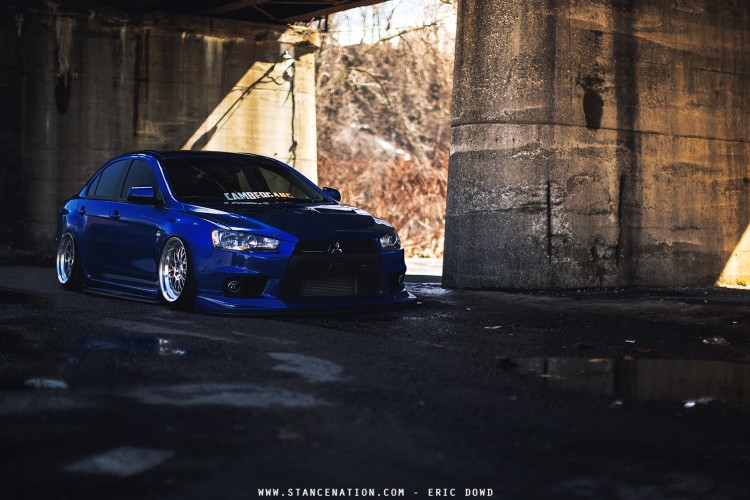 As for future plans for the car, Sam has been undecided on what direction to take next. Which is easily understood when it seems that the cleanliness and simplicity of the car couldn't get much better. But he does tell us that he is thinking in the near future, he could see himself adding a set of Takata harnesses, a wing, and new wheels. Whatever he decides to do, we can't wait to see it progress even further.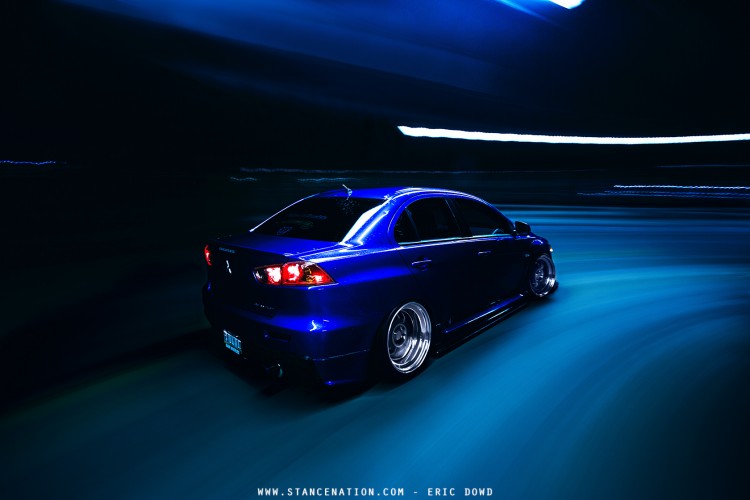 Wheels/Tires/Suspension:
Ksport air suspension
Megan racing toe and camber arms
CCW LM20
18×11 et-6 front with 3 inch lips.
18×11 et -16 rears with 5 inch lips.
Falken Ziex 912 235/35/18.
Exterior:
Voltex front lip & splitter
Voltex sideskirt extensions
Engine:
Invidia N1 race turboback exhaust
Injen fmic piping and intake
Works short throw shifter and bushings.