An industrial designer by trade, Jonny Lucas used his talents to create a one-off Hyundai Genesis Coupe that stands out at any event. Dieter Rams, a famous German industrial designer, says that good design is "aesthetic" and "thorough down to the last detail". Jonny's Genesis Coupe epitomizes these design principles perfectly. Very few builds are as well thought out and as meticulously planned as Jonny's, and in just a few moments you'll see exactly why.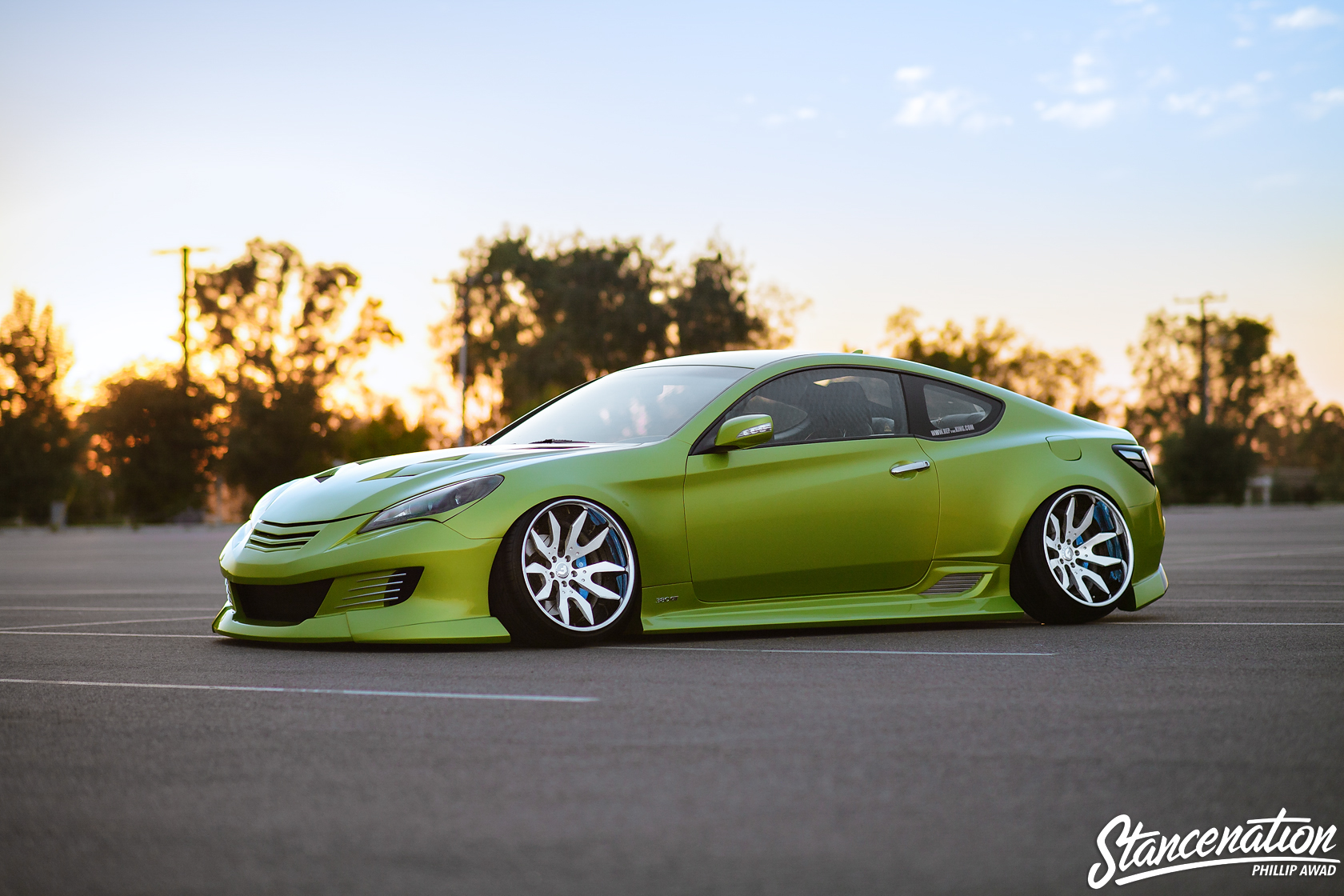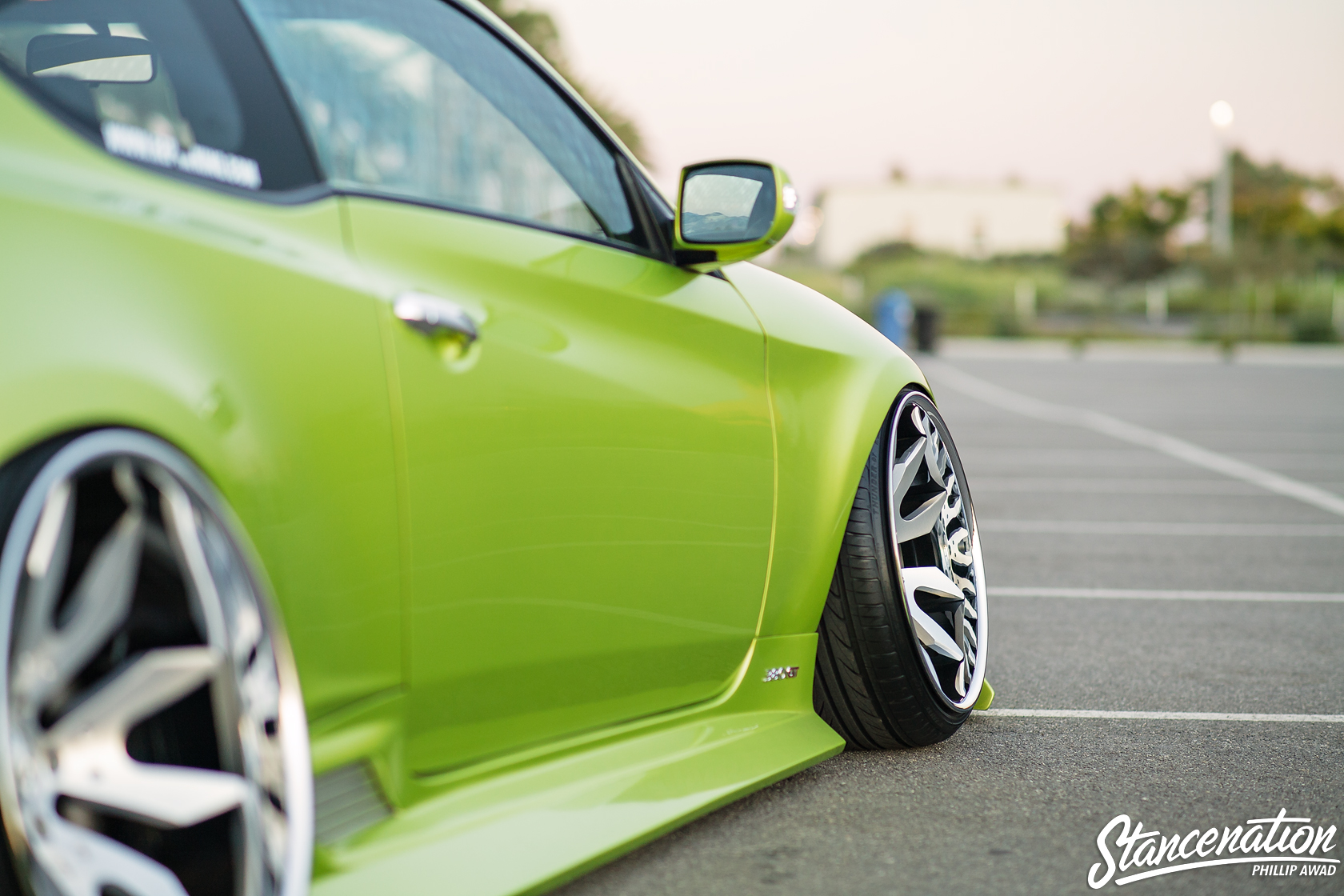 Jonny purchased his 2010 Hyundai Genesis Coupe brand-new back in 2009. With his background in design, he couldn't purchase a car based solely on its consumer ratings or performance specs. He needed something that was eye-catching. One afternoon on his way home from work, he saw a Genesis driving towards him on the opposite side of the freeway, and it "broke [his] neck somethin' fierce". He immediately searched for the nearest Hyundai dealership and headed there that night. He test drove a silver 3.8L V6 Genesis Coupe, fell in love, and he was ready to sign the purchase paperwork. As he walked in to sign the paperwork, a green Genesis Coupe grabbed his attention. Without hesitation, he said to the dealer, "I'm gonna go with the green one instead."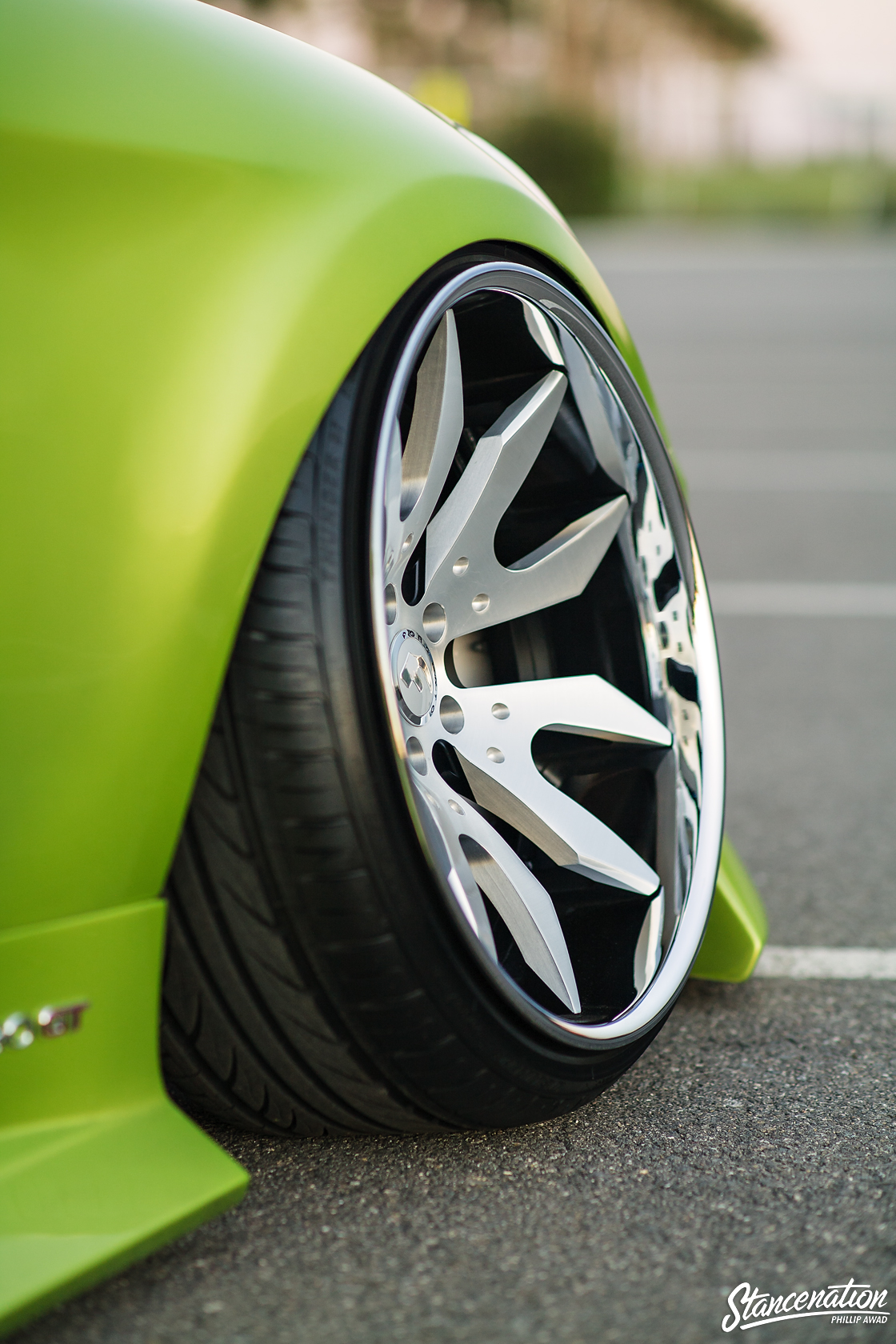 His favorite thing about the car is, of course, the design. "It was so different from the majority of vehicles that you see on the road; and not just different for the sake of being different, it had a very unique appeal to it." Even more than the factory design, he loves the re-design. The original look of the OEM front bumper was very "creaturesque", so he wanted to enhance that quality by amplifying some of those features and raising its "level of aggression".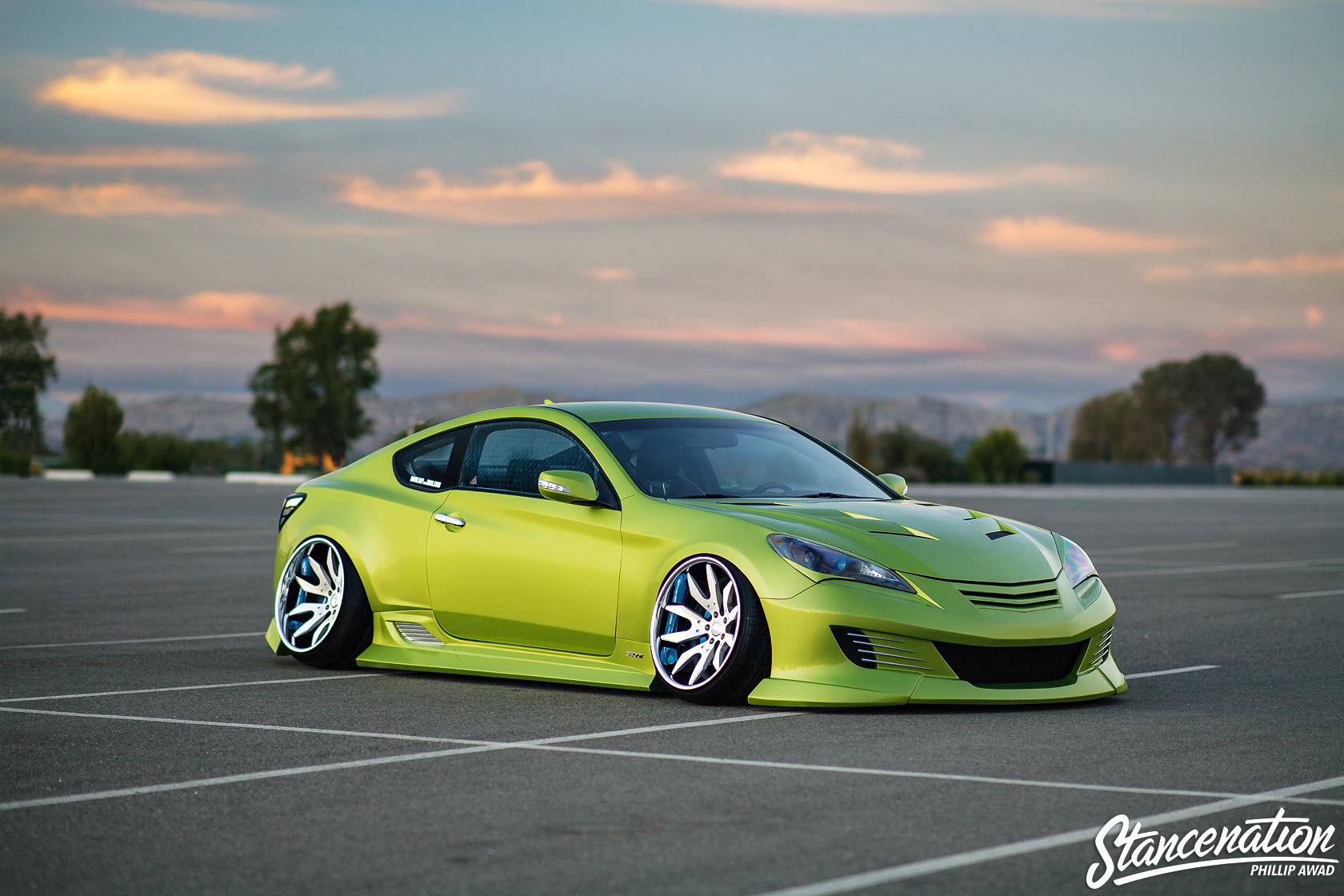 He scoured the internet for an aftermarket body kit that suited his style, but he couldn't find one. So, he decided to create his own one-off lip kit. He began designing the new look of the car back in 2012. It went through a lot of body design iterations and wheels choices before he landed on the current look. The entirety of 2013 was spent hoarding parts (e.g. lips, wheels, lights) for his build and storing them in his living room. The biggest challenge he had with this car was coming up with an innovative design that flowed well from every angle. "It forces you to constantly reshape and re-evaluate features that work well at a certain angle, but not so well at others. The design was constantly evolving. Even during the fabrication stage. It was worth it though."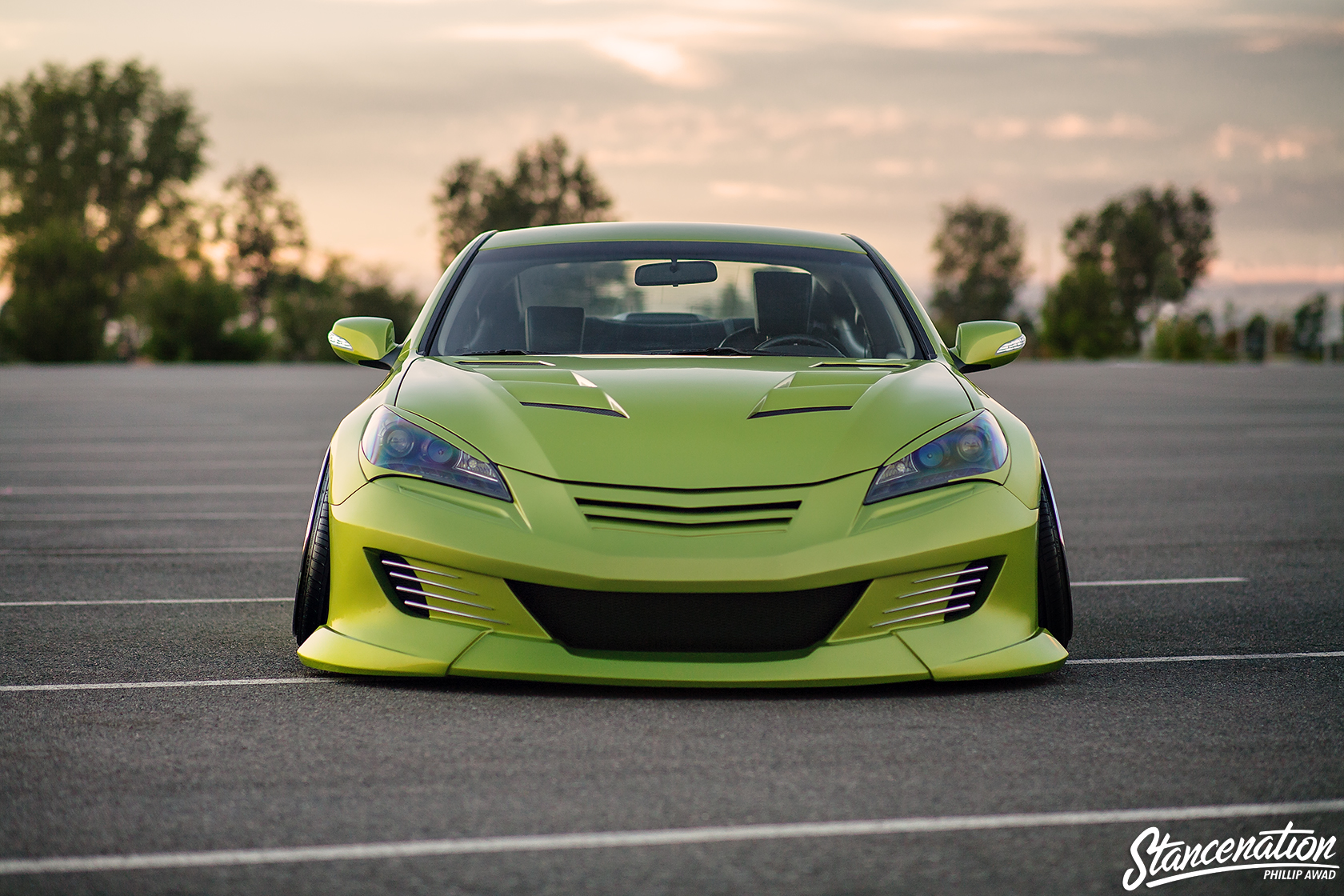 Jonny has always been a fan of concave wheels. He wasn't content with a concave wheel in the rear and a flat faced wheel up front, so he knew he would need A LOT of camber all around to make them fit. It took him some time to amount the parts needed to fit the deep concave 20×10.5 -58 front and 20×11.5 -48 rear Forgiato Artigli ECL wheels he wanted for the car; wide enough for maximum depth concave faces front and rear, while still being narrow enough to fit under the fenders and clear the suspension components. He worked closely with Isis Suspension and Part Shops Max Suspension to find a combination of components to achieve the -11 degrees of camber needed to make everything fit the way he desired. Martin at Parts Shop Max worked some top-notch custom magic on the front coilovers in order to get them to achieve the double-digit camber specs that the rear arms were yielding.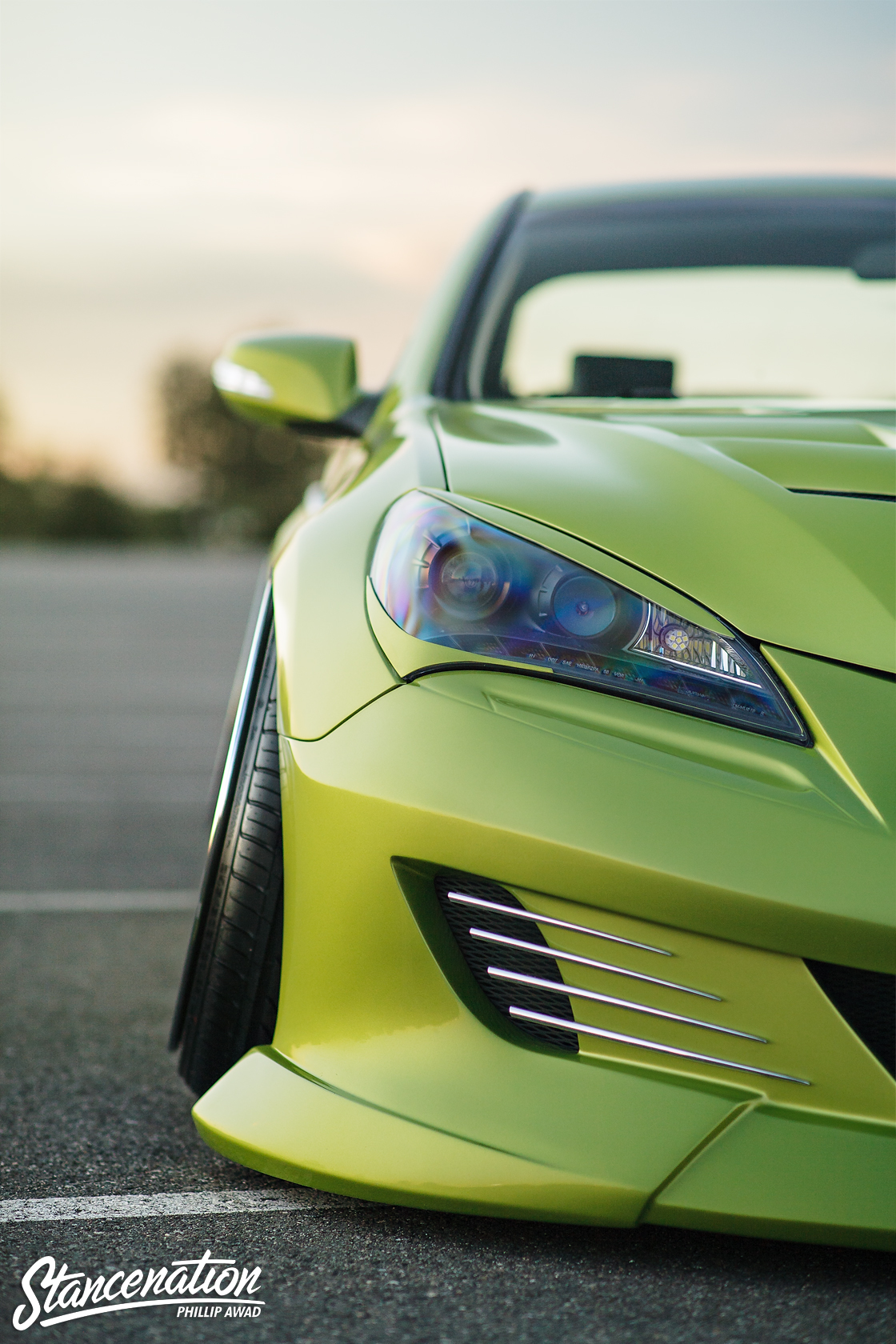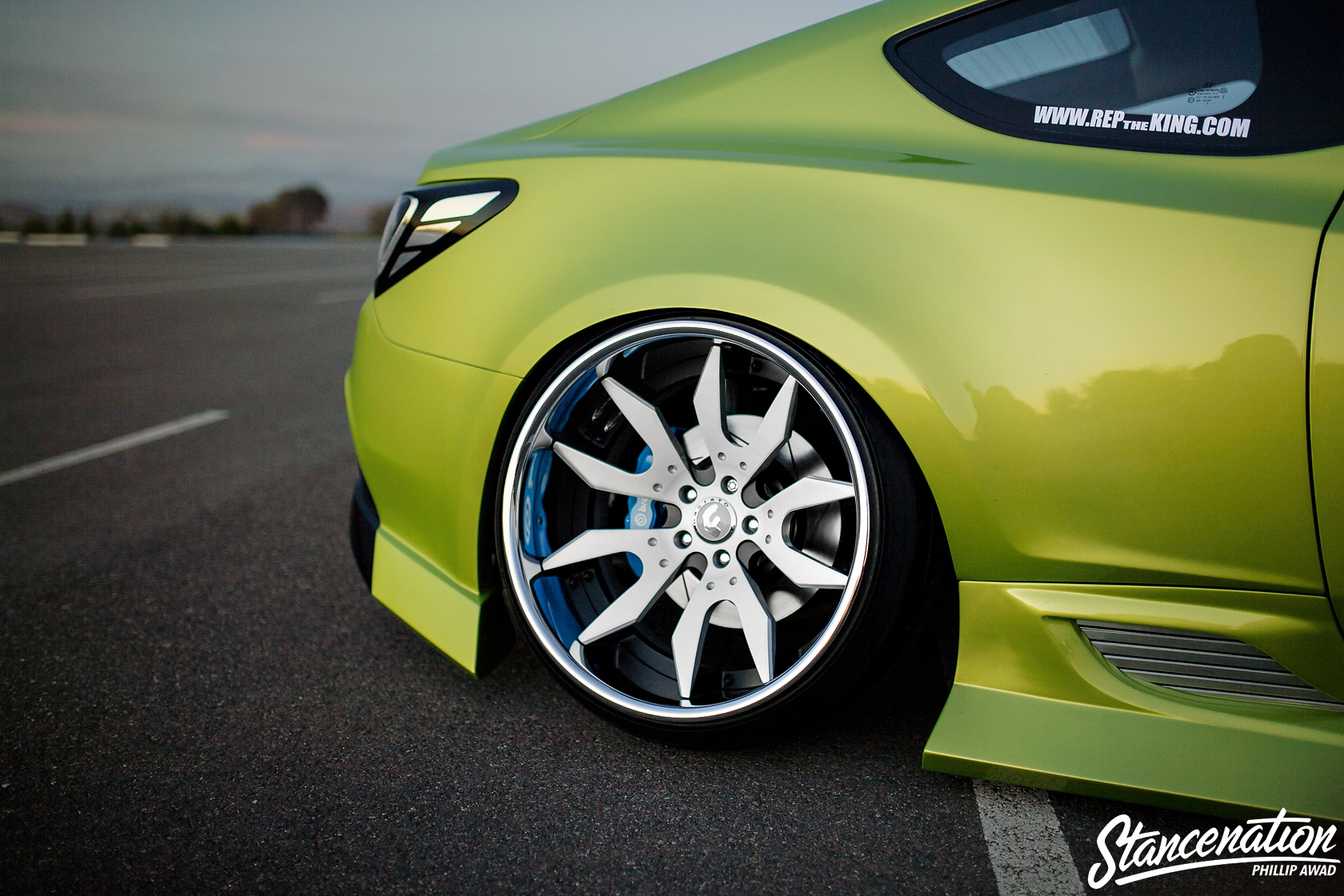 Once he had all of the parts he needed to make his renders a reality, he took my designs to Auto Explosion Custom Auto Body in Gardena, California. "They said that could fabricate my designs, so I brought my car into their shop in March of 2014 and for 3 months we worked in bringing the design to life. There were messy amounts of carving foam, fiberglass, and bondo involved but it was a fun to work with and watch as it took shape. And Praise God! In the end, it ended up looking better than the renderings, which is rare for a lot of builds I've seen, Lol. So hats off to Esteban, Damian and the Auto Explosion team for their high quality work and patience, and also for letting me work alongside them and get my hands dirty shaping everything out."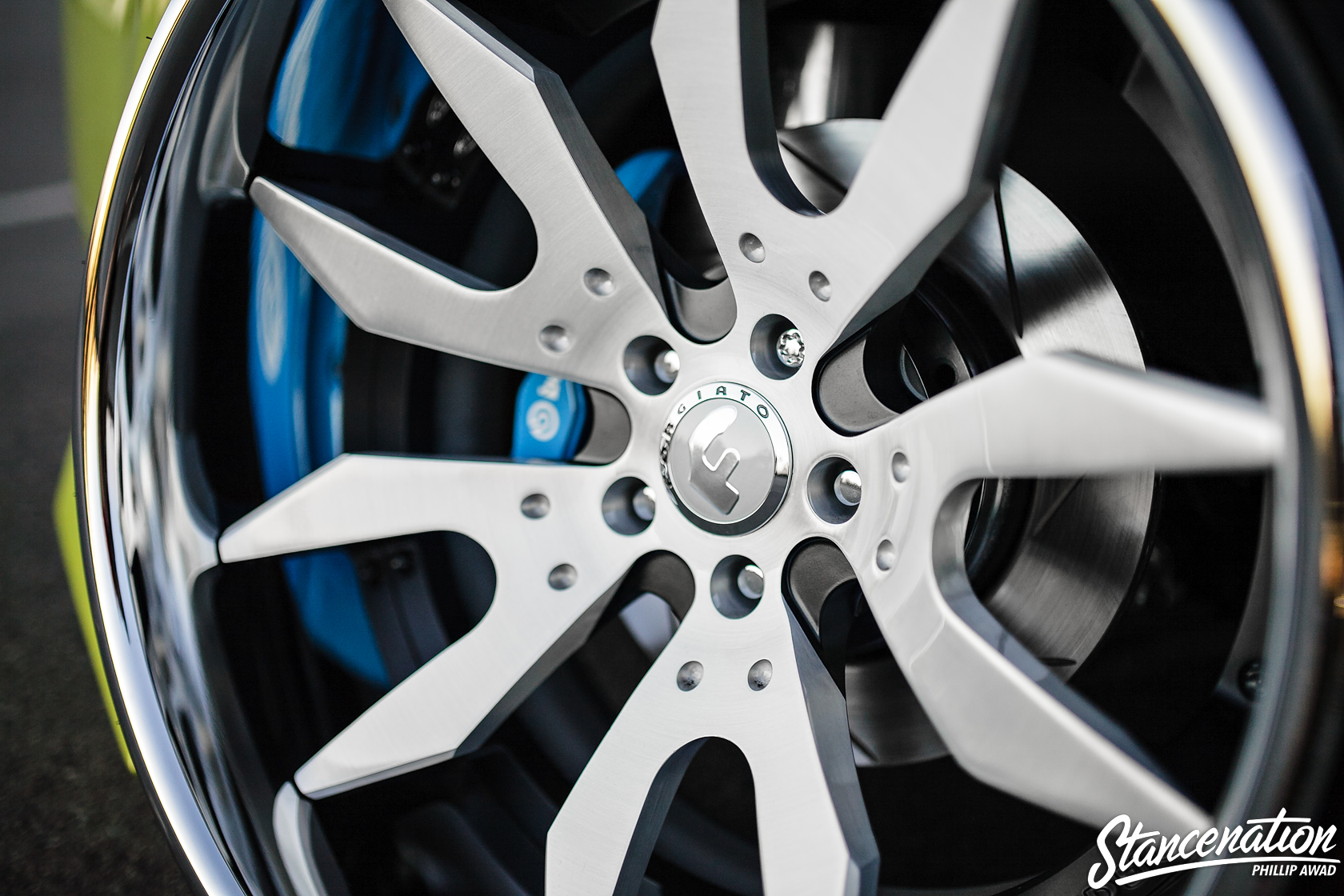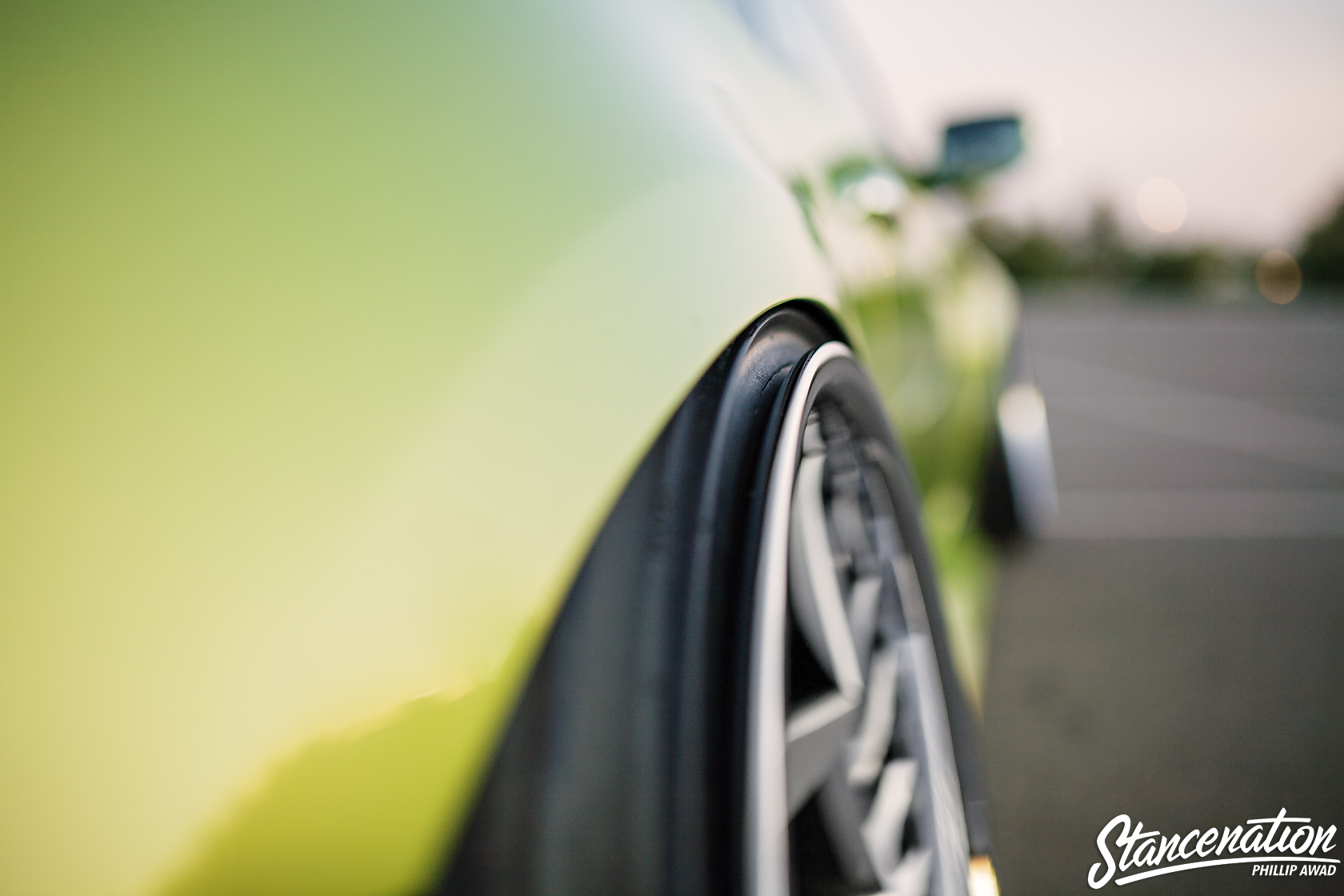 His Genesis is his daily driver/commuter car. So in order to keep the bodywork together, keep the car reliable, and make the car more practical; he opted to install the Phantom Suspension Cup Kit by Platinum VIP. The car sits on the springs of the Part Shop Max coilovers when there is zero air in the system, and the cup kit is used to lift the car a bit to help clear larger obstacles. The cup kit isn't optimized to drive at an inflated height, so this car cruises at the same height you see in the photos. "This is when the car is at its lowest and that is also the height I drive it at."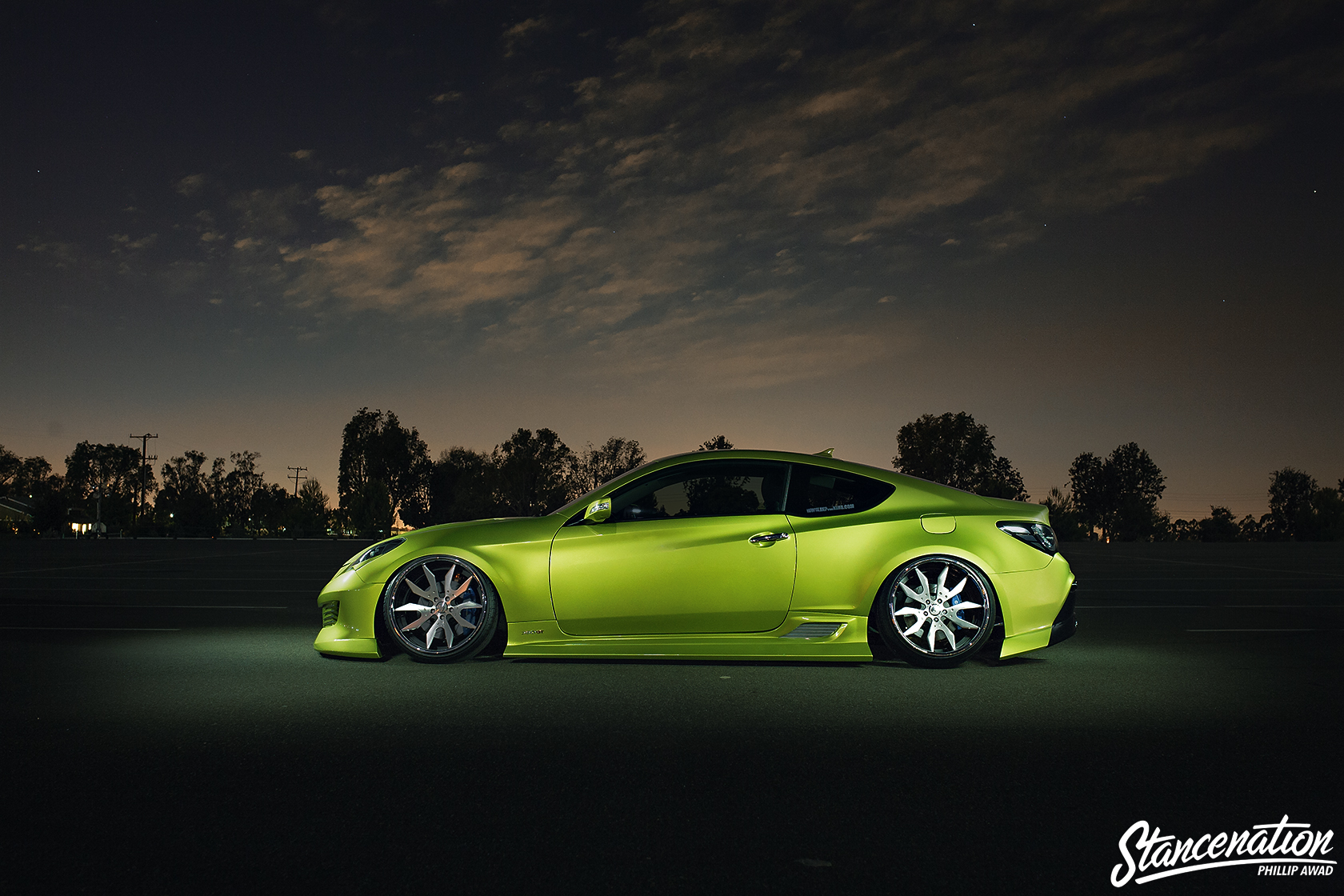 At this moment, Jonny is done altering the exterior of the car. His future plans include the interior of the car, the engine bay, and integrating every aspect of the vehicle into his style.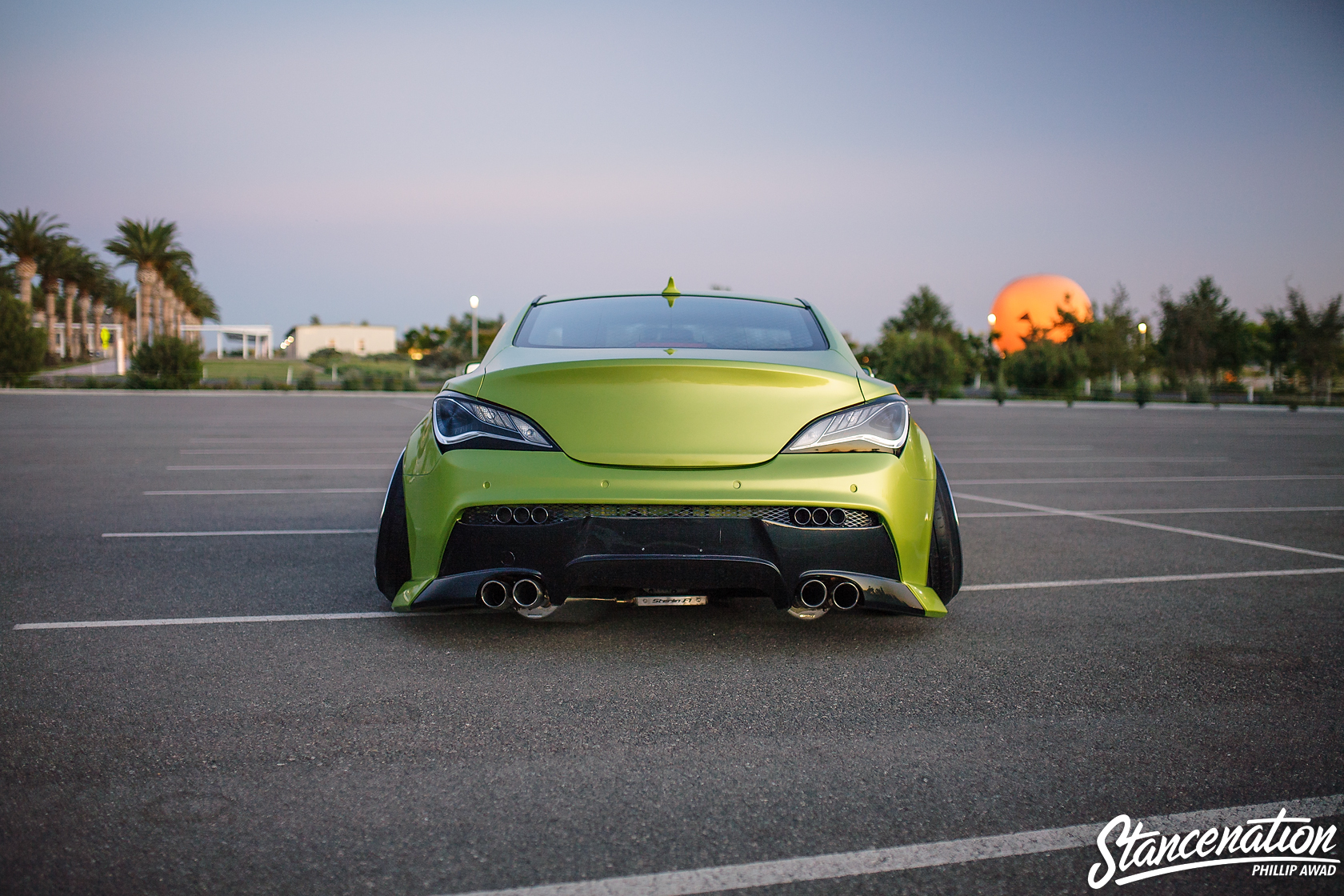 Jonny would like to thank the following individuals: "Many thanks to Esteban, Damian, and the team at Auto Explosion for their phenomenal work. Huge thanks to Mike Carducci at Import Shark for hooking me up with tons of aftermarket parts over the years. Shout out to Martin, Dave, and Dan form Parts Shop Max for helping me to achieve the super camber I was going for. Big thanks to Andy at All Star tire for working with Forgiato to get my wheels designed, custom painted and built the way I wanted. And thanks to Forgiato for an awesome wheel design. Shout out to Kennedy at Platinum VIP for all of the help with the cup kit. And huge thanks to my family and friends for their love and support of my design projects. Lastly, thank you StanceNation for the feature and the opportunity to share this design project with others."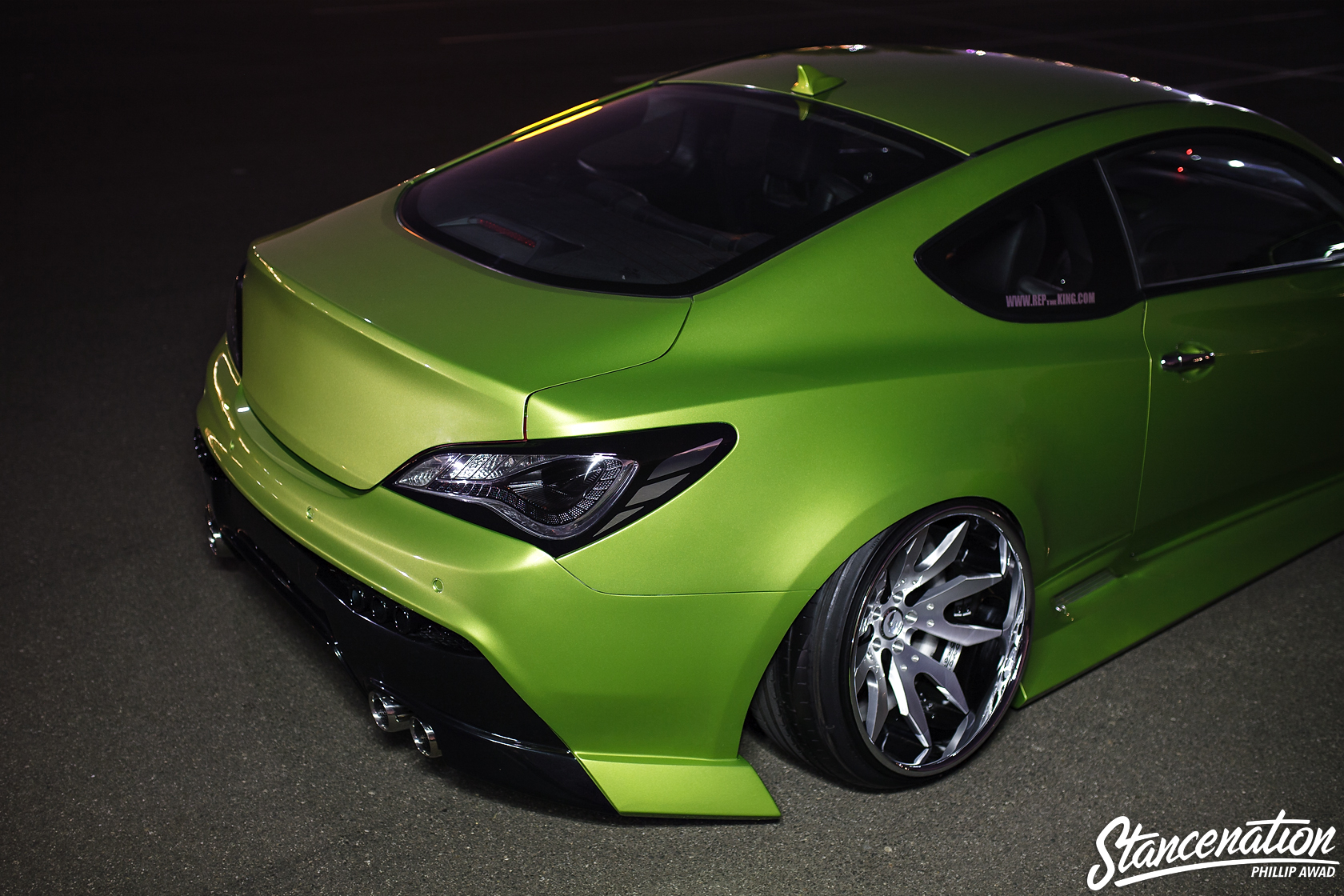 Well done, Jonny. Your design background was put to great use, this one-off Genesis is a work of art. We can't wait to see its future!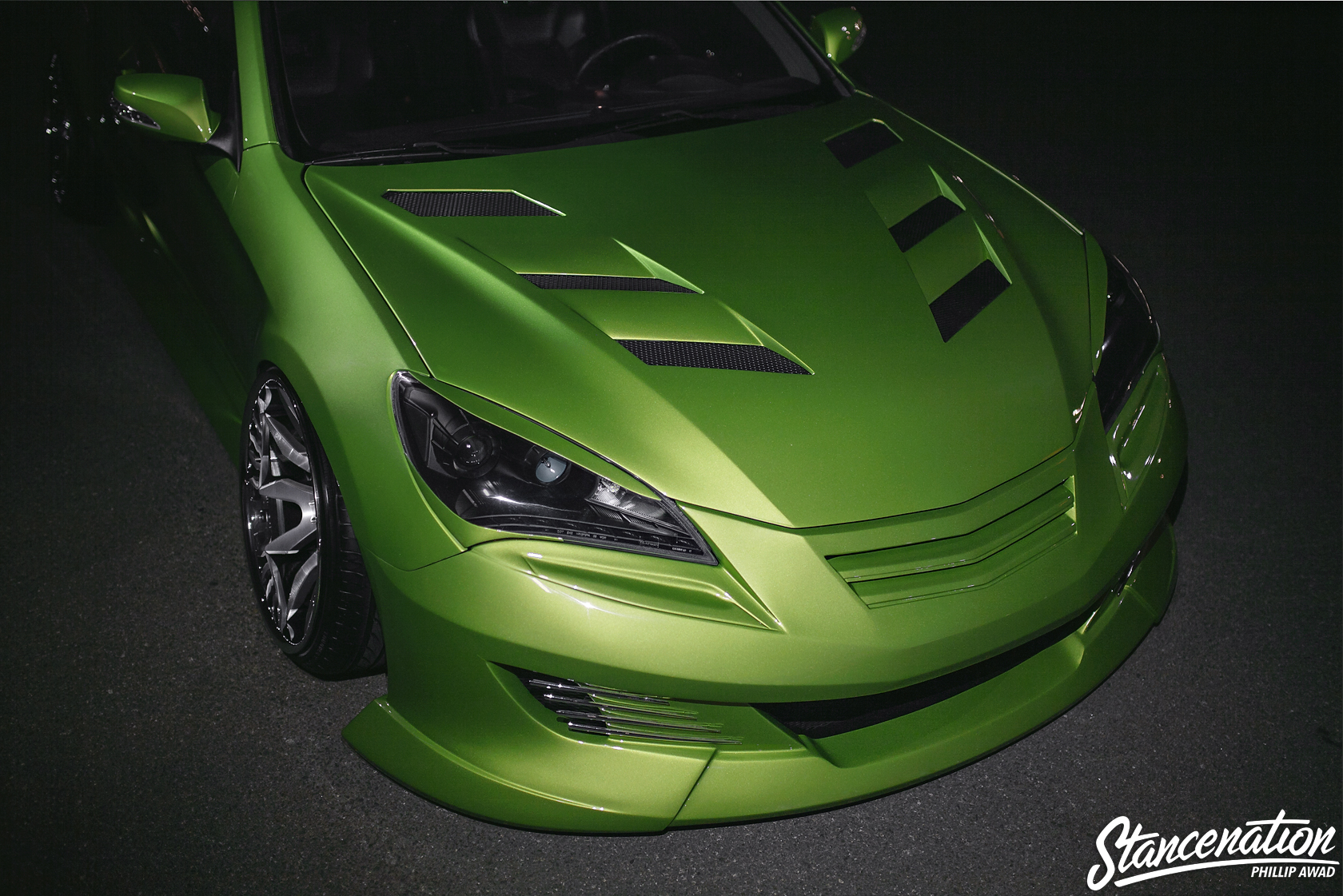 WHEELS & BRAKES:
Forgiato Artigli ECL
20 x 10.5 -58 Front
20 x 11.5 -48 Rear
Custom Powder Coated Brembo Brakes
R1 Concepts Slotted Rotors
SUSPENSION:
Parts Shop Max Customized Coilovers
Parts Shop Max Suspension Arms
Isis Performance Suspension Arms
Platinum VIP Phantom Suspension Cup Kit
Negative 11 Degrees of Camber All Around
EXTERIOR:
Custom Designed 1-Off Widebody Kit (Bumpers, Sideskirts, & Fenders)
VIS AMS Carbon Fiber Hood
Customized Spec-D Headlights
Customized Factory Taillights
Lime Rock Green Metallic Paint
PERFORMANCE:
Sterlin F1 Variable Exhaust System
R2C Short Ram Intake
GrimmSpeed Phenolic Spacer
Seoulful Racing Performance ECU Tune
SHOUT OUT:
Esteban, Damian, and the team at Auto Explosion.
Mike Carducci at Import Shark.
Martin, Dave, and Dan form Parts Shop Max.
Andy at All Star tire.
Forgiato.
Kennedy at Platinum VIP.
Huge thanks to my family & friends for their love and support of my design projects.