Every once in a while it becomes necessary to get back to "the basics." That phrase has a variety of connotations, but to sum it up, in this situation it could be best described as a return to simplicity. There are countless varieties to be found in the recipe book for building an attractive & fun vehicle, though for our purposes here at Stance:Nation a low ride height is seemingly the sole universal quality between them. In a world of limit-pushing and what seems like a competition of who can perform the most shocking modifications it's easy to lose your head. Perhaps one of the best ways to maintain your sanity is to keep it back to clean and simple.
Photos By: Mario Klemm exclusively for StanceNation.com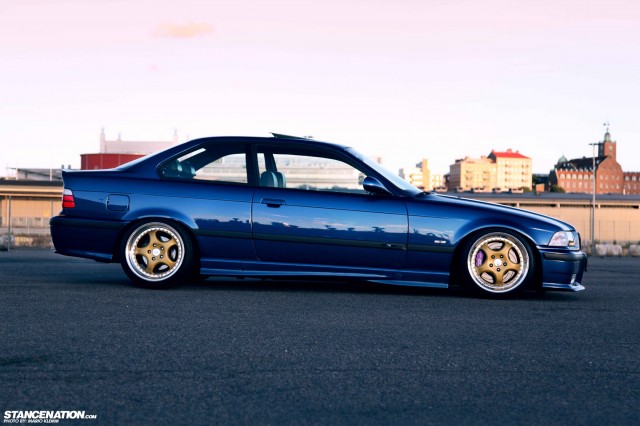 The BMW 3-series, namely the E36, has always been a popular platform for a multitude of reasons. Their reasonable pricing, impressive driving behavior, tasteful good looks, along with a plentiful aftermarket certainly contribute to the strong following. You can find them road racing, as competitive autocross machines, drifting, and of course living the low life. Being so popular has its perks, while it may be more difficult to stand out, building a nice car is usually easier to accomplish in a well supported chassis.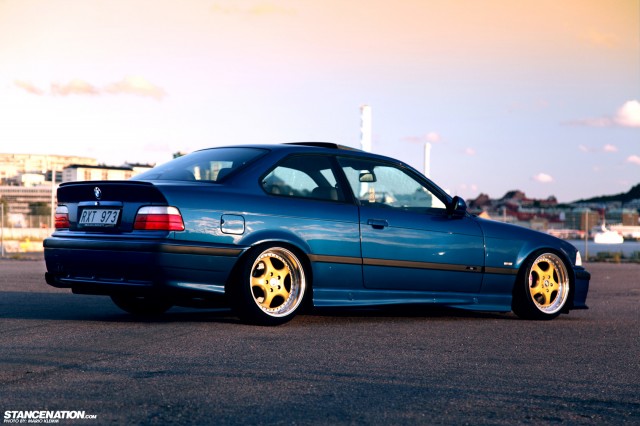 This beautiful E36 coupe has been through a few stages in its lifetime, but now finds itself representing the simple/clean crowd very well. The M-Aero pieces fit the car just right, with subtle differences making a huge impact in comparision to the factory body styling. Avus Blau has always been one of my personal favorites among the BMW hues, and this car has seen a well-performed respray in the deep finish. The Classic Race decklid spoiler replaces the DTM-Style wing once found on the car, a suiting finishing touch amongst the OEM body panels.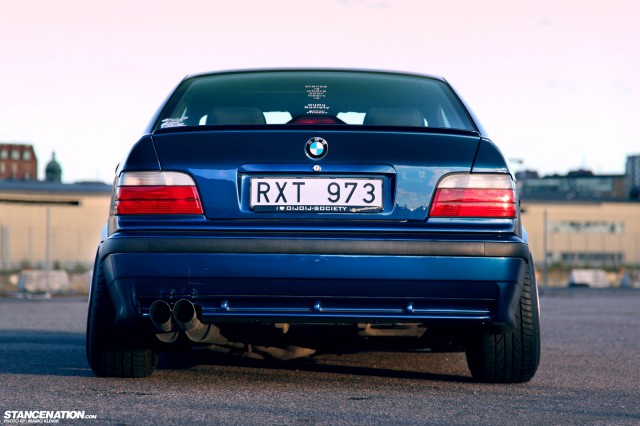 Period-correct RH ZW1 wheels fill the BMW's arches, the gold hue contrasting well with Avus Blau. Modest 17″ diameter wheels are perfectly proportioned to the E36. The 'down and out' stance is acheived without trying too hard; sized 17×8.5″ in the front and 17×9.5″ in the rear with all four effectively +18 ET utilizing custom spacers. Tires are 205/40/17s in the front with 215/40/17s stretched onto the rear wheels — enabling the polished lips to be brought close to the fenders using D2 Racing coilovers. Signature D2 Racing purple is also found behind the front wheels where the company's 8-piston big brake system is employed for stopping power.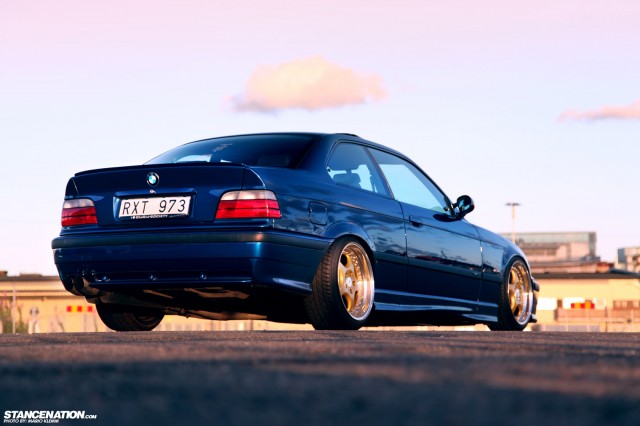 The rest of the car is near what BMW intended. Inside the updated black leather interior, a classic wooden Nardi tiller is put to work dodging potholes. When that fails, a heavy-duty aluminum skidplate is in place to protect the oil pan. While engine modifications are currently limited to an intake and exhaust system, future plans call for a streetable turbo kit. The M52B28 is a robust powerplant, recognized for big-power potential when coupled with a turbocharger. The owner tell us he's not looking for 600+whp, just a fun setup.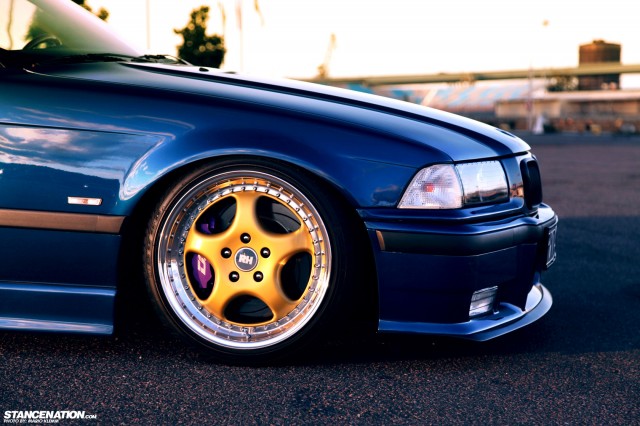 We age and our tastes change. The way in which those preferences change is unique to each of us, however, clean and simple cars are universally enjoyed. While the styling is understated, the statement is profound. It's all too easy to get carried away in these times. The simple life isn't for everyone, but every now and then you've just got to stop, smell the roses and appreciate a clean build like this E36.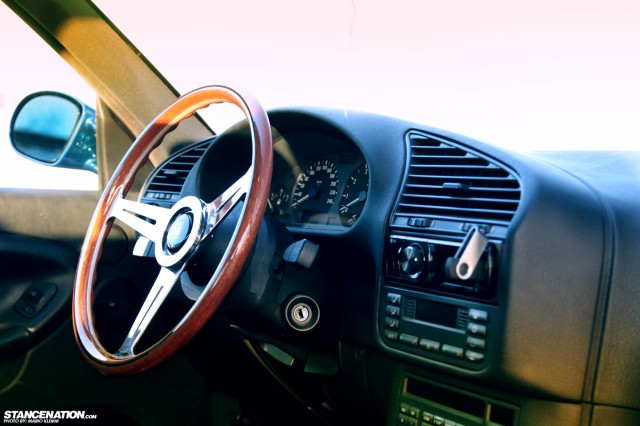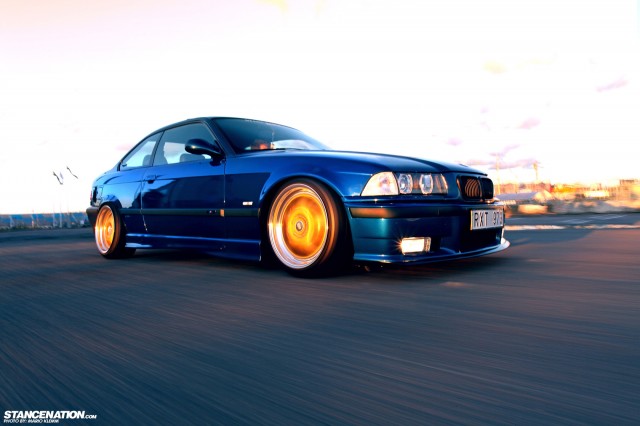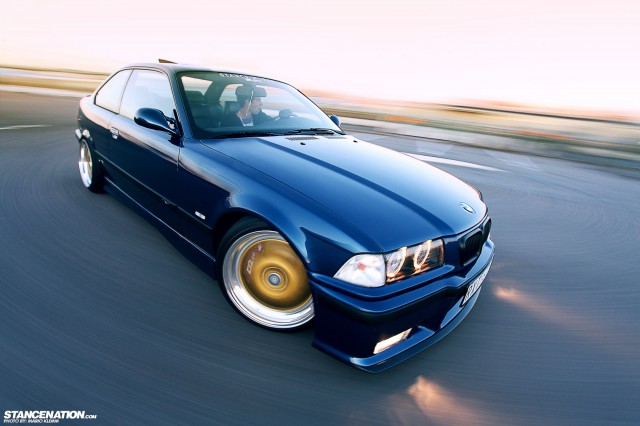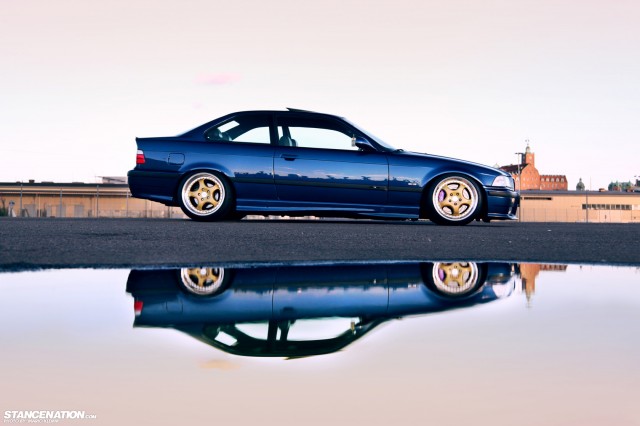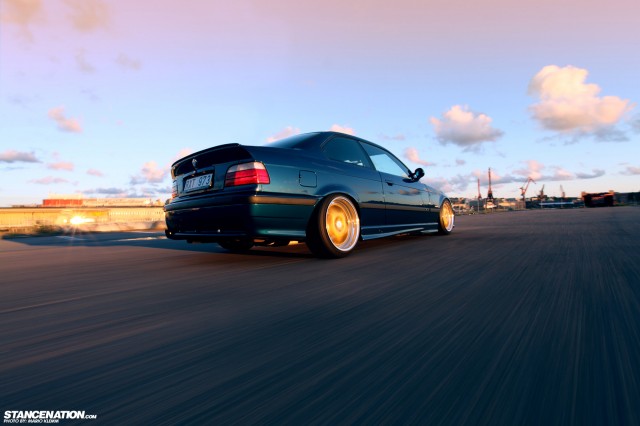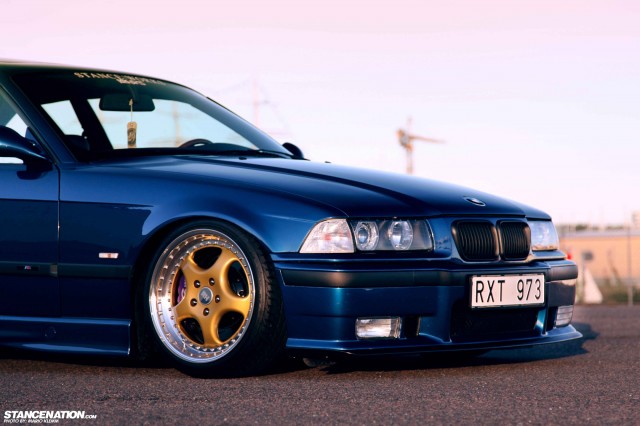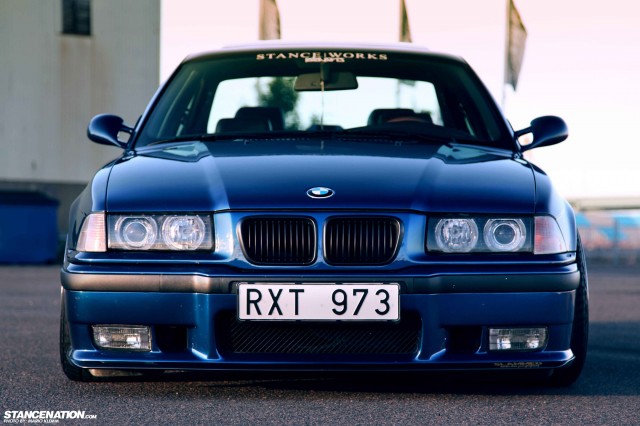 [toggle_box]
[toggle_item title="Wheels/Tires/Suspension" active="true"]17inch RH ZW1 rims
2.8degree neg camber in Front
4.5degree neg camber in Rear
Front- ET53+35mm spacer Manton-
Rear- ET41+23mm spacer from Manton
Front: 8.5 wide
Rear: 9.5 wide
Highpolished and painted centers in some Toyota Gold
Duro Performa HP1 205/40-17
Duro Performa HP1 215/40-17
D2 sport modified Coilovers
D2 Brakes in front 8Pot 330mm
Zimmermann Disks in rear with EBC Greenstuff
[/toggle_item]
[toggle_item title="Exterior" active="false"]The whole car is repainted in the original color Avusblau this spring.
Headlights from DEPO with ageneyes
Black kidneys
///M-Aero-package factory mounted
Classic Race wing
5mm Aluminum skid plate [/toggle_item]
[toggle_item title="Interior" active="false"]
Nardi Classic wood/chrome Steeringwheel
Black leather interior
Black interior roof
Harman & Kardon HIFI system + 12″ Kenwood Base in custom build box in spare wheel area[/toggle_item]
[toggle_item title="Engine" active="false"]M52B28
(2.8litre straight 6cyl Vanos)
Nothing special
M3 extractorpipe and a 2.5 system. DTM endmuffler
Shielded sport airintake
Adjustable Shortshift from Schmiedmann[/toggle_item]
[/toggle_box]