Baddest Q45 in the states? Pretty bold statement to make, we know, but if you think yours is better overall, please shoot us an email! This particular Infiniti belongs to Jermaine who is a very good friend of ours. He currently resides in Hawaii but has spent majority of his life over in Japan. At an earlier age, he wasn't into cars at all, there were a million other things to do out there, but after his first VIP car (Nissan Gloria Y32 with admiration kit and Work Wheels) the love and passion for the VIP scene only grew more. After some ups and down in life with the move to Hawaii, he purchased this 2000 Infiniti Q45/Kouki Y33 Cima and this how it sits at the moment.
Photos by: Jeffrey Soriano, Michael Soriano & Jarreth Arengo

The car has been through a ton of changes and it seems like every piece of it has been altered in one way or another. One of the most noticeable changes was the paint. It started off Black, but is now sporting a custom House of Colors Hot Hues Mix Candy Apple Red. When asked about his previous wheels, he tells us that he started off with Leon Hardiritt Ordens, then after some time he moved on to Work T1S, then Work Equips and now he is sitting on these aggressive Weds Kranze Chrishna's.
Sitting Right:
Weds Kranze Christna
19×10.5 & 19×11.5 w/235/35/19 & 265/30/19 tires
Custom install by VAKAMA
(F) R32 Skyline Sumitomo 4pot on Nissan 350Z track rotor drilled & slotted
(R) 300ZX Sumitomo 2pot on Q45 rotor drilled & slotted
Axis Pads and custom SS lines…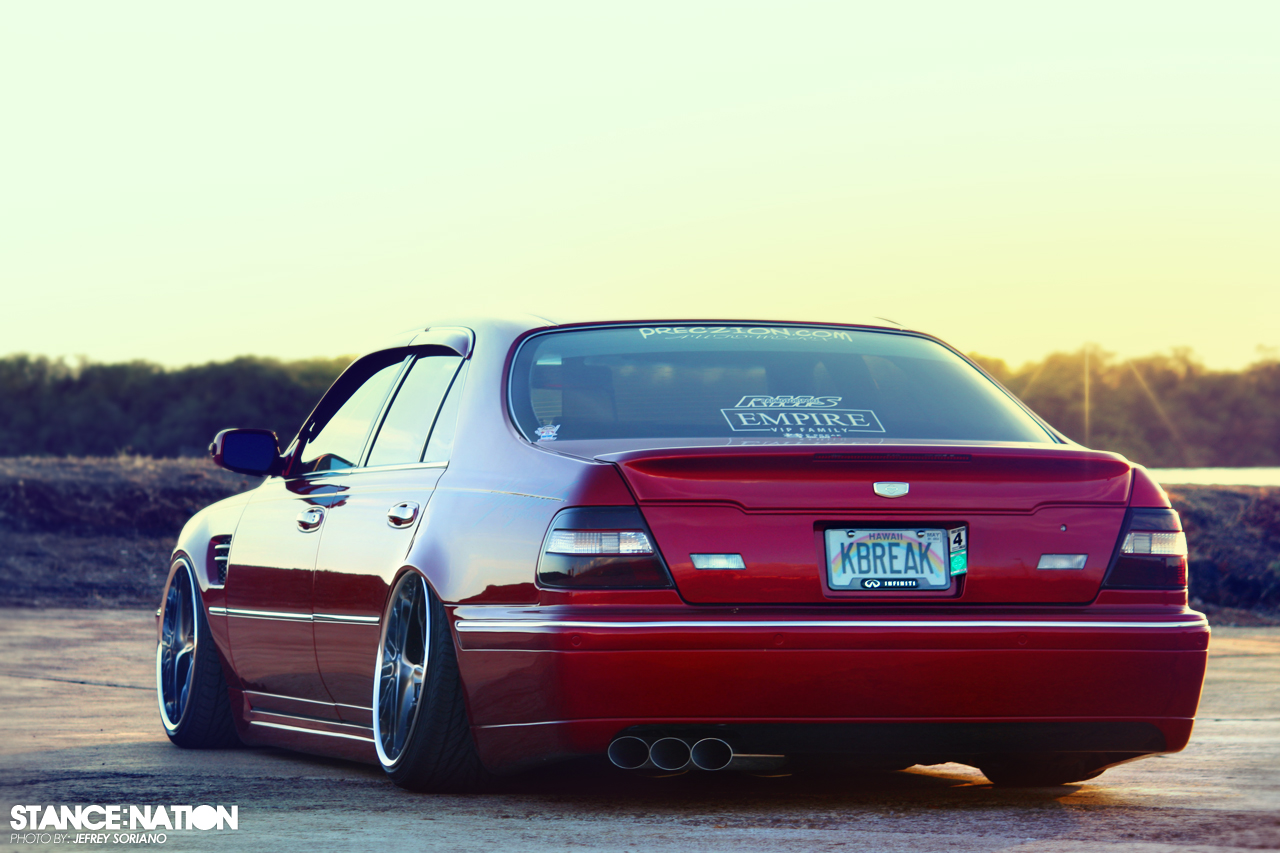 …continued
JDM Insurance coilovers w/ 15 way adjustable dampening
Megen S14 upper control arms
Megen S14 lower control arms
Megen S13 toe and tension rods
Universal Air Suspension w/Dakota Digital Auto Ride Leveling System
(2) Compressors (2) 3 gallon Tanks
Wireless Remote
After some issues with his previous air suspension he hit up Ritchie at DMC Fabrication where he was hooked up with quality work & service. Put all the wheels/suspension to the side and you will still be amazed with the way it looks. After several fender, exhaust, tail light and visor changes, Jermaine has finally achieved the look that is absolutely impeccable and original. Are you intrigued yet? Hit the Read More link below.
Other than the passion and love for cars and the VIP scene that Jermaine has, reason for pushing the envelope so much was because he is pretty tired of seeing stock VIP cars (drop,wheels, body kit,stock paint). He tells us that originality stands alone. He also tells us that he was really impressed with Liberty VIP fellas that he decided to join up and represent them out on the great Island of Hawaii. If you're not familiar with Liberty VIP please click this link or stick around a few more days because we plan on doing a full feature on them! He also reps Empire VIP Family who is another great bunch of guys out of Hawaii with some awesome rides! Check out how clean this thing is in these pictures.
The car is kitted out with a JDM Custom KBREAK full body kit with the recent addition of Lexus LS600HL fog lights. The JDM Y33 Cima Grill and the one off Double Projector w/LED blinker and Halo's complete the front of the car. Out in the back he added stuff like the original JDM Y33 Cima Badge, Smoked and cleared with LED blinker tail lights, and the super sick Custom Stainless exhaust w/triple pipes. Let's see how many heads that will turn!
The fenders are also custom with 2010 Range Rover HSE Sport vents. We're usually not fans of these things but it just flows so well with this particular car. It's truly a work of art, and Jermaine is one of the most down to earth fellas you'll ever meet. He told us several times that we have to make sure that we give credit to all those who were involved with the build of this car, so here it goes. Special thanks to Scott Kamalii @ Precizion Autoworx. Jermaine's ideas and Kamalii's blood, sweat and tears. Ritchie @ DMC Fabrication & Reyn and Rod @ Rad Motorsports. The whole car is a collaborative effort by everyone. Too many names to list, but it was inspired by dozens and dozens of people.
The interior is still not complete, nor is the trunk, you'll just have to wait until next year for that! We would like to thank Jermaine and all of the photographers who were involved and made this feature possible. You guys did an outstanding job. We're honored to share this masterpiece with you and hopefully it'll inspire you to push the envelope even further than Jermaine did. You can check out some more pictures on our flickr by clicking this link! If you're in Hawaii and have a car that is worthy of our site, please shoot us an email! We'll leave you with a couple more pictures!

Photos by: Jeffrey Soriano, Michael Soriano & Jarreth Arengo