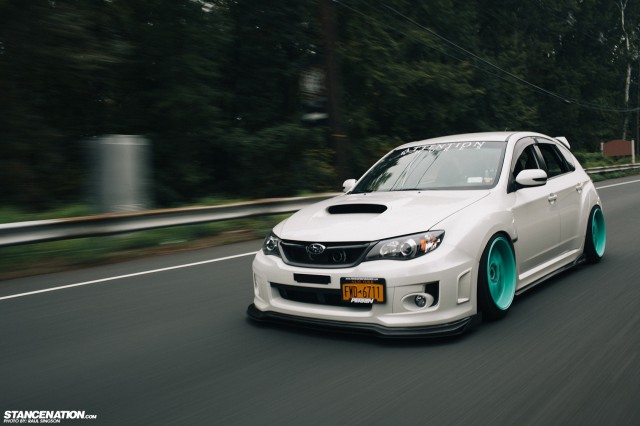 In one way or another, we all like to fit in. No one enjoys being the lonely sheep, nor do we like being in a crowd full of clones. So, ironically one of the best ways to fit in is to find a balance between standing out and blending with the crowd. That however is easier said then done. I mean, you could just start throwing random stuff on your car but that's not what makes a great car, it's all about the execution. Although our buddy Ian Galves chose parts that will help him fit in with any group of Subarus, his ride will surely stand out from the other STI's.
Photos By: Raul Singson exclusively for StanceNation.com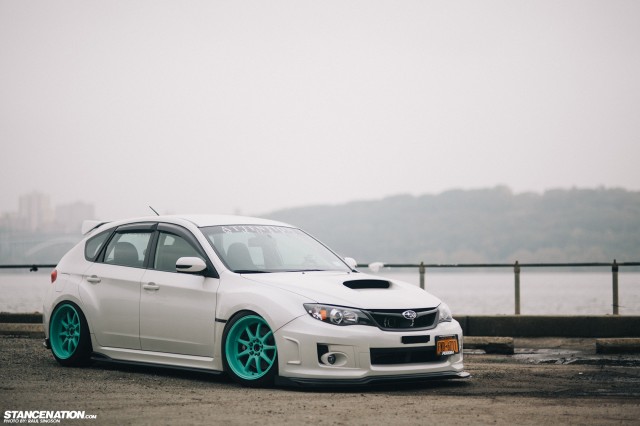 I love the fact that car tuners are staying closer to the stock body design. Don't get me wrong, a well designed body kit can really take a car to the next level but it's just not "necessary" with the aggressive factory style of modern cars, especially a car like the Subaru STI. So instead of making dramatic changes, Ian focused his time on little additions that have given this Subbie a clean crisp exterior style. A Blacktop Aero VR CF front lip goes across the front bumper with custom spliters on the sides. To match the lower profile of the front lip, a set of Bayson R side skirts flow back to a set of Bayson R rear aprons.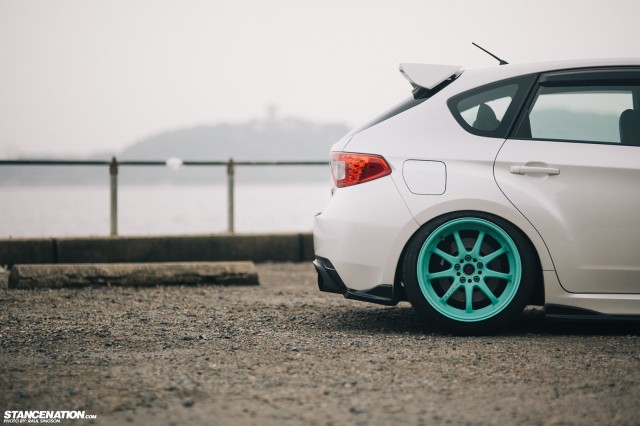 The factory rear wing looks very clean and obviously flows well with the rest of the body. A set of Perrin wing risers separate the factory wing from the rear hatch. Considering how small the change is, this looks unbelievably good and amazingly its pretty functional too. I personally love the rain visors along the top of the doors. As I said before, they are just one of the small steps that help complete the overall look.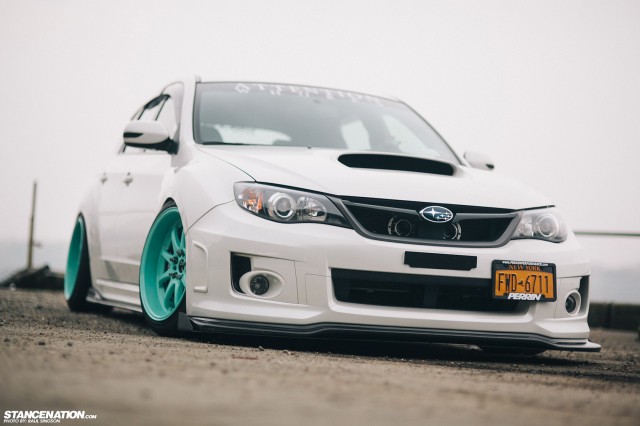 The factory 2012 STI headlights have been swapped with black housed HID headlights from a 2008 model. The new headlights match the blacked out side markers and rear reflectors, and the tail lights stand out just enough thanks to the custom red painted finish. If you look closely into the front grill you can see a set of chrome Hella Supertone horns. Just under the grill you would normally see a front license plate, but that was also relocated for a much cleaner front end.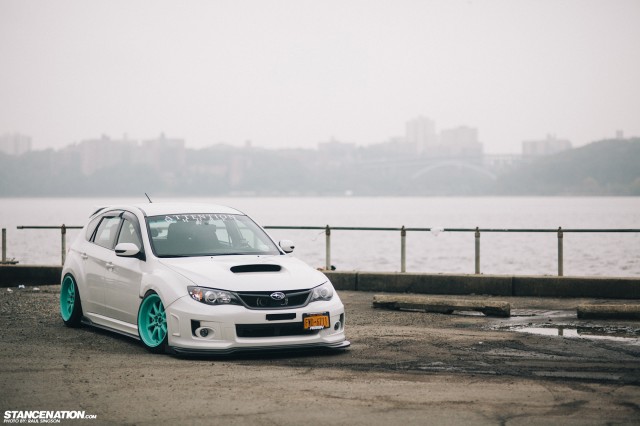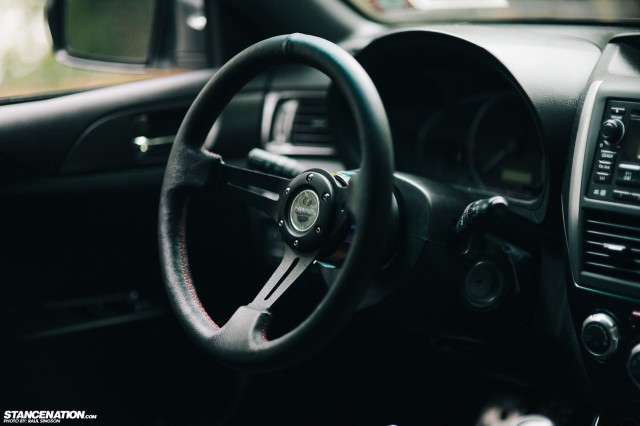 Only altering what gets used most, the interior changes are minimal. The steering wheel was swapped with a NRG replacement along with NRG short hub and 2.8 Neochrome quick release. The only other change was a Cobb red shift knob helping Ian travel through gears in style.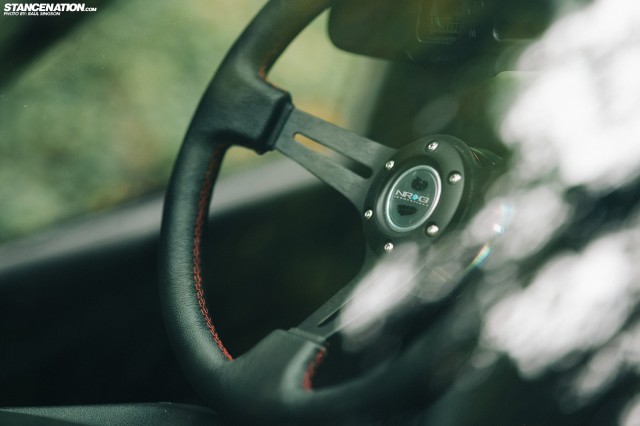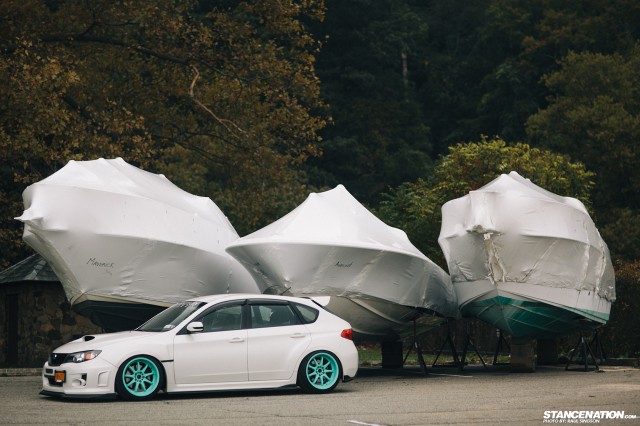 Now lets talk about what really makes this STI such an attention grabber, that stance. The Work Emotion XD9 is a popular wheel and has even been seen mounted to many a Subaru. Interestingly enough, this is also one of the features that helps Ian's Subaru stand out the most. Having originally purchased these XD9s in white, Ian later decided that he wanted something more "unique and eye catching" so he had them powder coated in a custom Tiffany Blue finish.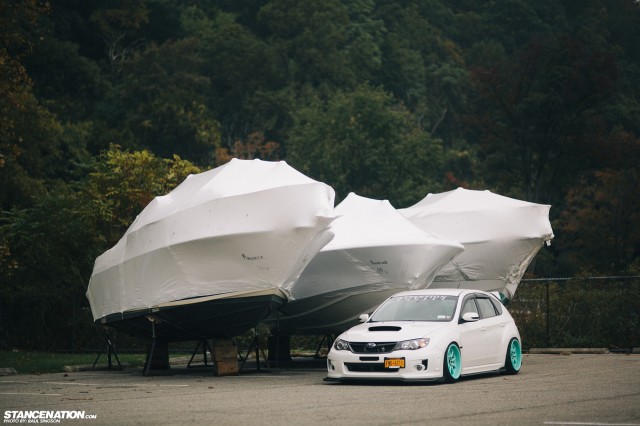 Measuring 18×10 +23 these beautiful blues are wrapped in Sumitomo HTRZ3 245/40/18 tires and held on with Muteki Chrome Lug Nuts. Against the white paint, the wheels really stand out but somehow manage to not go over board. Its a perfect mix of "wild" and "mild".
Ian takes his car build serious and in the short 10 months that he has owned the car, he even chose to strip and remove what he didn't need so he could cut weight to avoid rubbing. I don't think that weight reduction was ever intended to be used this way, but that's what we "stance" guys do! Before putting everything back together Ian added BC BR Racing coilovers and GTSpec rear control arms. He also upgraded to Whiteline 22mm front and rear sway bars and a Whiteline rear support brace.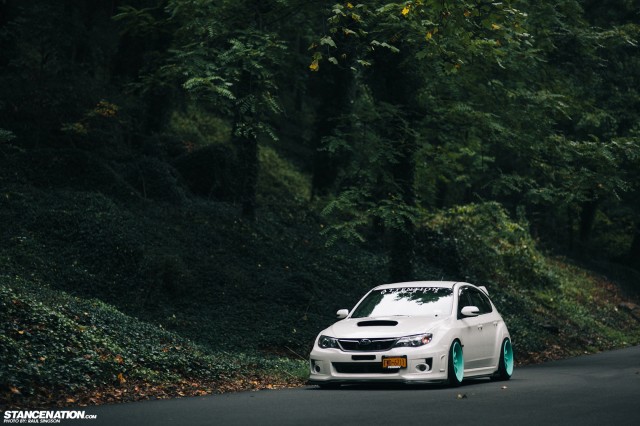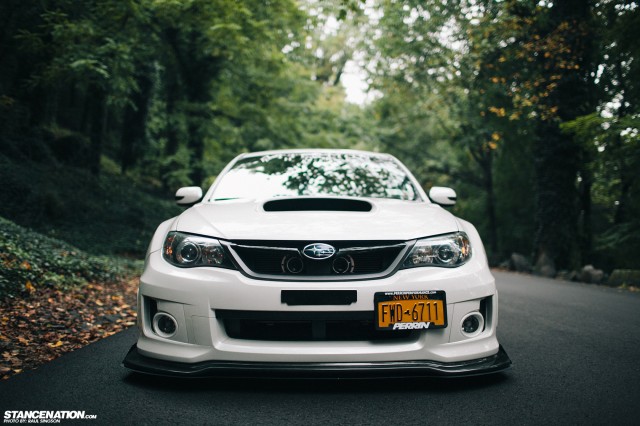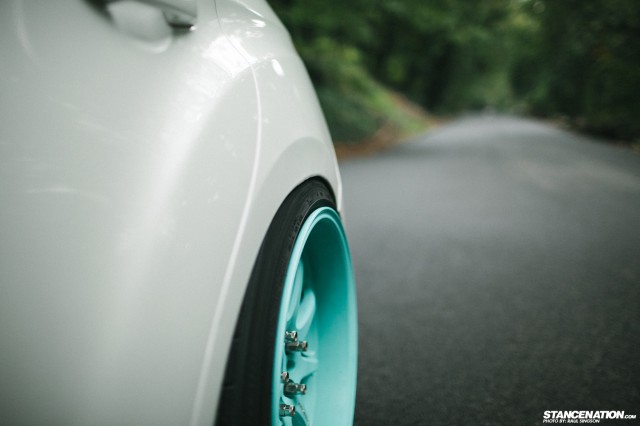 The Subaru STI is quite powerful in stock form so Ian didnt feel the need to make many power changes. An Invidia Street N1 Single exhaust helps bring out that beautiful noise that's being sucked into the Cobb SF Intake. The popular Cobb Acessport was used to tune the engine for the increased air flow so Ian can maximize his performance.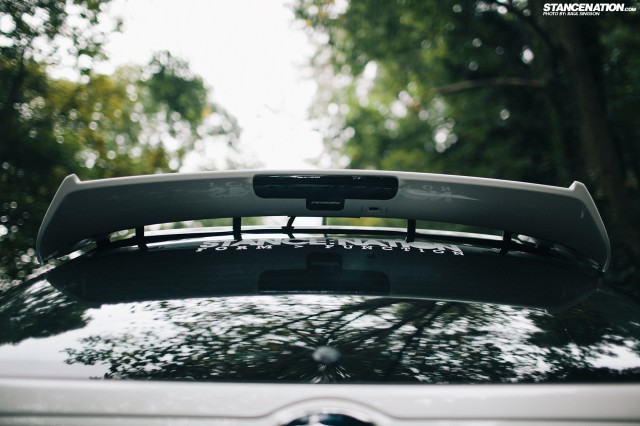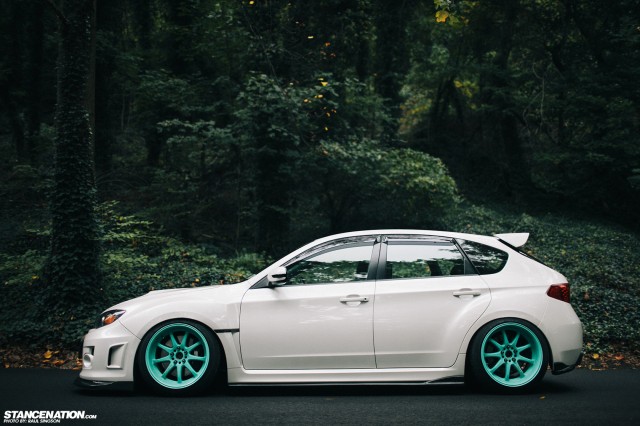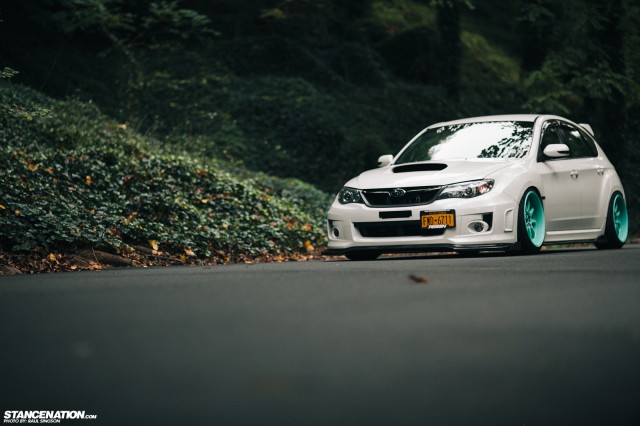 With that said, Ian's Subaru may not be changing the automotive world but I am positive that it will inspire other car owners out there in one way or another. It's a very well executed build that is simply beautiful all around. Huge shout out to Ian from all of us here at StanceNation and of course big thanks to our photographer Raul Singson for the stunning photos! As always, scroll down for the entire spec list.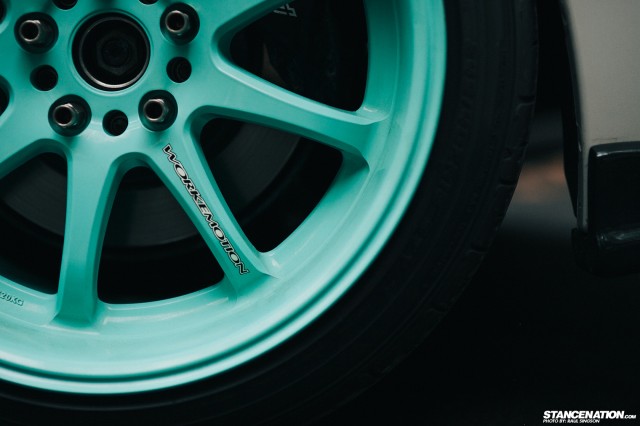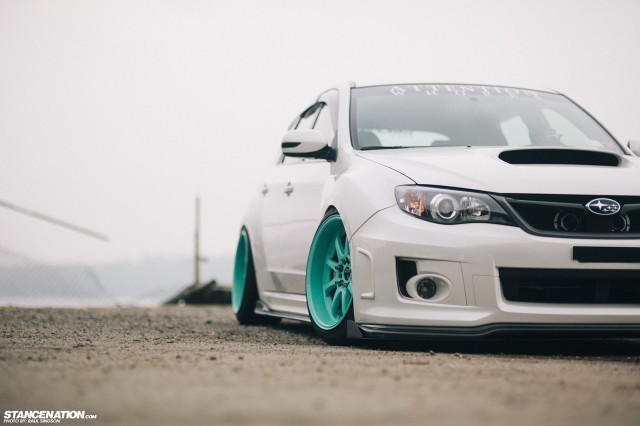 [toggle_box]
[toggle_item title="Wheels/Tires/Suspension" active="true"]BC BR Racing Coilovers
Whiteline 22mm Front Sway bar
Whiteline 22mm Rear Sway bar
Whiteline Rear Support Brace
GTSpec Rear Control Arms
Work Emotion XD9's (Powdercoated Tiffany Blue) 18×10 +23
Sumitomo HTRZ 3 245/40/18
Muteki Chrome Lug Nuts
[/toggle_item]
[toggle_item title="Exterior" active="false"]Blacktop Aero VR CF front lip
Custom front splitter
Custom license plate re-locater
2008 Black housing HID Headlights
Bayson R Side Skirts
Bayson R rear aprons
Perrin Wing Risers
Blacked out side markers
Blacked out rear reflectors
Chrome Hella SuperTones
Painted Red TailLights
Rain Visors
[/toggle_item]
[toggle_item title="Interior" active="false"]Cobb Red Shift Knob
NRG Short Hub
NRG 2.8 Neochrome Quick Release
NRG Steering Wheel
[/toggle_item]
[toggle_item title="Engine" active="false"]Invidia Street N1 Single
Cobb SF Intake
Cobb Acessport[/toggle_item]
[/toggle_box]