You will often hear that the people are what make this hobby so enjoyable.  It truly is a colorful community and my automotive interests have led me to meet some of my closest friends, which I'm sure is a common occurrence.  There are all kinds of enthusiasts, from tall ones like Elvis to short ones like me; modern car people and vintage car people like Mike, who happens to own this beautiful 1971 Skyline.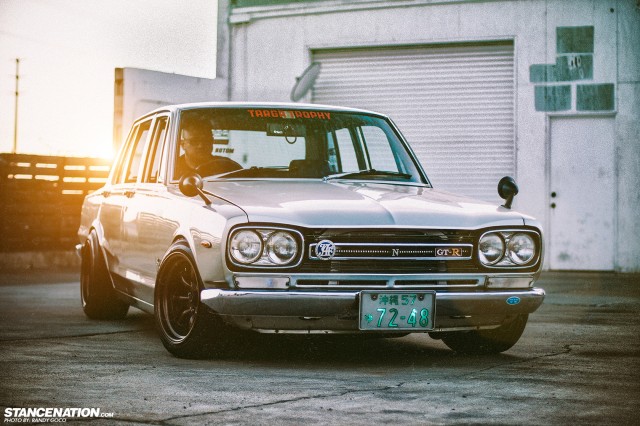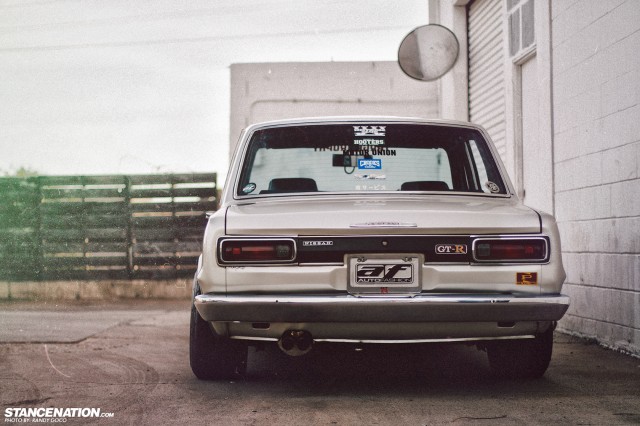 When you meet new people in this community they are often best recognized by their cars.  It's a strange phenomenon but it comes with the territory.  In cell phone address books everywhere, last names are replaced with car names.  The car names seem to serve the memory better.   "Hey this is Sean."   "Sean who?"  "Sean with the E36."  "Oh!"  What we drive identifies who we are.  Mike is known as "Skyline Mike" to many of his friends and acquaintances.  He tells us that since Mike is such a common name that many people simply use his car in order to set him apart, I guess the classic Japanese automobile is simply too difficult to forget.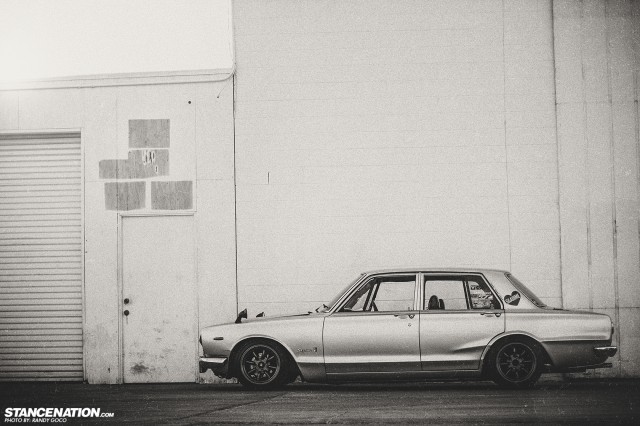 The early Skylines have a powerful cult following worldwide.  From the very beginning they set the theme and gave birth to a legend, the Skyline would find itself in the hearts of enthusiasts throughout every generation.  Nissan/Datsun Skylines would possess competitive performance and breathtaking styling for years to come – even those without the vaunted 'GT-R' name.
Mike's Skyline is not a GT-R; it is a 2000GT model sedan.  Seven years ago his friends Paul and Reggie from SpeedShop OSR brought this vehicle to his attention, ultimately leading him to sell his SR20DET-powered '73 Kenmeri Skyline GTX in order to get his hands on the 4-door Hakosuka.  He had owned many vintage Japanese vehicles over the years (his first car was a '75 Celica) but he had come to feel that the sedan Hakosuka was the perfect car to fit him.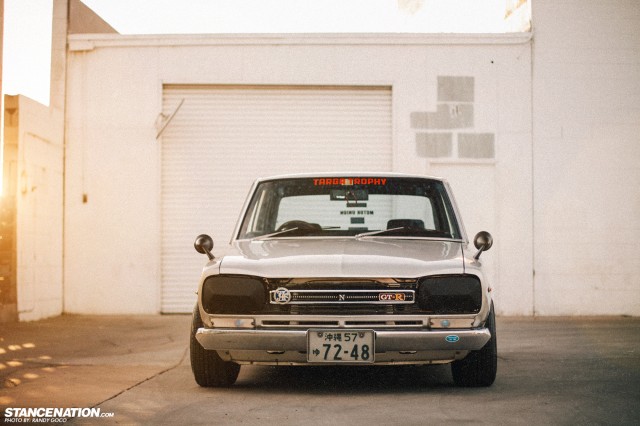 The overall styling of Skyline Mike's car is period-correct, with a strong influence from the race-ready cars of the era.  A Nismo air dam is fitted up front with the aggressive headlights, which are outfitted with RS Start carbon covers.  The grill and badges from a GTR were donated to add a little extra flavor while the hood and trunk are fiberglass pieces, saving some weight.  Nothing is aesthetically out of place and Mike has done a great job of preserving the essence of the car.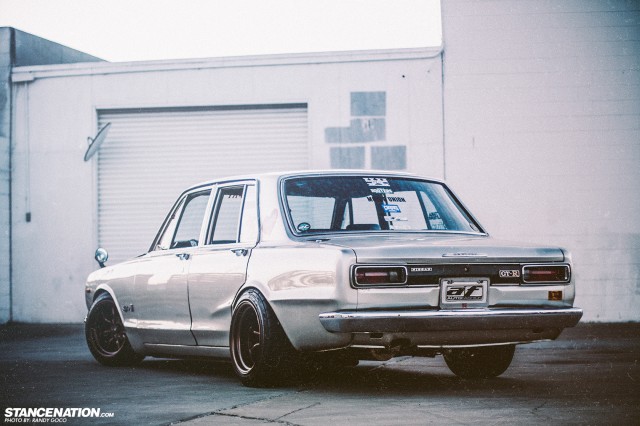 Much of the original interior is present with notable additions being a Nardi tiller and Carrozerria illuminated rear speakers.  An Autometer tachometer provides accurate rev-counting and other instrumentation was updated to R32 components.  He has plans for a rollbar and race seats for track use in the future.  A GReddy boost gauge and APEXi AFC are obvious hints that there is much more to this Skyline than a bit of nostalgia.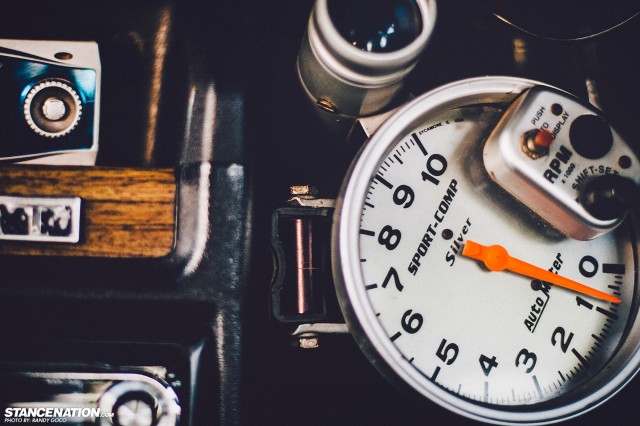 Beneath the contoured hood you will find an RB20DET from a late-model non-GTR Skyline.  The rev-happy straight-six sees further potential by way of a Garrett GT3076R turbocharger, with custom intercooler and exhaust plumbing.  A re-flashed ECU along with the aforementioned APEXi AFC control the EVO 8 injectors and ensure plenty of thrust for Mike to enjoy the driving experience.  A Subaru 3.70 LSD feeds the power produced by the modern mill to the rear wheels.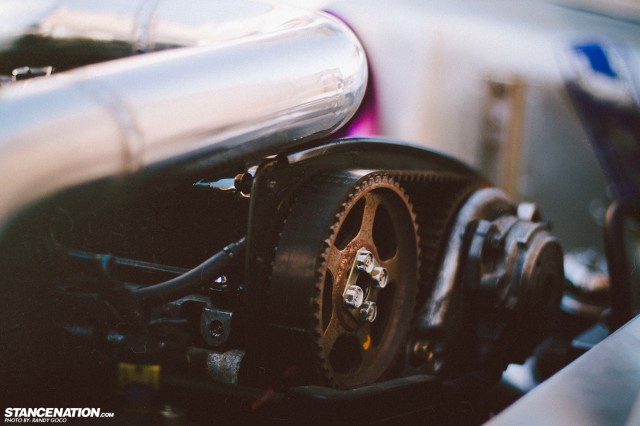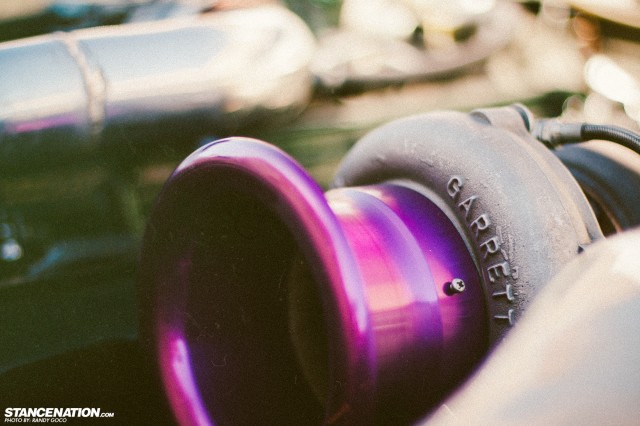 Those rear wheels are certainly beautiful too.  Matching the character of the car perfectly are a set of Watanabe Type-R wheels.  Sized 15×8.5" -6 and 15×9.5" -19, the classic Japanese race wheels look spectacular and appropriate beneath the non-flared 2000GT fenders.  Custom coilovers are in place front and rear, with Tein camber plates providing adjustability.  Mike tells us further suspension tuning is in the works, as he has aspirations of building a Skyline that sees both street and track duty.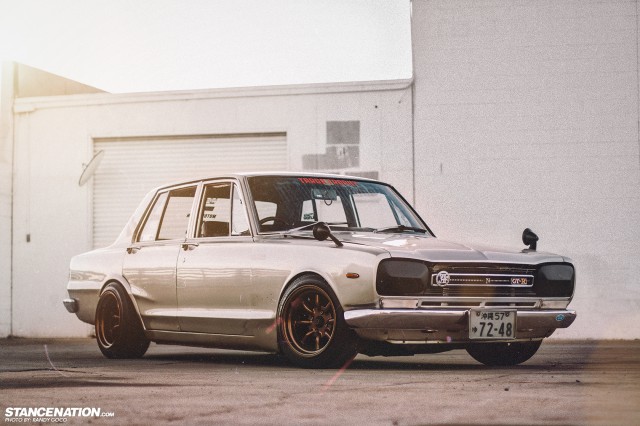 His name is Mike and he's from San Diego.  He likes to drive his Skyline; it is his favorite thing about the car.  He has a long list of those he is thankful for, like Jay and Nitty from 5&ADime, Pat, Gil, Miggz, Mel, and Dennis, Freddie from Autofashion and a long list of others.  Once, he was thanked by an older gentleman for bringing his car out – because that man never thought he would have the opportunity to see one in person.  Mike is a humble guy and has an affinity for Japanese vintage autos.  I don't know too much else about him, but I'll definitely remember him as 'Skyline Mike'.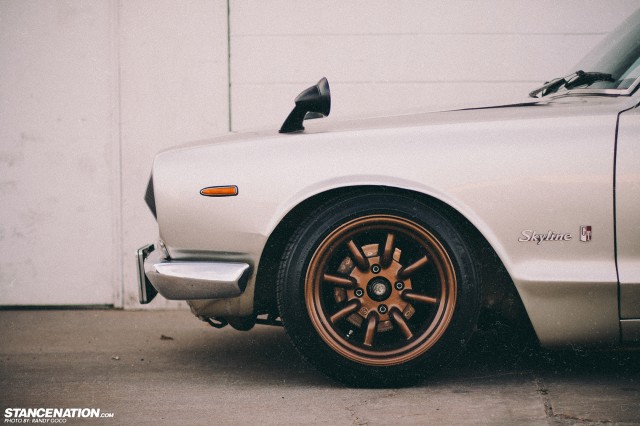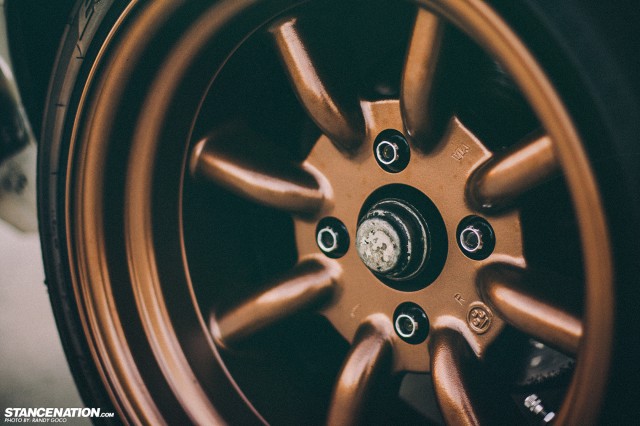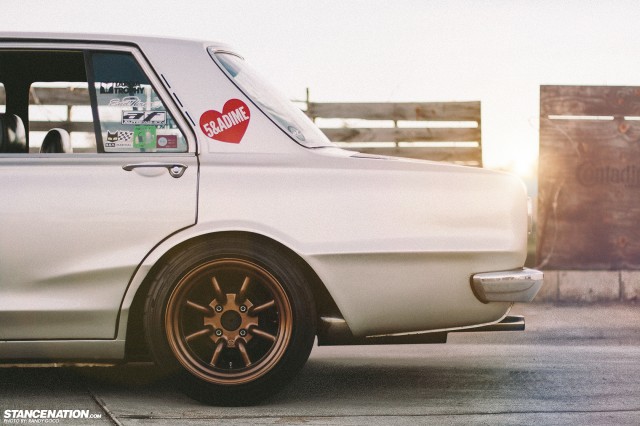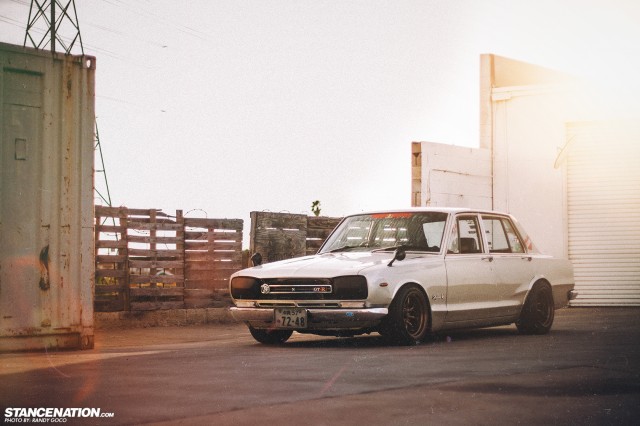 [toggle_box]
[toggle_item title="Wheels/Tires/Suspension" active="true"]15×9.5 -19 15×8.5 -6 Watanabe type r wheels
custom rear coilovers
sectioned front coilovers
tein camber plates
4 piston front calipers
Subaru 3.70 LSD[/toggle_item]
[toggle_item title="Exterior" active="false"]Nismo air dam
RS start japan headlight covers
GTR grill and badging
marchal H4 lights
fiberglass trunk
fiberglass hood
Japanese light-up license plate[/toggle_item]
[toggle_item title="Interior" active="false"]factory seats
carrozzeria light-up rear speakers
nardi steering wheel
greddy boost gauge
modified r32 factory gauges
autometer tach
greddy boost controller
Ecu: rb20 reflashed ecu &apexi AFC[/toggle_item]
[toggle_item title="Engine" active="false"]rb20det
5 speed
evo 8 560cc inj
Garrett gt3076R
custom IC pipes n intercooler
greddy type rs bov
turbo smart wastegate with open dump
3″ dp
custom stainless twin pipe exhaust
custom powder coated green with flake valve covers and intake manifold
z32 maf[/toggle_item]
[/toggle_box]