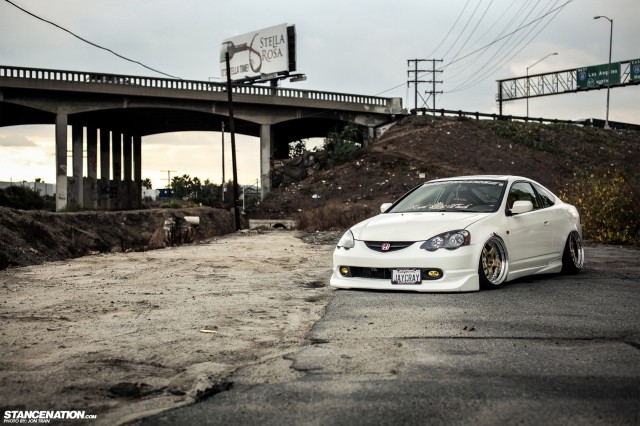 You cant expect to get everything right on your first try. I mean, we all catch the occasional lucky break, but a true accomplishment has to be earned through trial and error. Perfected through small failures that end in big success. You have to study the good and bad, measure twice before you cut & stay patient, especially when under pressure. Most importantly, you cant be afraid to work. This beautiful RSX belongs to our friend Jerald from Southern California and he certainly isn't afraid to work.
Photos By: Jon Tran exclusively for StanceNation.com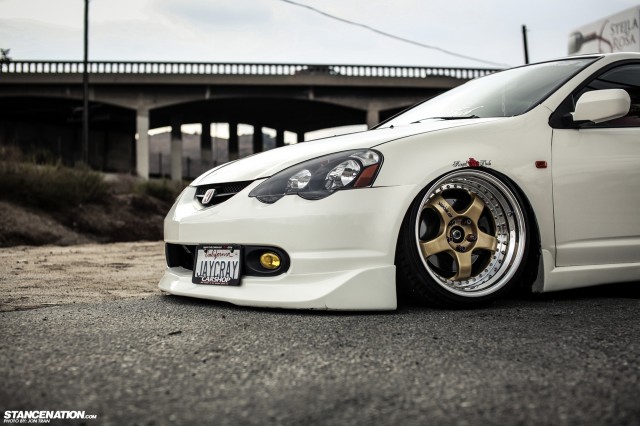 Starting a new car project is never easy. Where do you start? Where do you want it to end? Jerald had a couple of ideas, he wanted the body low and the wheels really wide. Unless you are content with having a cookie cutter car, you're going to have to experiment with your build. Curious in what he could create on his own, Jerald took a few chances. He started by assembling a custom suspension kit that included coilovers with custom springs mixed with custom outer tierods, inner tierods and control arms. To make sure he knew exactly how low he wanted to sit and how wide of a wheel he could run, Jerald rolled on a set of Varsstoen wheels. After figuring everything out, Jerald knew what he wanted and was prepared to make some big changes.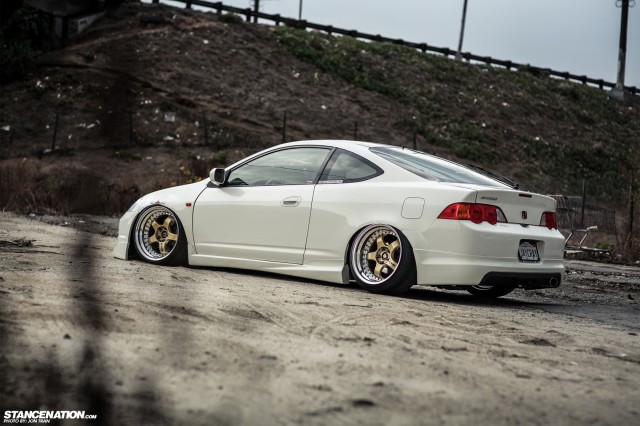 Realizing that the static setup wasnt going to satisfy his urge to be low, Jerald has now installed a Universal air suspension kit with Blackworks lower control arms and a beaks lower tie bar. With this new set up, Jerald can now run his new (wide) wheels, as close to the clean stock body as possible. Speaking of wheels, as many of you should already know, Jerald chose a set of the very popular Work Meister 3 piece S1. These wheels are popular for a good reason, they look amazing on pretty much everything. The wheels where powder coated gold, which in my opinion is always a good choice against white paint. With a goal of getting the widest set of wheels to fit under his RSX, these Meisters measure 18×10.5 +0 18×9.5 +0. The combination looks clean and classy.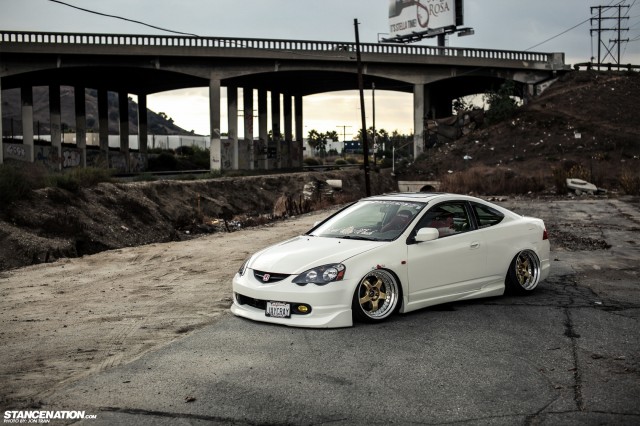 Although this might be obvious to the Honda and Acura heads, the kit is actually a Mugen body kit that is usually only available on 2005-06 models. Jerald's Rsx is a 2002-04, meaning he had the kit modified to fit his model. Personally I think this is the perfect look for this car. The kit flows well, looks good and is still unique in a way.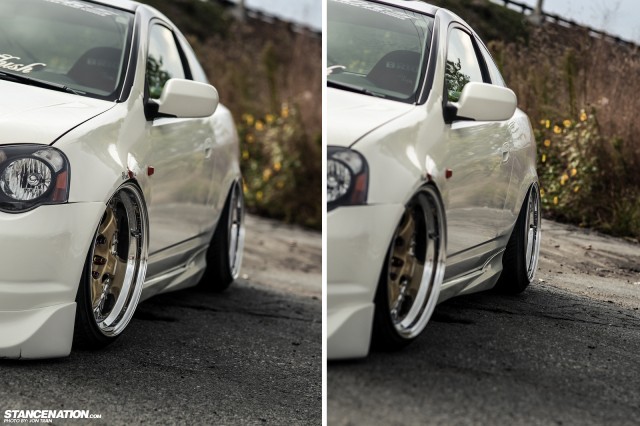 Making sure Jerald and his passengers can enjoy the ride safely and look good at the same time, he has installed a set of Bride Low max 2, NRG harness bar and Spoon B pillar bars. He keeps a grip on his Momo steering wheel and can be confident his car is gonna be there because of his NRG hub lock. When cruising around town, Jerald plays his tunes through 2 treo 12″ subs that are powered by a 1000w treo amp.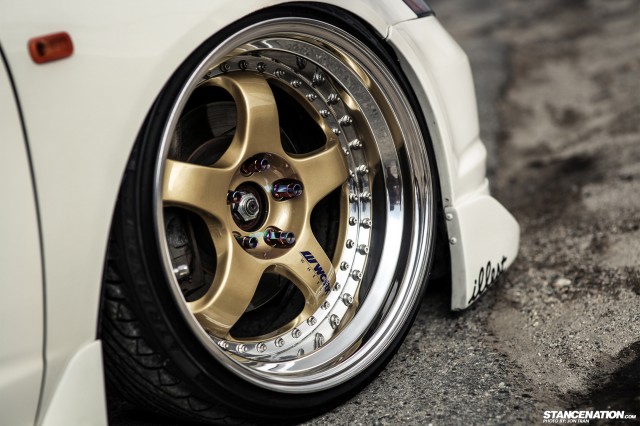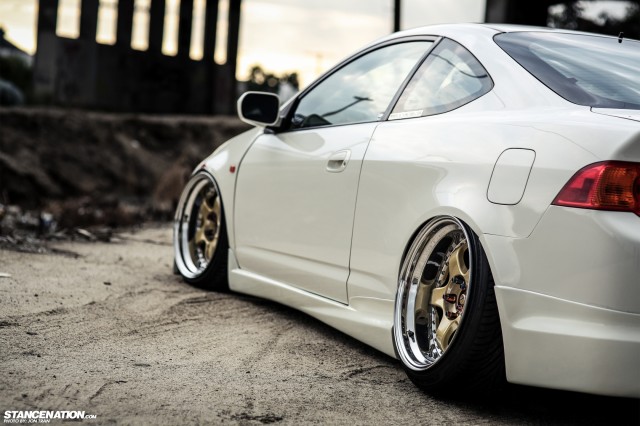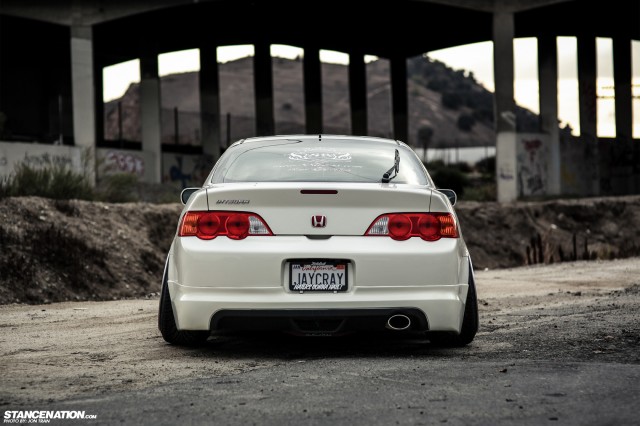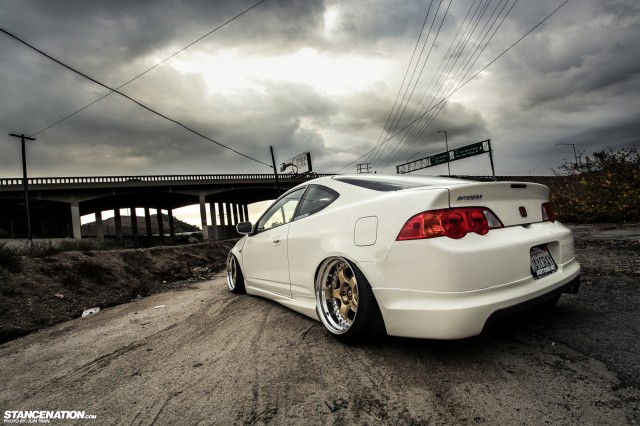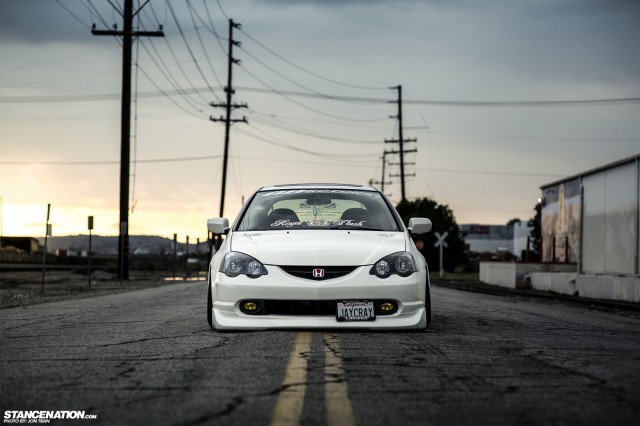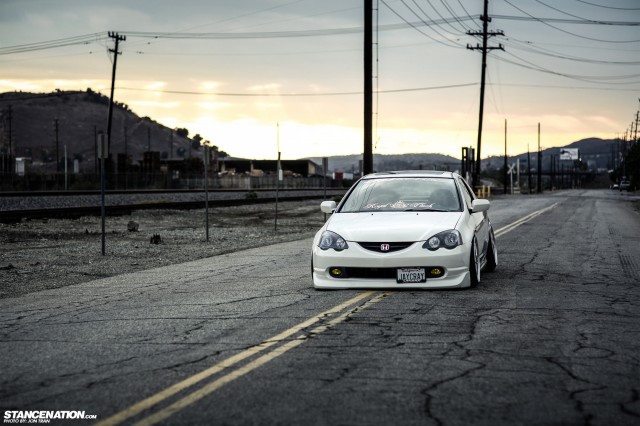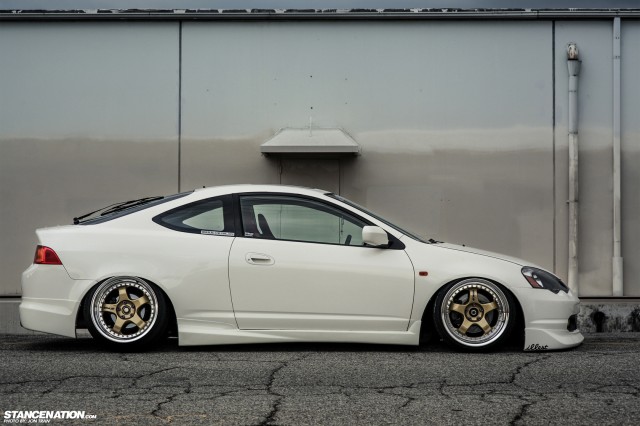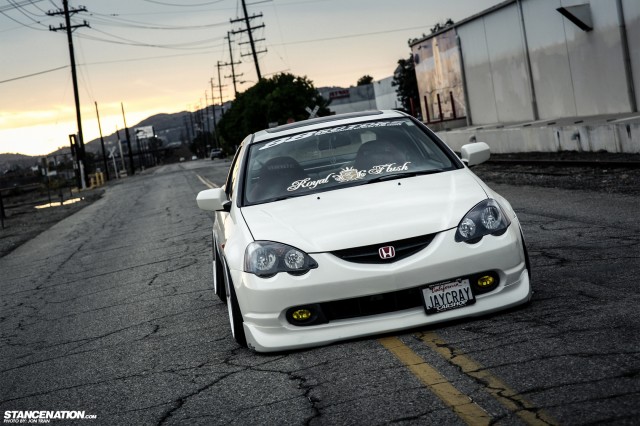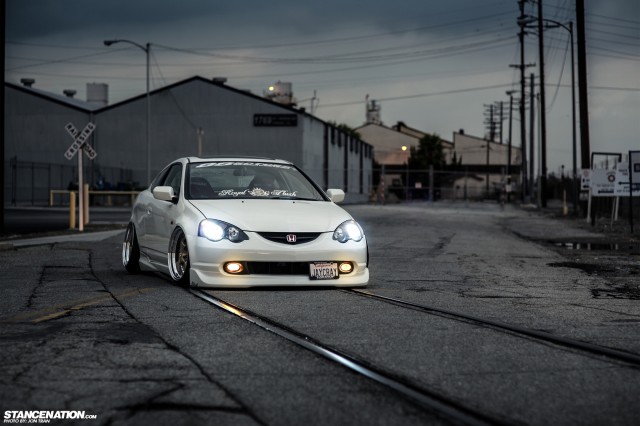 I would say that it is a good idea to take Jeralds approach. We all should reach for the things that we want, but not rush to the end. Take your time, experiment, research and take some risks. Chances are, you'll end up with a build that was nothing like you expected yet still everything you want. I'll give Jerald the last few words: "just wanna thank Jon Tran for the sick pics, my Royalflush family who's always there for me, 88 rotors who sponsored me for all my needs & Dub garage who did all my custom suspension and fabrication."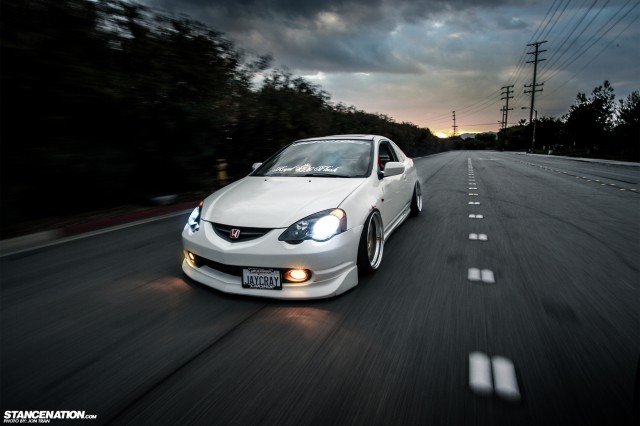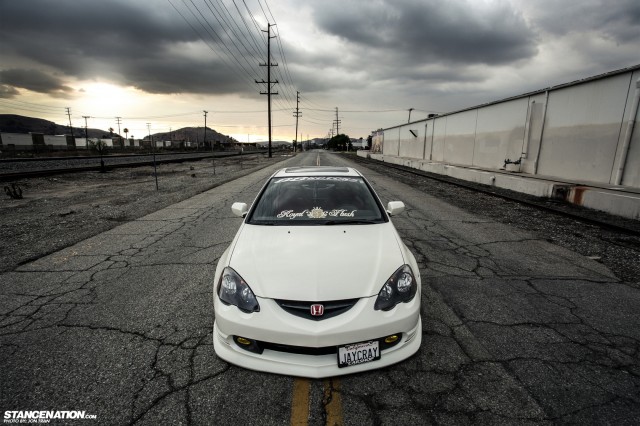 [toggle_box]
[toggle_item title="Wheels/Tires/Suspension" active="true"]Work meister s1 3p (powder coat gold)
18×10.5 +0 18×9.5 +0
Universal air suspension kit
beaks lower tie
blackworks lower control arms
(Custom everything for the bags)[/toggle_item]
[toggle_item title="Exterior" active="false"]05-06 mugen kit converted/bodyworked to my 02-04 body[/toggle_item]
[toggle_item title="Interior" active="false"]red bride lowmax2
Momo steering wheel
nrg hub lock
nrg harness bar
spoon b billar
2 treo 12″ 1000w treo amp[/toggle_item]
[/toggle_box]