Okay, put down the pitchforks and snuff out the torches, I haven't gone rogue or jumped ship.  To be totally honest a build like Murakami-san's GS is just what I needed, his thoughts and reasoning behind it are rather similar to my own when it comes to today's car culture.  I also really like how confident Murakami-san is with his car.  It's certainly impressive, and serves as a great example of the level that Japan is at with their car customization.  The Japanese have been proving themselves to be talented builders, not just with their own cars and styles, but even with hot-rods, lowriders, mini-trucks, etc.  With cars like this GS, it's easy to see why Japan is in the spotlight, not just here on StanceNation, but pretty everywhere else as well.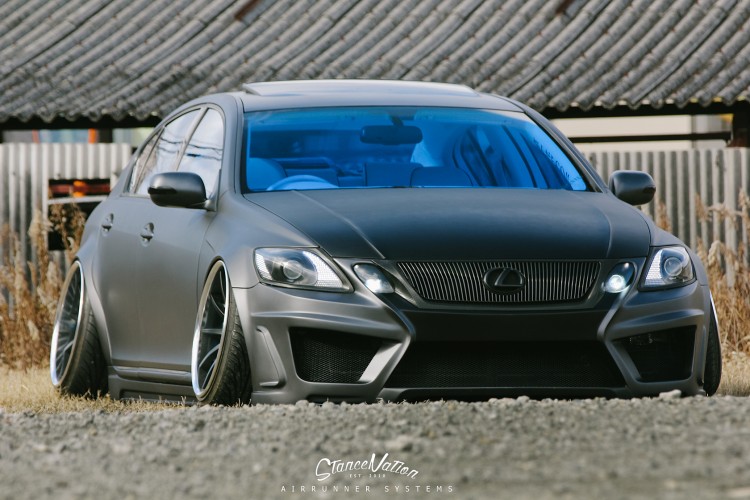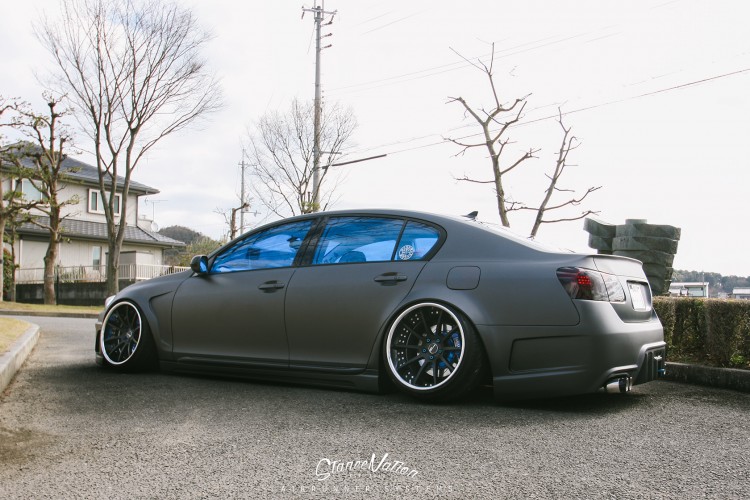 Despite the fact that this is a Lexus GS and would be a great example of the VIP style, Murakami-san insists that this isn't a VIP-style car.  "I don't care about JDM VIP style at all… I always wanted to build great looking car which attract whole world car people."  To me, words like this are refreshing to hear.  I like when builders aren't afraid to go against the grain and do things that will cause controversy.  Too many people are so worried about pleasing the masses to gain popularity, or stroke their own ego, that no one is pushing the boundaries anymore.  Remember, there's no rules to follow, and no one to please besides yourself.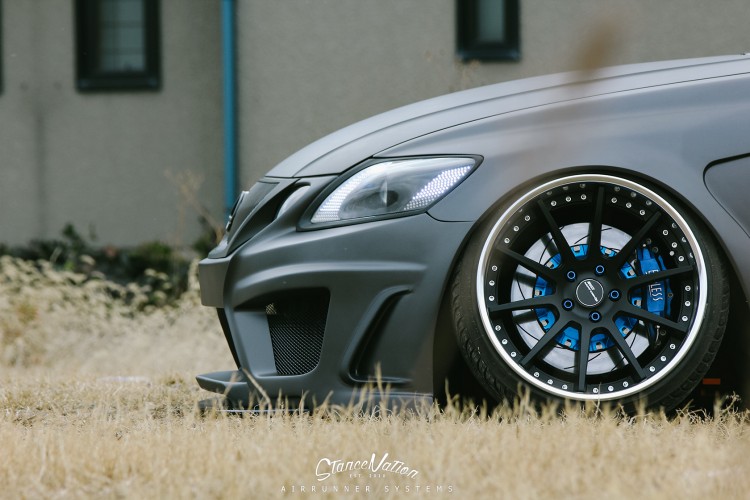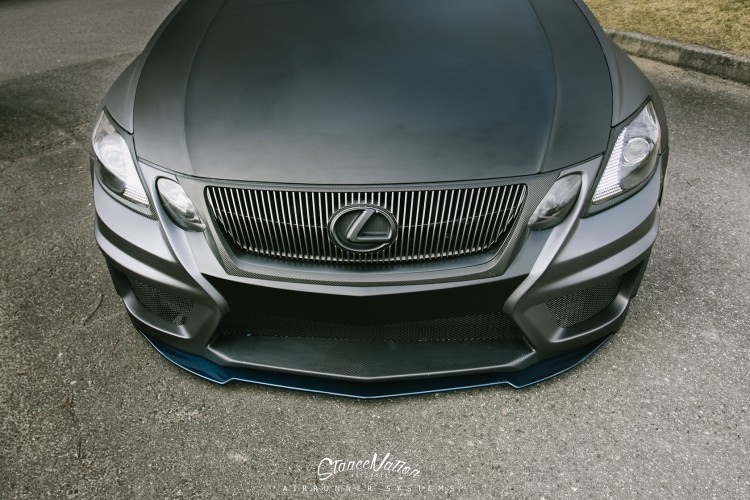 Murakami-san's goal for his GS has always been total balance.  What I mean by total balance is a car that has the complete package; not one area hasn't been touched.  Murakami-san said himself that he wanted to build a car that would attract the attention of all car enthusiasts, not just those into VIP or the Japanese tuning culture.  His goals are lofty, but then again, his car really is something else.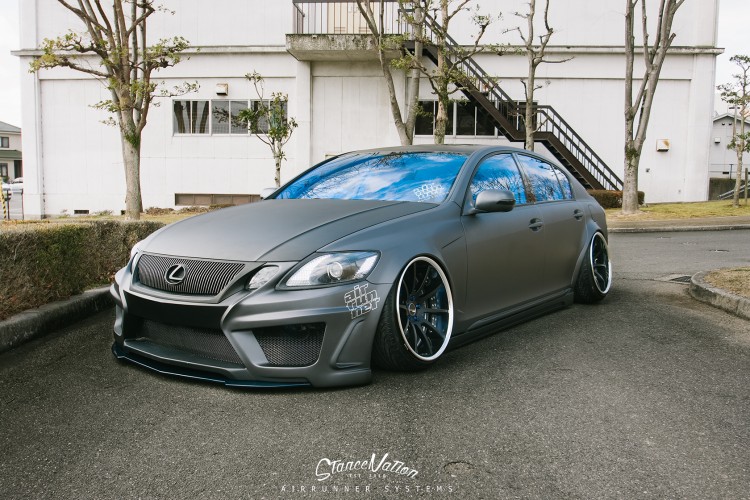 When it comes to full-on show cars, this GS can hold its own.  With tons of custom touches all tied nicely together, this is far more than a car with a lot of money simply thrown at it.  "Custom," and "one-off," were used quite a bit in the notes and spec-sheet of this car, and those two words come with a hefty price-tag, especially for quality work, and quality was the main concern for this car.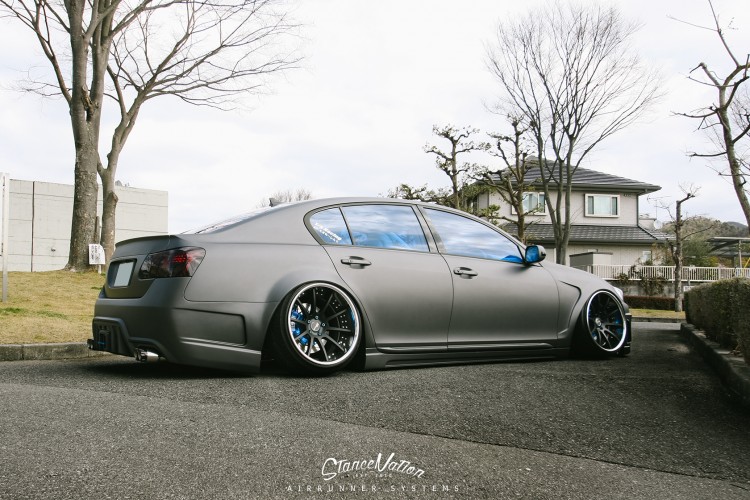 The bumpers and side-skirts are pieces from the company One Star which have made a recent splash in the Japanese, VIP community.  Of course, these bumpers have been modified further to better suit LexBlueBlood's body.  The front and rear bumpers were flared at the ends to match the widened fenders at all four corners.  The fronts are 5cm wider and the rears are 7cm wider with custom vents added in to add to the aggressiveness of the kit.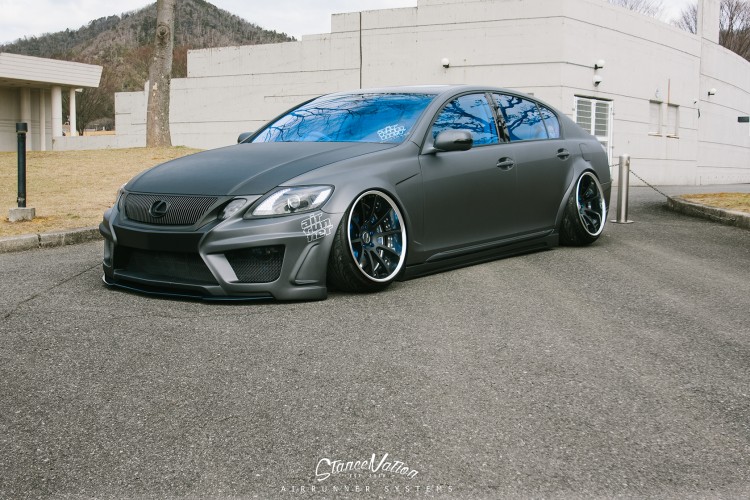 Sitting under those massive fenders are an impressive set of SSR Executor CV01 wheels with some aggressively large lips.  I really like the aggressive look of the wheel, and the Executor line really shows that SSR is still at the forefront of the wheel-styling industry since these are some good looking wheels.  These CV01s are sized up at 19×10 in the front and 19×11 in the rear with offsets well into the negative.  Helping the wheels tuck nicely into the fenders is a full Airrunner TC-5 air suspension kit with e-Level management.  To offer even more adjustability in the suspension department, Murakami-san went ahead and got a full T-Demand arm kit which replaces pretty much everything from control arms, to tie-rods, toe-rods, etc.  I wasn't kidding when I said that he used the best parts money could buy.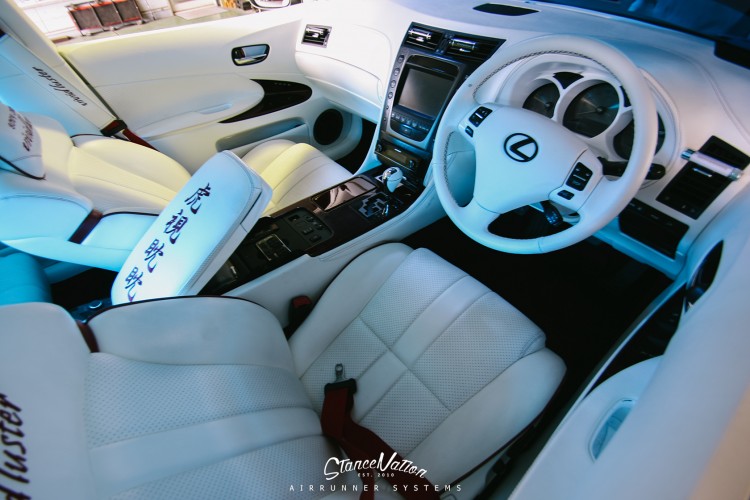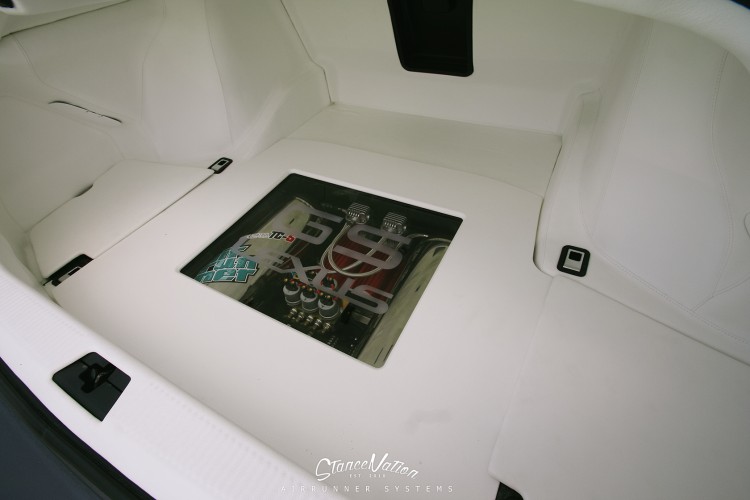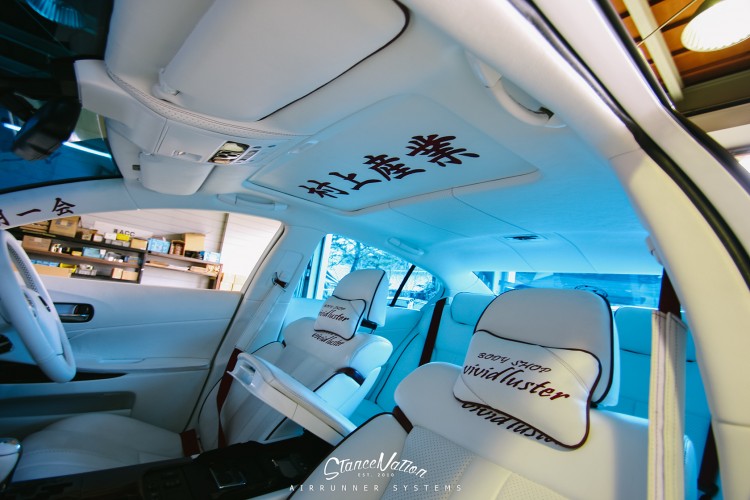 On the inside, things don't let up, and the custom theme continues.  Pretty much everything that was leather in the car has been re-trimmed in a contrasting white leather.  Even a few non-leather items were wrapped, such as the dash.  The items not wrapped in luscious, white, cow-hide were given the black treatment, such as floor mats, vents, center console, door accents, etc.  Custom stitching adorns the seats, and neck-pads, as well as the sun-roof cover and a-pillars.  Coupled with the blue, tinted windows, and the matte gunmetal paint, and you've got a car that is sure to turn heads where ever it goes.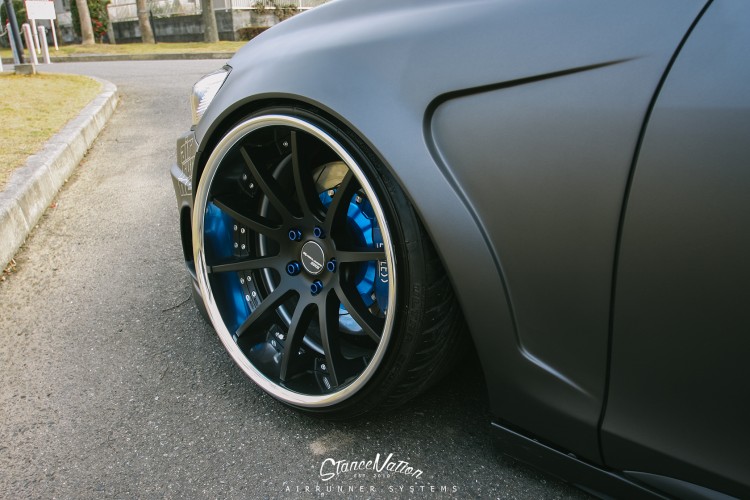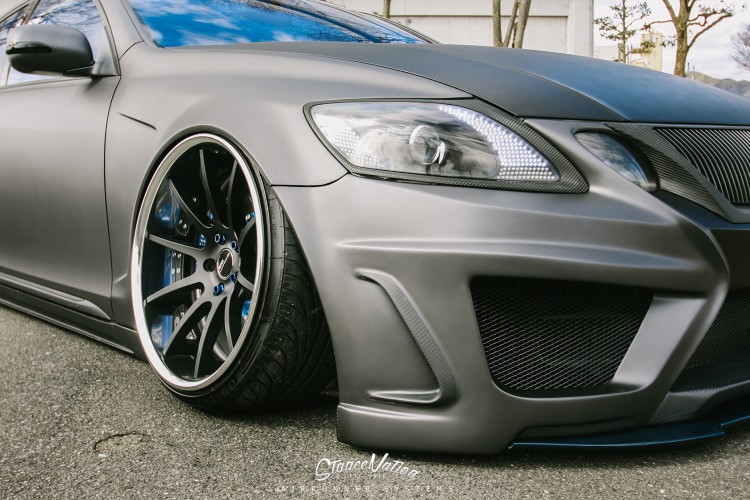 And when it's a car built purely to get the attention of others, that's all it has to do.  In order to dominate the show scene, you need to get people to look your way, and that means doing things that go past the boundaries a little.  Murakami-san didn't play by any rule book with this car and instead wrote his own.  He didn't set his sights on one particular style, but incorporated what he liked and ultimately made his own.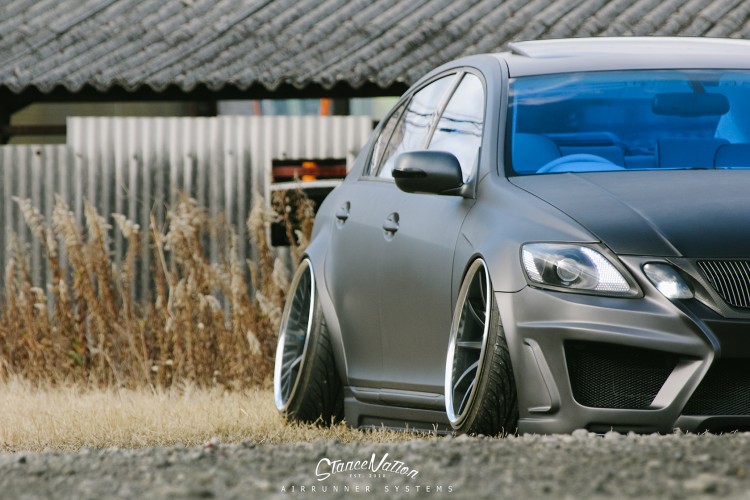 This is what happens when you don't follow trends and play it safe.  You get something different, something out there, something not everyone is going to like.  And you know what, that's okay.  Not everyone will like what you do, but you shouldn't be out to please anyone but yourself.  If you're out to prove something, prove what YOU can do, not what others say you should do.  Why is this car so refreshing to me?  It's not some cookie-cutter build that played it safe to appease the masses.  Those cars are lame, and suck big-time in my opinion.  I like cars like this GS, and I like enthusiasts like Murakami-san because he's going to do what he wants and not let someone else label him or his build.  You can call it VIP all you want, but to him, his car is his own style, LexBlueBlood style.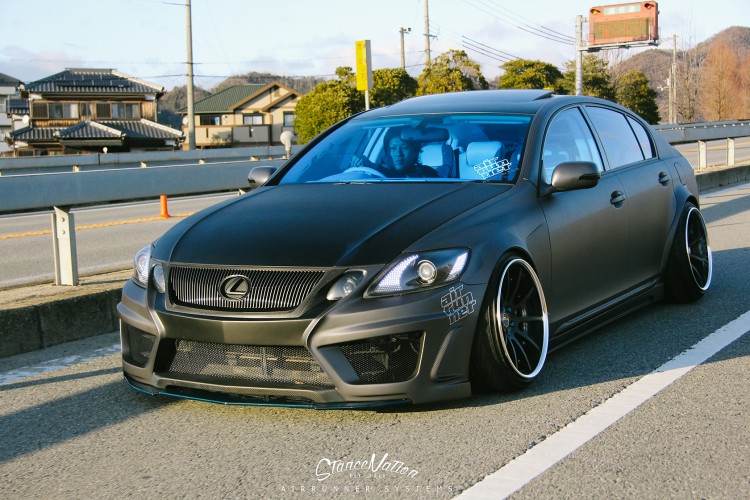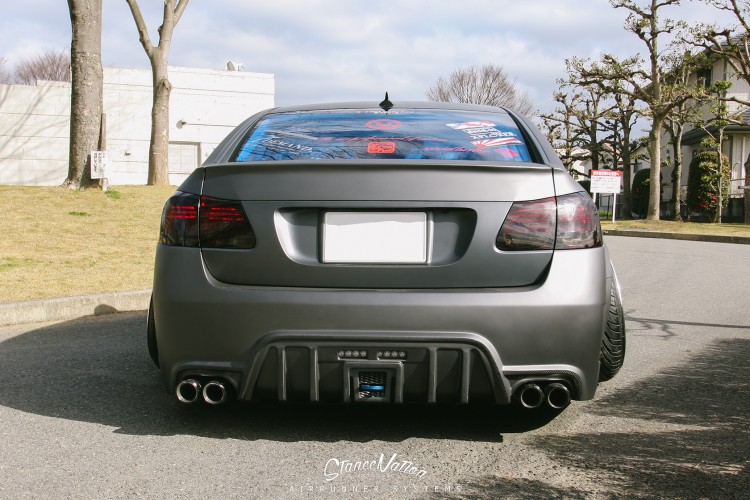 Not everyone will like what you do, but you shouldn't be out to please anyone but yourself.  If you're out to prove something, prove what YOU can do, not what others say you should do.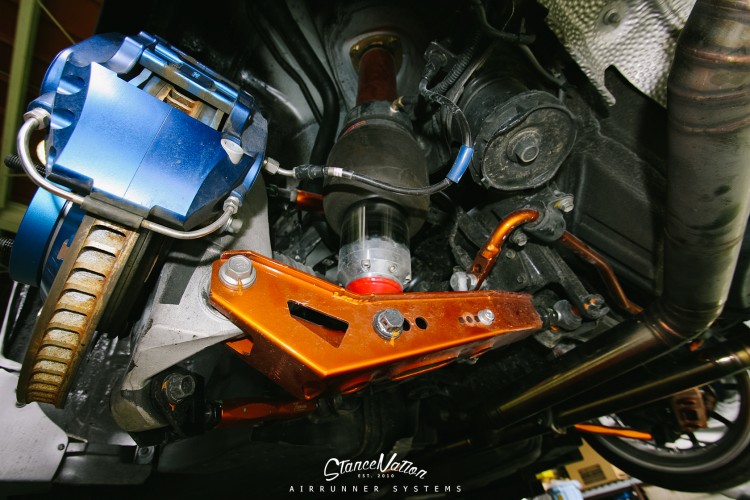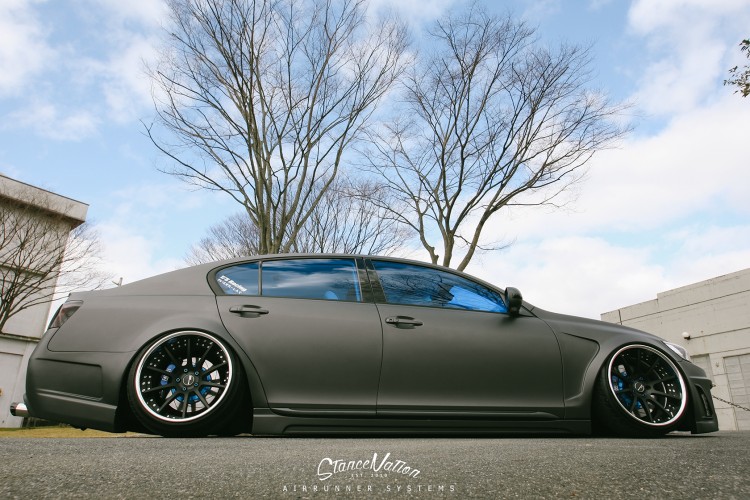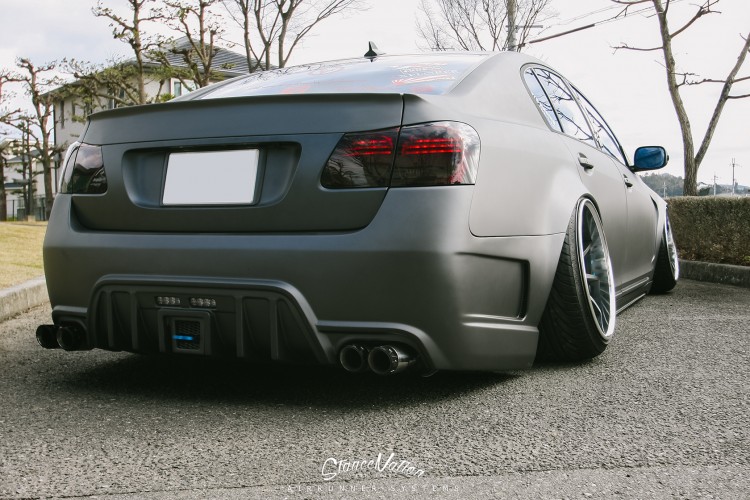 Wheels/Tires/Suspension:
SSR Executor CV01 F:10J R:11J
215/35-19 R:245/35-19
(ENDLESS) F:6P 355 R:4P 355mm
Suspension:
(ACC) AirRunner TC-5 AIR SUSPENSION with e-LEVEL
Dual Quick Air Compressor
Quad Air Digital Gauge
T-DEMAND FULL ARM
Exterior:
One Star F/S/Rear bumper (Modified)
One-off custom trunk spoiler
one-off custom hood
Over Fender F:5cm R:7cm
Original Matte Gunmetal(Vivid Luster)Paint
One-Off LED headlight
Interior:
Full custom white leather seat