In the car world, sometimes it's easy to forget why we do the things we do. Why do we spend countless hours in the shop busting our knuckles in preparation for the next big show? Why do we tirelessly sit at our computers reading through pages of build threads, so that we can achieve this big idea in our heads of what we ultimately want our latest project to be? Why do we sometimes spend unmentionable amounts of money on our four wheeled addictions? I believe for most of us, that's an easy question to answer. It's because of the genuine camaraderie of fellow enthusiasts who share the same passion as you, and the sense of pride you get from being able to say that you created it yourself. And that's the reason behind Joey Gallardo's 370z build.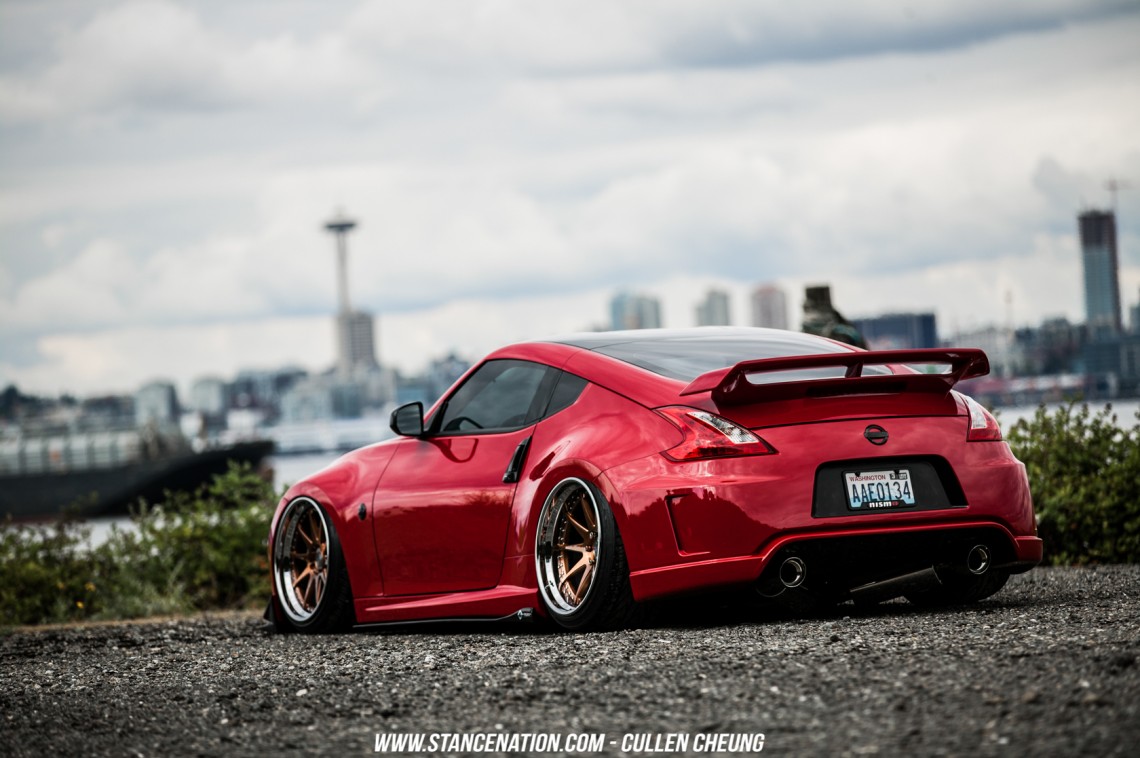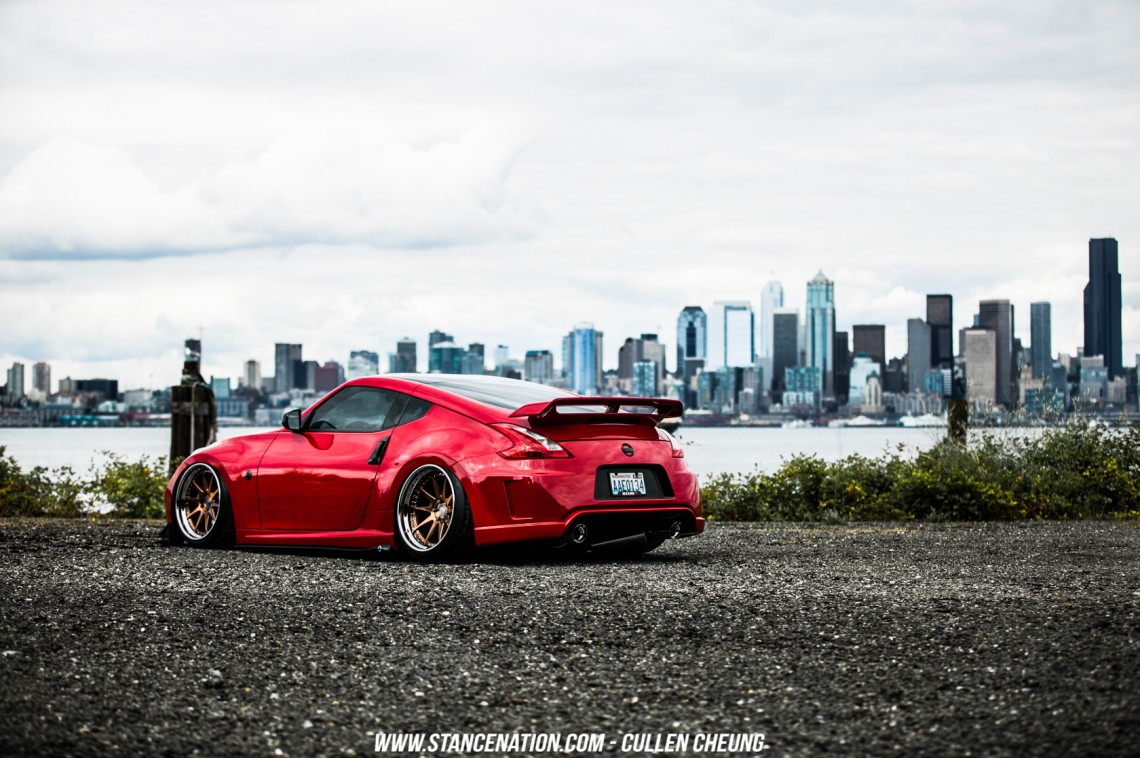 In this day in age, it's getting more and more difficult to stand out from the rest of the crowd. And consequently, Joey tells us that setting his car apart from the rest has been the only real hurdle he has faced since he started his build. With a car such as the NISMO 370z, you typically wouldn't expect to see it laid out on air suspension with perfect fender-to-lip fitment. But our most loyal fans should know by now that here at StanceNation, you should expect the unexpected.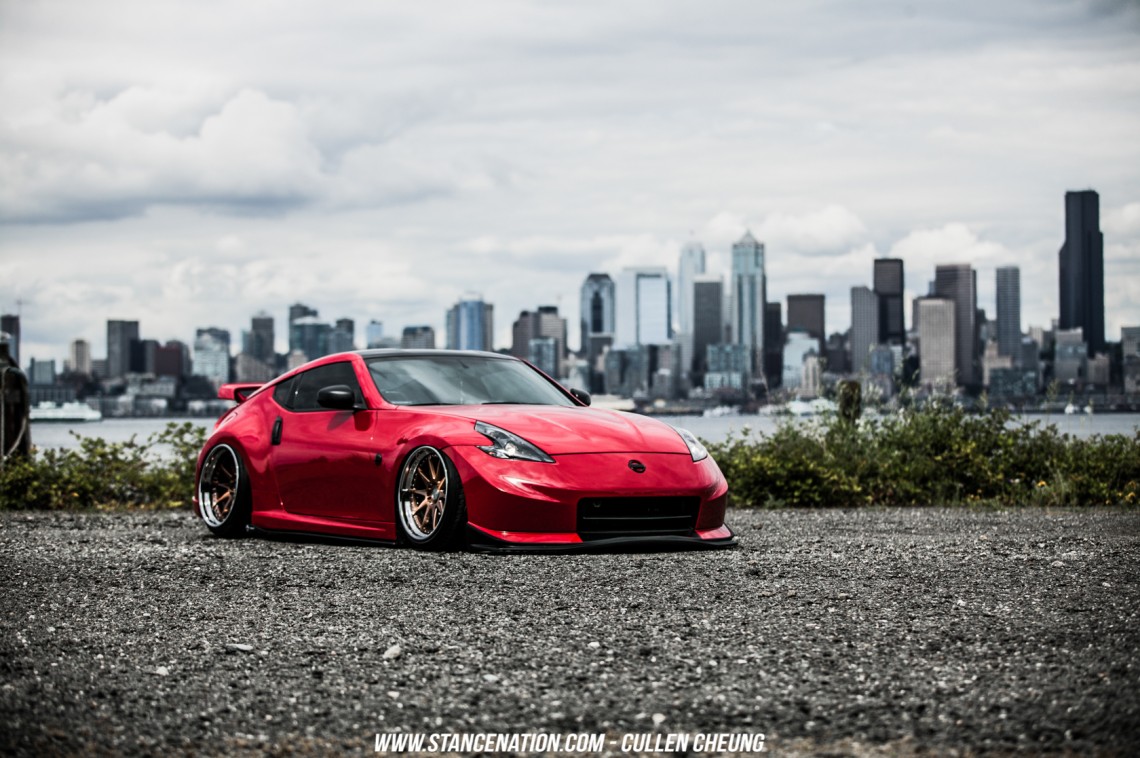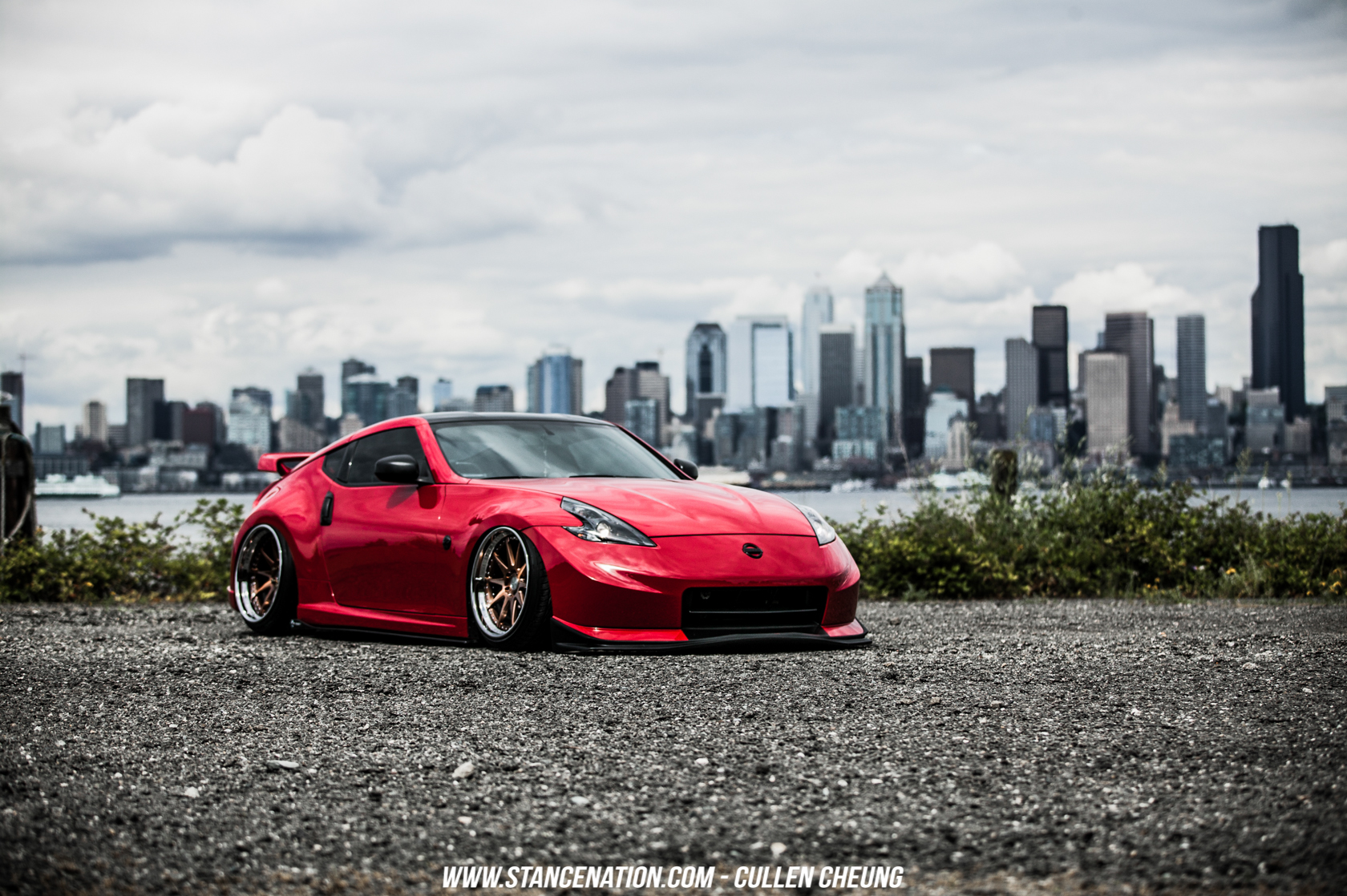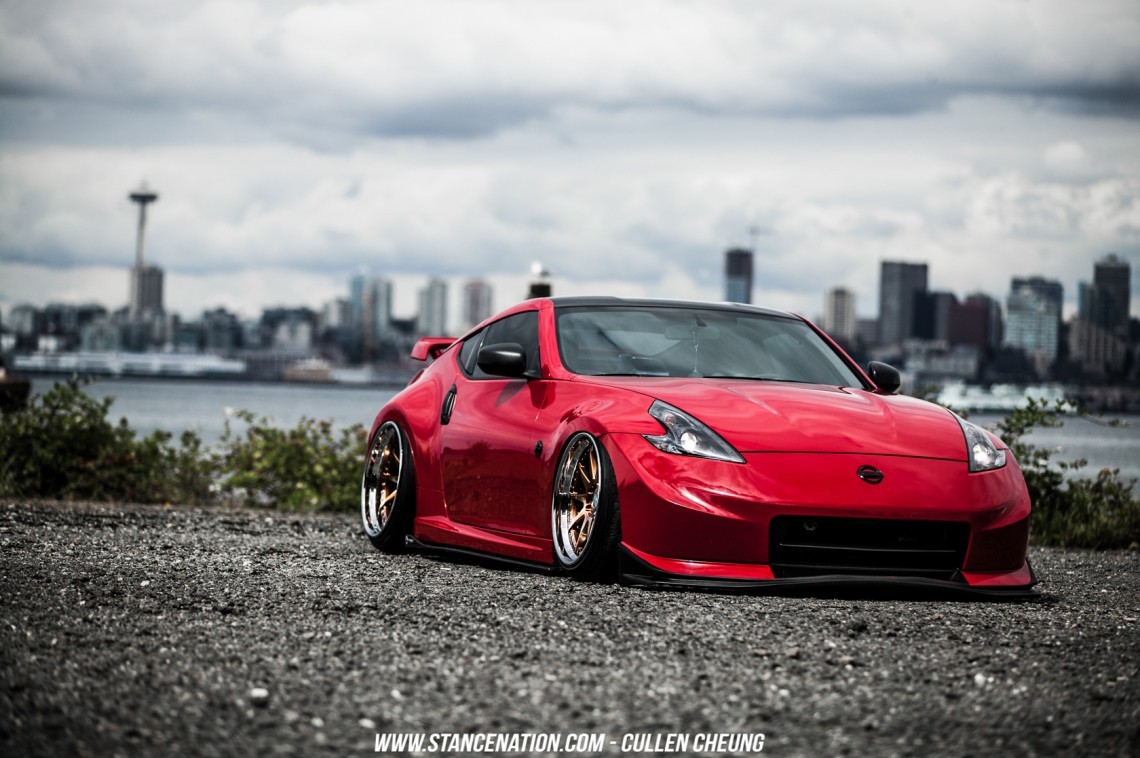 Now before all of you function guys start walking out the door thinking that this perfectly good performance vehicle was sentenced to death by air suspension, Joey went with a hybrid bag over BC coil setup to give him the best of both worlds in handling and ride height adjustment, all controlled by none other than Accuair E-Level. Accuairs E-Level air management seems to be THE choice for majority of automotive enthusiasts, including a few of us here at StanceNation.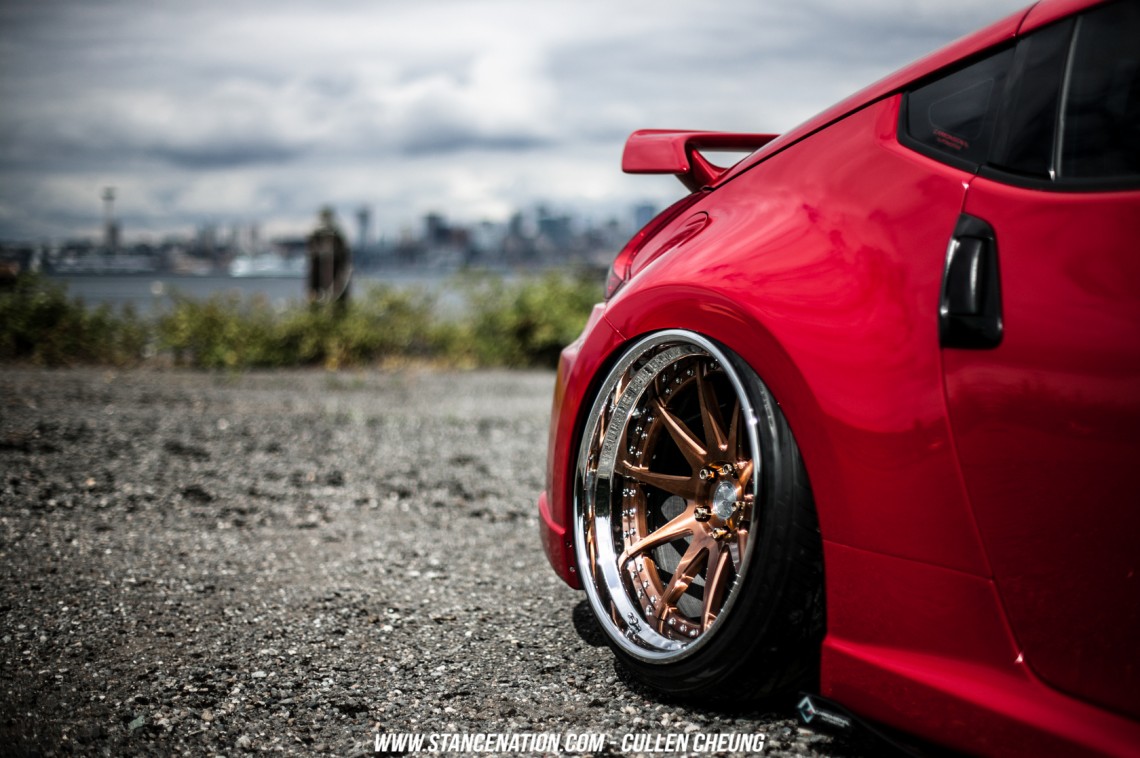 Moving on to probably the most focal point of the car in my opinion, are the timeless looking copper faced Avant Garde F520 wheels wrapped in Toyo Tires. Matched up next to the vibrant red paint job, I honestly don't think a more perfect color combination could have been chosen. To achieve this spot-on fitment, Joey went with a staggerred setup of 20×11's in the front, and 20×13's in the rear.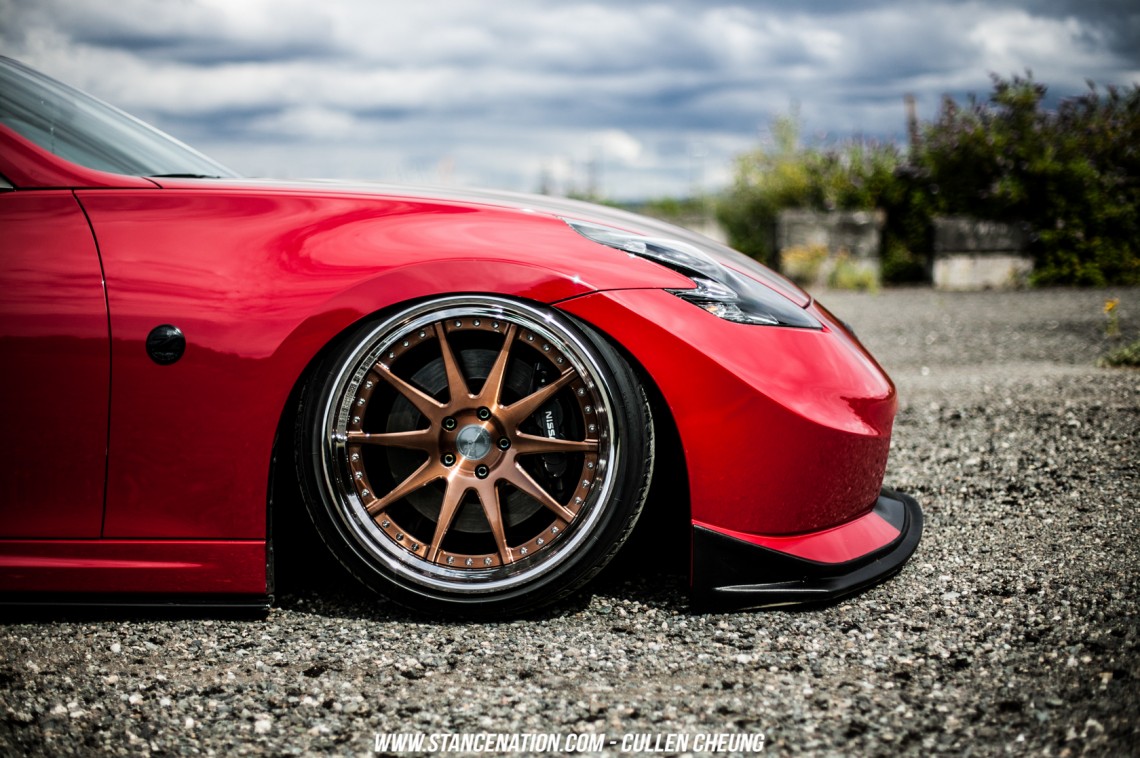 As if the 370z didn't have an aggressive enough look to begin with, this one is dressed from front to back in a Carbon Signal full body kit. Small touches such as the blacked out headlights and black roof  break up the dominantly red exterior,and add even more to its already menacing looks.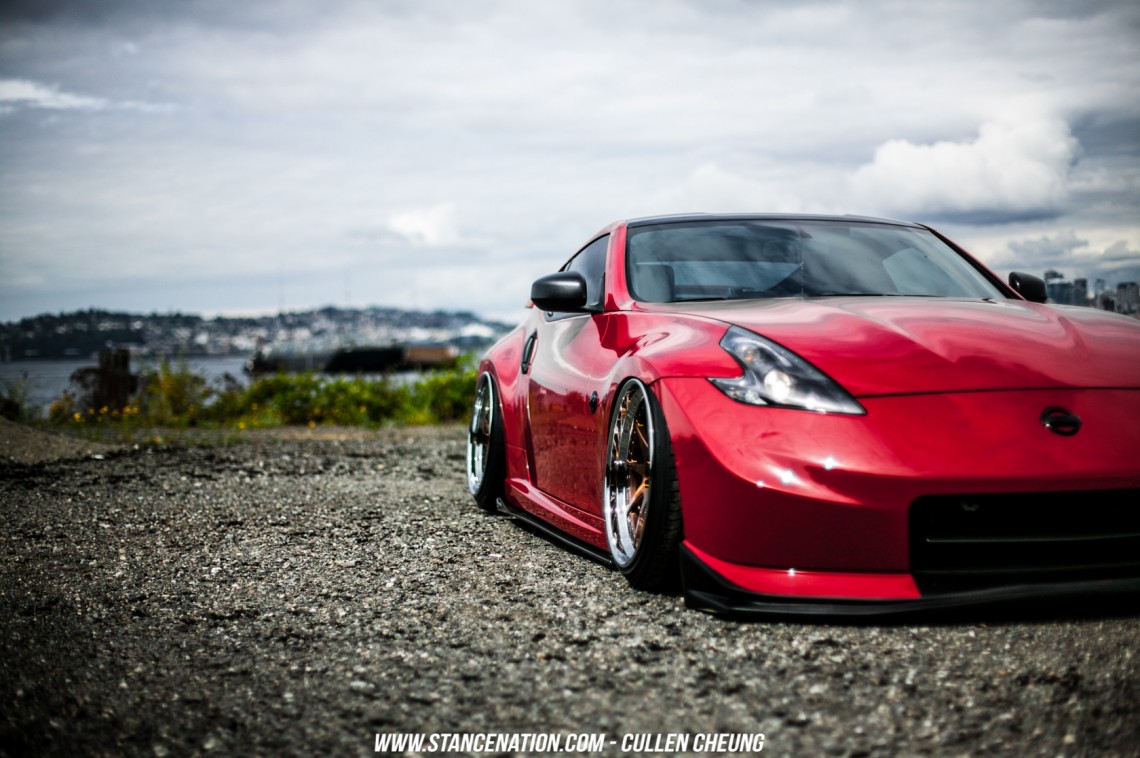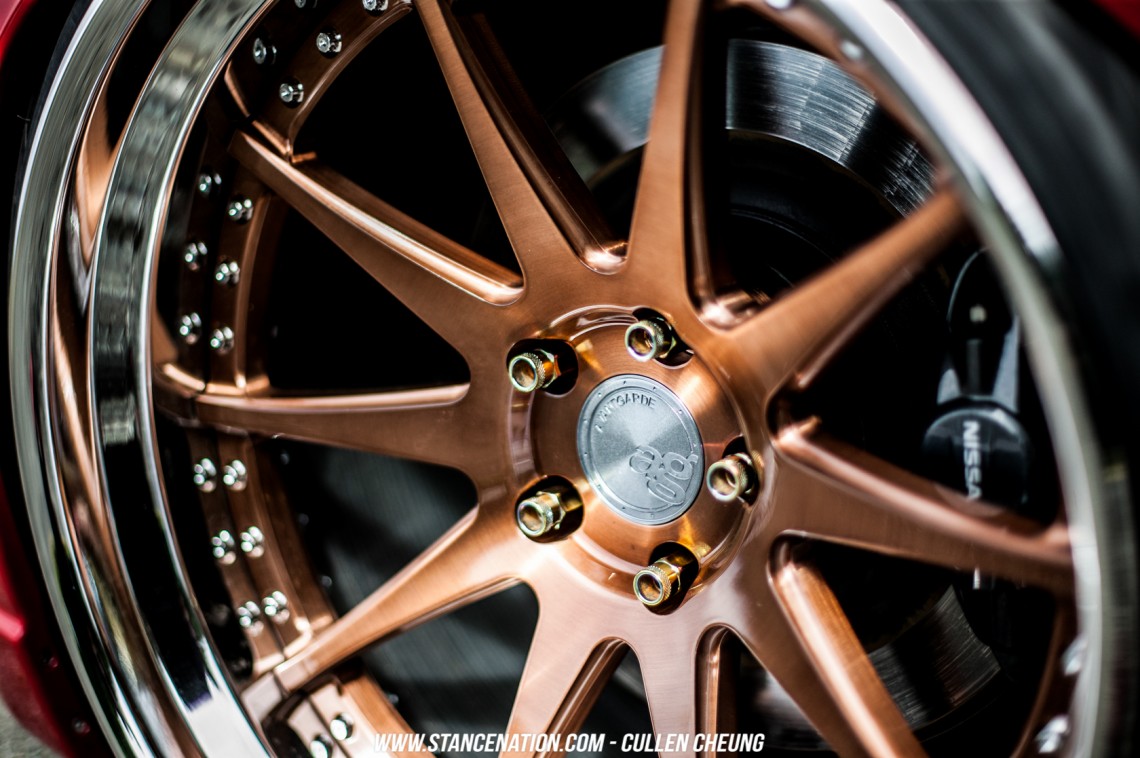 Under the hood, things have been kept relatively simple with Z1 intake tubes, a K&N air filter, Berk high flow cats and a Fast Intentions full exhaust system. Joey also tells us that we may see a turbo in this Z's future.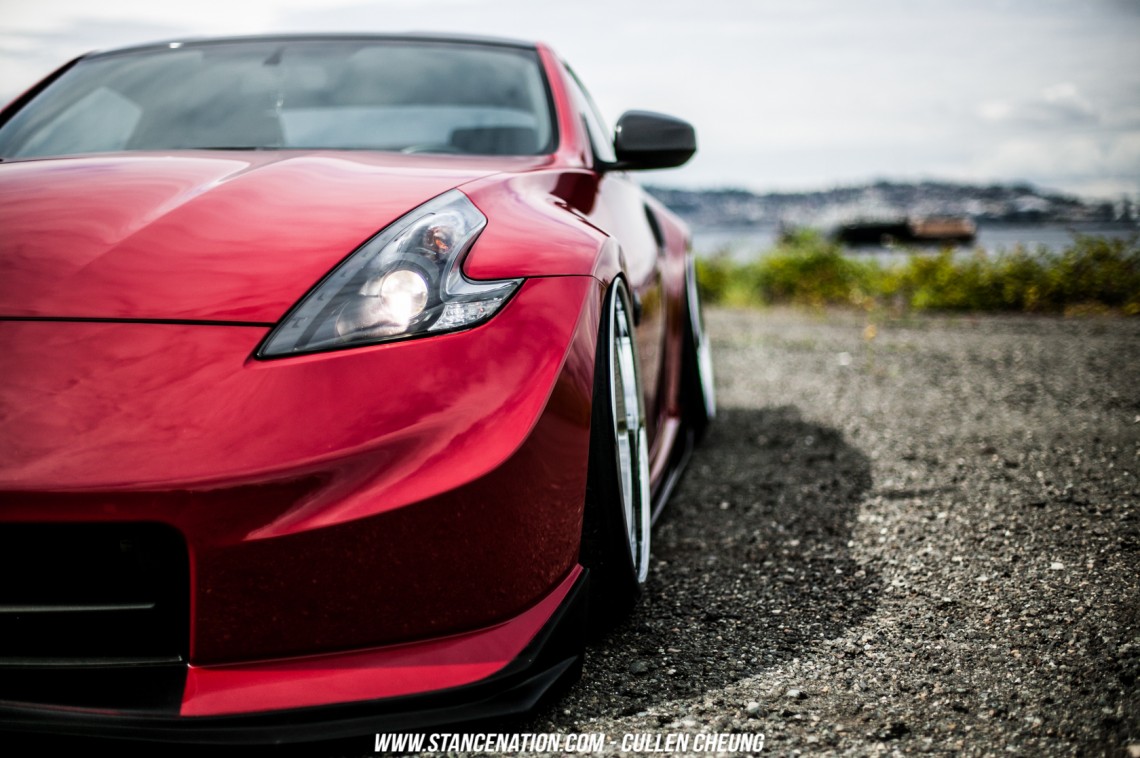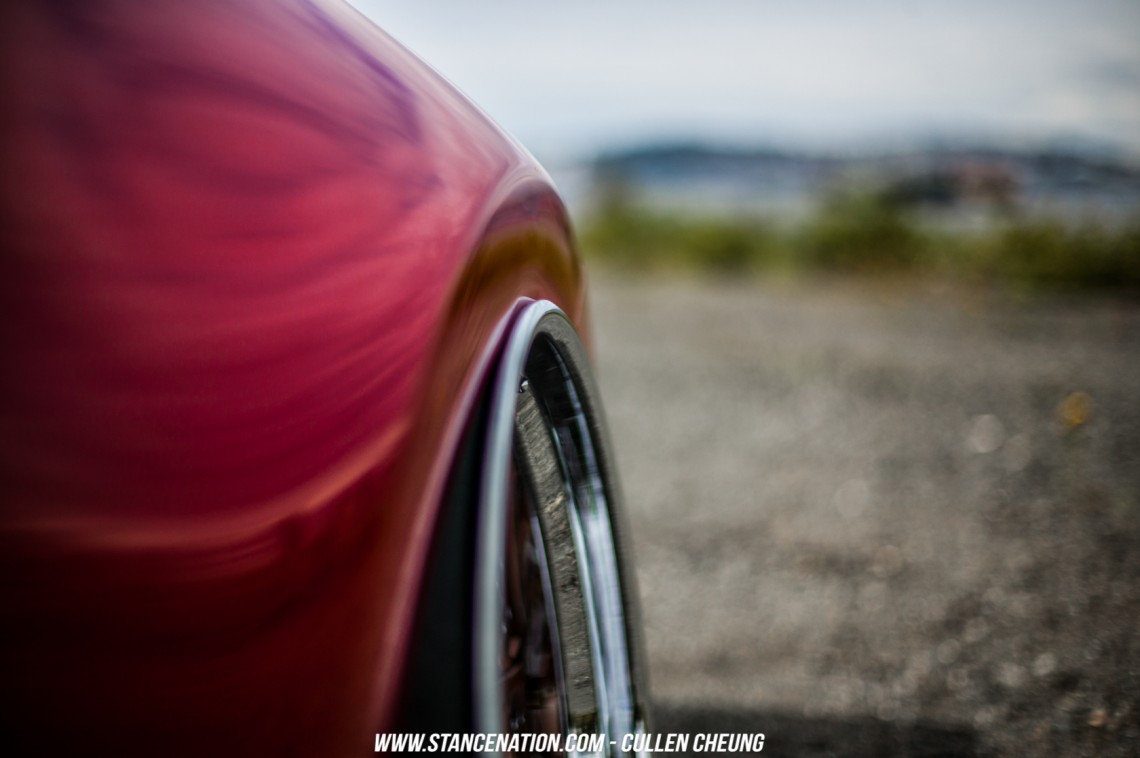 Along with a turbo in its future, plans are also laid out to add a Widebody kit from Carbon signal, a brake kit, and some Bride seats to add to the interior. Which is already equipped with a Kenwood DNX9960 head-unit,  Pasword jdm shift knob, Gtr start button, and AMS short shifter.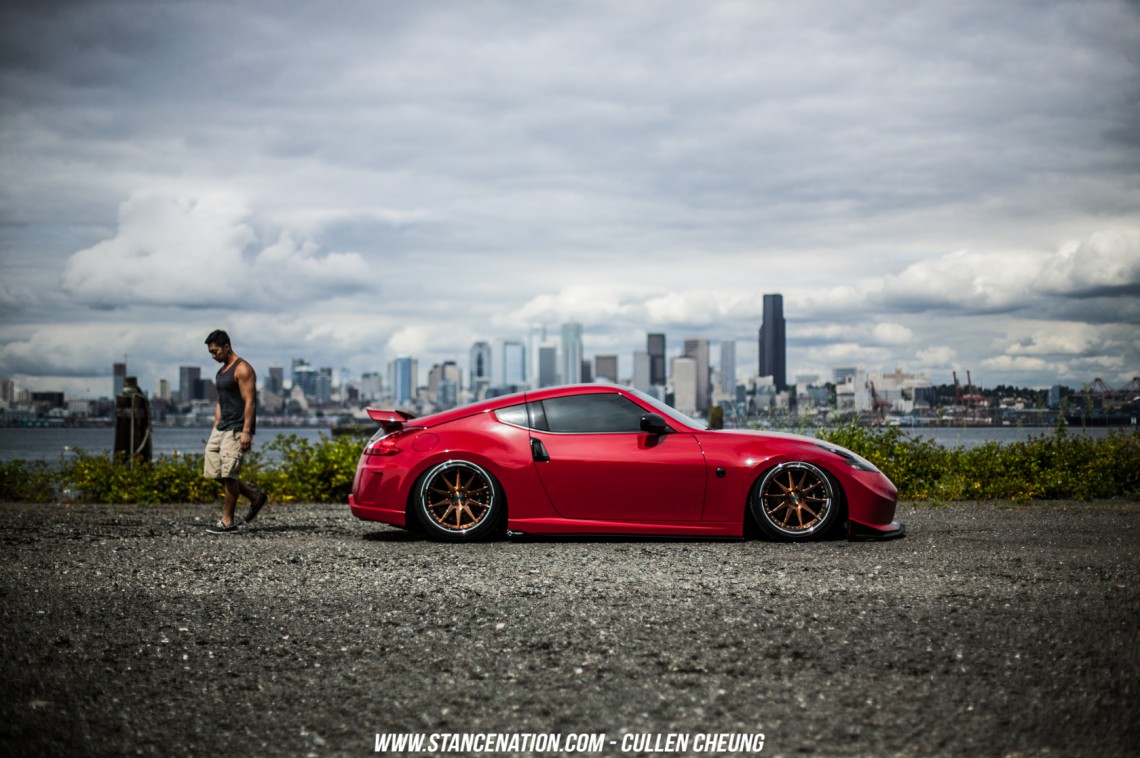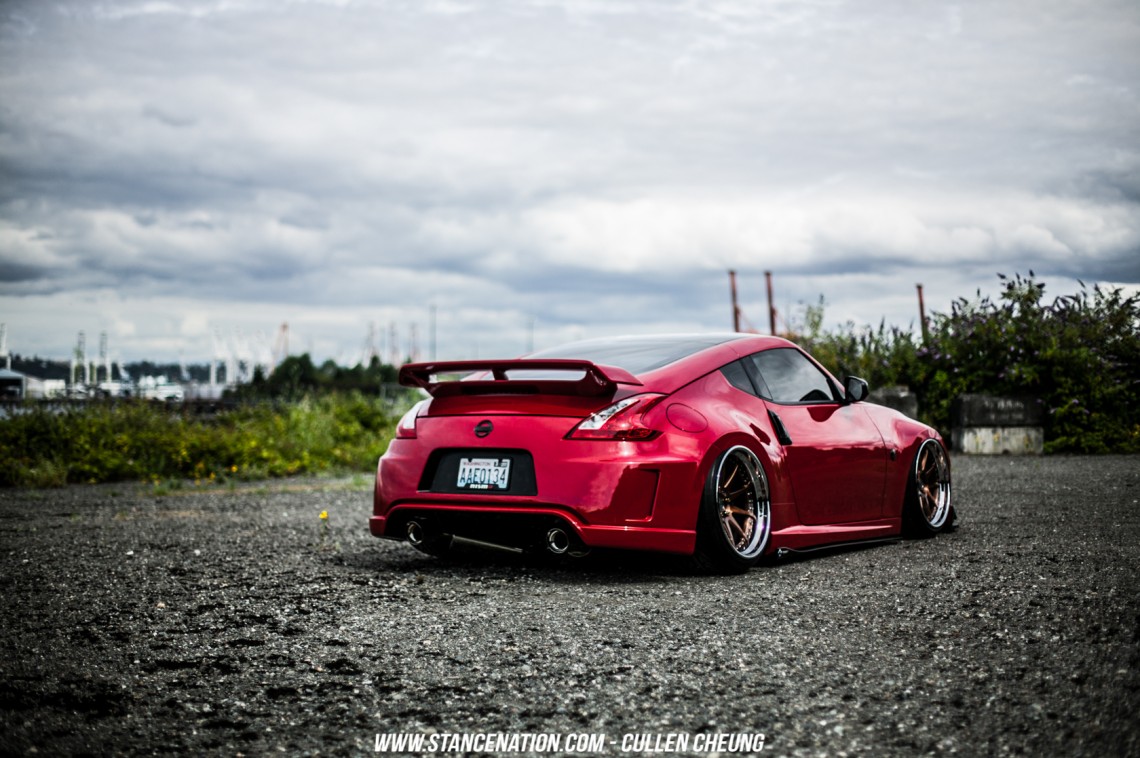 There isn't really much left to say about this great looking car that it can't already say for itself. Low, clean, and aggressive are three words that come to mind as I look at these photos, and I hope that whatever the future holds for this car, this it stays that way.  In Closing, Joey would like to mention and thank his sponsors Carbon signal and Avant Garde wheels that helped back his build and get it to where it is today.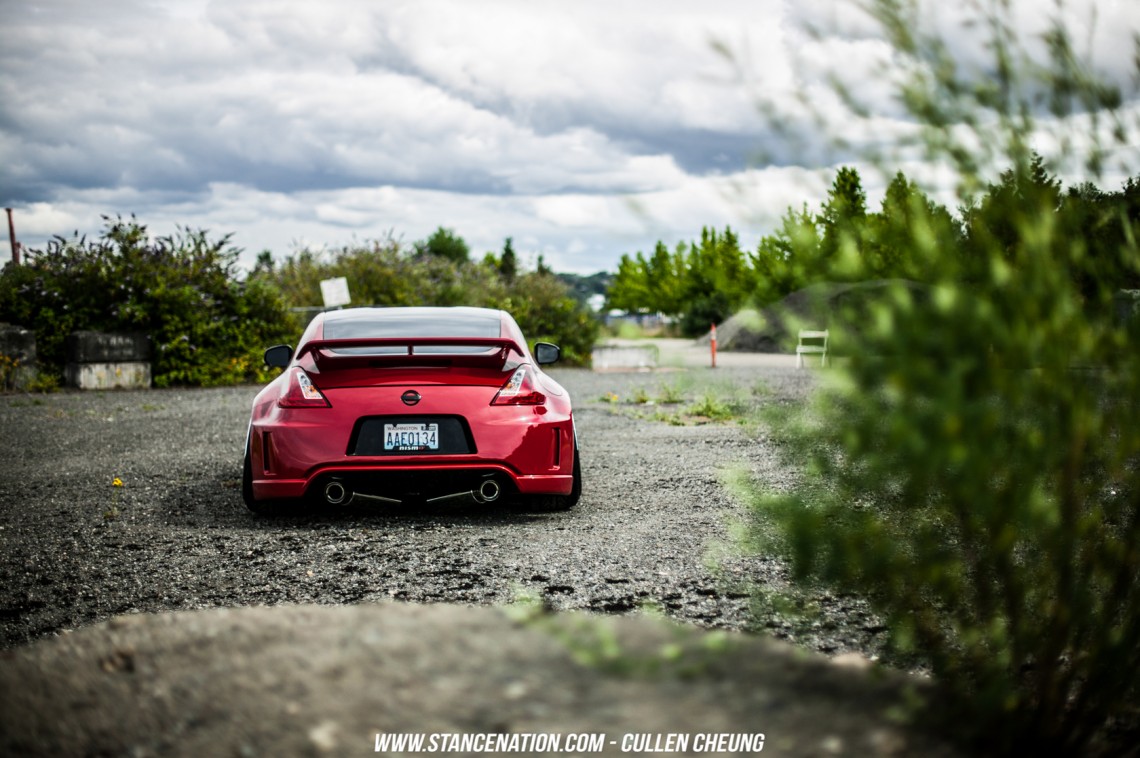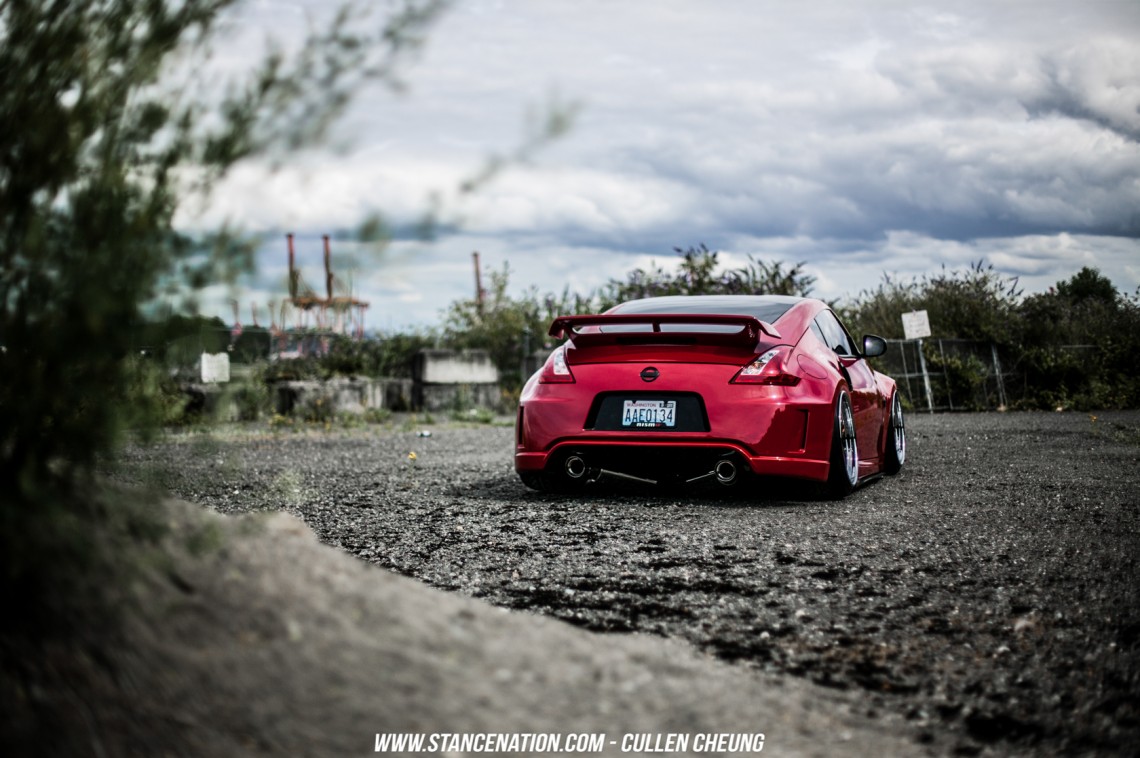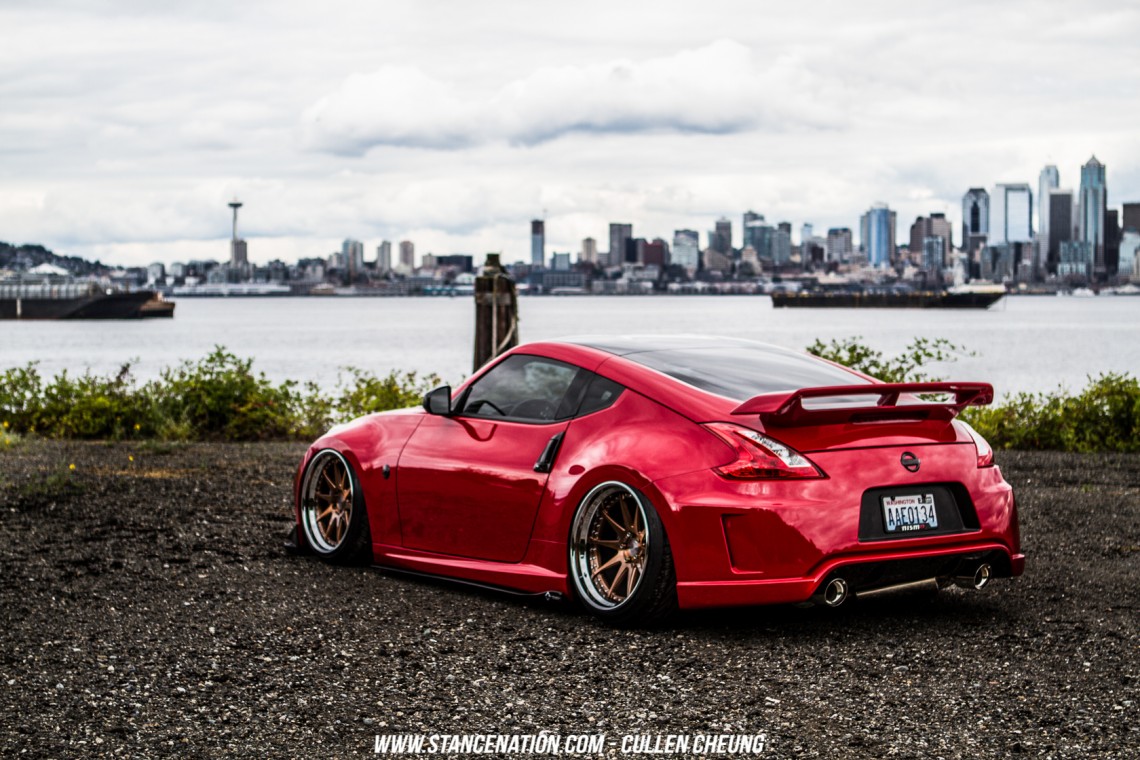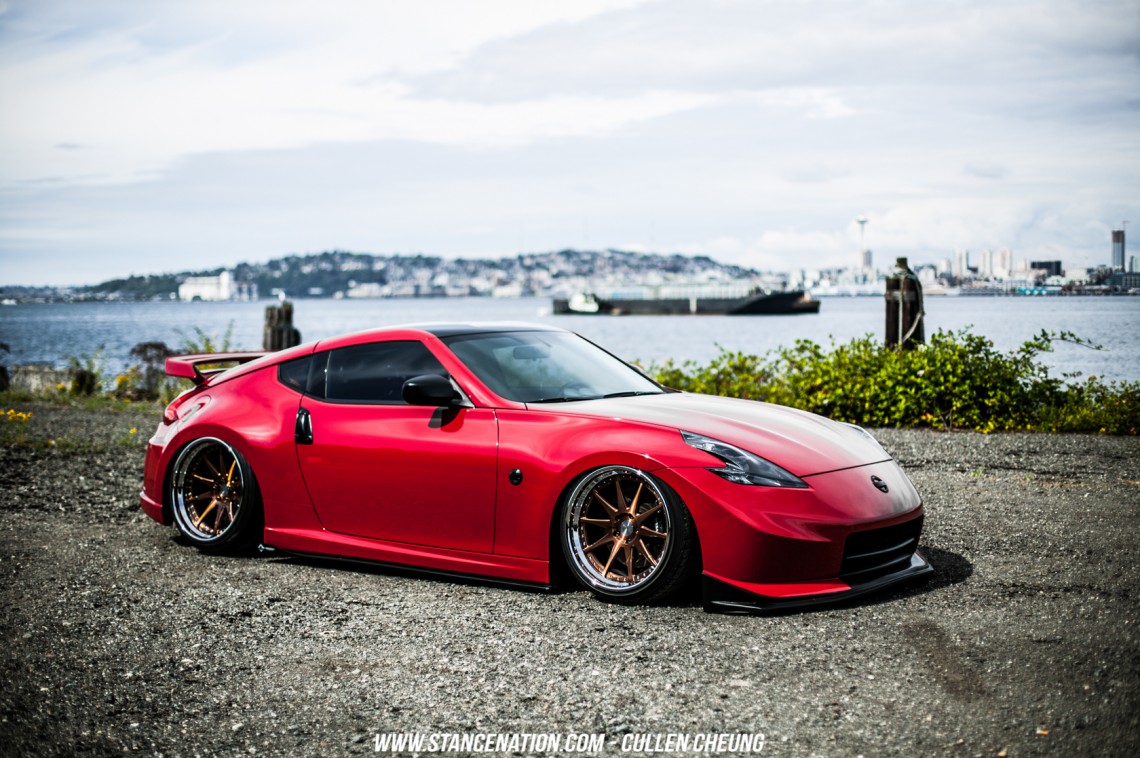 Interior:
Kenwood DNX9960
Pasword jdm shift knob
Gtr start button
AMS short shifter
Exterior:
Carbon signal full body kit
black out headlight demon light and LED
black out roof
Suspension:
Accuair elevel management
Bags over BC coilovers
SPC front and rear camber kit
Wheels/Tires:
Avant Garde wheels F520
20×11 front 20×13 rear.
antique copper face with chrome lip
Toyo Proxes tires
Performance:
Z1 intake tubes KnN air filter
Berk high flow cats
Fast Intentions full exhaust system