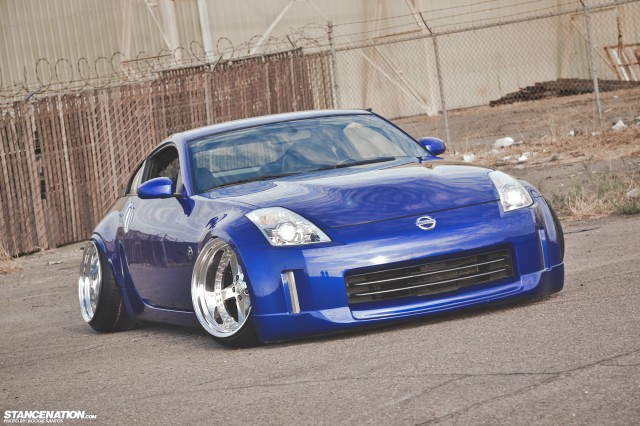 It's been a while since I've actually gotten excited over a well-executed car. In this industry, you usually see the same people every week at the same car meets, who most likely compete at the same shows. You pass by the same cars until suddenly, you pass that one car. A car that truly lives up to the meaning of being a neckbreaker. A car that you've never seen anywhere else, not at any local shows or meets. Just the occasional Instagram post captioned "who owns this car?". A car with such strong presence that you can't help but just stare at it as it passes you by in what seems like slow-motion. I call those unicorn cars. This one in particular is owned by Manny Ibarra of Calexico, California.
Photos By: Boogie Santos exclusively for StanceNation.com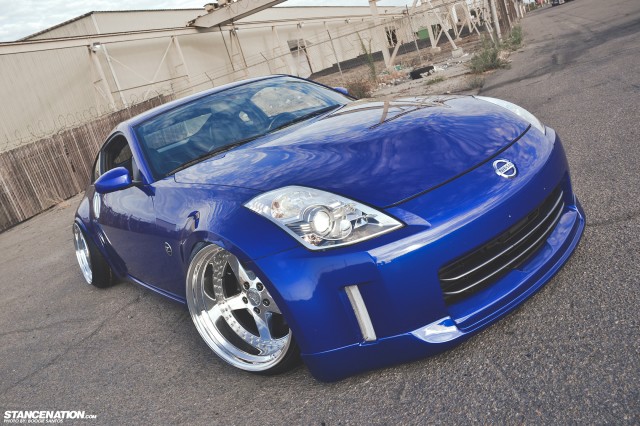 The one thing that probably grabs your attention first is the super-aggressive fitment. Manny is a purist and doesn't believe in crazy body kits, so he opted to focus on the fitment, so we'll begin with that. His current wheels are a set of custom steplip Work Equips, rocking 19×11.5″ up front and 19×12 in the rear, -23 and -25 offsets. The front wheels require a 5mm spacer in order to clear the OEM brakes. To help achieve his current stance, Manny installed a set of Stance GR Coilovers and modified Circuit Sports Arms all around to achieve the near-demon camber. A slight fender roll and pull allows the 235/35f and 245/35f series tires to fit snugly beneath the already fat 350Z fenders.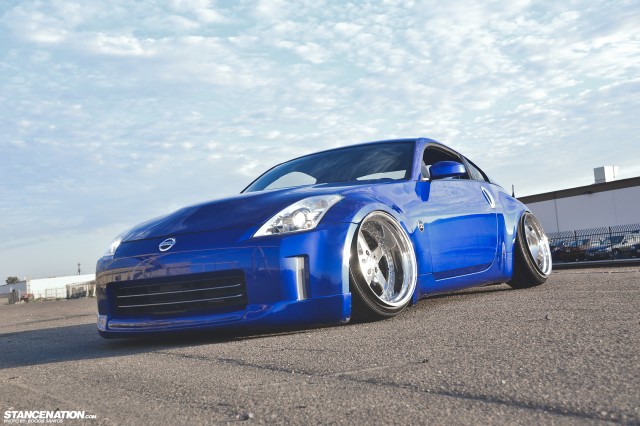 As I mentioned earlier, Manny is not a huge fan of bodykits. He decided to keep the car's exterior clean and simple. He is, however, a fan of the Ings front spoiler that now sits up on the front fascia nicely. That's pretty much it: clean and simple.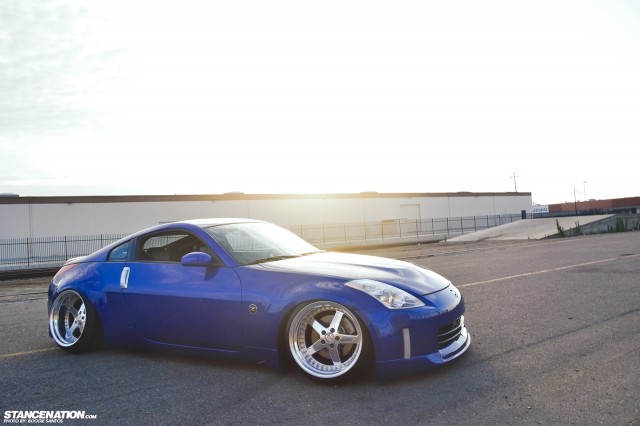 The interior is just as simple. The seats were reupholstered by Katzkin. The steering wheel was provided by Grip Royal along with an NRG Hub and Quickrelease. Under the hood, a Fujita5 Intake provides air to the engine and an S-Tuned Nismo Exhaust releases it. This combo creates a sound that most 350z owners dream of.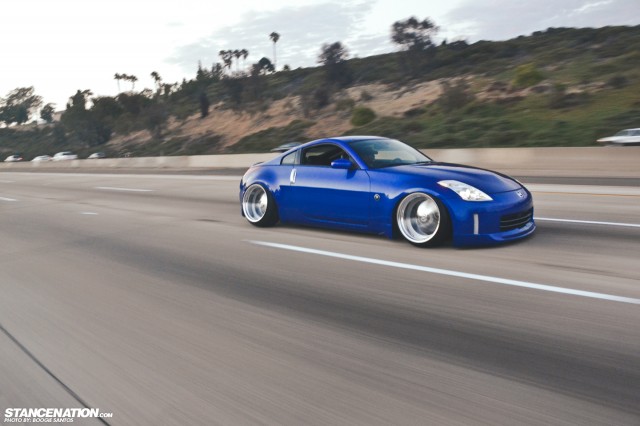 This car used to rock a ton of other wheel setups previously, including but not limited to a set of Gram Lights 57 Pro, Volk CE28, Volk TE37, Work Meisters, Work VS-XX, Garson Deep Racing Wheels and VIP Modular VX310s. Believe me when I say how much of a neckbreaker this car truly is. After shooting the car, we headed out to a local meet and nearly every car we passed had to double-take our caravan. We couldn't even park our cars without having to ask people to move out of the way. It was definitely the center of attention that night. Future plans are to just keep riding low, keep breaking necks and possibly move onto a bigger VIP platform. Manny would like to give shoutouts to Milt and Chris from Low-n-Slow, Buler and Biggie for the help, Boogie for the last-minute shoot and to his son Angel, the only one allowed to ride in the Z.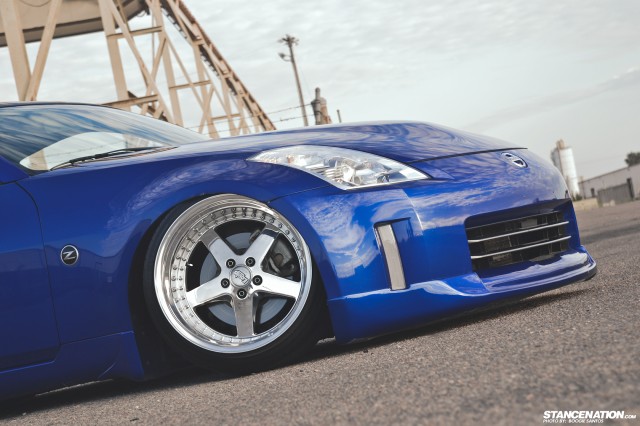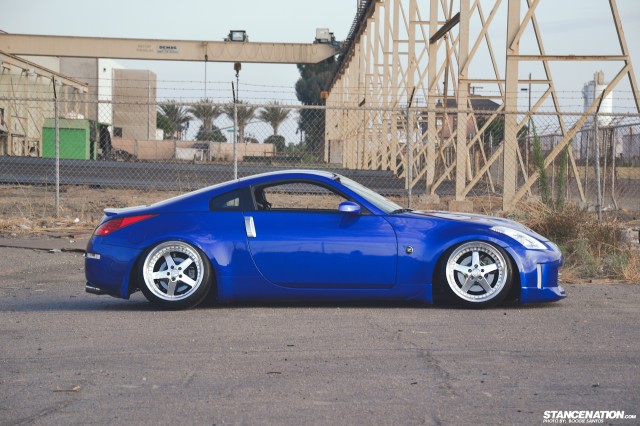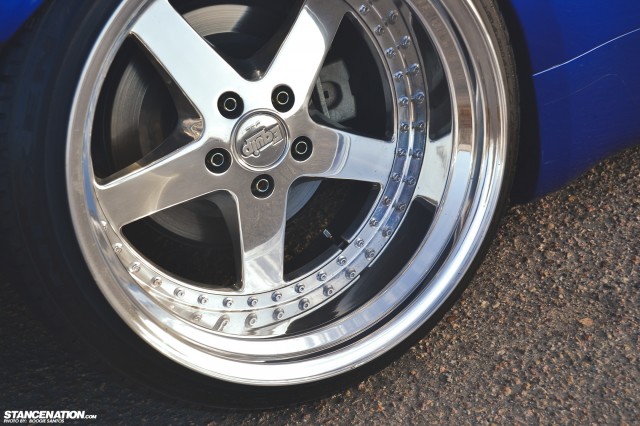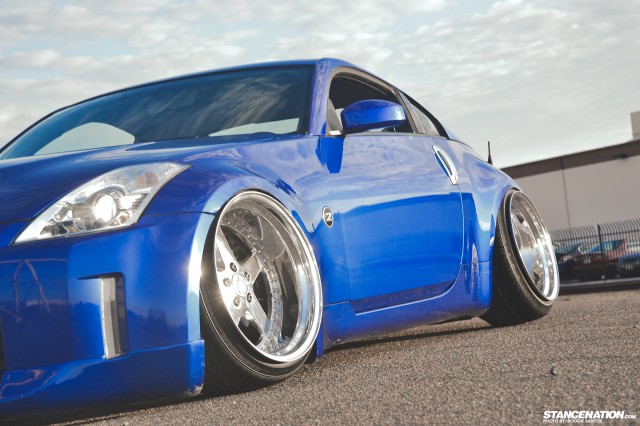 [toggle_box]
[toggle_item title="Wheels/Tires/Suspension" active="true"]19″ Work Equips, 19×11.5 -23 front
19″ Work Equips, 19×12 -25 rear
235/35f 245/35r tires[/toggle_item]
[toggle_item title="Exterior" active="false"]Ings Front Lip
Small fender roll and pull[/toggle_item]
[toggle_item title="Interior" active="false"]Katzkin leather seats
NRG Quickrelease
NRG Hub
Grip Royal Steering Wheel[/toggle_item]
[toggle_item title="Engine" active="false"]Fujita5 Intakes
S-Tuned Nismo Exhaust
Berks HFC Cats[/toggle_item]
[/toggle_box]