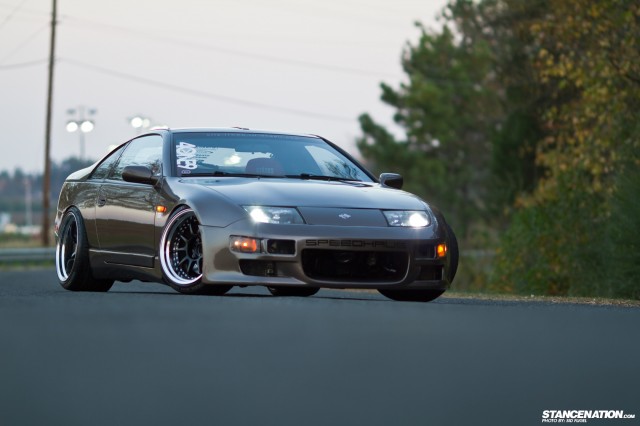 Growing up a gear head, I've been addicted to car articles since what seems like the stone age. Way back when I had to earn my automotive magazines by doing chores (or the few lucky occasions when my dad forgot a few bucks in the pocket of his jeans). Even before I knew the technical details of what I was looking at, I had a few favorite cars that always seem to catch my attention. The Nissan Z32 (300ZX) was among the top of that list, and Steven Darchiville & his Nissan 300ZX have most certainly got my attention. In fact, its hard to look away.
 Photos By: Sid Fligel exclusively for StanceNation.com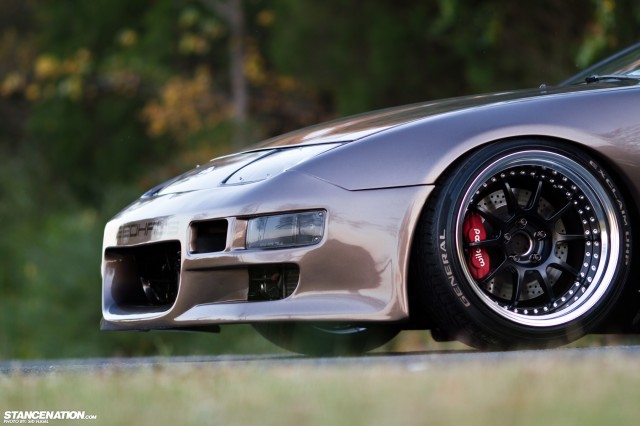 A car can be looked at from so many different perspectives. For most, cars are just transportation or tools used to get you from point A to B. The Z you see here however, is far more than a transportation tool. It's a trophy, it's a reflection of Steven himself. Steven considers his Z an example of what he has earned through hard work and dedication. We have actually featured this car once before (CLICK HERE) and as you can tell, it has seen many different stages and will surely see many more in the future. Steven doesn't plan on letting his Z go any time soon, "I want to be that cool old guy on the street that has that sick car he never drives". This latest reinvention has to be the best so far, for many reasons.
Nissans and the Z line of cars have always been popular models among tuners and enthusiast. That popularity has inspired a large number of companies to create aftermarket parts in a number of different varieties. This gave enthusiasts like Steven plenty different options to choose from, and it almost seems that he tried them all. This Z has had lowering springs with shocks, adjustable sleeves with shocks and a few different coilover kits. His latest suspension kit consist of Megan Racing Street series coilovers with Top Speed tension arms, upper A arms and rear camber arms. Steven also installed Wicked Tuning rear tow arms and a set of Energy Suspension steering rack bushings up front.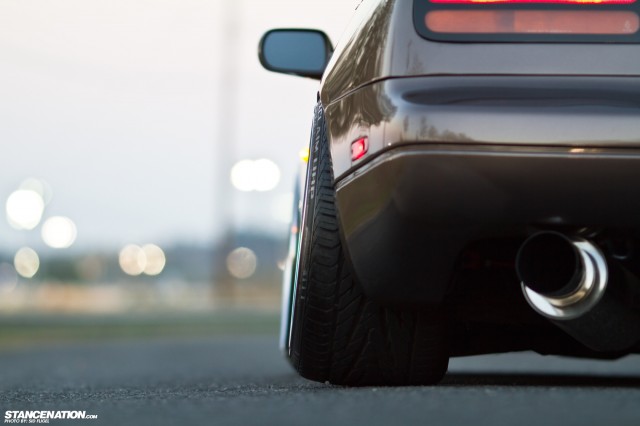 Nissan gave the 300ZX such beautiful body lines that it's hard to find aftermarket options that outdo or even match the original design. Steven didn't want to look like every other Z32 out there, so he swapped the front end with a Greddy Trust front fascia with Nismo smoked clear corners. The front fenders have been swapped with factory JDM set that includes sidemarker lights and under the doors is a mild set of Powertrix side skirts. Once all the little details were addressed, Steven had everything painted in a beautiful Beryllium Metallic paint, which I personally love very much. It's a bit wild and different but doesn't really scream for attention.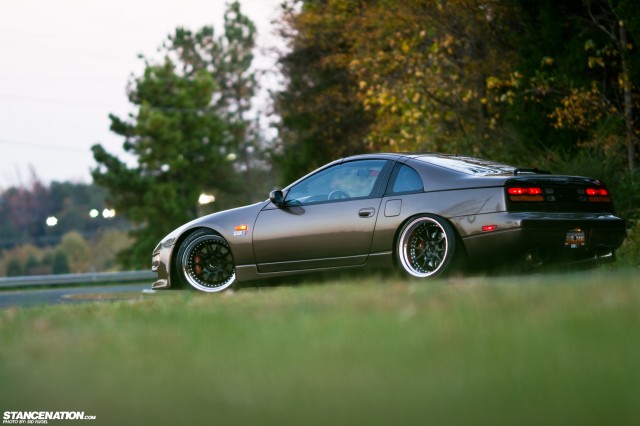 Most enthusiasts would agree that wheels are a pretty important feature in a car build. Well, at least us fitment guys. Steven made a great choice with his most recent set, SSR SP3's with flat black faces and polished step lips. These SSRs fill the fenders wonderfully with an aggressive 18×10.5 +0 in the front and a even wider 18×12+24 in the rear. They have bee wrapped in General Exclaim 235/40 and 285/30 rubber. The ten spoke face of the SP3 has a sporty design with the polished step lip that adds a bit of elegance. Behind those beautiful SP3s you can see the red Wilwood calipers and 13″ rotors that complete the BBK used to bring this sexy sport coupe to a stop.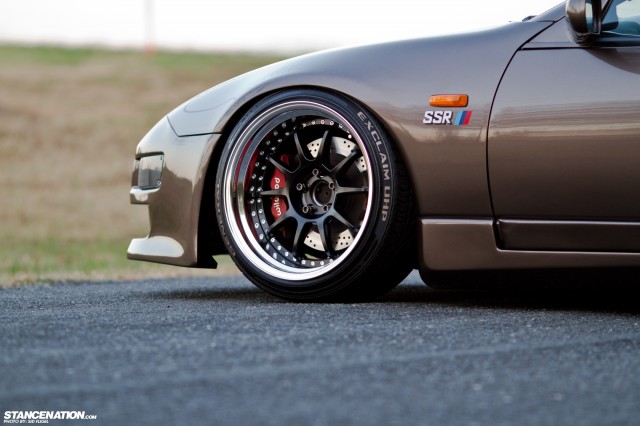 This car was bought in 1994, and even in stock form it was an incredible naturally aspirated machine. Now roughly 18 years later with a few adjustments, this Z still looks good enough to break necks even among the toughest of crowds.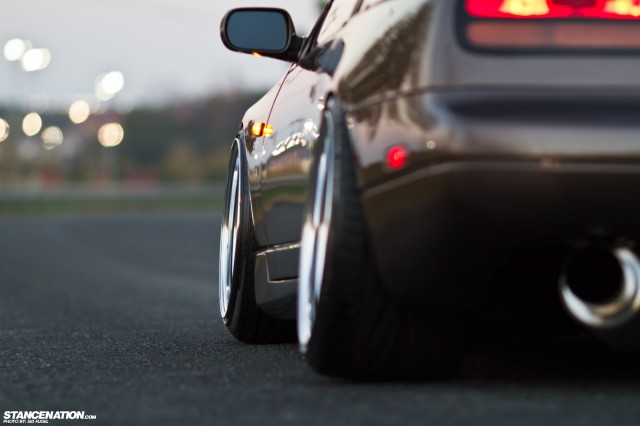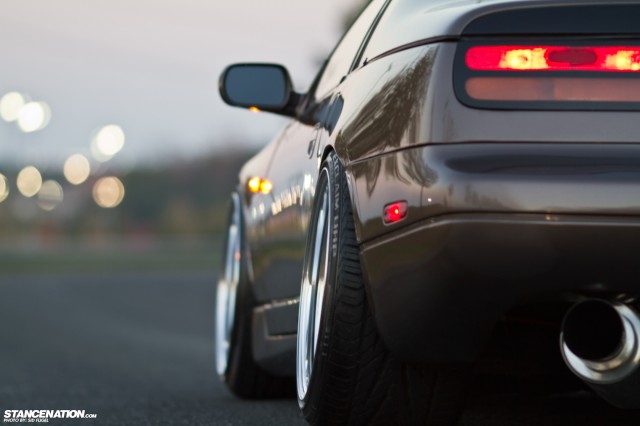 As I mentioned previously, this car left the factory a naturally aspirated machine. After a few years of ownership however Steven decided he needed an upgrade. He had no plans for swapping his car, instead he just swapped the engine. The Nissan Z32 was a popular model for many different reasons, one major reason was the optional twin turbo motor. Steven had the JDM engine swapped and wire tuck done by Speedhaus. A twin turbo motor needs a pretty long list of supportive parts. Starting with electronics, an AshSpec tuned ecu, Greddy profec B spec II electron boost contoller, and Greddy auto timer collectively make up the brains of the engine operation. Exhaust fumes flow through Megan racing testpipes, divorced downpipes and HKS Hi-power catback. The intake is drawn through JWT intake system, flows through a Z1 hardpipe kit and boost pressure is relieved with Sard R2d2 blow off valves. Fuel into the fresh air with Deatschwerk 550cc injectors that are fed fuel through an upgraded twin turbo fuel pump. As if the list wasn't long enough, Steven has also added 300 Degree EGR elimination and ASP underdrive pulley.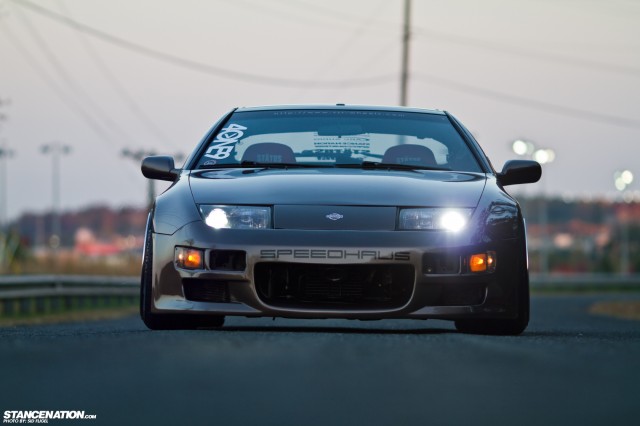 Doesn't matter what motor you have if you cant put the power to the ground though, right? Shifting through gears is quite a bit more enjoyable thanks to a stainless steel braided clutch line, SPL bronze shifter bushing and Ebay short throw shifter. Gear changes are also a bit more effective thanks to the stronger Exedy stage 1 clutch and lighter 12lb Chromoly flywheel. With the jump in power, OEM parts have a hard time staying together so a stronger SPL urethane transmission mount was used and a lighter one piece driveshaft replaces the oem 2 piece factory part.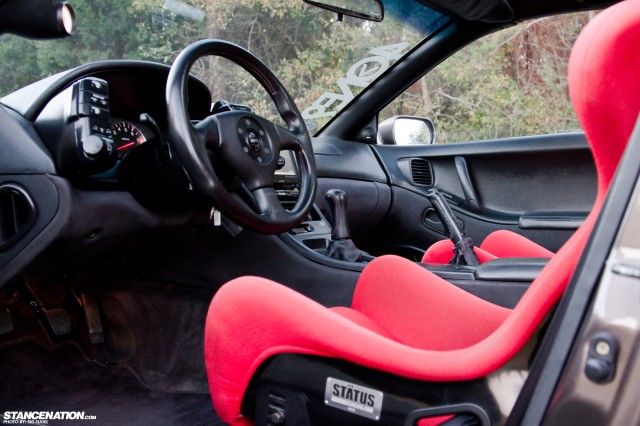 It would seem that no speedy Nissan coupe would be complete without bucket seats. Steven and his passengers are held tight by Status Racing Ring FRP seats held on with Corbeau brakets and G force pro 4 point harnesses connected to an NRG titanium harness bar. Looking through his Mitsubishi Evo III steering wheel Steven can read engine RPMs with Concept Z gauge rings and gear shifts are done through a J spec red stitch shift knob with matching shift boot.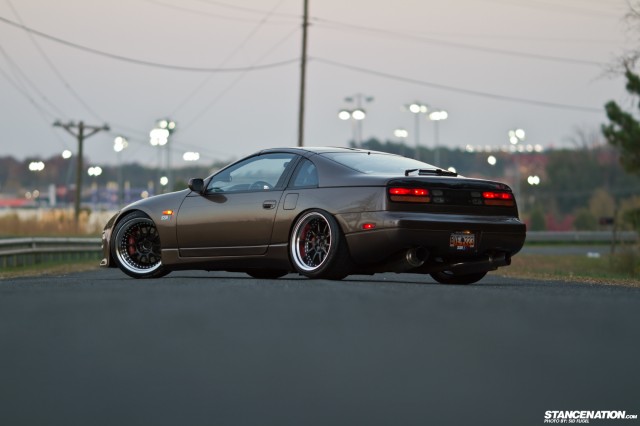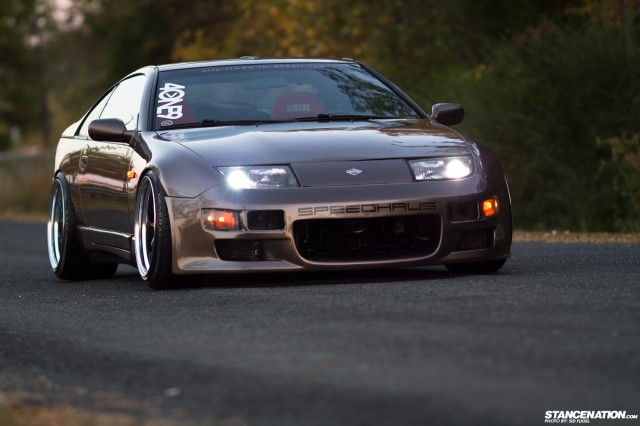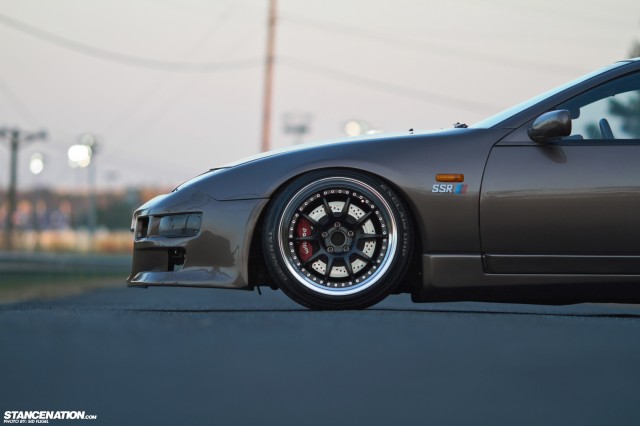 This Z wasn't built overnight. It's actually been many years in the making and its far from over.  "A lot of people work hard in life and don't have anything to show for it. I want to be 140 years old (because I'm gonna live forever) with the Z under a car cover in my garage", says Steven. He also wanted to thank everyone in the bURG (his crew) for being such an incredible automotive community and constant motivation for each other.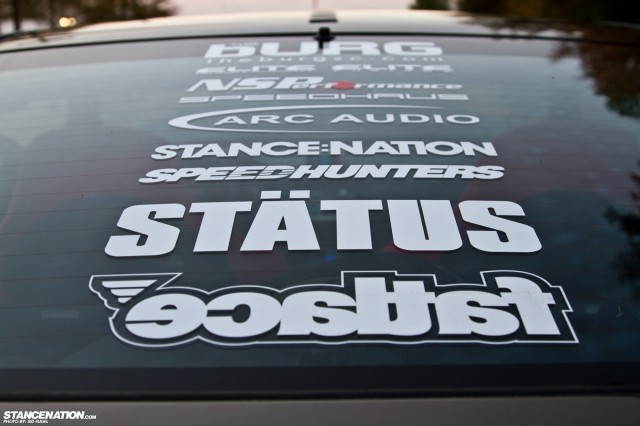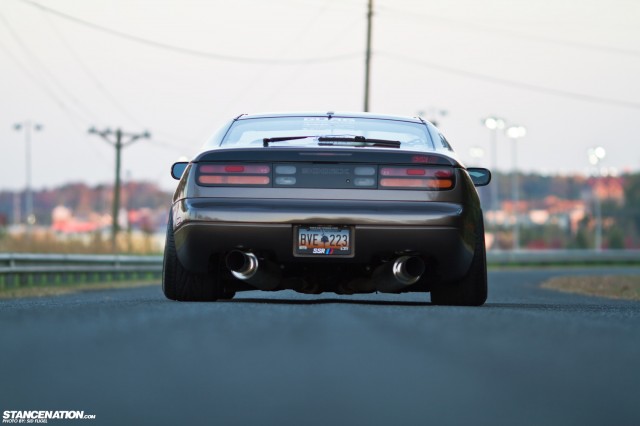 [toggle_box]
[toggle_item title="Wheels/Tires/Suspension" active="true"]Suspension
Megan Racing Street Series coilovers
Top Speed tension rods
Top Speed upper A arms
Top Speed rear camber arms
Wicked Tuning rear toe arms
ES polyurethane steering rack bushings
Wilwood 13″ front brake kit
Wheels and Tires
SSR SP3 Flat black w/ stepped polish lip
18×10.5 +0 front, 18×12 +24 rear
General Exclaim tires 235/40/18 front, 285/30/18 rear[/toggle_item]
[toggle_item title="Exterior" active="false"]Beryllium Metallic paint
Greddy Trust front fascia
Powertrix side skirts
JDM fenders
JDM sidemarkers
Nismo smoked corners
Shaved rear bumper[/toggle_item]
[toggle_item title="Interior" active="false"]Status Racing Ring FRP seats
NRG titanium harness bar
G-Force Pro 4pt harnesses
Corbeau brackets
Mitsubishi Evo III steering wheel
Concept Z gauge rings
J-Spec red stitch shift knob
J-Spec red stitch boot & ebrake
In-Car Entertainment
Alpine DVD headunit
RF midrange
RF wiring
(3) Alpine Type S 10″ subwoofers
Alpine 600w 4ch amp
Streetglow LED lighting[/toggle_item]
[toggle_item title="Engine" active="false"]JDM twin turbo engine swap 35k on motor
Wire tuck by Speedhaus
AshSpec tuned ECU
Greddy Profec B Spec II EBC
Greddy auto timer
Megan Racing divorced downpipes
Megan Racing testpipes
ASP underdrive pulley
JWT intake
HKS Hi-Power catback
300 Degree EGR elimination
Deatschwerk 550cc injectors
Upgraded twin turbo fuel pump
SS clutch line
Exedy Stage 1 Clutch
XTD 12lb chromoly flywheel
SPL bronze shifter bushing
"eBay" short throw shifter
SPL urethane tranny mount
Sard R2D2 BOV's
Z1 1-piece driveshaft
Z1 hardpipe kit[/toggle_item]
[/toggle_box]