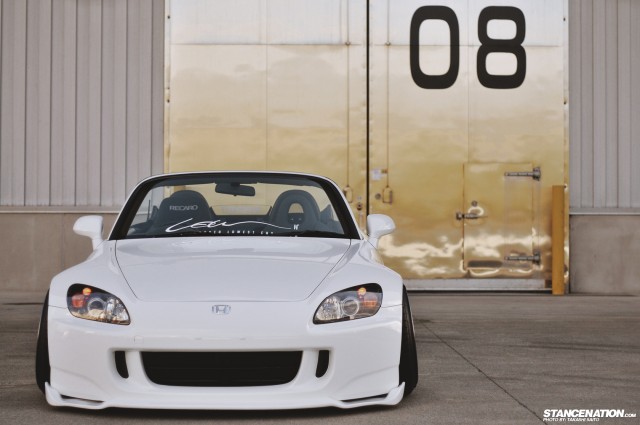 Some of you Stance Nation readers may remember this car from about a year ago. Some might not even recognize if they do remember it. This S2000 belongs to our Japanese friend Matuun, who in the last feature proclaimed his love for USDM/American style fitment builds, which always surprises me. Here in North America, we strive to be like the Japanese and over seas builds. Be it with crazy negative camber, sought after Japanese wheels to even running the badges, grilles and parts off the JDM counterpart of our own USDM cars. Either way, we always strive to be something we aren't with our cars, which is what makes this scene go round.
Photos By: Takashi Saito exclusively for StanceNation.com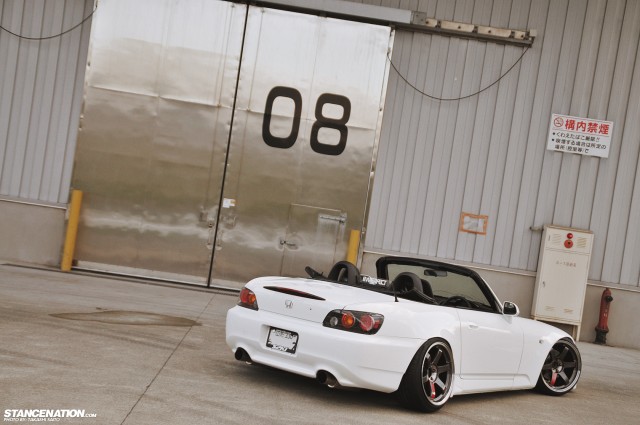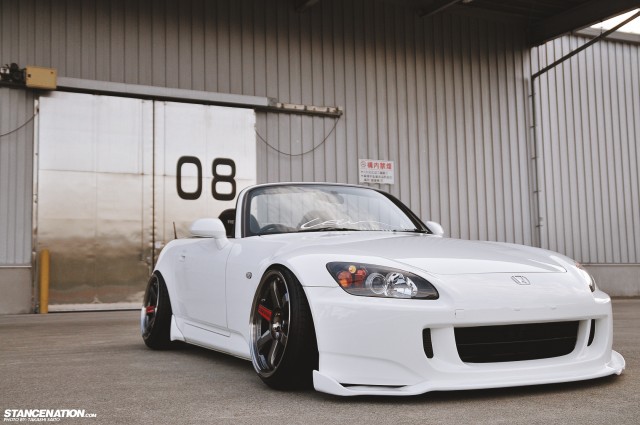 In the last feature, Matuun told us he had plans to change up the car. He mentioned picking up some Te37s and adding some more negative camber. He did exactly that over the last year. He picked up an aggressive set of Volk TE37SLs and cambered the car out to -6.5 degrees up front and -8.5 degrees in the rear. Went from one classic wheel to the next!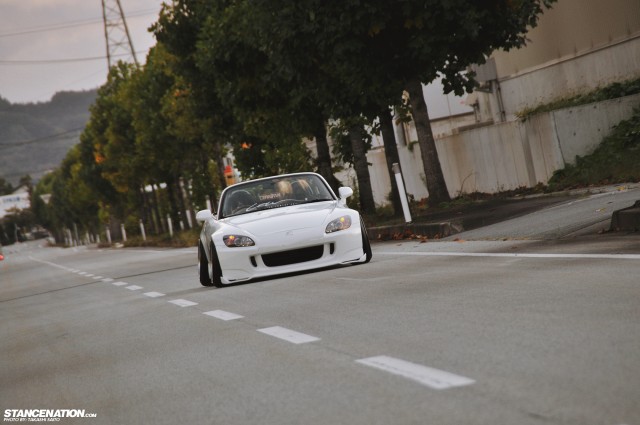 The suspension has been changed around again, although the same Ohlins DFV coilovers that once had custom 14k/18k rates have now had the addition of 18k Swift springs front and rear, obviously needed for that aggressive static fitment. The camber is achieved with the help of Megan Racing rear camber and toe arms and Spoon front balljoints.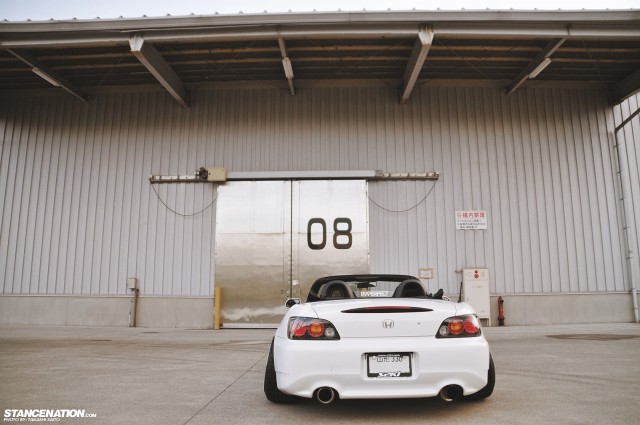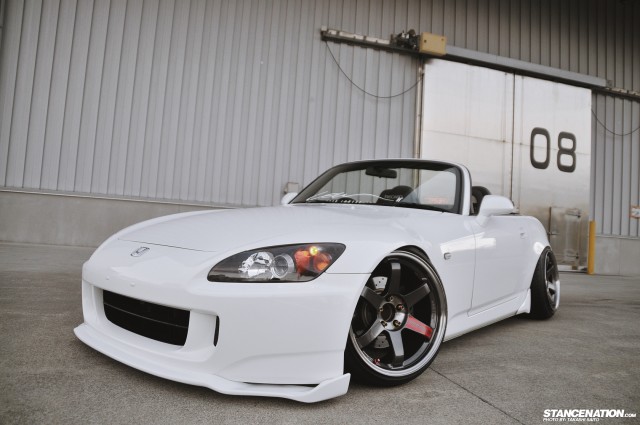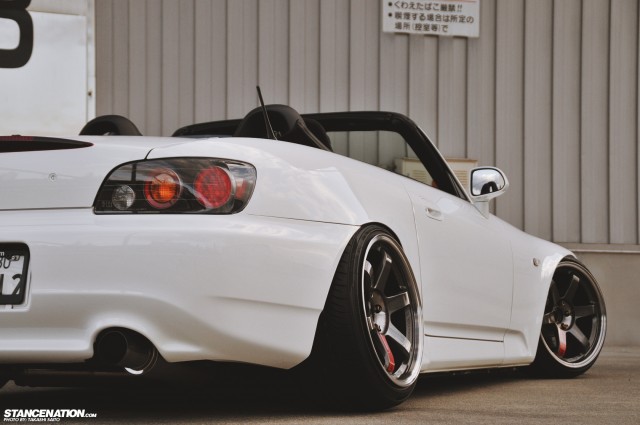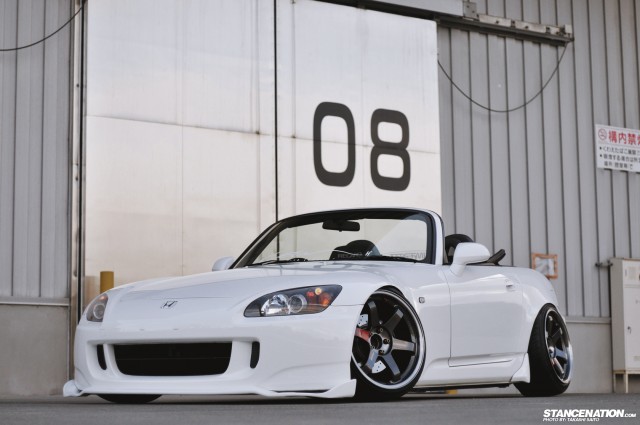 Matuun also made some cosmetic changes, the subtle addition of the Mugen style front lip is easily one of my favourites for the S2000. Performance wise, nothing has changed and the car is still running the HKS silent HI power axle back.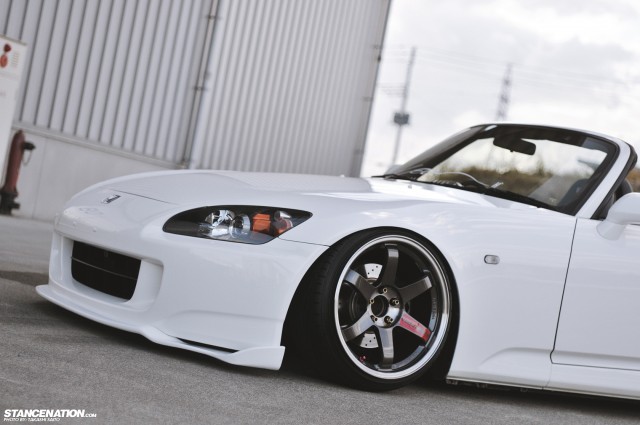 Always nice to check in with cars after a year or two to see what's changed, with the way this scene works a car can drastically change within a couple days. I doubt this is Matuun's last set of wheels or suspension set ups and with his wheel and modification selection so far I think I speak for all of us when I say keep up the good work!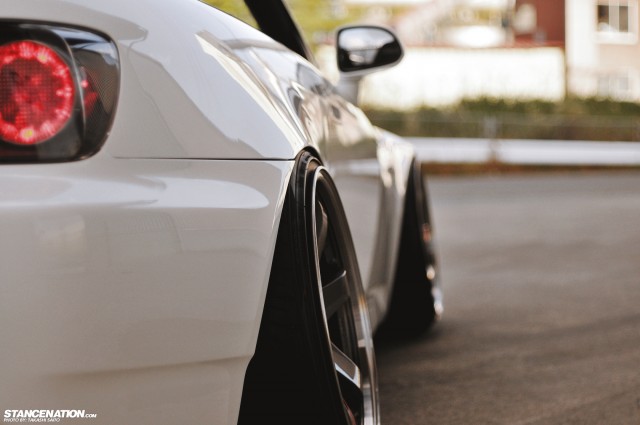 [toggle_box]
[toggle_item title="Wheels/Tires/Suspension" active="true"]Muteki nut
Rays volk TE37SL 9.5J+22 +Spacer5mm
Rays volk TE37SL 11.0J+18 +Spacer12mm
Toyo proxesT1R front:215/35R18
Kumho ecusta KU31 rear:245/35R18
OHLINS DFV
Swiftspring F 18kgf/mm7inc
Swiftspring R 18kgf/mm6inc
Rigid spring mount seat
Spoon front camber balljoint
MeganRacing rear camber arm kit
MeganRacing rear toe control arm[/toggle_item]
[toggle_item title="Exterior" active="false"]AP2 US tail unit
Modulo side strake
Mugen front wing replica
Pulled front fender
Pulled rear quarter
S2Ki license frame[/toggle_item]
[toggle_item title="Interior" active="false"]RECARO RS-G ASM Limted
NARDI Gara3
WorksBell shortboss for rapex
NRG generation 2.5 quick release
US sunvisor
Titanium color shift knob[/toggle_item]
[toggle_item title="Engine" active="false"]HKS silent hi-power muffler
Straight pipe[/toggle_item]
[/toggle_box]