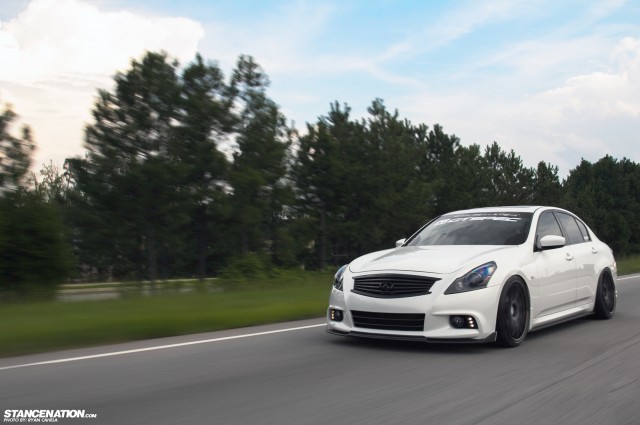 The relationship between a man and his car is unique to say the least. I have many friends that have no interest in cars and see them simply as transportation. On the flip side, I also have many friends who, like myself, absolutely love our cars. Its not just "transportation", it's the inspiration and motivation to work hard and stay dedicated to our goals. It doesn't matter how much overtime we have to work, how many hours were stuck under the hood or the countless weeks spent researching the best parts. We are dedicated to our cars. With that I'd like to introduce you to Christopher Taylor and his incredible G, affectionately known as "Layla".
Photos By: Ryan Cahela exclusively for StanceNation.com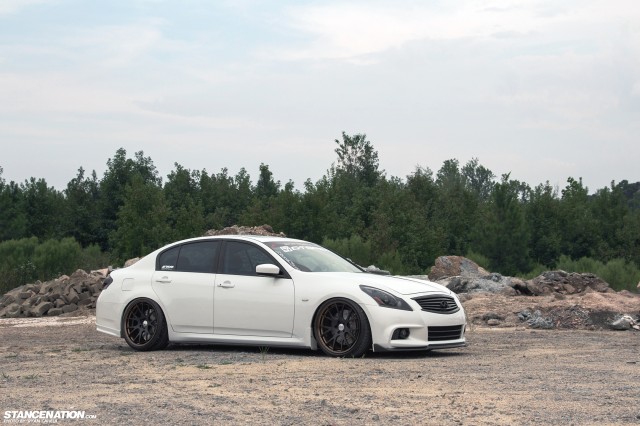 Just a quick glance at a car can tell you a lot about it's owner. This G puts down enough power to make sure you only get a quick glance though, but we will get to that shortly. Christopher wanted Layla to look her best so he gave her a face lift. This 2009 G has been fitted with a 2011 front and rear conversion as well as clear side blinkers converted to led, illuminated Skyline door sills, LED daytime running lights and JDM taillights that were darkened with candy paint. Those are just the OEM additions.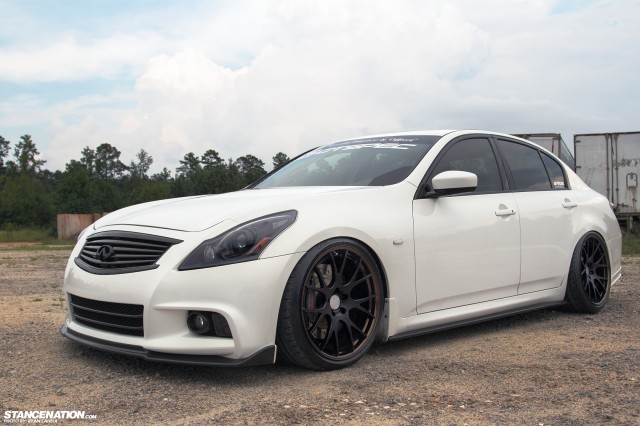 Now that Layla had her new body, it was time to dress her up a bit. Christopher is a brand loyal car enthusiast. There's a company that goes by the name EXS Access Evolution and they have created quite a reputation for doing wonderful things to G37's. So Christopher gave Layla a full make over. On the front, he added fog lamp rings, front bumper finishers and a carbon front spoiler. From a side view you'll find side steps and gold rear view mirrors. Across the back window is a roof spoiler with a carbon trunk spoiler and carbon rear diffuser being the last pieces you'll see as this G blast past you.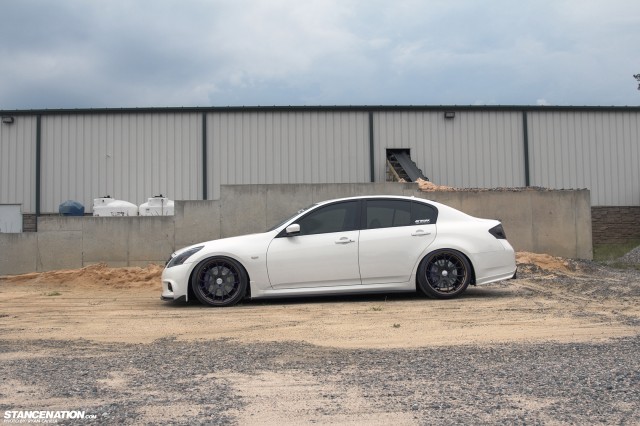 Christopher likes fast sedans. His last car, a 2003 MTM Audi RS-6,  pushed around 700hp. Now a G37s can be quite an exciting car to drive, but lets be honest, its not going to replace a 700hp habit. Layla needed a performance boost. Any experienced tuner can tell you, you cant just buy a bunch of parts and bolt them together. Research is a must when modifying your vehicle and with careful consideration it was decided that a supercharger would be the best choice. After researching his options, Christopher turned to the pros at GTM Motorsports of California to do the job. Adding boost to an engine that hasn't been properly equipped can be a recipe for disaster. With that in mind, this project was started with a stage 5 short block that increased the VQ from 3.5 to 4.2 liters. The top of the engine was swapped for stage 1 cylinder heads after a micro surface treatment was given to all moving parts. As I stated earlier, Christopher is loyal, so most of these engine modifications were done with either GTM parts or GTM service.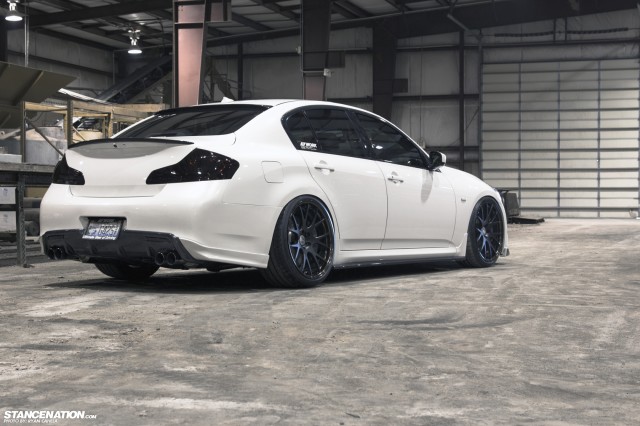 With the engine now reinforced, it was time to add the stage 2 (600hp) supercharger and start force feeding the freshly rebuilt motor. A build like this is never an easy task. With everything that has already been installed, this engine is going to need a lot of supportive parts. To help keep the engine at the proper temp is a competition 70mm radiator and thermostatic oil cooler. A GTM return fuel system was teamed with a Aquamist meth injection HSF-4 to keep the new air burning. To keep this air and fuel combination working in harmony is a GTM ECU reflash via Osiris uprev with a HKS knock amp and camp 2 system making sure these cylinders are exploding the way they're  supposed to. We all know that when you're pushing major power it makes it difficult to keep traction, so a GTM Racelogic traction control system was installed to make sure Christopher can power through turns with confidence. Even with all the incredible things that have already been mentioned, I'm far from finished with stuff that was done to this car. Layla purrs through GTM 2.5 test pipes, Amuse/Access Evolution Full Titanuim Exhaust with Y pipe, and Quad tips and of course an Amuse Power House R1 Front Pipe.
Now, it doesn't matter how much power your car makes if you cant keep it under control. That's where the suspension comes in. Helping to lower the ride height as well as the center of gravity is a set of Aragosta Access Evolution spec coilovers with Aragosta front pillow mounts. When Christopher finds himself faced with an obstacle that could potentially damage his front spoiler, he just lifts the front up with Roberuta front cup kit that was installed by Aragosta in factory. The front suspension has been upgraded with a Cusco front strut bar and a Cusco sway bar held on with Moonface front links. Christopher also chose Cusco for his rear sway bar with SPL providing rear titanium camber arm, traction arm and lockout kit. An Access evolution rear lower brace helps make the rear portion of the chassis rigid.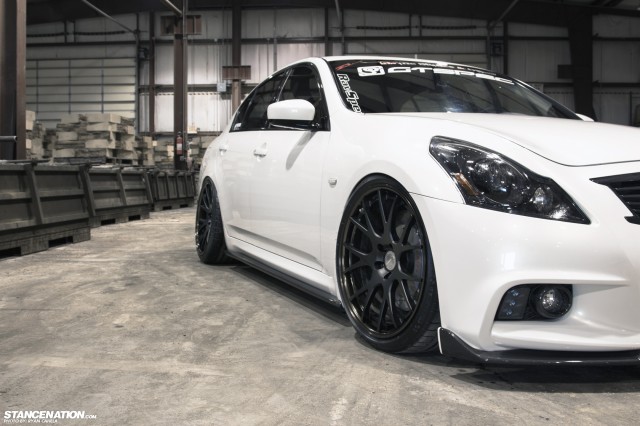 One of Laylas most appealing features is the Work FCV-02. With an MGM center and bronze lips, this color combo gives Layla an organic feel. Squeezing into the fenders with a 20×9.5 +23 front and 20×10.5 +25 in the rear, these wheels, wrapped in  245/30-20 & 275/30-20 Michelein Super Sports, look and fit amazing while still being safe for daily use. When Layla needs to behave, Endless Racing 6 pot front and rear brakes helps slow things down.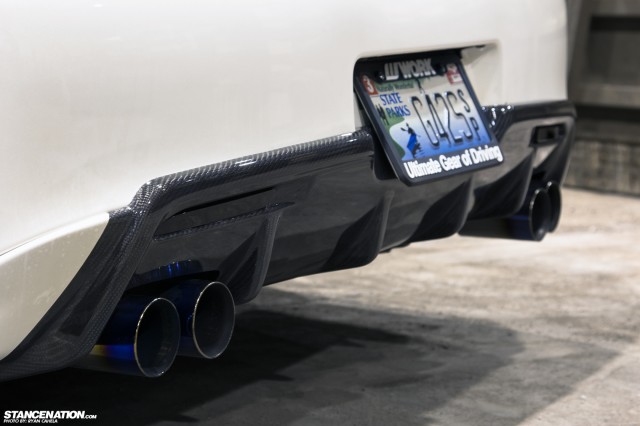 When you take a moment to really consider what we expect from our automobiles, its hard to understand why you wouldn't want the best for your car. Christopher has taken the time to make sure that his lovely Layla would not only look her best, but could be fit in with even the most exotic of crowds. Hes not finished yet either, he already has a pile of parts waiting for the next time he decides to reinvent Layla. Christopher explains, "The [goal] is to build a 600hp v36 sedan with the most exclusive JDM parts". Sounds like Layla is going to continue to get the treatment she deserves.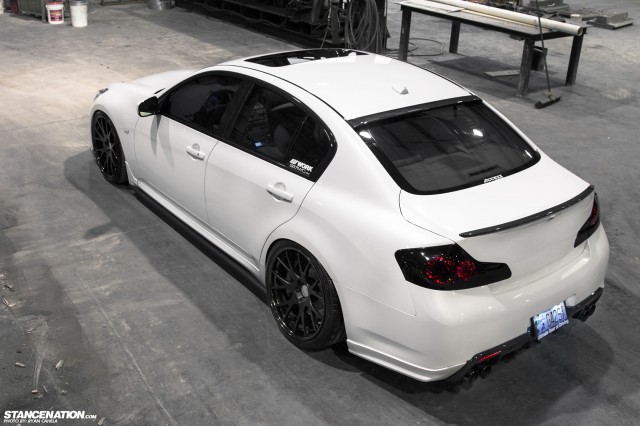 With that said, Christopher wanted to give out a few thanks for everyone that helped him with the build. Toshi Suzuki from TUS Japan for supplying all of my JDM parts from Access Evolution. Mark Chin from Ravspec for the Work wheels FCV-02. Mike Mikes from Autoarts for the 2011 bumper conversion along with all the aero kit install. Special thanks to Phantasm Kevin who has spent many late nights working on this car! My brother Zeb for the Endless brake install, Aragosta coilovers and cup kit install along with my brother Steve for his help as well with Amuse install as well as the coilovers.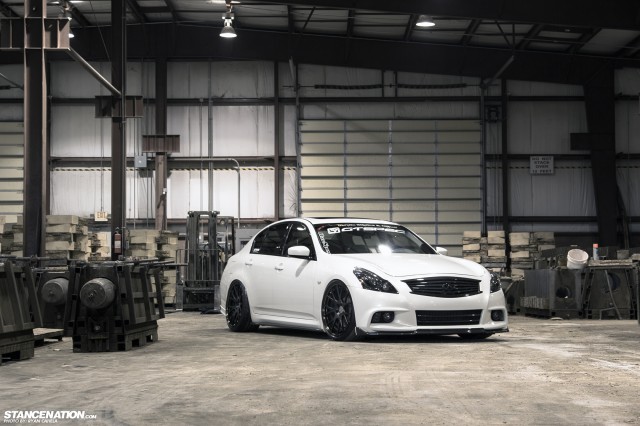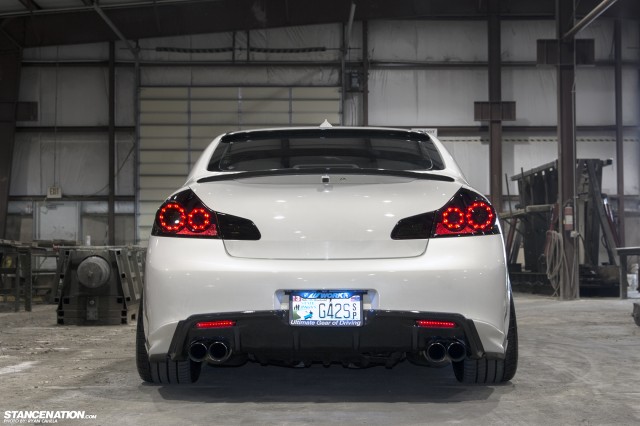 [toggle_box]
[toggle_item title="Wheels/Tires/Suspension" active="true"]Cusco Front Strut Bar
Cusco Front Sway Bar
Cusco Rear Sway Bar
Work Wheels FCV-02 // MGM Center with Bronze lip
20×9.5 +23, 20×10.5 +25
Michelein Super Sports 245/30-20 & 275/30-20
SPL Pro Titanuim Camber Arm rear
SPL Pro Titanium Traction Arm
SPL Pro Toe Lockout Kit
Moonface Front links
Aragosta Access Evolution Coilovers Acces Evolution Spec coilovers
Roberuta Front Cup Kit Installed by Aragosta at the factory
Aragosta Pillowball Mount
Endless Racing Mono Racing 6/6 6Pot front and Rear[/toggle_item]
[toggle_item title="Exterior" active="false"]OEM 2011 Conversion Front & Rear
OEM JDM Side Blinkers Clear corners converted to LED
OEM JDM Illuminated Skyline Door sills
OEM JDM Tail Lights Darken with Candy paint by Auto Arts
OEM Daytime Running lights LED
EXS Access Evolution Carbon Front Spoiler
EXS Access Evolution Carbon Trunk Spoiler
EXS Access Evolution Carbon Rear Difusser
EXS Access Evolution Rear lower Brace
EXS Access Evolution Roof Spoiler
EXS Access Evolution Side Step
EXS Access Evolution Fog lamp Rings
EXS Access Evolution Front Bumper Finisher
EXS Access Evolution Gold Mirrors[/toggle_item]
[toggle_item title="Interior" active="false"]Audio Install Focal Sub 33X Insatll done by simplicty in sound in CA
Equpment Focal No7 Active Front Speakers
Mosconi 6to8 DSP
Mosconi AS 200.4
Mosconi AS 200.4
RJM Adjustable cluth Pedal Welcome upgrade!!![/toggle_item]
[toggle_item title="Engine" active="false"]GTM GTM Stage 2 Supercharger-600HP Install done at GTM in CA
GTM GTM Stage 5 Short block – 4.2 L
GTM GTM Stage 1 Cylinder Heads
GTM GTM Micro Surface Treatment
GTM GTM 2.5" Test Pipes
GTM GTM Competition 70 MM Radiator
GTM GTM Thermostatic oil cooler
GTM GTM Return fuel system
GTM GTM ECU reflash via Osiris uprev
GTM GTM Race logic Traction Control System
GTM OS Giken Twin Plate Dampened clutch/flywheel kit
GTM Aquamist Meth Injection HSF-4
GTM HKS KNOCK AMP
GTM HKS CAMP 2 System
Amuse Power House Amuse V1 Exhaust
Access Evolution Full Titanuim Exhaust with Y pipe, and Quad tips
Amuse Power House Amuse R1 Front Pipe
[/toggle_item]
[/toggle_box]