It's 2021 and it's time to move on from the now 20+ year old LS400's (UCF20/21 Celsiors) onto something a little more modern, like the LS460 at least. Right? WRONG! There is a reason the UCF chassis is showing no signs of slowing down in the VIP world. Damn near timeless body style, one of the most reliable motors in the world, and in our eyes, one of THE best looking sedans when it comes to doing all the crazy stuff us stance folks are into. You know, a bit of negative camber, some high fender radiusing, aero change, stuff along those lines. You've seen some insane VIP & VIP styled cars on StanceNation along the years, but we can almost guarantee you that you've never seen a Celsior / LS400 like this before. Today we'll be taking a look at a masterpiece of a sedan created by a small shop by the name of Crystal Garage, located about an hour drive outside of Osaka, Japan.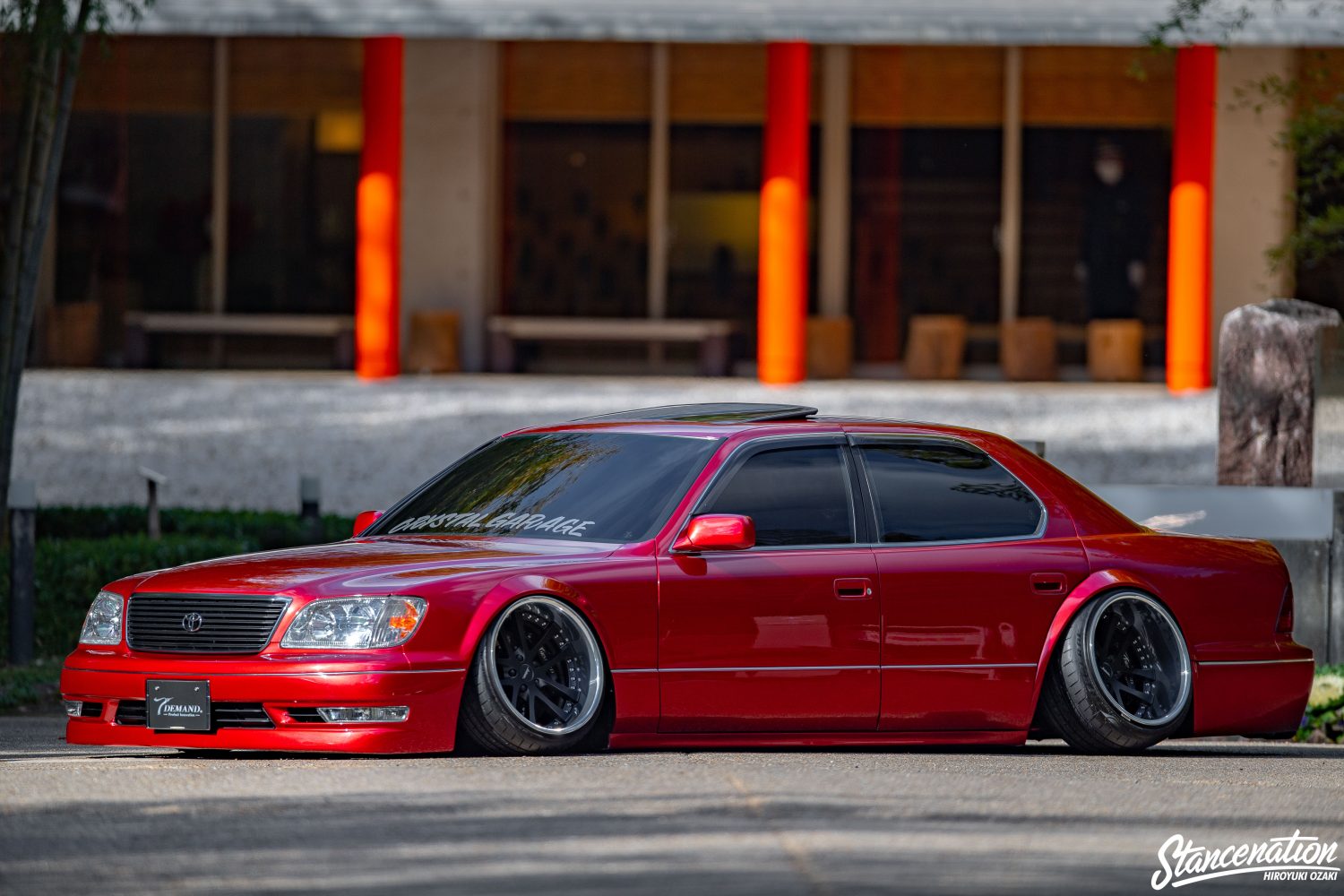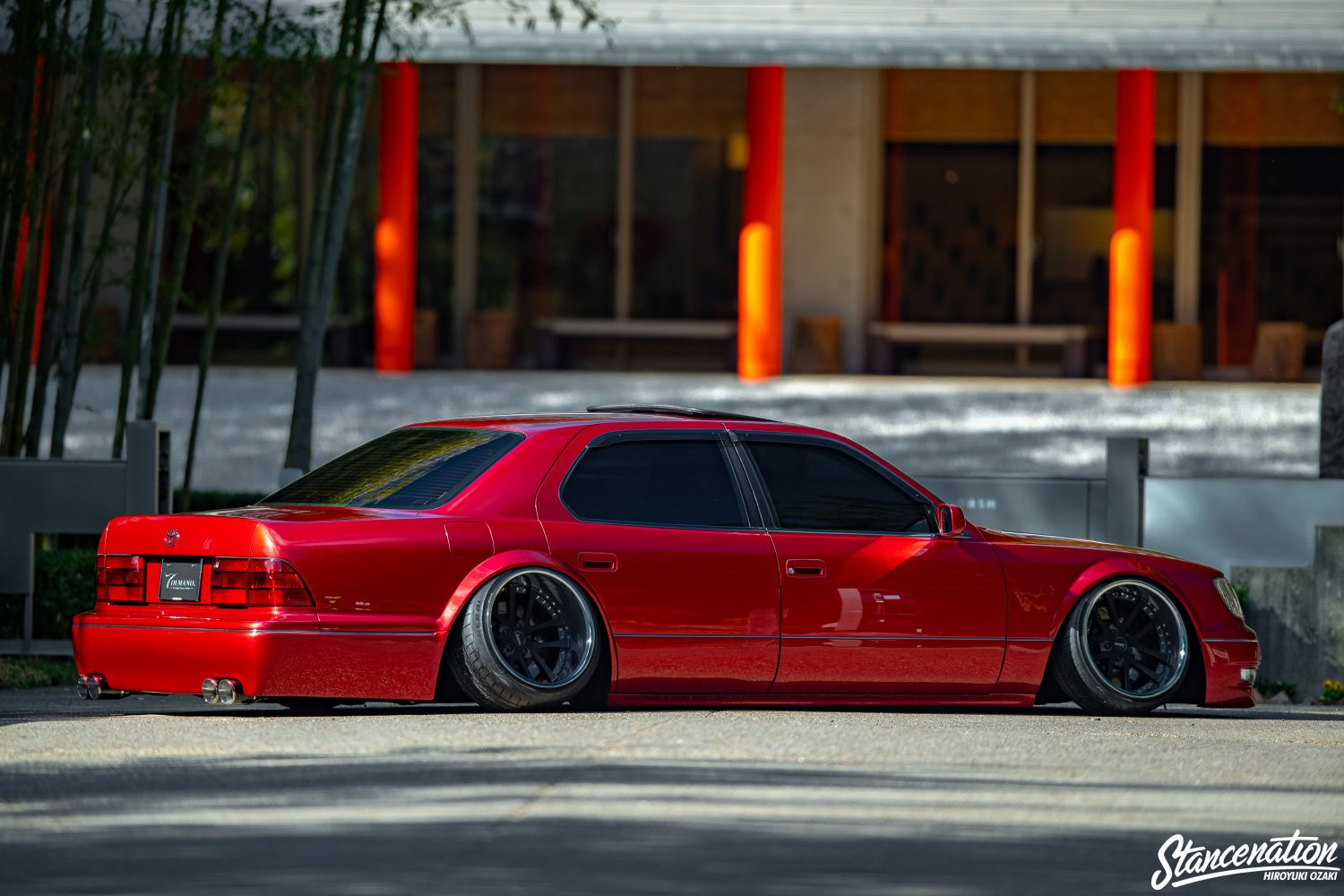 We first learned about Crystal Garage when they started bringing out their cars to our car shows in Japan way back in 2015. Everything from 2JZ swapped Crowns to cars like this stunning Celsior. While they're more than capable of building over the top fancy VIP cars with starlight headliners, custom tables & curtains and everything that you can think of when you hear "VIP", what Crystal Garage really specializes in is creating insanely cool cars that can withstand the times. You know, instead of fiberglass overfenders, they rather create their own metal fenders. Instead of getting fancy with buying up a whole catalog of vip accessories, they create one off exhausts catered specifically for these extremely low cars. The list goes on, but you get the idea!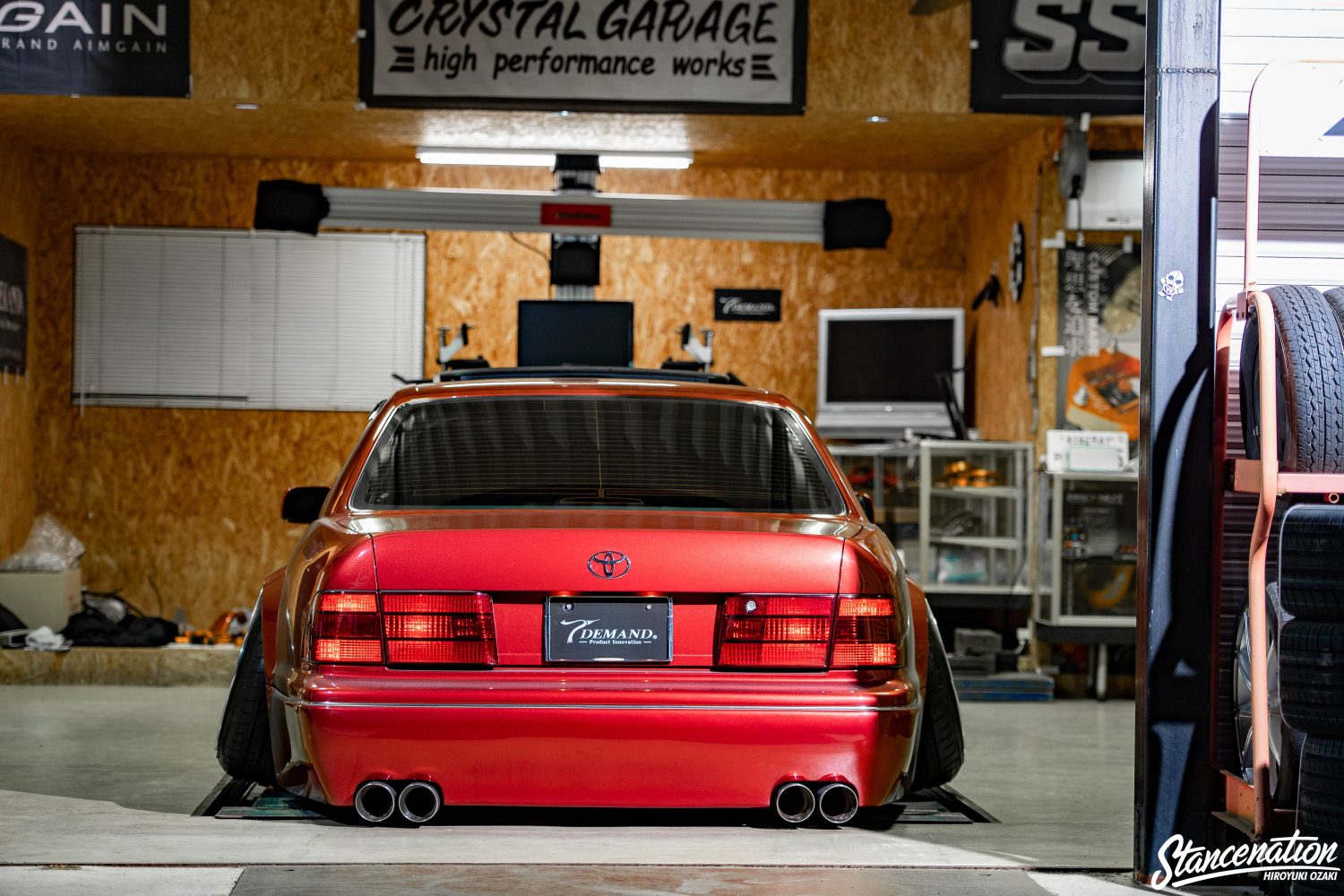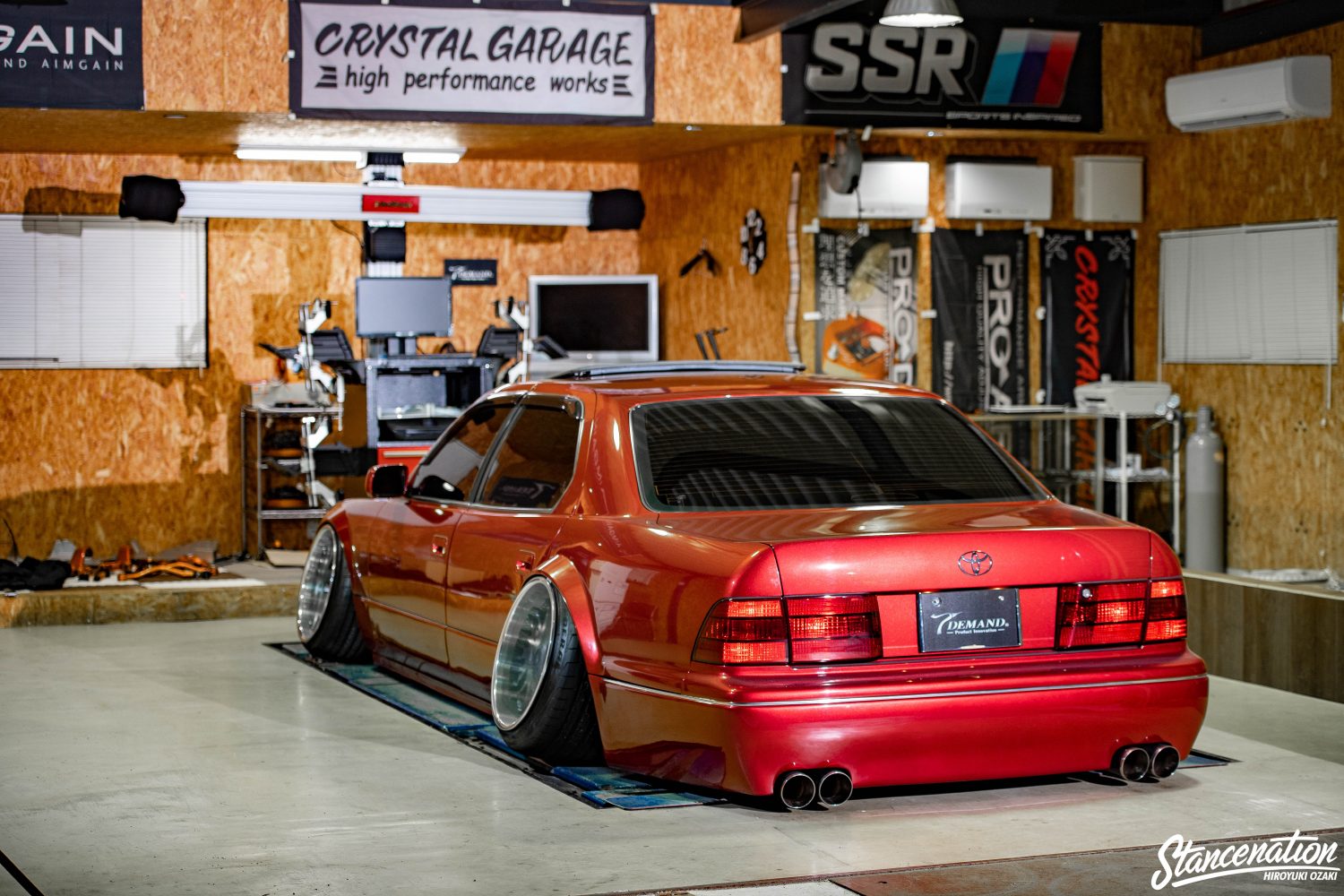 To the untrained eye, it might be sort of strange how a car without excessive aero or flashy paint could have such an aggressive presence but those who have been "around the block" know what they're looking at. Up front you'll notice a seamless integration of a slightly modified LS430 (Celsior) bumper. Fenders have not only been widened by 1″ (F) and 2″ (R) but they've also been raised to sit a lot higher than OEM fender does; hence the Hot Wheels look. It doesn't stop there though, rear door handles have also been raised a couple of inches to flow with the new rear fender shape a little better. Rear bumper is also as expected, completely custom.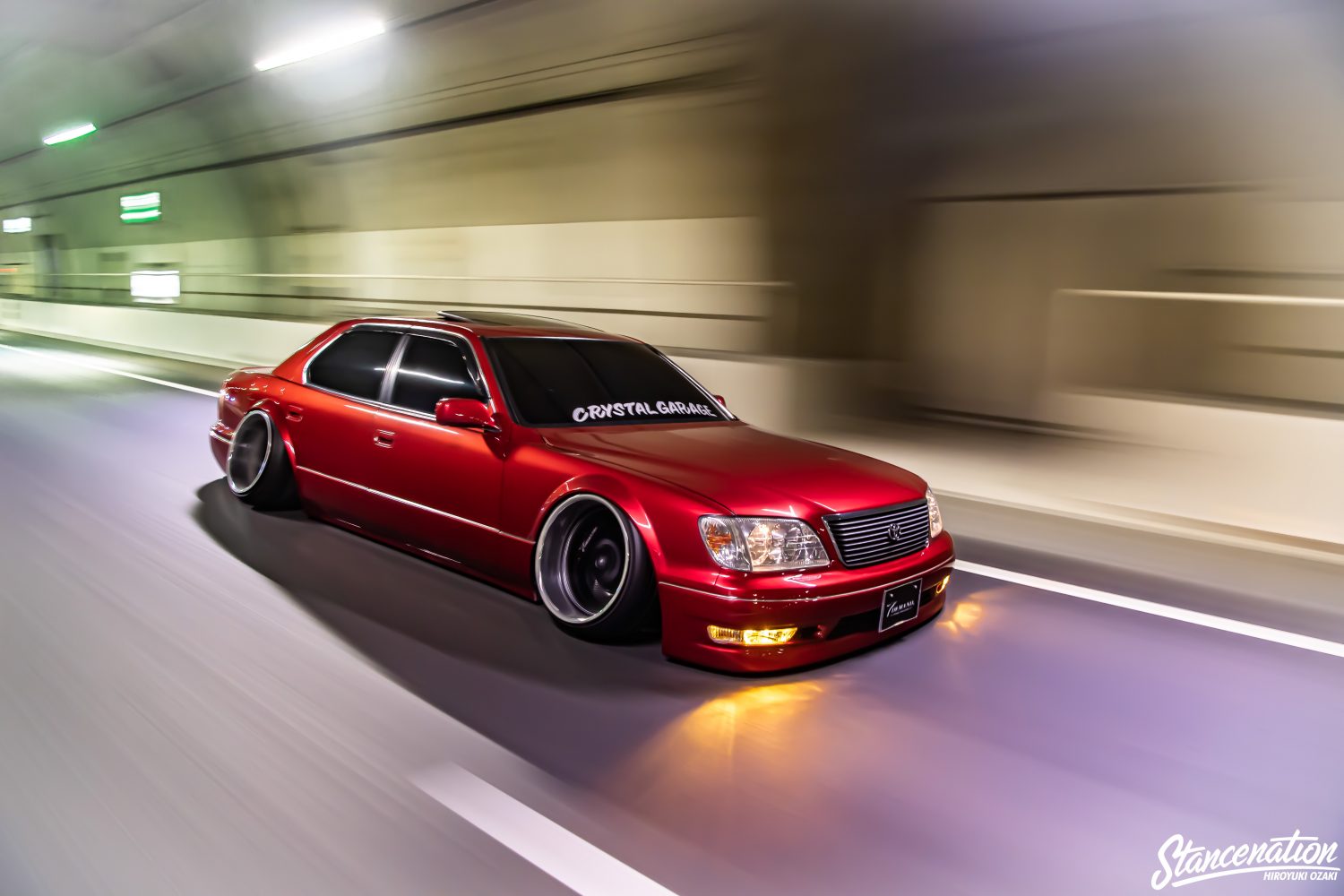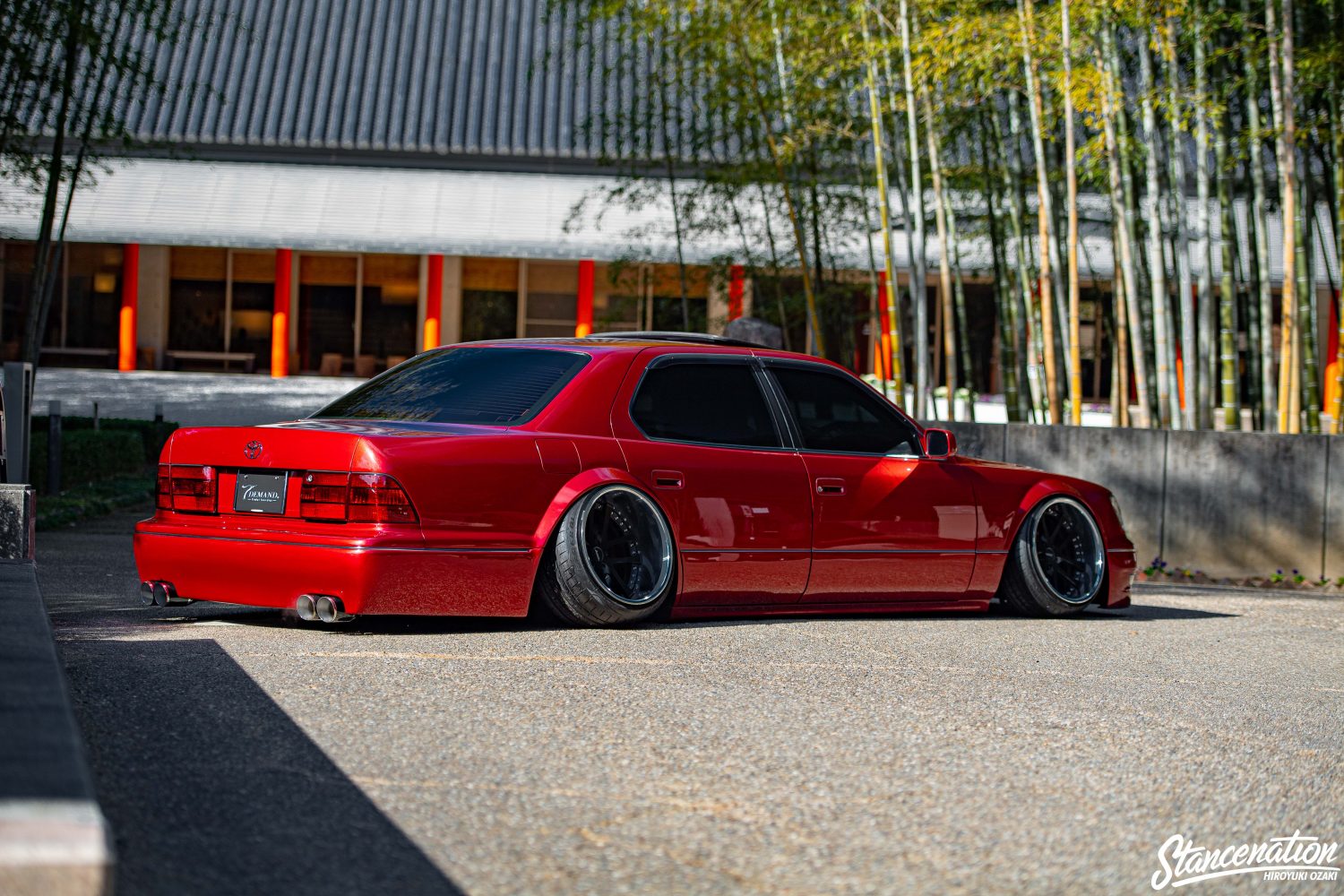 At the moment car is sitting on 18 by 10 & 18 by 12 Weds Kranze LXZ wheels as well as T Demand (80kg spring rates!) coilovers equipped with Roberuta Cups.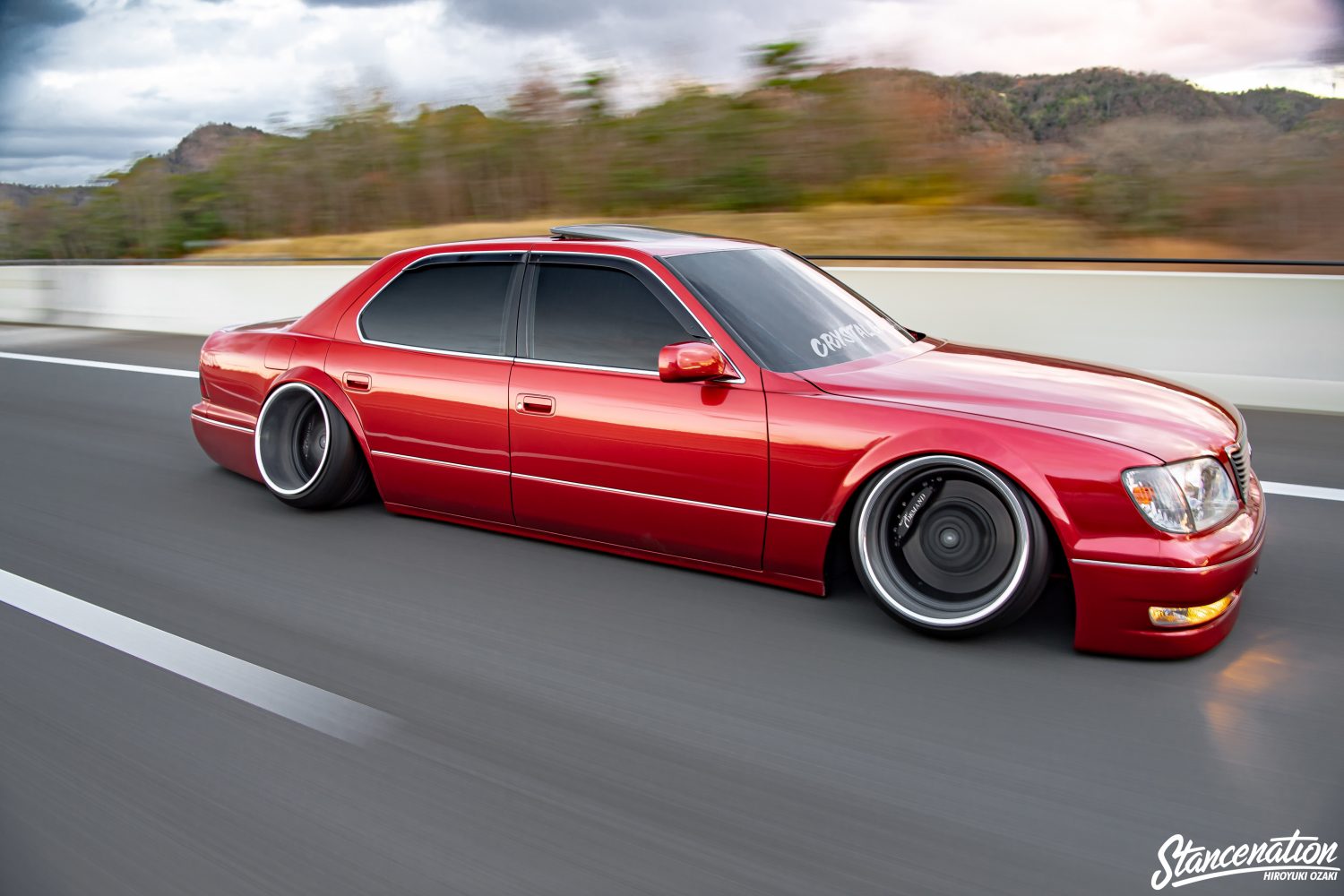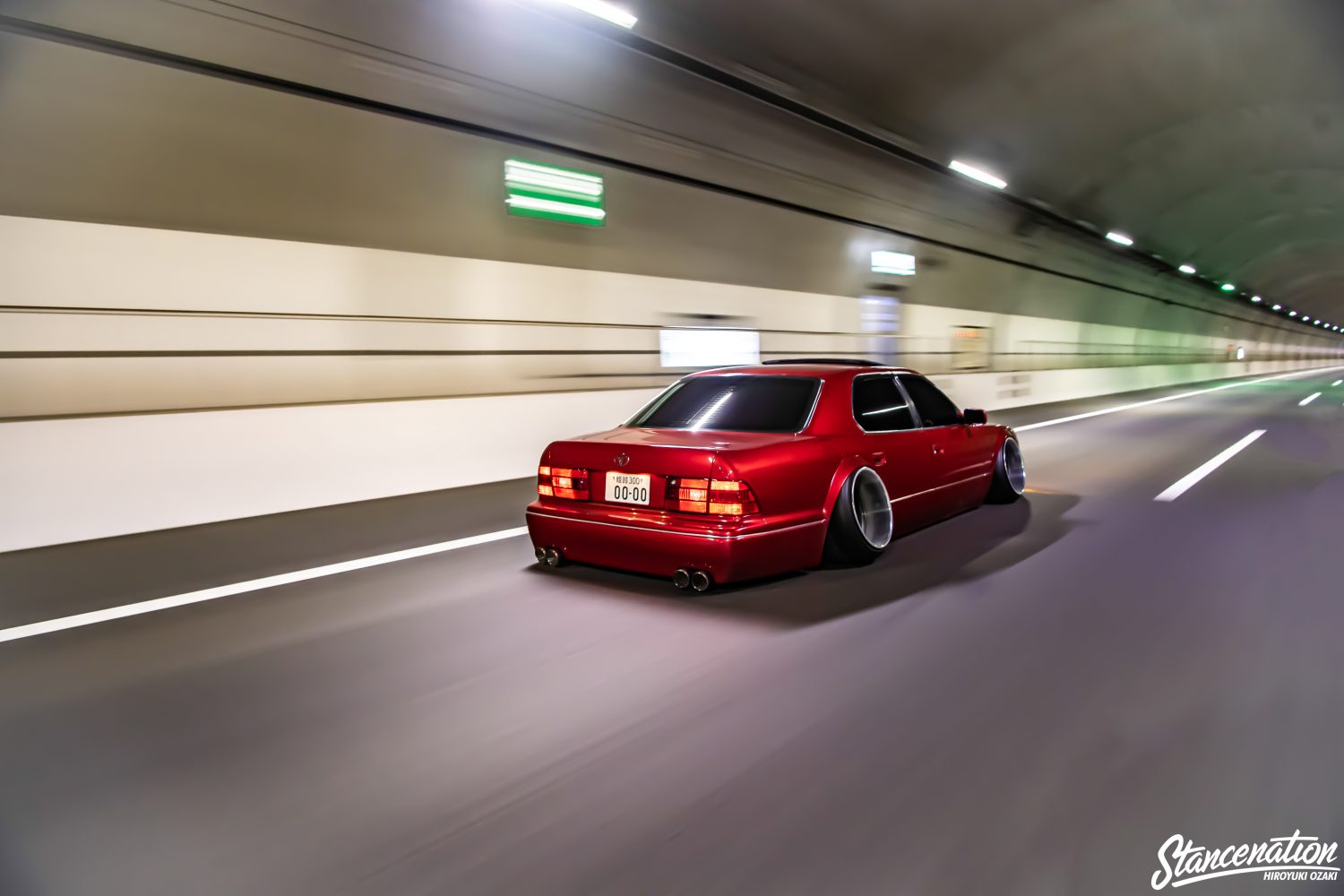 While the custom exterior work nothing short of breath taking, where the real craftsmanship shines is under the body of the vehicle. Not only is the car equipped with damn near every possible T Demand suspension component you can purchase for a Celsior (coilovers, big brakes, arms, knuckles, etc) but it also required a ton of work to actually be able to move on the road while sitting as low as it is. The entire floor (belly) of this Celsior has been reconstructed as you'll see in the photos below. That of course lead to having to modify (shorten) the front & rear cross member / brace, oil pan, as well as reconstructing the entire trunk floor. The list goes on though to having to re route all fuel and brake lines. Funny enough, even with all that work the car is still barely able to move as it sits millimeters on the ground but the Crystal Garage folks were determined to drive the car around and allow our awesome photographer Hiroyuki Ozaki to capture these awesome roller shots.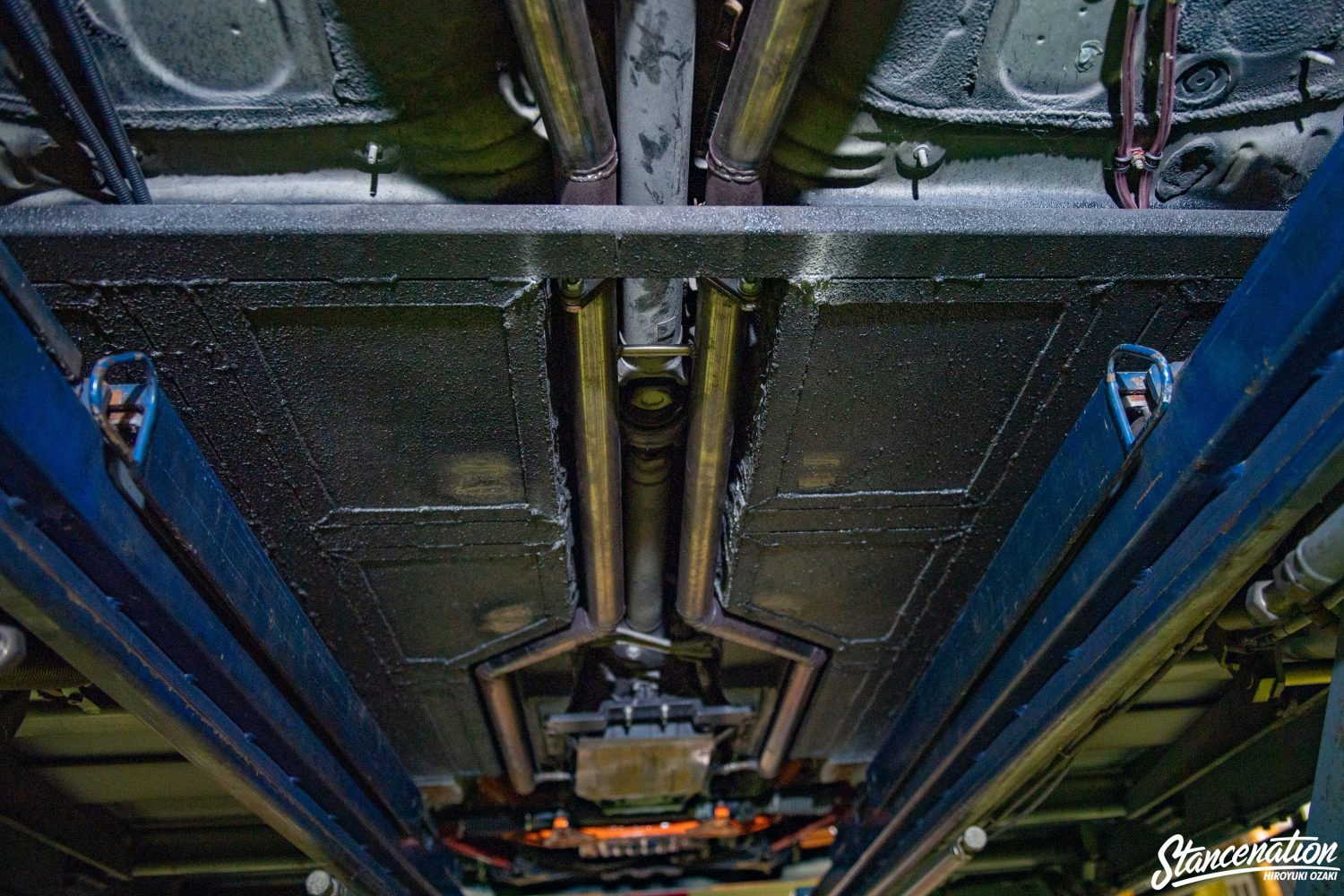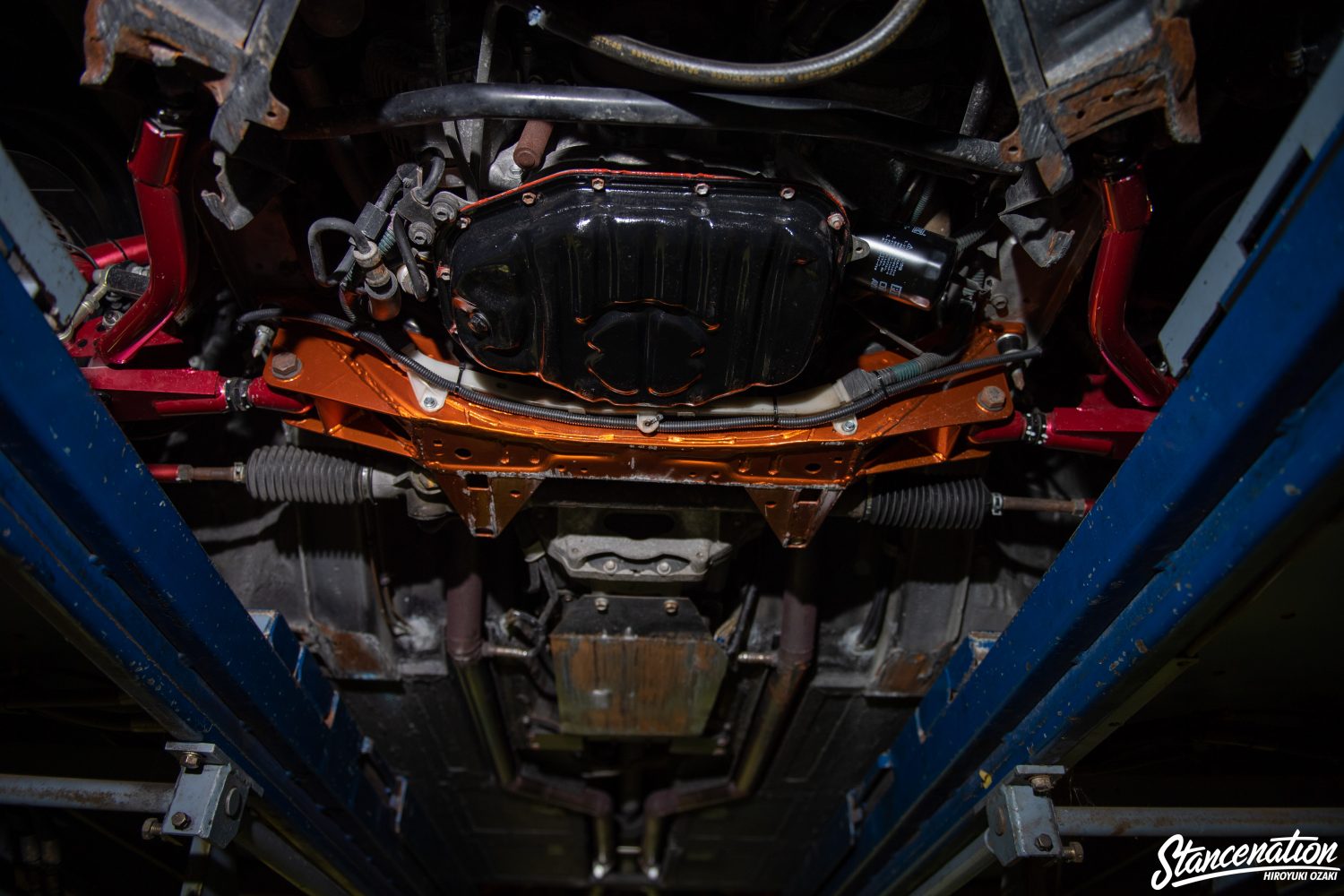 When we asked the owner what the goal of this build was, he tells us that he just wanted a comfortable & more importantly a driveable car, no matter how much work it took. Up next there are plans of switching to a manual transmission as well as some surprises that just can't be shared online. We really hope that you walk away from this feature feeling inspired and motivated to not only finish your ride but to push yourselves out of your comfort zone. What's cool today won't necessarily be cool a couple of years from now, which will eventually lead many of you to either redoing the entire car or worse yet, getting rid of it completely. We're not here to tell you what to do with your cars but creating something that can withstand the test of time is a lot harder than most imagine.