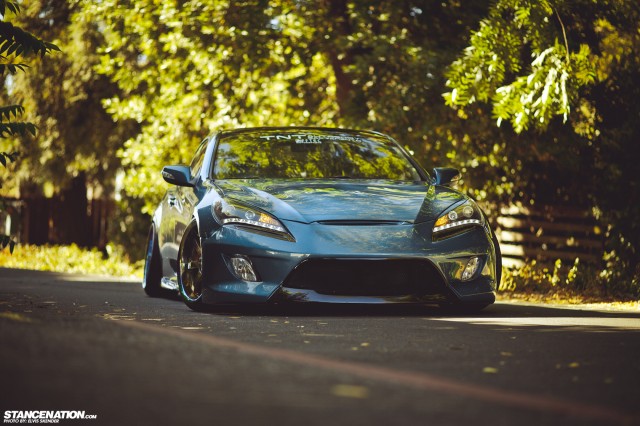 The automotive world has seen some pretty dramatic changes in the last few years. Although this meant the fall of some major car manufacturers, its also included an introduction of new models that would be considered uncharacteristic of the companies that were offering them. Before 2008, if you were in looking for a sporty rear wheel two door, Hyundai had nothing to offer. That changed with the introduction of the Genesis coupe. With that I'd like to introduce JonJon and his venomous Genesis.
Photos By: Elvis Skender exclusively for StanceNation.com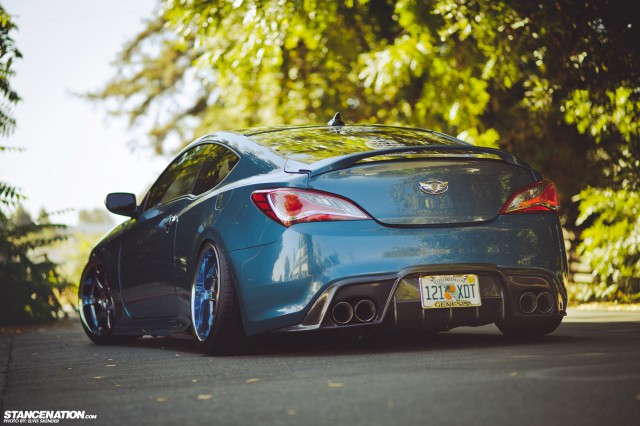 In the summer of 2009 Jon Jon was experiencing a lot of changes himself. Being enlisted in the military meant that he had to make arrangements for an upcoming deployment and also had plans to start a family when he returned. His small two seater 91 MR2 wasnt exactly a family car so Jonjon began his hunt for a replacement. He knew he needed something affordable with a back seat, but he also wanted something sporty and unique. During his search he found the new Hyundai Genesis 3.8 Track Edition which offers great performance and a factory warranty that helped make the new coupe the most logical choice. With the Genesis being so new to the automotive market Jonjon was a bit of a pioneer in an automotive community that hadn't yet seen many innovators.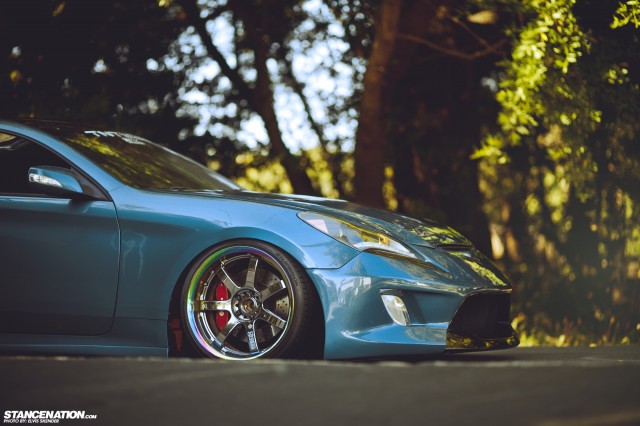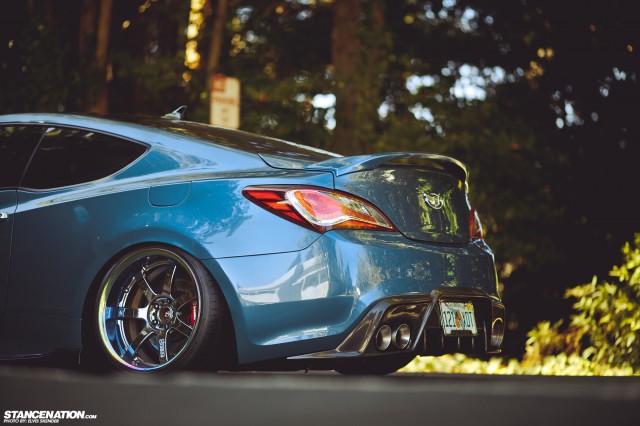 Even if the current set up doesnt look familiar, theres a good chance that you've seen this Genesis before. This Gen coupe went viral with its first round of modifications, the more memorable features being the Tsukuba Red paint and an undeniably attractive set of Volk GT-S in 19×9.5 +2 and 10.5 +3 (after 15mm spacers). It has also been featured in a major tuner mag with this same paint color except it was then rolling on a set of 20×9.5+5 and 10.5+5 Lusso Forged LFS6i Deep Incurvo. Now the third and latest setup is the most aggressive and I'd say its also a better fit for the rest of the wild style. The current wheels are Gram Lights 57s pro in 19×9.5 and 19×10.5 with a low -10 offset up front and -20 in the back. These Gram Lights have been wrapped in Hankook Ventus V12's size 225/35/19 and 245/35/19. They are being held on with a set of Project Kics RE40 Neochrome lugs that match the colorful neo chrome titanium wheel lips. These wheels are well known for their rainbow finish and seem to overwhelm the look of most cars, but on Jonjons Genesis, they blend perfect and even augment the rest of the vivid features.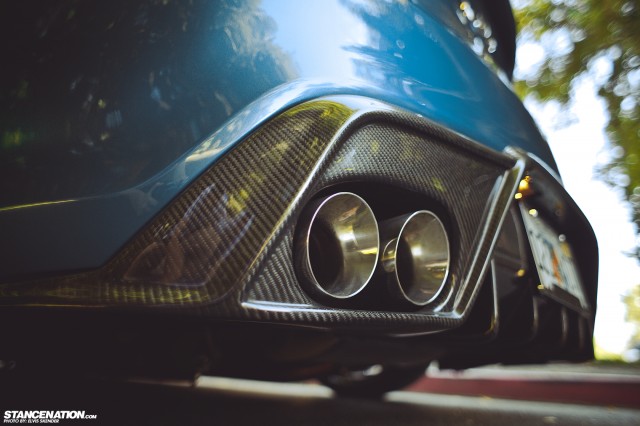 Almost every angle of this car has seen some pretty dramatic changes, starting with the fierce look of the Cuper Styling front bumper and a set of color matched M&S upper eyelids that sharpen the Spec D headlights. From the side you'll see Sequence side skirts installed under a set of stock doors that open with custom chrome handles and lift up with a Vertical Doors Inc door hinge kit. The taillights have been upgraded to the redesigned 2013 oem taillights and below them is a GCTuner Ver.2 CF rear diffuser. If you look real close youll find that the Hyundai emblem has been replaced with a KDM Genesis badge thats was installed on a carbon fiber trunk. The trunk has been ghost painted so it matches the rest of the car but doesn't completely hide the weave of the carbon fiber. The vicious new look is made even more intense with custom dark metallic teal and black paint. You could almost overlook the black additions that were strategically added to accentuate certain features of this venomous Genesis.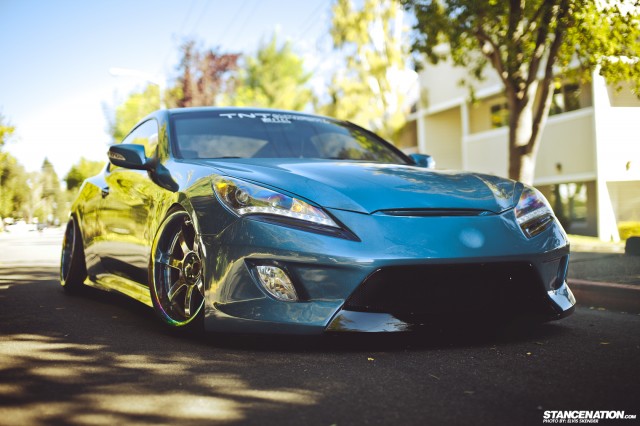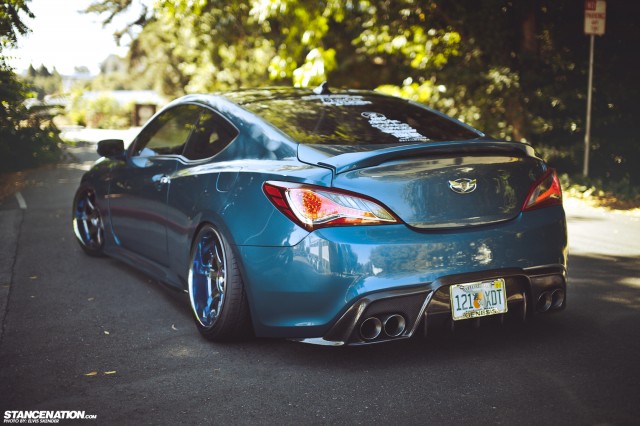 There are a ton of different factory options available with a Hyundai Genesis but Jon Jon chose the 3.8 liter V6 motor and then added a K&N drop in air filter and Magnaflow catback exhaust. To make sure the engine adds enough fuel to compensate for the increased intake and exhaust flow, a Power Axel ECU reflash was added and a Koyo Racing radiator helps to ensure proper temperatures are maintained. Brembo 4 piston brake calipers squeeze a set of double drilled cross slotted rotors when this Gencoupe needs to be stopped.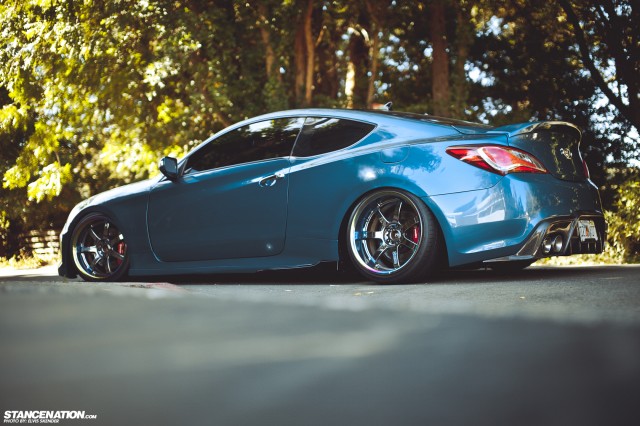 Helping the suspension stay tight and responsive is a 25mm strut tower bar and 22mm rear sway bar. Stance GR+ coilovers and GCTuner camber bolts are used to adjust the height and camber so Jon Jon can get the perfect amount of poke. A Torsen 1 way limited slip differential keeps Jon Jon from initiating any unwanted drifts when turning. Inside you'll find black leather and an incredible sound system helping cover the basic daily driver needs.
Even though we have seen so many dramatic changes in the automotive world, you can be sure that there are plenty more changes to come. I'd say that Jon Jon and his Hyundai Genesis coupe are a great example for why we should embrace these new changes. Even though Hyundai isnt the first choice in sport inspired automobiles, the new Genesis is a fantastic first step in the right direction. With JonJon leading the way, the Genesis coupe can be added to the list of favorites for many enthusiast in the future. I thought I'd let Jon Jon get the last word, "Big ups to the fams at TNT Autobody of Sacramento for helping me put together my car! And to the PXRacing fams for their support! Thank you guys!"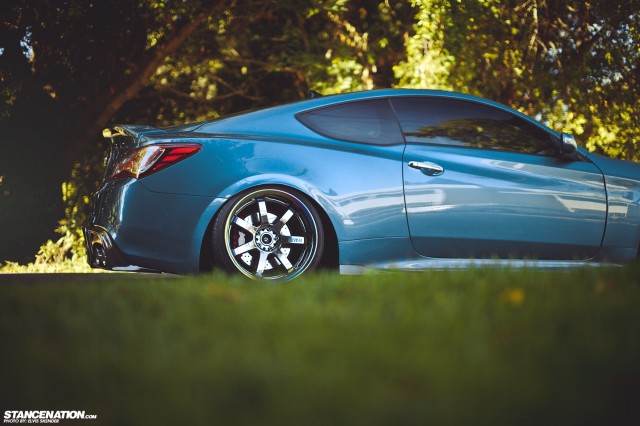 [toggle_box]
[toggle_item title="Wheels/Tires/Suspension" active="true"]Wheels/Tires/Brakes:
Gram Lights 57s Pro
19×9 et-10 19×10 et-20
225/35/19 & 245/35/19
Hankook Ventus V12 all around
Four Piston Brembo Brakes/Calipers
Double Drilled/Cross Slotted Rotors
Project Kics RE40 Neochrome lugs
Suspension/Drivetrain:
Stance GR+ Coilovers
GCTuner camber bolts
25mm Strut Tower Bar
22mm Rear Sway Bar
Torsen 1 way LSD[/toggle_item]
[toggle_item title="Exterior" active="false"]Custom Dark Metallic Teal/Black Paint
Cuper Styling Front Bumper
Upper M&S eyelids
Sequence Sideskirts
2013 OEM Genesis Taillights
GCTuner Ver.2 CF Rear Diffusor
Vertical Doors Inc. Door Kit
Chrome Door Handles
KDM Genesis Badge/Emblem
Spec D headlights w/ LEDs
18% tint all around[/toggle_item]
[toggle_item title="Interior" active="false"]Interior:
Full Black Leather interior
ICE:
Full Infinity System
360-watt 8 channel amp
6 1/2″ Rear Sub
6 1/2″ Door Speakers
2″ Tweeters
[/toggle_item]
[toggle_item title="Engine" active="false"]Koyo Racing Radiator
Magnaflow Catback
K&N drop-in Airfilter
Power Axel ECU Reflash[/toggle_item]
[/toggle_box]