Today we are venturing over to New Zealand, to check out our good friend Dave's Nissan 180sx. Recently we have featured a few cars from overseas, which I think is a good thing for the scene, as it exposes different ideas and styling, but most importantly it allows you all to check out different rides that, without the internet, would generally go unseen on North American soil. Dave's Nissan is a perfect example of this, as the S-chassis based 180sx was never released in North America. So lets take a look at what hard work, dedication, and endless garage hours can produce; I present to you Dave's Nissan 180sx.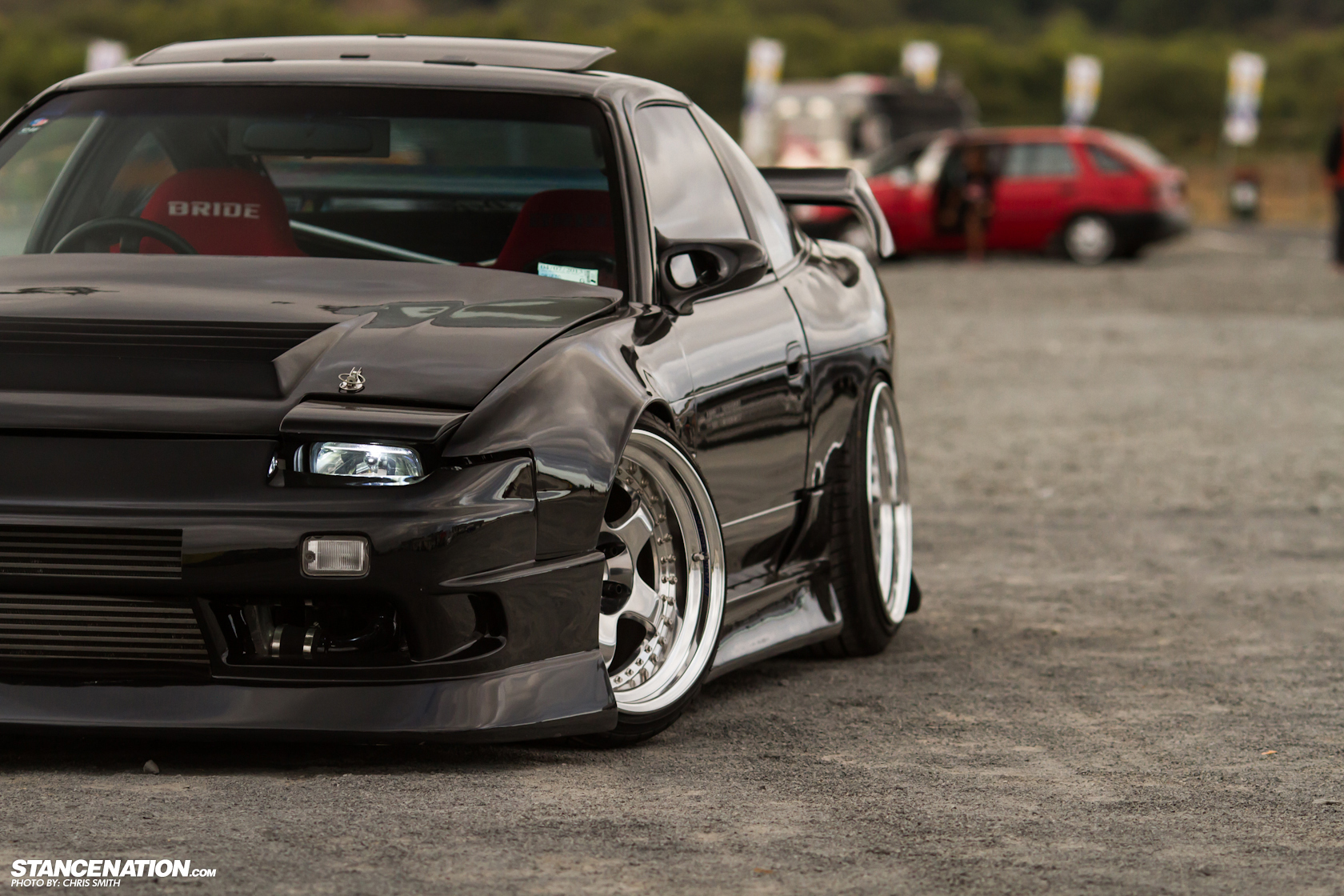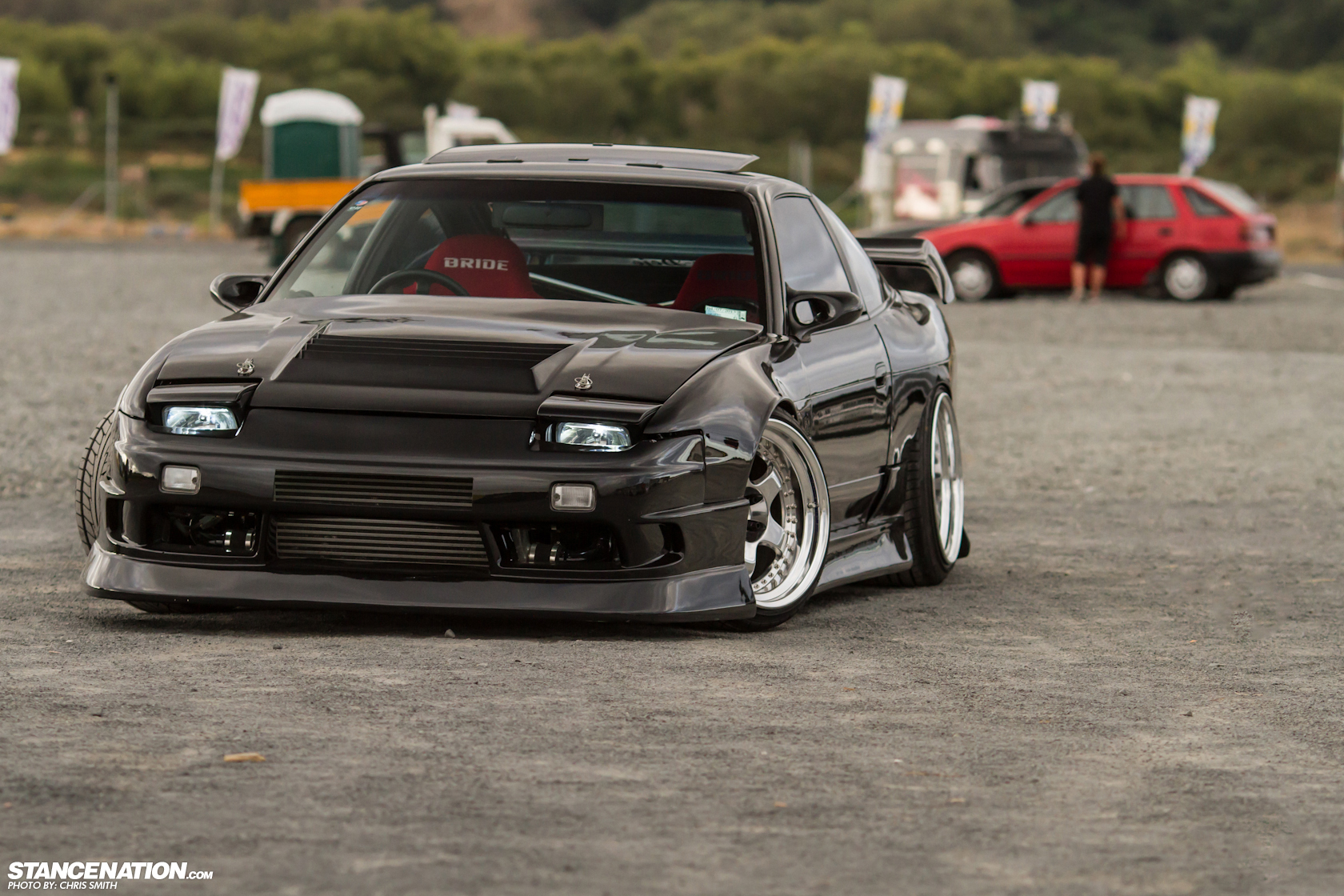 First and foremost, as always here on StanceNation, lets talk about that fitment! When it comes to wheels, Dave has a stockpile, but the current setup consists of Work Meister S1s; the fronts are 18×9.5 with an offset of -1 and are wrapped in 225/35/18 tires, while the rears are 18×10.5 with an offset of -9 with 235/40/18s. Even his drift spares are awesome, a pair of Work Rezax, some Panasport G7s, and even some Garson Deep Racing Ryugis! In order to get his 180 hovering dangerously close to the ground, a set of TEIN Super Drift Coilovers were bolted in, with 10kgf/mm front springs and 8kgf/mm rear springs. The TEIN's keep the Nissan stable and firmly planted on the ground; this is definitely not a garage queen or a show car, it gets driven hard at the track, and on the roads. Paired with the coils are TEIN tie rods, tie rod ends, and steering lock spacers. There is no shortage of alignment, bracing, or steering modifications on this Nissan, and I could go on all day just talking about the suspension set up. So check out the spec list down below to get a detailed look at what keeps this 180sx safely sideways.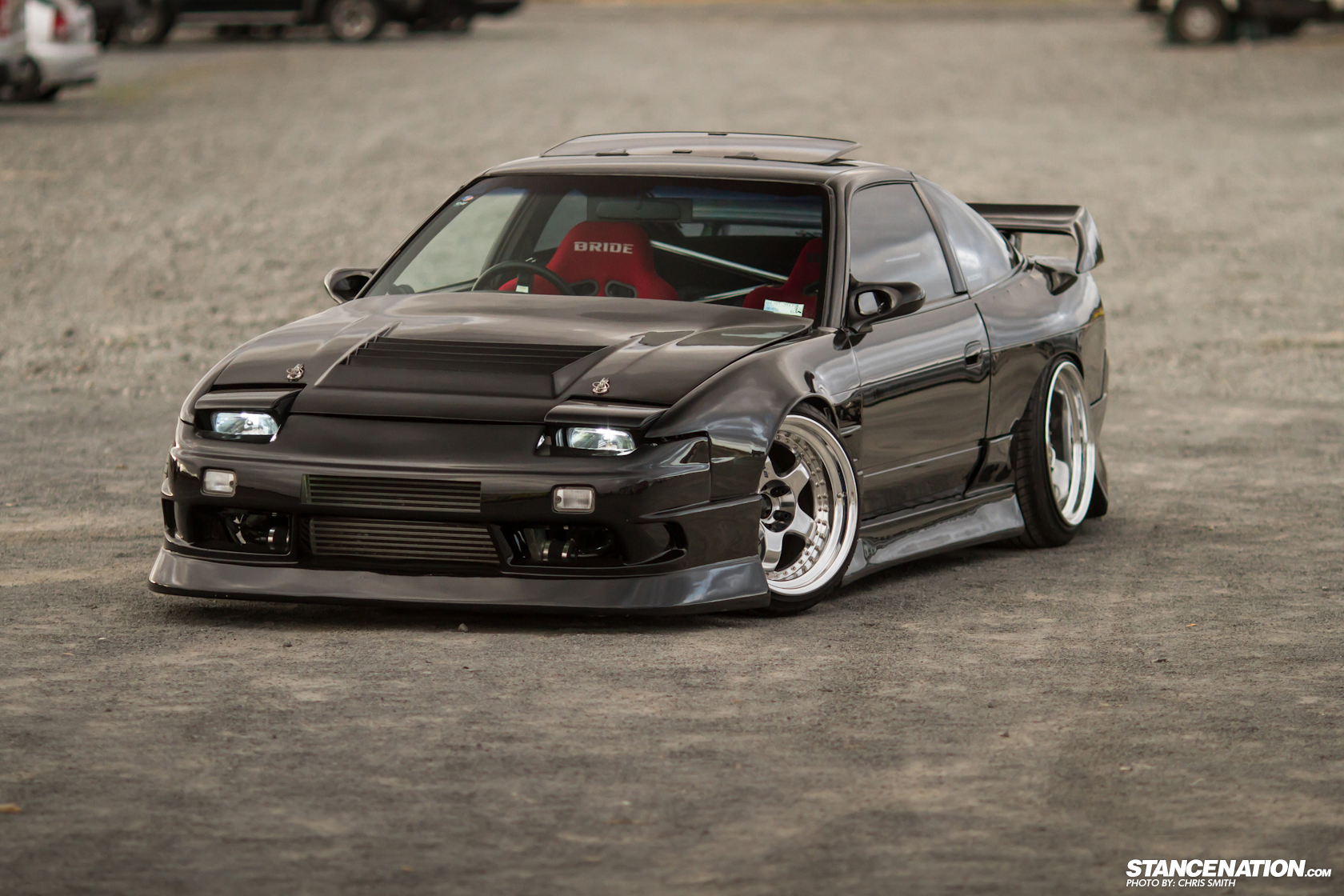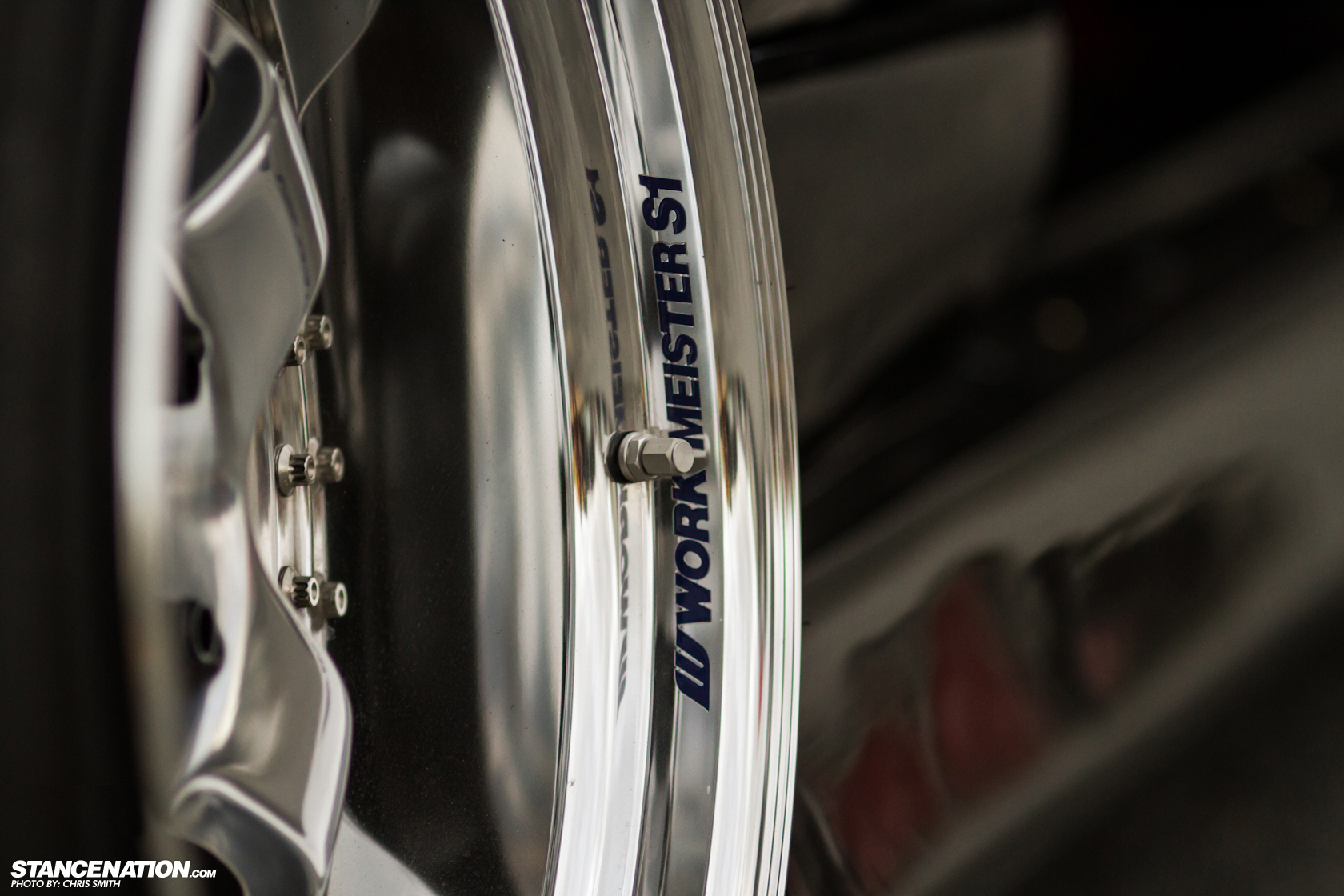 Looking at how well the aero on this car is maintained, I am sure that many of you assume that it is not drifted, well that is not the case at all, as numerous aero parts on this Nissan have been damaged and replaced…more than once. For now, the front end, rear end, and side skirts are BN Sports Type 2, and the wide body fenders front and rear are made by Origin. The hood is actually painted carbon fiber and is made by DMAX, which is paired with a Pivot headlight controller kit to keep those eyes looking mean. The exterior was finished off with a set of Ganador wing mirrors, Type X taillights, and a 326 Power wing. After Dave had all of the exterior bits sorted out and intact, the entire car was prepped, and sprayed in BMW Black Sapphire Metallic, which complements the new aero quite well and contributes to the aggressiveness of the 180sx.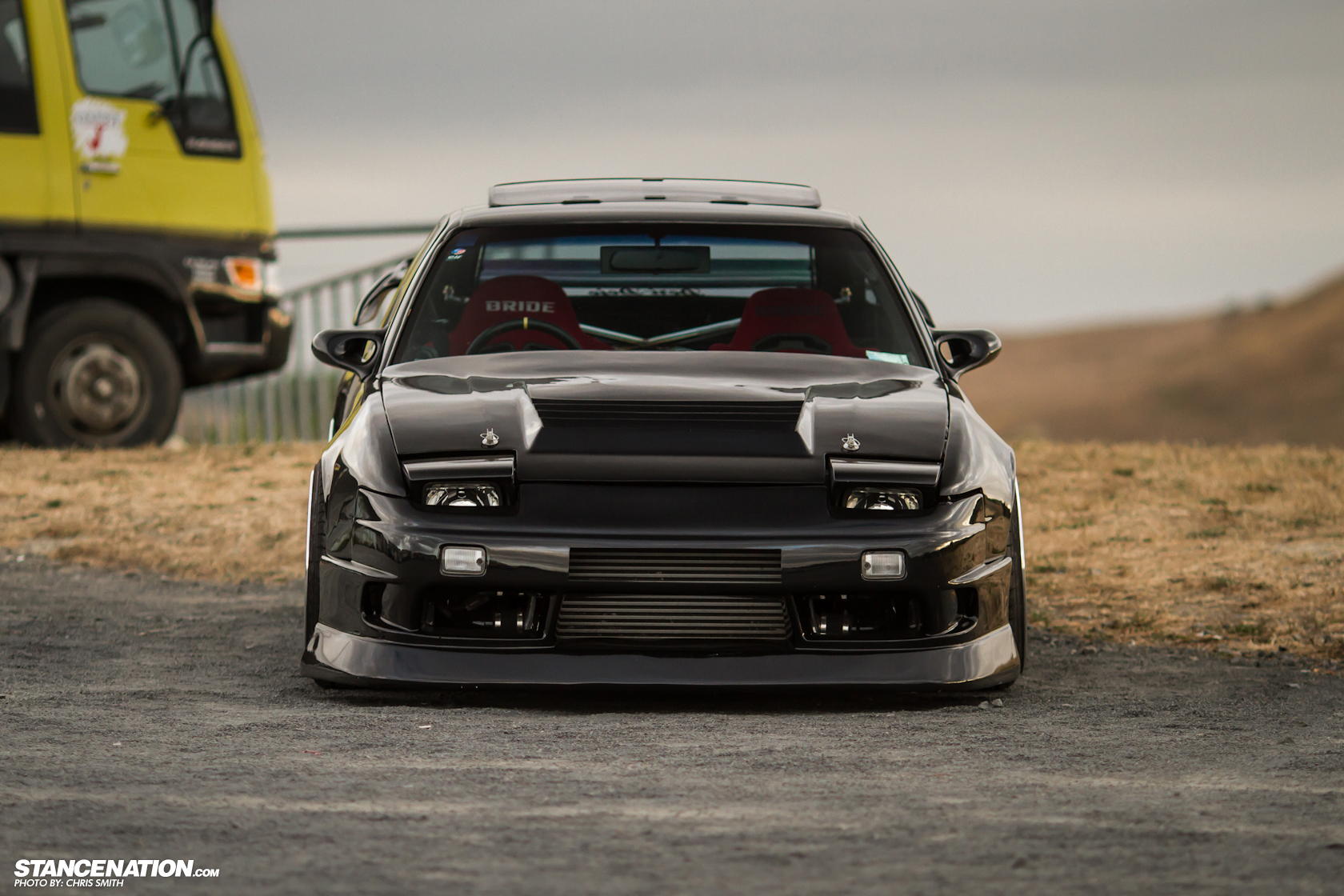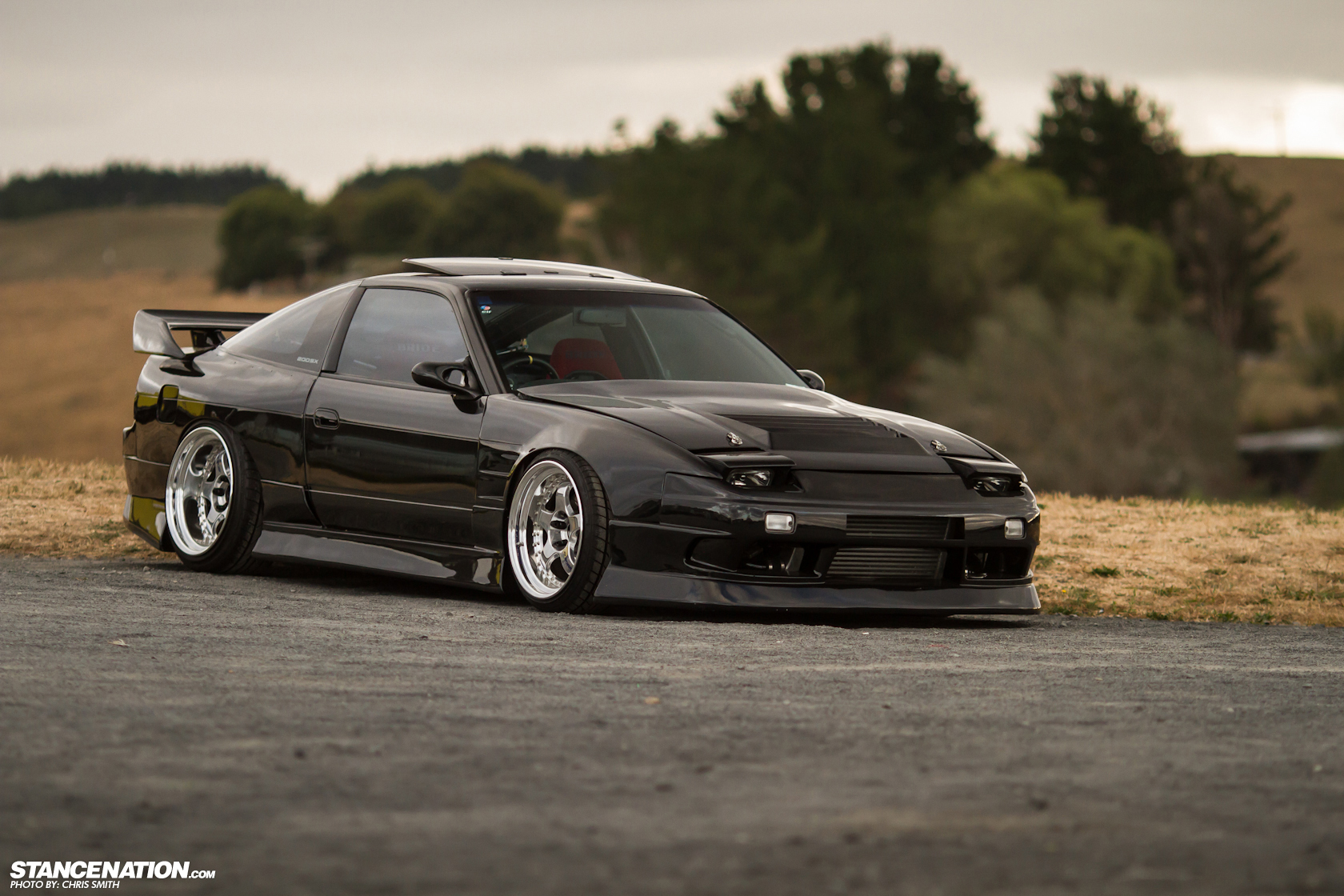 Popping the hood reveals the power plant; a fully rebuilt CA18DET motor gets the rear wheels breaking loose, with the help of a Garrett GT28R ball bearing turbo. The bottom end was refreshed with JE Forged Pistons and shot-peened Rods, and the top end was reconditioned and rebuilt with Tomei 264 cams and a Tomei adjustable cam gear. Some custom intercooler pipes were fabbed up, paired with an HKS SSQV blow off valve, and the exhaust is routed via a 3" exhaust with boso tips. There is simply too much more to list here, but no corners were cut in the building of this motor I can assure you all of that; check out the full spec list at the bottom of the page for all the details!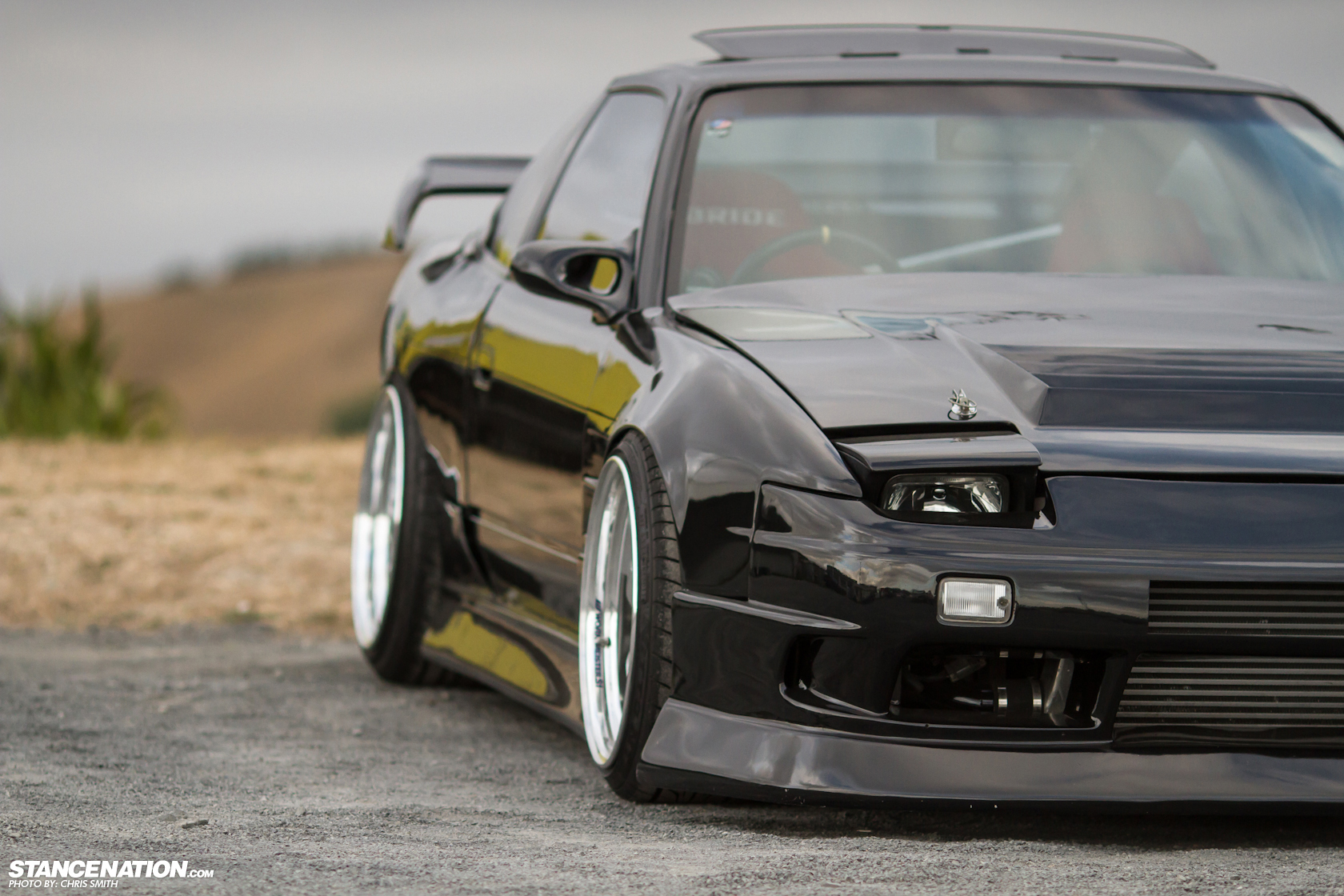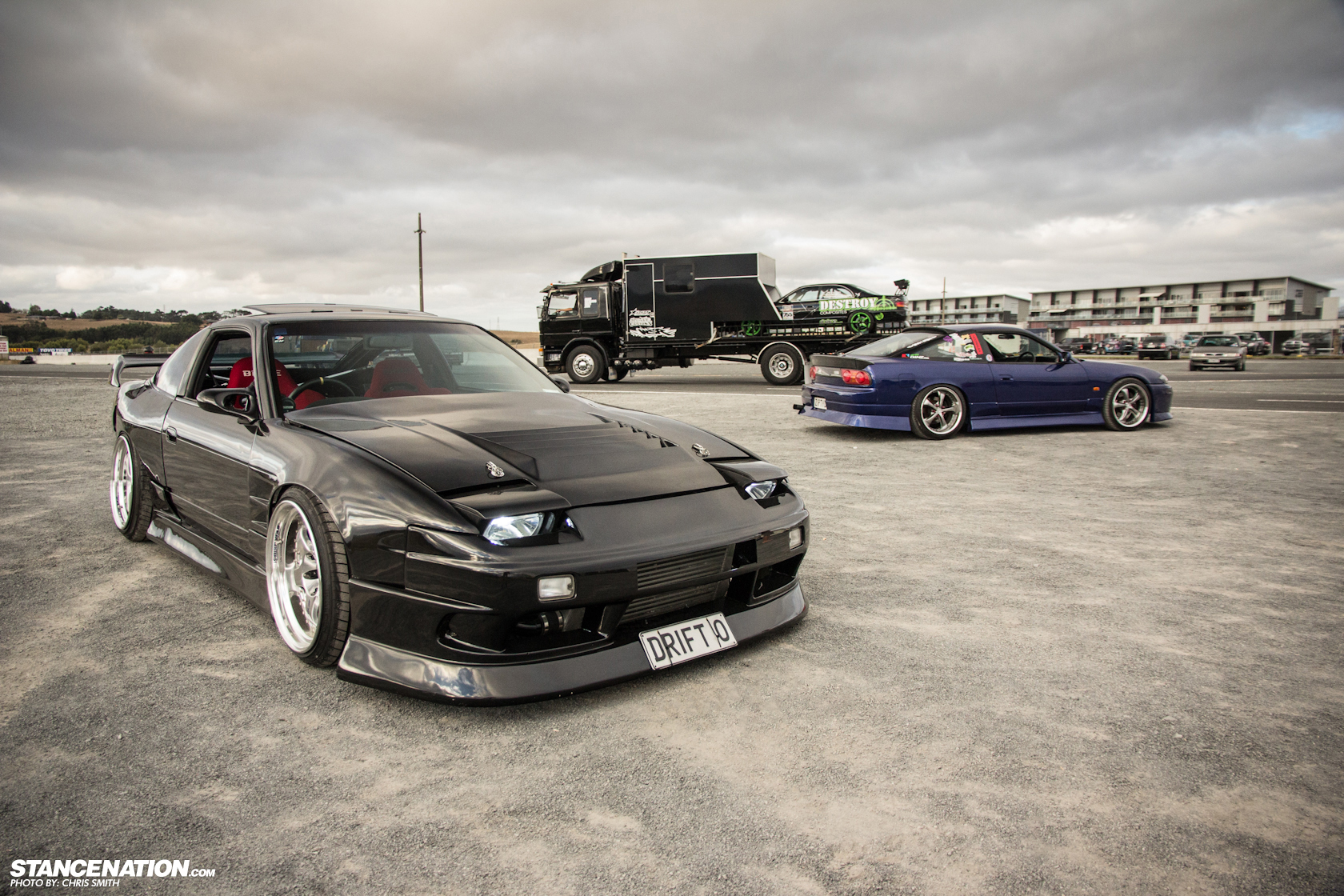 Compared to the suspension, aero, and engine, the interior is relatively tame. Dave opted to keep it clean and functional, and started out with a set of Bride seats; to keep him firmly in place he opted for a drivers side fixed back Bride Zeta III, and for the passenger, a Bride Brix reclining seat was chosen, in matching red. To maintain control of the 180 while sideways, a classic Sparco drift wheel was affixed, and a Nismo shift knob replaced the stock one. In order to keep an eye on his engine vitals, Dave chose to go with Apexi gauges for water temperature, oil temperature, oil pressure, and boost. To finish off the interior, a set of Supermade floor mats were selected, in red and black, which work so well with the vibrant Bride seats and the menacing black exterior finish, and this small detail really sets the interior off.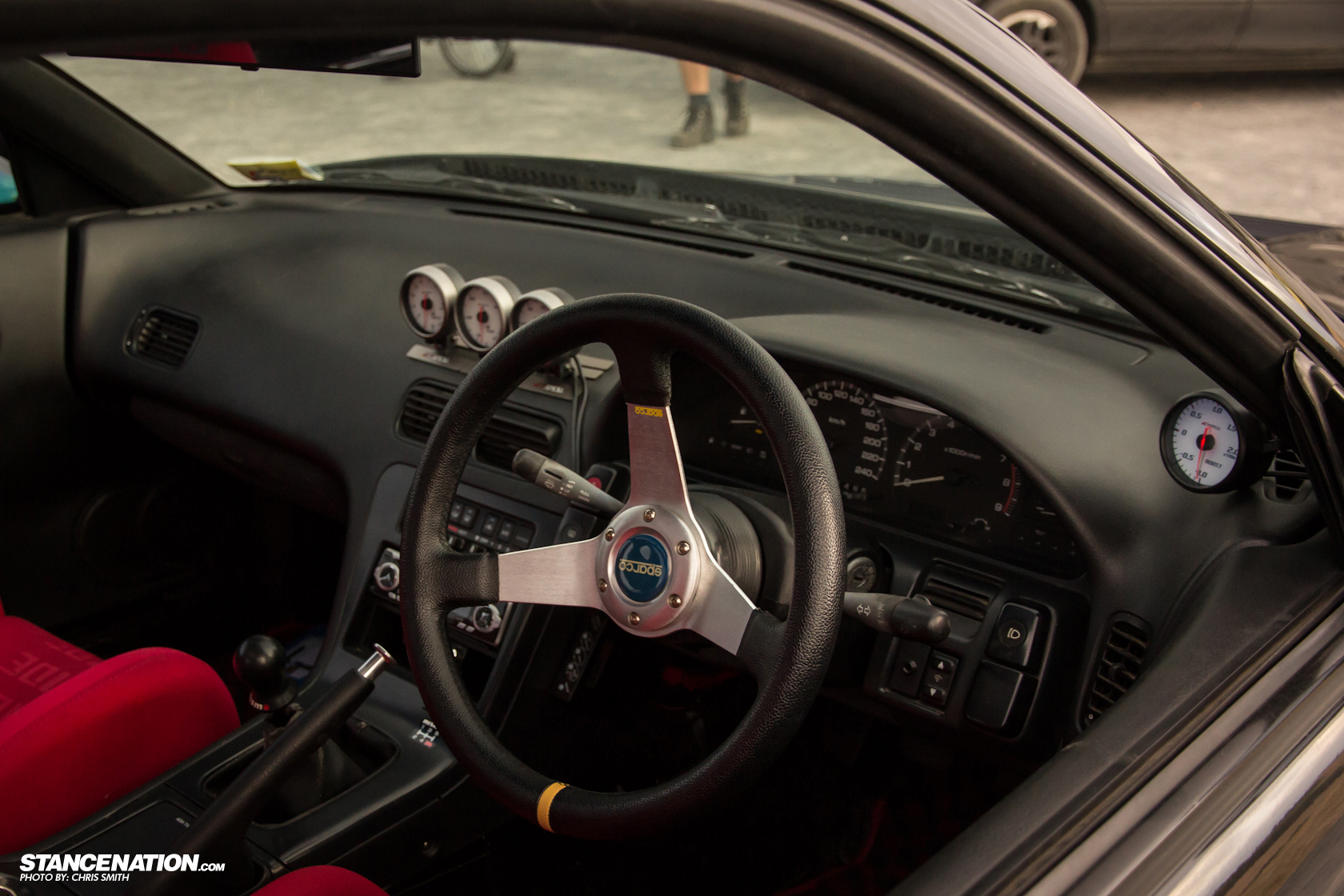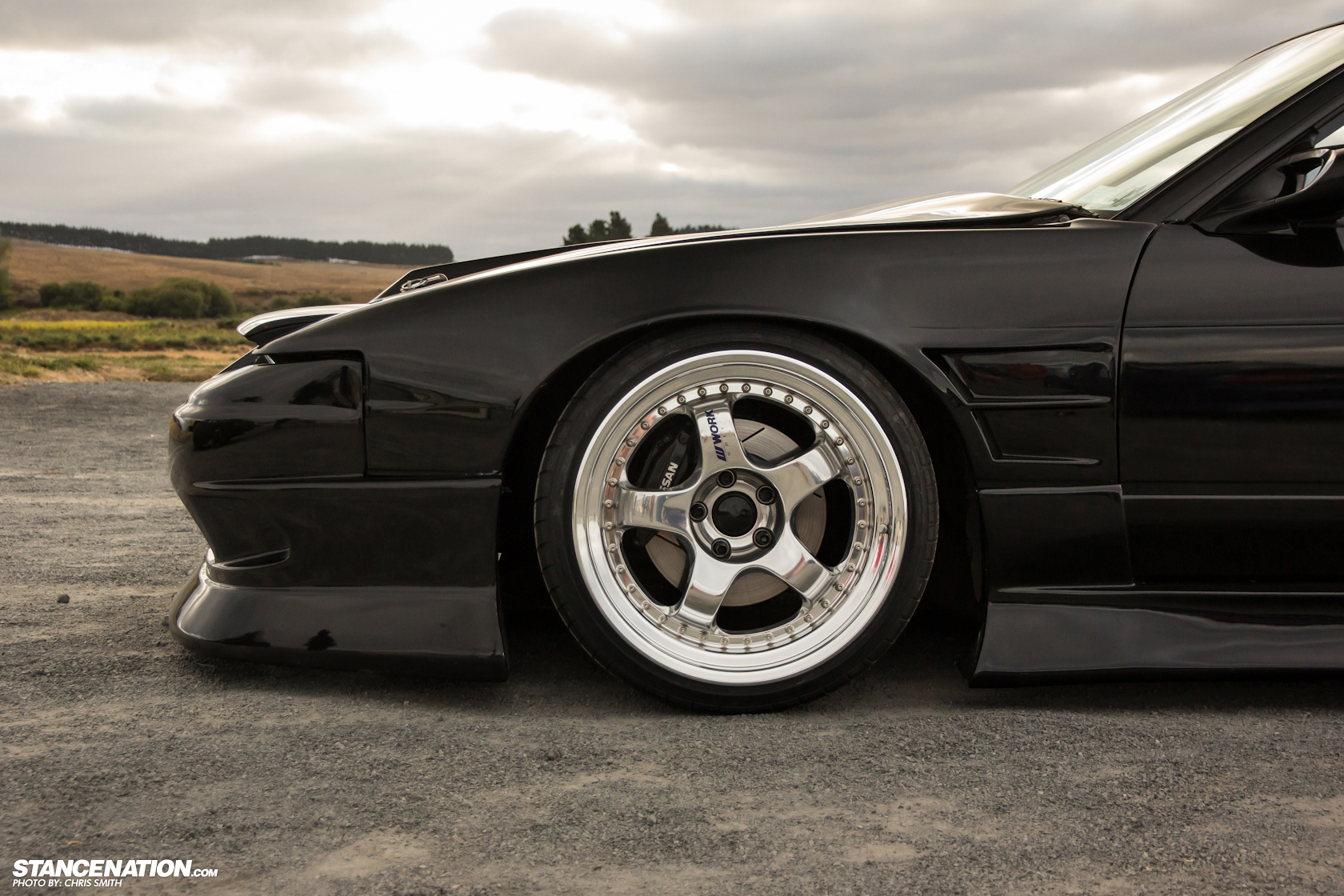 Dave has built a well-rounded car, and has put in the effort to make sure that every aspect of his Nissan 180sx has been improved. He has owned the car for about 8 years now, and originally purchased it bone stock, so you could definitely say that he is attached to this one, and it isn't going to go anywhere anytime soon! As for future plans, a big horsepower engine may be on the horizon, but mainly he is just going to focus on keeping the aero intact, and drive the car as much as possible on and off of the track. Isn't that what it is all about?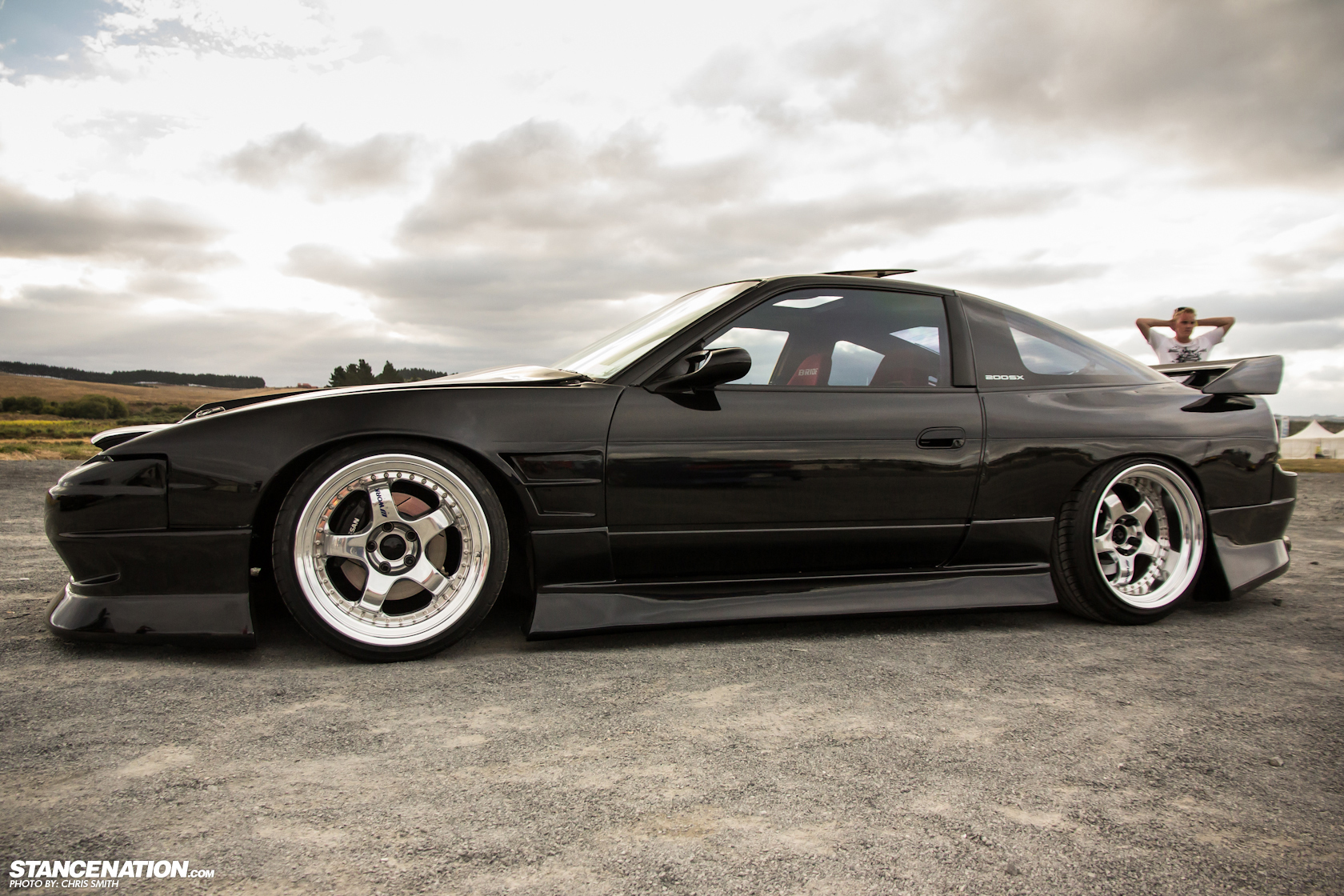 We would like to give a special thanks to our friends at FreshlyWhipped for hooking us up with these awesome photos!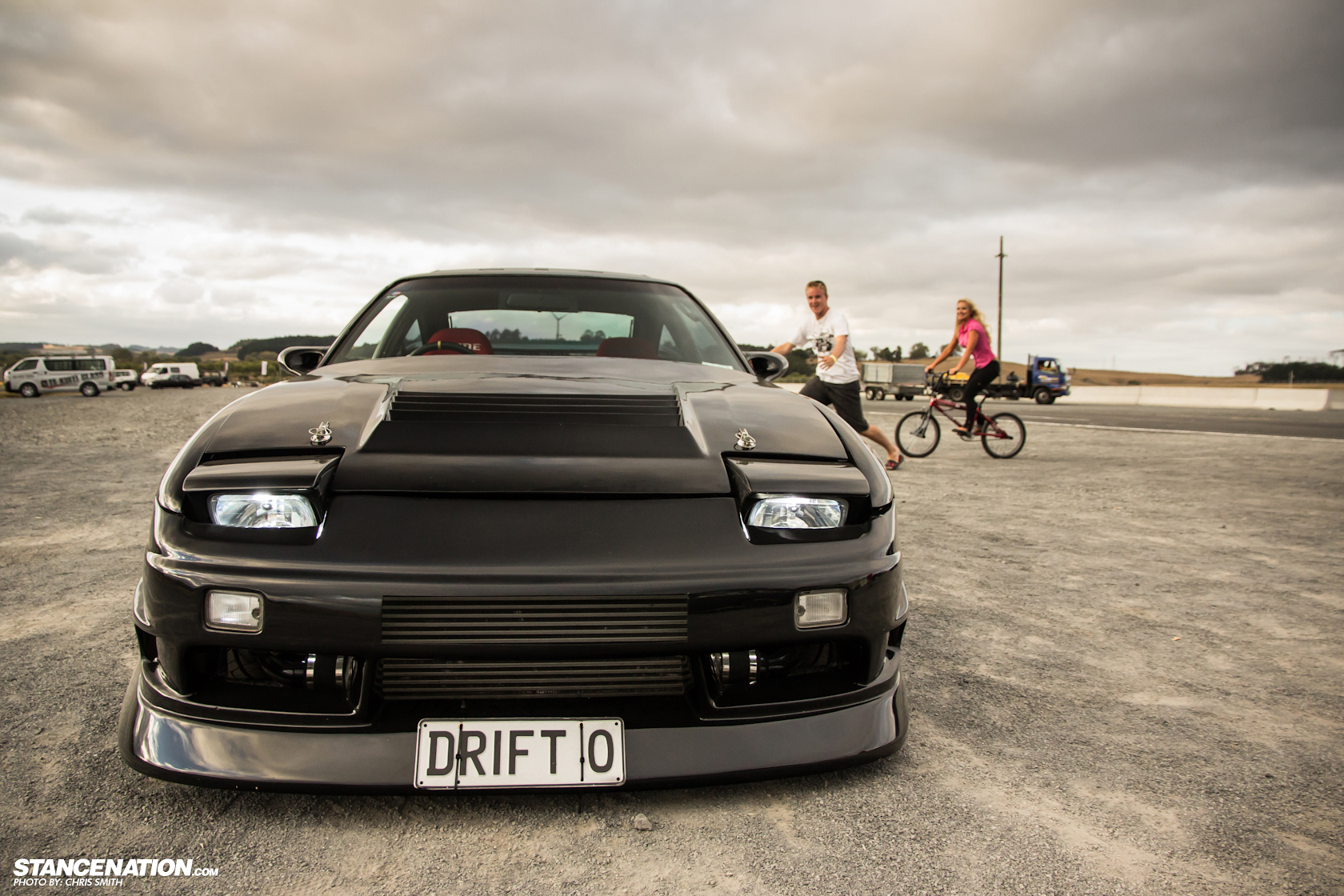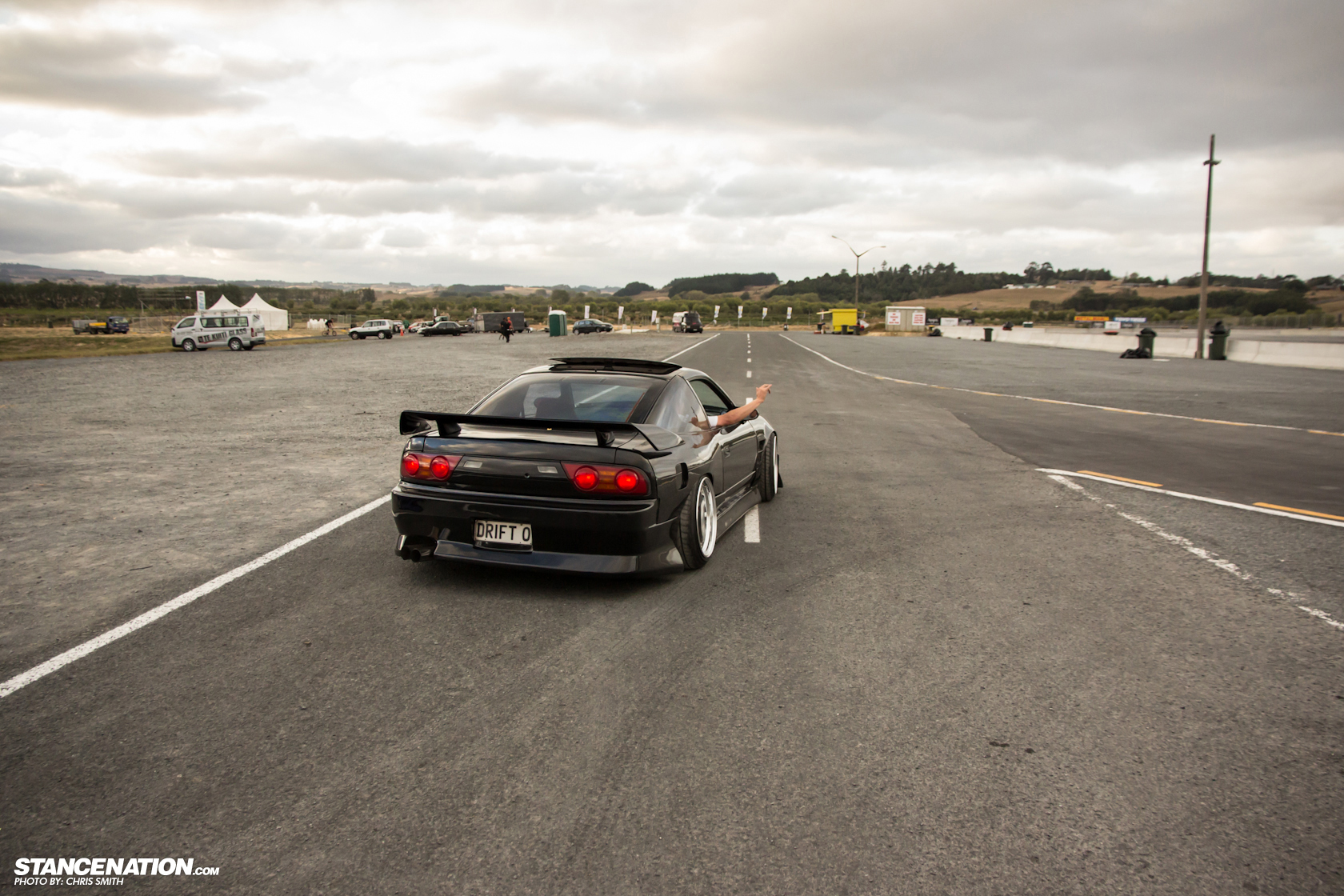 Front: 18×9.5 -1 Work Meister S1 BBF
Rear: 18×10.5 -9 Work Meister S1 BBF
Spare: 18×10.5 -7 Work Rezax II BBF
Spare: 18×10 -10 GARSON Deep Racing Ryugi BBF
Spare: 17×9 Panasport G7
TEIN Super Drift Coilover Suspension (10kgf/mm Front, 8kgf/mm Rear)
TEIN Tie Rods
TEIN Tie Rod Ends
TEIN Steering Lock Spacers
IKEYA Formula Traction Arms
IKEYA Formula Toe Arms
IKEYA Formula Castor Arms
KAZAMA AUTO Camber Arms
CUSCO Stabilizer Rod Bar
CUSCO Front Strut Brace
NEXT MIRACLE Cross-Bar Rear Strut Brace
Whiteline 27mm Front Swaybar
Whiteline 22mm Rear Swaybar
Urethane D-Bushes + Link Bushes (Swaybars)
GKTech Alloy Steering Spacer
Metal Subframe Collars[/toggle_item]
BN Sports Type 2 Front Bar
BN Sports Type 2 Rear Bar
BN Sports Type 2 Sideskirts
326 POWER Wing
ORIGIN Widebody Front Fenders
ORIGIN Widebody Rear Fenders
DMAX Carbon Fibre Bonnet
GANADOR Wing Mirrors
HID Headlights 8000k
Type X Taillights and Garnish
35% Window Tints
PIVOT Headlight Controller Kit
BLOX Forged Lug Nuts[/toggle_item]
BRIDE Zeta III Red FIA Fixed Back Seat
BRIDE Brix Reclinable Passenger Seat
BRIDE Superlow Seat Rails
APEXi Boost Gauge
APEXi Water Temp Gauge
APEXi Oil Pressure Gauge
APEXi Oil Temp Gauge
APEXi Control Unit
SPARCO Drifting Steering Wheel
NISMO Black Shiftknob
Broadway 300mm Flat Mirror
Shiny E-Brake Button
Supermade Floor Mats
Fully rebuilt CA18DET including Engine Head reconditioned
HKS F-CON PRO V Engine Management
JE Forged Pistons
Shot-Peened Rods
ACL 1.3mm 3 layer Metal Headgasket
TOMEI 264 Duration Camshafts
TOMEI Adjustable Camgears
SARD Fuel Pressure Regulator
Garrett GT28R Ballbearing Turbo
Steampipe High Flow Exhaust Manifold
3″ Exhaust with center muffler
Dual 3″ Stainless BOSO tips
3″ Dump pipe
Alloy Radiator with Samco hosing
K&N POD filter
HKS SSQV Blow Off Valve
600x300x76 Front Mount Intercooler
Custom Fabricated Intercooler Piping
Custom Intake Piping
GTiR 450cc Injectors
Walbro 500hp Fuel Pump
TRUST/Greddy Electronic Boost Controller
TRUST/Greddy Oil Cap
TRUST/Greddy Radiator Cap
NGK Platinum Spark Plugs
Battery Relocated to Boot
EXEDY Heavy-duty Clutch
Machined Flywheel
R200 Locked Diff 4.3
5 stud hubs conversion
4pot GTS25T Front brake calipers
2pot GTS25T Rear brake calipers
DBA Slotted 296mm Rotors
Slotted Rear Rotors