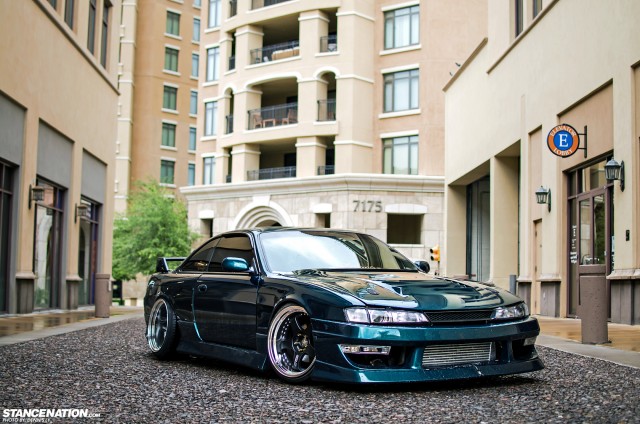 There are many life changing events in any one person's life. From your first kiss to your first punch, moments like those are forever ingrained in our minds. Just one event is the want of an S-Chassis car, whether it be a S13, S14, or the ever elusive S15, we car enthusiasts can probably say sometime in our modding career have we wanted to be the owner of one. It is more than a phase, it's an entire lineage of cars that have influenced more than just today's generation. If my aspirations could manifest into a 240SX, it would be the one sitting before you. But enough of my dreams, let me introduce you to Kevin Vo's immaculate S14.
At first glance this car looks like it belongs to someone with plenty of prior knowledge and experience in terms of car modifications and a series of builds on their resume. However, this is Kevin's very first project build. Don't get me wrong about Kevin being a novice. This car was built with a clear-cut goal in mind and I personally feel he took the time and effort and made this a well planned and flawlessly executed plan. Plus it doesn't hurt to have like-minded people who are willing to help and lend their expertise.
Immediately the first thing that snags your attention about this car is the numerous exposed rivets that run along the lines of the S14. They lend a unique look to the car and certainly go a long way in advertising the wide body. Origin and Chargespeed overfenders add 20mm and 50mm respectively to the front and rear. A D-Max hood with its aggressive vents sit nicely covering the spry SR20DET that lays within. Kudos to Dalton and Dylan at Elevens Paint and Fiber who worked their own magic into the B-Magic Aero along with the widebody and paint.
The Nissan S chassis is one of the most popular line of cars to hit the scene. Versatility, looks, and a myriad of aftermarket parts make this car an attractive platform to begin modding and that was exactly what Kevin was looking for. He aimed to build a car that was fun as a daily driver and a great car as a project. Many of these parts were slowly accrued over time, saving painstakingly paycheck after paycheck for over a year. In addition, the SR20DET swap, which was done by Efrain and Suspicious Garage which is based out of Southern California now, took loads of time as they upgraded everything, some of which include Future Fabrications Turbo Manifold, Tomei 264/264 Cams, and a ISIS FMIC. It surely was the most difficult part of the build but the struggle has definitely paid off.
To outfit his car with some nice shoes, Kevin called upon, Billy, an expert on wheels and tires from Rim1, where he decided upon SSR SP1 Professors. Now there are very few things I love more than SP1's with a low offsets, he chose to run with an appropriately wide 18×10 +3 front and a whopping 18×11.5 -21 in the rear. The pushed back faces of the SSR's look very clean in matte black especially with the major polished lippage that surrounds the face. To help Kevin achieve how the car is sitting now, he needed help in the form of Ksport Kontrol Pro Coilovers to lower and stiffen the ride. Other suspension components such as Ksport Rear Toe Links and Intensepower RUCAs, Front Tension Rod, and Rear Traction Links, improve the quality of his suspension.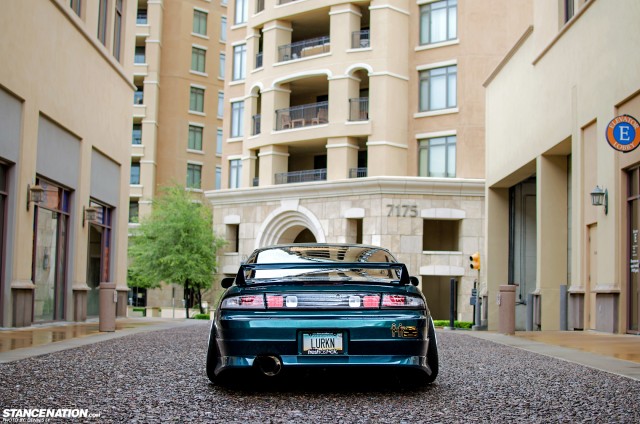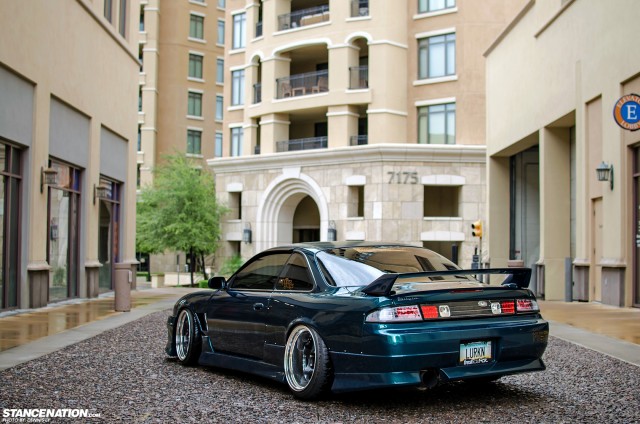 Kevin says that in the future we can look to a full S15 interior and a possible upgrade to the turbos. Either way, this was one heck of a project car that shows hard work and perseverance throughout its build. However, Kevin doesn't take all the credit. He says without the help of everyone mentioned in this post has greatly contributed to this build and without them, the car we see before us today would not be here. Personally, I would like to thank those involved in this build for blessing us with such a creation.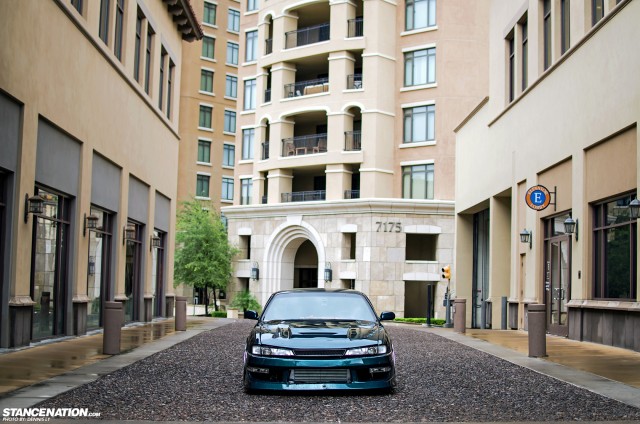 [toggle_box]
[toggle_item title="Wheels/Tires/Suspension" active="true"]SSR SP1 Professors Front 18×10 +3 Rear: 18×11.5 -21
Federal595 225/35/18 Federal595 255/35/18
Ksport Kontrol Pro Coilovers
Ksport Rear Toe Links
Intensepower RUCA
Intensepower Front Tension Rod
Intensepower Rear Traction Links
Carbing Type I Front Strut Bar[/toggle_item]
[toggle_item title="Exterior" active="false"]B-Magic Aero Kit
Chargespeed +50mm Rear Overfenders
Origin +20mm Front Fenders
D-Max Hood
Kouki K's Wing
JDM Kouki Headlight
Circuit Sport Winker Lights
Dmax LED Tail Lights
JDM Kouki Front Grill
JDM S14 Window Visor [/toggle_item]
[toggle_item title="Interior" active="false"]NRG Leather Steering Wheel
NRG Short Hub
NRG Gen 2.5 Quick Release
Pioneer AVH-2300DVD Double Din
Pioneer 2-way Front Speakers
Blox Neo Chrome Shift Knob [/toggle_item]
[toggle_item title="Engine" active="false"] S14 Blacktop SR20DET Motor Swap
Garrett Ball Bearing GT2871r .64A/R Turbo
Apexi SR20 Power FC D-Jetro
Tomei FPR Type L w/ Tomei FPR Gauge
TurboSmart Electronic Eboost Boost Controller
Future Fabrications Turbo Manifold
Tomei 264/264 Cams
Polished Intake Manifold
Nismo 7 Layer Exhaust Manifold Gasket
JECs 740cc Injectors
Brian Crower Springs and Retainers
Brian Crower 7mm Exhaust Valve
Greddy Ti-C Catback Exhaust
Intensepower Downpipe
Intensepower Turbo Elbow
ISIS Resonated Test Pipe
HKS Mushroom Style Air Filter
Suspicious Garage Turbo Line
Suspicious Garage Brake Relocation Line
TiAL Blow-Off Valve
ARP Head Studs
Cosworth Head Gasket
ISIS Front Mount Intercooler
ISIS SR20 Aluminum Radiator
Samco Radiator Hoses
Circuit Sport Coolant Reservoir
Moroso Oversized Oil Pan
Walbro 255 Fuel Pump
Future Fabrications Oil Catch Can
Neo Chro Oil Filler Cap
Circuit Sport Engine Torque Damper
ISIS Polished Pulley
Spec Stage 3 Clutch
OEM Flywheel
ARP Flywheel Bolts [/toggle_item]
[/toggle_box]