It was July of 1997, I was with my parents on an annual summer vacation, this time we were in Pigeon Forge Tennessee. I wasn't quite old enough to drive yet and I had an obsession with mini-trucks, being from Vermont I was never exposed to a very diverse car scene in person. For a few years prior I would buy issues of Mini-Truckin whenever I could, I was amazed how unique someone could make a truck and no-two seemed to look the same. I was hooked. So when we arrived in Pigeon Forge that July day I was amazed that we just so stumbled upon the 1997 Mini Truckin Nationals. Best family vacation ever? I think so. All afternoon I sat in front of the hotel we stayed at watching the very vehicles I fell in love with roll by – stereos blasting, retina burning paint colors glowing in the summer sun. A day I will never forget.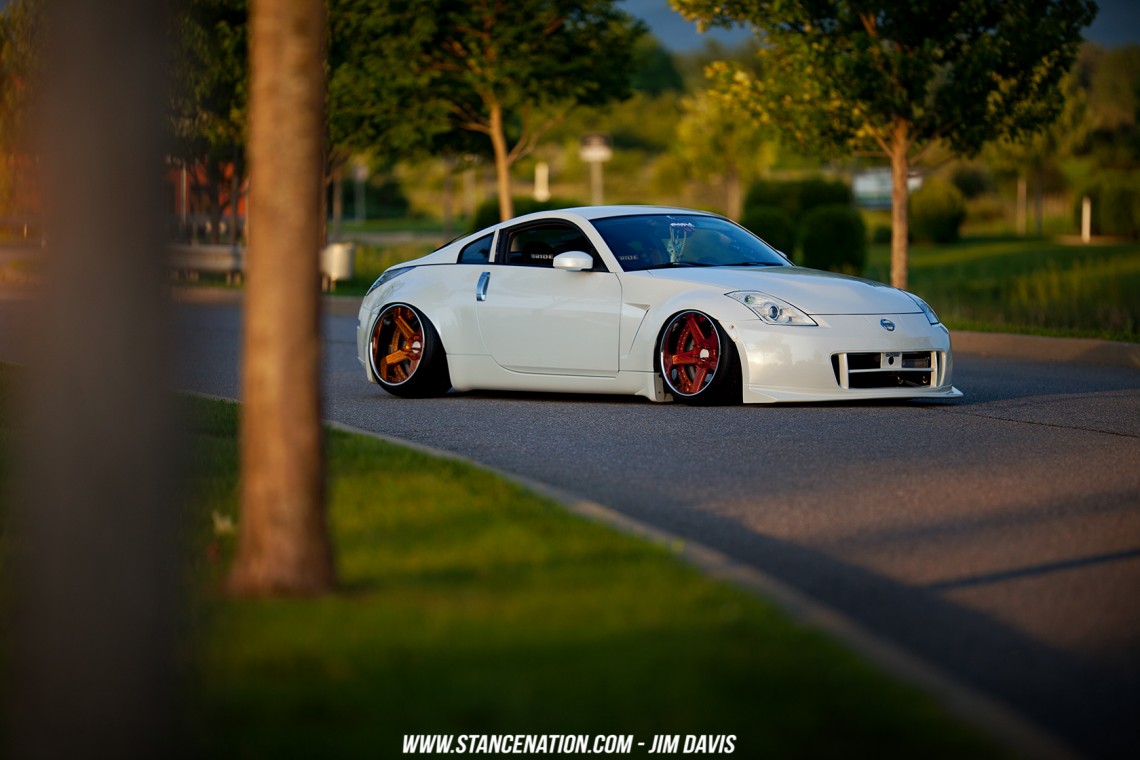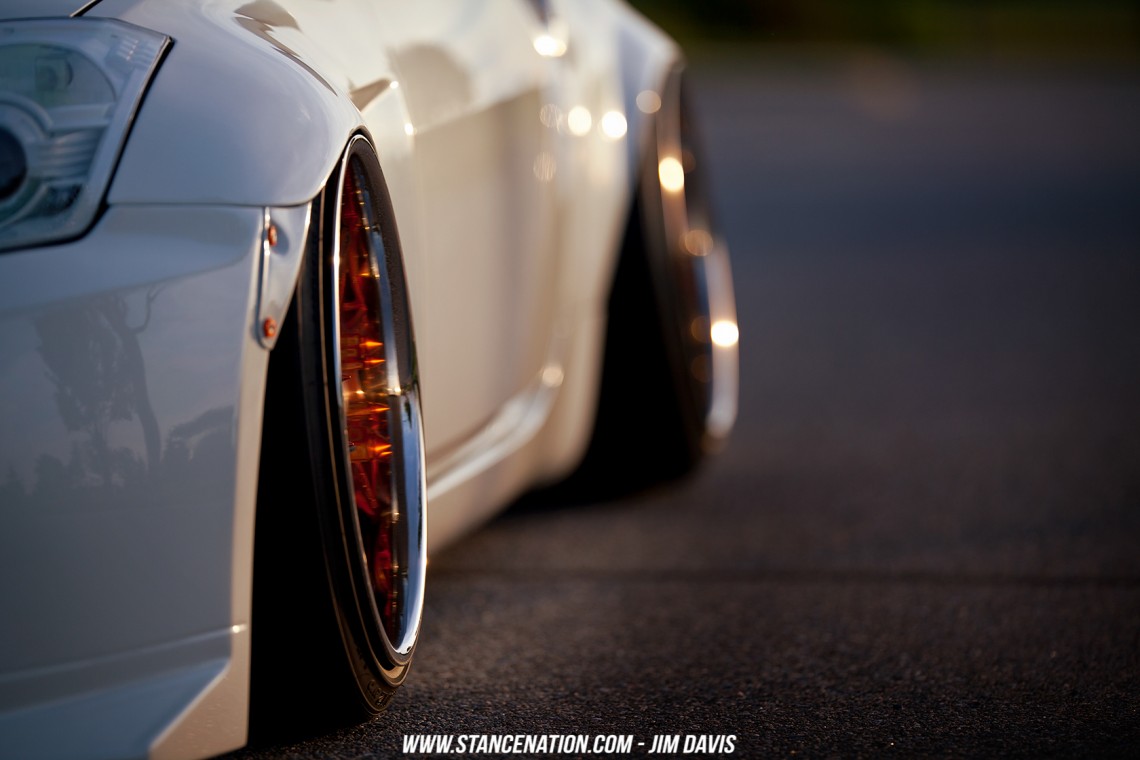 I still have those old Mini-Truckin magazine issues tucked away on a bookshelf next to other car magazines of the past, at times I'll pull one out at scan through it, still admiring the creations of a time that has almost seemed to fade away. So by now you're probably asking yourself; why is this guy going on about mini-trucks? Well, for me thats the easiest way I can categorize Mike Condons 2007 350Z, it has that certain level of uniqueness that isn't like any other 350Z, or car, I've seen in quite some time. I've shot Mikes 350Z at least once a year for the past 4-plus years, each time it changes more and more, and each time it gains more of its own identity. Thats probably one of the biggest reasons I like it so much, it reminds me of the mini-trucks I fell in love with years ago.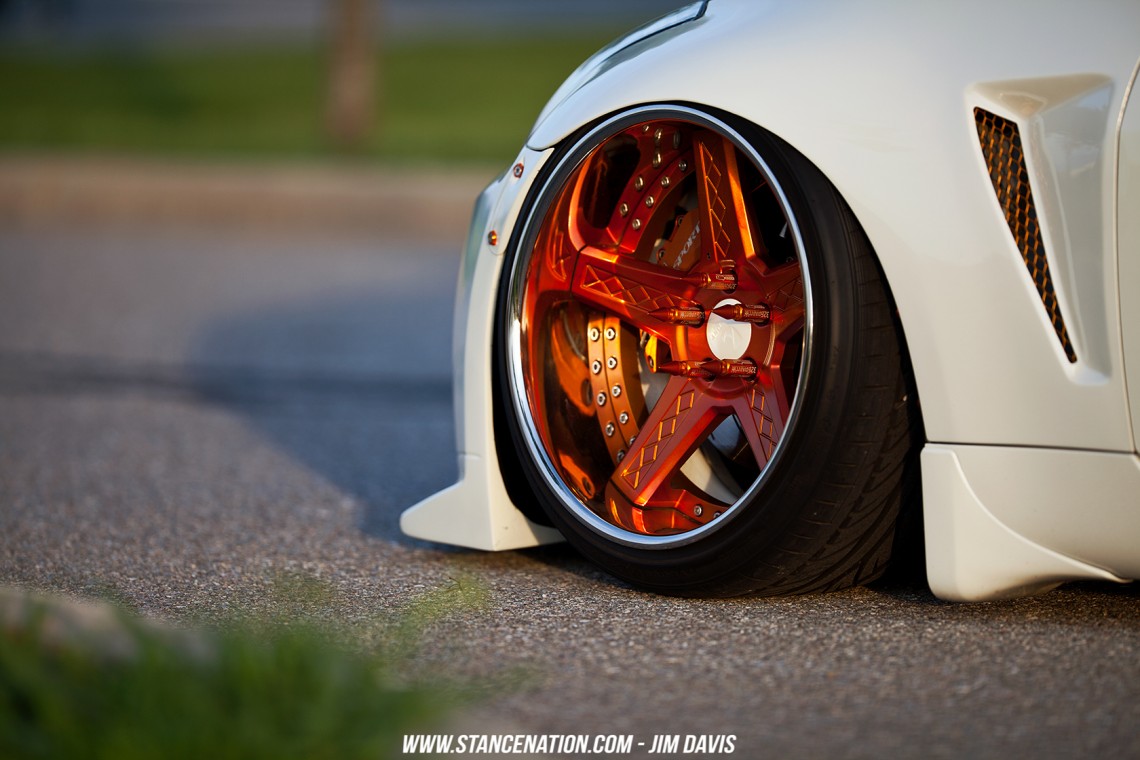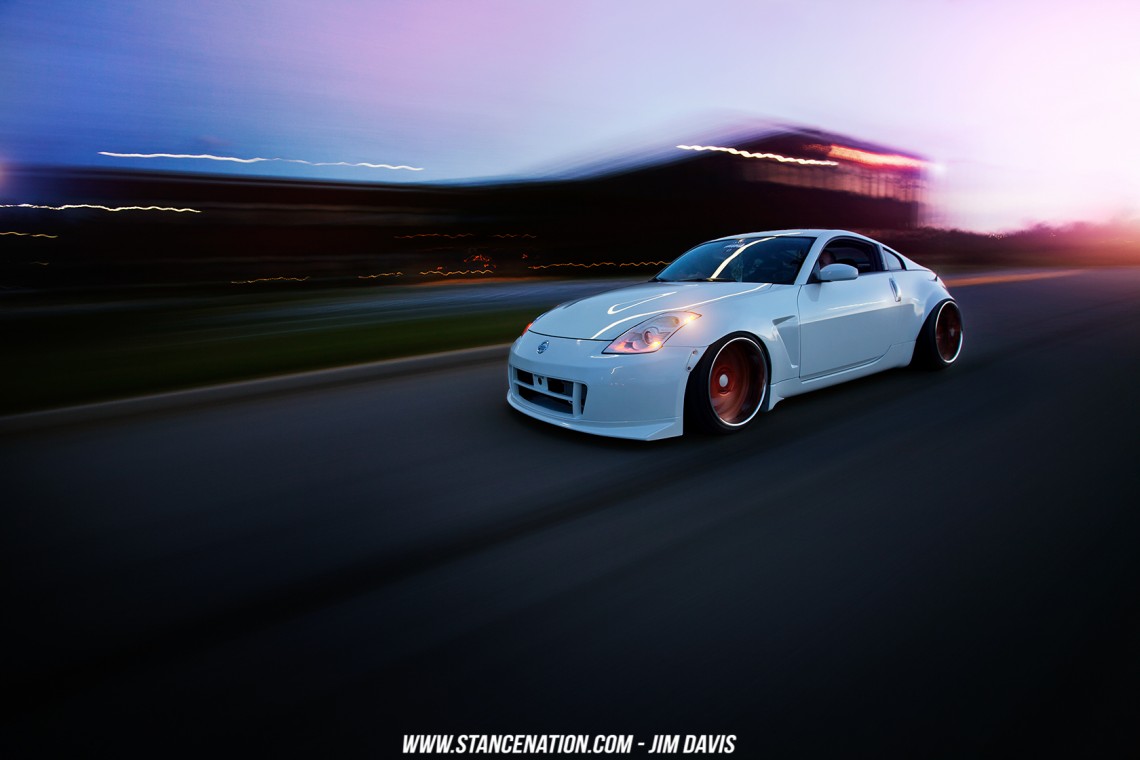 Small details like the spiked 326 Power lug nuts finished in orange give the wheels some Japanese flair and Luxury Abstract leather exterior door pillars and license plate frame can also be found on the car.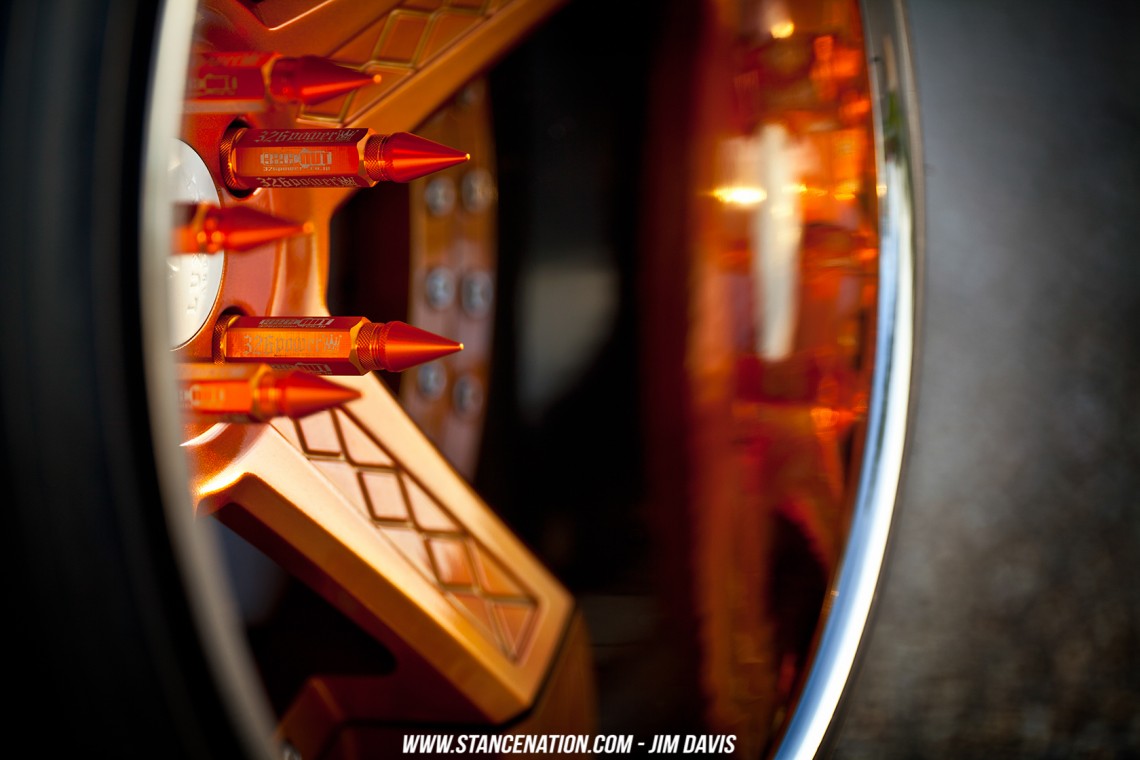 The first time I saw this 350Z it wore a set of Volk Racing wheels and a coil-over suspension along with some other mild aero parts. A far cry from the 3-piece 19" Luxury Abstract Grassor-C wheels with custom orange painted centers and black-chrome plated barrels it wears today. The owner of Luxury Abstract does an amazing job with design and some one-off creations such as hand painting some wheels, this adds a very distinctive touch in todays wheel market where it seems there is an almost oversaturation of custom wheels, Luxury Abstract follows the philosophy of exclusivity, perfect for Mikes 350Z. While we're on the subject of wheels, the Grassor-C's measure in at 19X11 with a negative 31 offset up front and 19X13 with a negative 38 offset in the rear. Thats a 6-inch lip up front and a healthy 8-inch lip out back, insane. Tires are Hankook V12 Ventus Evo; 245/35-19 front and 295/30-19 rear.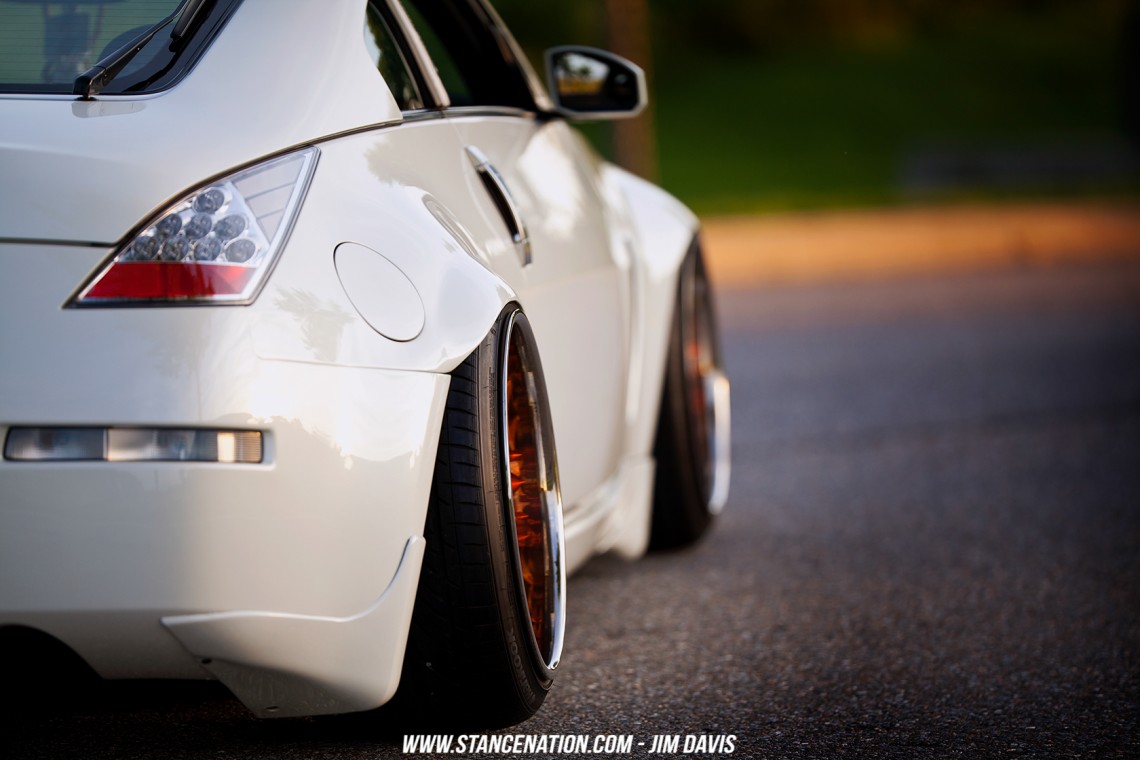 In order to fit those massive Luxury Abstract wheels, quite a bit of body work needed to be done. Instead of buying a fiberglass front fender and bolting it on, the stock Nissan metal fender was cut up, widened, and a custom vent added. The rear fenders received the same treatment with more sheet metal added and several hours of body work to reach the flawless results you see. The end result is a 3.5-inch wider front fender and a 4-inch wider rear. A Nismo Version-2 front bumper sets the agressive tone up front.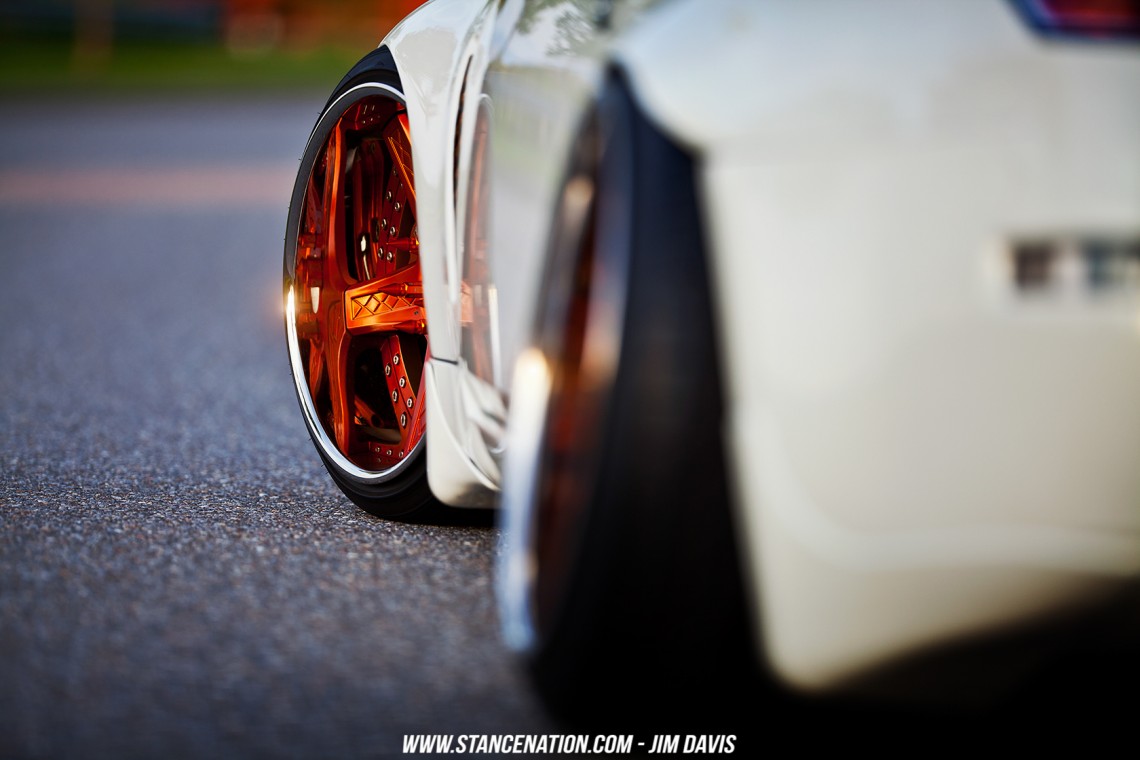 If you need to stop on a dime and make change, K-Sport 13-inch rotors can be found at each corner with massive K-Sport 8-piston calipers up front and 4-piston calipers out back finished in a deep brilliant orange color that flows with the rest of the orange theme.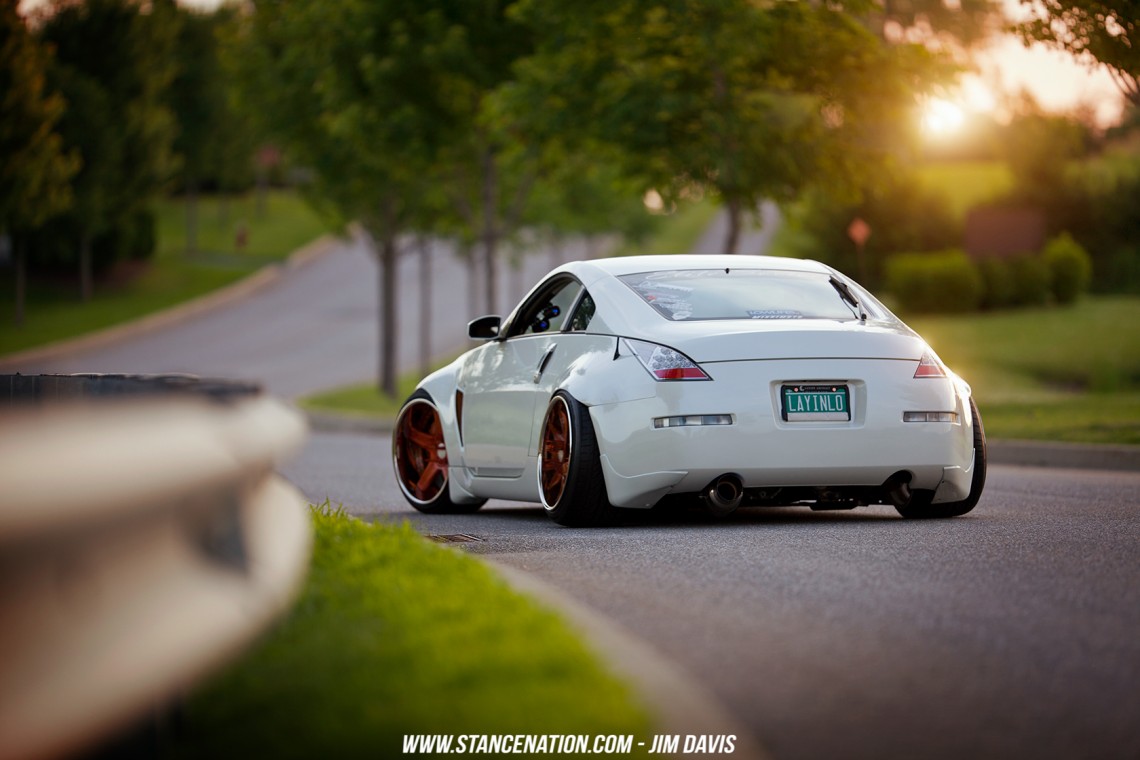 Altitude adjustments are handled by an AccuAir e-Level air ride system with touch pad, two 380cc Viair compressors, AccuAir VU4 8 valve manifold, and a 4.5 gallon aluminum air tank all neatly placed in the rear hatch and feed air through the 3/8-inch air lines. Ichiba rear camber arms and Wicked Tuning rear toe arms help sort out the alignment and keep everything in proper rolling order.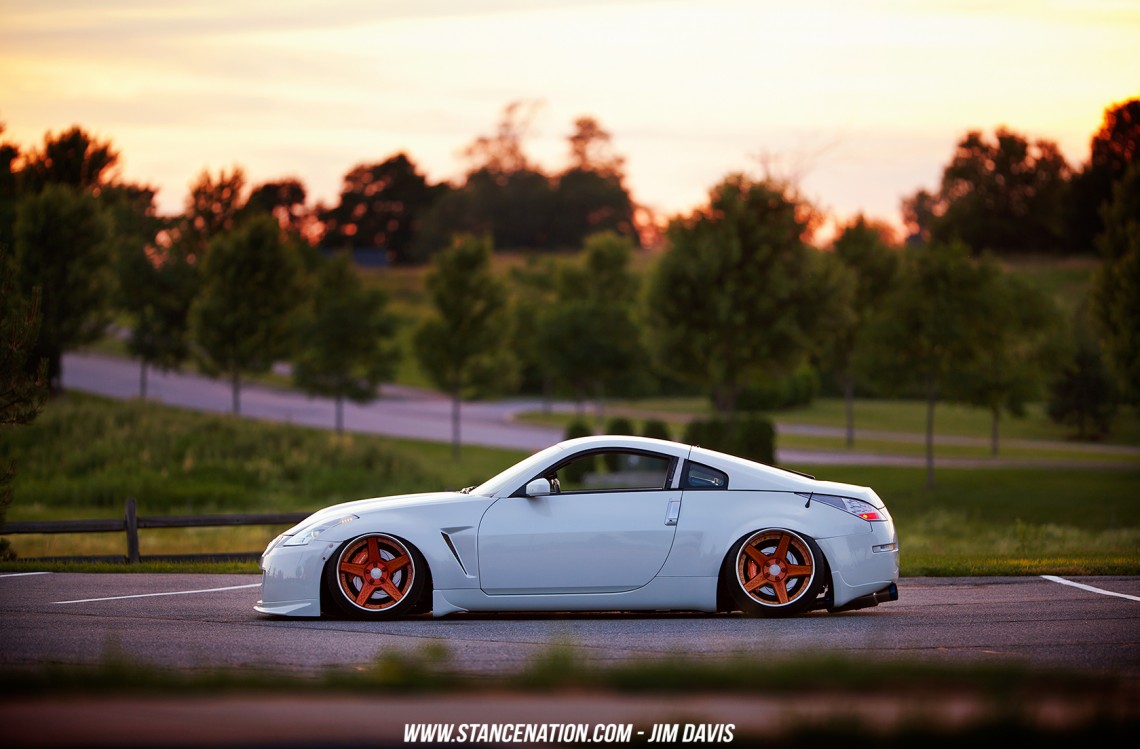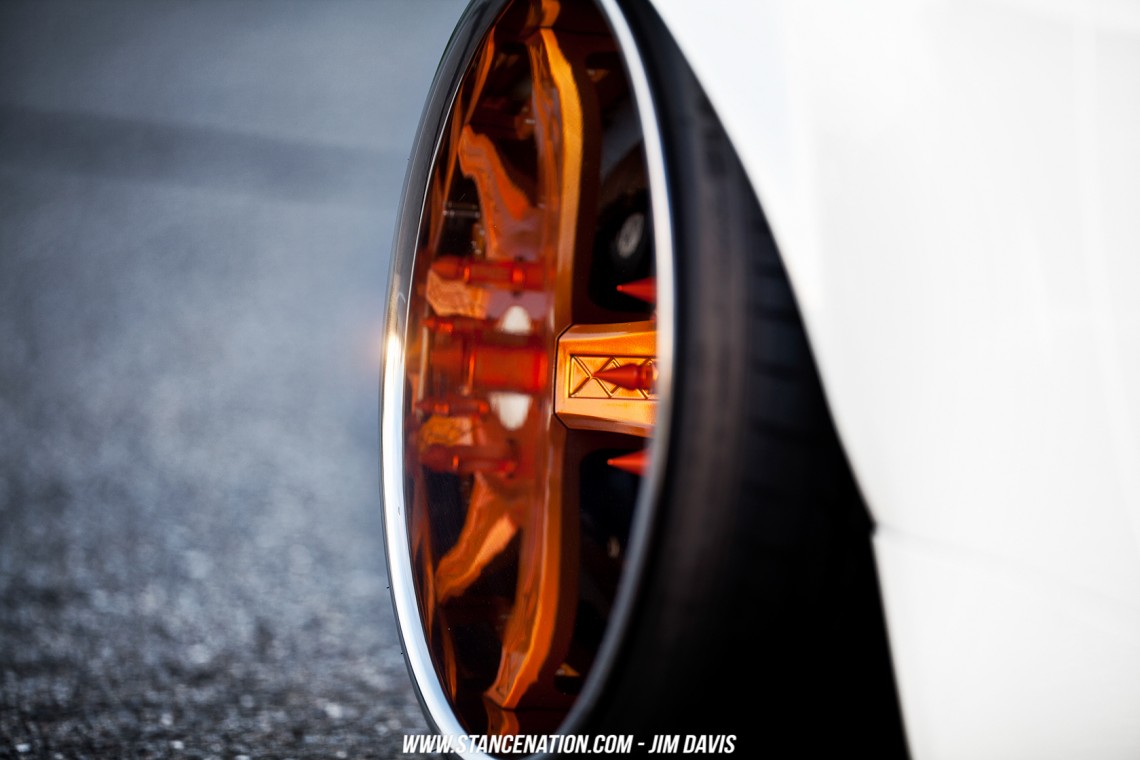 Bride Lowmax Stradia seats, a Corbeau 5point harnesses, and Sparco harness bar can be found in the interior along with a push button ignition, B&M short shifter, leather e-brake and shift boot, Vertex steering wheel, and an NRG quick release. In the hatch you'll find a Kicker L7 subwoofer with a Sound Stream Tarantula amp while up front in the dash an Alpine media receiver with Alpine Type S component speakers handle the mids and highs.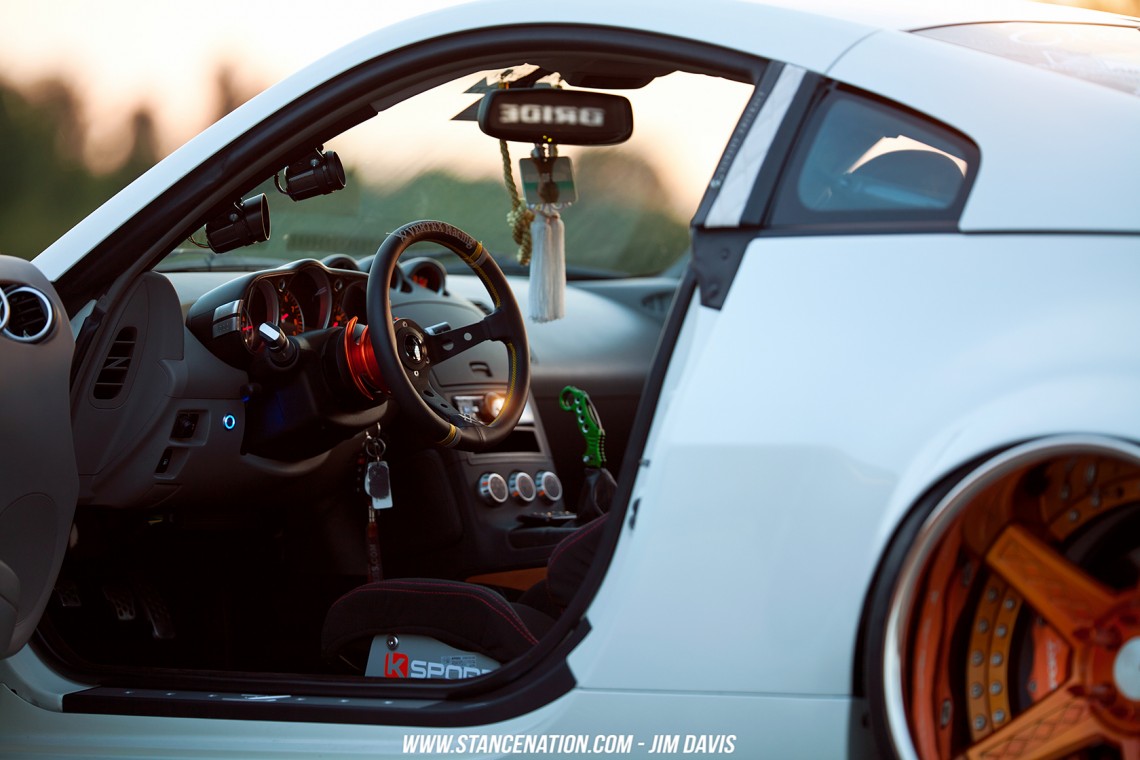 Enhancing the audio from the Nissan VQ35HR engine is a Tomei Expreme Titanium single exit exhaust, which replaced the Greddy dual exit from last year.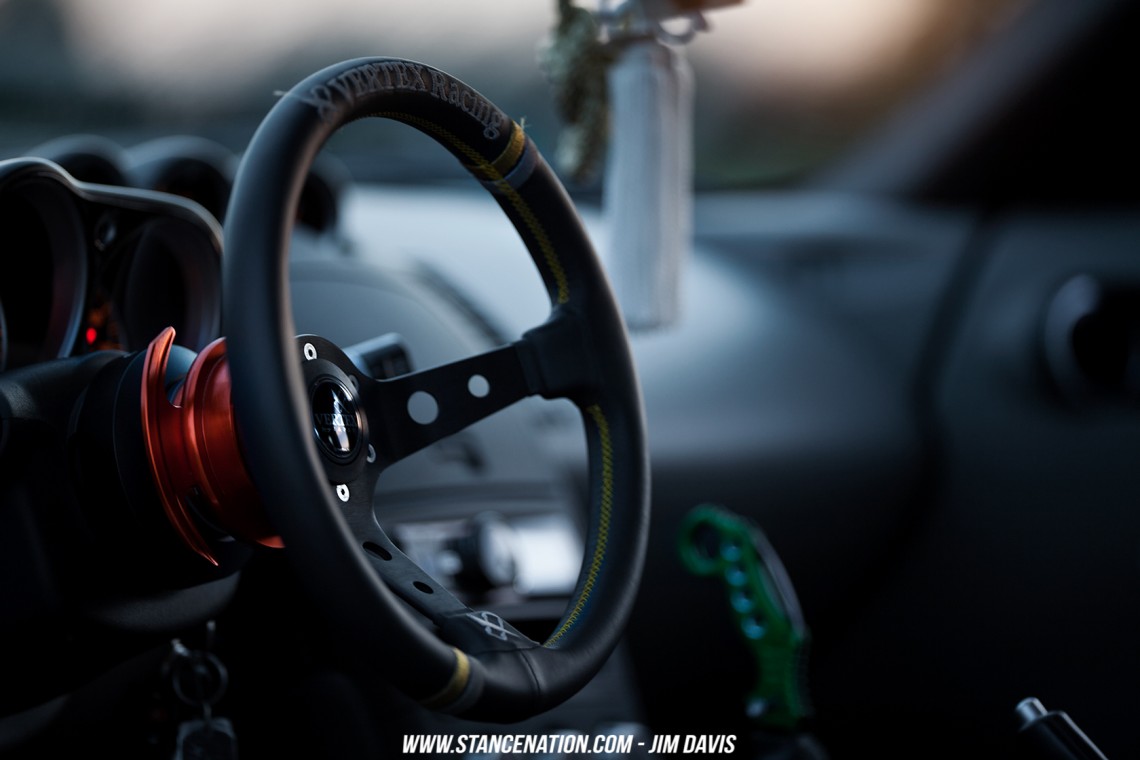 Mike would like to say thanks to the following people who have helped him greatly along the way with this project: "Patrick Bowdy for the sheet metal fab help, Matt Rivers for his superior body skills, Fred Curavoo for the dope paint work, Dan Purpura and Jim Davis for the amazing photos, my girlfriend Mary Ann Johnson for the on going support, and always StanceNation for letting me share the car with the world".