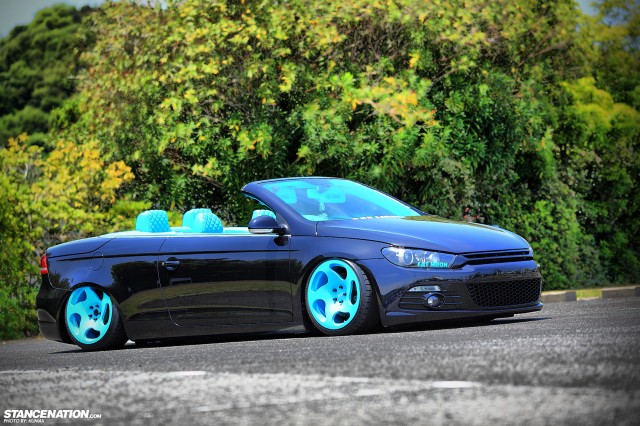 As soon as I saw the first ads featuring the Volkswagen EOS, I knew it was going to be a great new platform for VW enthusiasts to modify. Finally, something to fill the void that was left by the Cabrio after it was discontinued in 2002; the EOS is a proper convertible coupe that embodies true VW characteristics. Volkswagen began selling the EOS in 2006, and since then we have seen numerous examples of modified ones, from simple and stylish, to over the top and wild! I would say that Keisuke Tachi, the owner of this clean EOS has built one somewhere in the middle of simple and wild, with a clean and sleek exterior, and incredible fully redone interior.
Photos By: Kumax exclusively for StanceNation.com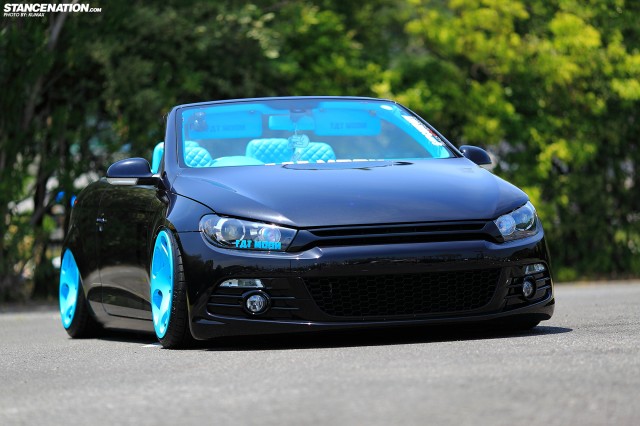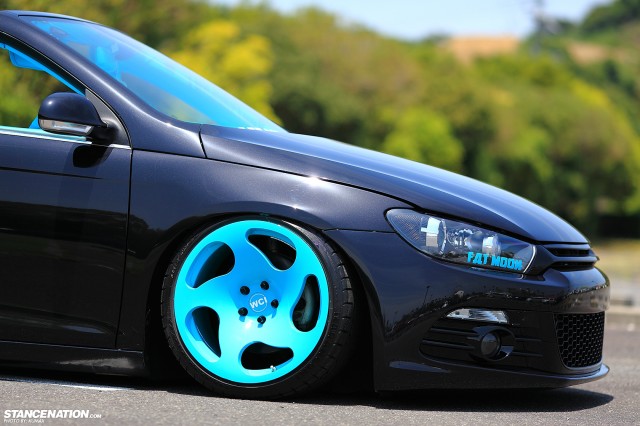 The most noticeable modification on the exterior of Keisuke's drop top is the shaved Volkswagen Scirocco front-end swap. In my opinion, this is an awesome way to make the EOS more aggressive, and it works so well with the convertible, this should be a factory option!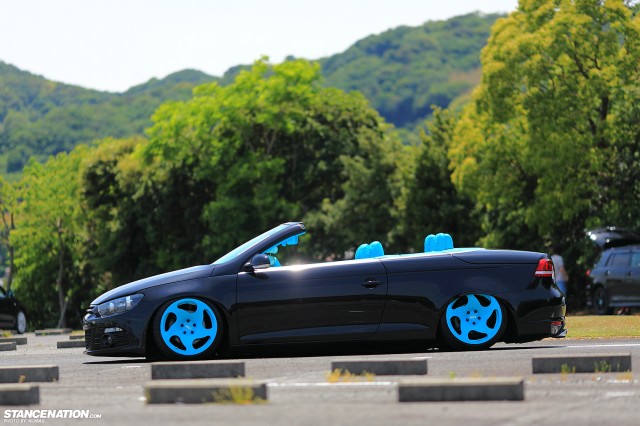 For wheels, a clean set of turquoise blue Watercooled Industries CC10's were selected, sized at 18×9.5 with an offset of +35 all around and are wrapped in 225/35/18 Marangoni Mythos tires. This wheel and tire setup, combined with the oh-so-popular AirRunner air ride suspension allows the EOS to lay down perfectly, with the CC10's tucking perfectly under the fenders.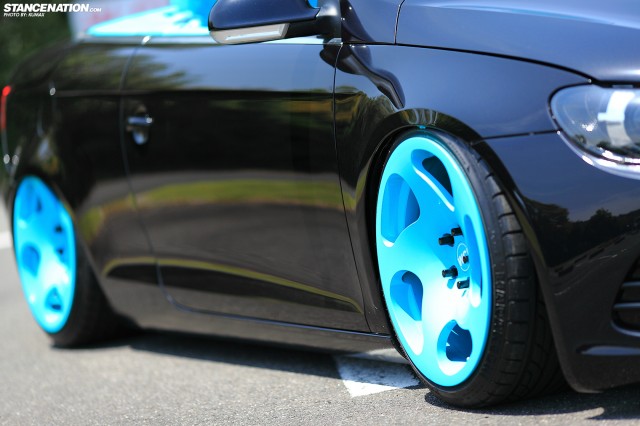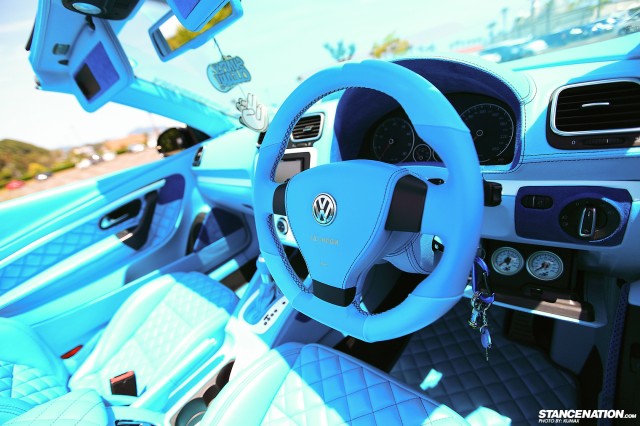 The real show stopping modification about this EOS is the interior, which has been fully retrimmed by the awesome team over at Fat-Moon in Japan; these guys are able to transform any interior from bland to incredible! They have an incredible track record with some amazing work; they have tackled many VAG interiors and also do custom color convertible ragtops.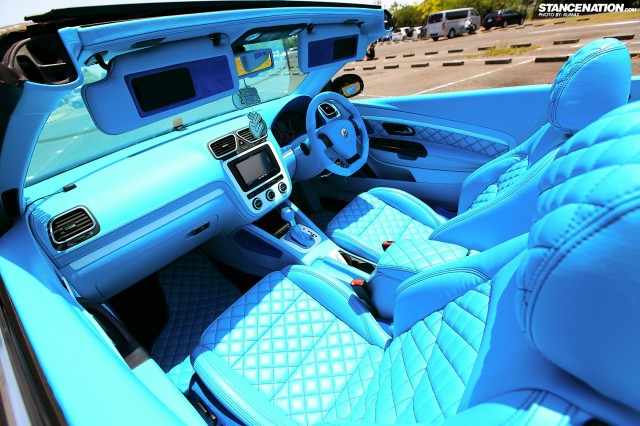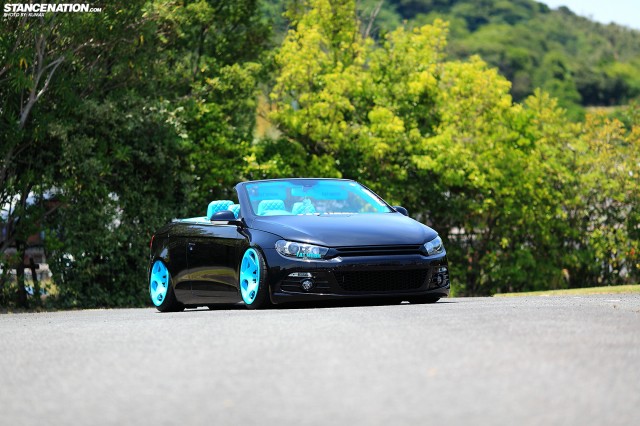 Keisuke has built a clean and vibrant Volkswagen, and with the help from the guys over at Fat-Moon he has transformed his boring stock interior into a jaw dropping work of art. The time, effort and planning that has gone into this car is amazing, and it has all paid off and come together to create a beautiful ride. So let us know down below what you all think of Keisuke's Scirocco front ended EOS, and his insane interior.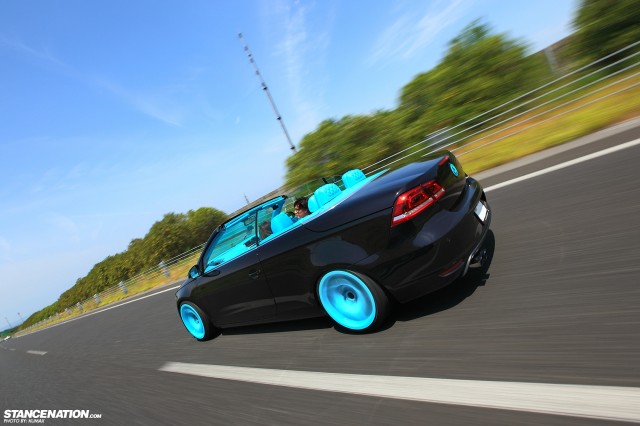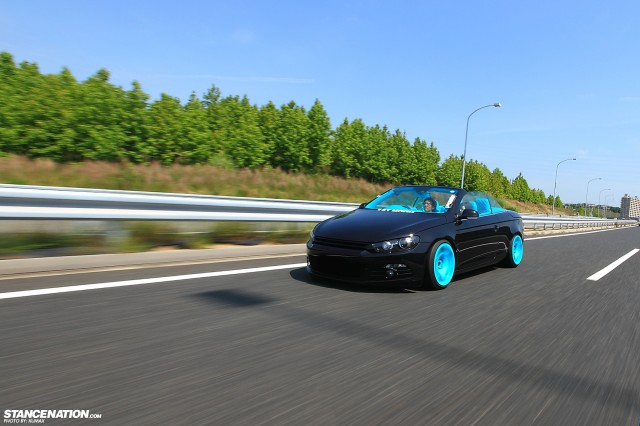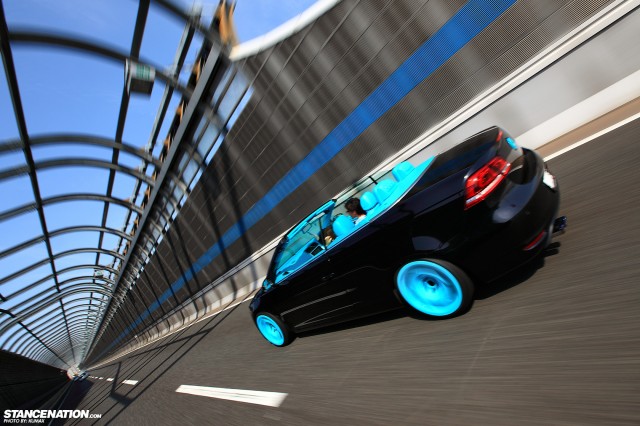 [toggle_box]
[toggle_item title="Wheels/Tires/Suspension" active="true"]AirRunner Air Suspension
WatercooledIND CC10 9.5J x 18 +35
Marangoni Mythos 225/35/18 tires[/toggle_item]
[toggle_item title="Exterior" active="false"]Front VW Scirocco conversion
Rear EOS my12 conversion (Tail lights & Bumpers)[/toggle_item]
[toggle_item title="Interior" active="false"]Completely custom interior by FATMOON[/toggle_item]
[toggle_item title="Engine" active="false"]Custom Titanium Exhaust[/toggle_item]
[/toggle_box]