Based on the pictures alone, this feature has two, big things going for it.  One, it's a Y33 Q45 Infiniti, which if you've been a long-time reader will understand our infatuation with Japanese, big-body sedans.  We can't seem to get enough of them especially when they're planted on the ground like this one.  Two, it is THAT Y33 from THAT crew.  Yes, the infamous (or famous) BASED Q45 from SoCal's Low N' Slow crew.  Austin Lee and his Q are no strangers to the interwebs and superstar-dom, so the super-slammed Infiniti needs no introduction really.  However, it is long overdue for an up close look as to why this Q45 gets attention wherever it goes.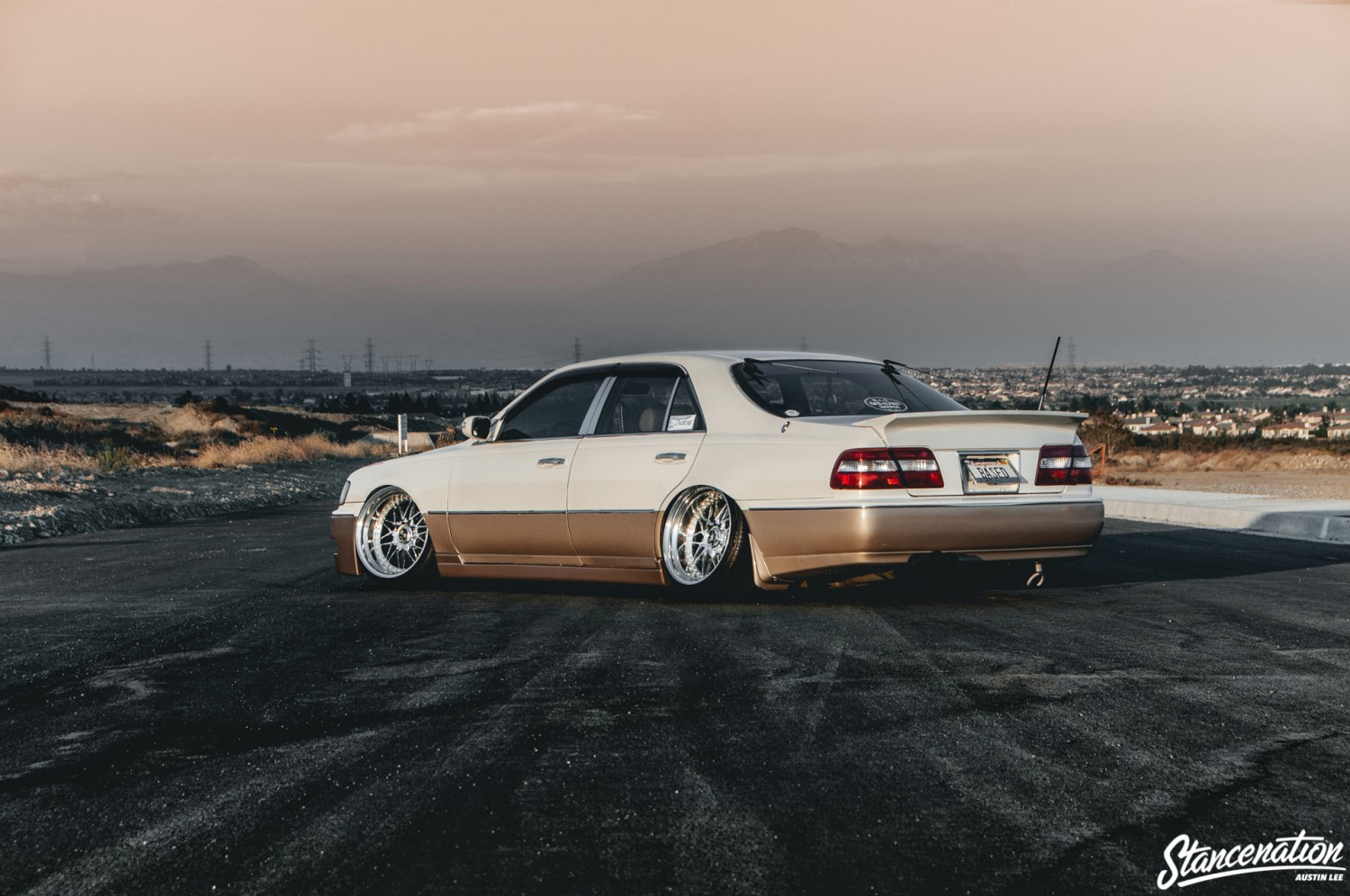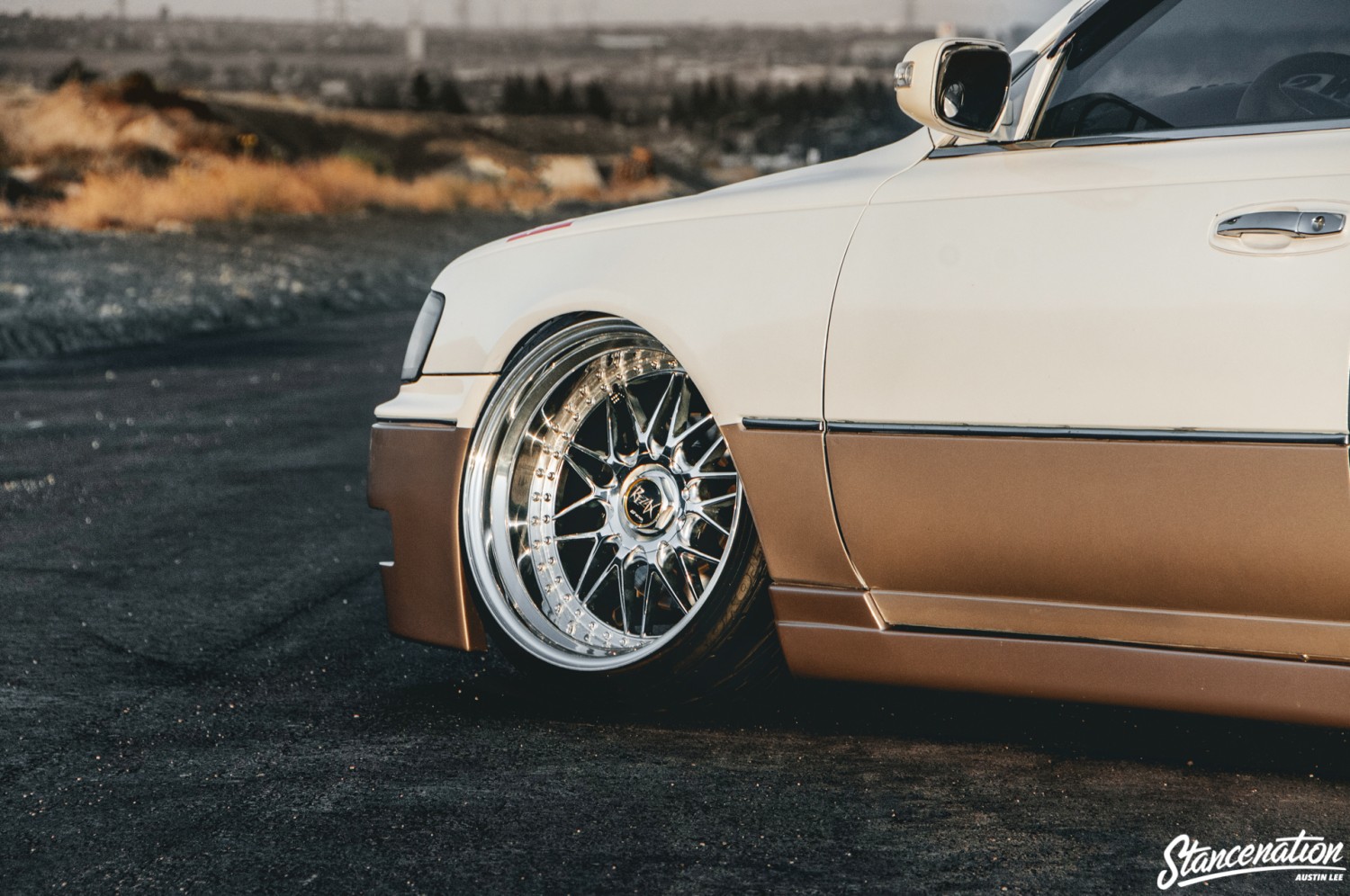 'Based,' according to Urban Dictionary (yeah, I had to use that because I'm not hip to all this lingo that is going around) is about being rooted in yourself.  Basically, just being yourself.  Austin's Q45 fits that perfectly because Austin built it purely for himself, following no styling cues or trends, just doing what he thought looked good at the time.  Apparently that changes quite a bit as the car has been through a few different looks; from air and full kit, to static and OE JDM body parts.  It's current look is a combination of all of that, but likely the look to stay for the time being as Austin has no plans of really changing it anymore, instead just enjoying it.  I understand always wanting to change your car up because you can have lots of cool ideas in your head that you want to try, but sometimes it's good to just take a break and enjoy the car for what it's supposed to do; driving and cruising.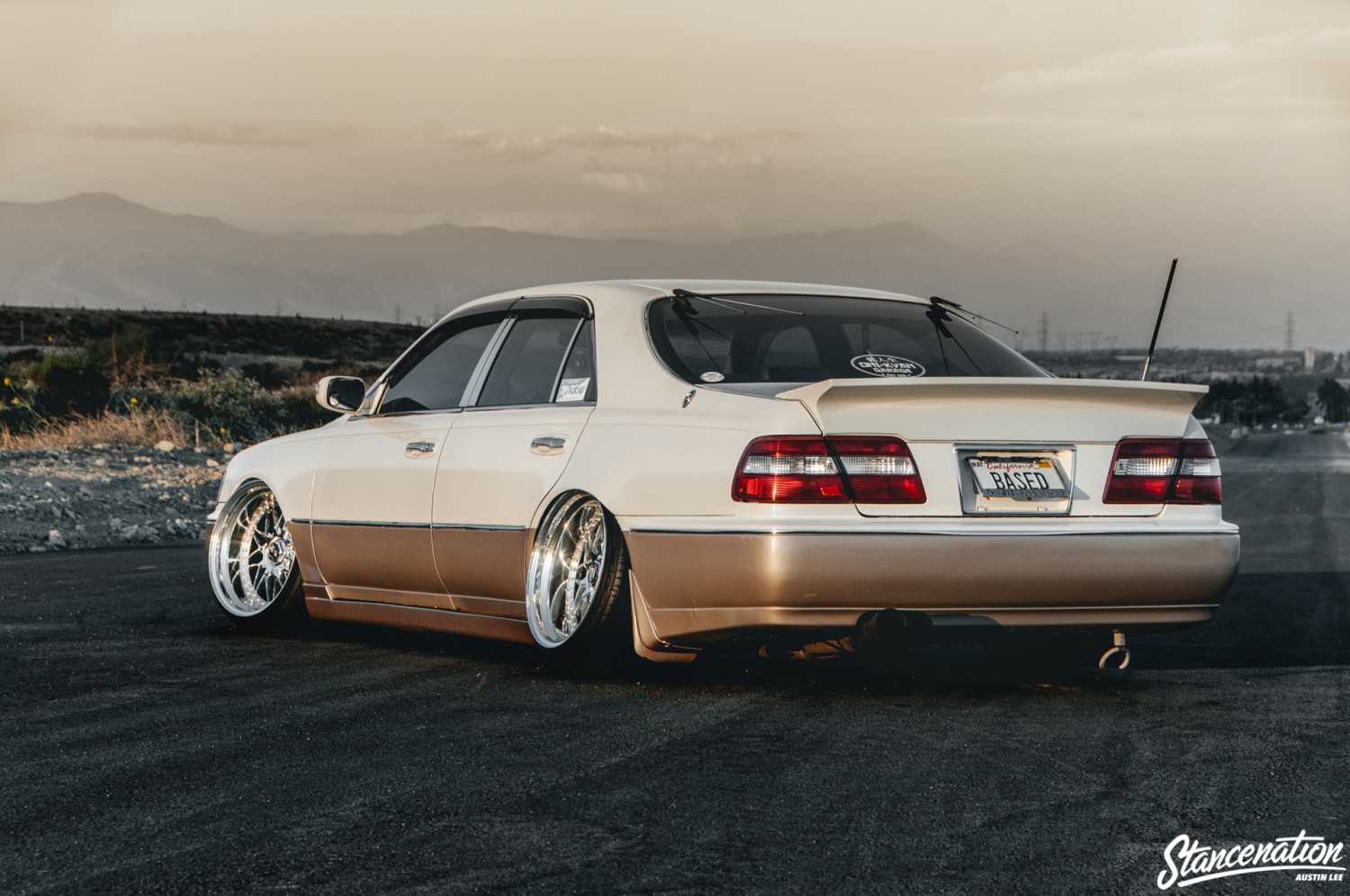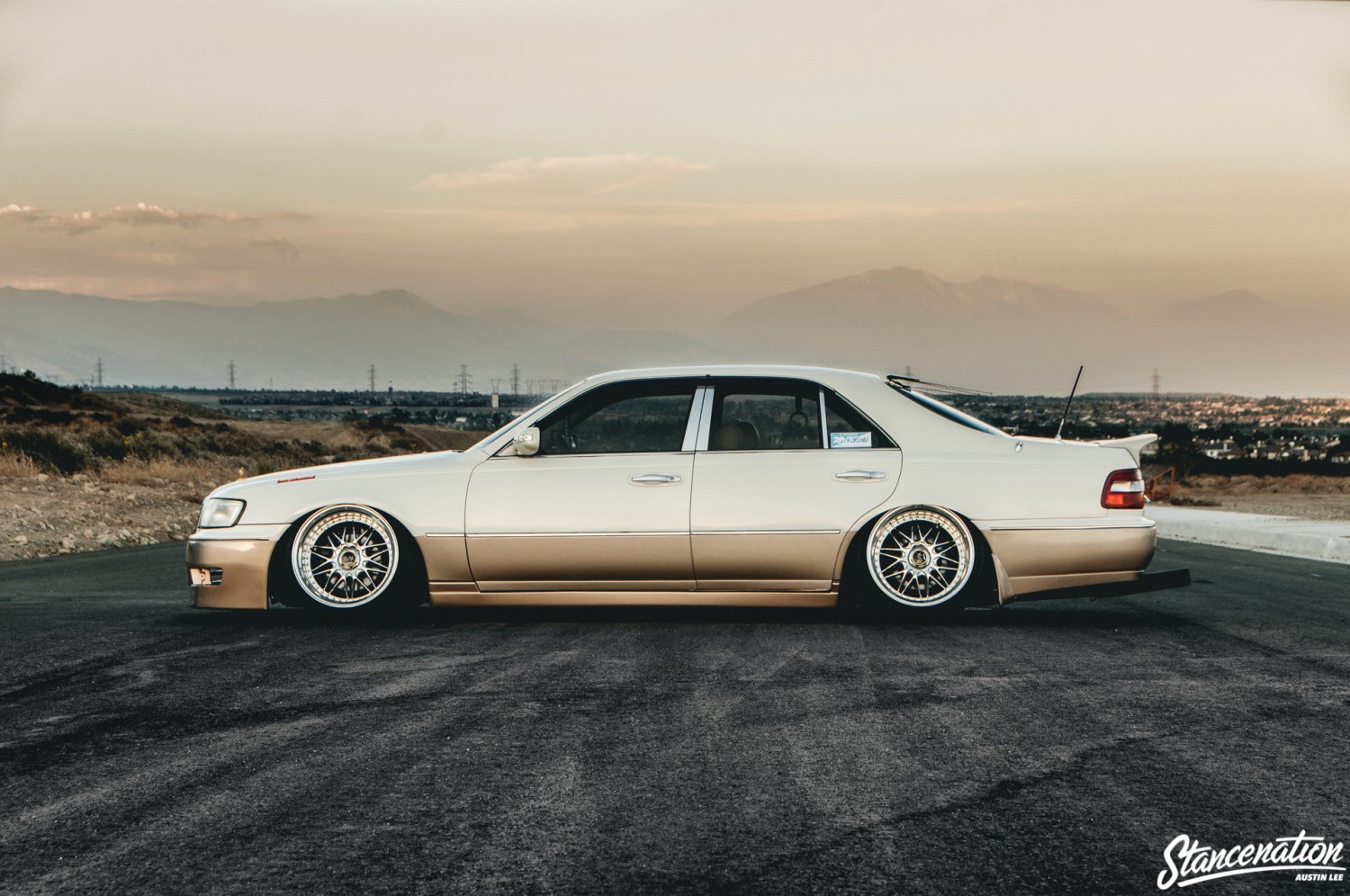 Of course, these changes didn't happen over night.  Austin has been working on his Q for a little over four and a half years, which is pretty long for him as most projects don't make it near that long in his ownership.  That can be attributed to Austin's love for the sedan's body-style.  "To me the Q45 is one of the best looking cars of its time. It has round body lines that were uncommon back then like other cars. The Q45 is one of the luxury cars that i think still looks better than some newer cars out now."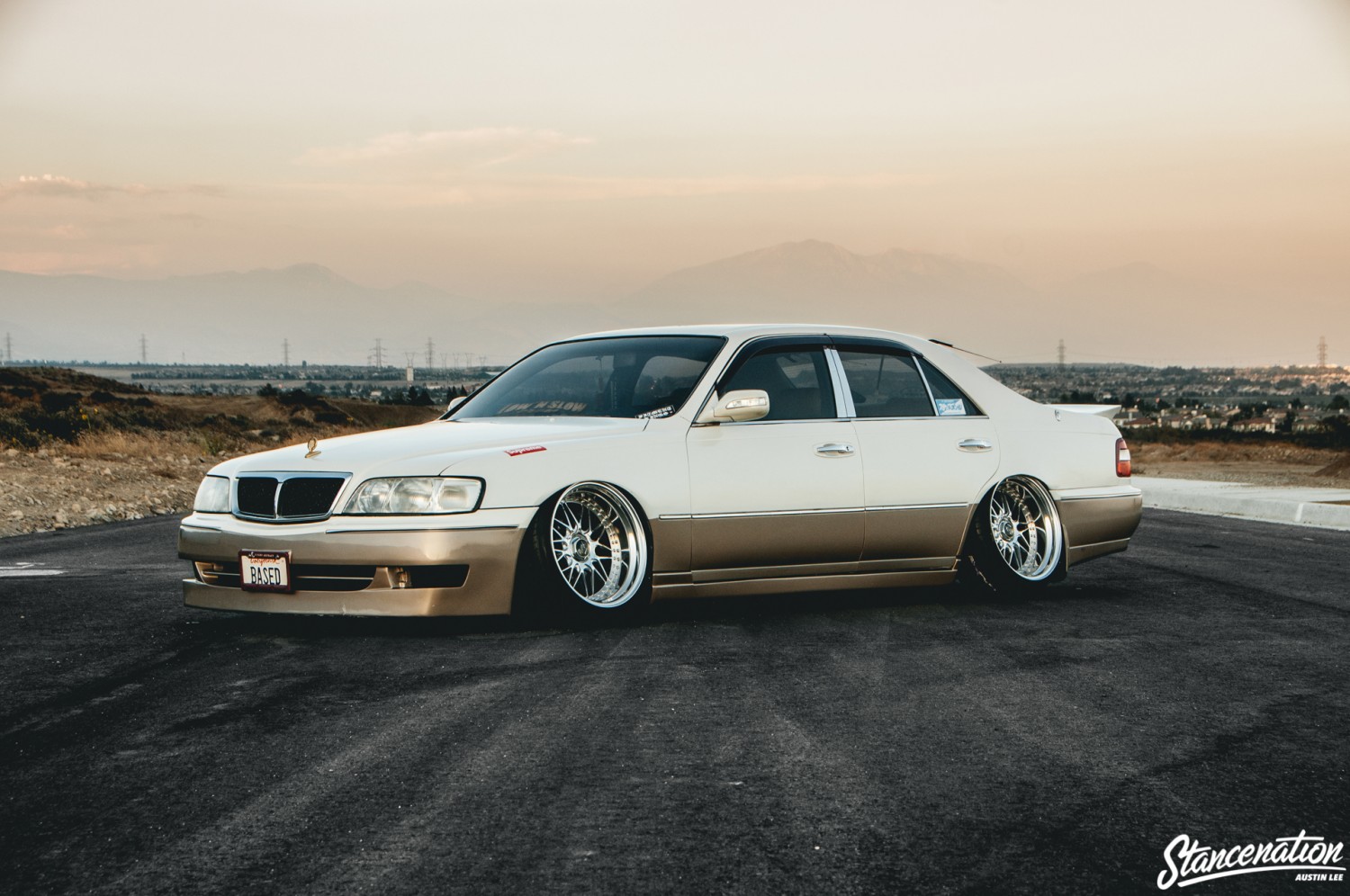 I would agree with him too, the Y33 Q is one of my favorite Japanese, luxury sedans next to the after MC UCF20 Lexus LS400.  It's one of those classic, VIP cars that were popular back then, and still popular today when it comes to VIP-Style tuning.  Austin's Q definitely takes after that more classic styling, albeit with his own twist here and there.  The real kicker is how simple it looks on the outside which tends to have people overlooking a lot of the work it actually took to get the car to its current state.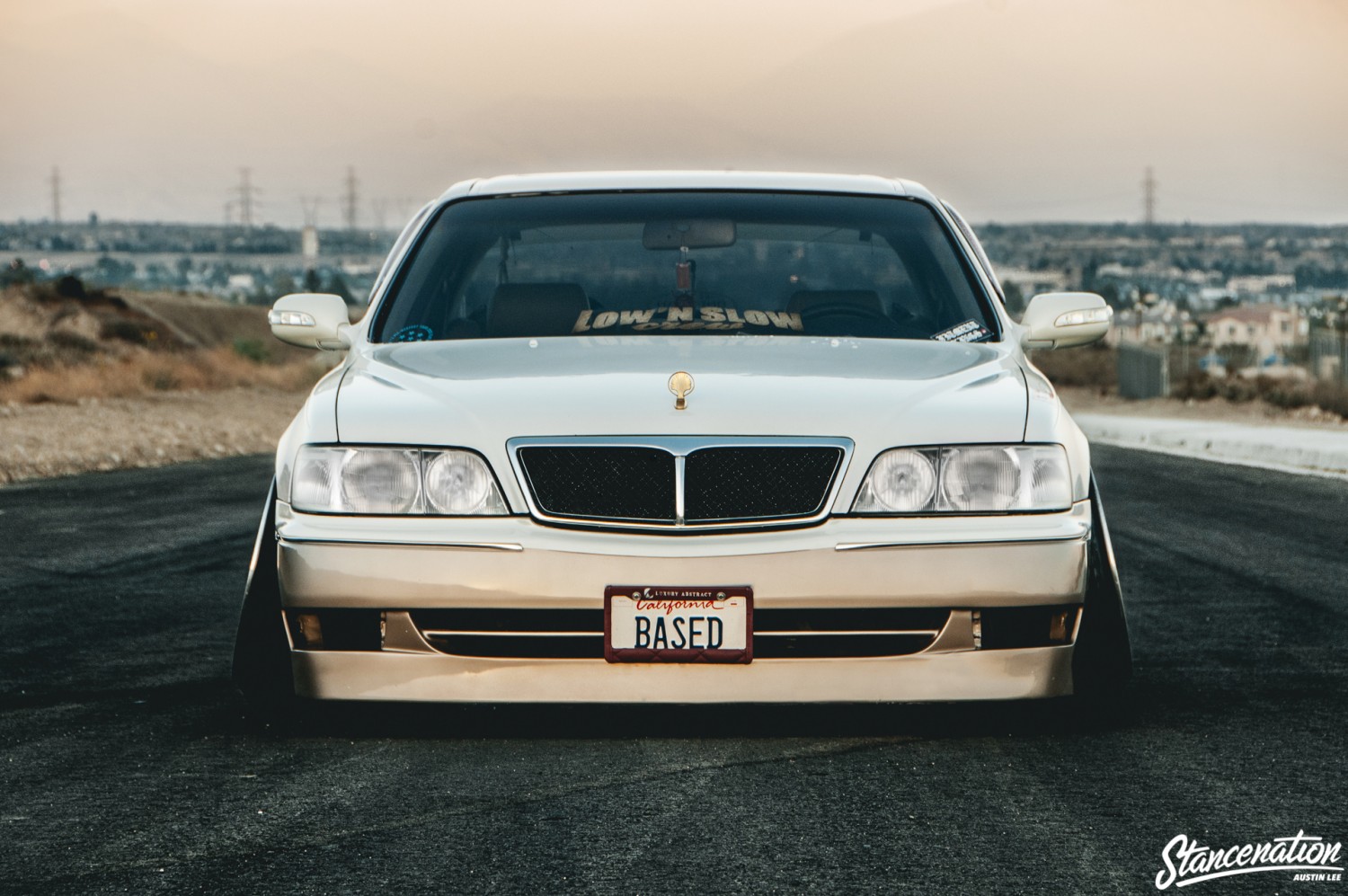 Sporting the Low N' Slow banner on his car means one thing for certain, the car is definitely going to be planted to the ground.  The SoCal crew prides itself on having some of the lowest cars out there, and most do it on a static, coilover suspension.  While Austin's Q originally started on air, he eventually changed it out for a traditional coilover setup, and with a lot of work got the car sitting way lower than it ever was on air.  The setup started with a complete setup from Megan Racing using a mashup of S13/Q45 arms and knuckles.  The coilovers were fitted with upgraded 16kg/12kg springs front and rear to stiffen the car up and make sure it doesn't rub or bottom out.  The biggest part of the suspension build was raising the sub-frame two inches so Austin could achieve the ride height he wanted.  "Q45s cant tuck rim on 19s on a stock sub-frame so that was one big change my car went through."  In order to achieve the even, -13 degrees of camber all around, Austin had to modify his front knuckles and notch his camber plates to achieve that number as to match the rear.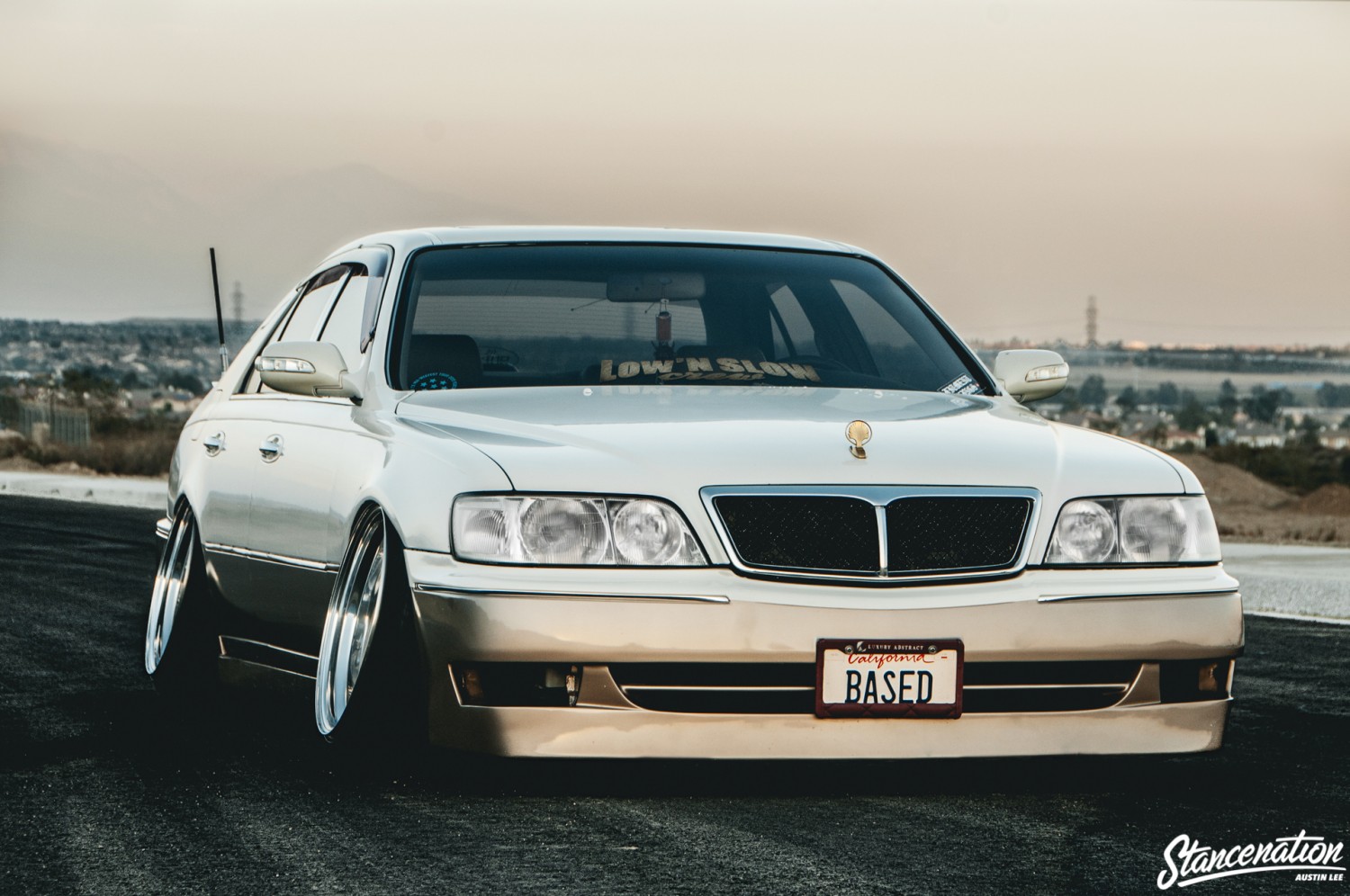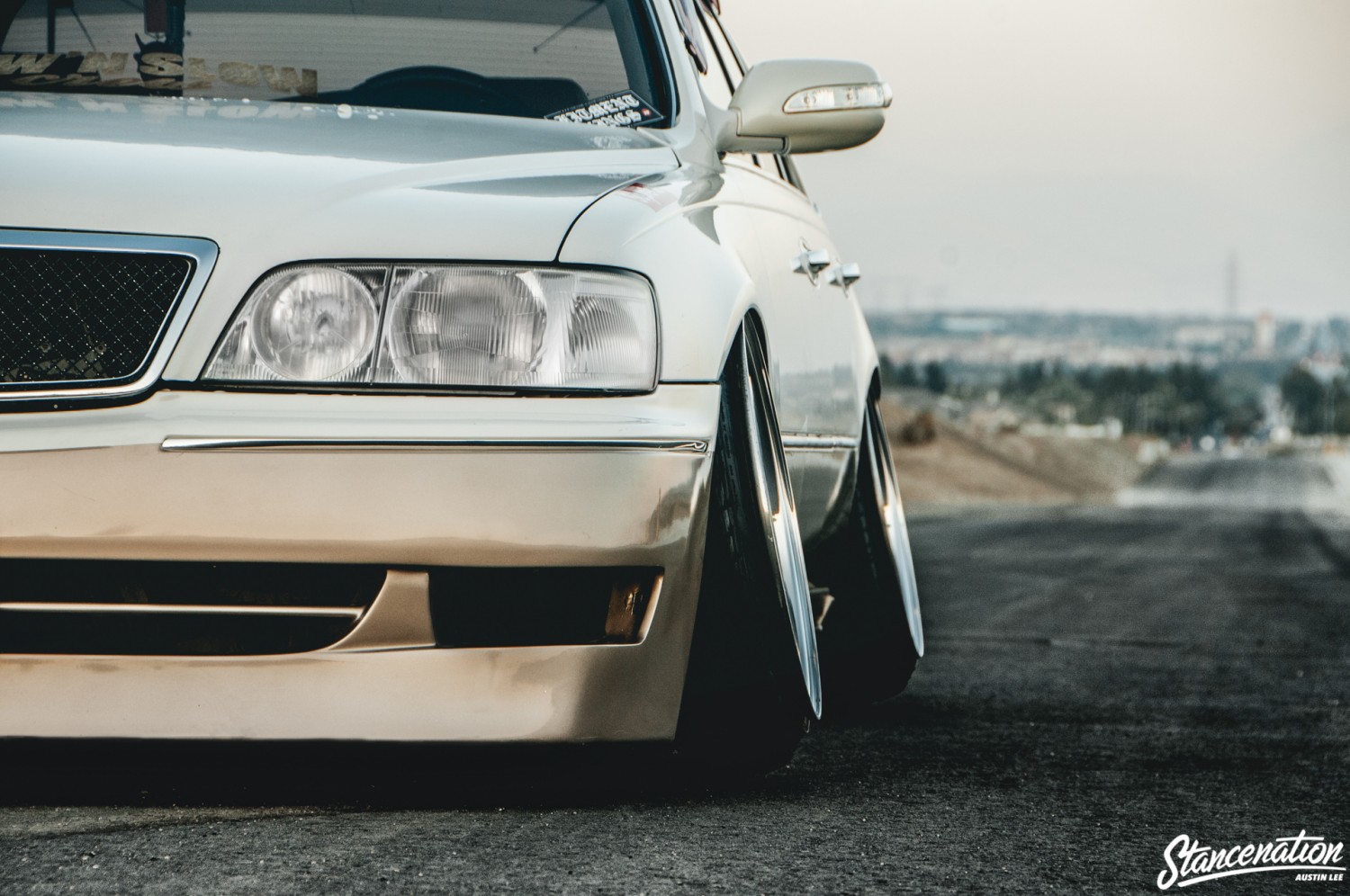 Wheel fitment is another staple of the cars in Low N' Slow, and Austin's Q doesn't disappoint there.  Sporting a classic tuck front and rear, Austin's Q still pushes the lips to being within millimeters of his fenders, and as you read just above, tucking those 19s was no easy feat.  The wheels are custom built, 3-piece Work Rezax with stepped-lips to push them to a final outcome of 19×10.5 up front and 19×11 in the rear and look perfect on his Y33.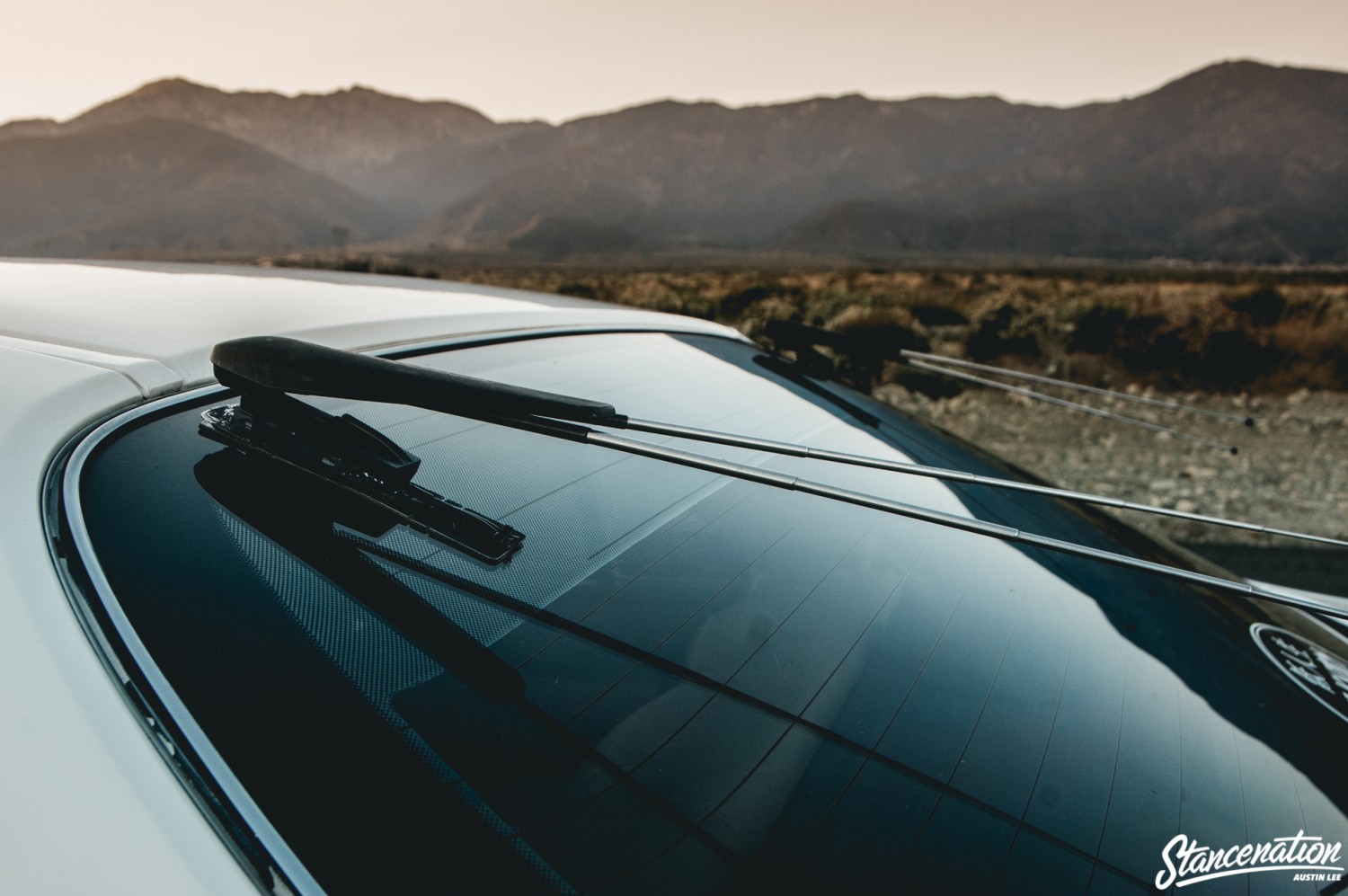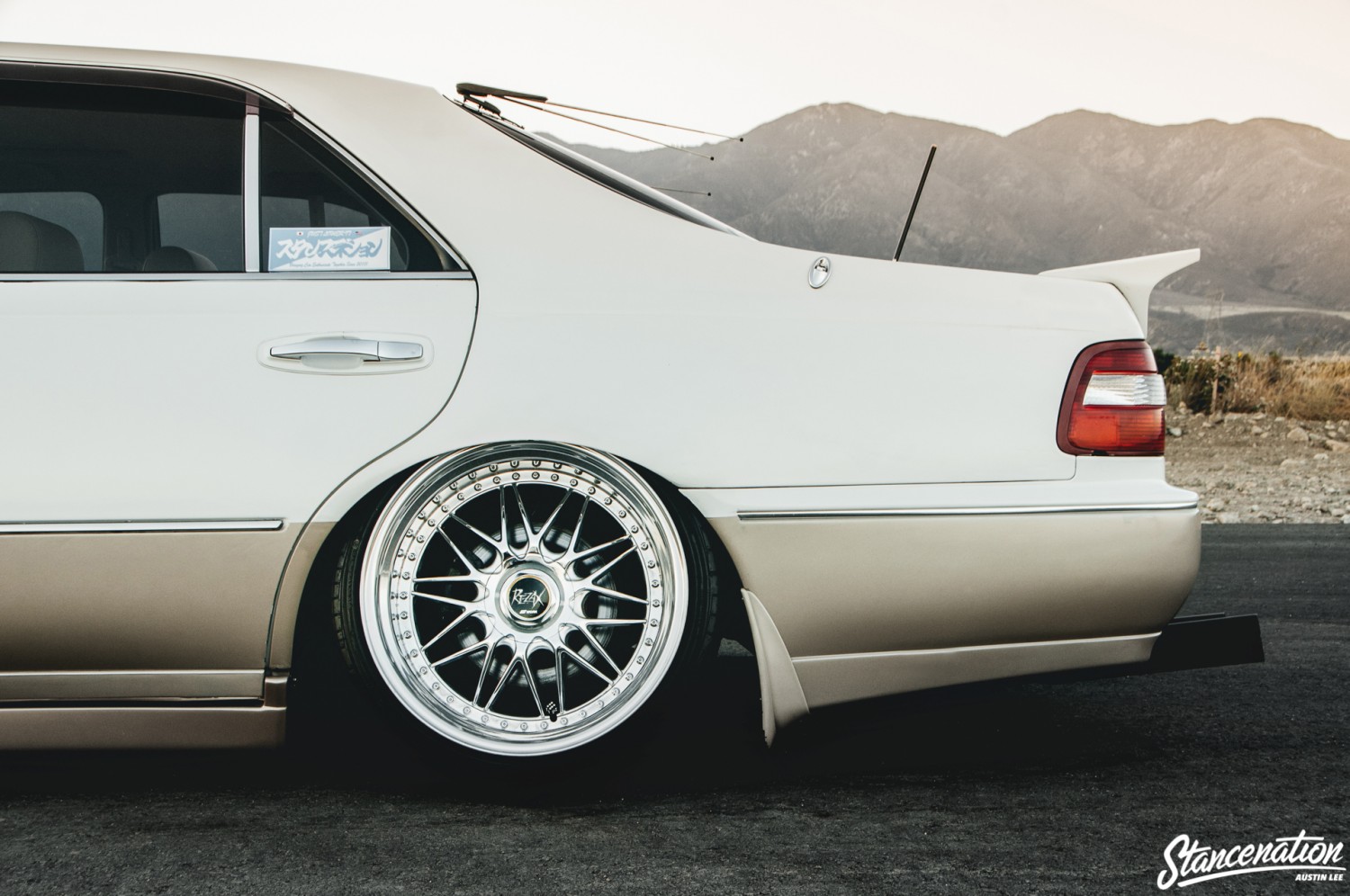 Outside, the Q45 keeps that simple theme of a mashup between custom and stock.  Like Austin mentioned earlier, the exterior of the car went through a few different phases just like his suspension.  This final version though is a mix of rare, aftermarket pieces, and OE JDM pieces, and the aftermarket parts were a journey to find.  The front bumper is a rare Ogulaction piece which Austin found purely by chance browsing the auctions in Japan.  Despite the bumper being practically destroyed, he made arrangements to get the bumper and his friend Willywerx was able to bring it back to its former glory.  The side-skirts are Wald items, while the rear bumper is a JDM piece with optional JDM mud-guards.  The second, hard-to-find piece is the Insurance 3-piece spoiler.  Austin once again found it via the Japanese auction sites, and the seller didn't even know what car it was for.  Luckily for Austin, after comparing pictures online he pulled the trigger, and when it arrived, it ended up fitting his Q45.  Talk about results!  The car was then finished in a white and gold two-tone paint job, and the remaining accessories were applied like the JDM antennas and bronze tint.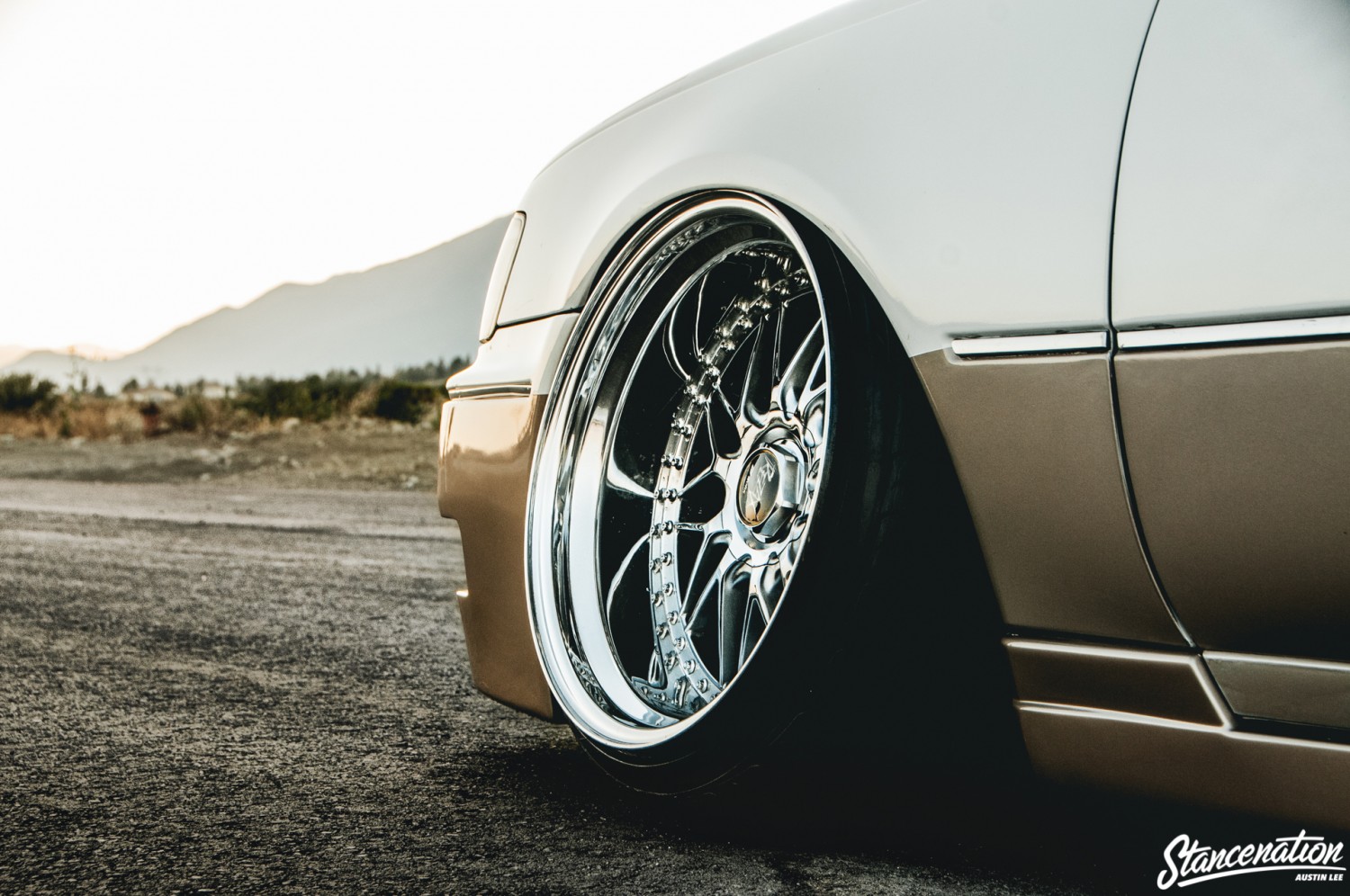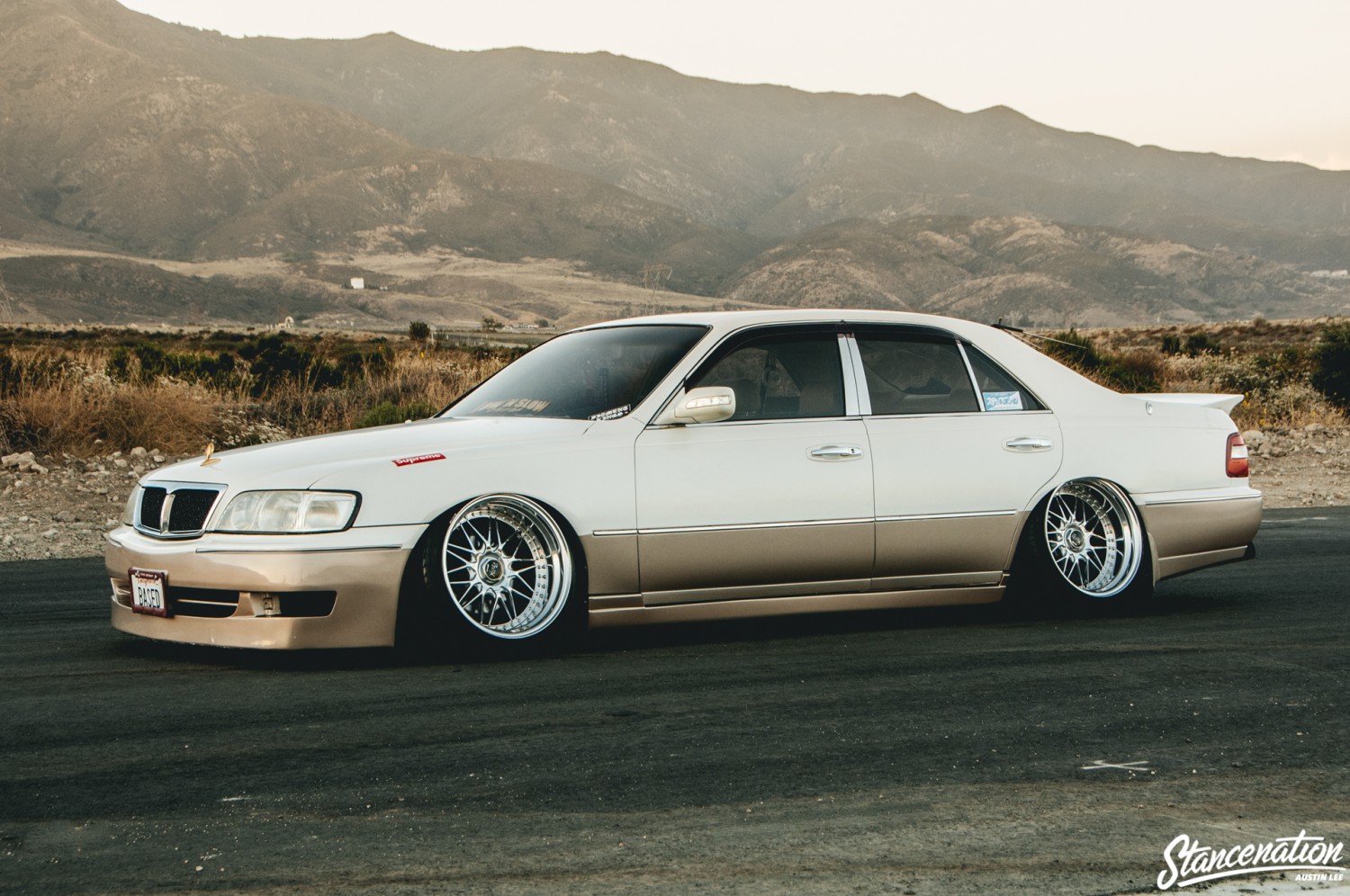 The interior is really the only area where Austin feels he needs to work on still, apart from adding a BBK to fill out the wheels.  Still, the interior sports a few changes such as the Clazzio tan interior, JDM door sills, JDM door panels, which are tweed instead of leather, and even a katana shift-knob (which I like to highlight because I like funky shift knobs).  It at least leaves an area for Austin to work on some more till his creative genius forces another exterior change.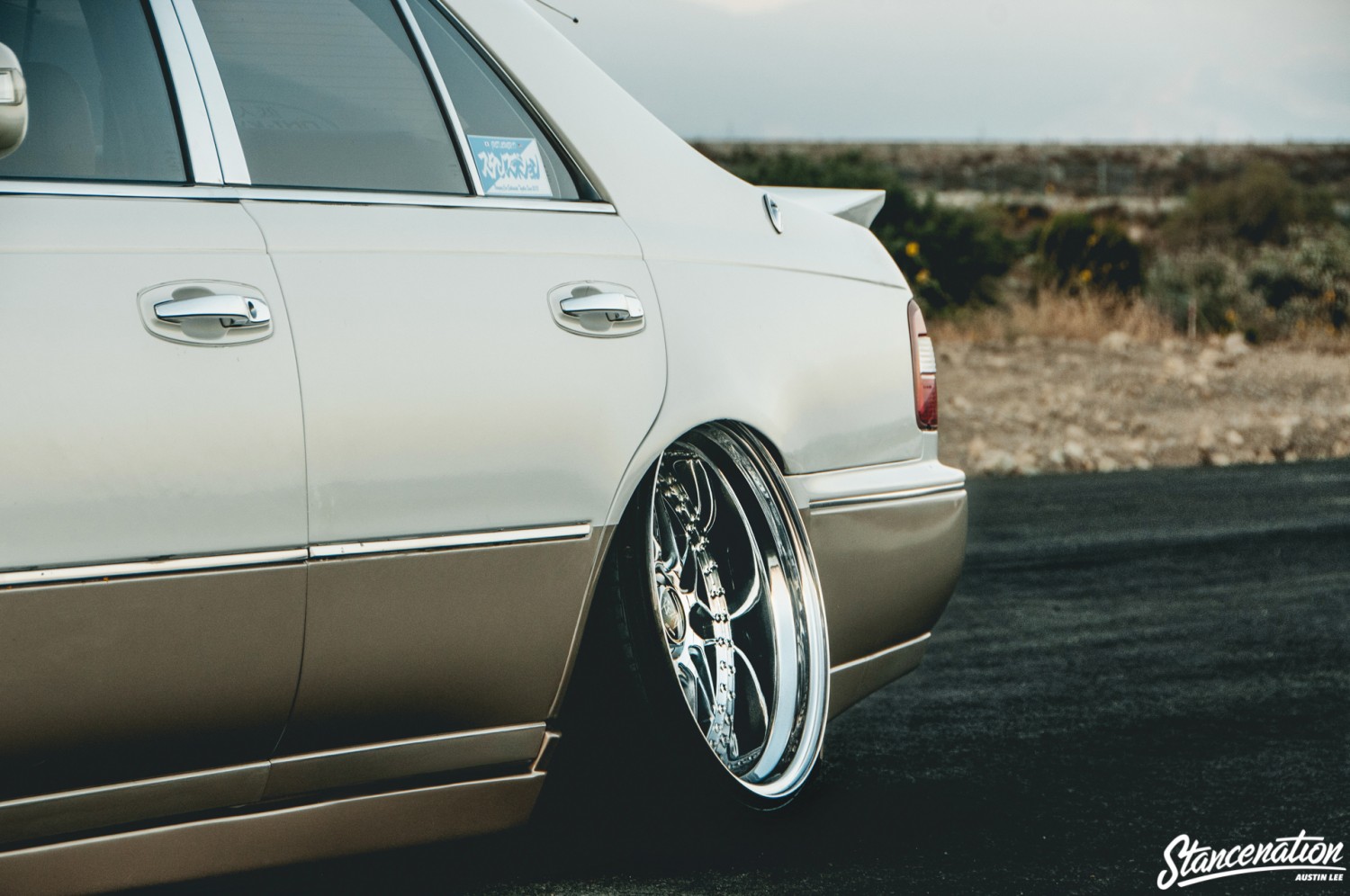 This, however, is probably my favorite stage of this car.  I've followed its progress loosely mainly because I'm such a big Y33 fan, and there aren't many killer Y33 builds here in the US besides the 33Flavors Y33, but that car hasn't been out in years.  Austin's is just a great example of how doing your own thing can create such an impact.  I'll let Austin close it out in a little Q&A we had about the car:
What's your favorite thing about it?
The whole car is my favorite part, the smile I get on my face scraping road reflectors and getting random   thumbs up from people was my favorite part.  I built this car for my own pleasure but in turn it brought enjoyment to others as well.  But my real favorite part about it would be how it brought so many of my friends together.  From us working on it till 3am to getting pulled over getting McDonald's runs to go work on someone else's car to learning new skills on the Q45 to then pass on to my friends. Can't beat that.