Honestly, this beast makes Keisuke Takahashi's FD3s in Initial D look like child's play. Again, spotted this baby at the Annual car meet in Vancouver but never got a chance to meet the owner. Felix (owner of the pimped out GD3) introduced me to the owner of this ride, Matt. The shoot was extremely chill, very relaxed and laid back. Shout out to Johnny for showing me the ropes in automotive photography, I learned more that day then I could have in a month worth of photography class :).
Okay, enough talking, here's the goods. The car was directly imported from Japan, but this was not your typical "import". Matt had to search high and low for this baby. He already knew what kit and build he wanted on the car, so he went to look for one that had this envisioned build of his. It was apparent to him that if he purchased a normal FD and kitted it plus the aftermarket upgrades, the cost would be an arm and a leg and a few more appendages. So with lots of luck, he found this baby, all kitted up, sensibly modded, floating around in Japan. Thus, his total cost of post purchase upgrades were no more then 9 grand. Damn Son. (Matts shout out to Takeda racing for pulling the strings on this project. "For all your import needs, from tuning, importing to parts Takeda is for you )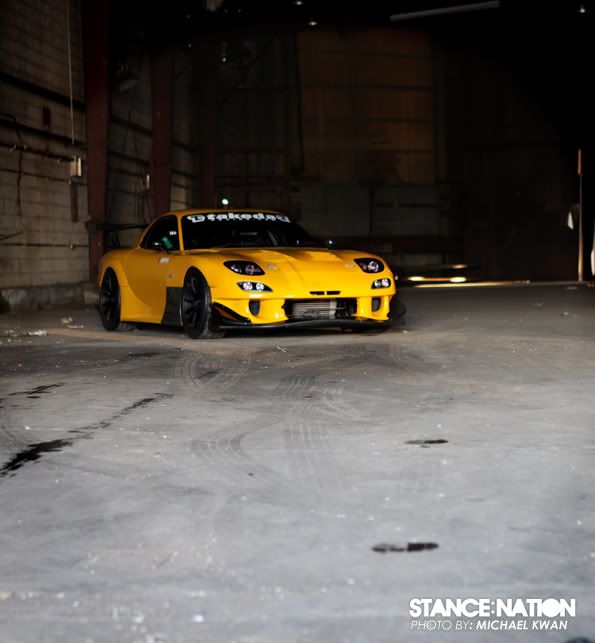 Money well list:
Engine Bay/Powertrain:
HKS T04S turbo, HKS external wastegate, Stillway Intake Elbow, one off Stillway exhaust, Re amemiya Air Separation Tank, HKS Mesh Filter, Greddy front mount intercooler, Koyo aluminium radiator, Greddy type R BOV, Apex'i Power FC, Greddy twin oil cooler, ORC twin plate clutch, Shortened gearset, Extended transmission oil pan, ABS eliminated, HKS injector control, Greddy EBC, Stillway oil cap, Re amemiya rad cap, Apex'i exhaust control valve , battery relocated to trunk.

Footwork:
Stillway dampers, Brembo calipers w/ floating rotors, slotted oversize rear brakes, steel braided lines, Mazdaspeed 2-way LSD, Cusco titanium strut bar, Advan RS wheels 17×9 w/ 255/45/17 Michelin Pilot Sport Cup R-compounds.
Exterior:
Re amemiya: (front bumper, front carbon under tray + lip/canards, side skirts, side carbon diffusers, wide fenders F/R, rear diffuser, fiberglass hood, carbon wing, sleek headlight kit, tow hook, brake duct attachments and hoses), APR carbon mirrors, OMP hood pins, '99 spec taillights.
Interior:
Autocraft 4 pt rear brace w/harness attachment, KTS 7pt roll cage, Takata 4pt harness, Alex titanium shift knob, Nardi Deep Corn 350mm steering wheel, Defi: (controller, oil temp, water temp, boost), Bride Zeta III and Vios III low max bucket seats w/ rails, Canadian 280km/h FD cluster, spin knob, stripped rear/trunk interior, carbon plate for center console din.


Some more pics for you guys to drool on.


That is how dope the ride was. It's got a fricken truck as a transport.
Interview:
1. So this car is purely for tracking?
"Pretty much, sometimes the occasional street, but mostly track."
2. What got you into this stance and flushed trend? It's pretty rare to see a FD flushed and stance with track bred qualities.
"Funny actually, Felix did. I'm all for track and grip racing, I'm purely for performance. To me stance, flushed and slammed isn't very performance orientated, but after a while it just grows on you *points to the car* it just looks so much better. *everyone nods in awe*
3. Then how about performance, since the car is stanced?
"The car handles like it's on rails, very light, near 50/50. But what's most important though is finding that balance between stance/ flushed and performance. That to me makes the challenge, and finding that perfect equilibrium is what truly makes a great stance car. But of course, flushed with fenders is really a beautiful sight "
As requested from Felix,here is him "working" on the FD.

This concludes the feature on this amazing track bred Fd3s. Truly one of a kind! hopefully it serves as an inspiration to all those in the stance scene. Track qualities with show car results, this is a belief that many including myself are trying to uphold 🙂

Vancouver Represent 😀
morez to come!!!