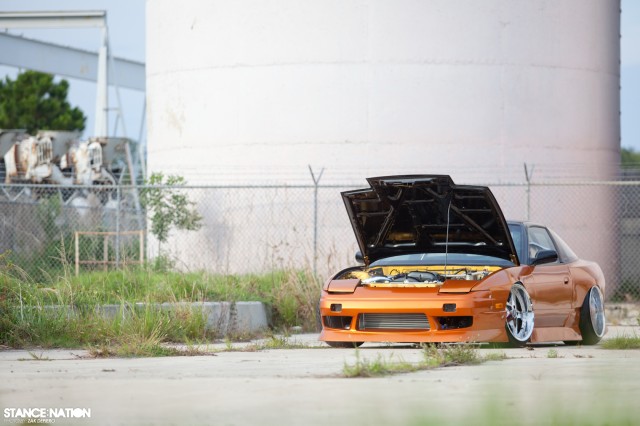 It's hard to believe that just a couple of years ago this used to be a plain ol' shell of a '91 240SX. Yes, this thing was literally built from scratch! It belongs to our friend Marc Neron out of Melbourne, FL and it's not the last time you'll be seeing it on our site here. Earlier this month our photographer Zak DePiero drove down to Melbourne and met up with Marc at his shop, which ultimately led them to a photoshoot. Marc's good friend Khashaud also tagged along in his Nissan 240 (which we will be featuring in the next few days) but right now let's take a closer look at Marc's sexy 240SX! Oh, and yes, this is the same car that was on the cover of Import Tuner magazine not too long ago!
Photos By: Zak DePiero exclusively for StanceNation.com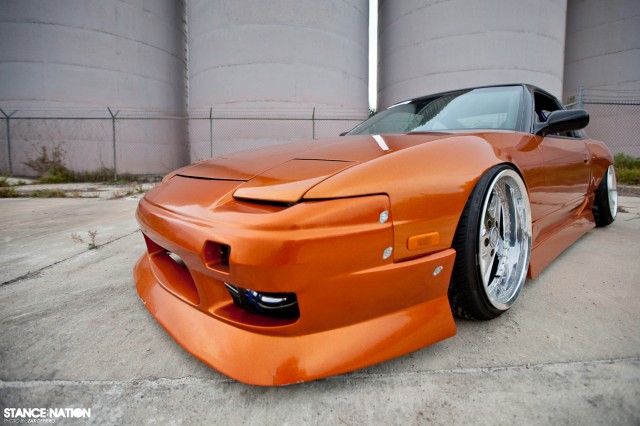 So what makes this car so different from others? Well, while it may not be the only one rocking this particular kit, or pushing such an aggressive wheel setup, the overall look just works. More importantly, Marc seems to be one of those guys who has a thing for "finished" cars. Rolling in unfinished car because you drift on weekends shouldn't be an excuse, he firmly believes. Oh and yes, Marc slides his car around every chance that he gets.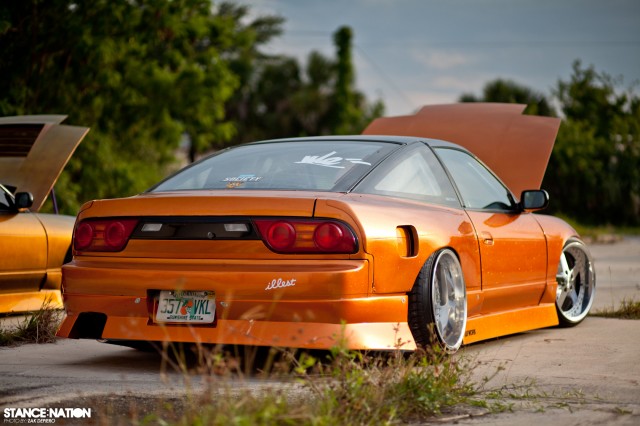 Now we don't know about you but this has got to be one of the fattest lips we've seen in a while! One of the things that attracted us to this car so much was it's stance of course. When we say stance, we mean everything from it's wheels, to the fitment to how the car sits overall. Scroll down and check out some specs of this beast!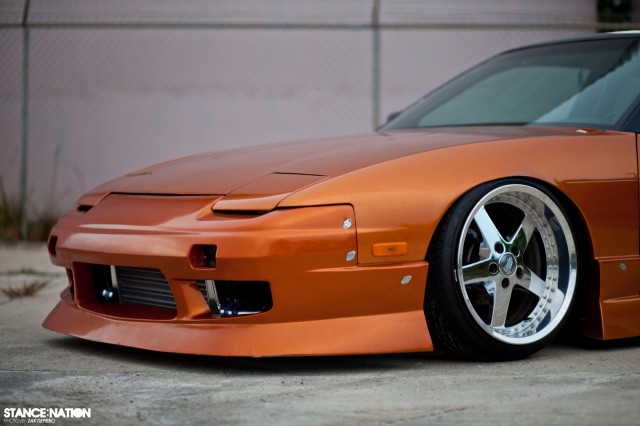 But first, let's take a look at what sits under that hood. The '93 S13 redtop SR20DET is pushing over 300 wheel horse power and 275 lb-ft of torque. It features things like 9.0:1 compression, S15 SR20DET pistons, rings & fuel injectors along with a Garrett GT2871R turbocharger & Spoolin Performance turbo manifold.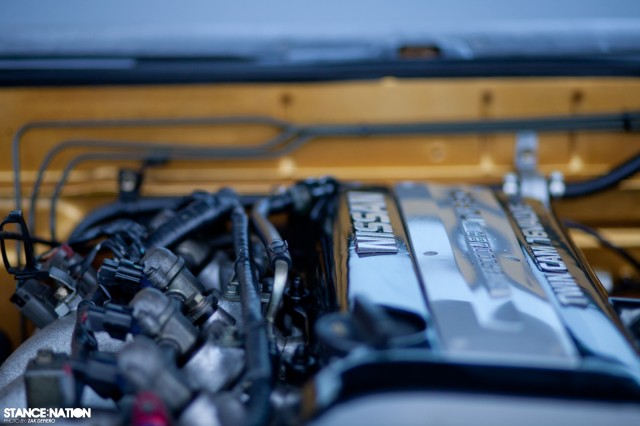 Other stuff you'll find under the hood are things like HKS wastegate, boost controller, rocker arm stoppers, adjustable cam gears, intake and custom custom 3-inch divorced wastegate downpipe, straight-through exhaust, intercooler piping, A/N fittings. It's seriously a well built car all around there is no denying it. Oh, and how about that House of Kolor Global Gold Flake under there. Looks incredibly in our opinion, what do you guys say? Drop a comment below!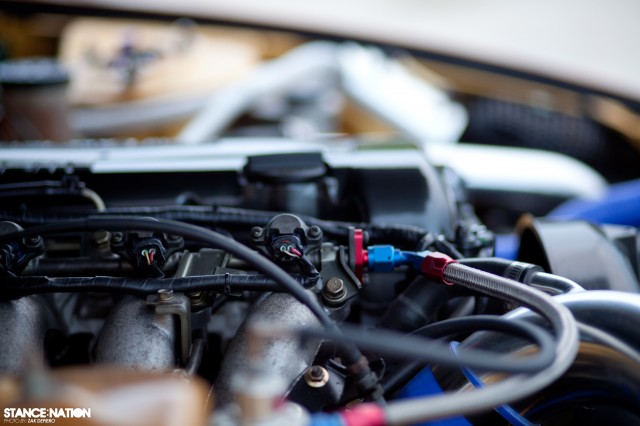 Dat Fitment! Our favorite here on StanceNation. It's the thing that makes this S13 stand out from most out there. 18×13 wheels, dumped on the ground. That's right, those Work Equips sit at 18×13 in the rear with an offset of +4 and 18×10 with an offset of -3 in the front. They are wrapped in 225/35/18 front & 295/30/18 rear tires. Both front and rear wheels just barely clear the fenders when fully compressed. And we mean, barely.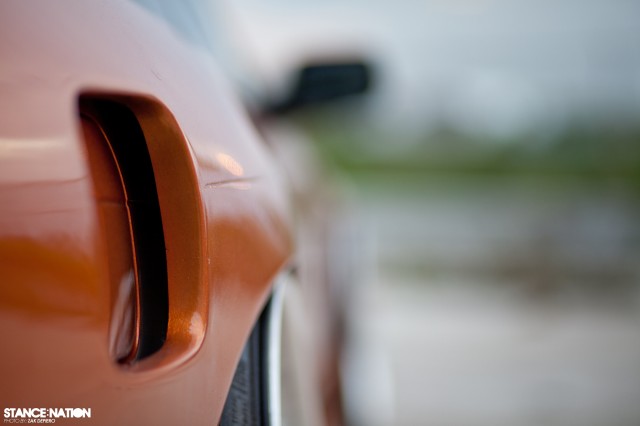 Suspension wise it's sitting on D2 coilovers equipped with 8kg/10kg spring rate (bit on the soft side perhaps?) & Tanabe Sustec front and rear sway bars. Marc is also running a Mazworx competition-legal rollcage and had his rear wheel wells slightly tubbed. Take a look below at how this thing sits, it's just incredible.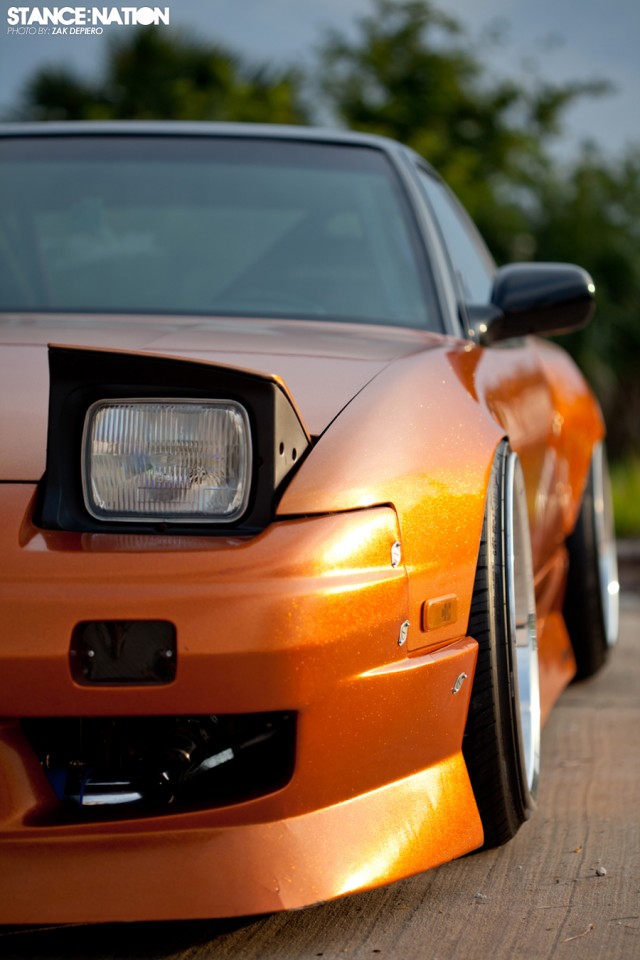 Dat Ass! There is just something about the Uras 4 rear bumper that works so well on S13's. Agreed?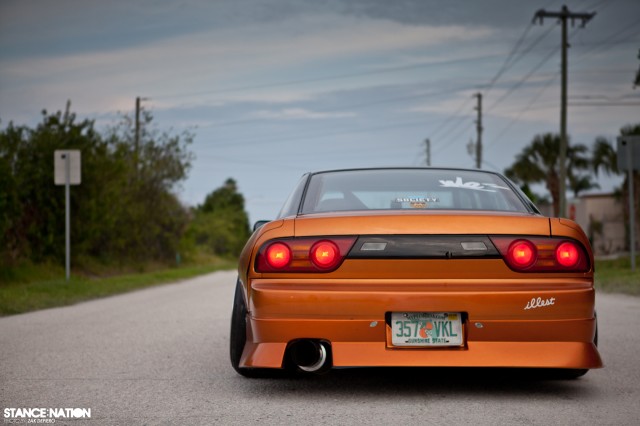 Marc is also sporting the Uras 4 kit on the sides as well as in the front. Those 18×13's fill the fenders perfectly!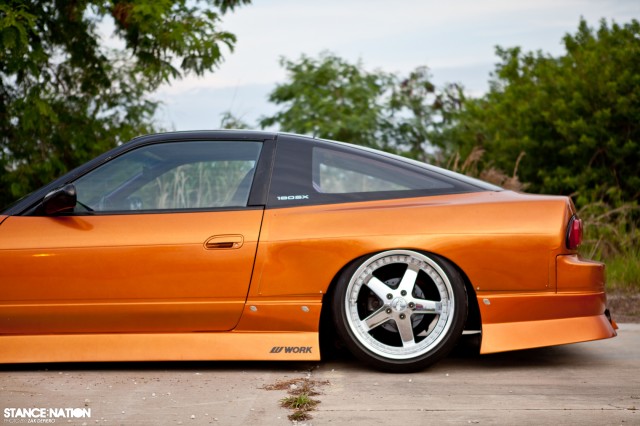 That brings us inside of Marc's car. It's rocking a pair of Bride Low Max front seats, our all time favorite Nardi Taniguchi Drift model steering wheel, along with a Nismo shift knob and a custom carbon-fiber deletes. Auto Meter Sport Comp gauges (boost, oil pressure, volt) also do their job. As mentioned before, that's a Mazworx competition-legal roll cage.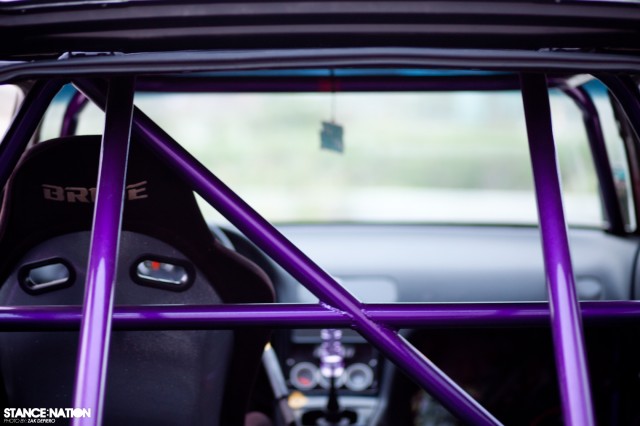 You really can't go wrong with that Nardi Steering wheel…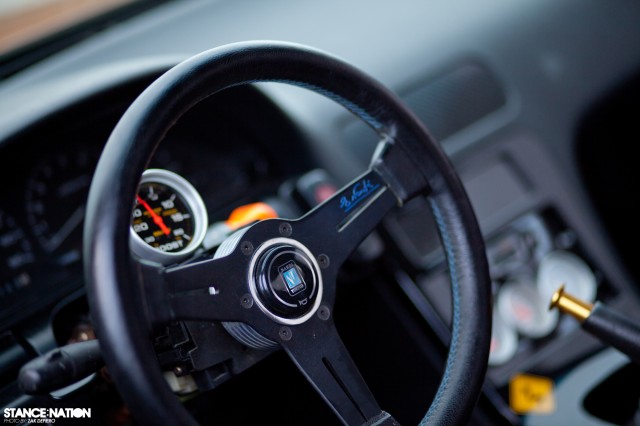 Marc doing what he does best. It just had to be done to complete this feature! Big ups to Marc!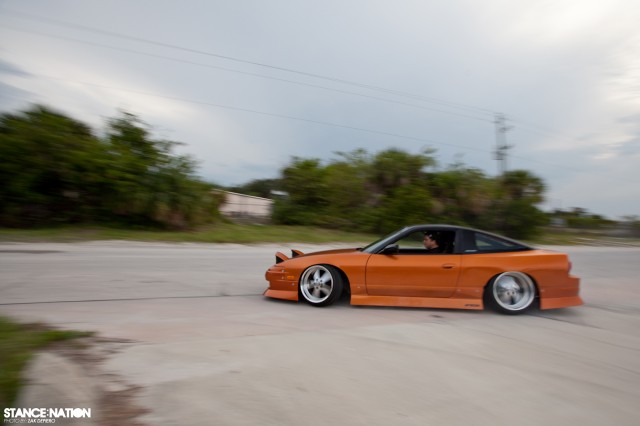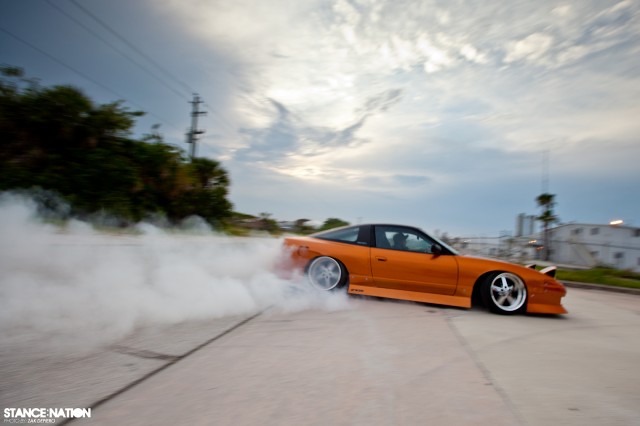 We just love how those Bayspeed 50mm rear over fenders tuck the super aggressive Work Equips! Front fenders have also been rolled & pulled and the windshield squirters were completely removed. Marc also did a '98 S13 Kouki taillight conversion and JDM IKI 9004 sealed-beam headlights along with 180SX rear quarter glass. When everything was done Marc finished the car off with that beautiful House of Kolor Gamma Gold base coat with Global Gold flake and lastly Tangerine Kandy finish.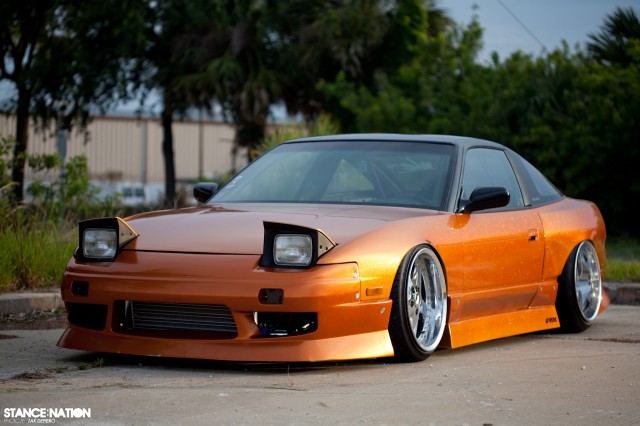 We asked Marc what the future holds for this already amazing 240 and this is what he said: "In the near future I plan on doing a full repaint and color scheme change. But before anything, I have another "VIP inspired" 240SX to complete. After that's out, I then plan on resurrecting the "orange car". We're excited, let's just leave it at that.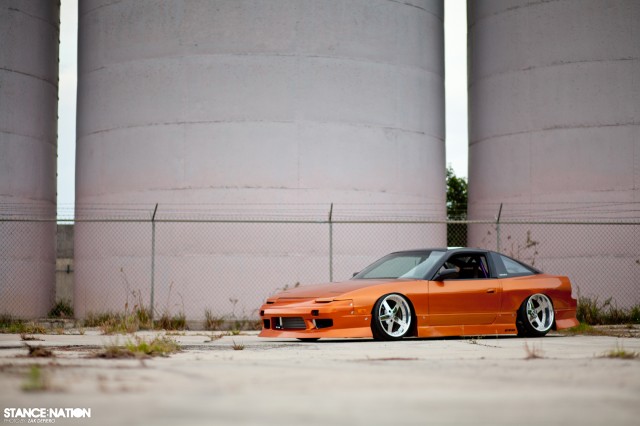 If you think your car has what it takes to be on our site make sure you email us at snfeatures@gmail.com. Make sure you include a few photos and your spec list as well as any other information we should know about you or your car. We're always looking for cars to feature! In the meantime we'll see you guys over on our facebook.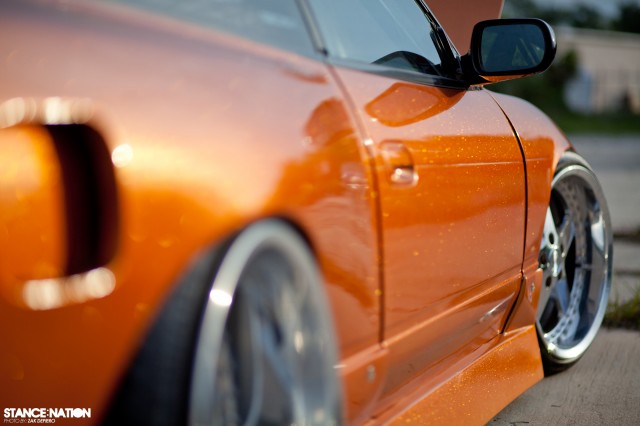 More to come, stay tuned. In the meantime, big shout out to our photographer Zak as well as Marc. Also, everyone at 'We" Drift and most importantly Marc's awesome father for not only helping him with everything but getting Marc involved with the car scene. Seriously, give us a few days and you'll see yet another amazing 240SX from "We" Drift!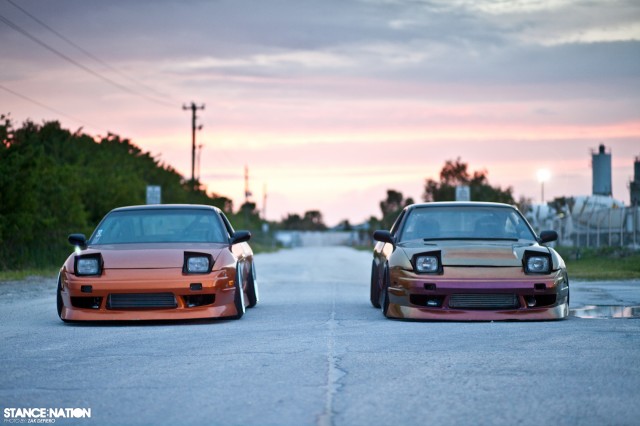 [toggle_box]
[toggle_item title="Wheels/Tires/Suspension" active="true"]Work Equip 18×10 -3mm & 18×13 4mm
225/35/18 front, 295/30/18 rear
D2 coilovers 8kg/10kg
Tanabe Sustec front and rear sway bars
Mazworx competition-legal rollcage
custom mini-tub rear wheelwells
trimmed rear quarter-panels
trimmed rear coilover sleeves
[/toggle_item]
[toggle_item title="Exterior" active="false"]Uras 4 full kit
Bayspeed 50mm rear overfenders
custom pulled/flared front fenders
shaved windshield squirters
'98 S13 Kouki taillight conversion
JDM IKI 9004 sealed-beam headlights
180SX rear quarter glass
House of Kolor Gamma Gold base coat + Global Gold flake + Tangerine Kandy finish
[/toggle_item]
[toggle_item title="Interior" active="false"]Bride Low Max front seats
Nardi Taniguchi Drift-model steering wheel
Nismo shift knob
custom carbon-fiber deletes
Auto Meter Sport Comp gauges (boost, oil pressure, volt)
Blitz FATT
[/toggle_item]
[toggle_item title="Engine" active="false"]'93 S13 redtop SR20DET
9.0:1-compression S15 SR20DET pistons, rings, fuel injectors
Cometic head gasket
ARP studs
Garrett GT2871R turbocharger
Spoolin Performance turbo manifold
HKS wastegate, boost controller, rocker arm stoppers, adjustable cam gears, intake
custom 3-inch divorced wastegate downpipe, straight-through exhaust, intercooler piping, A/N fittings
C/X Racing 2.5-inch aluminum radiator, silicone hoses
OEM Honda S2000 radiator reservoir
NGK-R spark plugs
Sard fuel pressure regulator
Walbro 255-lph fuel pump
Tomei Stage One CPU tune
Blitz Super Single clutch, flywheel
Circuit Sports short shifter
custom solid transmission mounts, welded limited-slip differential
[/toggle_item]
[/toggle_box]