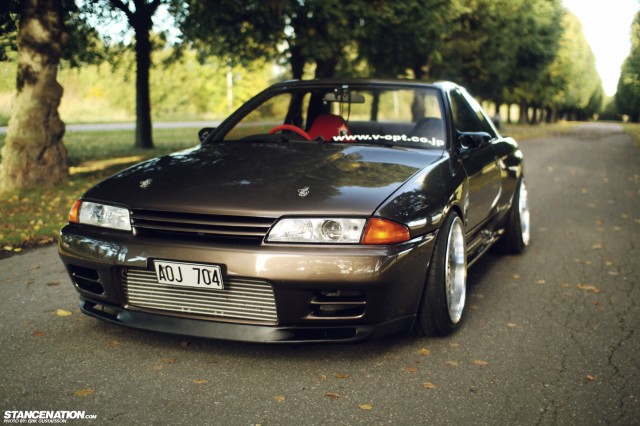 Car enthusiasts from all parts of the world could spot a Nissan Skyline from miles away. The sharp angled body, broad fenders and trademark circle taillights have filled the dreams of many car addicts for years. If you consider the popularity of the Skyline in movies, magazines, video games and even cartoons, its easy to see that its created quite a reputation. For good reason, it is a collection of simple shapes that work together perfectly to create a strong look thats bold without being unnecessary. Wrap those good looks around a strong power plant, and its easy to see why the Nissan Skyline has been such a fan favorite. Frederick Chanon owns the Nissan Skyline GT-R that you see in front of you and he's putting the class back into this soon to be classic.
Photos By: Erik Gustafsson exclusively for StanceNation.com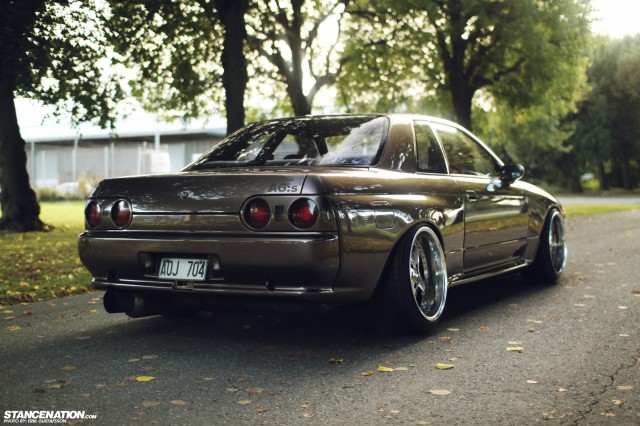 I've always had love for cars that were built in the 90's, especially the ones that can still grab everyones attention on the road. Fredrick chose to keep the body rather stock. Clean wingless trunk, aftermarket rear view mirrors and a subtle color change on the stock front lip. The only real dramatic change to the exterior of this GTR is the fresh coat of metalic brown paint. As you can see, Fredrick's R32 is a beauty, it's also a GTR, so you can bet that under the hood hides a beast.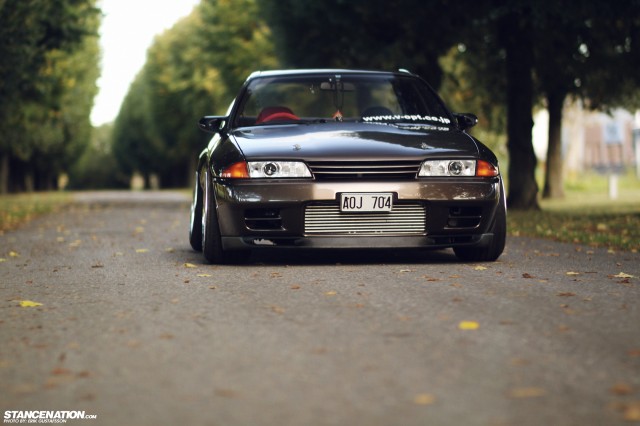 Now, I cant tell you anything about the motor with out addressing one key feature that really sets this Nissan apart, THAT STANCE. Let's take a look ladies and gentleman, shall we?
There are many reason for why I consider it perfect. Lets start with the wheel choice, Work Equips. Not only are Equips unquestionable classics, but they are a long time favorite of many enthusiasts as well. This wheel is nothing more than what is needed, clean 5 spoke design, nice amount of lip, and shine that could deflect laser beams. This set up is a square 18×10.5 but the offset is a bit complicated. The front wheels are a +11 with a +17 spacer and the rear wheels are +3 with a +25 spacer. The result is a -6 up front and -22 in the back. The wheel size, tire size, camber, color… undeniable perfection under that clean straight Skyline body.
A set of KTS Coilovers are used to adjust ride height and dampening and a Cusco camber kit is used to give the wheels have to perfect negative camber. The back profile is stunning. Stance is exactly how it should be and the famous circle tail lights are looking killer as always.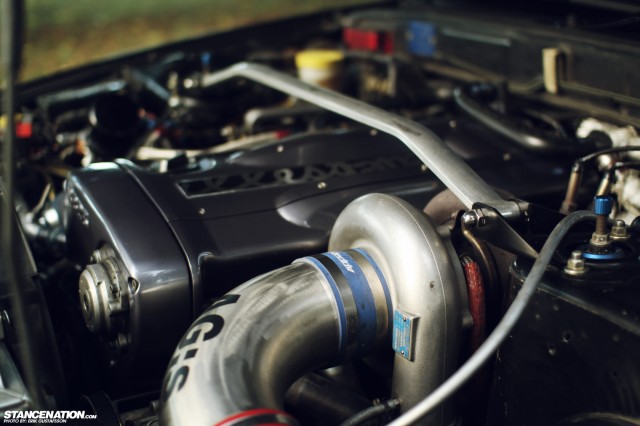 The heart of this Godzilla has been made a bit bigger than the standard RB26dett. With a drilled block this RB is now a 2.7 liter with Wiseco 87mm pistons, Eagle rods and Greddy 272 degree cams. Another major change that was made to this RB27 is the Greddy/Trust T78-33D turbo that replaces the stock twin turbos. With the new air being sucked into the single turbo, a Vi-pec Ecu is used to tell the Denso 800cc injectors how much fuel needs to be fed through an HKS fuel rail.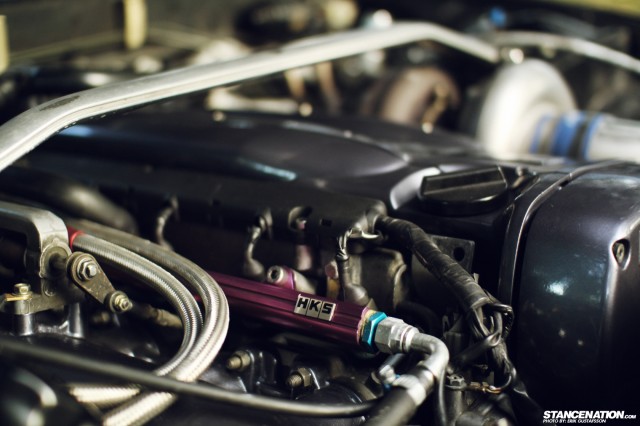 Knowing that quality matters, Fredrick decided not to take chances and chose a huge list of quality Greddy parts. Greddy radiator, intercooler and oil cooler help keep temps low. A Greddy GREX oil filter relocation kit helps make oil chances easier and a Tomei baffle plate helps keep unwanted air from entering the oil pump. On the intake side Fredrick added a Greddy manifold and Type S blow off valve. A Greddy downpipe and wastegate help control and direct exhaust fumes, with a Veilside titanium "teardrop" exhaust system handling the rest of the exhaust duty.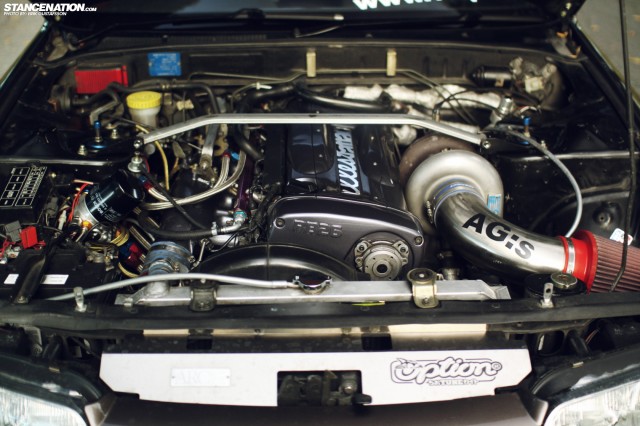 With a tune by Voltex Japan and all of these quality parts working in harmony, this beast is able to push out 463 WHP. Not only does this beauty get low, it can dance too!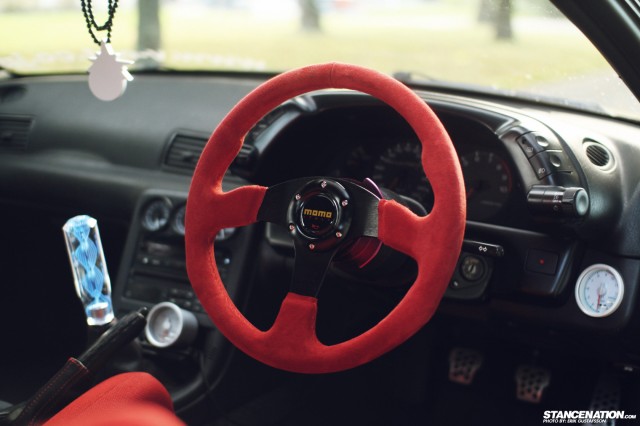 The interior is pretty simple. A red universal Racing seat that matches the MoMo red suede steering wheel. Behind the wheel is a NRG quick release and gear changes are handled with a "custom" shift knob.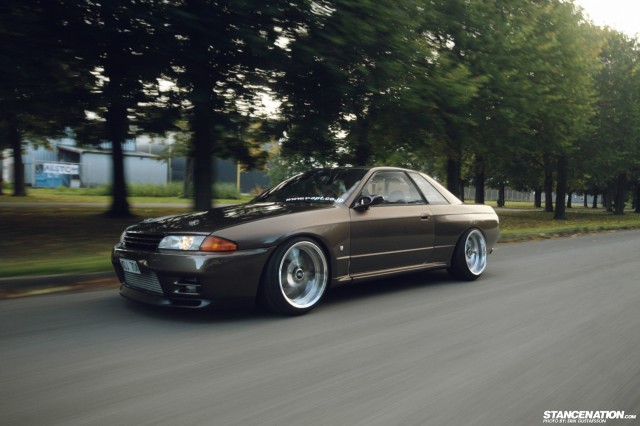 There are few feelings in life that are as satisfying as cruising in a car that allows you to feel the experience. The excitement felt from your smooth pedal work as you change gears with a manual transmission. A good amount of power to get your heart pumping and a body style that can be a heart breaker. I guess what I'm saying is that I've always loved cars like Frederick Chanon's Nissan Skyline R32 because it not only looks "good" enough to compete with the newer cars, but it will also hold it's own and perhaps even leave many of them in the dust.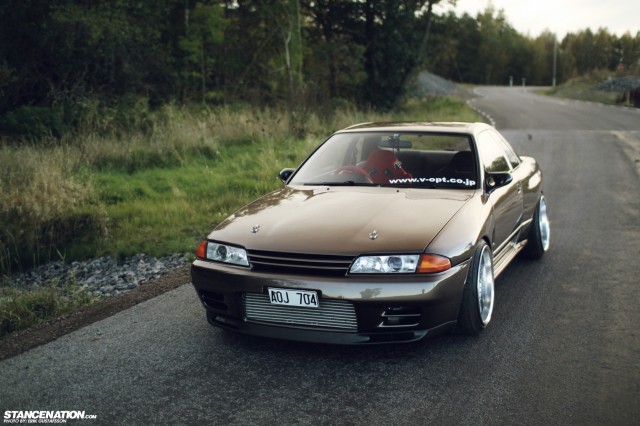 [toggle_box]
[toggle_item title="Wheels/Tires/Suspension" active="true"]Work Equips front 18×10,5 et+11 17mm spacer= -6
Work Equips rear 18×10,5 et+3 25mm spacer= -22
Kts coilovers
Cusco camber kit[/toggle_item]
[toggle_item title="Interior" active="false"]No Name Racing seat
MoMo Red suede steeringwheel
NRG snapoff
Dildo shiftknob[/toggle_item]
[toggle_item title="Engine" active="false"]Greddy/Trust T78-33D Turbo
Vi-PEC ECU
Wiseco 87mm pistons, drilled block 2.7 liter
Eagle Rods
Greddy 272 degrees cam
Veilside Titanium exhaust system "Teardrop"
KTS Coilovers
Cusco camber kit
HKS Feulrai
Denso 800cc
HKS BTR
Tomei baffle plate in the oil pan
Greddy manifold
Greddy intercooler
Greddy oil cooler
Greddy GREX oil filter relocation kit
Greddy downpipe
Greddy wastegate
Greddy radiator
Greddy Type S bov
463whp[/toggle_item]
[/toggle_box]