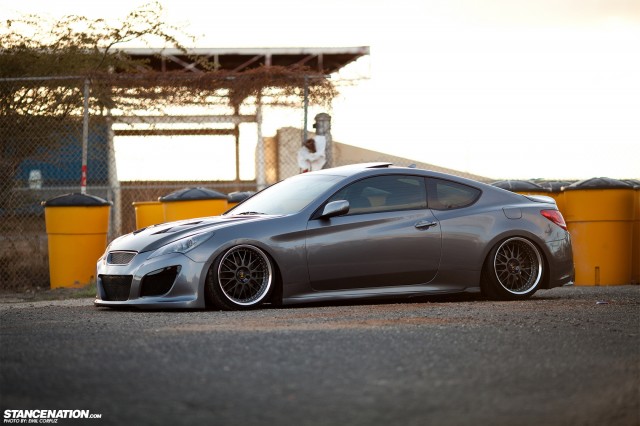 It is hard to believe that the story behind this neck breaking Hyundai Genesis coupe began behind the counters of an ordinary Texas McDonalds. But that is exactly where Craig Holiday, the owner of this Genesis, decided to make a change in his life; a change that through hard work and dedication, has resulted in the opportunity to build such an incredible vehicle. Craig picked the Genesis up back in 2011, but we are going to have to go back to 2009 to see how it all started.
Photos & Video By: Emil Corpuz & Jay Mora exclusively for StanceNation.com
At this point Craig was working for minimum wage under the reign of the golden arches, and attending and paying for college. He didn't have the means to live the way that he wanted, or the financial freedom to build a jaw-dropping car. Hell, it didn't even leave much room to pay for gas! That is when he decided to hang up his McDonalds uniform, and joined the Military. After bootcamp in 2010, he was fortunate enough to be stationed on the beautiful island of Hawaii, where he finally had the fiscal ability to get himself behind the wheel of a more satisfying car. He immediately began searching for a practical but sporty car, and narrowed it down to the Mitsubishi Evo or a Hyundai Genesis. After weighing both the price and styling, he went with the latter, which satisfied his criteria of a tunable car, with more than two seats.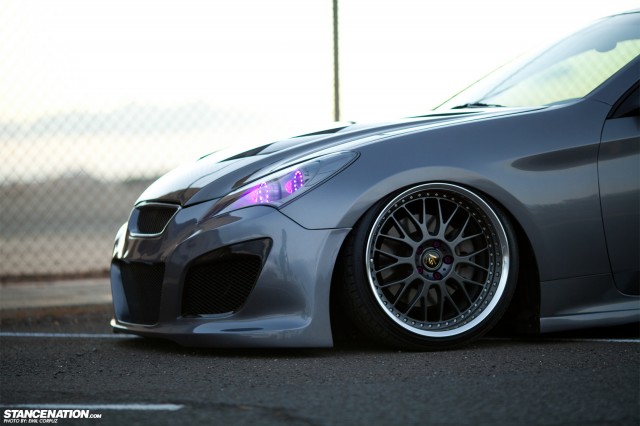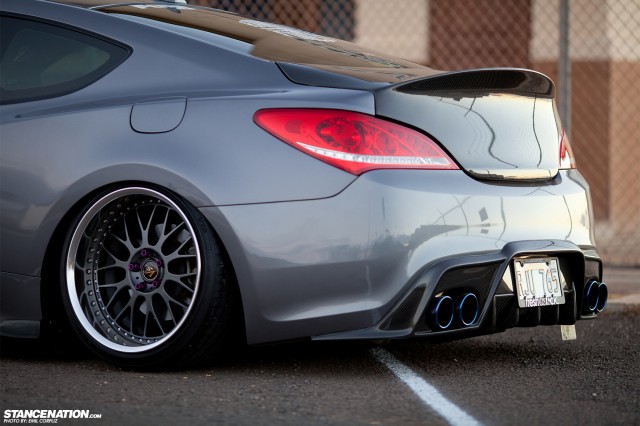 Getting his hands on a Genesis was not an easy task, as there were none on the island at the time. He had to wait a full 10 months until any were imported. I find myself wondering how difficult it was to wait almost a year for his car, I get frustrated with FedEx when they take more then a week delivering some unnecessary part that I could very well go without. But alas, after a long 10-month wait, and countless hours of research on Genesis forums, Craig finally had his very own Genesis coupe! He began to go to meets with a local Hyundai group, Team Hyundai Hawaii, and the modification bug got him, just like it does to so many. With the encouraging family-like support of Team Hyundai Hawaii, Craig began to modify his Gen coupe, taking it to the incredible level you see it at now.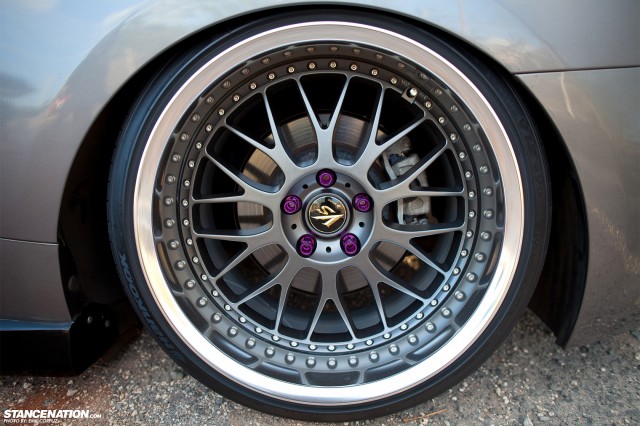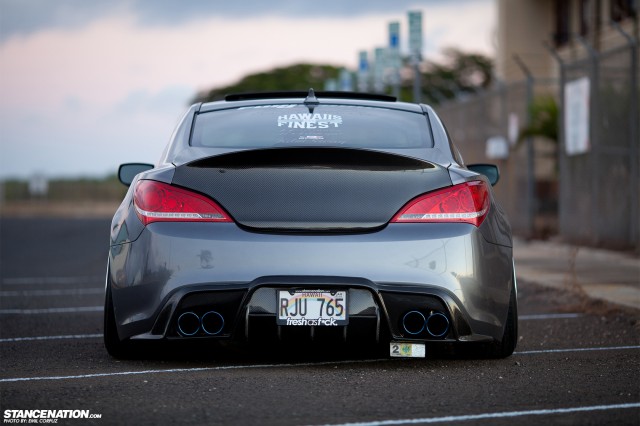 The most noticeable modifications to this Genesis are obviously the extreme drop, and stunning wheels, but taking a closer look reveals the unique little details incorporated throughout the car, which set it apart from the rest of the modded Genesis coupes. A set of custom painted FlyRyde Dual Projector headlights are paired with RGB Angel Eyes, and the stock taillights were also swapped out for a set of SuperLux LED tails. When it comes to the aero, Craig went with a set of Sarona sideskirts, a Hannah front bumper, and a Version 2 carbon fiber rear diffuser by GcTuner. To finish off the exterior, the stock hood and trunk were removed, and replaced with a VIS AMS carbon fiber hood and a VIS K2 carbon trunk. All of the exterior modifications to the car flow so well, and create such an aggressive demeanor; it is easy to call this Genesis one of Hawaii's finest.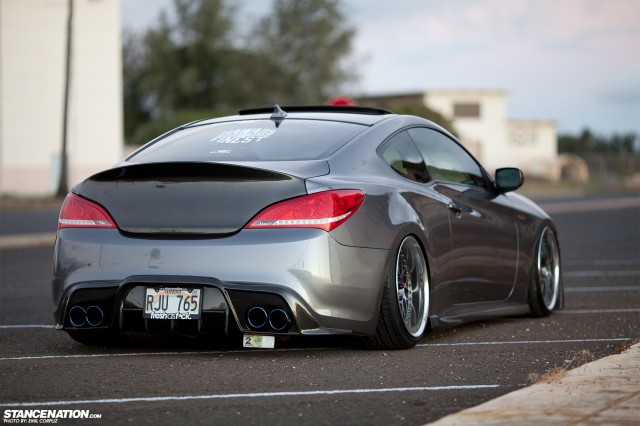 Filling the wheel wells of Craig's Hyundai are a set of Work VS-XX's, in a matte gunmetal grey finish, which play off of the Genesis' factory Nord Grey flawlessly. The Works are sized perfectly, providing that ideal lip to fender fitment without excessive bodywork or extreme camber; 19×9.5 up front wrapped in 225/ 35/19 tires, with an offset of +15, and out back at 19×10.5 with 245/35/19 tires at an offset of +17. When it comes to the lows, Craig went to AirRex for the suspension components, and decided on a full digital air ride setup to get his Genesis sitting just right. Although there are some people out there who still believe that choosing air ride is a drastic sacrifice to handling, we would venture to guess that taking a ride in this coupe would change those opinions after the first corner.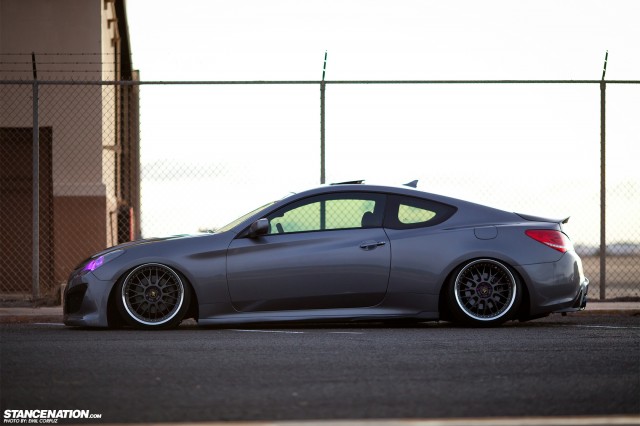 Looking back to 2009, I am sure that Craig is happy with the decision he made, to take the risk and make a major change in his life. Taking that chance has rewarded him with the opportunity to live in an awesome place, to build and enjoy such a remarkable Genesis coupe, and the close-knit group of friends in Team Hyundai Hawaii. His life has changed a lot over the years, and we are sure that the Genesis will be the same way.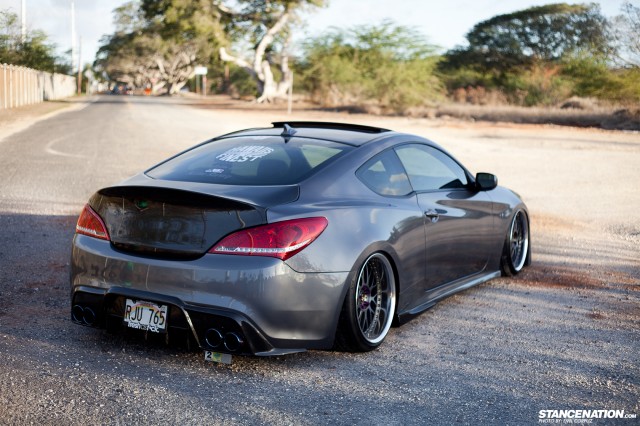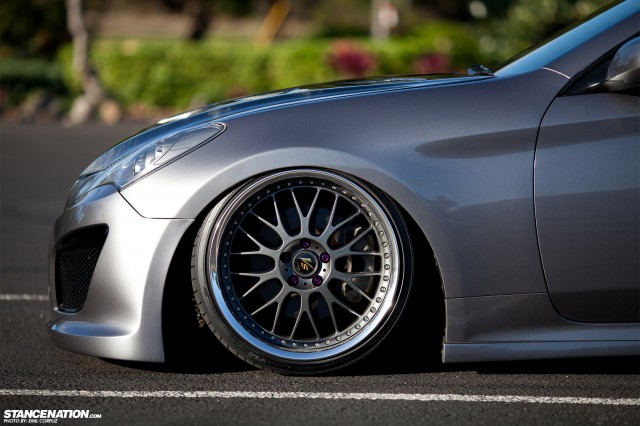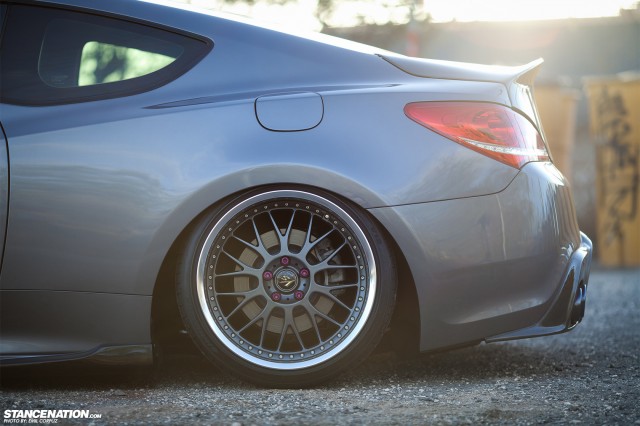 Wheels/Tires/Suspension

Work VS-XX Matte Gunmetal
19×9.5 +15 19×10.5 +17225/35/19 245/35/19
Blox Street Series Purple Lug Nuts
AirRex Digital Air Suspension system
25mm Strut Tower Bar22mm Sway Bar

Exterior

Hannah Front Bumper
Sarona Front Grill
Sarona Sideskirts
GcTuner Ver.2 Carbon Fiber Rear Diffuser
VIS AMS Carbon Fiber Hood
VIS K2 Carbon Fiber Trunk
FlyRyde Custom Painted Dual Projector Headlights with RGB AngelEyes
SuperLux LED Tailights
Interior

Interior

Motorsports Authority Triple Guage Pillar Pod
Glowshift Boost Gauge
Glowshift A/F Gauge
Glowshift Oil Pressure Gauge
10 Speaker infinity Sound System
JL XD600 Amp 600-Watt12″
JL Audio W3 Sub
6 1/2″ Door Speakers2″ Tweeters

Engine

HKS SSQV BOV
Injen Intercooler Piping
Injen Catback
Injen Cold Air Intake