I'd venture a guess that many of you would say there's no such thing as too low. Especially when it comes to a big body VIP style builds like Austin Jones' LS400. There's a feeling that you just can't describe when it comes to seeing big cars like this hovering off the ground in rolling shots. Many of us got our first glimpses of this kind of style from iconic VIP builds of Japan in the 90's and 00's. The clean lines, bold yet understated styling, and of course, the outrageous ride heights hooked so many of us to the VIP trend so early on. While themed cars and cars with VIP influences are great to see, nothing beats a true to form VIP build like this.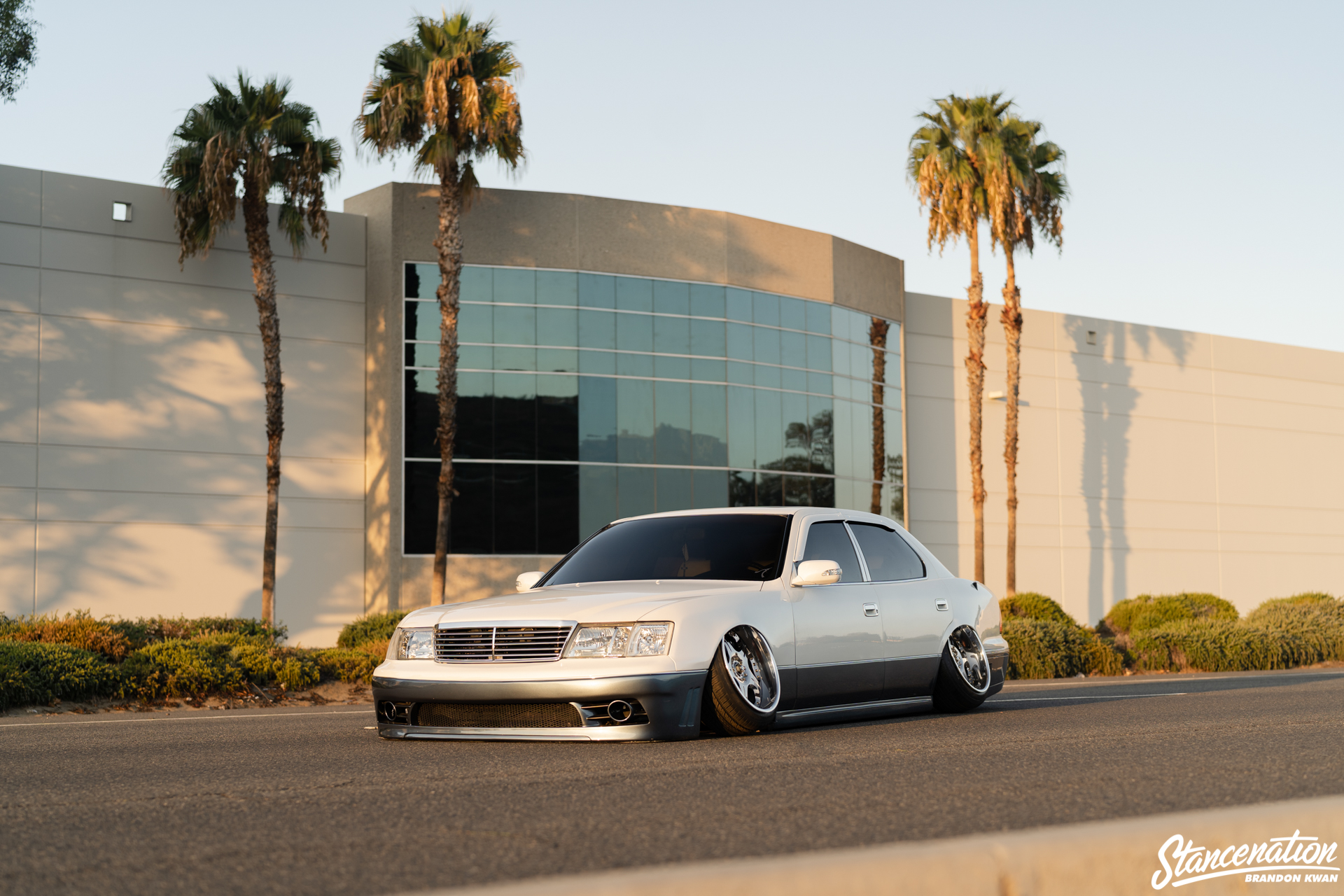 There are a few big consistencies when it comes to this type of car. While the enthusiasts of other styles may congratulate you for thinking way outside of the box, the VIP crowd does not. Now, there are always exceptions to the rules, but for the most part VIP enthusiasts are purists. It has to be a big body Japanese car, it must have extra attention in regards to fitment and overall stance, the color should be along some specific lines, and the bodywork should look tasteful and elegant. Austin has followed the recipe perfectly here.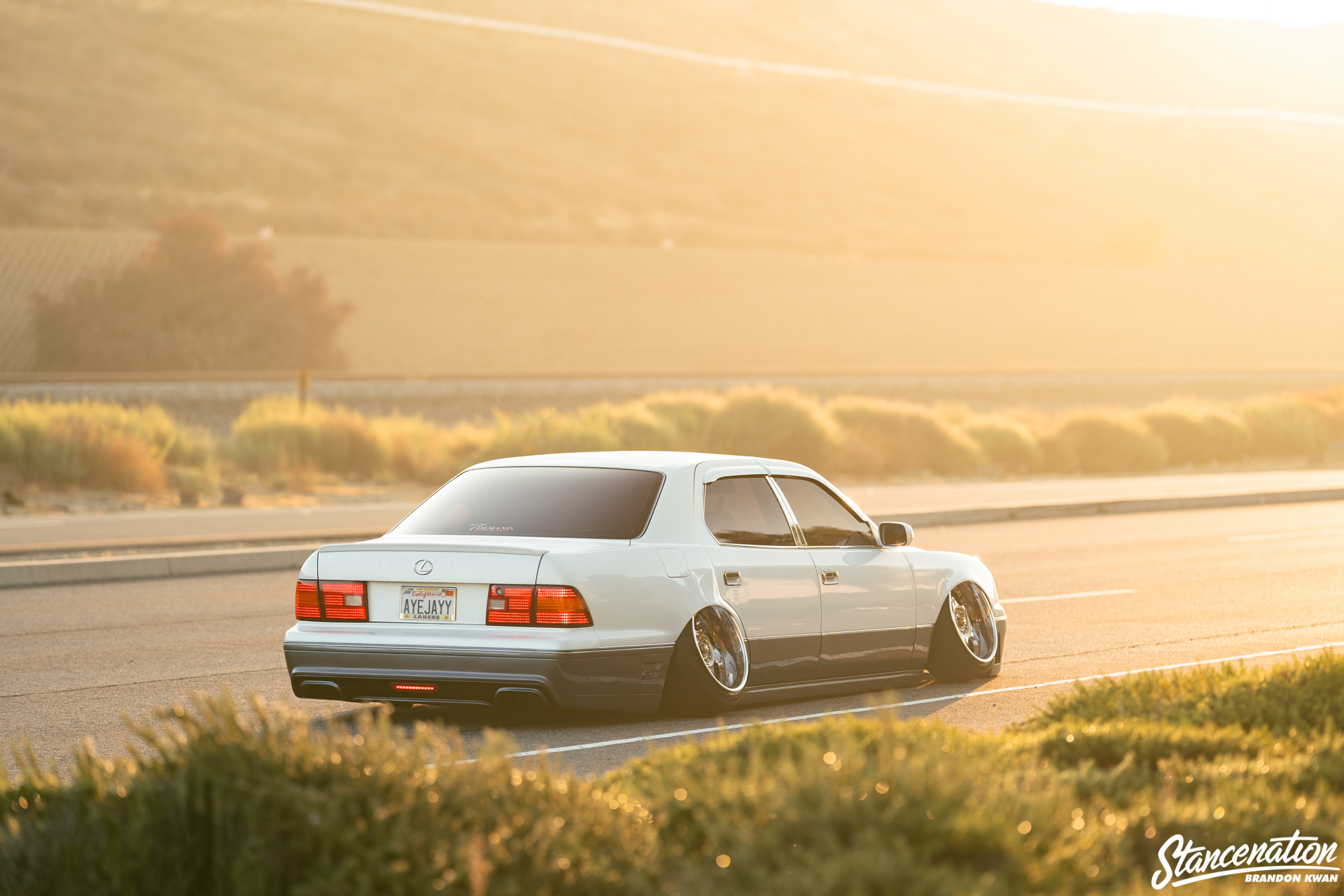 Outside, the big LS is tastefully modified with a one off K-Break front bumper, Aimgain side skirts and matching Aimgain rear bumper. As well as a classy little trunk spoiler from the same manufacturer. There's a few JDM Toyota parts mixed in for good measure, like an imperial grille and some oem window visors. Lighting has all been upgraded as well, with led side mirrors and full led converted taillights out back.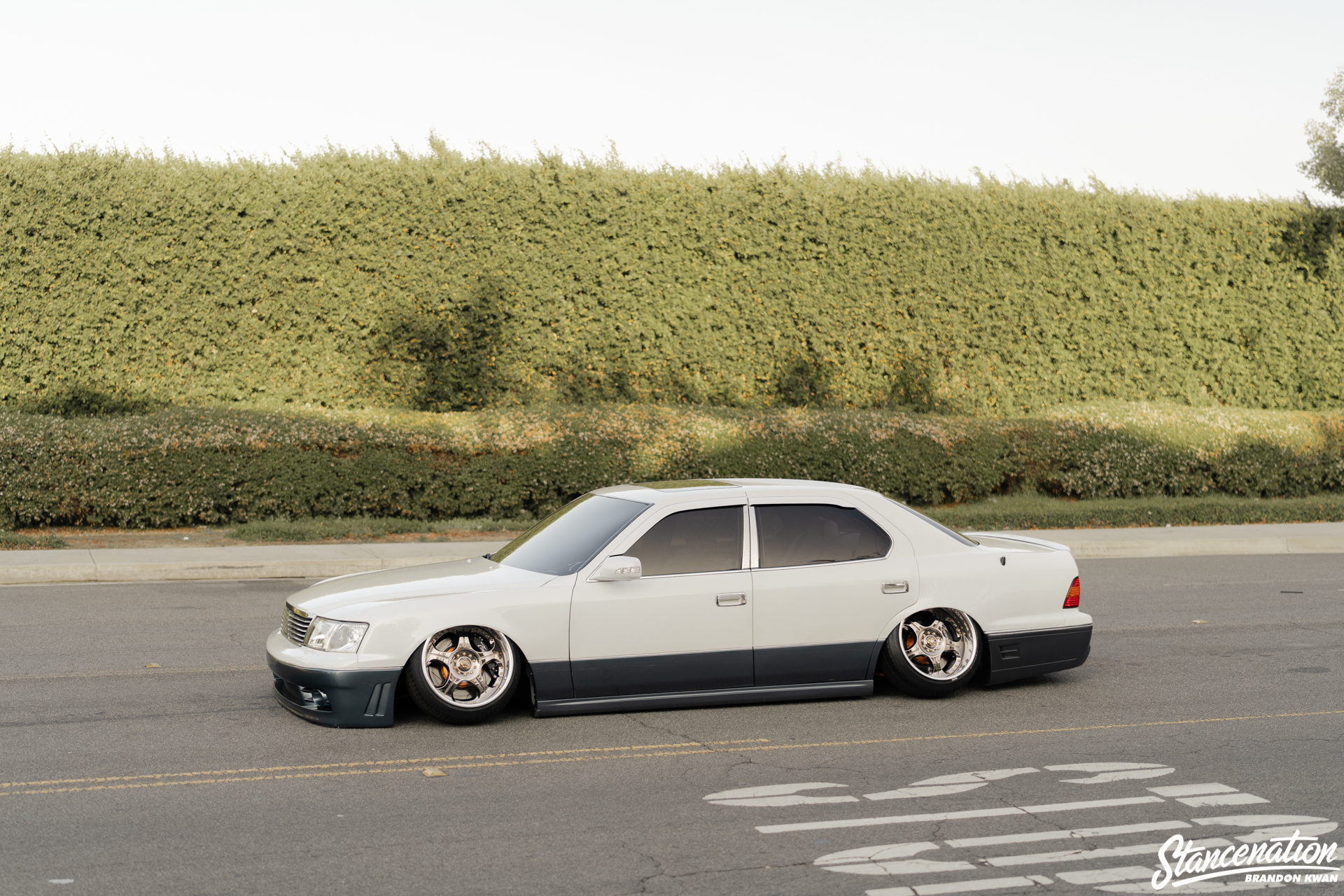 Rolling stock is obviously a big part of anything we feature here, this car being no exception. There are many classic, VIP style specific wheels that can be chosen for a build such as this. Austin went just a little outside of the most common things you see in the scene, choosing a set of Veilside Andrew D wheels. Specs are 18×10.5 et15 front and 18×11 et 10 rear, with a healthy amount of stretch to match. Chrome with gold hardware is the finish choice and it's just about as perfect as can be with the theme of the car. Leaving no stone unturned, you'll also find a T-Demand big brake kit that fills out the wheels perfectly while also hinting at the goodies that hide underneath.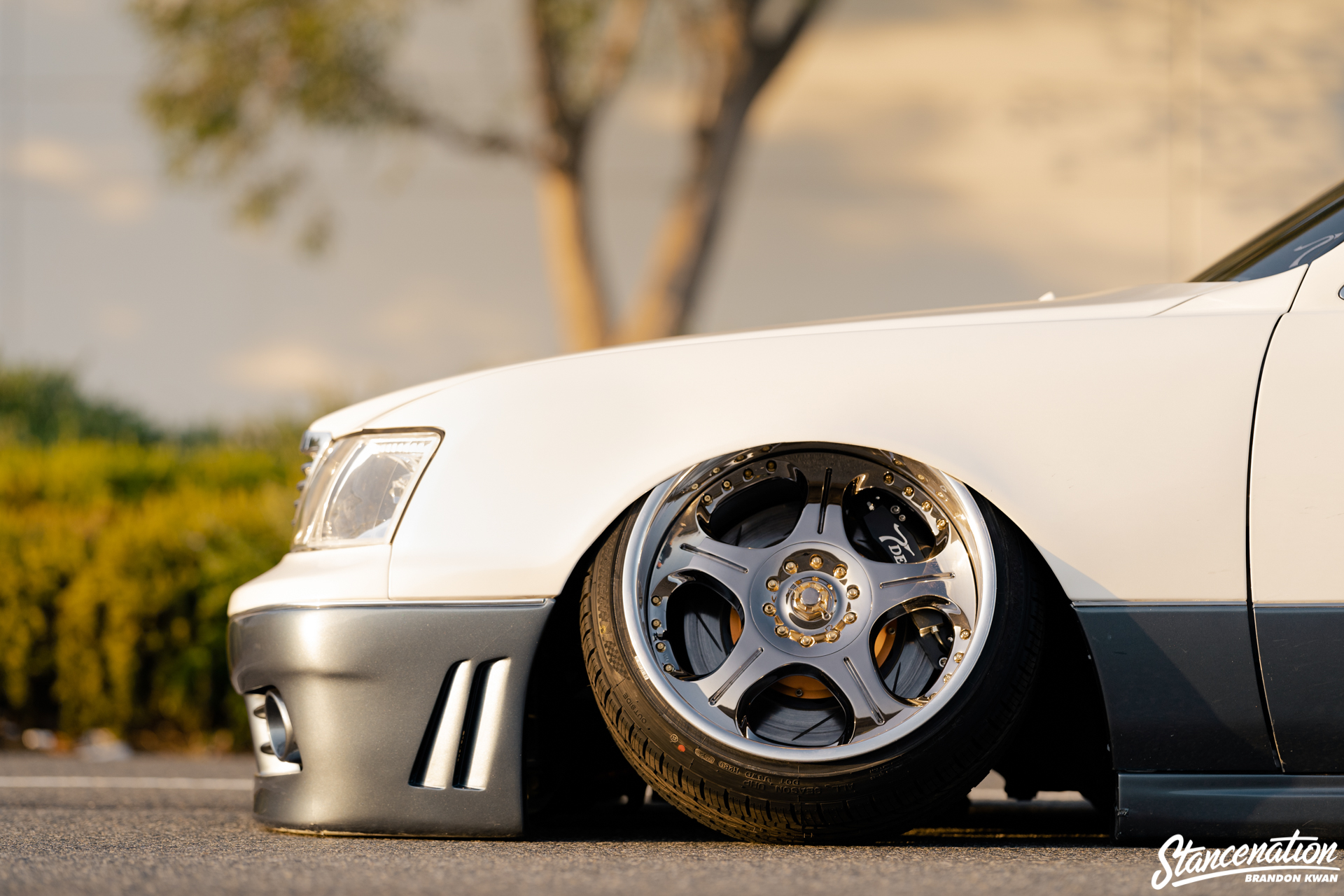 So far, the build is a pretty impressive parts list, right? Well, the underside of the car is a work of art all on its own with a staggering amount of parts to match. There's a level of detail to this specific portion of the car that really sets it apart from others, especially considering that this is a car built in the states. Rather than fill this paragraph with every part that Austin used from T- Demand, I'll just say this, if its available from them, he has it on this car. It's running UAS bags over a set of T-Demand coilover bodies, and that insane ride height is managed by an Airlift 3p system. In order to get it to drive like you see here, he's gone the extra step to solid mount and raise both the front and rear subframe by 20mm. If you can't tell, I'm already very impressed with the way this car sits. As with most of us though, it's never enough and he's not done yet, future plans include taking it a step further, raising the floor and tubbing the front to get it even lower.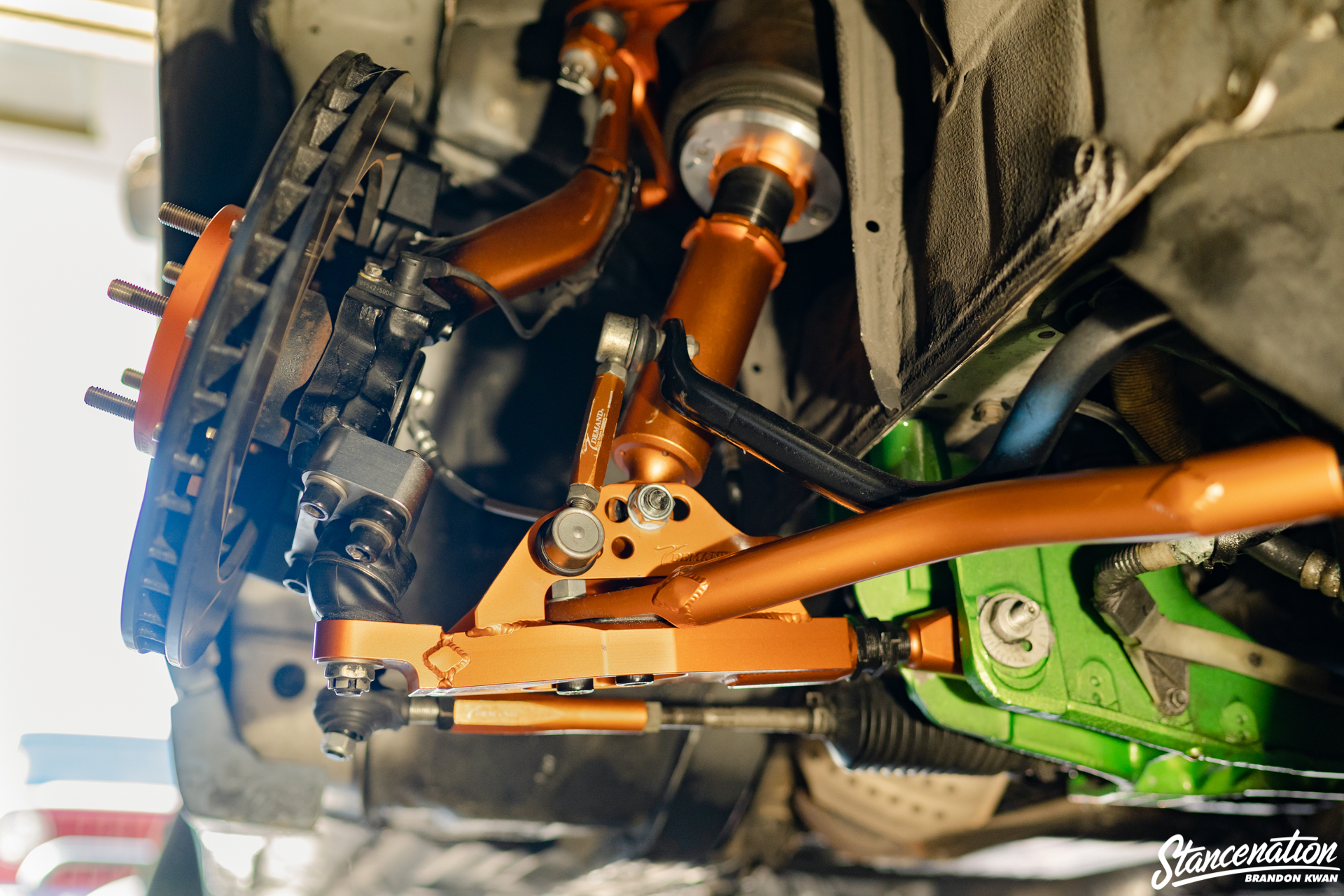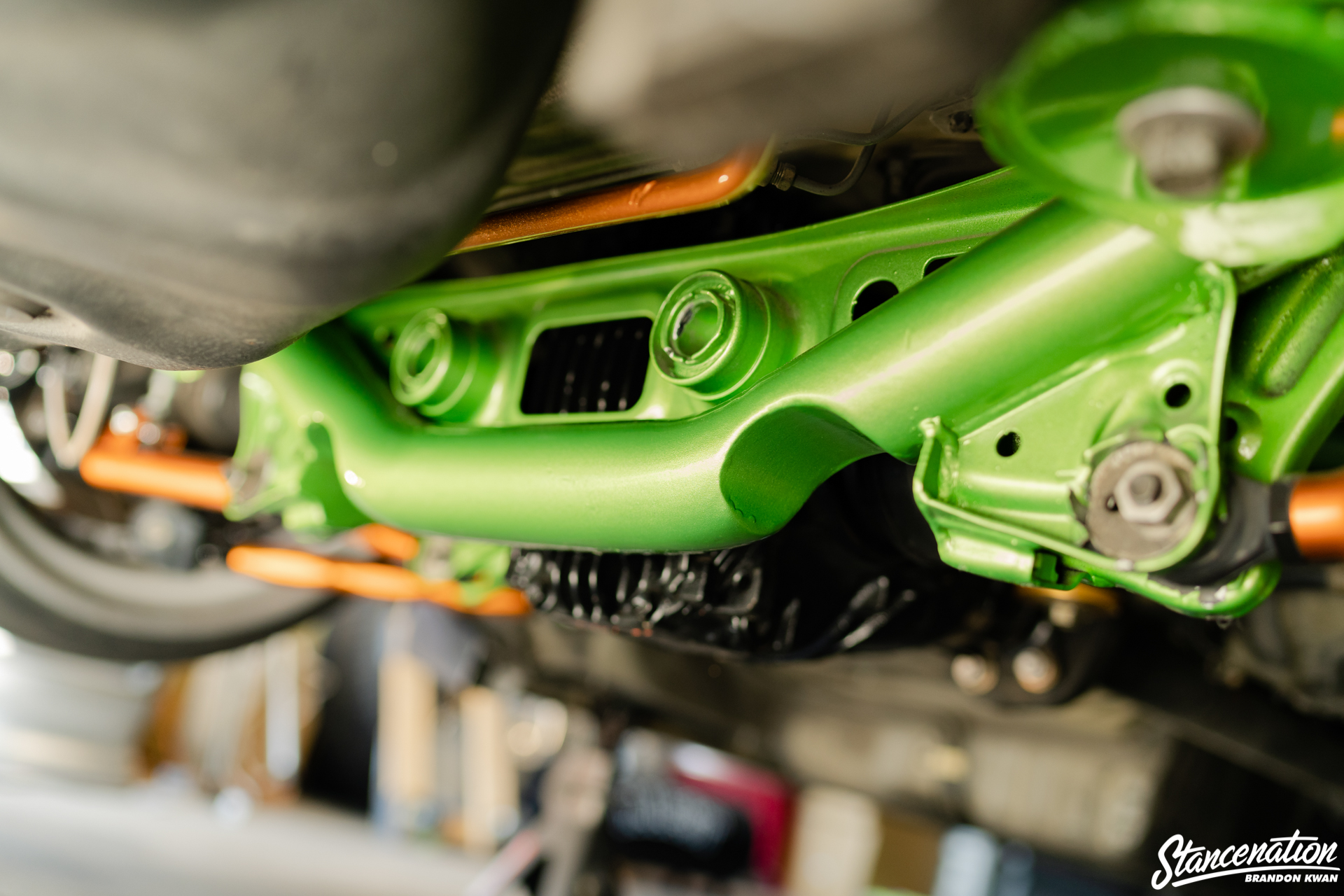 After so much effort to get this car on the ground and looking proper, it only makes sense that the interior would be a nice subtle flow with the rest of the build. The LS400 doesn't need all that much to feel a bit more special. Austin went with some L-Tide seat covers and door panel inserts to make it stand apart from the crowd, otherwise, it's near stock inside.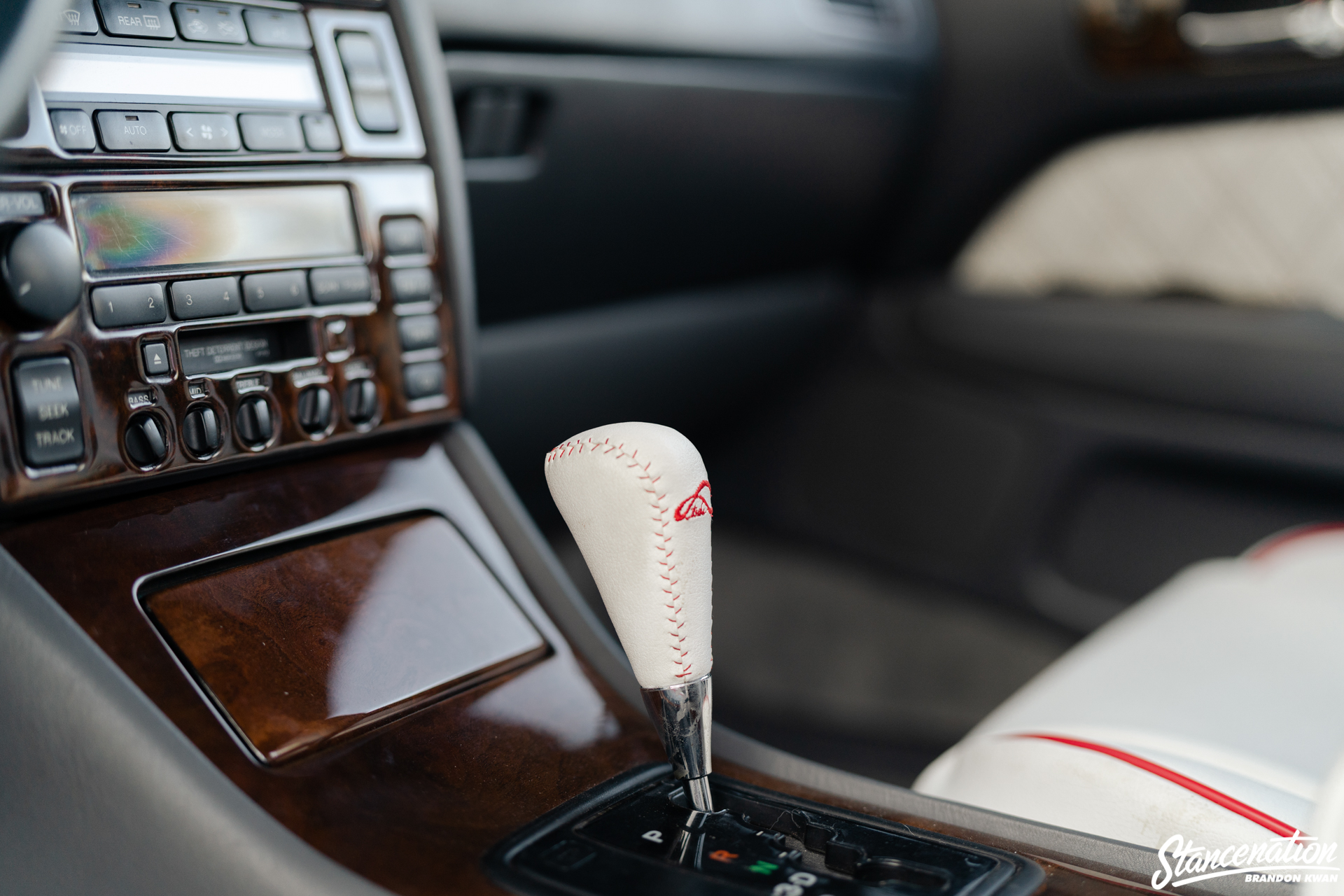 As these pictures circulate the internet, it's no doubt that a fair amount of armchair experts and bench racers will point out how absolutely ridiculous the ride height of this car is. There will be "how does it even drive?!" comments abound, references to the outrageous 20 degrees of negative camber, and definitely some people that just don't get it, even a little bit. That's ok though. It's the nature of things that push boundaries like this, without context and the proper information, it's easy to minimize the high quality parts, patience, and hours of hard work it takes for someone to see their vision come to life like Austin has done with his LS400. Besides, to anyone that matters in his world, they only need to see one of these classic looking, almost unbelievable rolling shots we've got here. To those people, like me, it's all smiles.