It's one thing to be able to own a car that has been on your bucket list since you were too young to even see over the steering wheel, let alone be able to take that car as a blank canvas and make it something completely your own. Lino has been a huge car buff his entire life, and is someone who can appreciate many different types of vehicles. But like many, the modern sports car has held a special place in his heart. " I have been a fan of every 911 because of their classic timeless designs."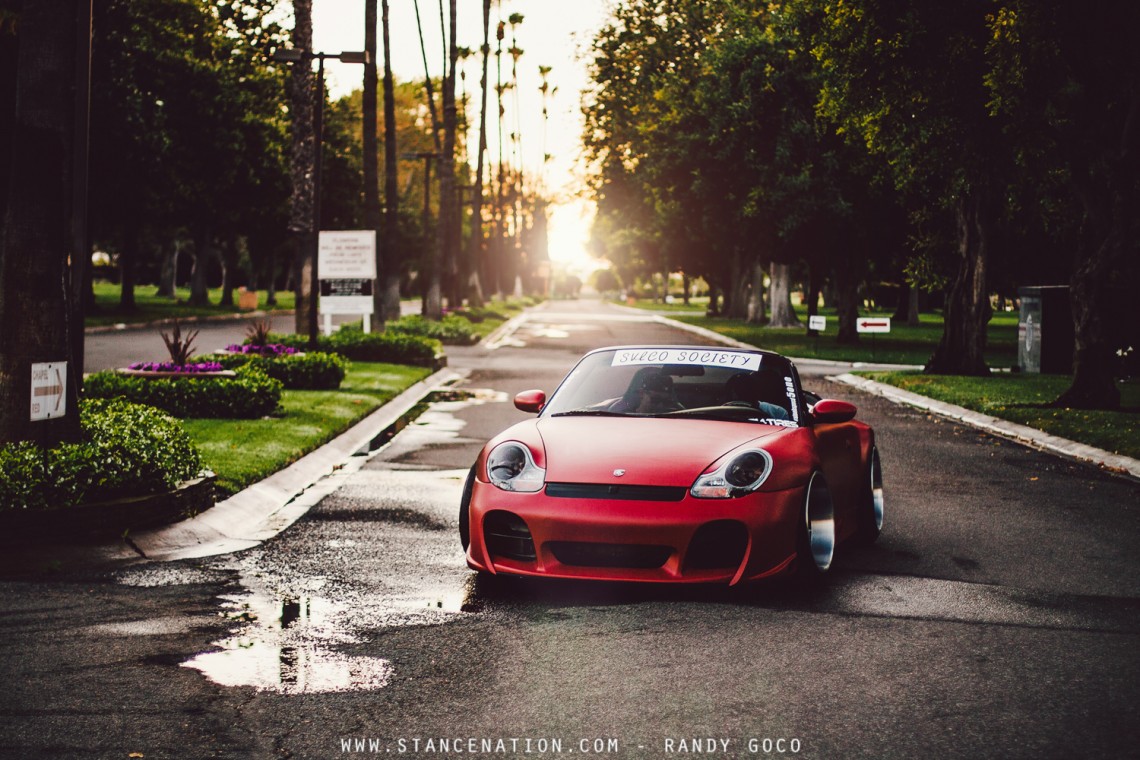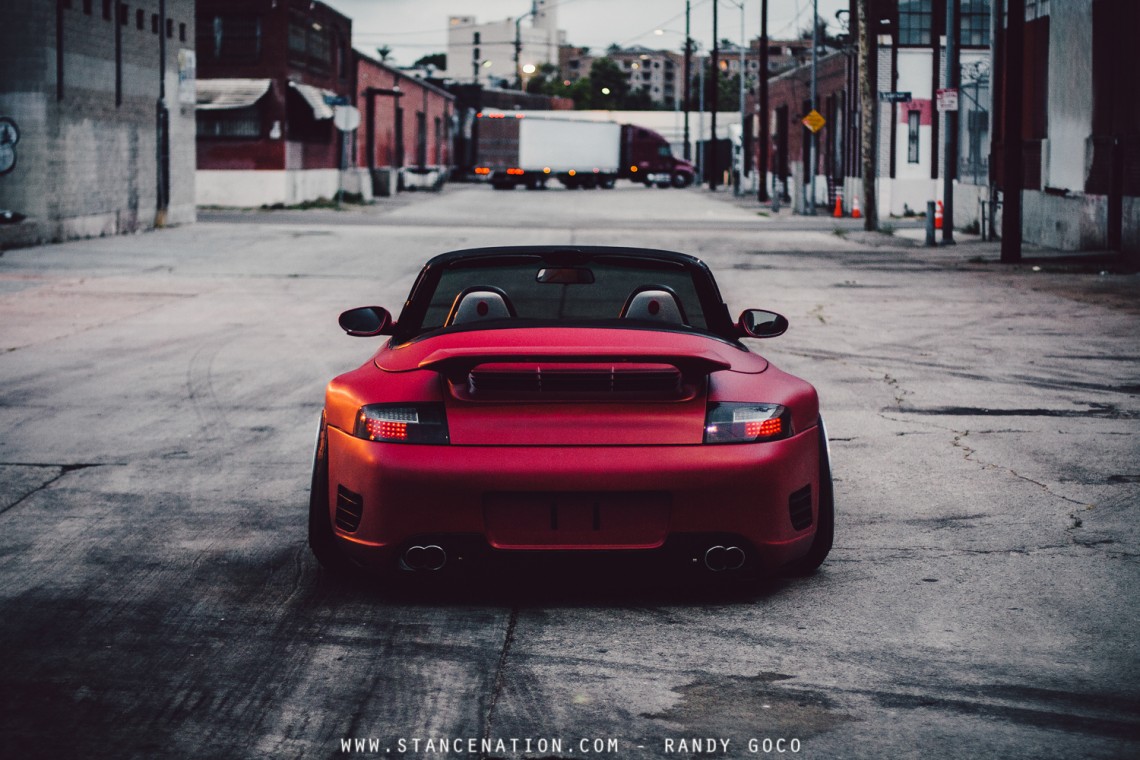 Not being able to leave well enough alone, Lino began the search to really make this car his own, and not just another 911 on the streets. But this would prove to be difficult, as most wide Porsche's today are only equipped with bolt-on flares, and that just seemed too easy. In his pursuit for width and a less cookie-cutter way of doing it, Lino went with a custom Steebspecd full metal wide body. Subtle, yet just enough to make the car stand out from a stock bodied 911.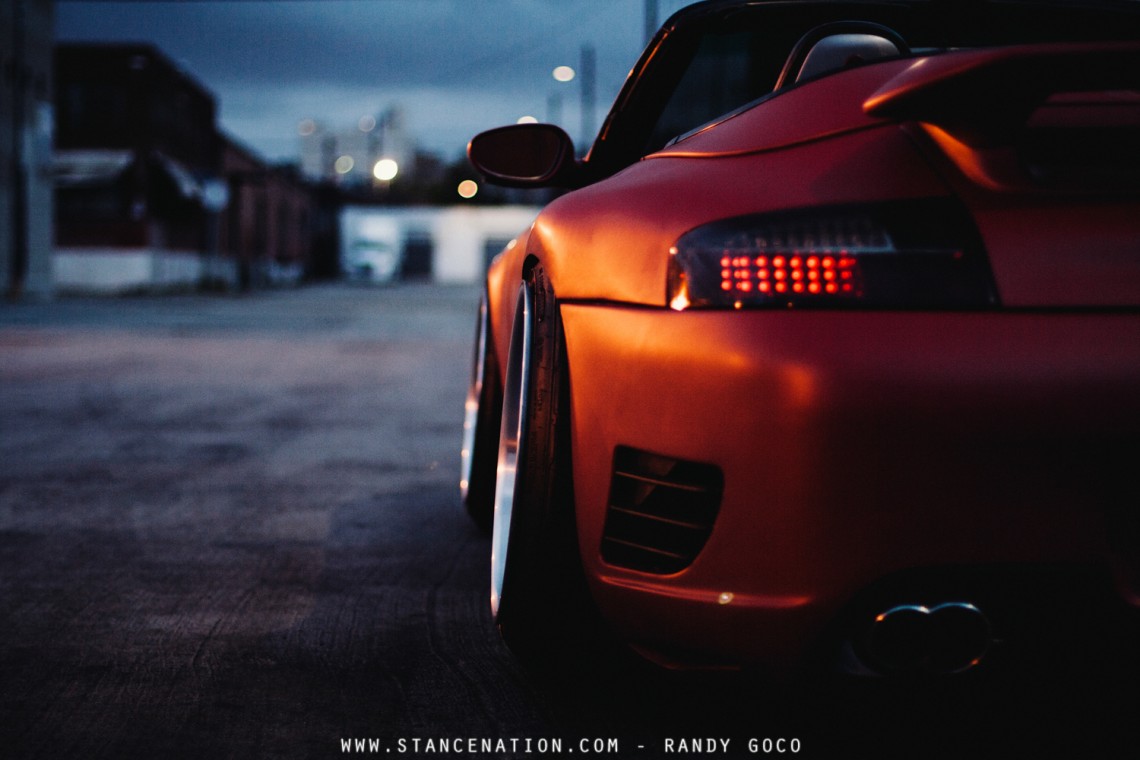 Continuing on with the body, A full Tech Art kit compliments the widened fenders nicely. All topped off with what is quickly gaining popularity in the modified car scene today, a satin red wrap from Ezie wraps. Quite possibly my favorite part of the car (being someone who wraps cars myself.)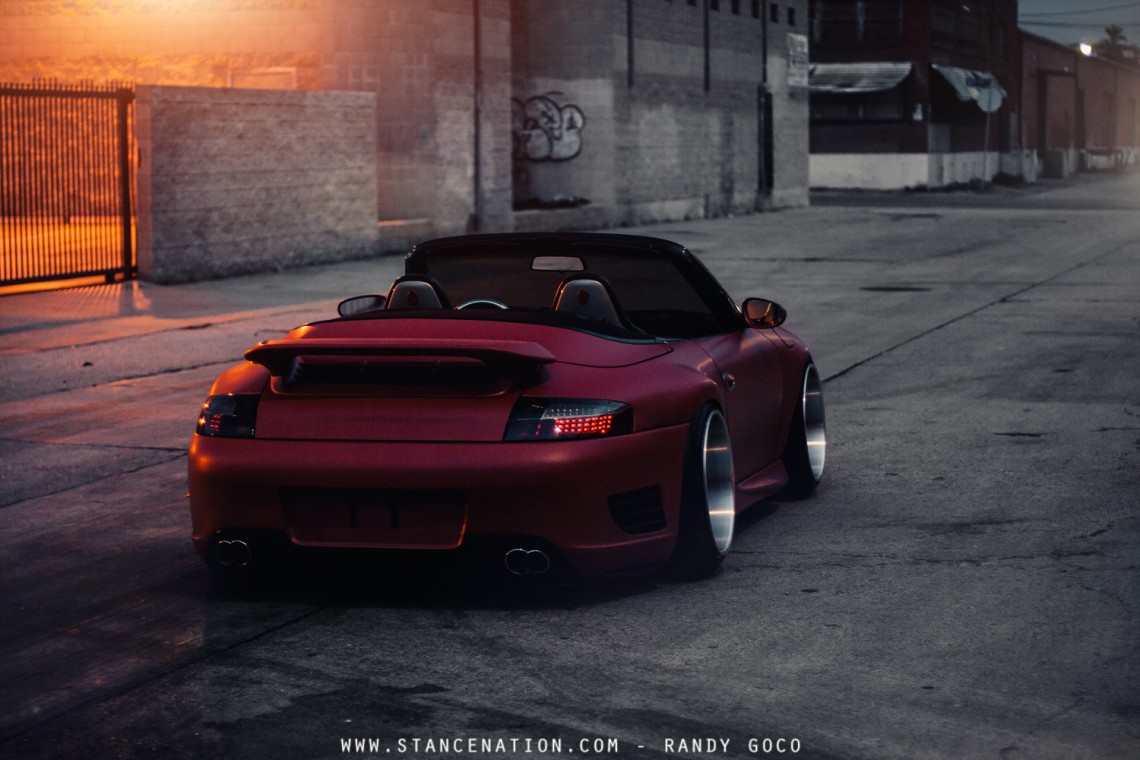 It wouldn't be StanceNation without talking about what makes this car sit the way it does. The Porsche sits on a custom set of  Steebspecd coilovers, Ground Control front camber plates, along with Torque Solutions rear camber arms, caster arms, toe arms and roll center adjuster. 5one Steebspecd 19×12.5 and 19×15 wheels with brushed lips are the shoe of choice for this lady in red. A great way to tie the look into the satin finish if you ask me.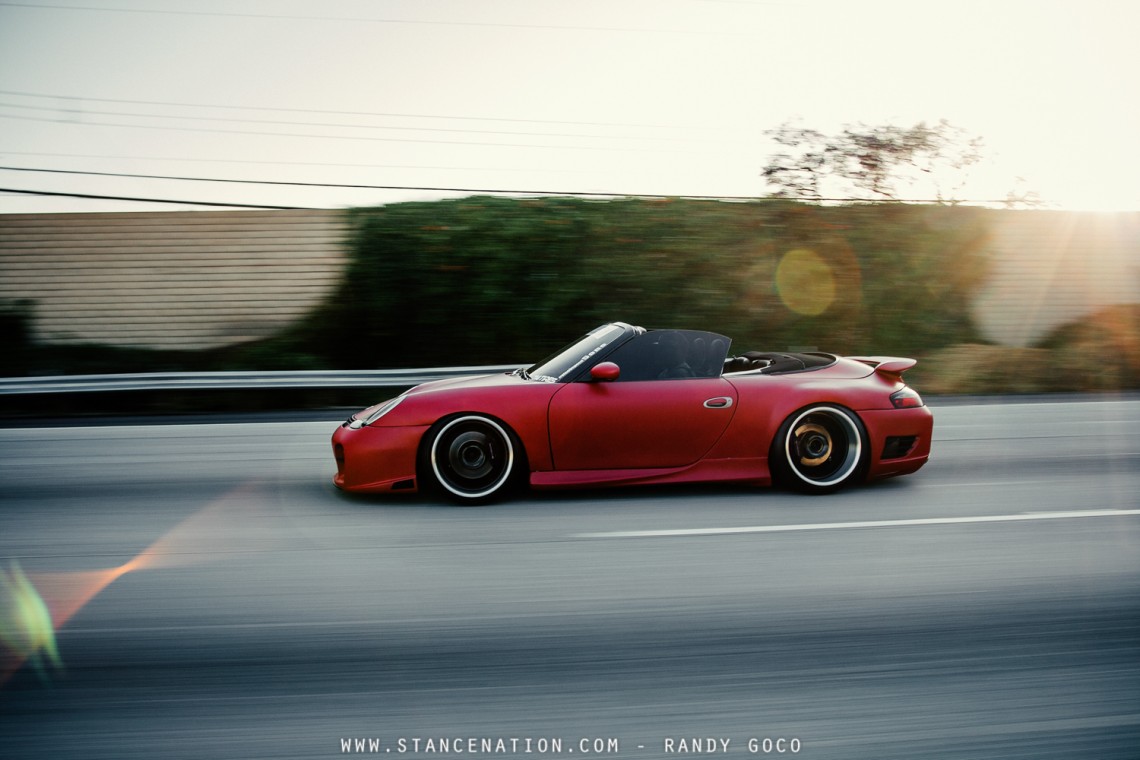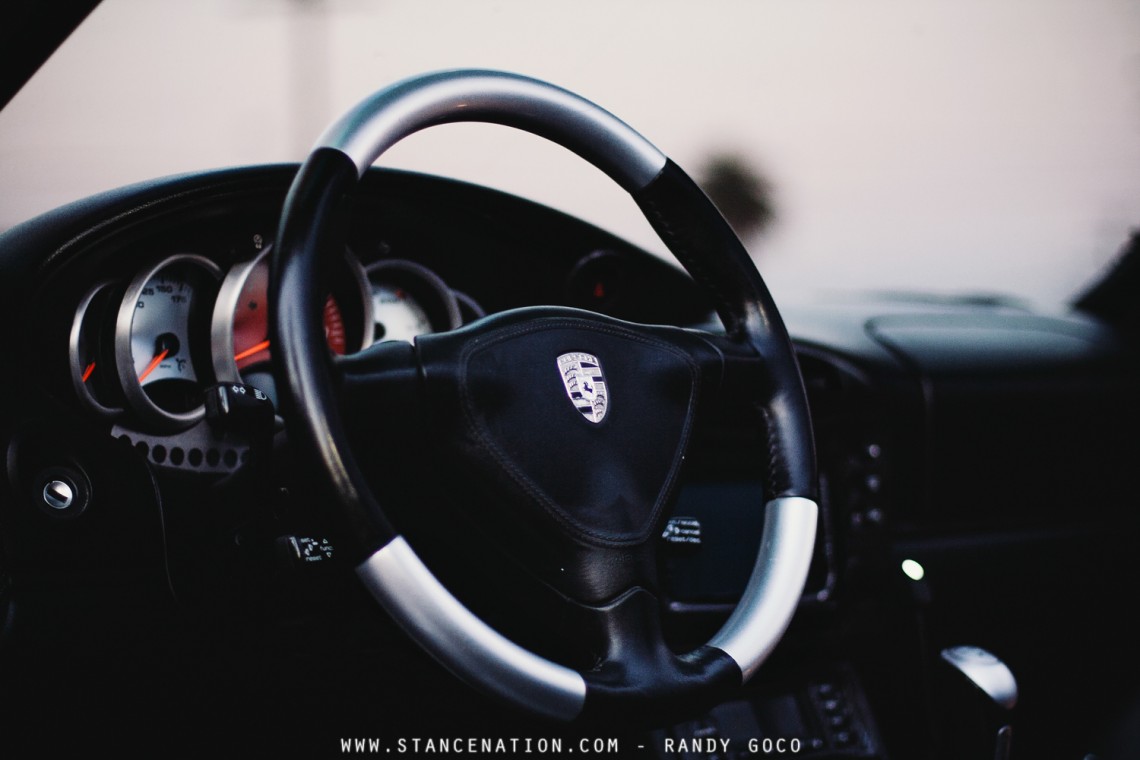 A car of this caliber really doesn't beg for much in the performance department, but a Wisecraft steebspecd 996 911 exhaust system and 911 design throttle body and intake were added for good measure. Being only in the beginning stages of  the build, Lino plans to add a few things in the near future including a Wisecraft Steebspecd exclusive custom turbo kit, Wisecraft Steebspecd exclusive custom roll bar, an interior overhaul, and a full color change.  In closing, Lino would like to thank  Ezie wraps for the vinyl wrap, 714 tires, and to the biggest sponsor stellavapors.com and svlco motorsports division. Now enjoy the rest of these great photos by Randy Goco.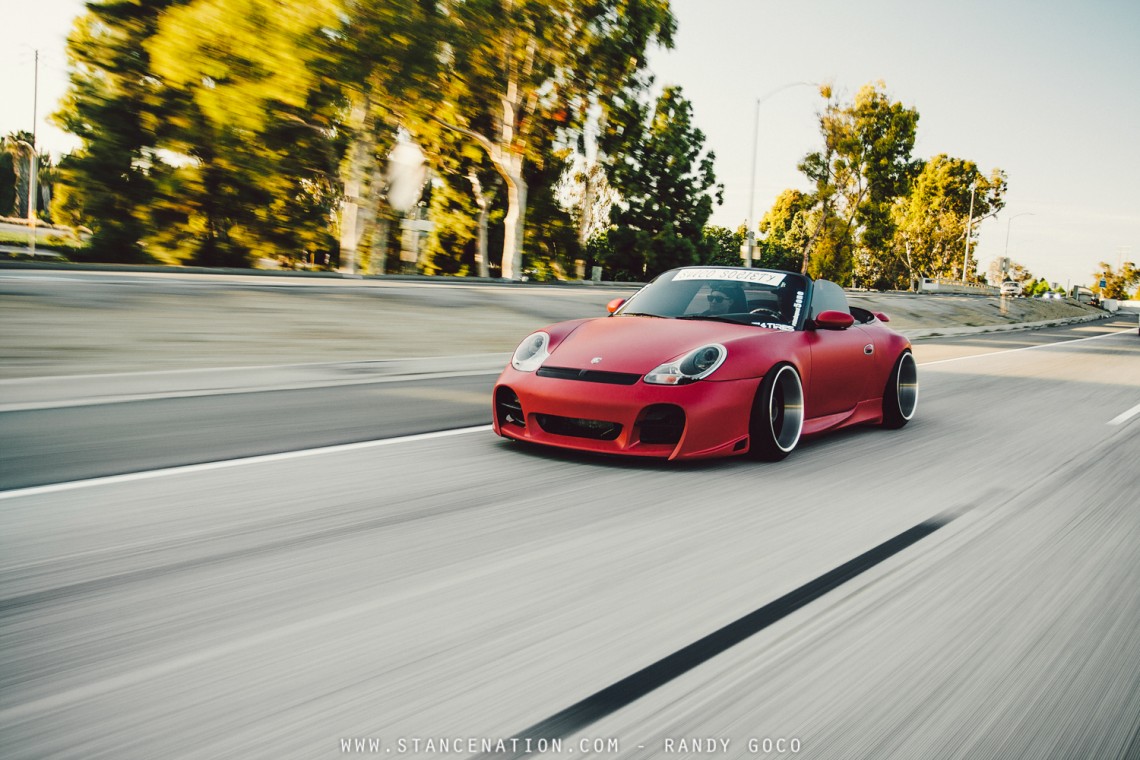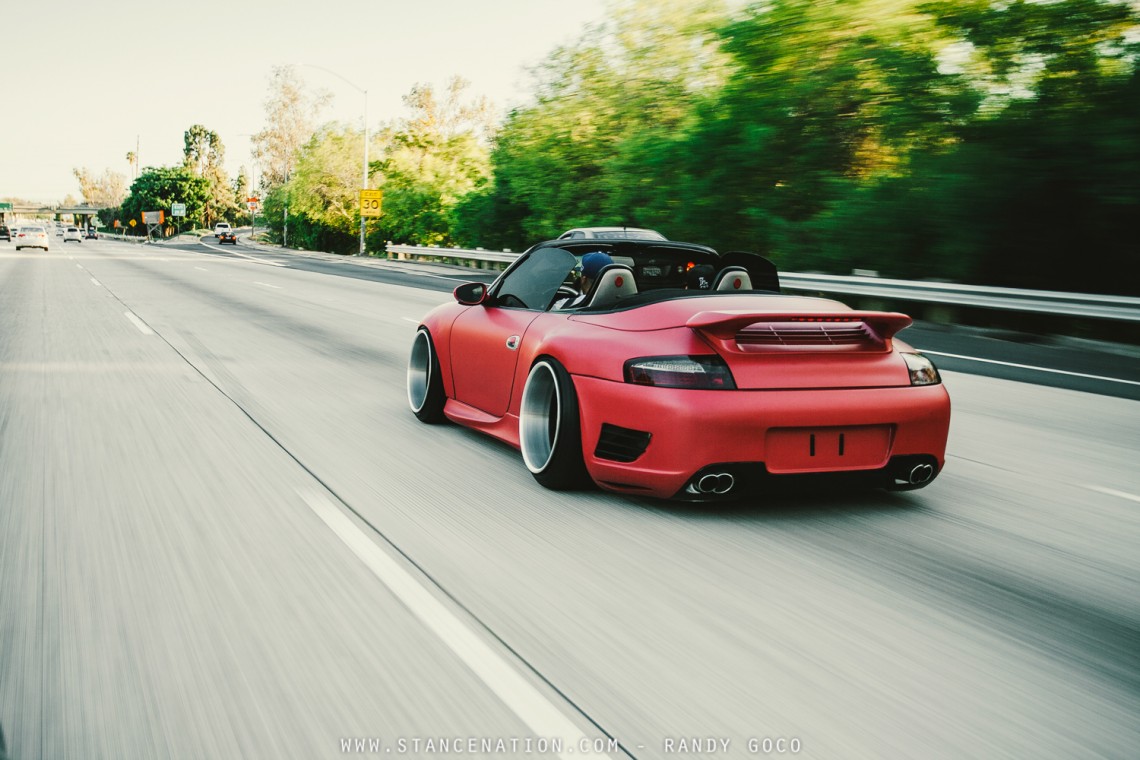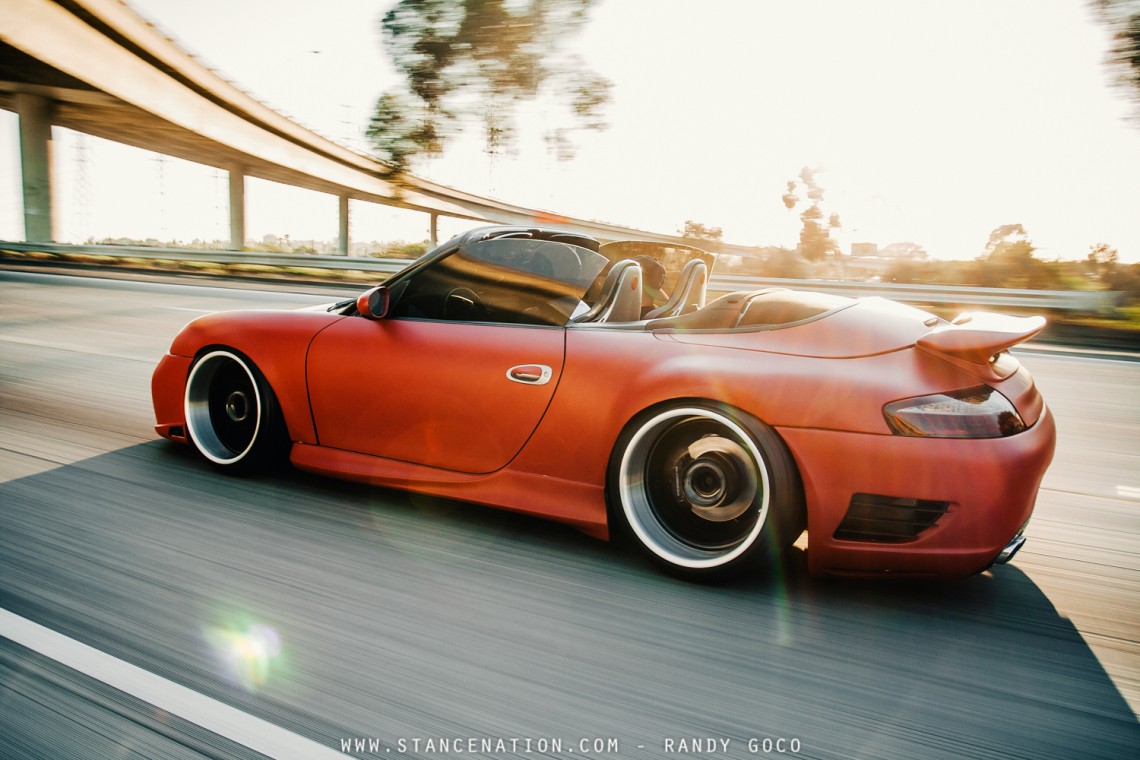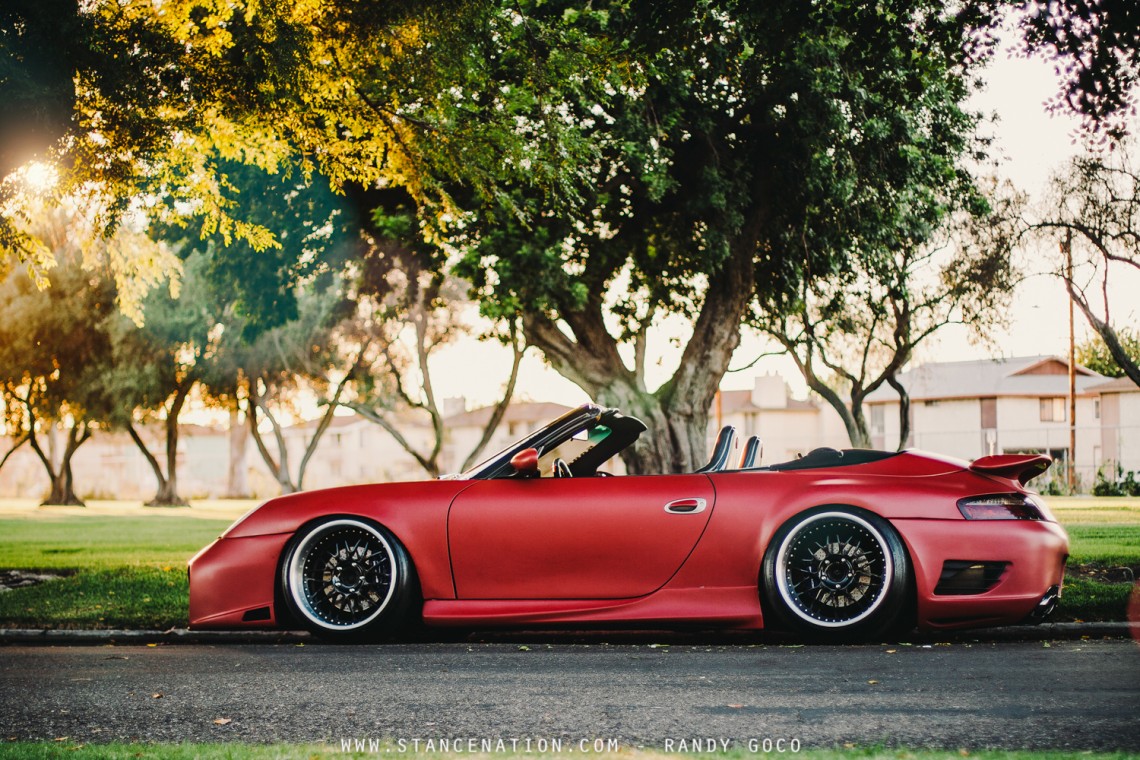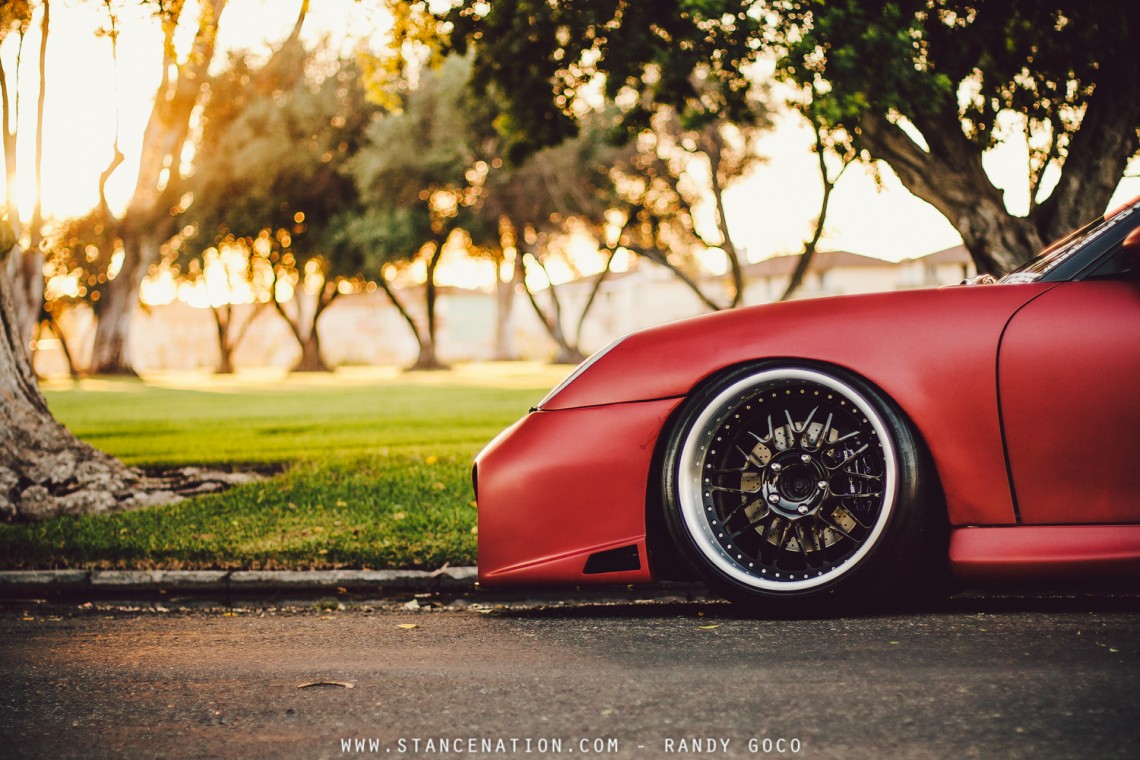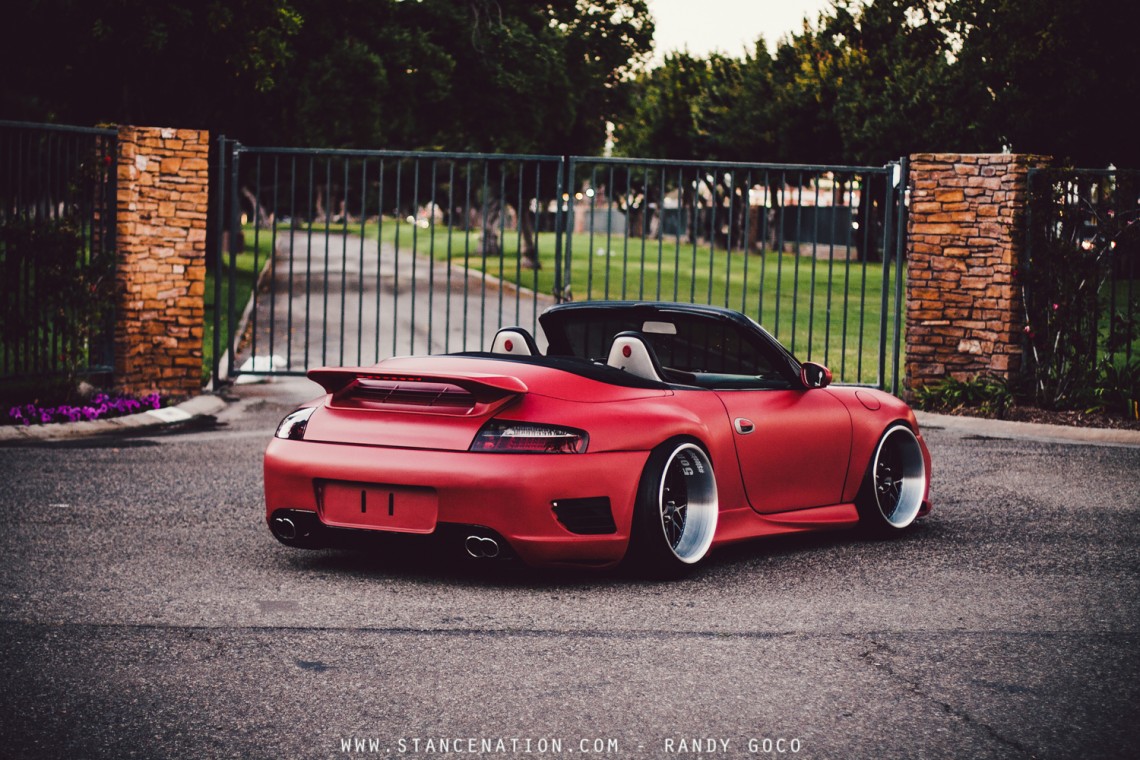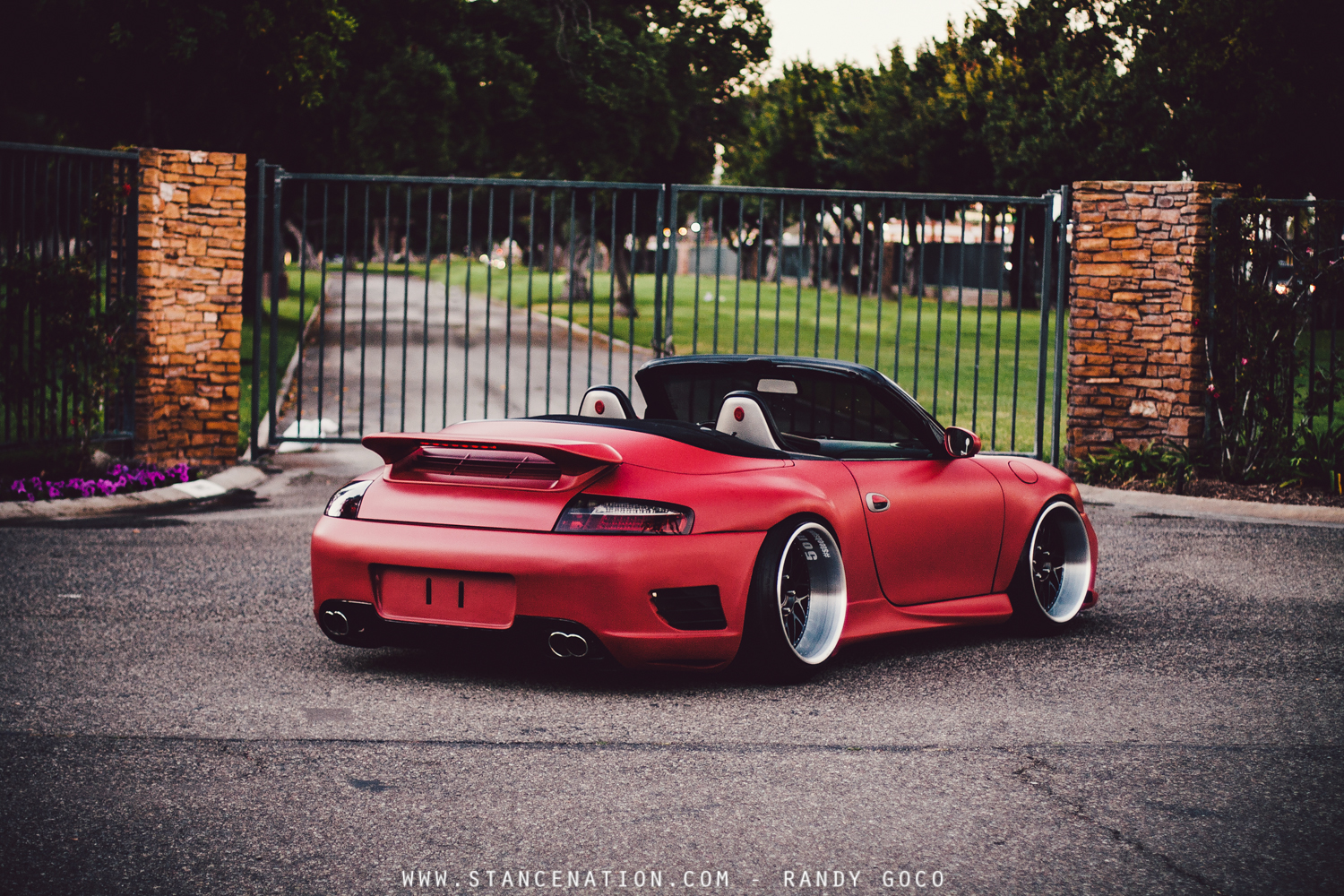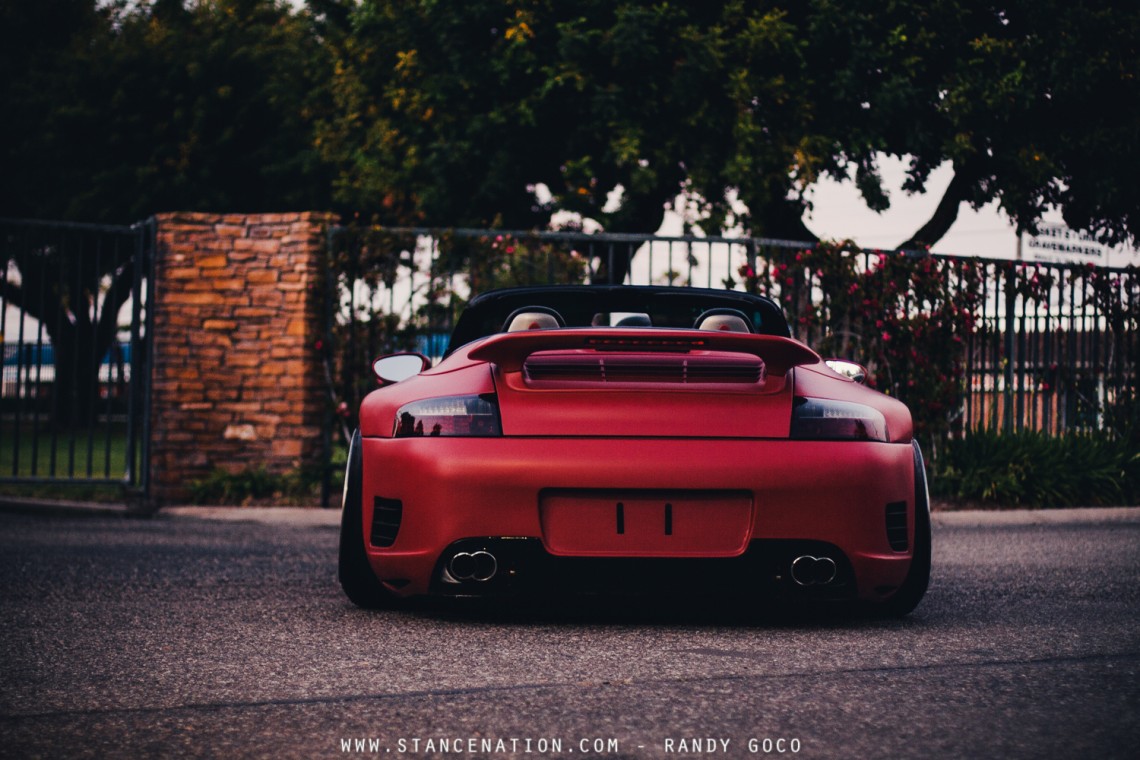 Specs:
wisecraft steebspecd 996 911 exhaust system
911 design throttle body and intake
custom steebspecd all metal widebody
tech art front and rear bumper with sides
custom steebspecd coilover system
ground control front camber plates
torque solutions rear camber arms, caster arms, toe arms and roll center adjuster
5one steebspecd 19×12.5 and 19×15
nitto invo 285-30-19 and 325-30-19
shout out to ezie wraps for the wrap, 714 tires, svlco motorsports division, and to our biggest sponsor stellavapors.com