Two years ago I went to Cockpit910 to shoot Kenichirou and his friends LS460s to be featured on StanceNation as Two of a Kind. Two summers later, I went back to catch up with Kenichirou as a friend. 
It's become quite apparent by now that the Japanese car community is not stagnant, as a car can take on a totally different form in a span of just a couple of weeks and is ever evolving from thereon. With that in mind, I could only expect Kenichirou had some new surprises with his LS460. Naturally, I found this to be a good opportunity to bust out my camera. This time around with a little glimpse into his shop. Sit back, and enjoy the words and photos.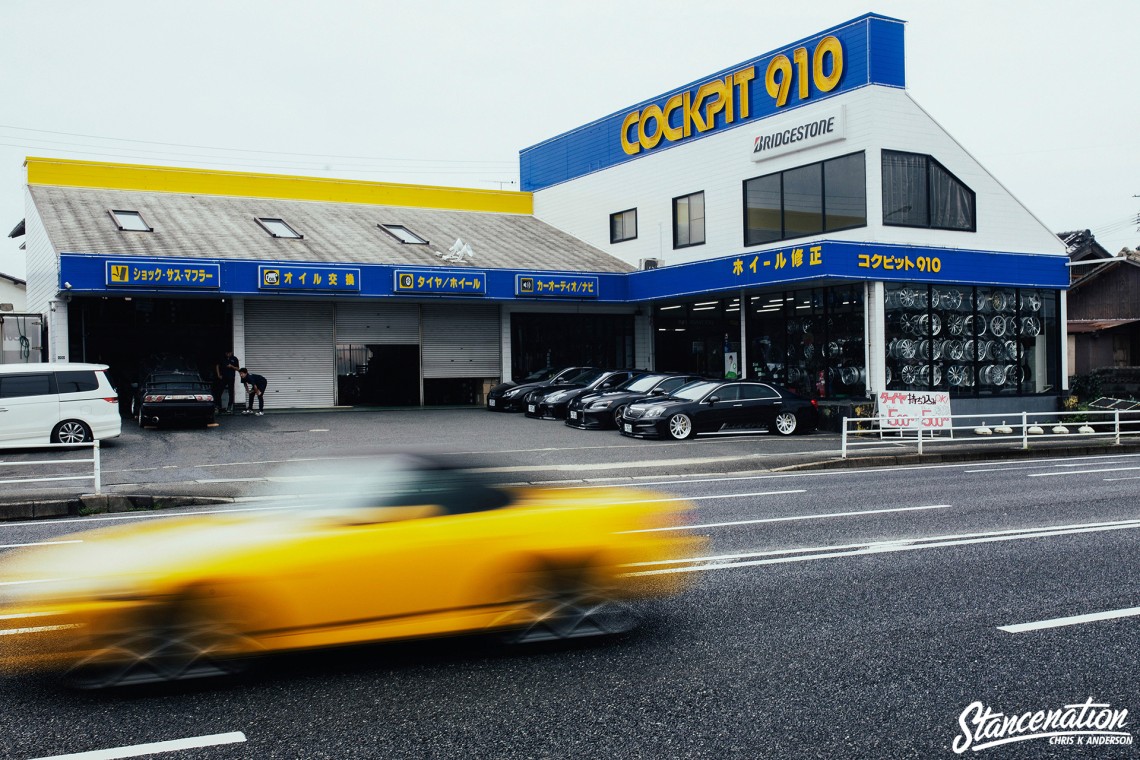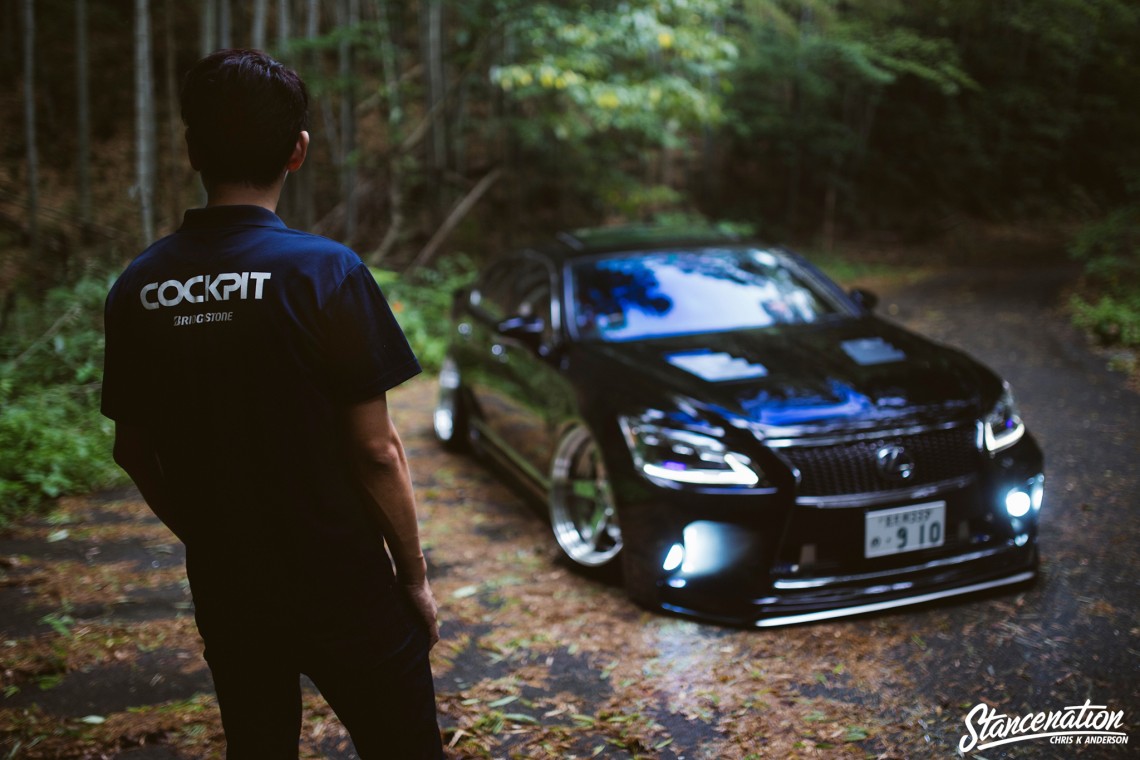 Let's hit the rewind button real quick. It was 20 years ago that Kenichirou's father began Cockpit910 as a tire shop, installing and selling tires to customers, and it wasn't until 13 years later when Kenichirou would take over Cockpit910. While this is his flagship store, he has also expanded by opening a new store dedicated solely for tire sales and installations so he could transform cockpit910 into the VIP Powerhouse he envisioned. 
If you're wondering where the number 910 came from, a little tidbit.. Kenichirou's surname is 'Kudou', and in a play on words, Ku=9 and Dou=10. Combine them together and you have 910!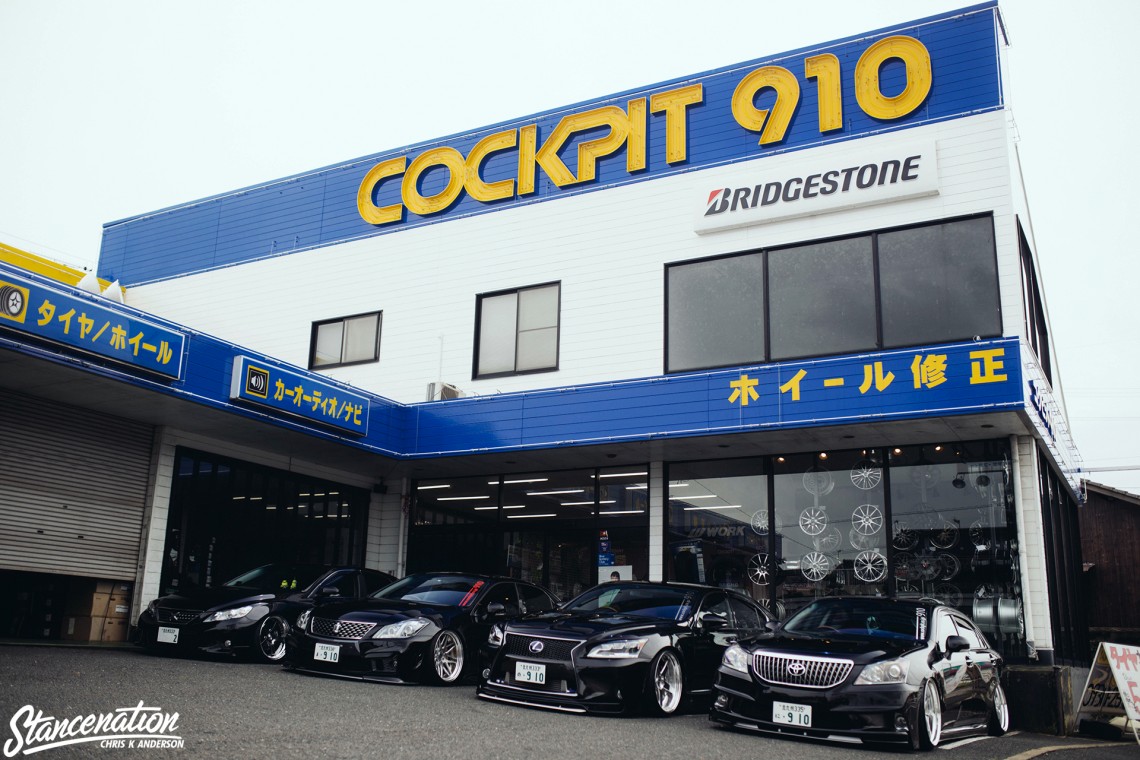 If there's one way to gather passing eyes to your store front, it's by lining your lot with bold looking VIP cars. From nearest to the garage – Mark X waiting for the 910 treatment, Crown Athlete, Kenichirou's LS460, and a Majesta.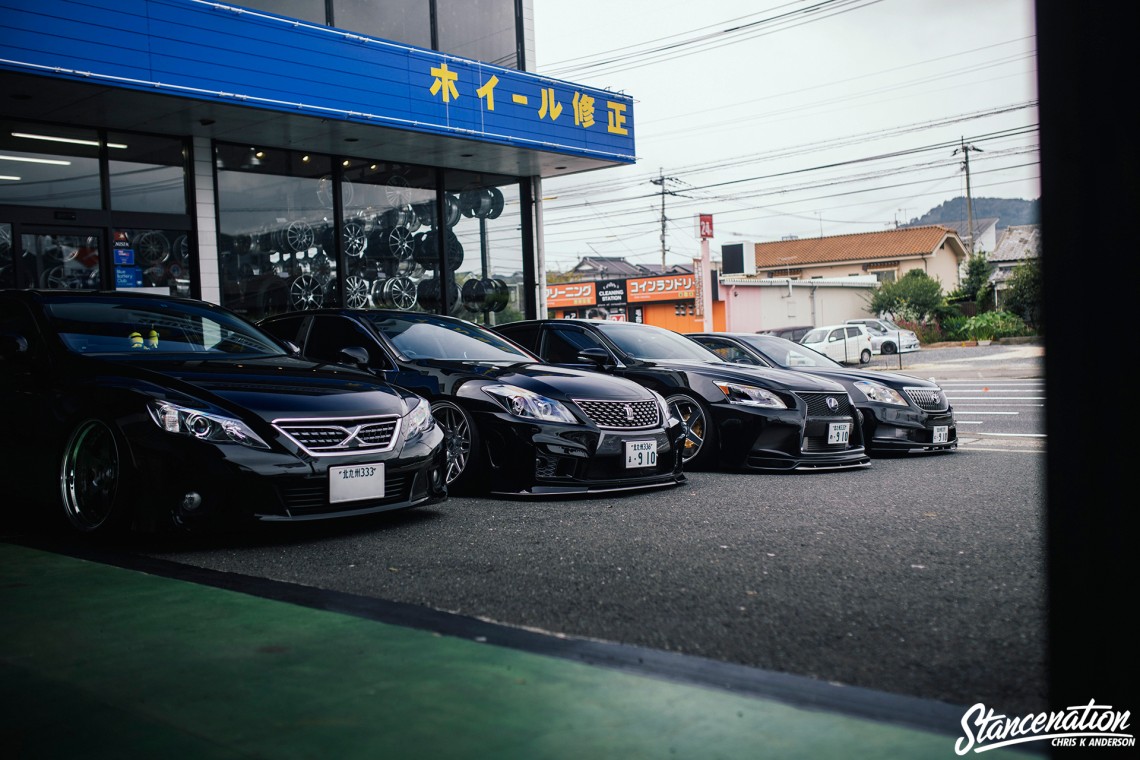 Arriving to Cockpit910, I was greeted by Kenichirou and the shop manager washing off a 180sx they had picked up for free haha. The plans are for it to become a drift car, along with his S14 he also has sitting across the street from the shop. It comes as no surprise since his roots in cars came first from drifting the local mountains at an early age.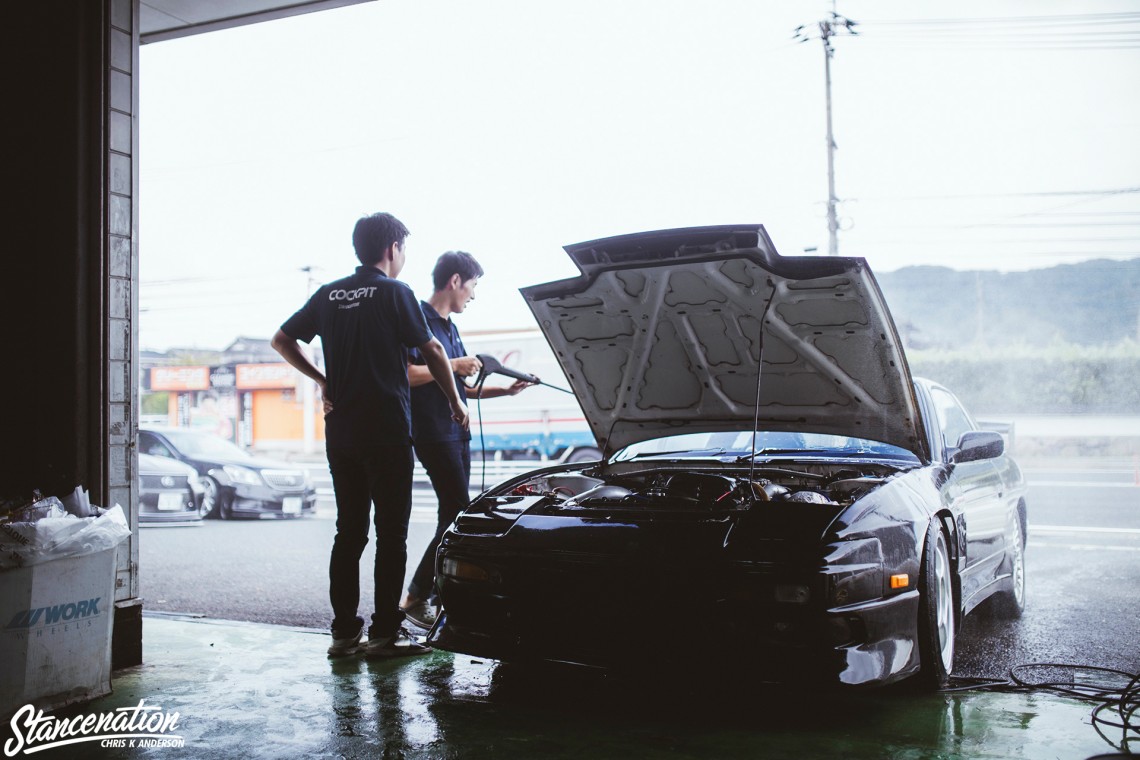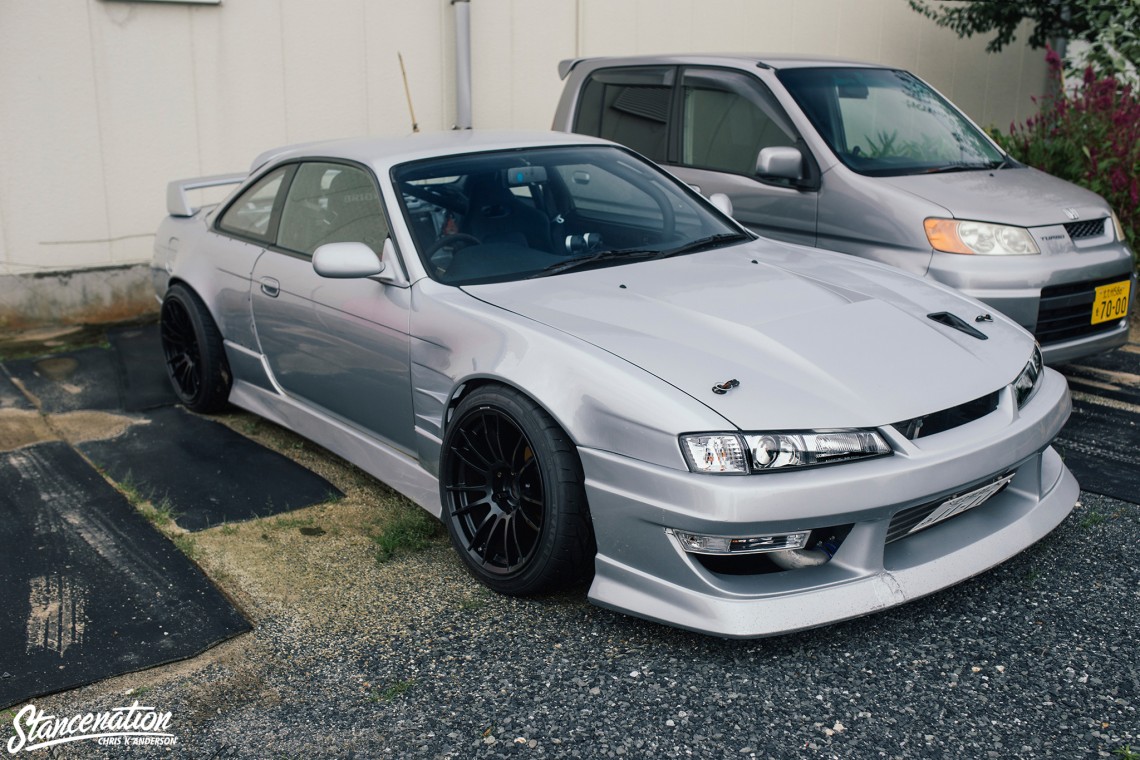 Who doesn't love walls of wheels. Stepping into the shop, it's what the eyes immediately gravitate to. It's nice to just walk around and admire them all. I especially love the Aimgain G2Ms.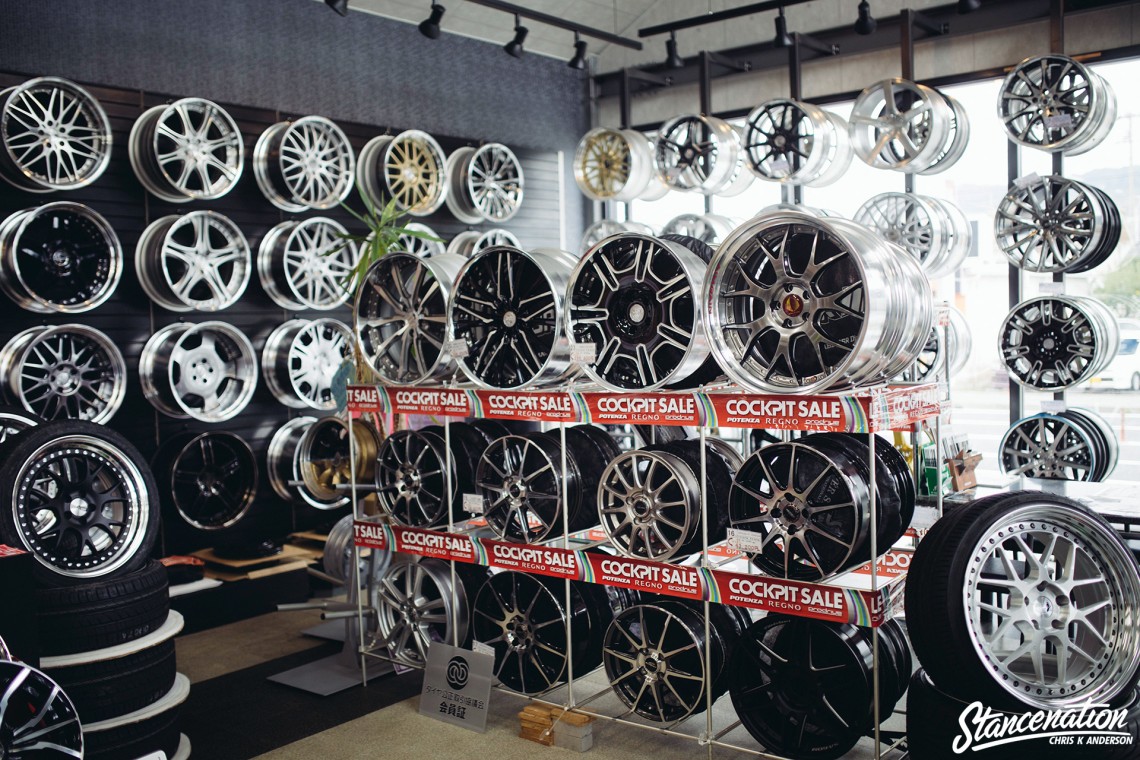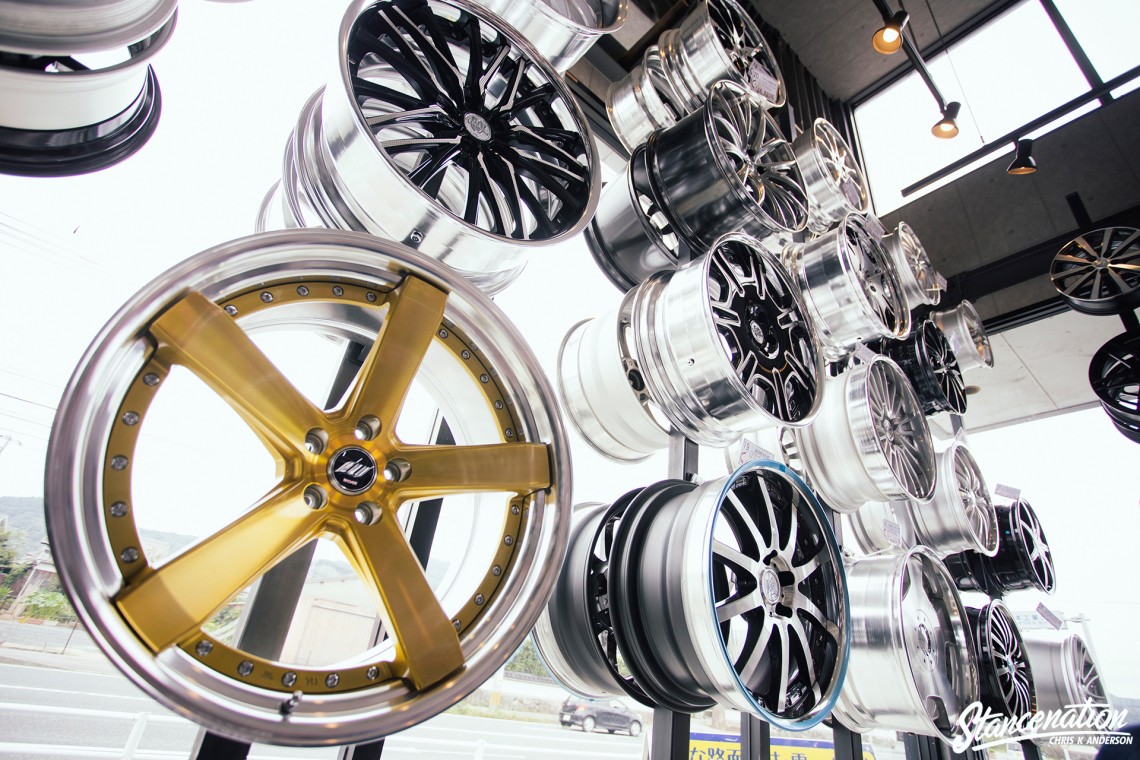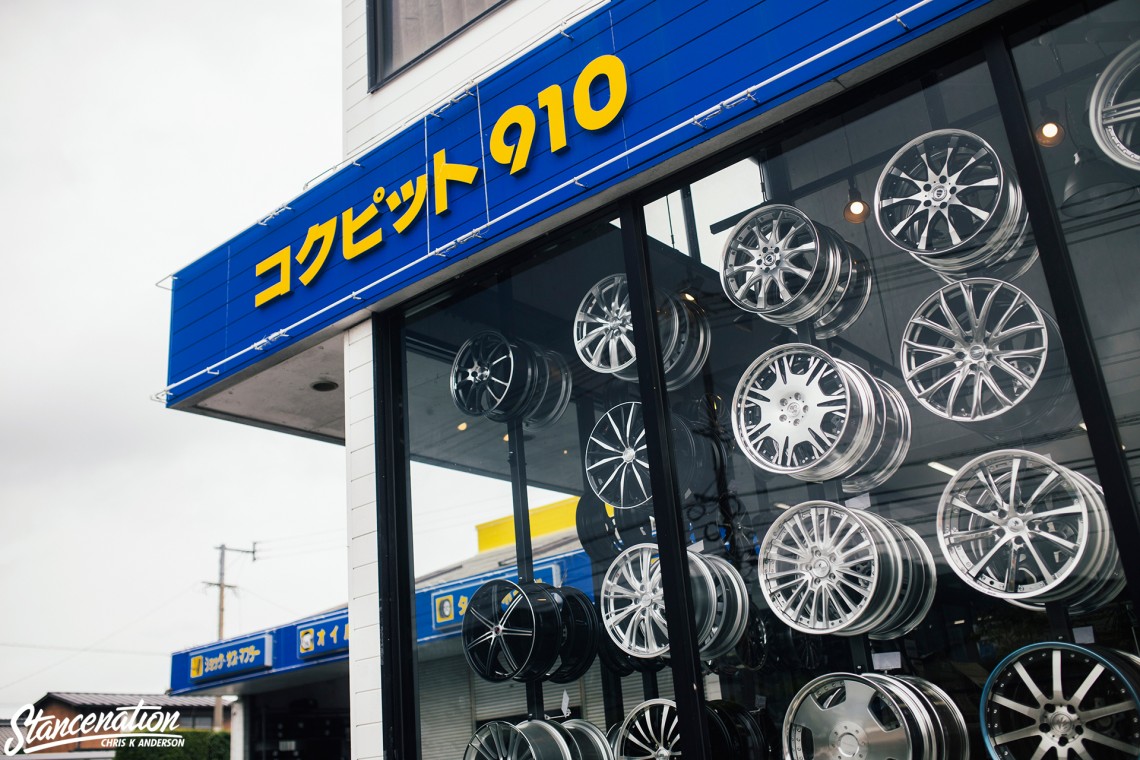 With severe storms postponing my visit, most of his customers had packed and gone home with their new facelifts and other goodies before I could get in on the 910 action. Despite this, it was still neat to explore and climb around the shop in peace.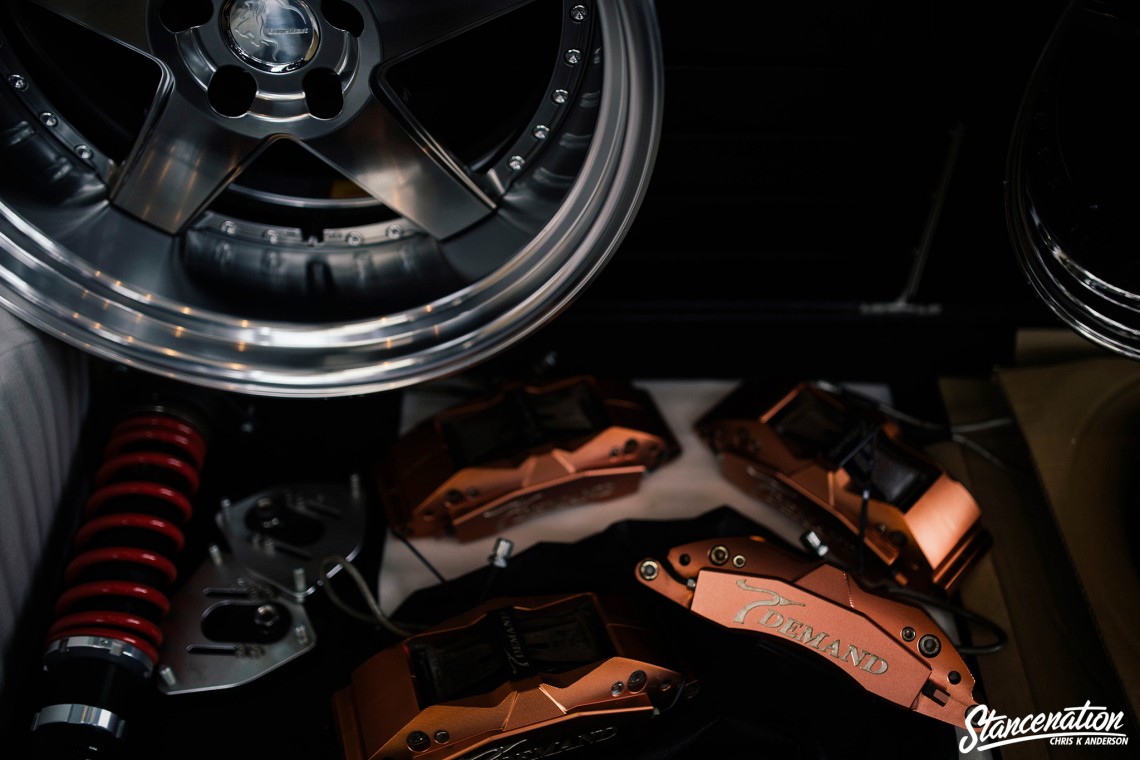 T-Demand brakes waiting for its turn.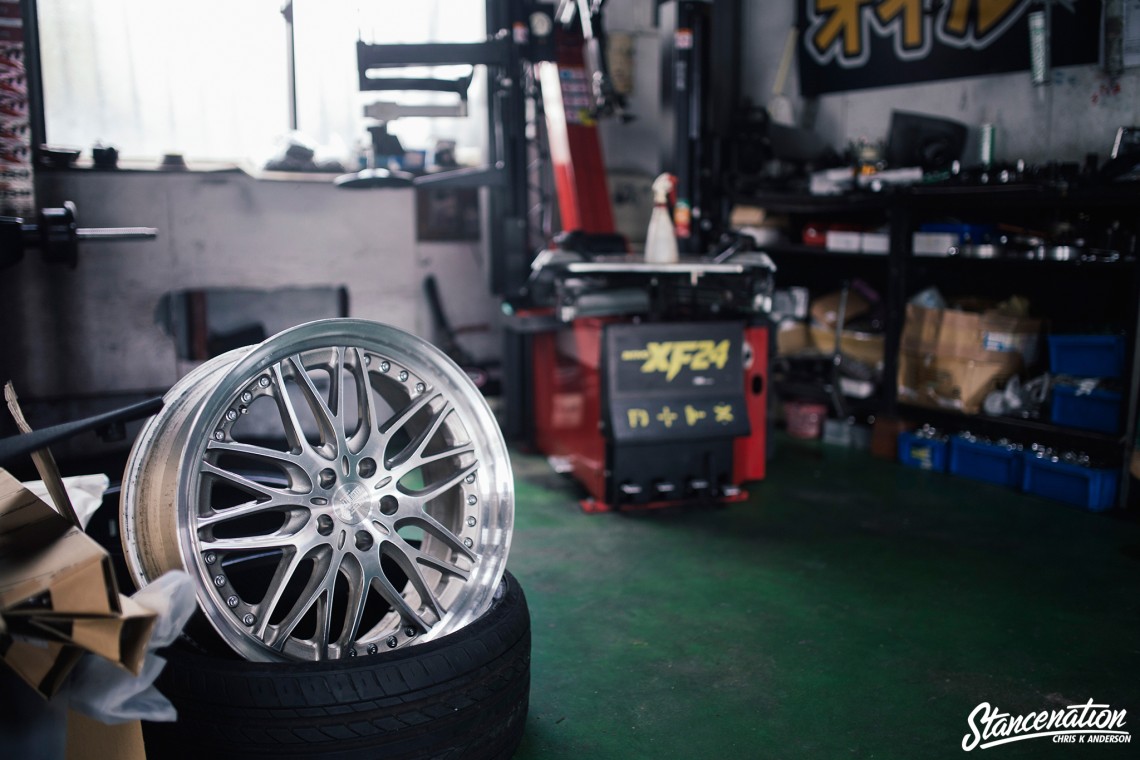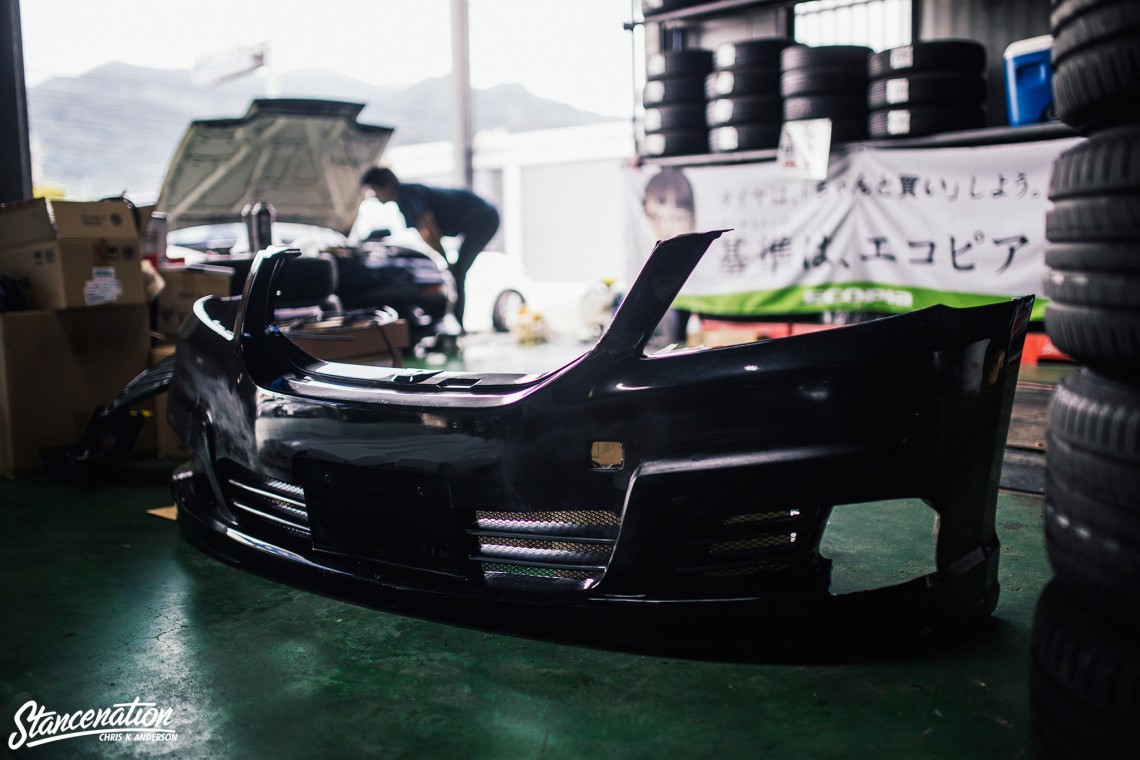 Bumper being prepped on. Kenichirou designs each aero part by hand drawing, unique to the customer, and has the design sent out. So while it can take a little longer from start to finish, the old school aspect of the process is really admirable. Though, sometimes, you have to welcome growth with open arms. Kenichirou has recently started producing aero parts which you will soon be able to order off StanceNation Parts.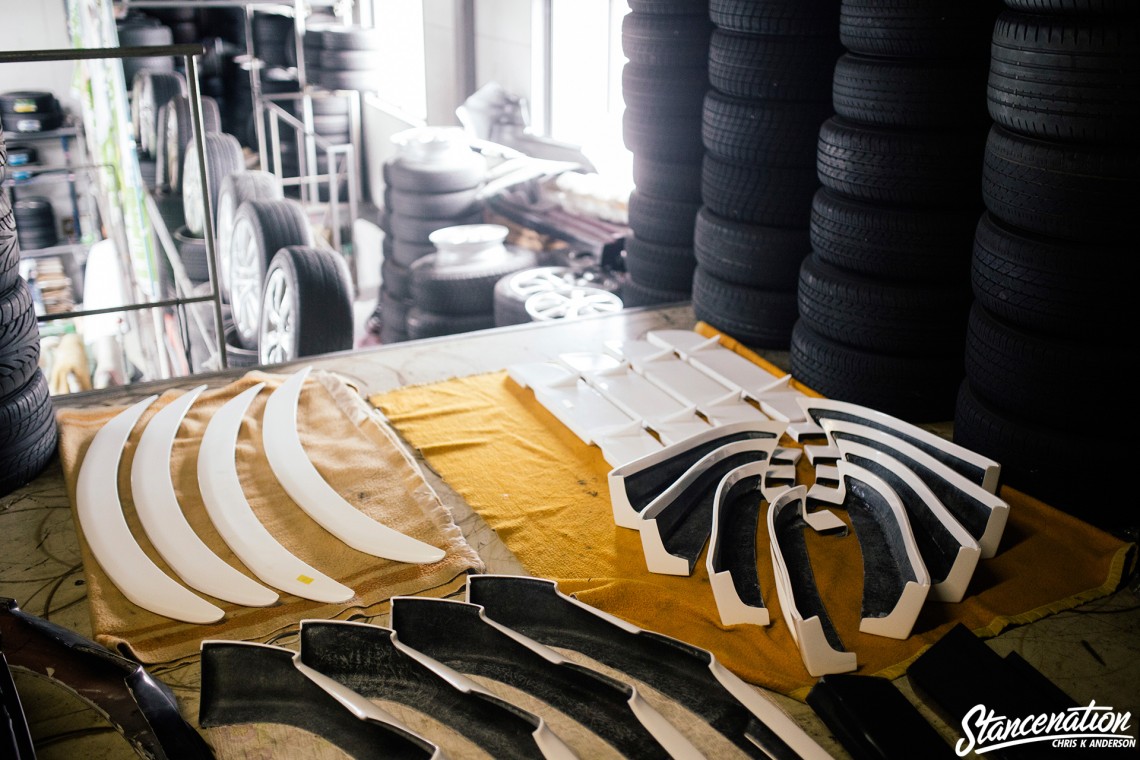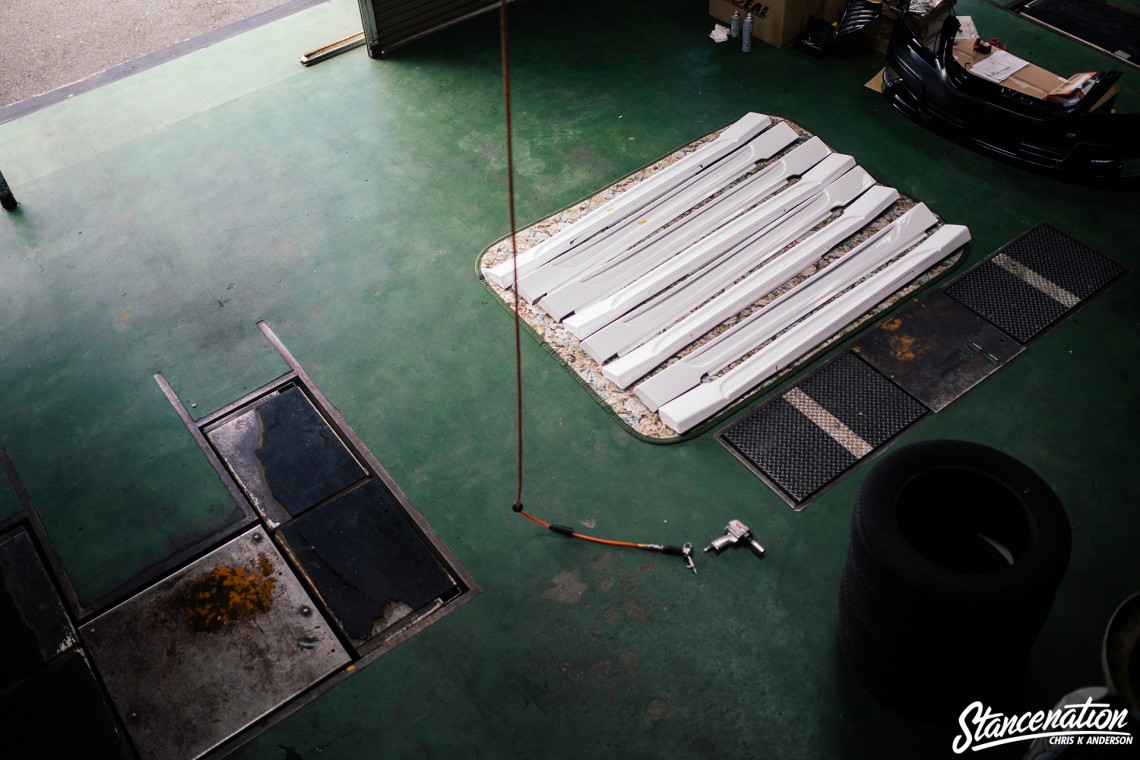 Cockpit910's debut aero product line for the V37 Skyline, otherwise known as the Infiniti Q50.. Hopefully we'll get some proper photos of a V37 sporting these soon!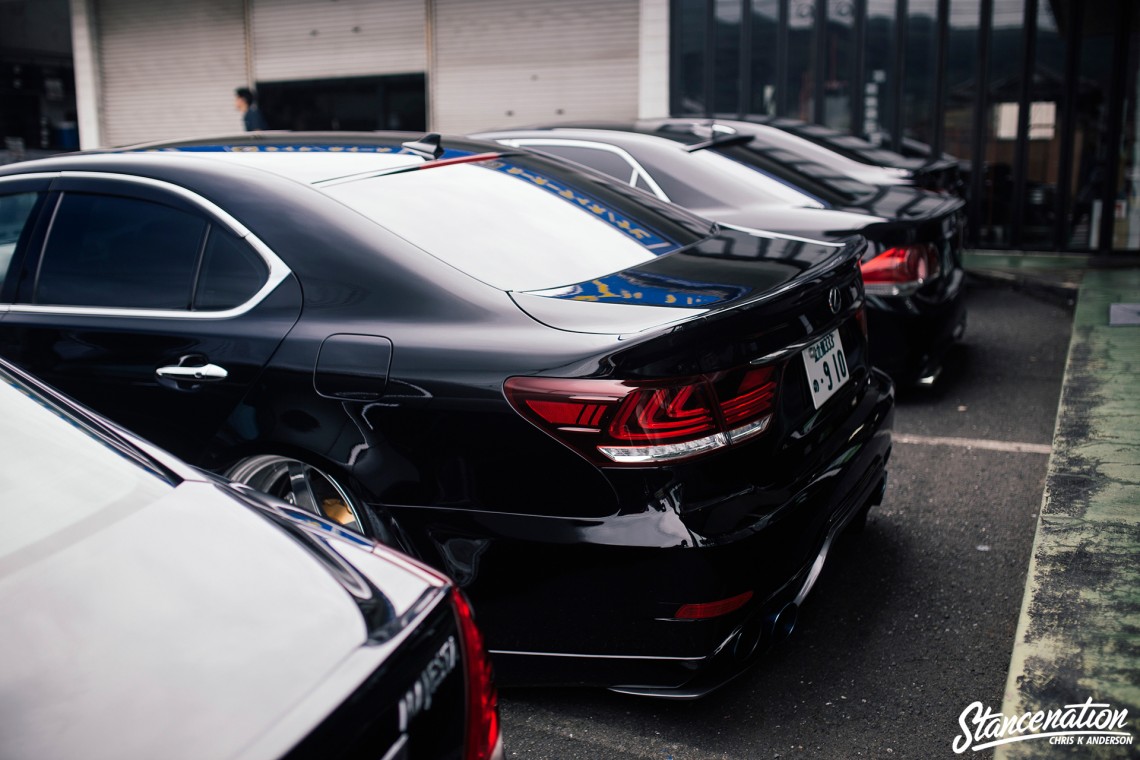 After coming back from lunch break we started gearing up for a trip to the local mountains. No.. not to drift (though Kenichirou did say "next time ;-)" ) , but for a little reunion photo shoot with the Cockpit910 flagship. The Lexus LS460. It's time for the run down!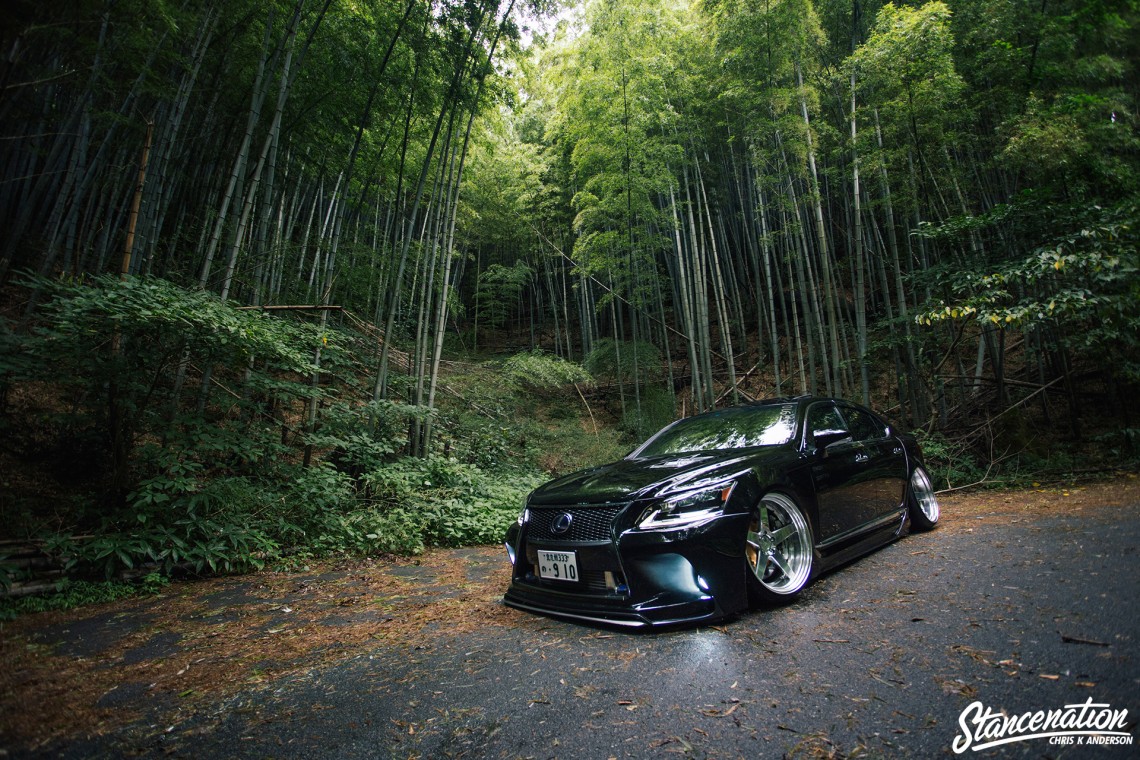 Welcome the new face on the block. While I do keep up with Kenichirou's progresses on Facebook, it's really something else to be able to see the VIP monster in person. If you remember the article we did of this, 2 years ago, you'll notice many changes right away such as the wheels, as if that's a surprise, and grille. A lot of this transformation can be attributed to an amalgamation of small and subtle details, however. The new custom bumper overall in comparison is simpler and smoother throughout, but still retains the 'in your face' energy with its refined lip and large-vent with custom single fogs. Up top I was quite happy to see that the MASA Motorsports bonnet ducts were kept. On paper it would probably seem odd to see on a modern VIP sedan, but it works great, I think.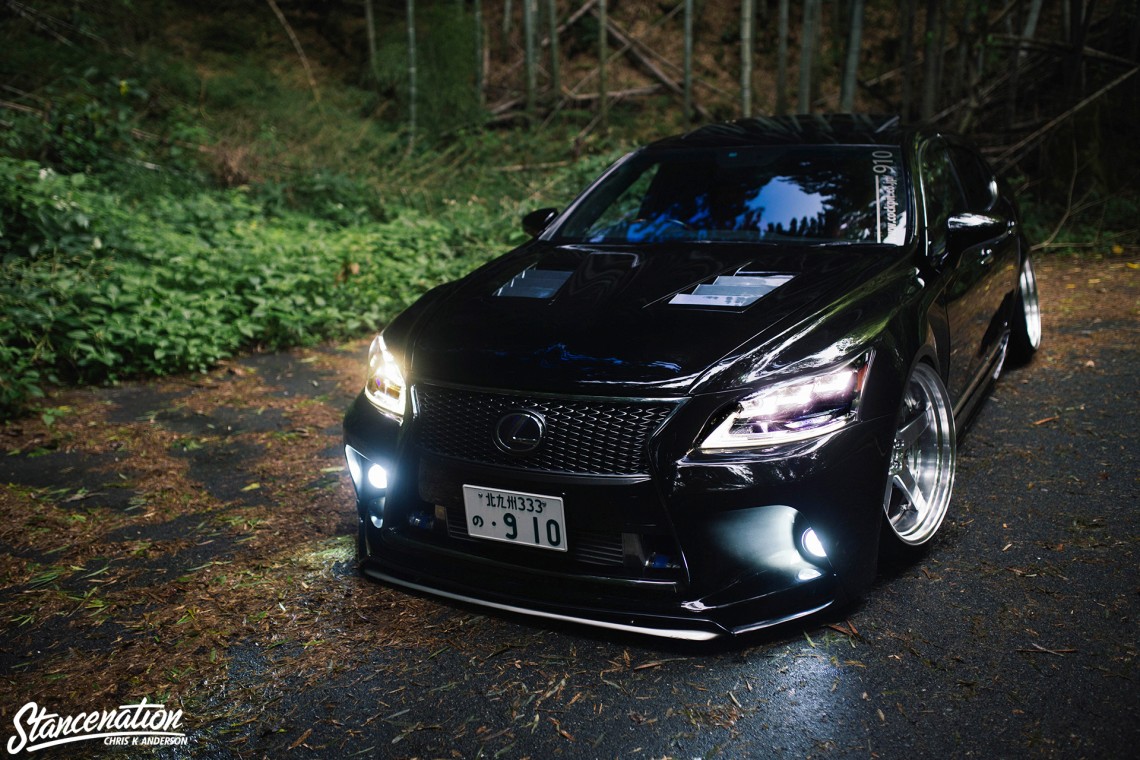 It was only natural for Kenichirou to go with the new F-sport spindle grille design to add to the sophisticated GT look. Also gone are the triple lamp headlights that just weren't cutting it. Transplanted in its place are custom housed Lexus NX premium headlights, really topping off the aggressive transformation of the face. Nice little touch with the illuminated 'Lexus' logo plate added in the housing.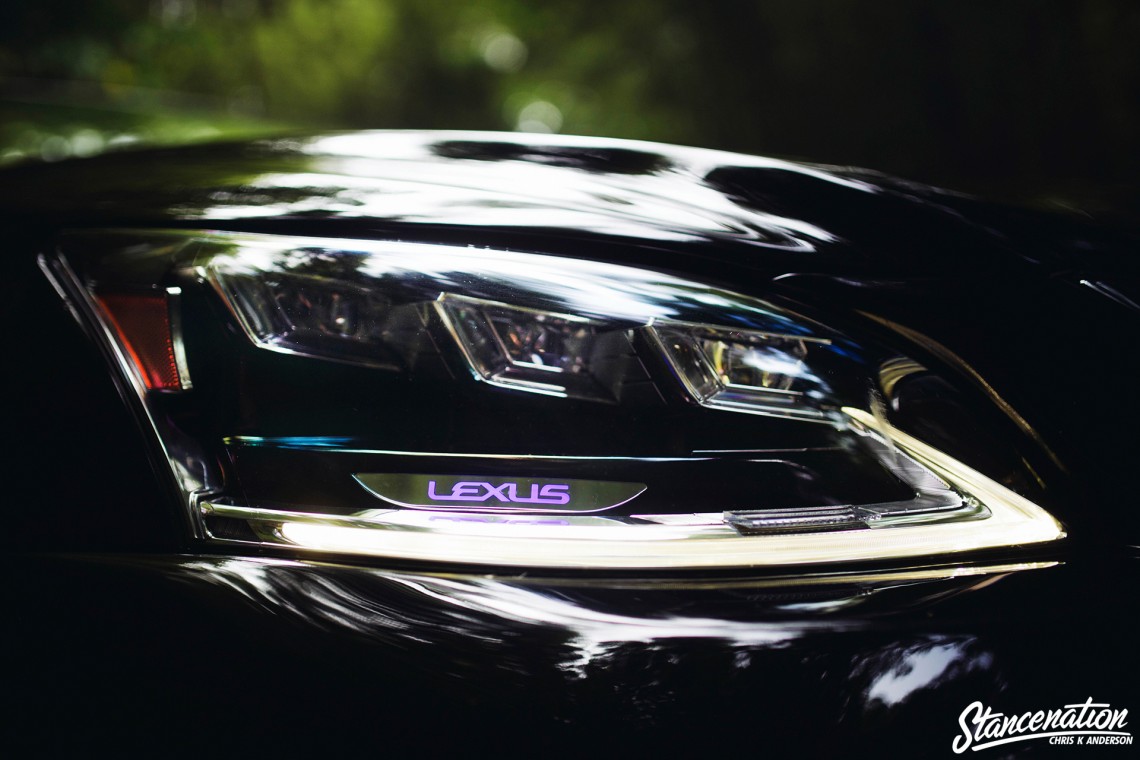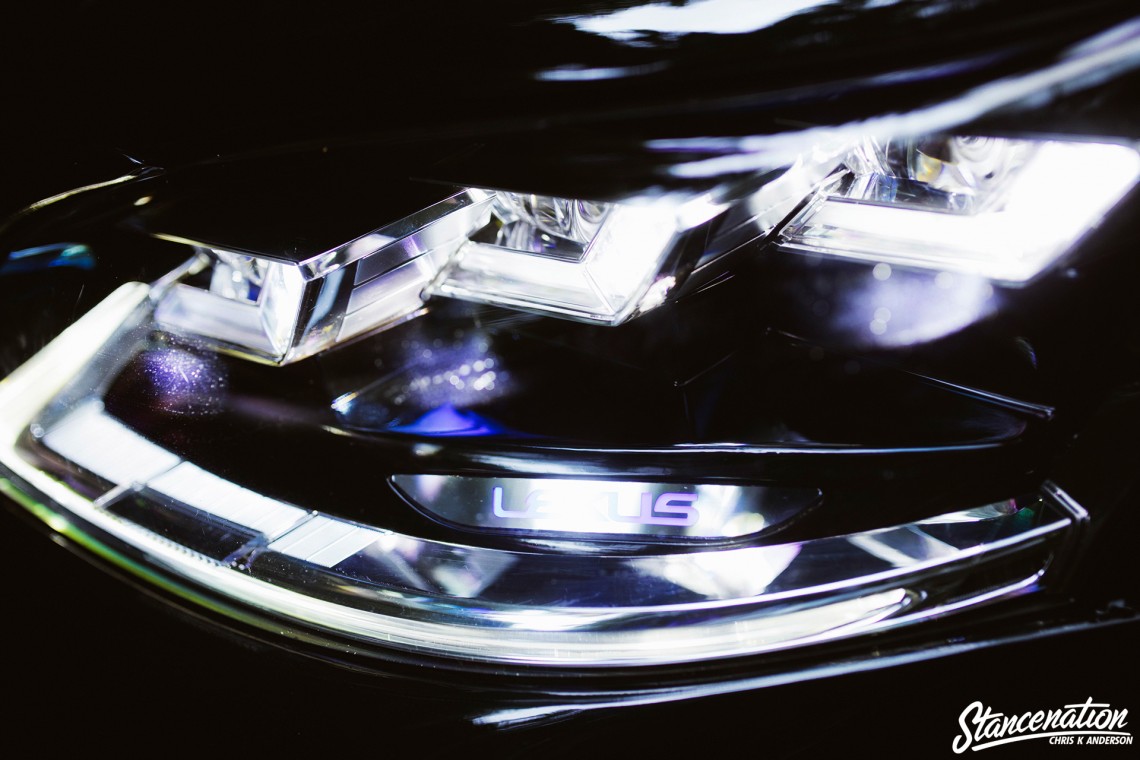 Going back to subtlety, taking a look at the fogs a little closer reveals just that. Kenichirou powder coated a gray gradient out from the bulb in order to give appearance to a greatly illuminated vent.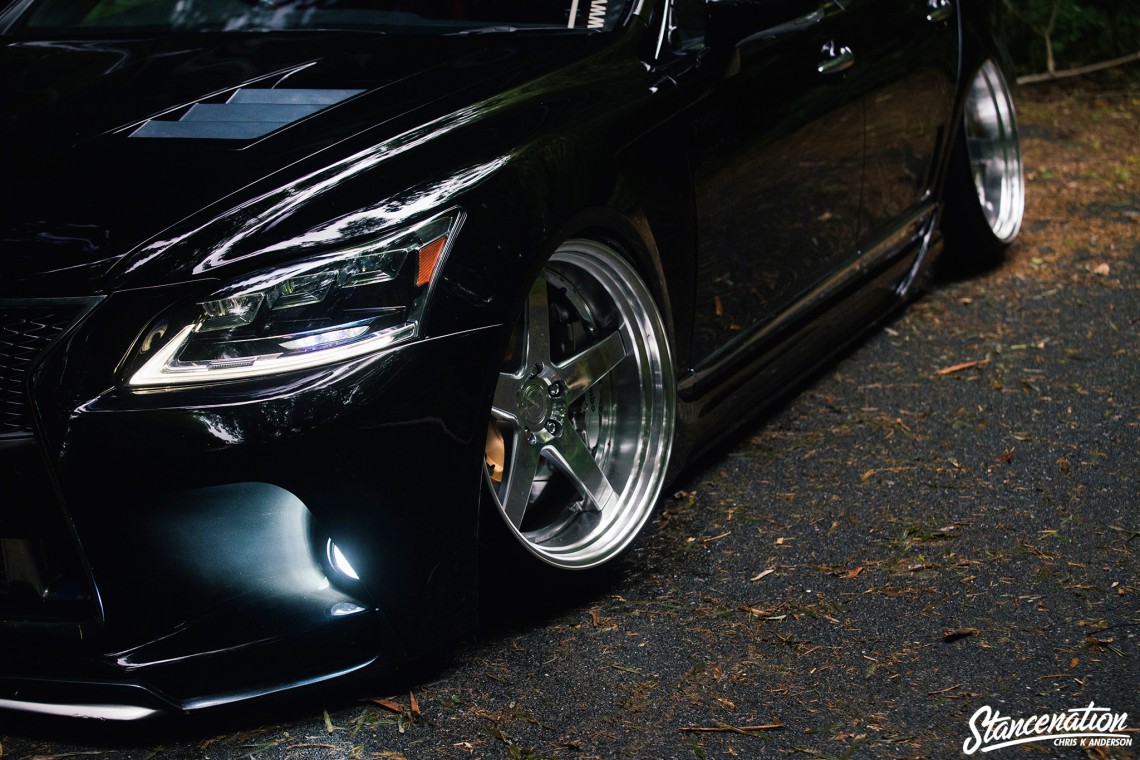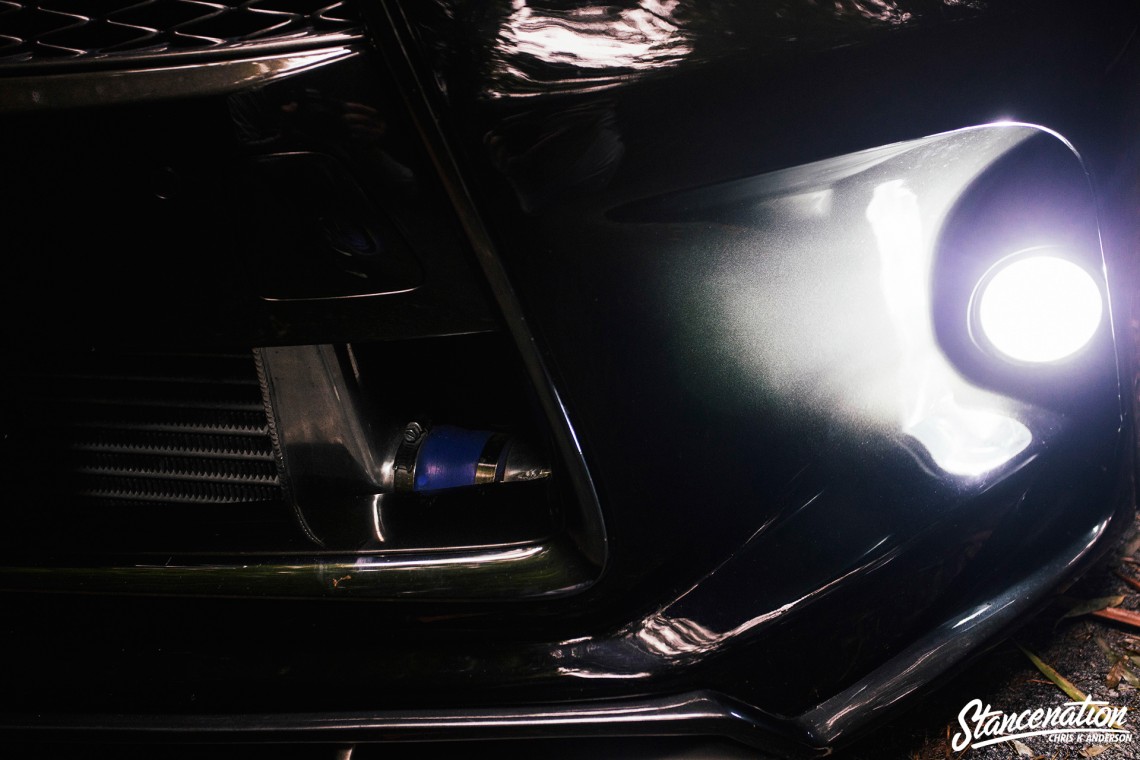 At one point last year the big body LS was rolling on SSR Executors, however it looks like he can't resist that bold 5-spoke design! Who can blame him though, it's a great choice for those looking to maintain a sporty image. This time around he's returned with a brilliant set of Work Gnosis FCV03's. Choice at the front is 21×10.5 and rear at 21×11. Peeking behind the spokes are 8 Piston and 6 Piston Brembos providing some stopping power.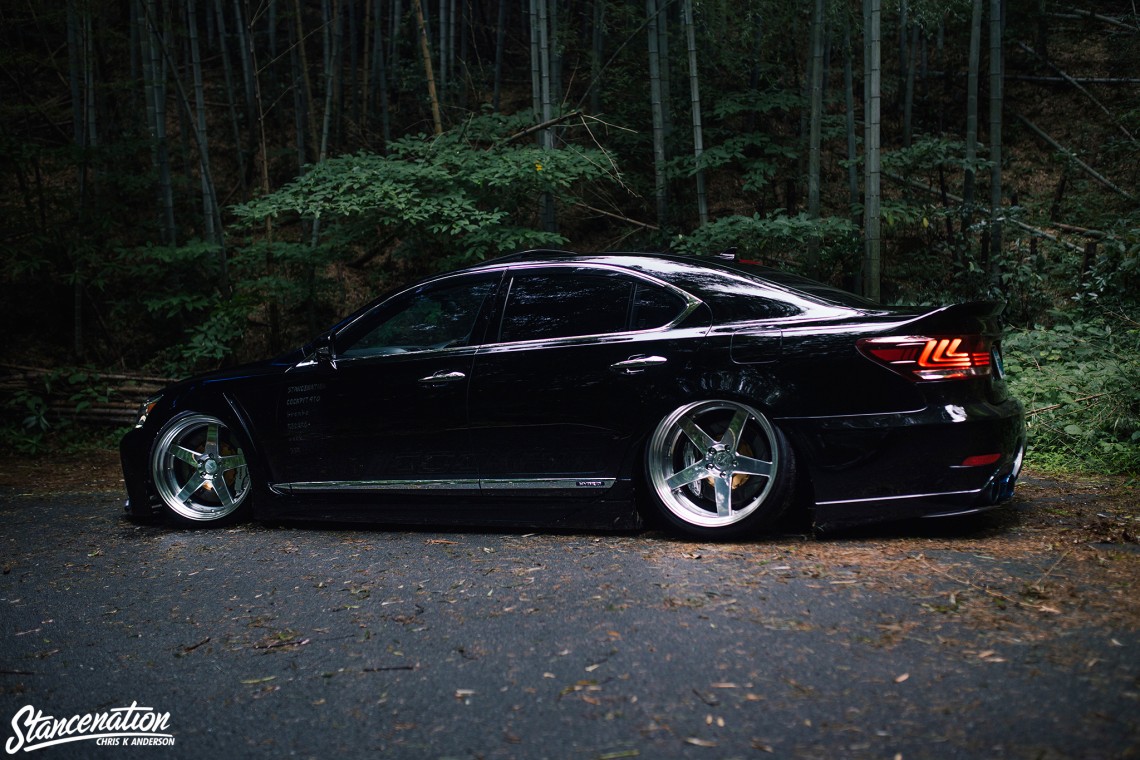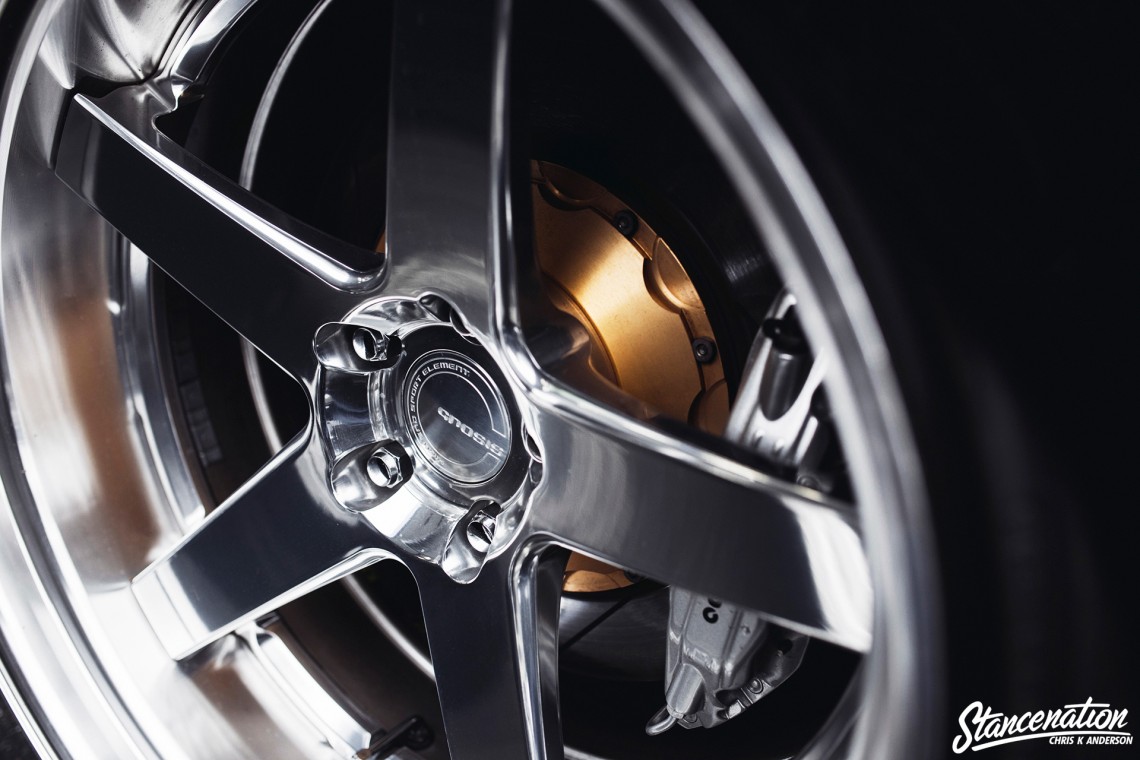 To allow comfortable living space for the wheels, Kenichirou decided to go with blended over fenders. Front with an added 15mm and fender duct with the same gray paint gradient, as seen with the fogs, and rear with 35mm of extra space. Both raised 15mm.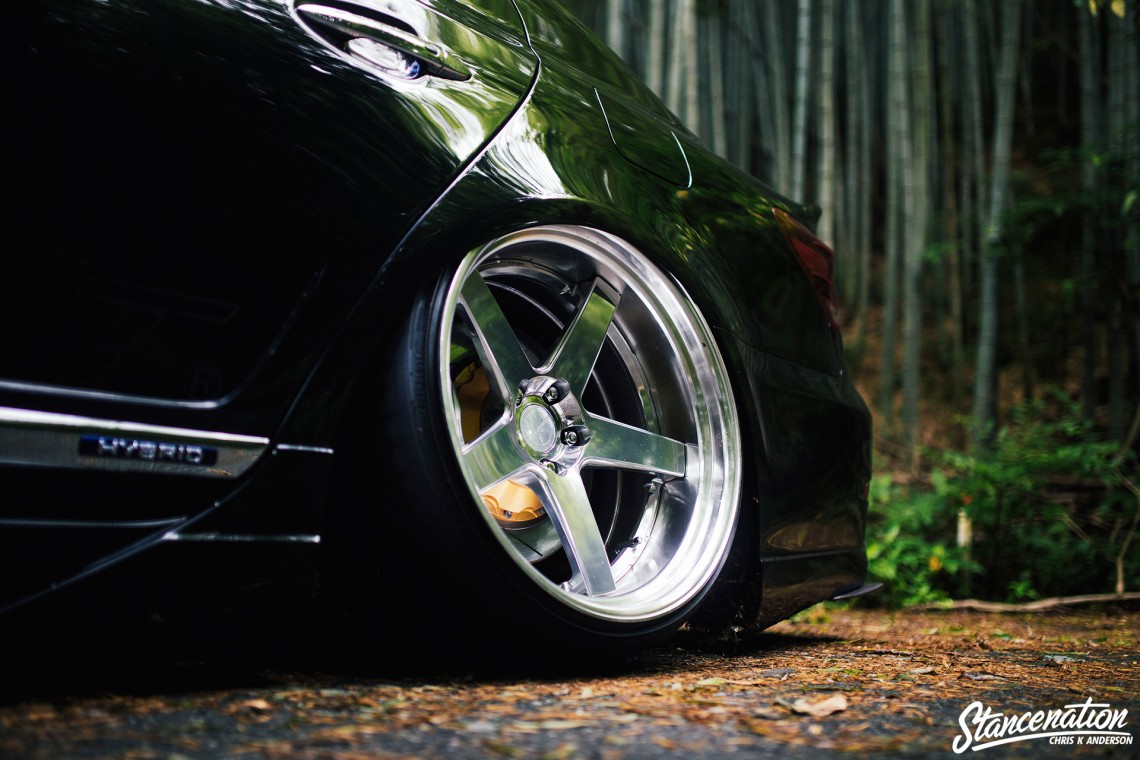 Along with the slew of custom suspension parts keeping the VIP beast grounded is a custom air suspension set up as well as a YouZealand SS Kit. At the rear are T-Demand upper arms as well as Nagisa Auto goodies. When it's said and done, we're at 6 degrees of camber up front and 8 in the back when it's laying on the ground.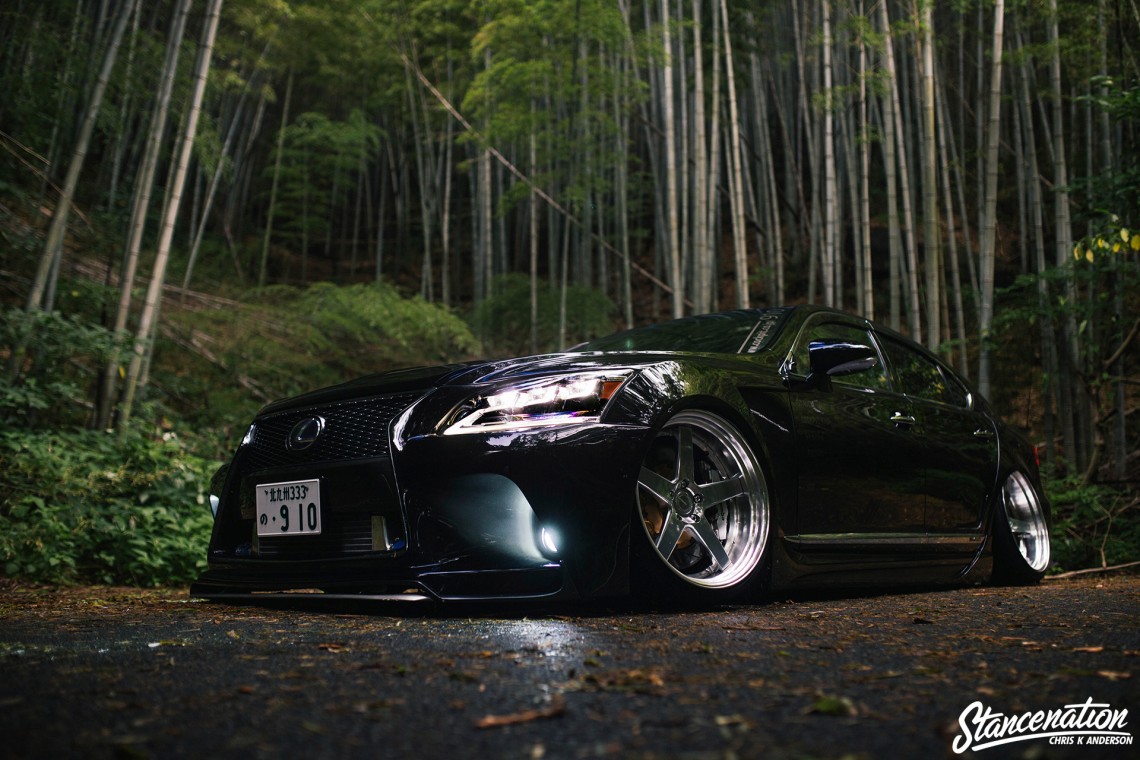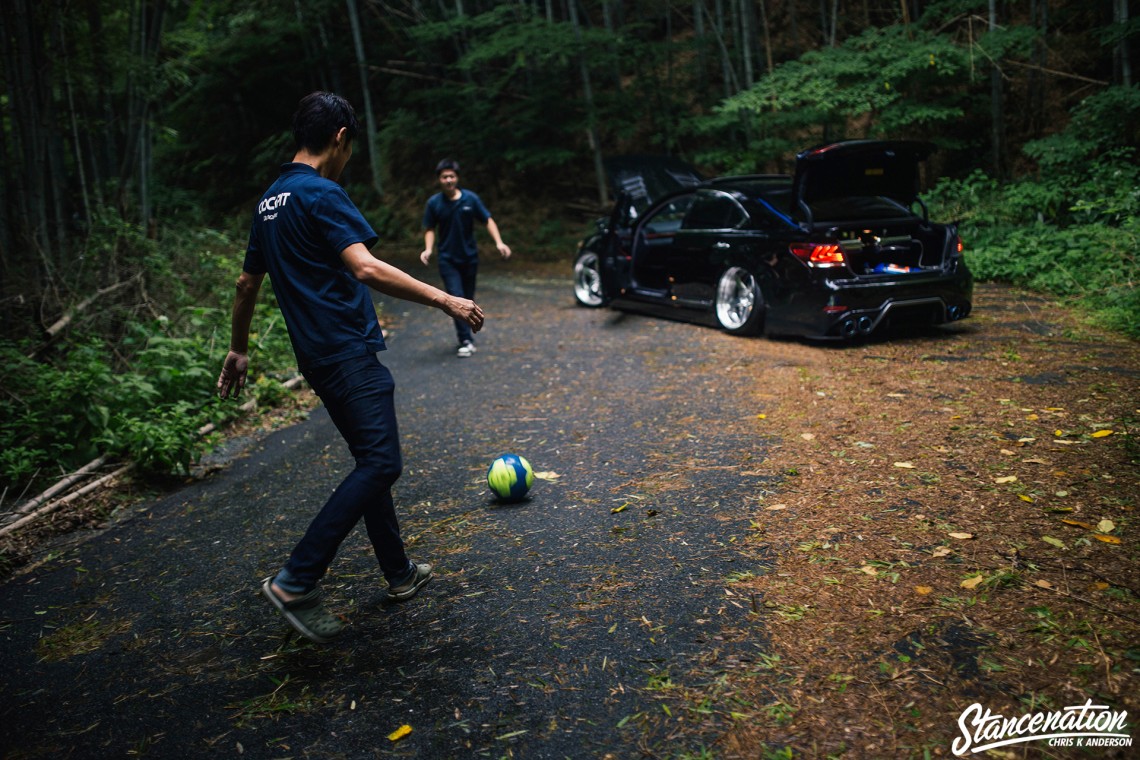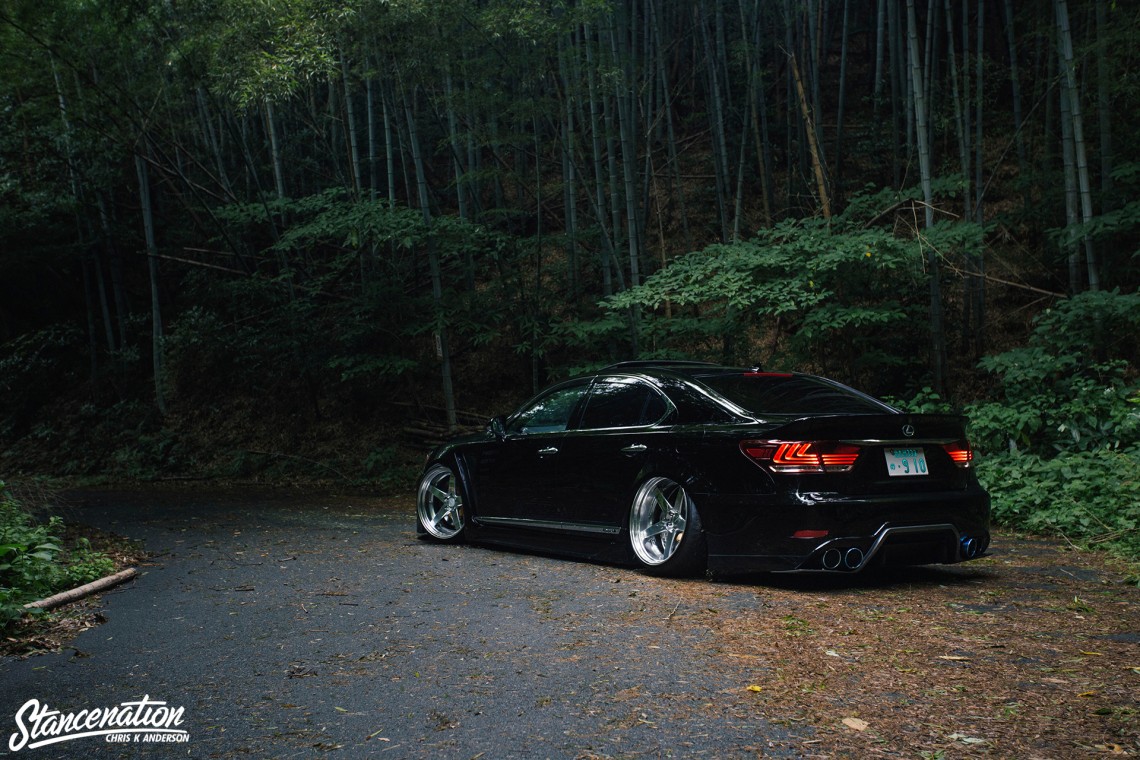 Side and rear are also cockpit910 one-off aeros. It's always interesting to see other takes on custom rear bumpers and diffusers, some are kept simple, some extravagant with dazzling LED's. I think Kenichirou did a fantastic job keeping all the lines clean and organized while still having a very three-dimensional aspect with the almost layer like configuration. Peeking out of the GT style bumper are one-off titanium exhaust tips.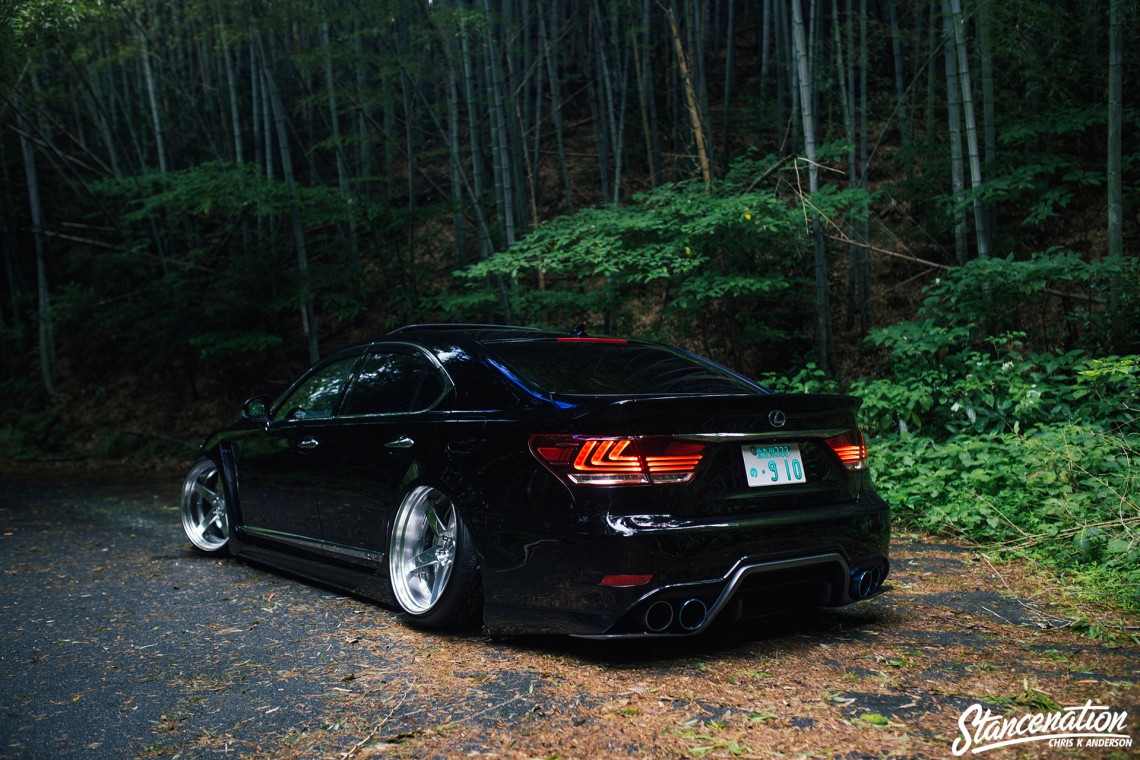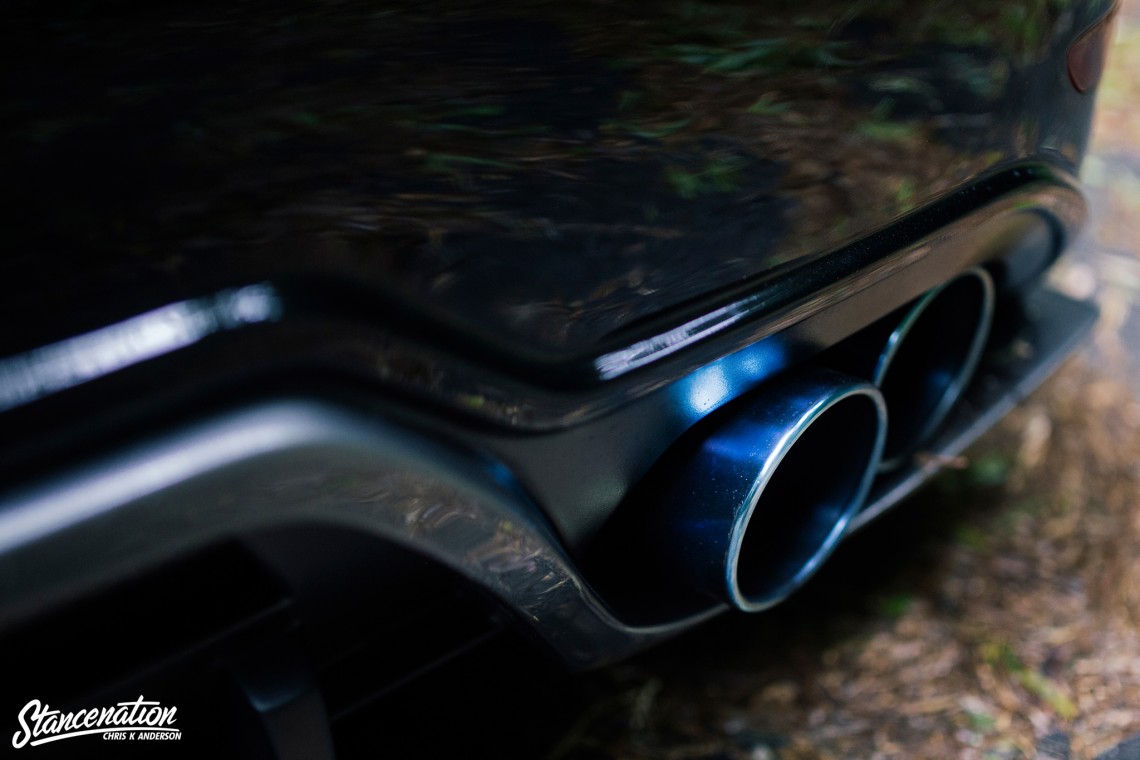 As with any VIP car, the interior rarely goes untouched. From factory the LS interior already exudes luxury, so changes were relatively tame. Giving a little life to the interior are red alcantara accents around the center console, doors, and custom "Cockpit" stitched semi-bucket Recaro seats. Who said 'sporty' had to stop at the outside!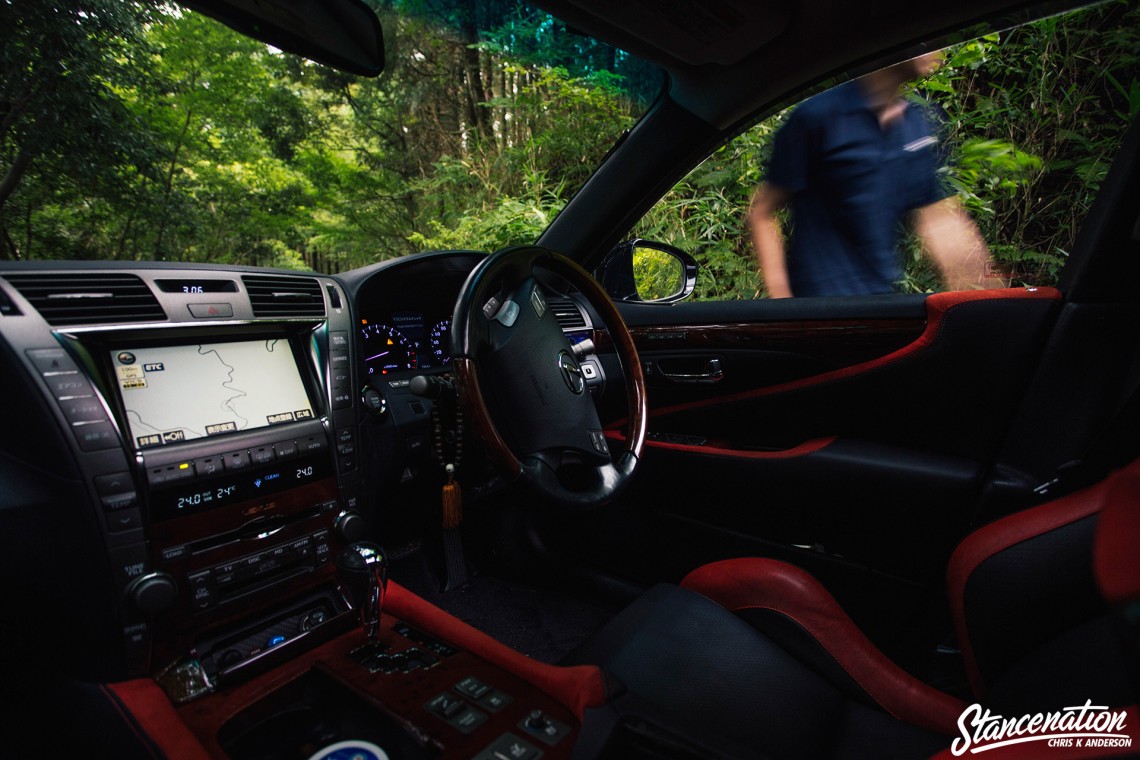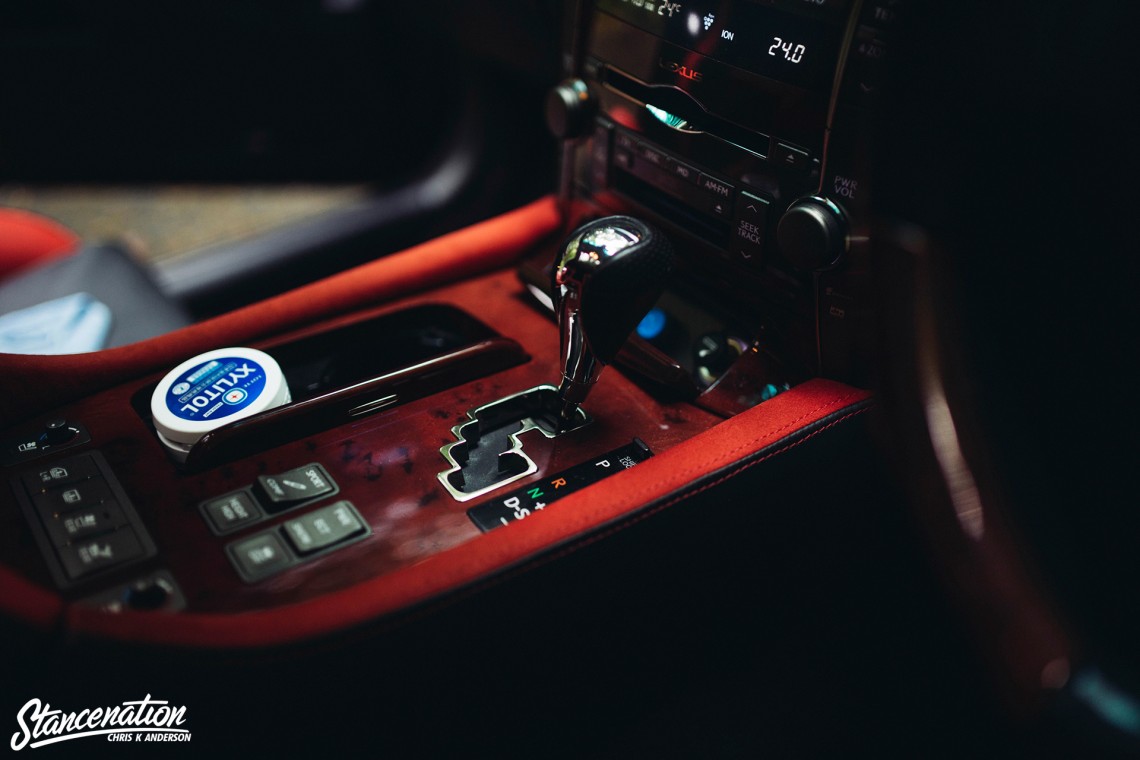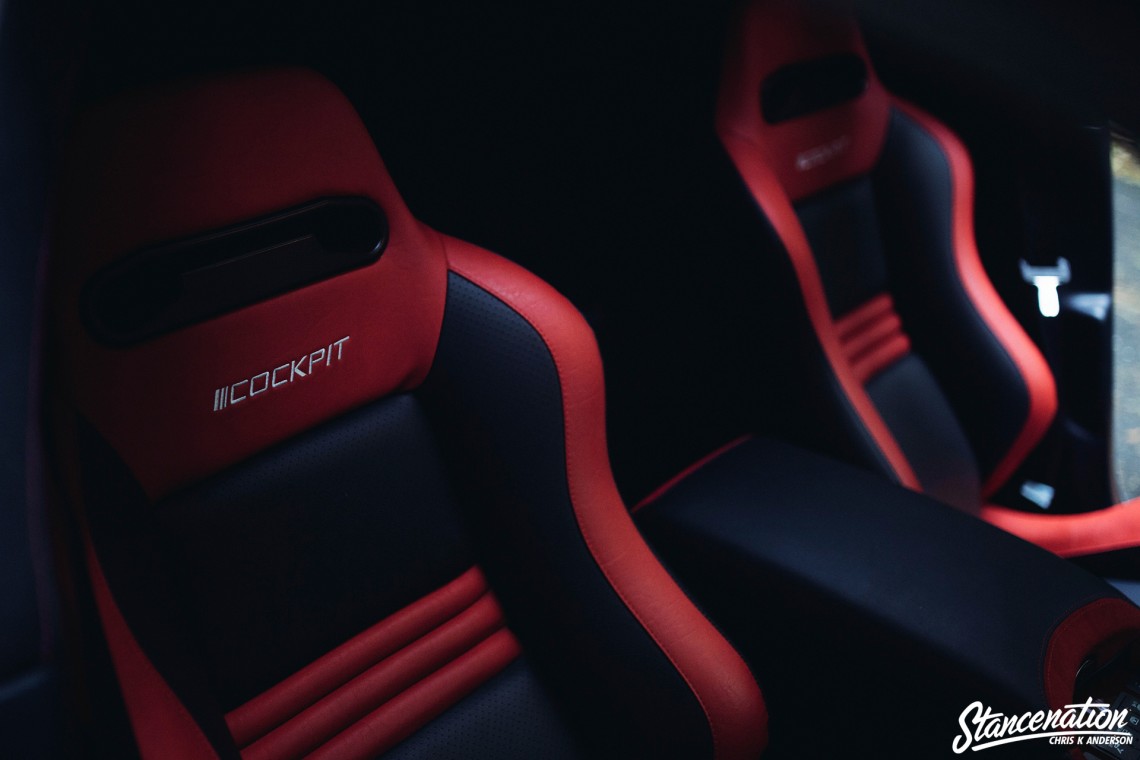 But wait… hold on, what do these buttons do..?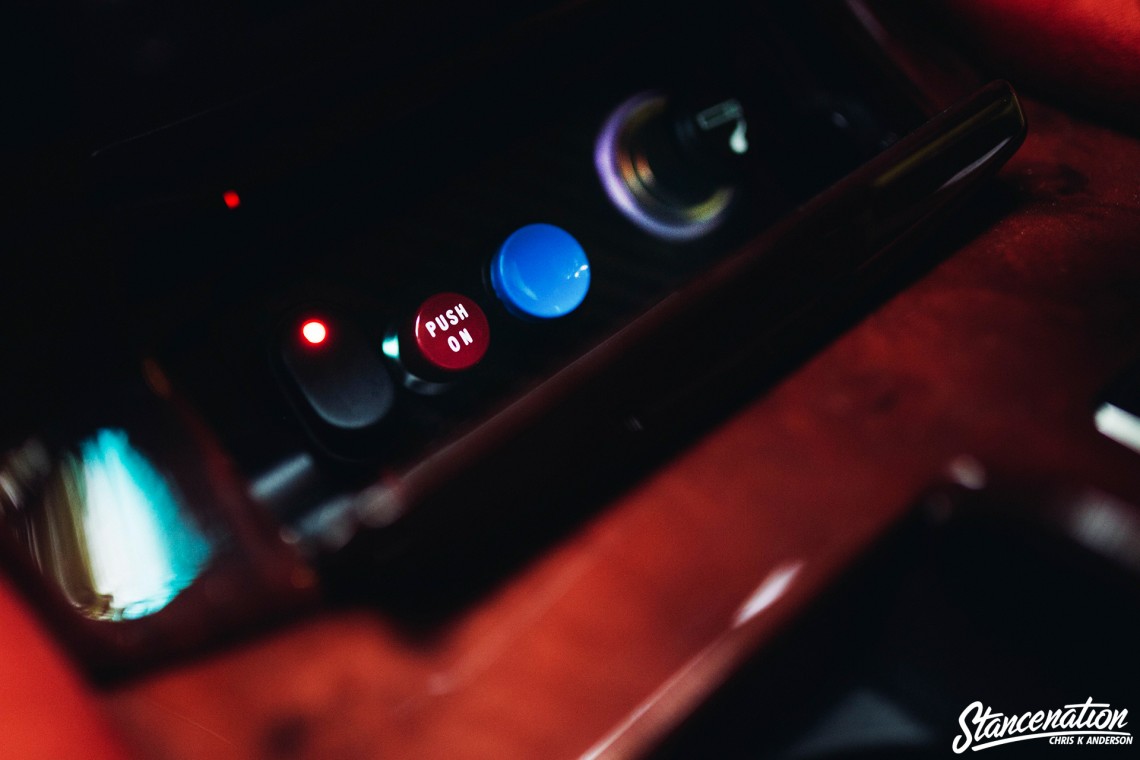 Yup, new to the family is a Nitrous system hooked up to his already HKS Supercharged 1UR V8. Kenichirou has told me he produces over 500HP at this point.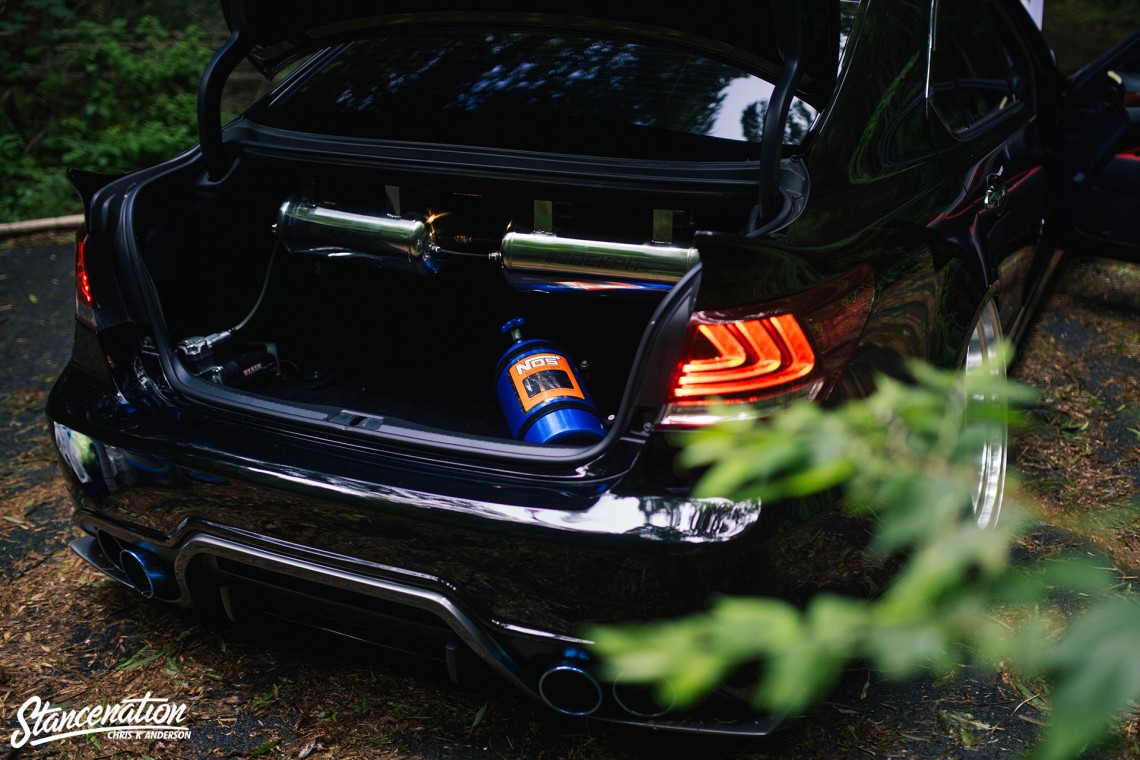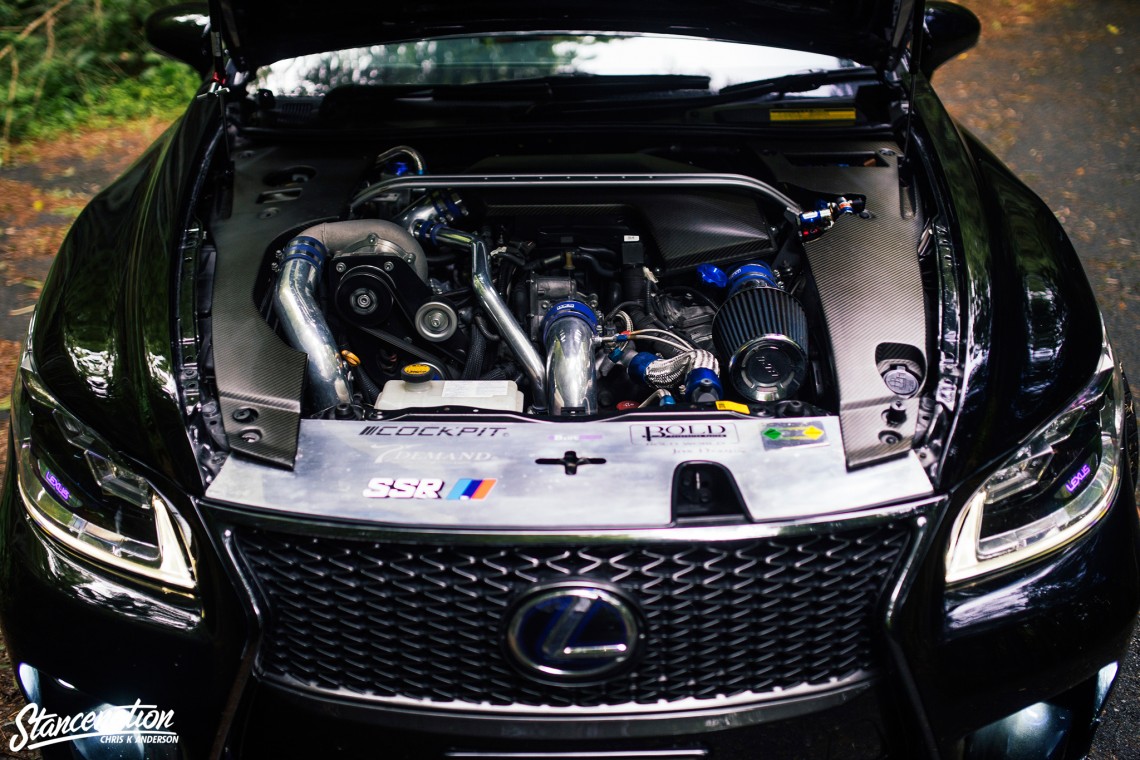 I felt this was worthy to hold off until the end to remind myself that just when you think you've had the full tour, you're surprised, yet again, by some new addition to the car. I even remember asking – "so… is it actually connected?" and the response..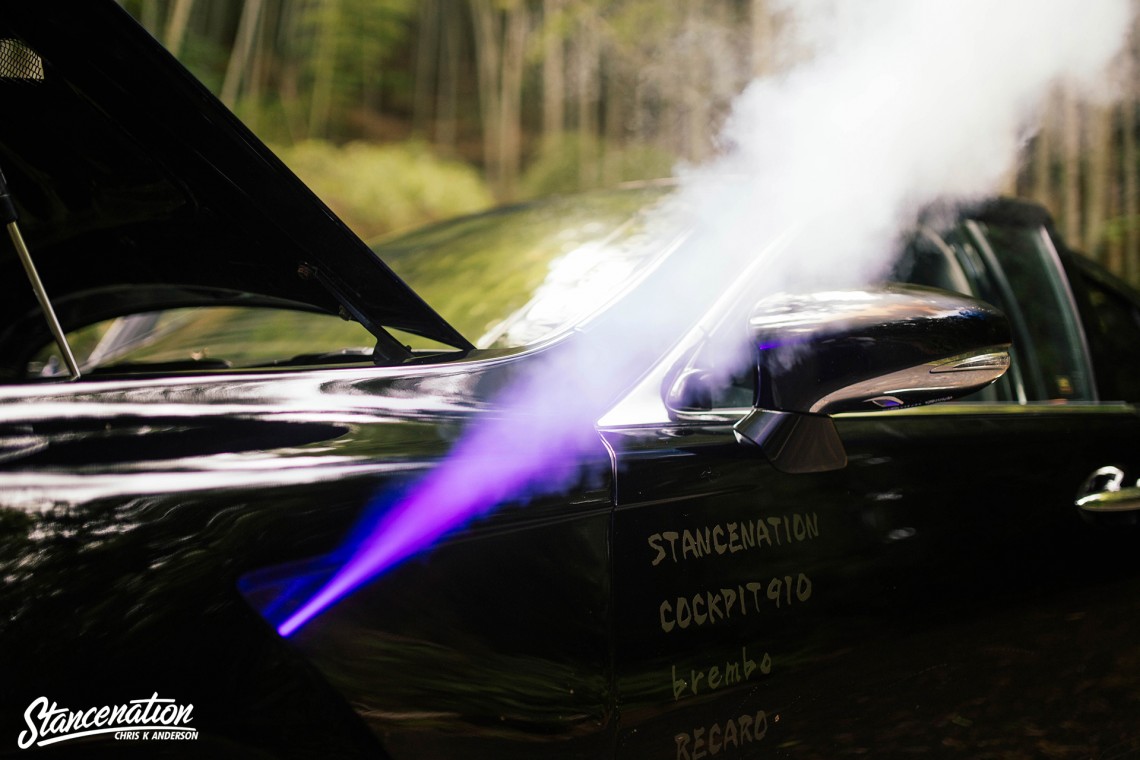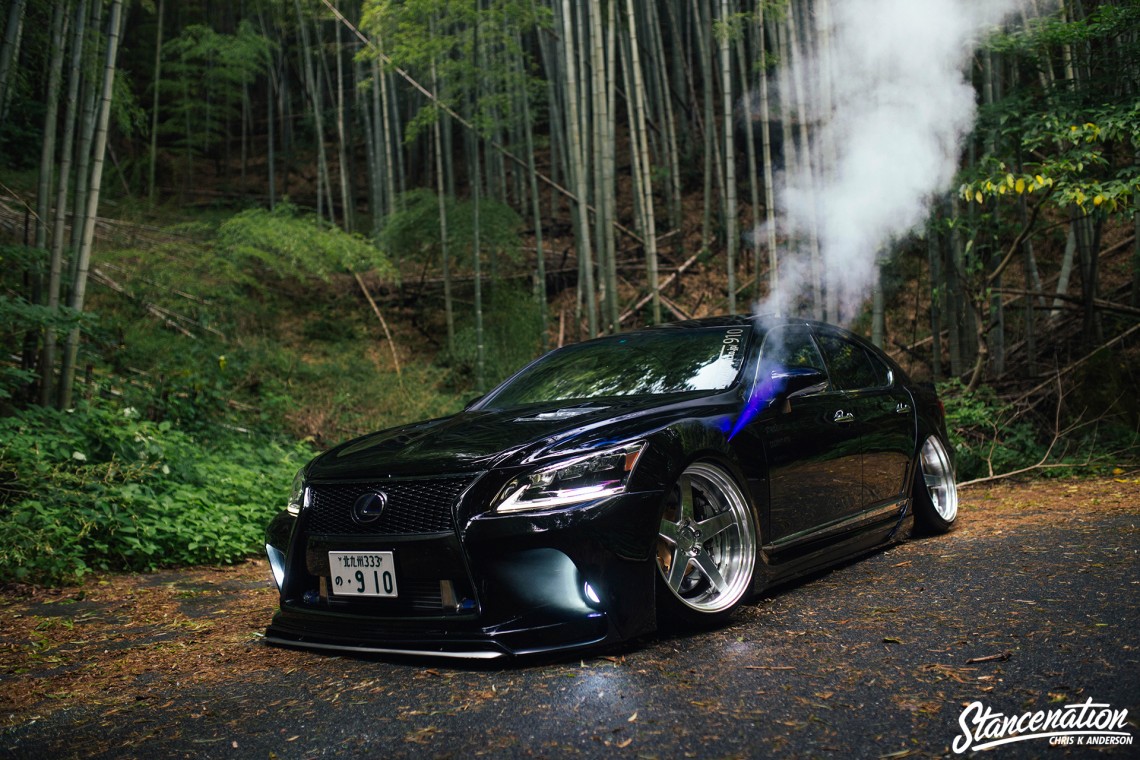 What Kudou-san exhibits with his LS460 is arguably one of the best examples of a GT inspired VIP build, with the classic black color choice and polished wheels that, when shooting in a dark mountain with bamboo trees surrounding us it felt like some kind of mob meeting, but simultaneously its capacity to justify sports inspired or performance features here and there.. that, when combined together, creates an absolute show stopper.