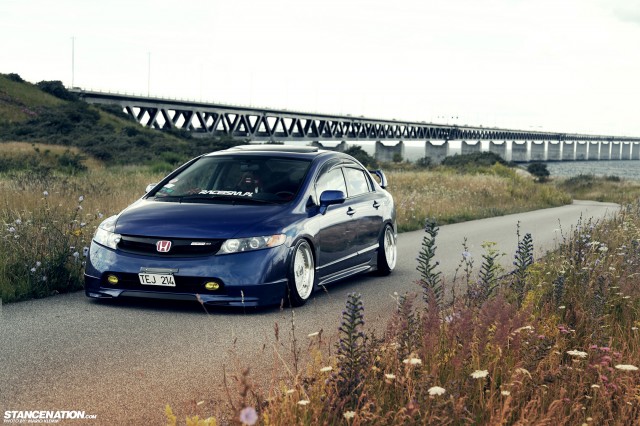 Though everyone has their own reason for modifying their personal car, I'd say that most of us are attracted to rarity and uniqueness. There's always been a higher appreciation for objects that only few could own, or even better, something that is one of a kind. With the way that cars are mass-produced, its not always easy to find that "diamond in the rough", if you know what I mean. This has lead to new levels of customization and some companies  limiting product quantity to help raise value and rarity. So what do you do when you stumble upon a rare diamond, but it doesn't fit the way you'd prefer? You go ring shopping. Jonas has fitted his limited edition Honda Civic Mugen SI with a set of rings that have a reputation for shining beautifully. Click on the photos below for higher resolution.
Photos By: Mario Klemm exclusively for StanceNation.com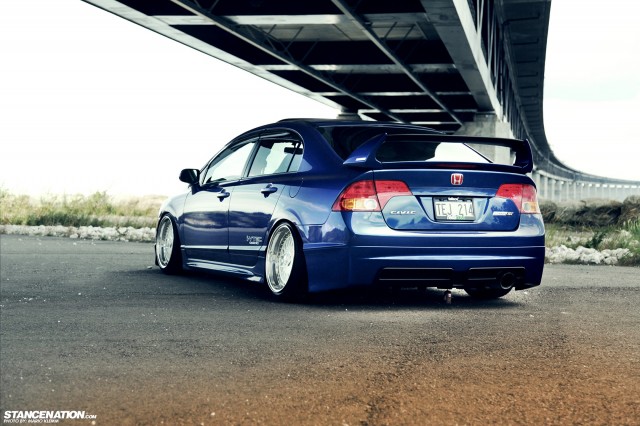 Most would agree that although Civics tend to have a pretty bad rep nowadays, they still deserve respect. With its simple design, reliability and reasonable price, the Honda Civic was the gateway car into auto tuning for many enthusiast. This was true to Jonas as well. His first car was a 2004 Civic Type R rolling on gold Daytona race rims. He also added a Seibon wing and Mugen seats, lip and grill. Although he loved his Civic, he felt the need for something bigger and more comfortable. So he upgraded to a 2007 Lexus Is250 and focused more on making a stylish DD. After adding BC coilovers a Megan Racing camber kit and 20″ Gold Ultralight wheels, Jonas realized he still wasn't satisfied. After just one year, the Lexus was sold.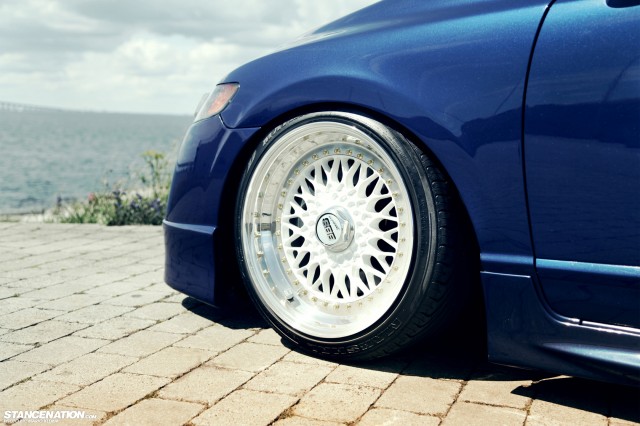 That is when he began his search for something more sporty. Although his original hope was an Evo X, something else caught his eye. At first Jonas didn't believe what he was reading. He knew that Mugen specialized in Honda aftermarket, he had just never heard of the limited edition model. Jonas had to do some research before he was convinced that this was an actual factory option. Sure enough, this was a genuine Mugen Civic SI numbered 748 of only 1000  that were ever made.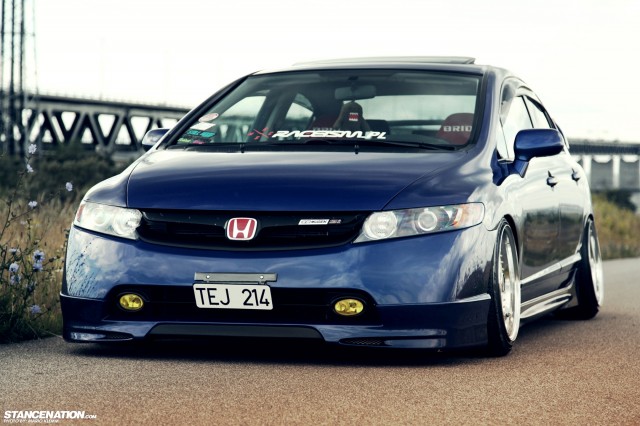 The day that Jonas picked up his new project, he found that his new car didn't have that new car smell, "The seller told me that he [hadn't ever] cleaned the car" so that is where Jonas started. After the first wash Jonas realized it was going to take a bit of work to return the car to factory condition so his original plan was to focus on restoring the car to factory specs, but that changed quickly. Among many other features, the Mugen Civic comes with a Mugen front grill, front spoiler, side skirts, rear bumper diffuser and rear wing. Most of the factory body was left alone other than swapping the front spoiler with a Vis Fusion front lip and adding Mugen wind visors. Helping to keep a clear view of whats ahead, a set of JDM yellow fog lights were installed and Red Honda emblems add a great finishing touch. All of the necessary body parts were then coated in the factory Fiji blue that is only offered with Mugen Civics.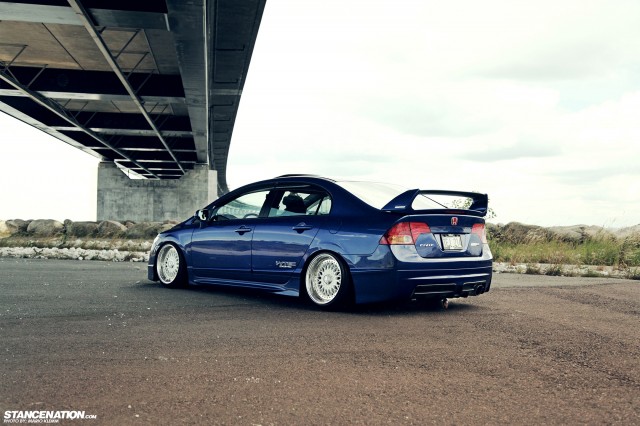 With its tall sporty wing and pearl blue paint, the Mugen Civic is a bit wild as soon as it leaves the factory. Jonas replaces the forged aluminum Mugen wheels with a set of BBS RS. These add a bit of class and elegance to the otherwise extreme design. The two piece wheel is held together with gold bolts, as a set of  chrome and white BBS Designline center caps hide the Mugen wheel lugs that hold these wheel tight.  The timeless mesh BBS wheels have a white face that compliments the blue paint perfectly. The wheels measure 17×9″+17  with a 2″ step lip up front and 17×9.5″+15 with a 2.5″ step lip in the rear.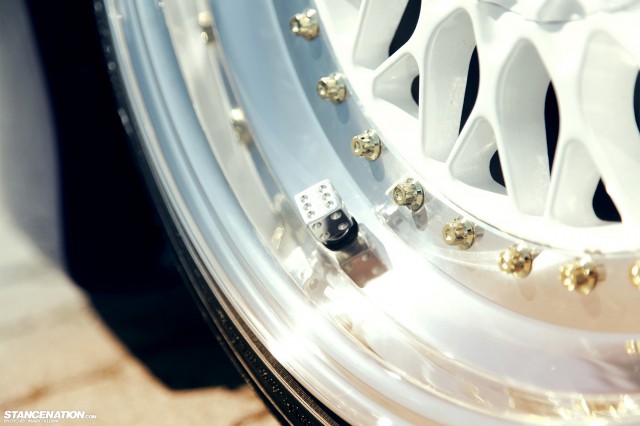 The factory sport tuned suspension that would usually come with this Mugen Civic doesn't allow hight or dampening adjustment. Knowing that he was going to want a lower more stiff ride, Jonas installed BC type BR coilovers with super stiff 12k and 16k spring rates. The springs are also shorter by 25mm which brings the car a bout an inch closer to the ground. Helping keep the front wheels aligned, Eibach camber bolts are teamed with custom camber plates. A Buddyclub camber kit helps with adjustments to the back wheels and a rear Beaks bar is bolted to the rear subframe.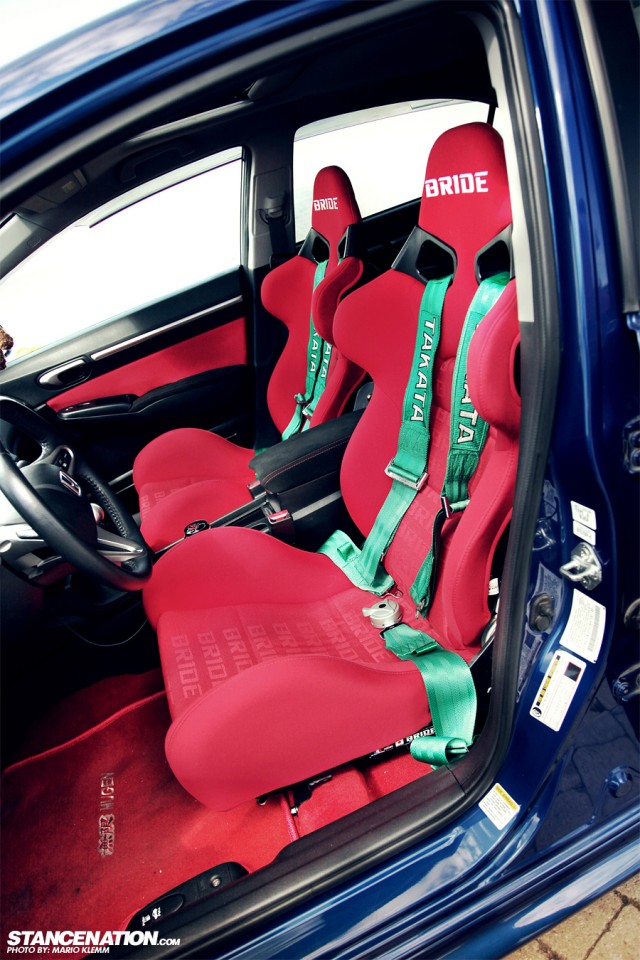 Other than the green Takata seat belts, the interior has a race inspired red and black theme. Red Bride Cuga seats and Recaro door inserts match the red Mugen floor mats and red carpet. The Mugen shift knob and pedals help Jonas operate the vehicle with precision when  he decides to be a bit more aggressive during his daily commute. This color combo follows the extreme look of the rest of the car but still has the feel of a daily driven street performer.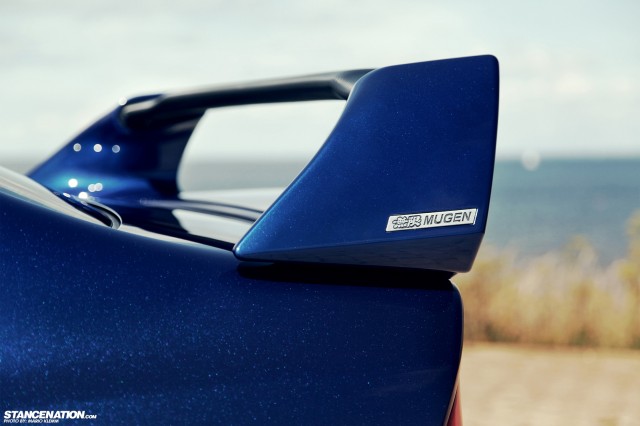 The Civic Si comes from the factory with a K20 2.0 liter Vtec motor and Mugen bolts on a better flowing catback exhaust system with their special edition sedan. To help  keep that smooth exhaust flow, a Buddyclub 4-2-1 header replaced the stock exhaust manifold and a RBC intake helps this K20 suck in more  fresh clean air. With all of the aftermarket additions, this mean Mugen is not only a head turner but also quite the performer.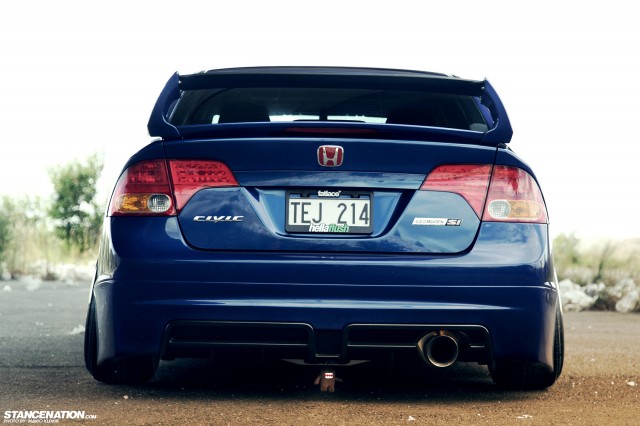 When Jonas found his Civic Mugen Si he knew he had found something special. Although his sexy sedan was a limited production, he couldnt help but to modify it, "I think it's [a] good idea to tune something unique and have it your way"… judging by the look of this amazing Mugen, i couldn't agree more…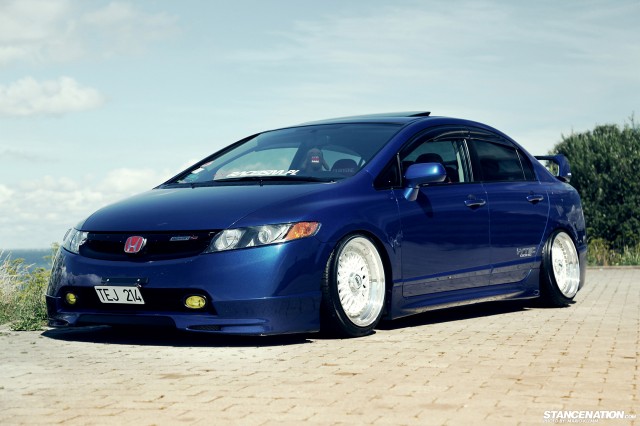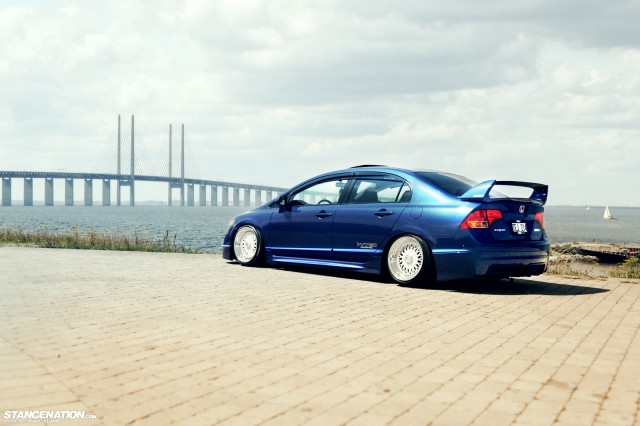 [toggle_box]
[toggle_item title="Wheels/Tires/Suspension" active="true"]Suspension:
BC Type BR coilovers
12k Front springs
155mm lower springs and 16k rear springs (OEM springs 180mm)
Custom front camber plate
Eibach Front camber bults
Buddyclub Camber kit rear
Beaks lower bar rear
Mugen wheel nuts
Wheels:
BBS RS 254 (Toyota Supra)
17×9" ET 17 in front (2" lip)
17×9,5" ET 15 rear (2,5" lip)
BBS Designline white center cape
BBS Chrome center nut
BBS gold bolts[/toggle_item]
[toggle_item title="Exterior" active="false"]VIS Fuzion Front Lip
Mugen side skirt (OEM from Factory)
Mugen rear diffuser (OEM from Factory)
Mugen rear wing (OEM from Factory)
Mugen Front grill (OEM from Factory)
Mugen windvisors
JDM yellow fog lights
OEM JDM Honda red H emblem[/toggle_item]
[toggle_item title="Interior" active="false"]JDM Red carpet
Recaro door insert
Bride Cuga seats
Takata belts
Mugen Pedals (OEM from Factory)
Mugen shift knob (OEM from Factory)
Domo kun =][/toggle_item]
[toggle_item title="Engine" active="false"]K20z3 2.0L Vtec
RBC intake
Buddyclub 4-2-1 header
Mugen Catback system (OEM from factory)
[/toggle_item]
[/toggle_box]