Lingo. Jargon. Terminology. Every community uses some form of signature vocabulary. Listening to a conversation between enthusiasts can sound like a foreign language to your average person. I'm sure you've heard the comments from family members or significant others about your "code language" and it's easy to overlook how much knowledge you need to absorb just to participate in this hobby. It's not unlike sports awareness, with averages and player trading. We've created our own native tongue, the language of the automotive nation.
Photos By: Jason Scott exclusively for StanceNation.com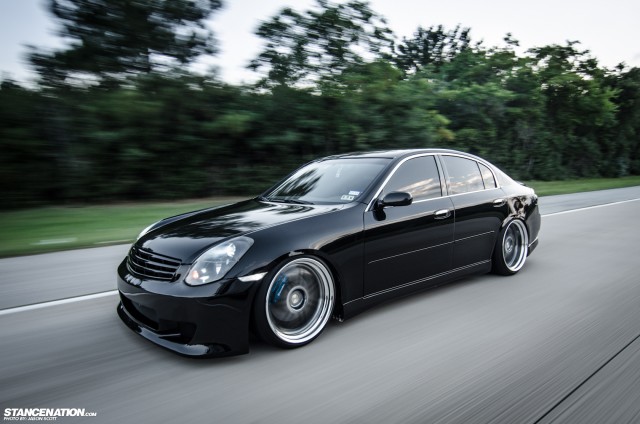 We, as enthusiasts, tend to recognizes parts and modifications almost immediately as if catalogs are transposed into the synapses of our brains. Listen to passersby at shows and events, dissecting cars with exacting precision at a mere glance – it reminds me of the anti-plagiarism software professors started using when I was in college. It nearly rendered Sparknotes useless. We forget that to "normal people" we sound crazy, since in our world the things we noticed are simply common knowledge.
The owner (Gabe) of this '05 V35 sedan (err.. Infiniti G35) enjoys when onlookers ask him "what kind of car is it?" It's a common question concerning modified vehicles, even when it seems obvious to us. Those that are not involved in this lifestyle can be thrown off by the low-slung stance and aerodynamic differences. Avid G35 enthusiasts will quickly note the Hikkatadori trunk and Kurookie front end, popular improvements offering a tasteful touch to the Obsidian Black sedan.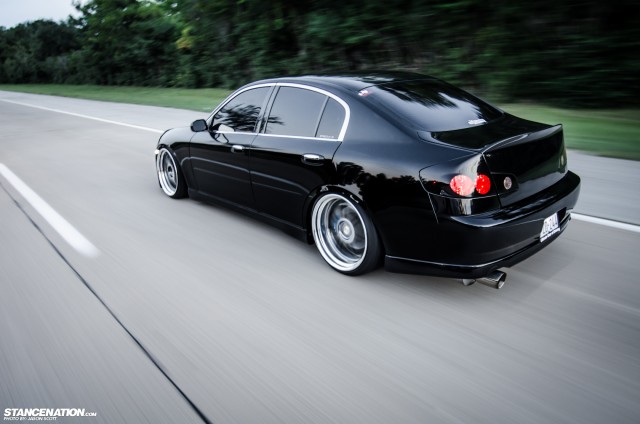 Aside from our lingo, enthusiasts also have difficulty leaving stuff alone. The original VQ35DE (uh..Nissan/Infiniti 3.5L V6 engine) is still in place in naturally aspirated form. It's a popular engine for its sound, potential, and compact design. However, most modern engines are often criticized for their aesthetics – with OEMs utilizing increasingly plastic techniques to keep the engine bay tidy. This G35 has corrected that issue with a full wire tuck along with a handful of polished components. Of course, this is still not adequate, with plans for a blown GM LS-derived engine swap in the future.
Several different sets of wheels have adorned the Infiniti and currently it crouches over 20×9.5" +10 and 20×10.5" +18 Work Varianza T1-s. The dubs are proportionate on the sedan and the classy Varianzas are easy on the eyes with their elegant spokes. Megan Racing coilovers are employed along with adjustable arms from SPC. I cannot resist throwing some alliteration into this section, so here you go: Behind the Burning Black 20" Works you can behold the brawny, beautiful, brilliantly blue Brembo big brakes – badass.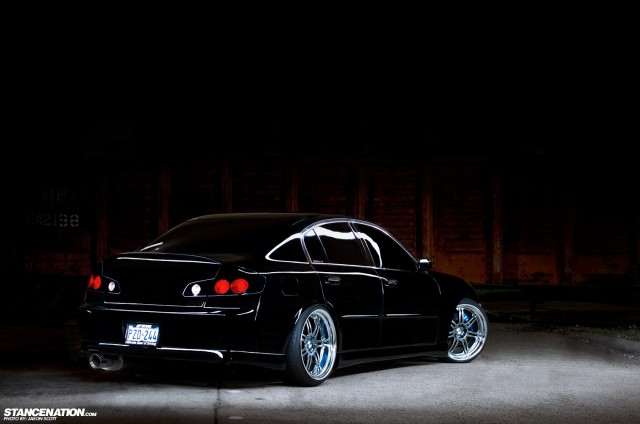 Interior and comfort are often neglected in lieu of other modifications; however they often tie the whole build together and add to the "completeness" of the project. In this G35 audio accoutrements improve the driving, and riding, experience with quality components from Pioneer, Merlon, and Boston. The custom rear enclosure compliments the blue accents found on the exterior well. Sparco Chrono seats adorn the diamond-stitched suede interior of the glossy black sedan and provide a supportive, sporty environment for the driver.
I guess our jargon can be a little confusing when viewed from the outside. Too bad, it's an integral and essential facet of the culture. So maybe they won't know what we're saying and sometimes people will ask just what is it we're driving. I think that's a fun, albeit minor, side effect to making a car your own. It's no longer just Nissan's, BMW's, or Chevrolet's creation – it's yours too. Knowledge is part of what makes this crazy hobby so fun. It's a never ending process alongside the cars themselves; there will constantly be new models, new parts, and new trends to confuse and inspire. Maybe someone should publish a dictionary..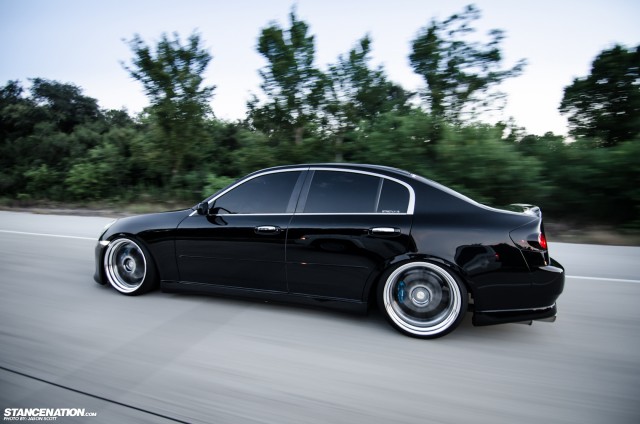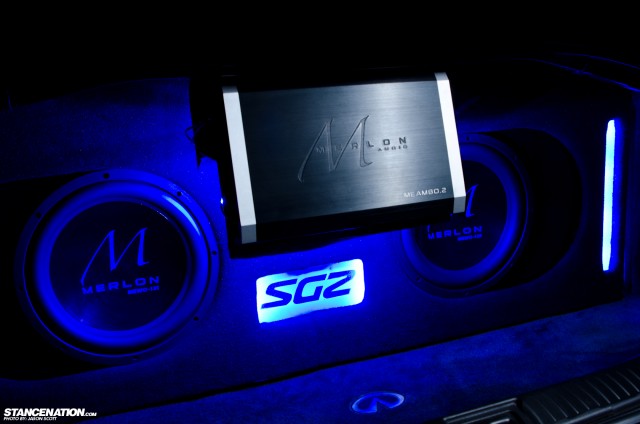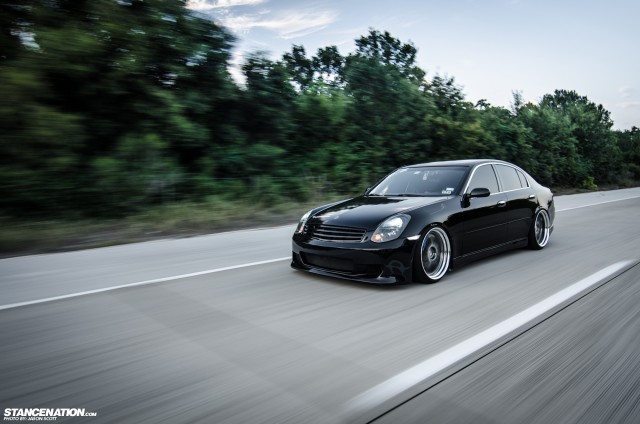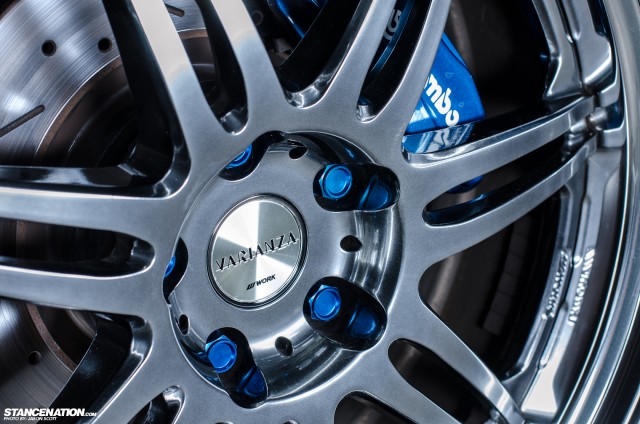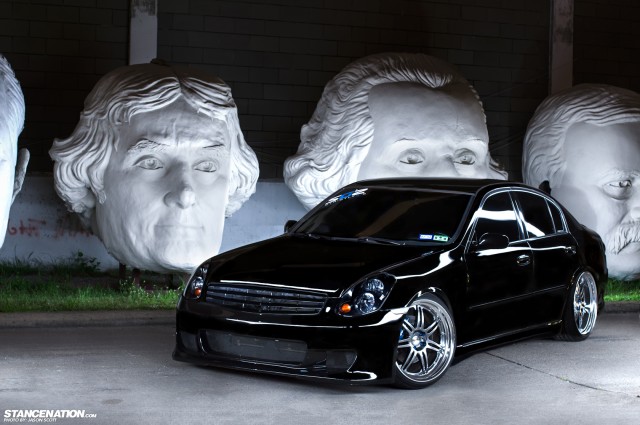 [toggle_box]
[toggle_item title="Wheels/Tires/Suspension" active="true"]Megan racing coilovers
SPC front and rear camber arms
Corvette le mans blue Brembo BBK
Stoptech cross drilled slotted rotors and stainless brake lines
Burning Black Work Varianza T1s 20x 9.5 +10 20×10.5 +18
[/toggle_item]
[toggle_item title="Exterior" active="false"]
Kurookie front bumper
Nisrookie side skirts
Nismo rear lip
Hikkatadori trunk
Ionic emblemless grill[/toggle_item]
[toggle_item title="Interior" active="false"]Jdm window visors
Sparco Chrono Road seats
Diamond stitched suede headliner and pillars
Jdm double din
Pioneer 4300 double din
Boston acoustic components
Merlon audio 100 watt amp
2 12 merlon audio subwoofers
Custom trunk enclosure
[/toggle_item]
[toggle_item title="Engine" active="false"]Tanabe medallion exhaust
Uprev tune
Polished motordyne plenum spacer
Polished upper plenum
Polished lower plenum
Polished rare jdm harness cover
Polished ARC air diversion panel
Polished ARC radiator cap
Polished earls clamps
Polished Koyo radiator
Polished engine bolts
Polished throttle body
Full engine wire tuck
Polished SXEXCX custom power steering tank and coolant overflow tank
ARC oil cap
Mishimoto radiator hoses
Stainless steel lines
B&M transmission cooler
Painted and shaved battery and jdm battery covers[/toggle_item]
[/toggle_box]