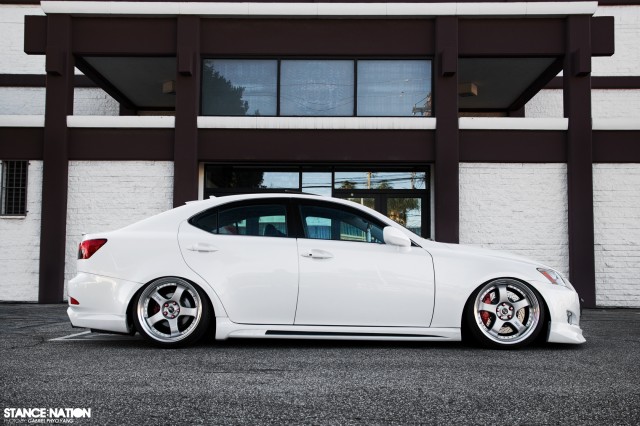 Ever since our redesign a few weeks ago, we've been determined to focus more on quality of cars we feature rather than quantity. That said, we're going to start this week off right with one of the cleanest Lexus IS' we've ever featured on StanceNation. If you're from the Southern California there is a good chance you'll recognize the following car. It belongs to Carl who happens to be friends with our photographer Gabriel, who both happen to be in one of SoCals finest crews, BP VIP. We don't know Carl personally but judging by his car's fitment & overall appearance we're confident that he is a classy perfectionist who enjoys attention. Jokes aside, it's pretty obvious that Carl is passionate about his car. Let's take a closer look at it shall we?
Photos By: Gabriel Phyo Yang exclusively for StanceNation.com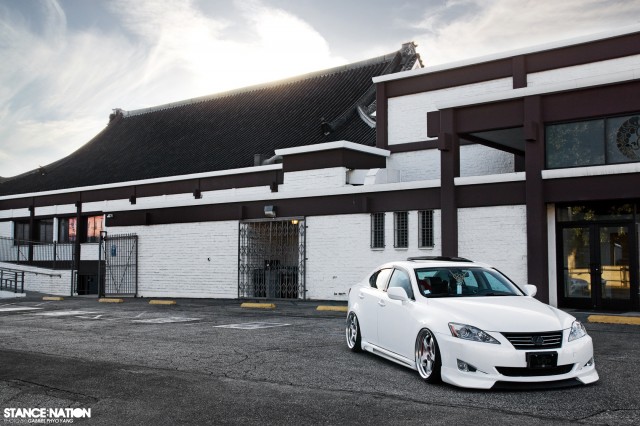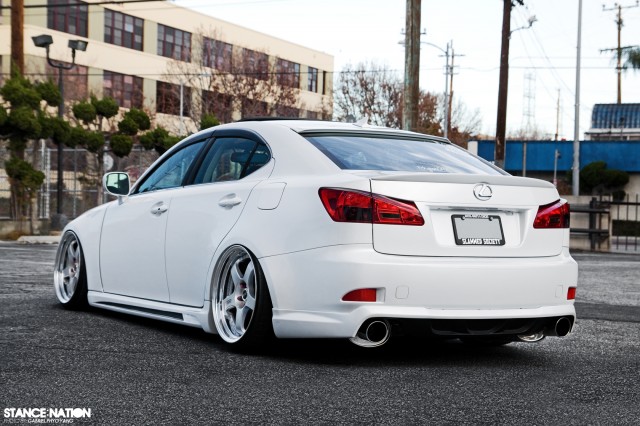 We have a ton of respect for this car. Despite all the VIP "goodies" that were added to the car it still manages to know exactly what it is. Carl has found a great balance between his inspiration and the reality. But then again, almost everything that the BP VIP guys build is pretty damn impressive so perfection is almost expected from them. We also gotta give props to Lexus for doing an incredible job with these 2IS', they're truly underestimated. Take a look at the awesome fitment work on this bad boy in the photos below.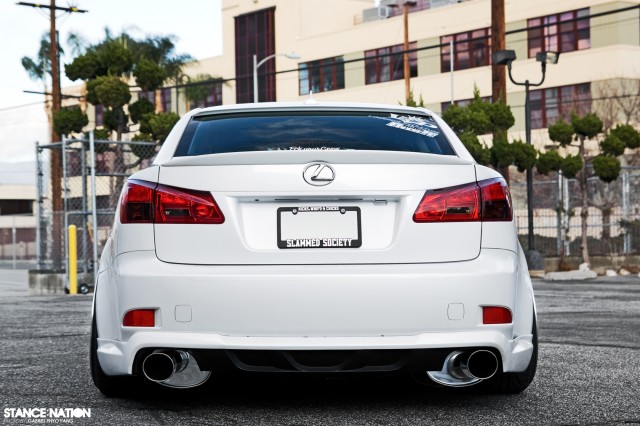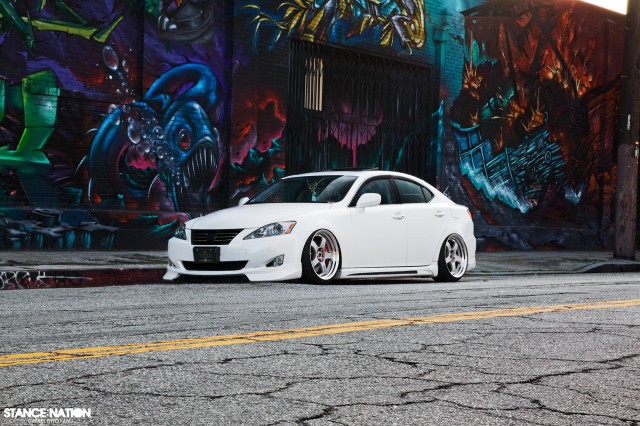 We always have trouble coming up with proper titles for all our features but second we saw Carl's fitment the word "flawless" came to our mind, hence the title. Not too many people nail their stance like Carl did, even those on air suspension. His choice of wheels was just right, SSR Professors SP1's in 19×9.5 up front and 19×10.5 in the rear. Front tires are 225/35/19 while the rears are 235/35/19. Behind those beautiful shoes sits the Rotora 6-pot big brake kit which looks incredible might we add. As mentioned earlier, Carl also opted for Universal Air Suspension.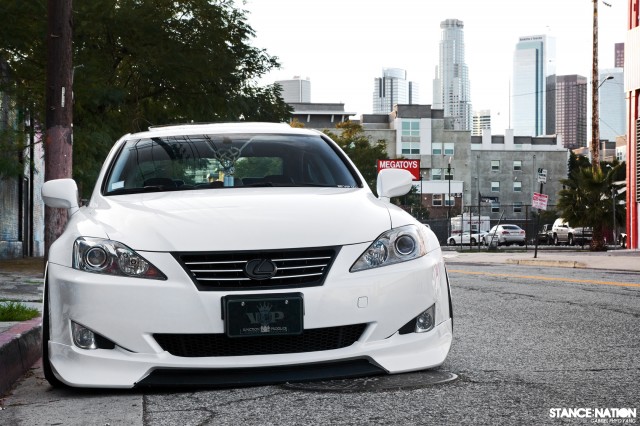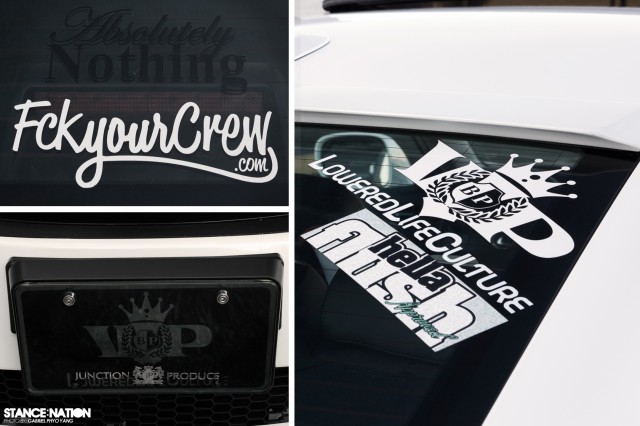 That brings us to the exterior. It's actually a pretty simple setup that works really well. Modified JP Vizage front lip, Wald International side skirt combined with Wald International rear lip, a JUN-TW roof spoiler and lastly the Kazz Sports Grill. Again, flawless in every way in our opinion. We especially love the rear end photo that we attached above! Even the Greddy SP2 exhaust looks perfect on this thing, don't you think? Drop a comment below and let Carl know we're not alone here!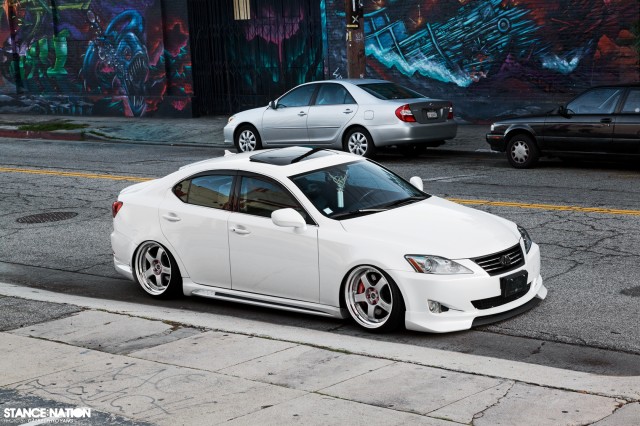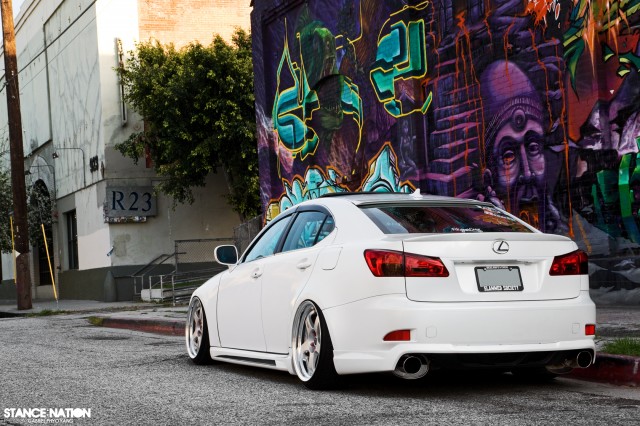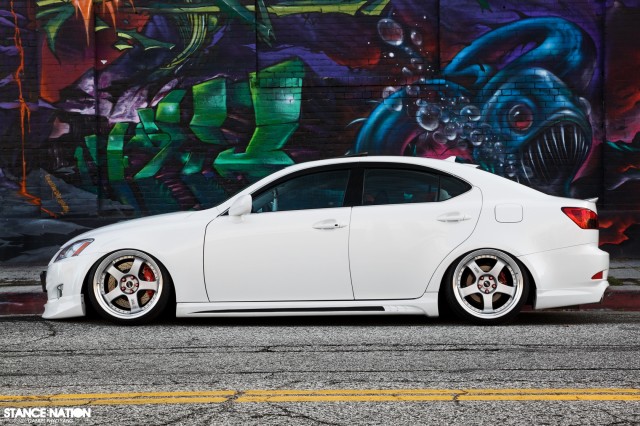 So what does the future hold for Carl? He says although he is satisfied with how the car turned out, he is still thinking of supercharging it, having a simple yet sexy trunk set up and a few other little touches on the interior. Oh, also the sexy Artisan Spirit fenders which we love very much. We'll leave you guys here with some more photos like we always do. Big shout out to Gabriel for the incredible photos and of course Carl. We hope to get a chance to meet some day, it would be an honor. Make sure you shoot us an email at snfeatures@gmail.com if you think your car has what it takes to be on our site. Thanks for reading.