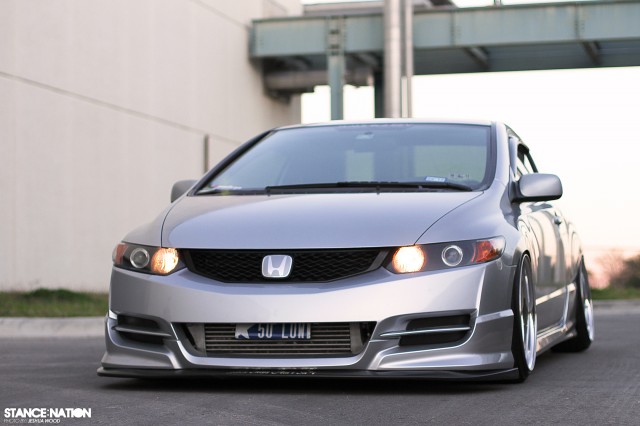 No matter how many times we look at photos of Jeshuas car it always feels like the first time. It's fresh, it's clean, and it's one of our favorite Civic coupes at the moment. If the car looks familiar some of you it's probably because you've seen it here before, while it was still sitting on Rotiform wheels. Since that last feature, this slammed Civic has actually come quite a long way. It is now running a Garret turbo, completely new set of shoes and many other smaller things. Mind you, this will be the 15th or 16th set of wheels for this car so we have a feeling that Jeshua is probably thinking about changing things up already. Make sure you visit the first feature by clicking here if you haven't already.
Photos By: Jeshua Wood exclusively for StanceNation.com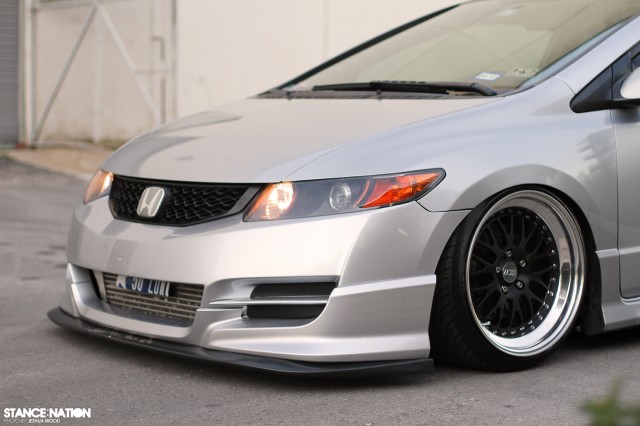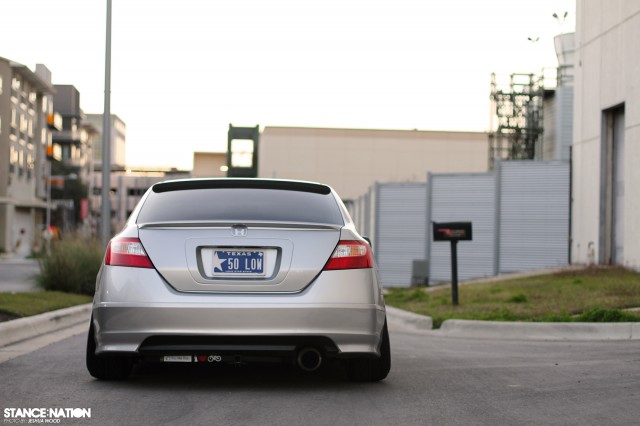 As much as we liked the "uniqueness" of Rotiforms on this car, we gotta say that these CCW's suit the car a bit better. Though we would really love to see someone pull off an aggressive set of Rotiform TMB's on their FG1/2. Jeshuas Civic sits on Stance GR+ Coilovers and CCW LM20 wheels sized at 18×9.5 all around with +22 offset. This time around he could only get 3.5″ lips due to CCW barrel sizes. He also had to add a bit more camber all around which put him at -3 front and -6 in the rear. It's just right in our opinion, what do you say?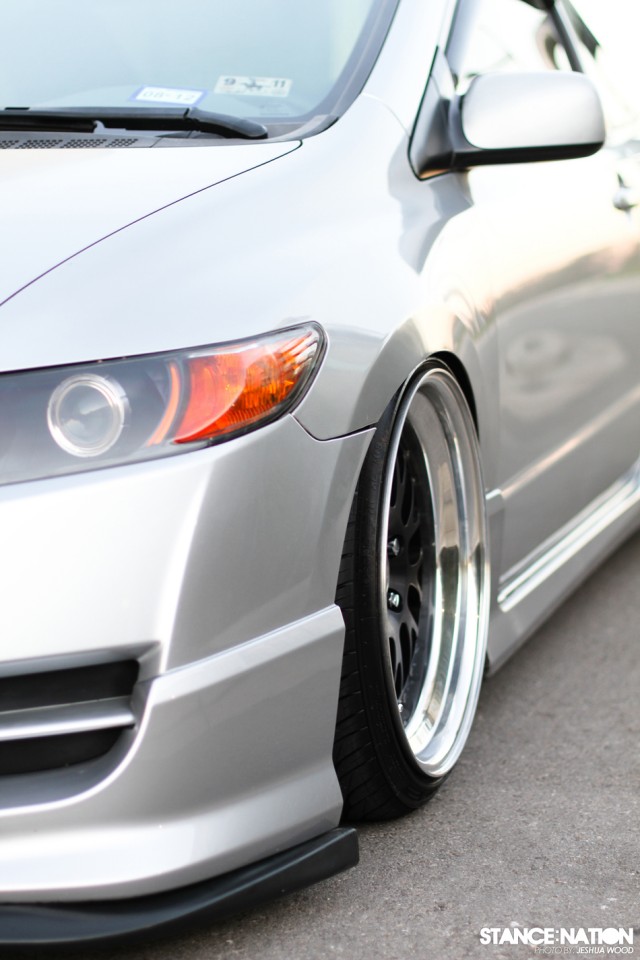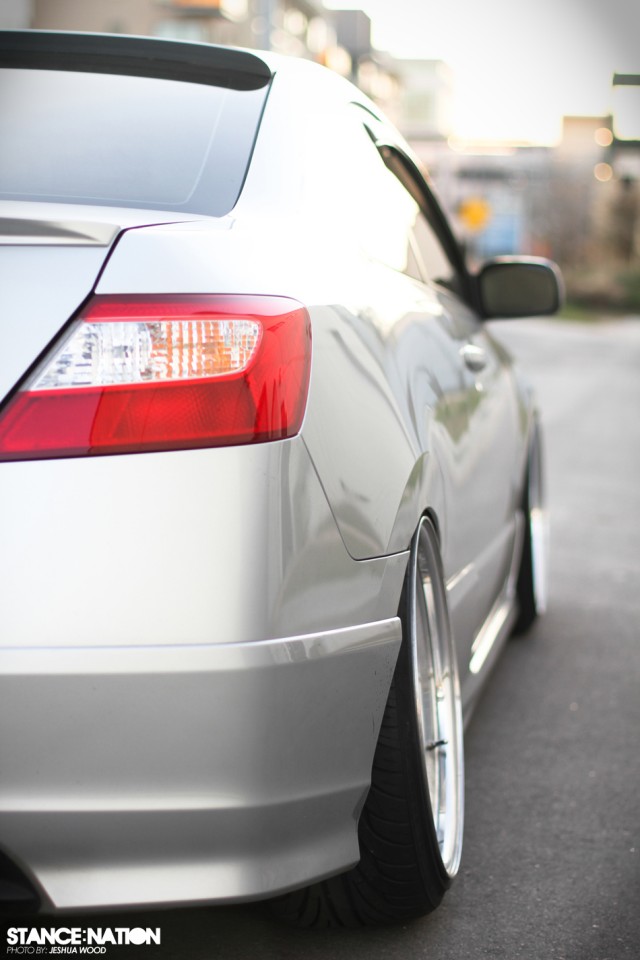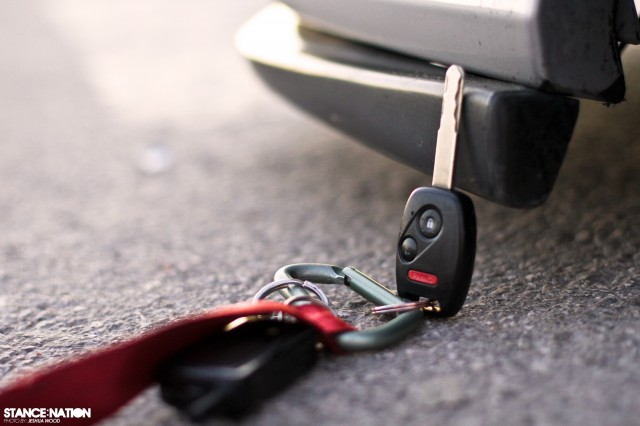 As we mentioned above, since the last feature Jeshua also added a Greddy turbo with Greddy IC, bov, and all custom piping. He also upgraded the injectors, fuel pump and spark plugs. As the car sits, it's pushing 190WHP on low boost. It's no track car by any means, but it definitely packs a punch that satisfies Jeshuas needs. Another thing he mentioned to us was that he didn't want to get too crazy because of reliability issues. Jeshua will be attending the Cupcake Meet 12 out in Austin, Texas on the 4th so if you guys see him make sure you say what up! He'll also be scouting for potential feature cars for us so make sure you hit him up if your car is slammed & fitted!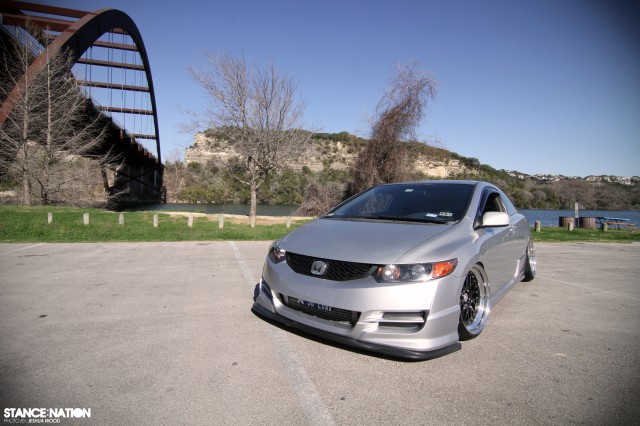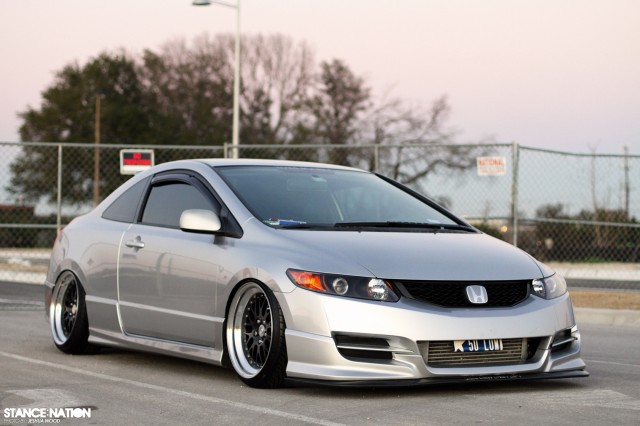 As always, make sure you hit up our facebook and forums to stay updated with latest things and if you think your ride has what it takes to be on our site, hit us up via the contact page. More photos and full spec list can be found below.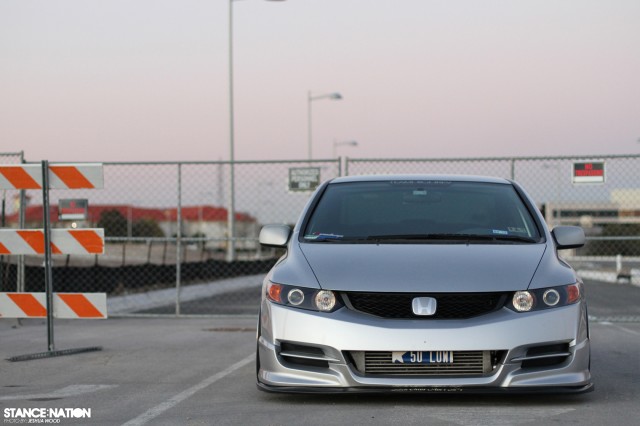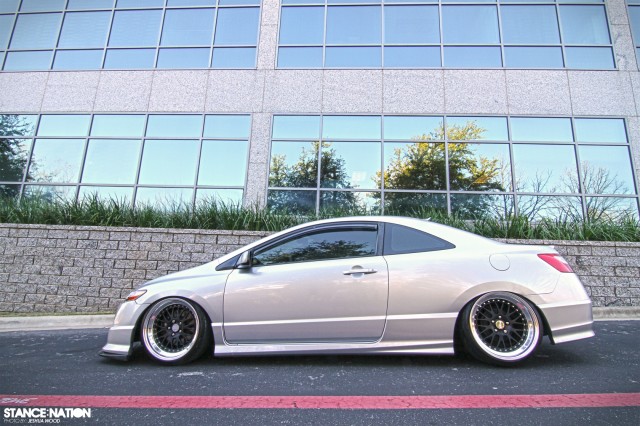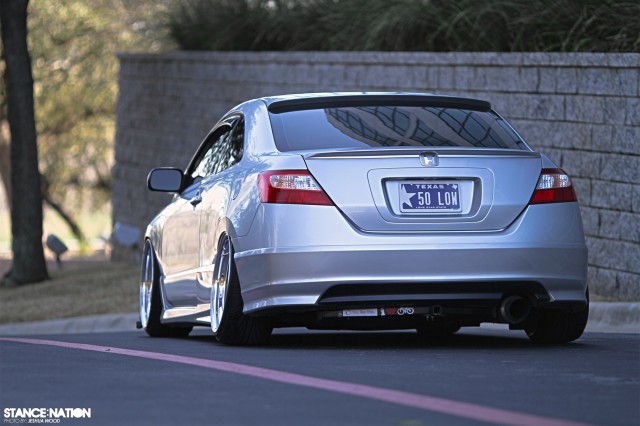 [toggle_box]
[toggle_item title="Engine" active="false"]INJEN CAI
Skunk2 Exhaust
Corsport Cable Bushings
P2R Throttle body Spacer
Greddy intercooler
Greddy turbo
Greddy bov w/custom piping
Upgraded injectors/fuel pump & spark plugs[/toggle_item]
[toggle_item title="Exterior" active="false"]JDM Emblems
Grfxp.com JDM Emblem Overlay
09 Front end
I<3Haters Tie Bar (yospeed.com)
Various stickers (grfxp.com)
HFP Aero Kit
Half Nose Bra
Kics Lugs
Custom Dark Blue Valve cover
Jordan Reservoir Covers[/toggle_item]
[toggle_item title="Interior" active="false"]GRFXP Shift knob
Aem gauges
Broadway 240mm Flat Mirror
GRFXP Steering Wheel Emblem
Strut King Shift Boot
OEM Trunk Tray
Weathertech Floor Liners
Pioneer x930BT
Pioneer Front Speakers
Pioneer Cable
Clifford Matrix 50.5x Alarm
Retrofit w/ TSX Projectors / S2k Shrouds
Denso Ballasts / Phillips 85122+ bulbs [/toggle_item]
[toggle_item title="Wheels/Tires/Suspension" active="true"]CCW Wheels 18×9.5+22
Nankang NS-II
Stance GR+ Coilvoers
Ingalls rear camber slider
Front Si Brakess[/toggle_item][/toggle_box]