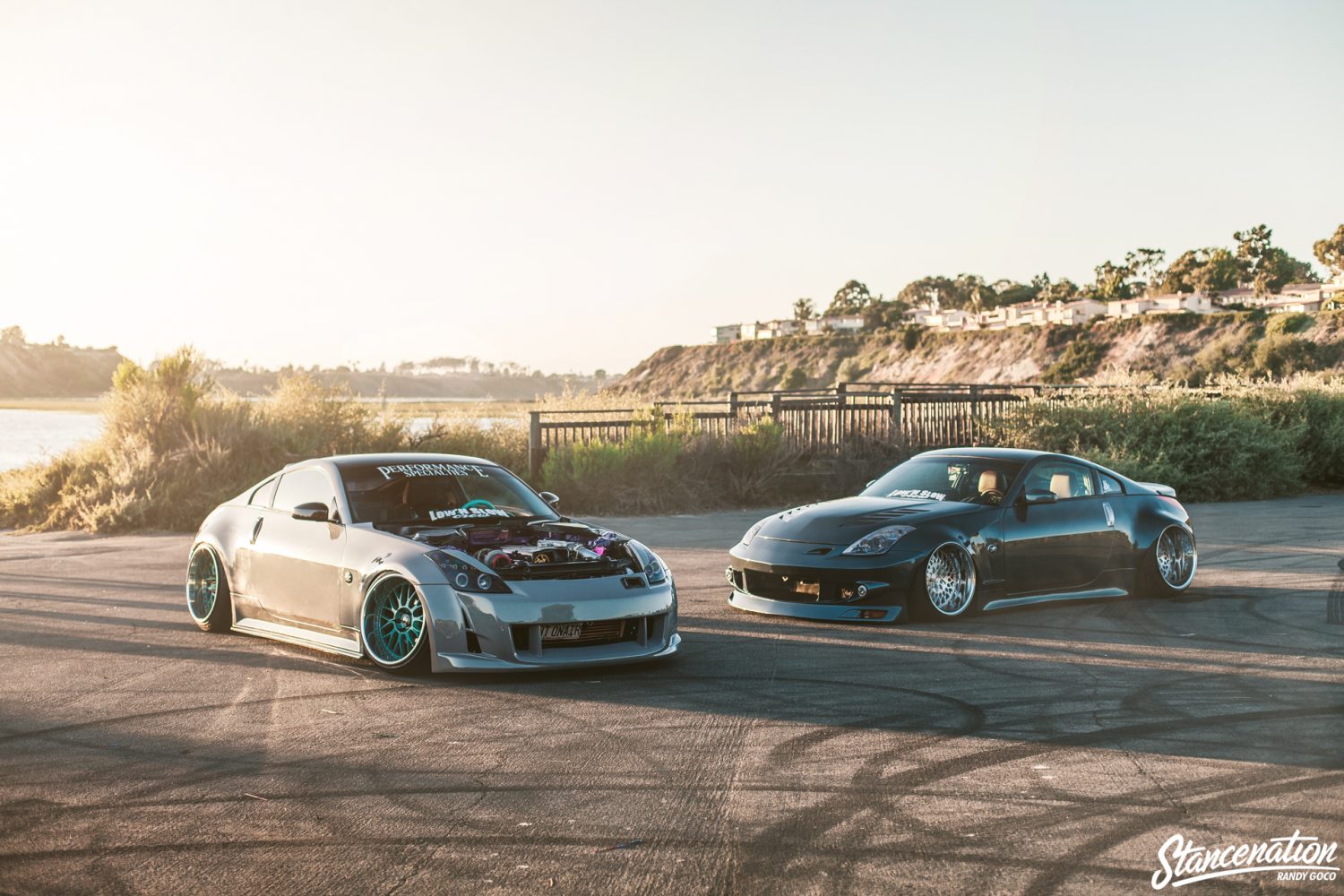 First things first, to even be considered low, to me, is to not be able to see the sunlight on the other side of your car. These two cars and their owners have checked that box in my preferred list with a felt tipped red pen. While I was looking at these two cars, I remembered that the best things in life always comes in pairs, aside from drinking and driving. But I mean come on, sneakers, Twix, Rick and Morty, and these two slammed as fuck 350z's are just to name a few. When I saw the photos shot by our very own Randy Goco, I knew I just had to get on this write up for a little SoCal special featuring this Low'N Slow Duo.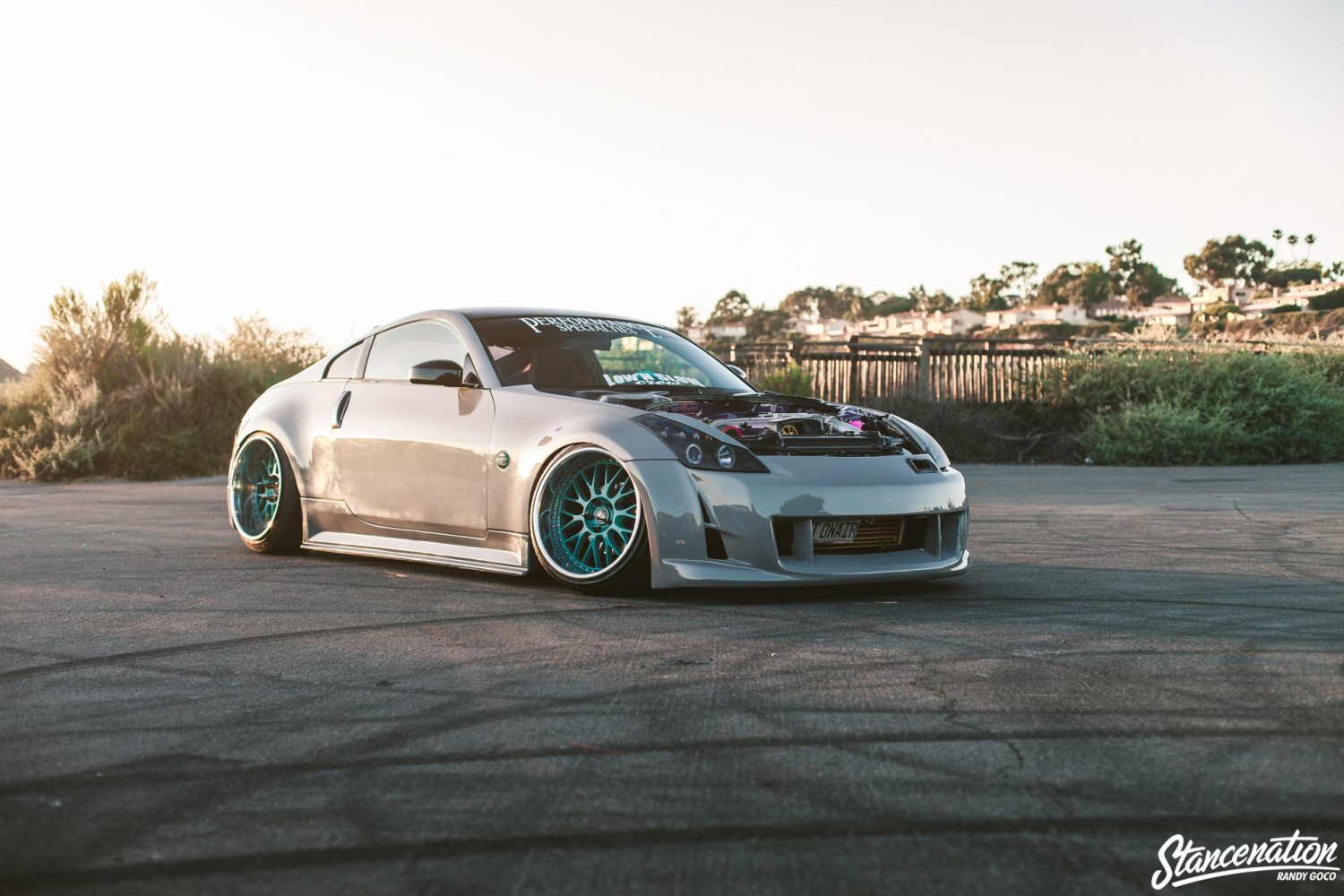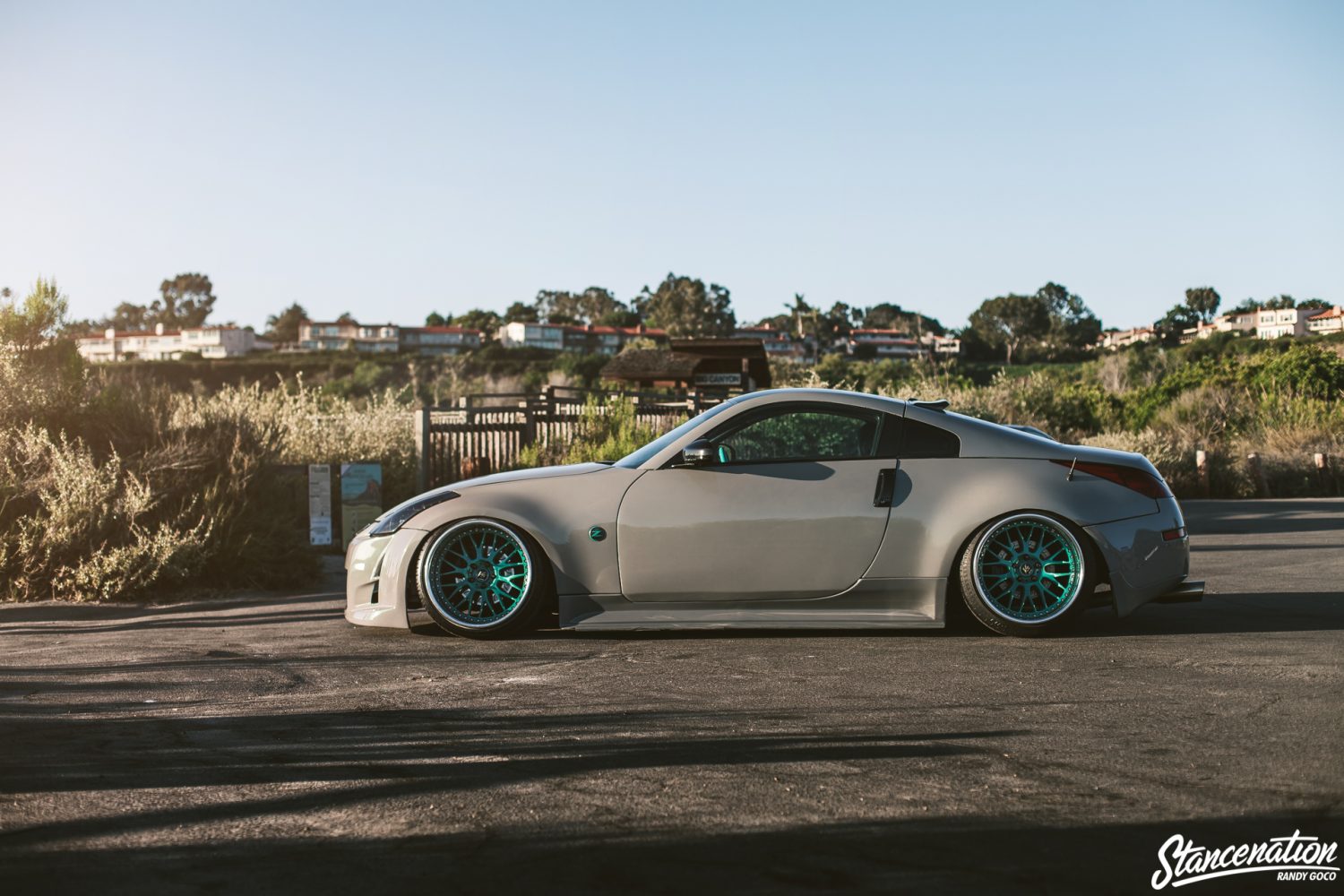 Riley Tate, the owner of this magnificent beauty you see before you outfitted the front end of this Z with the Amuse Bumper, with its large air inlet and aggressive looks make it an appropriate choice in styling and use for what is hidden under the hood. Do Luck sideskirts make an appearance in this build and round out the exterior aero. Reminiscent of Mercedes-Benz's "Night Package", Riley had the roof, door handles, and mirrors painted in a high gloss black. The rest is bathed in a cool custom grey with mint pearling within the paint. To top it off, Riley color matched his custom Z emblems to his Work VS-XX wheels that are fastened on by WEARELIKEWISE lugnuts paired with Royal Spikes. Just another beautiful harmony between a duo of colors that don't usually go cleanly together.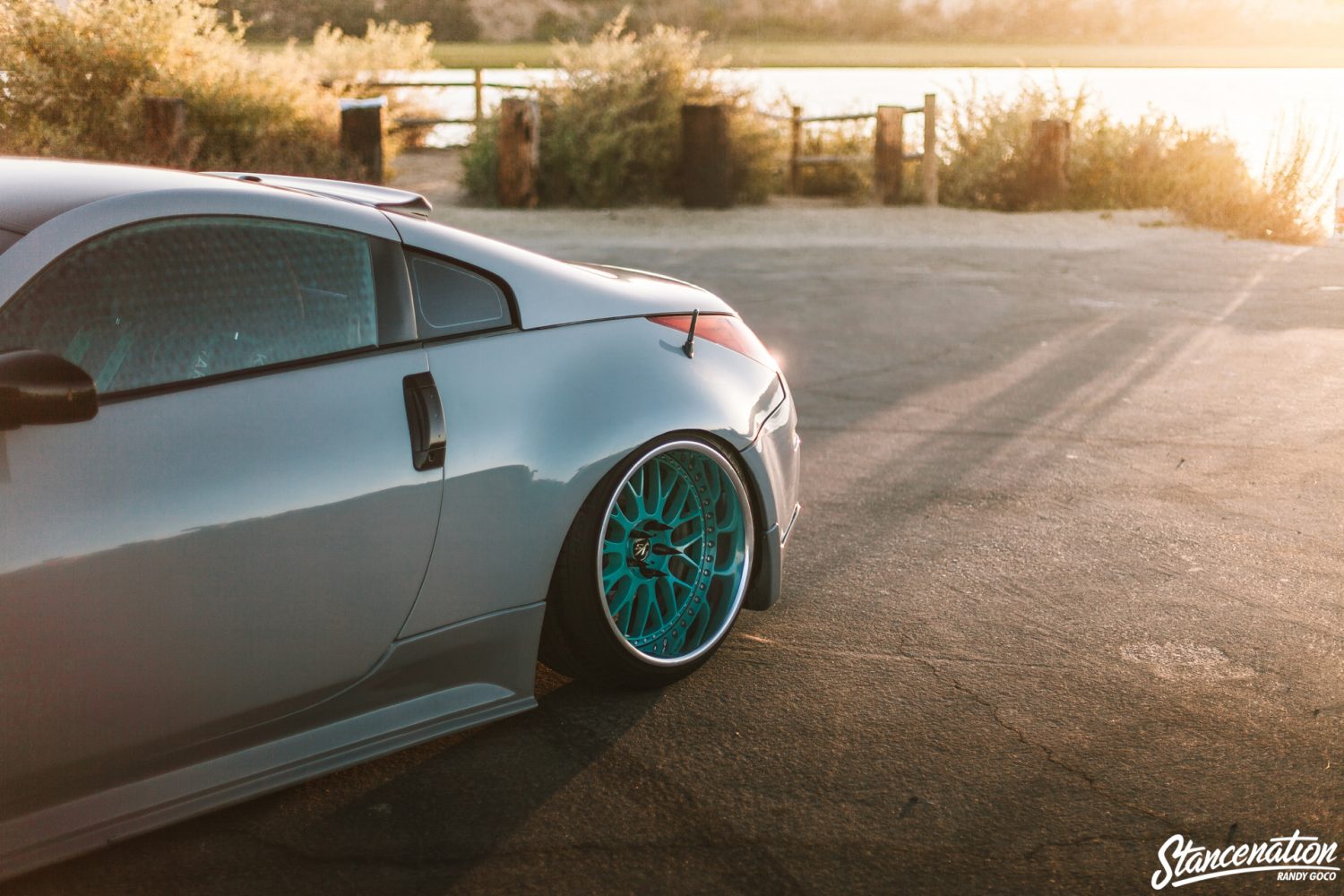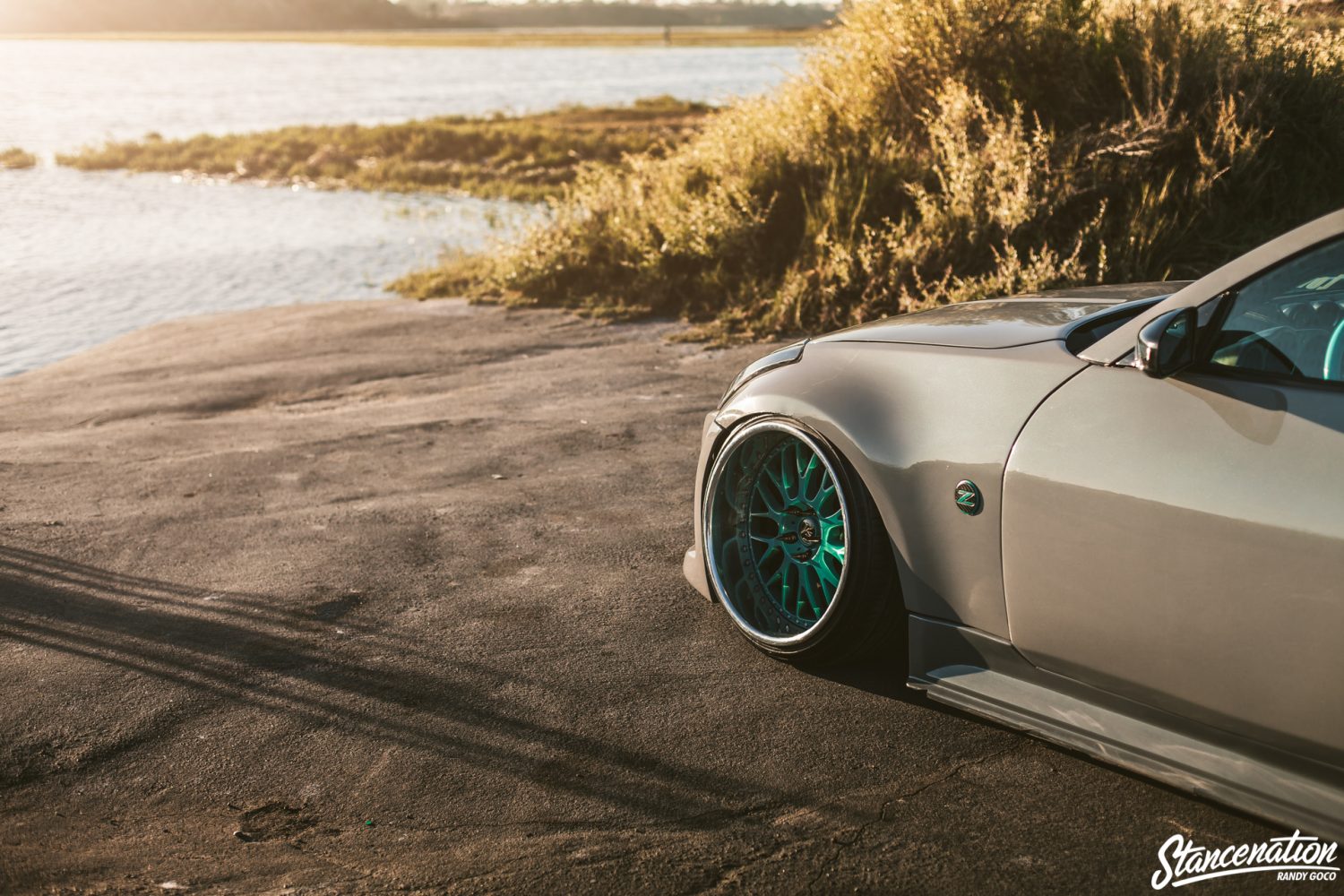 Low and Slow, a mantra that many of us have tried to live by, is one adopted and modified, by the Low'N Slow Crew as their name. However, this engine bay makes me question whether Riley really believes in the latter part of the name. Nestled neatly within the indigo engine bay sits the famous 2JZ-GTE engine, outfitted with some slight modifications, such as a 62mm turbo by Pure Turbos, 1000cc RC Injectors, and OBX turbo manifold allows this E85 powered 350z to easily qualify to start his own crew called Low'N Fast. Doesn't quite have that ring to it though.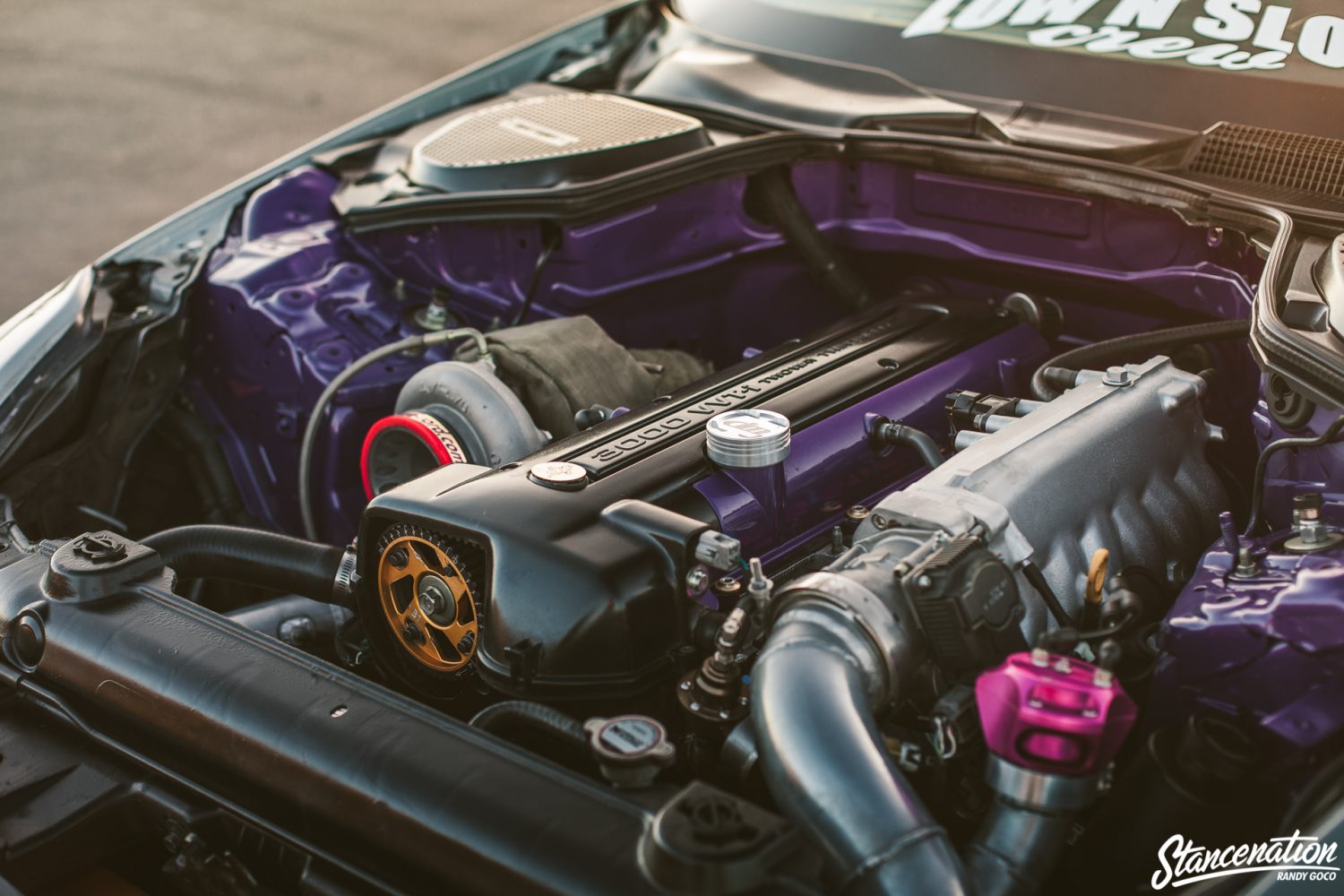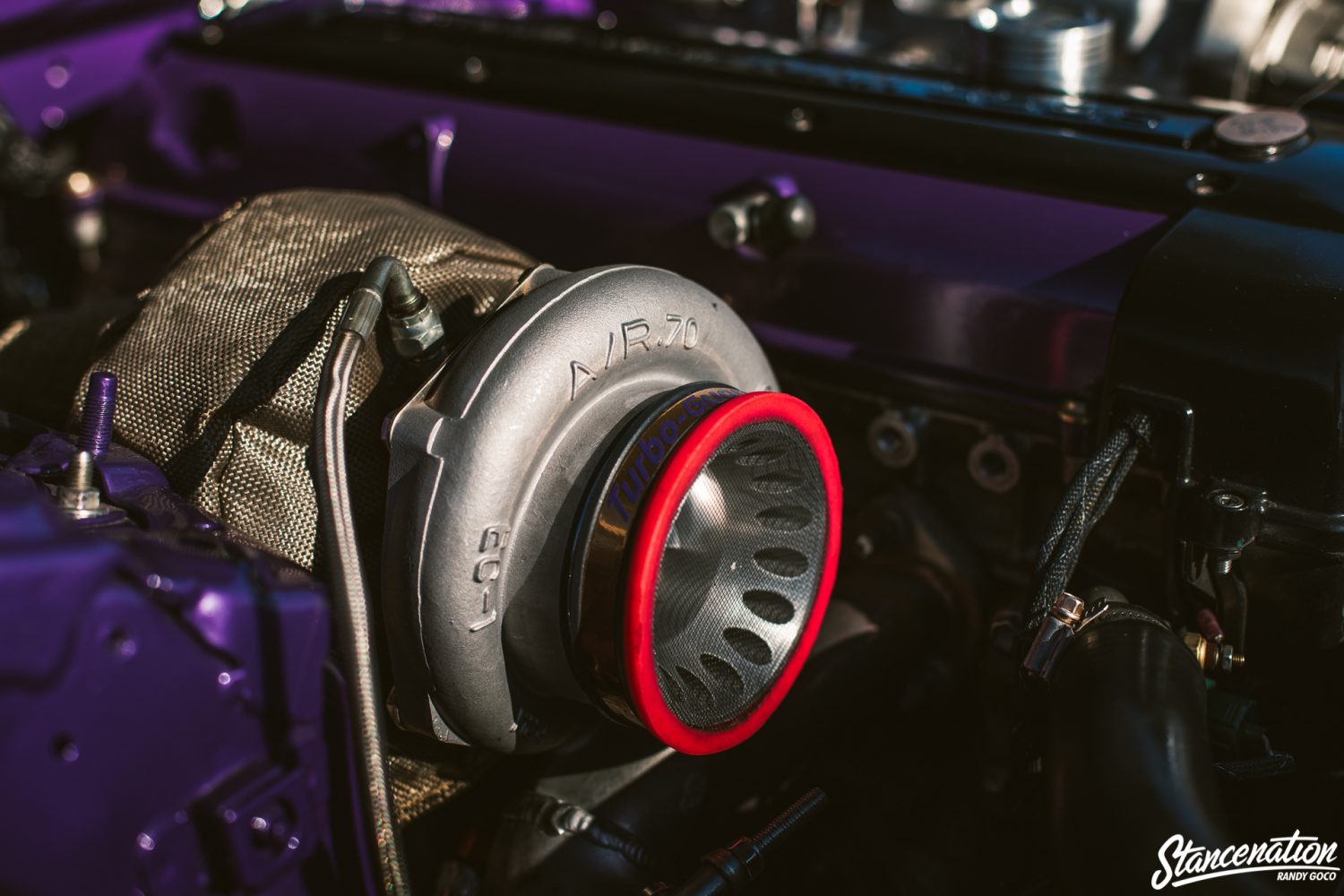 Just look at that turbo. It requires its own safety netting and a flagrantly red ring that could only mean danger. All he's missing is a sign saying to keep fingers, birds, and small children away, lest they get sucked into the heart of this transplanted Toyota powerplant to undergo witchcraft which produces boost. Known to some as NTONAIR, Riley lives up to that as this stance is achieved by BC Racing Extreme Low Coilovers coupled with 18k springs and a Godspeed Camber Kit.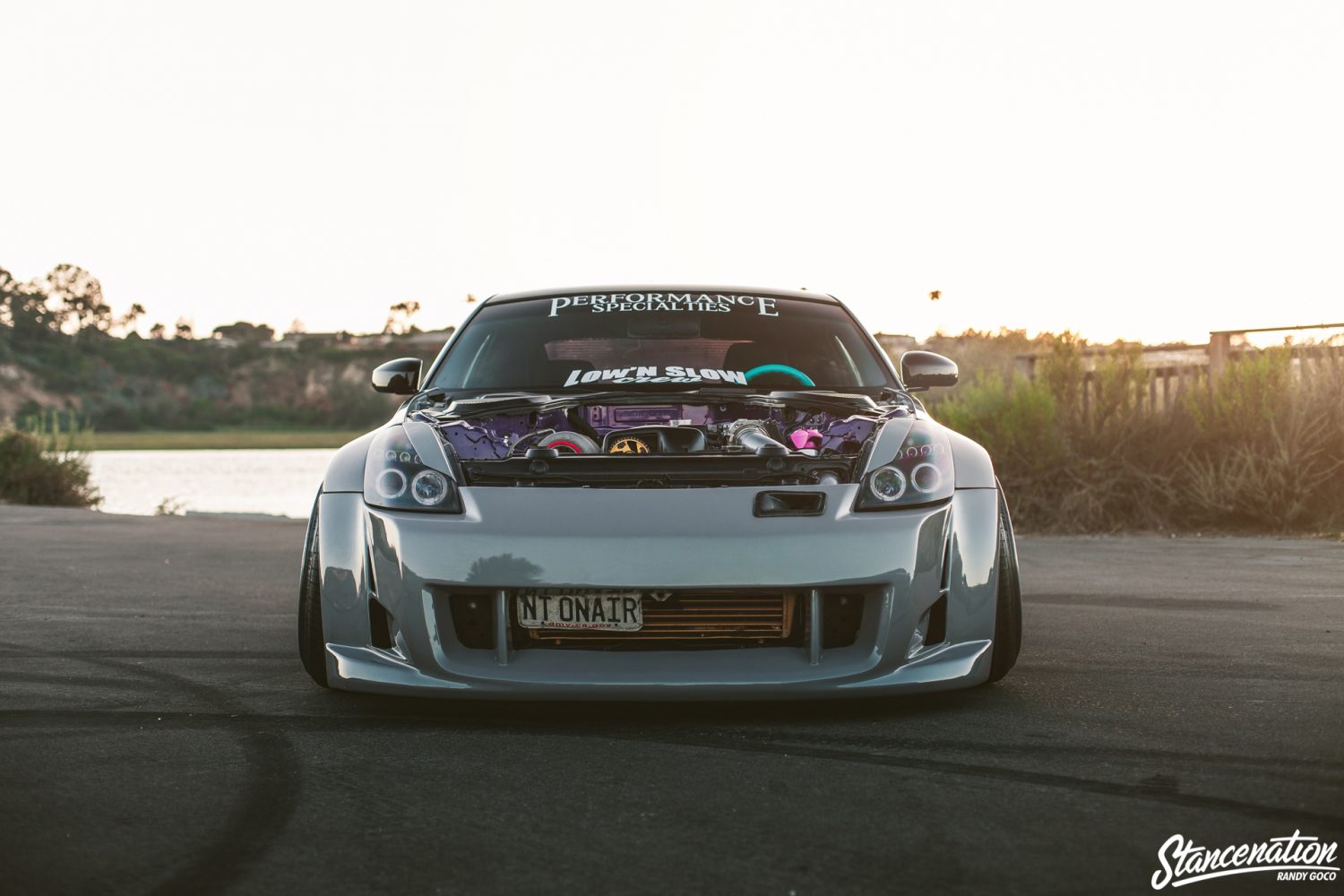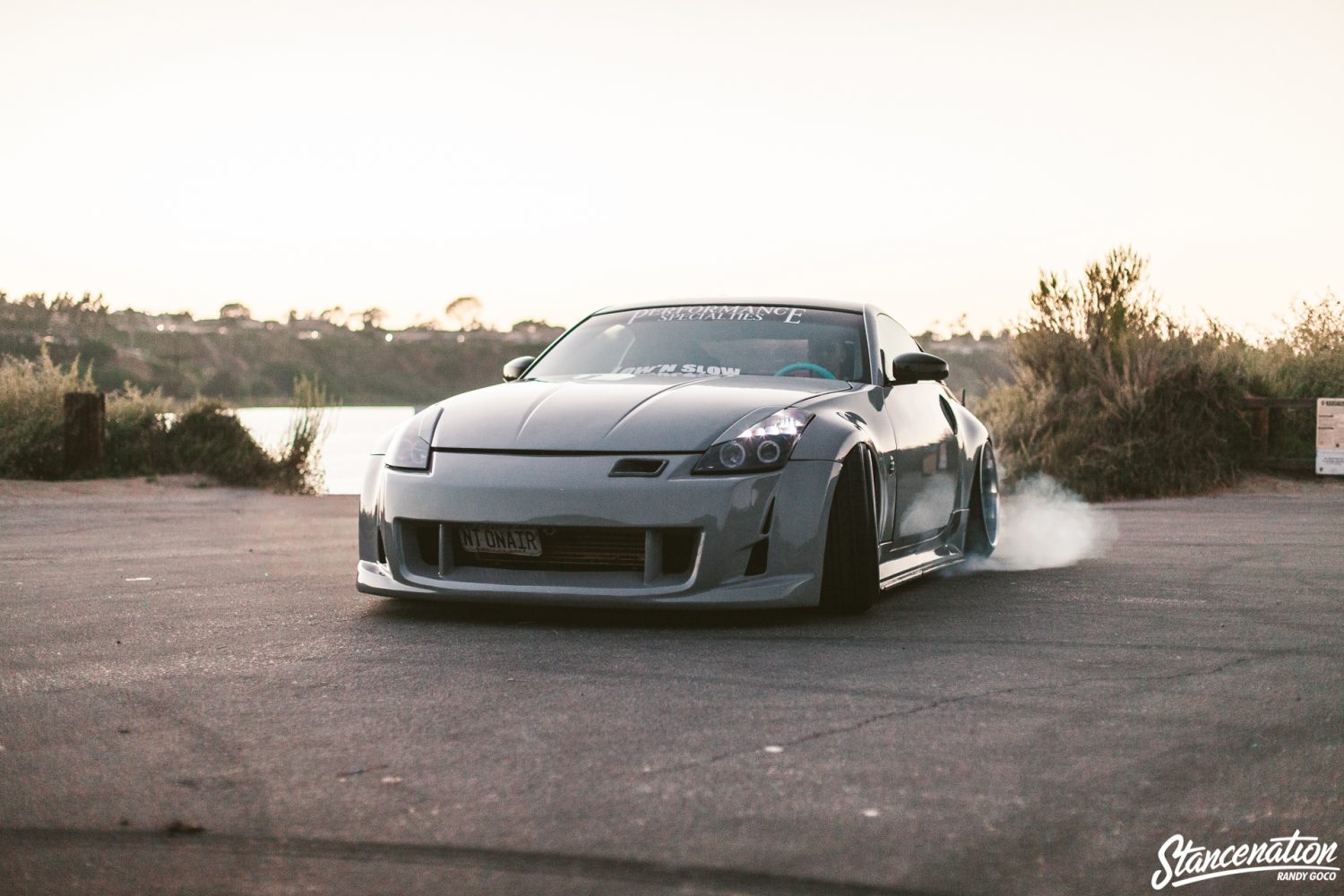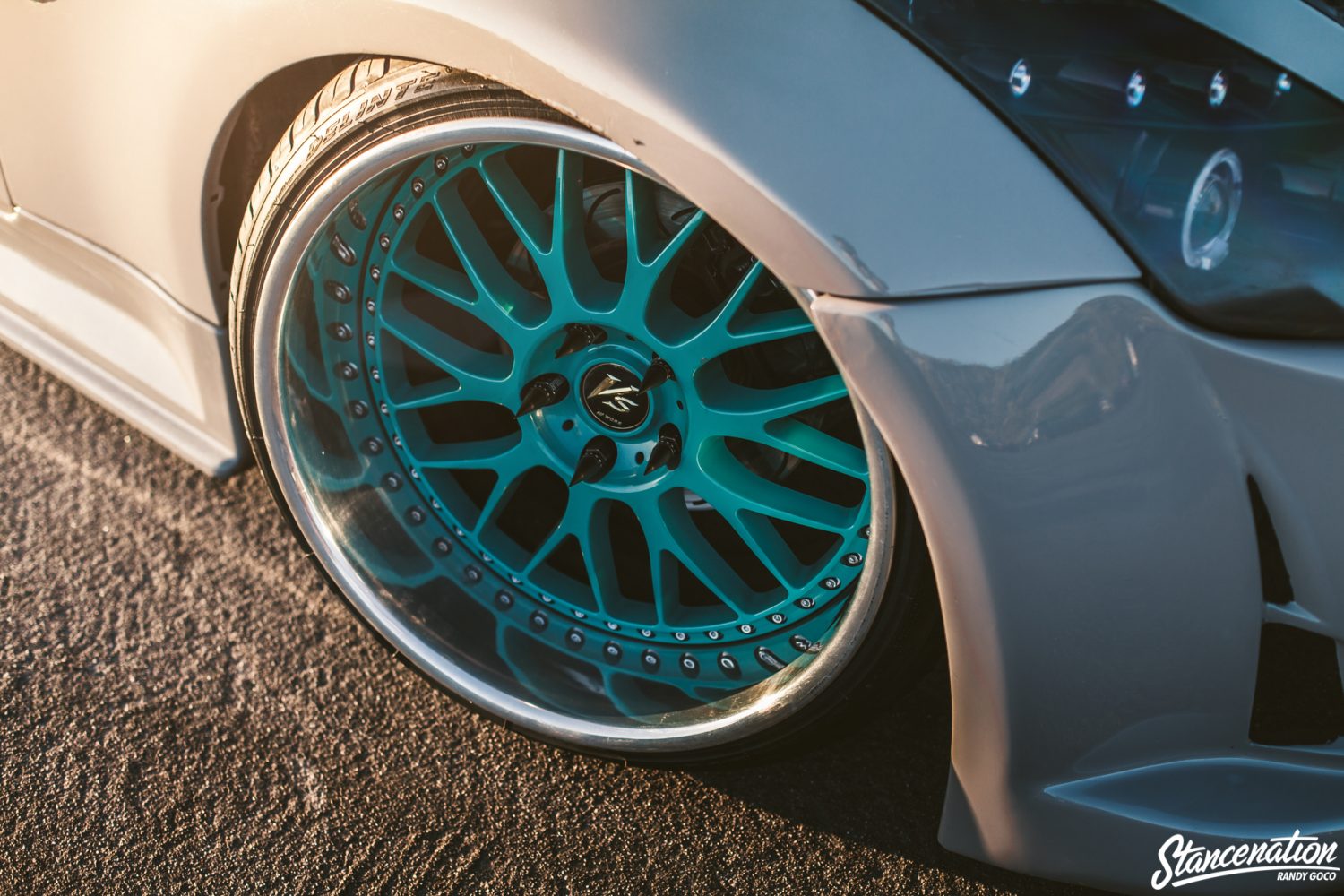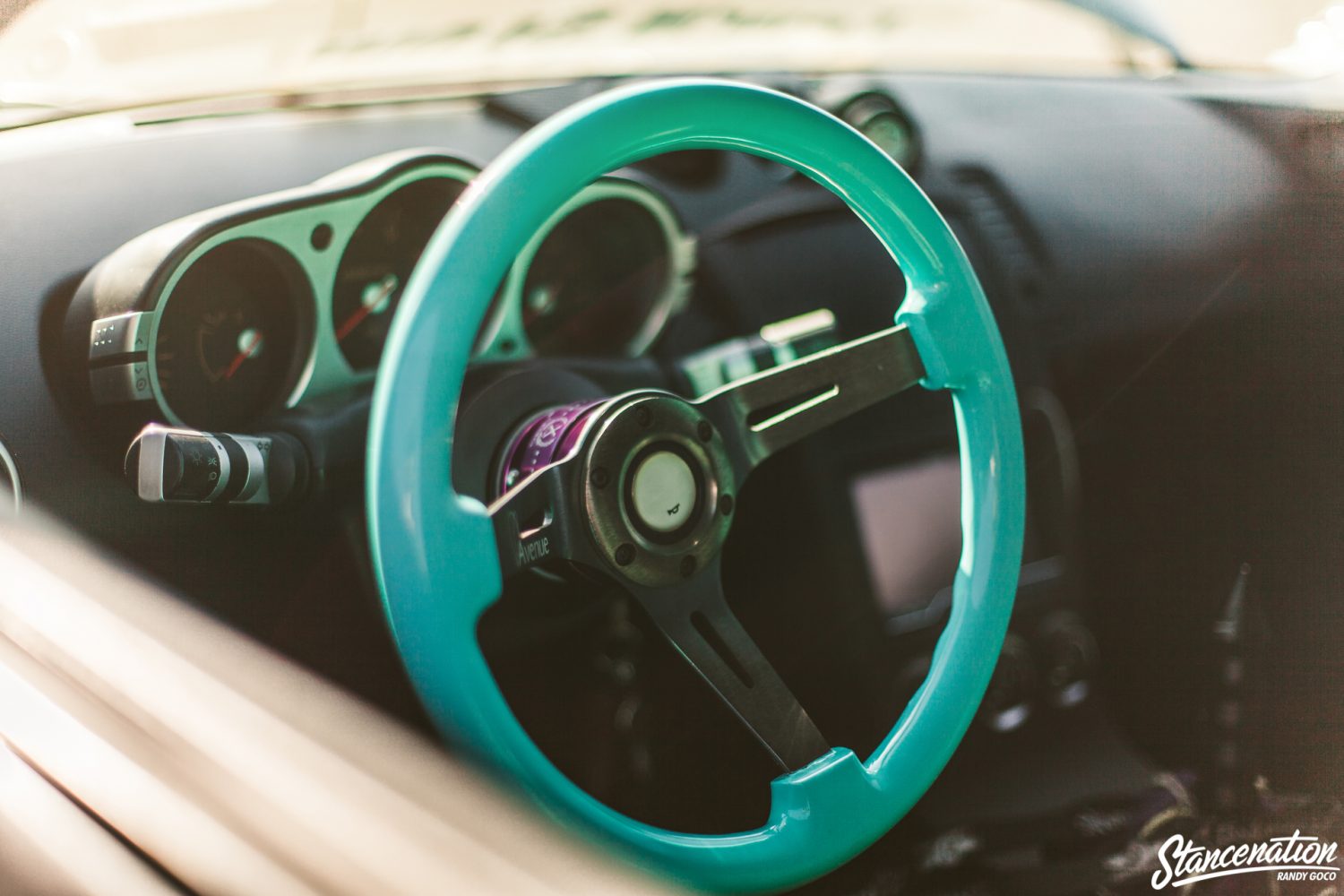 A WEARELIKEWISE Deathgrip shifter stands prominently, emerging from a Crown Royal shiftboot. Tastefully matching the hub of his NRG hub and quick release, we can see that Riley also emigrated the exterior color scheme to the interior with a custom painted Avenue Steering wheel in Minty and Takata harnesses in their classic color. With an upgraded Pioneer sound system, Riley can enjoy his ride, while getting feedback from his Glowshift and Jegg gauges which read his boost and water temps respectively. However, with a car of this caliber, I doubt he needs the sound system. I mean weight reduction, right? Because racecar.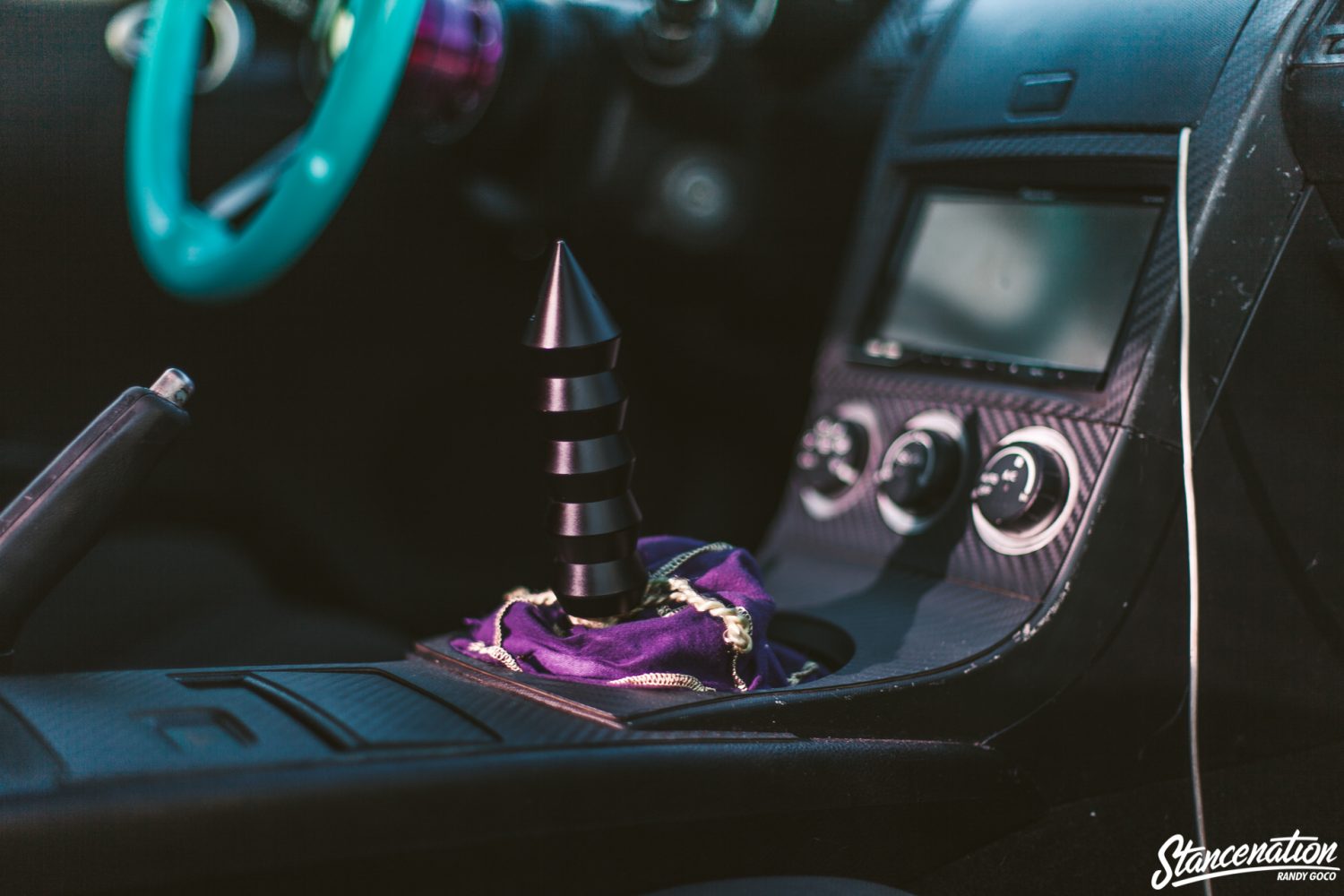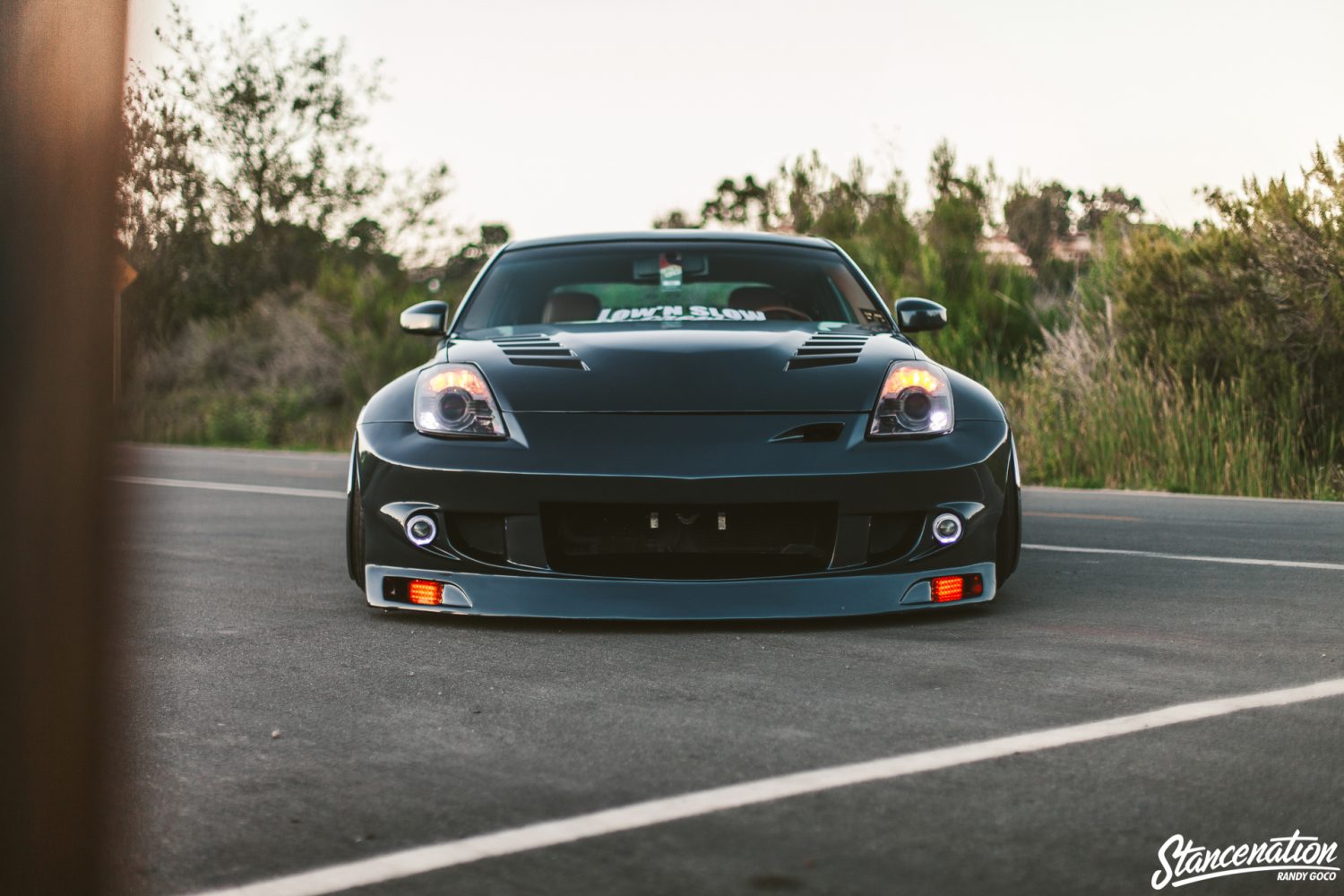 Jose Ramos, or better known to me as @cheekz_lns on Instagram, is the owner of this "cray cray wide 350" you see before you. This 350z sits extremely low to the ground with a JP Racing Front Bumper that's been modified to fit the custom metal widebody flawlessly executed by RR Bodyworks. Outfitted on the sides of the car are skirts by VIS Racing. These sideskirts are a nice choice as they fill the lower lines of the car giving it a lot more presence.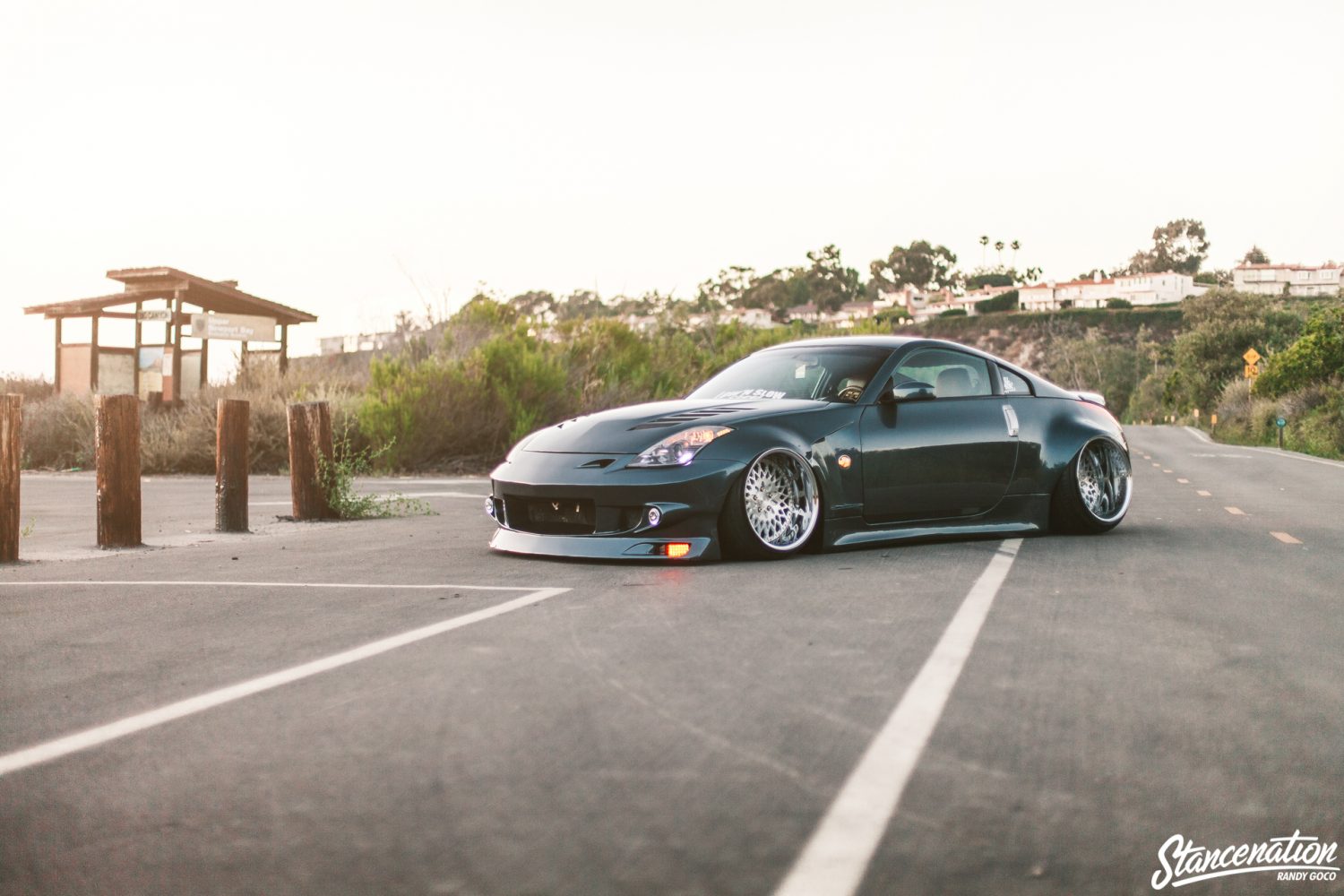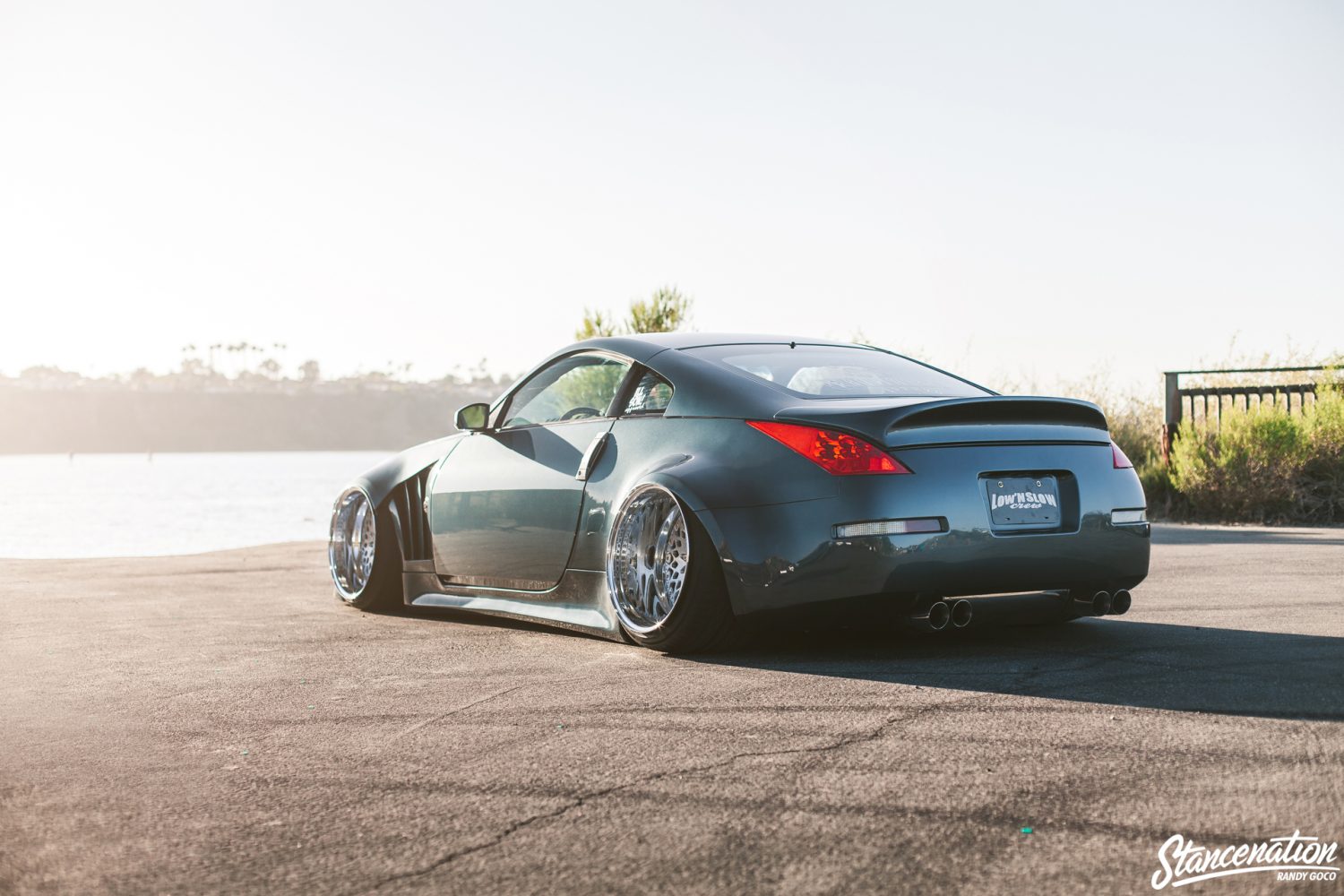 Funny thing when I started writing this set, I merely glanced at the cars and didn't recognize the car. After some investigation, and some careful examination, I realized, from the beautiful fender work, that I had seen this car previously, and that I had followed his build. What a coincidence. Jose's interior, prominently featuring his custom leather front seats that match his headliner and pillars, are done in a meticulously diamond stitch pattern that can only exude that 90's era ultra luxury exotic car feel. Honestly, my favorite part of his car, I feel it adds a classy sexiness to his car. But coming in at a close second would be his unique fender styling, with its multiple vents. I really fucking dig those.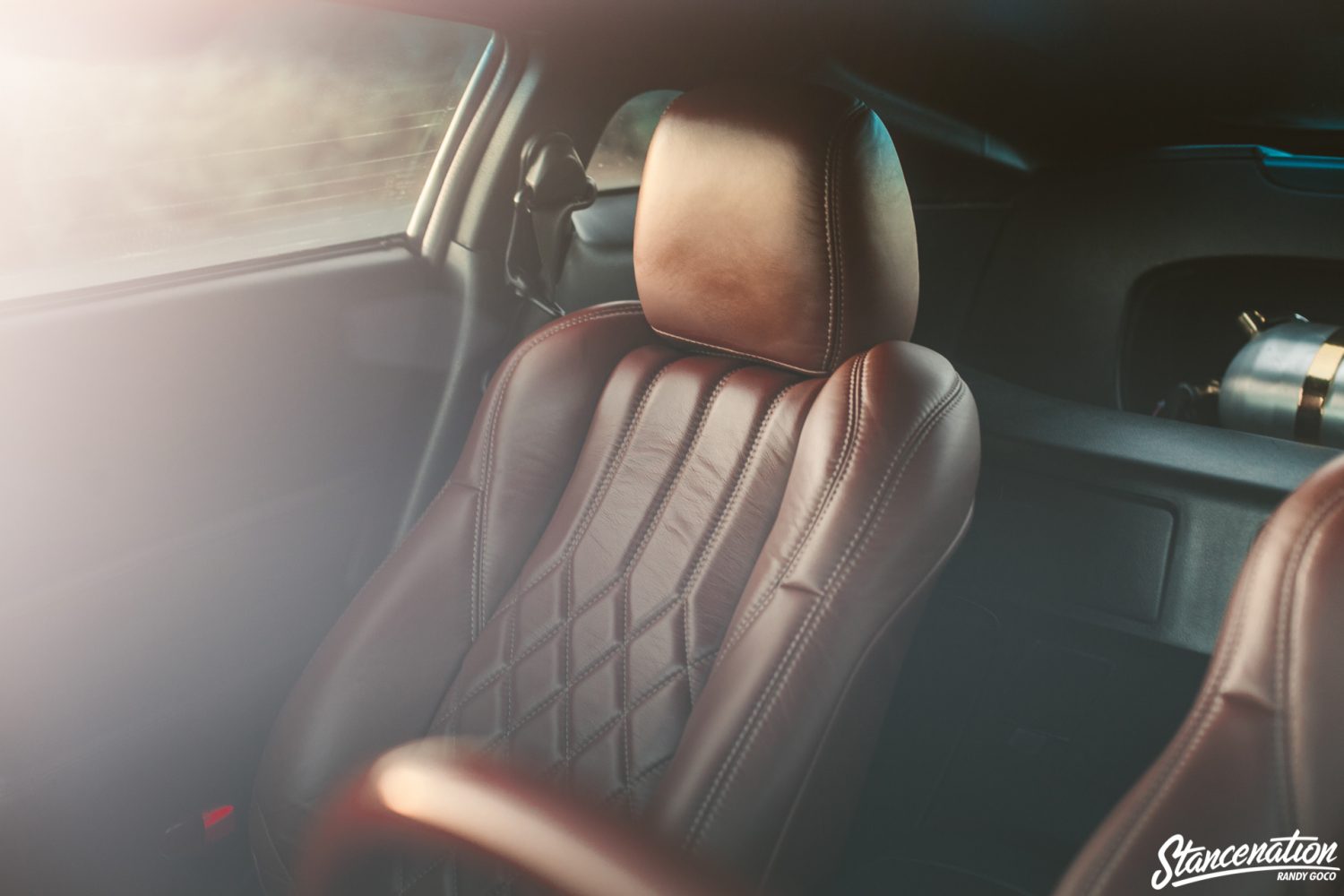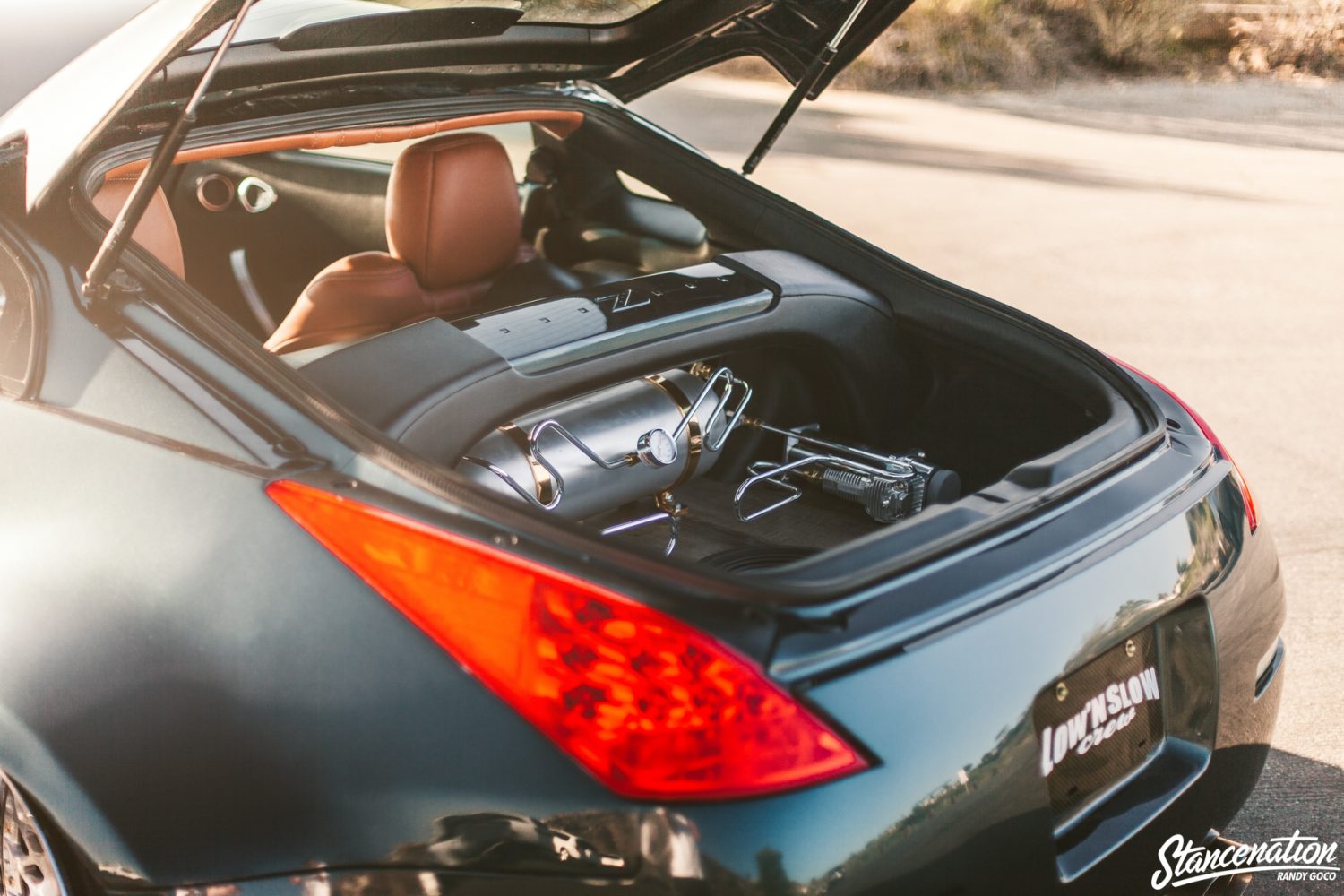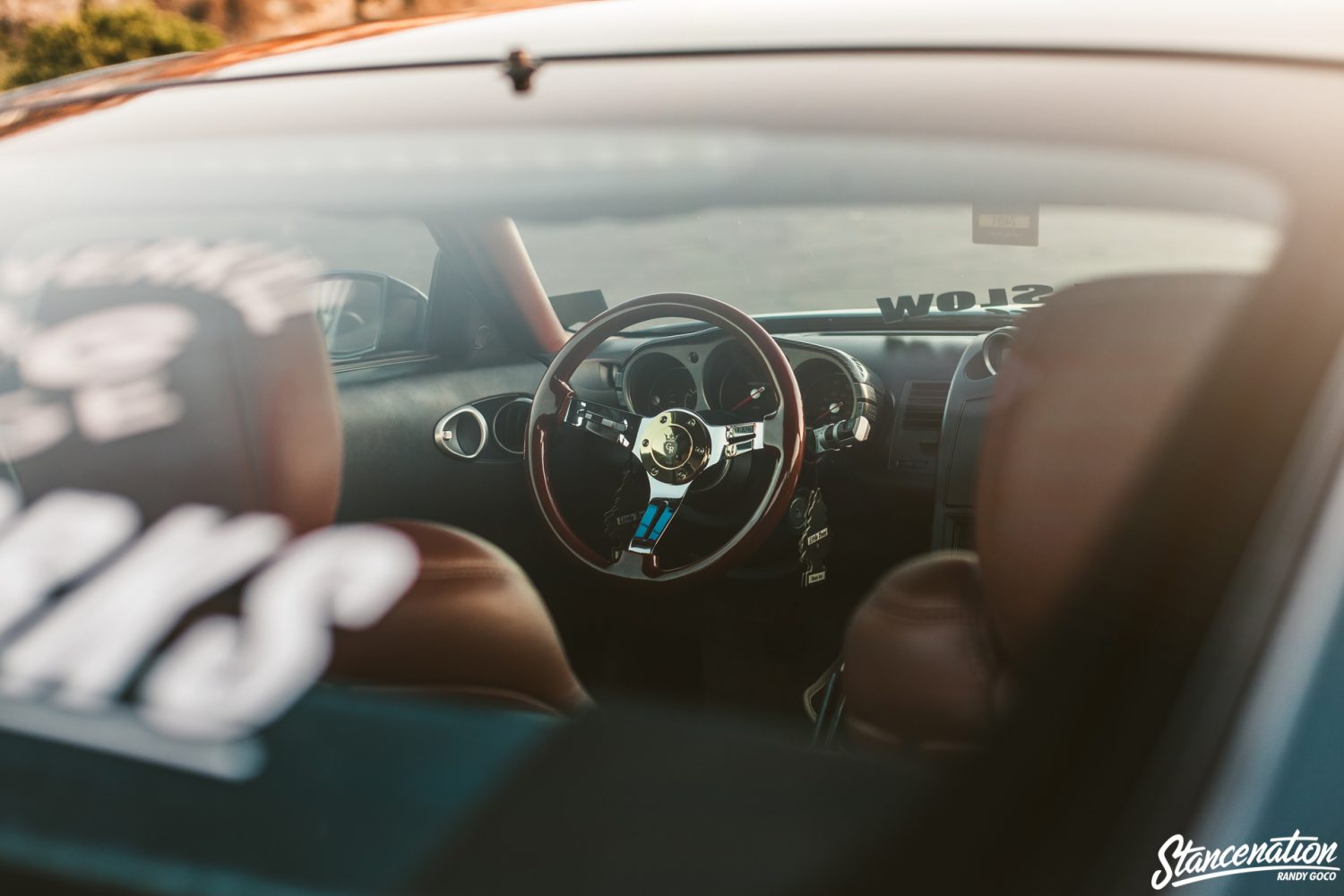 Above: A Hardwood Steering wheel by Grip Royal is a perfect choice to compliment the seats as it gives the car an executive feel.
Below: Featured prominently is the WEARELIKEWISE "Finger Banger" Shifter finished in their chrome or "Chromosome", which compliments the seats, headliner, and pillars, while introducing an air of sportiness to the refined feel of the interior. I love the names of these WEARELIKEWISE products, so much to run them in my own car, which is currently without one. Like maybe a Neil Diamond Shifter, or the Shredmaster 5000?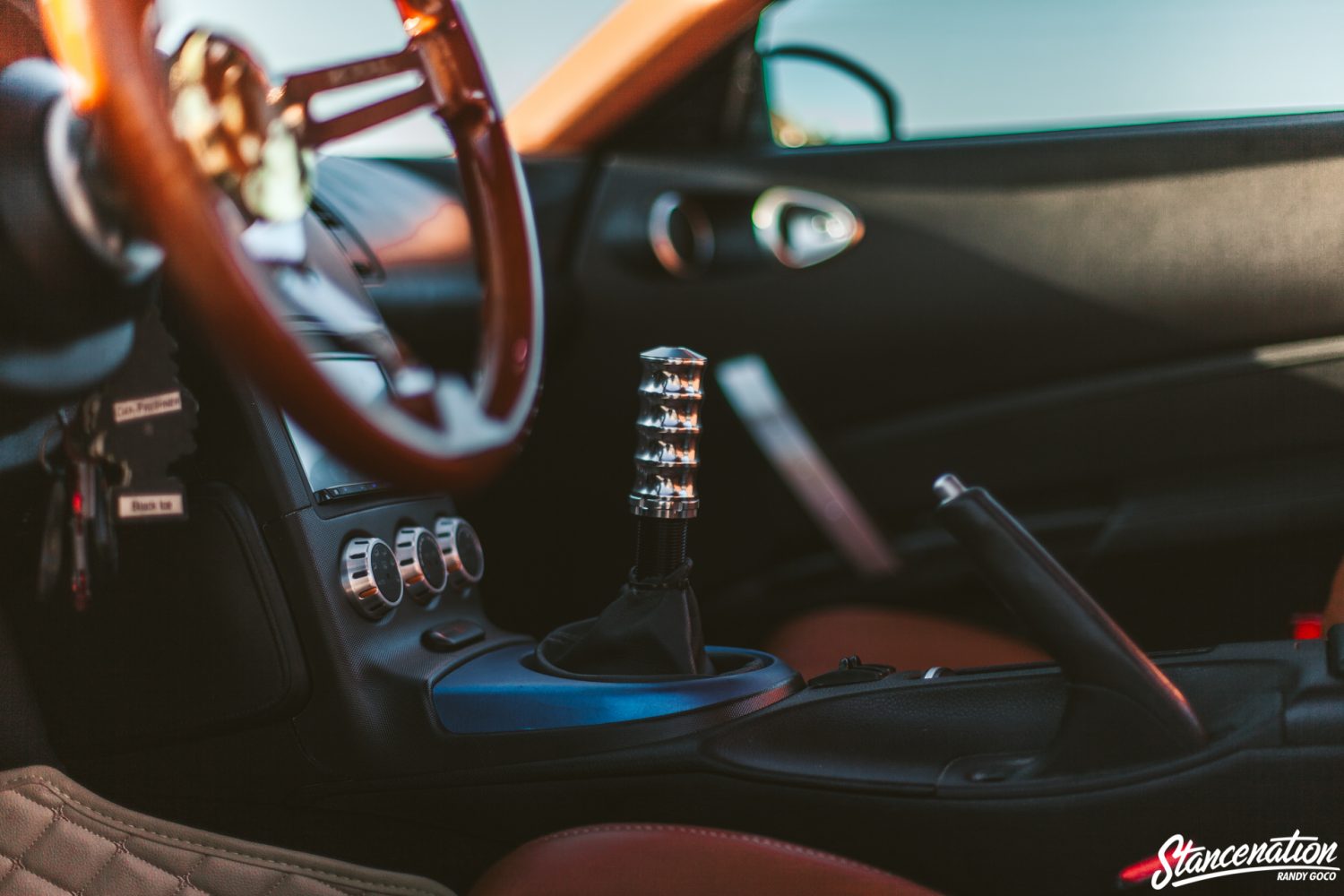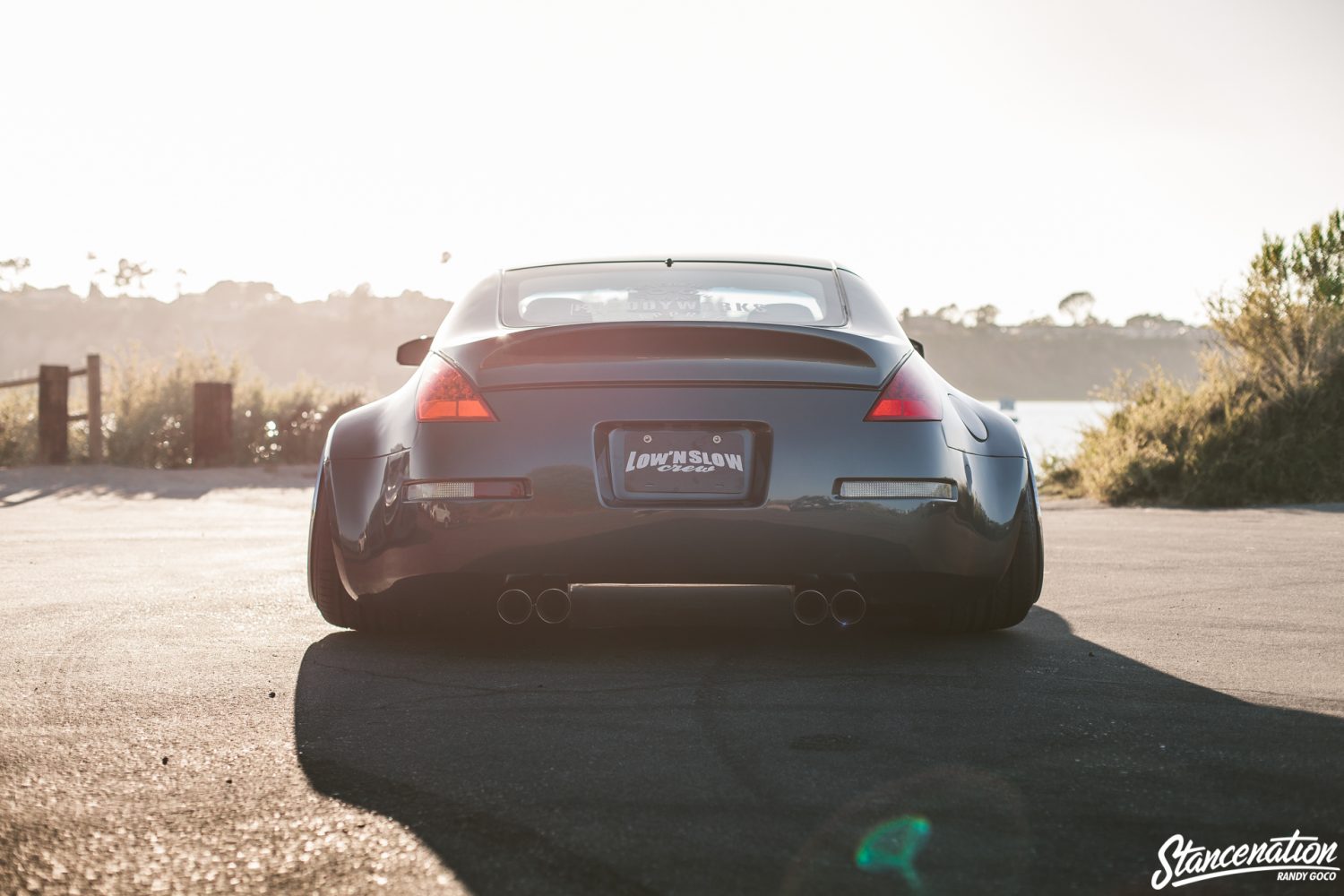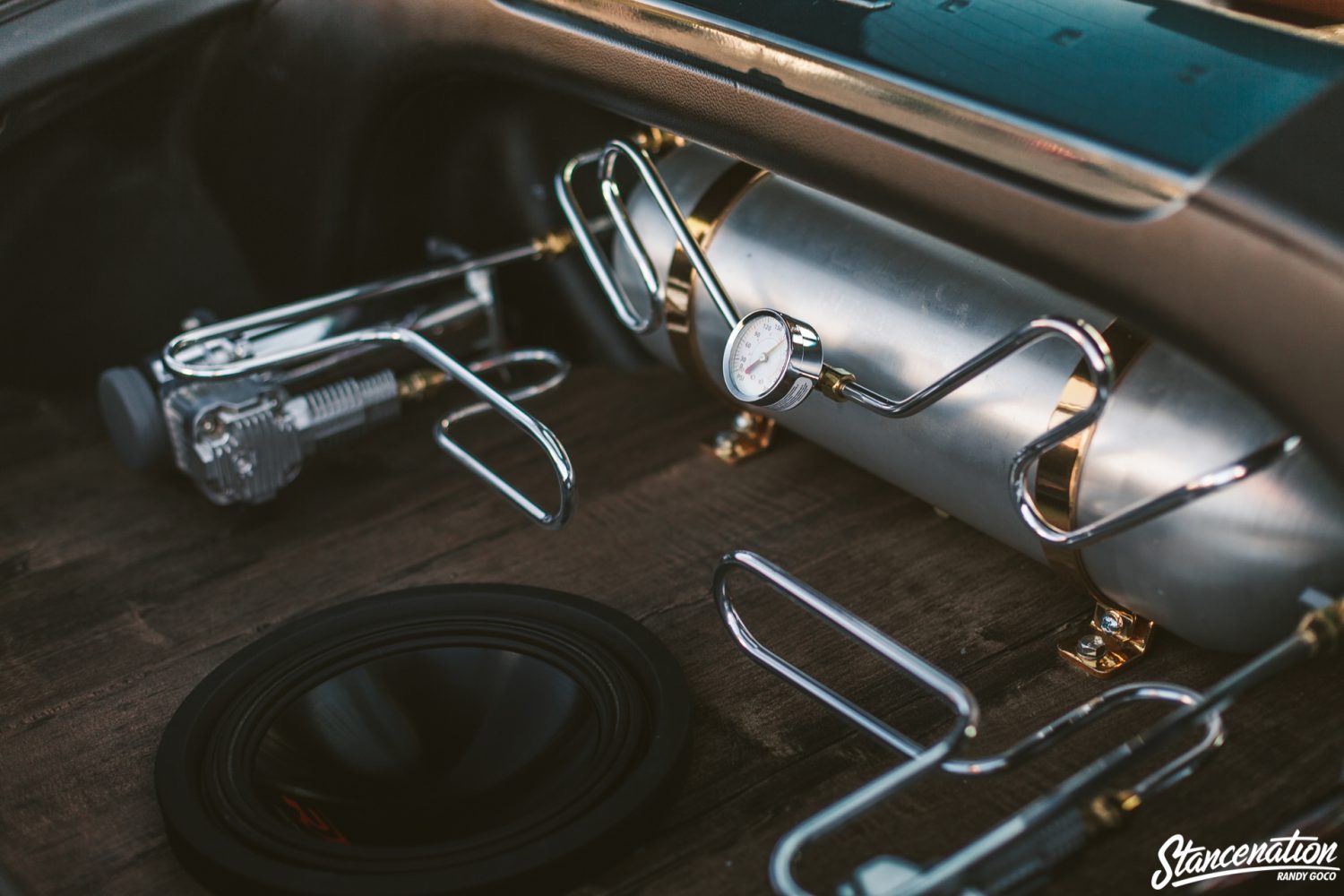 With Overkill Garage at the helm in creating this beautiful wood trunk set up, Jose went with a hardline air set up. Doubling as a subwoofer enclosure, this trunk set up allows Jose to enjoy the music as well as neatly display the hardware that allows his car to move vertically in height allowing this slammed creation to navigate the ever-changing and unforgiving Southern California streets.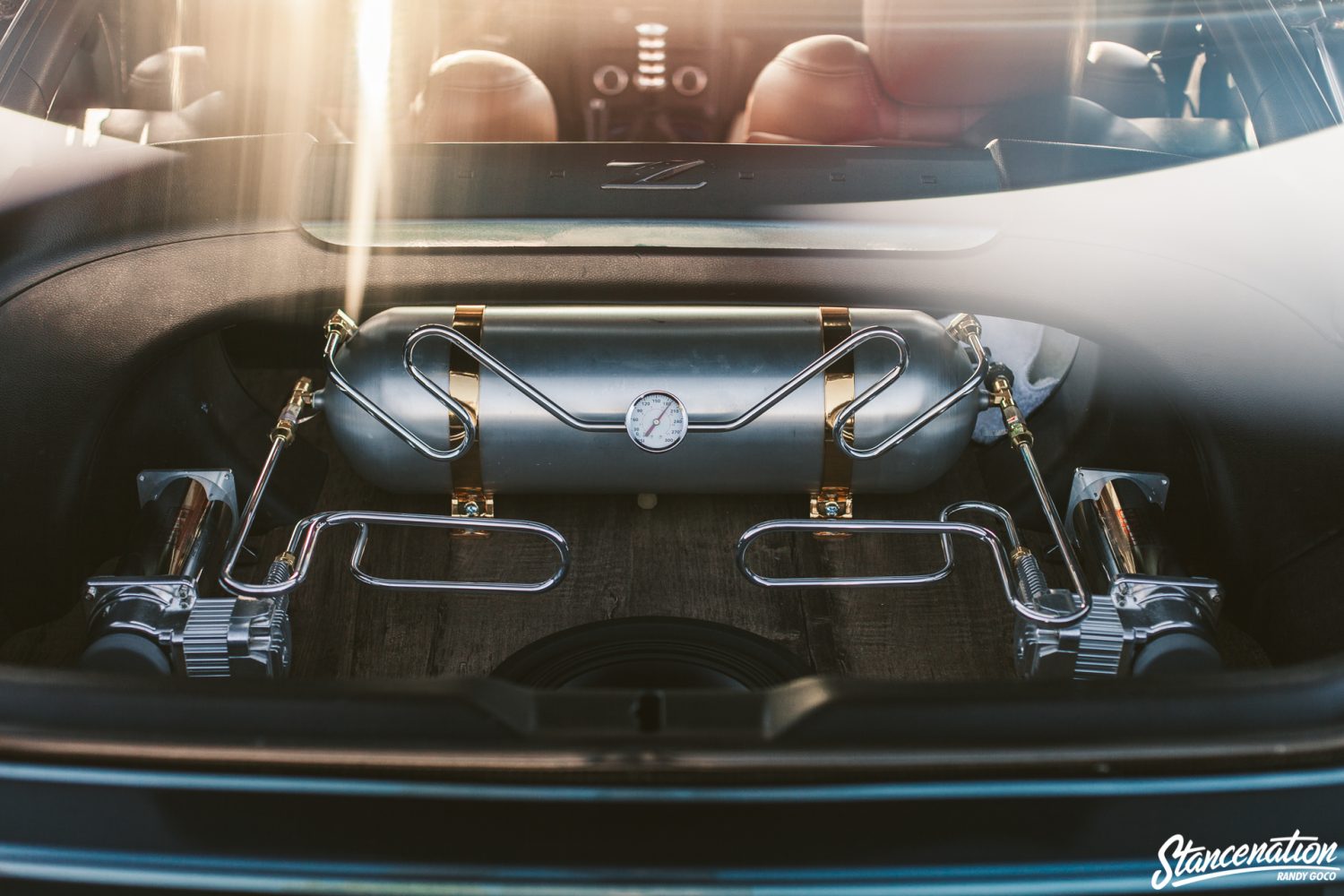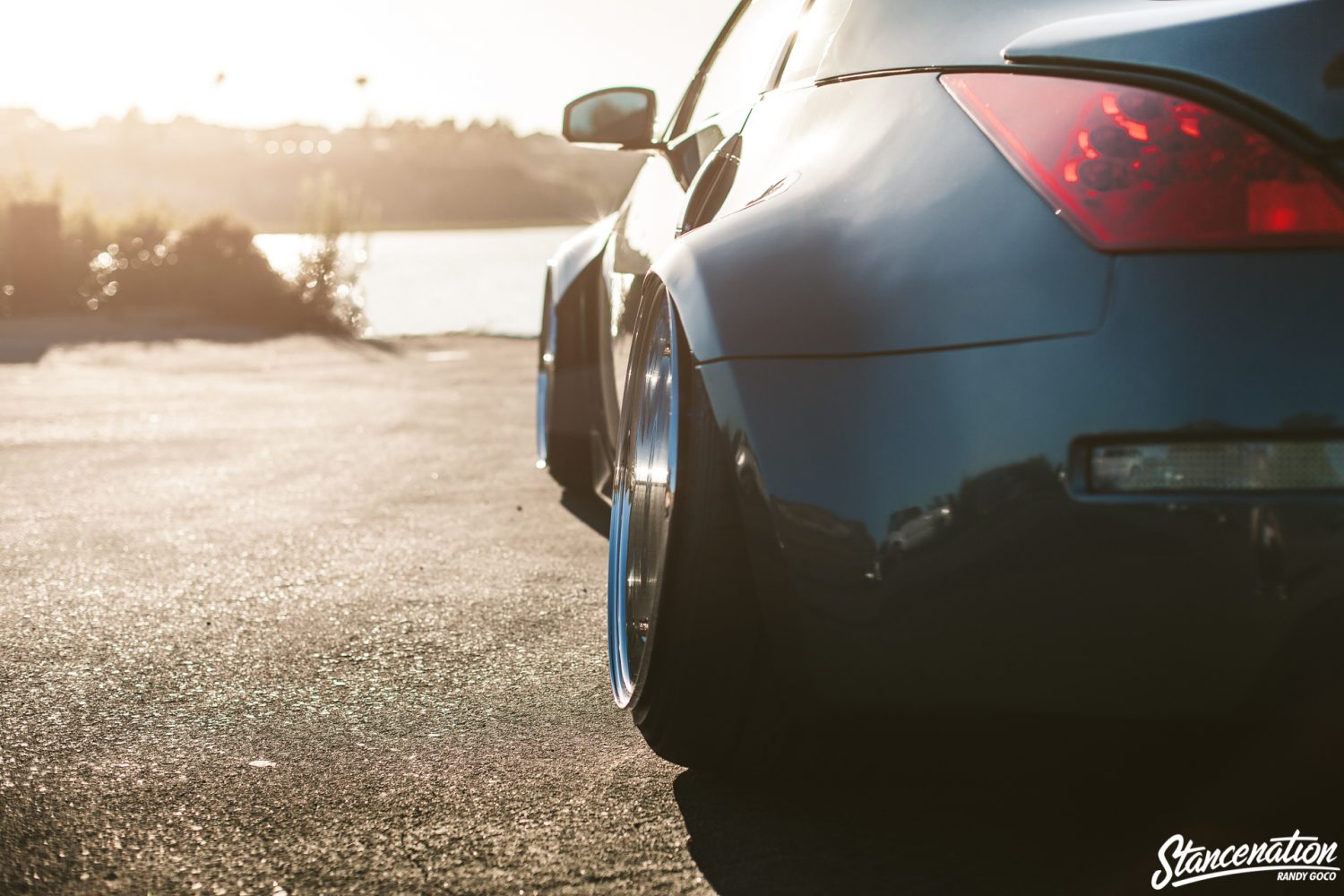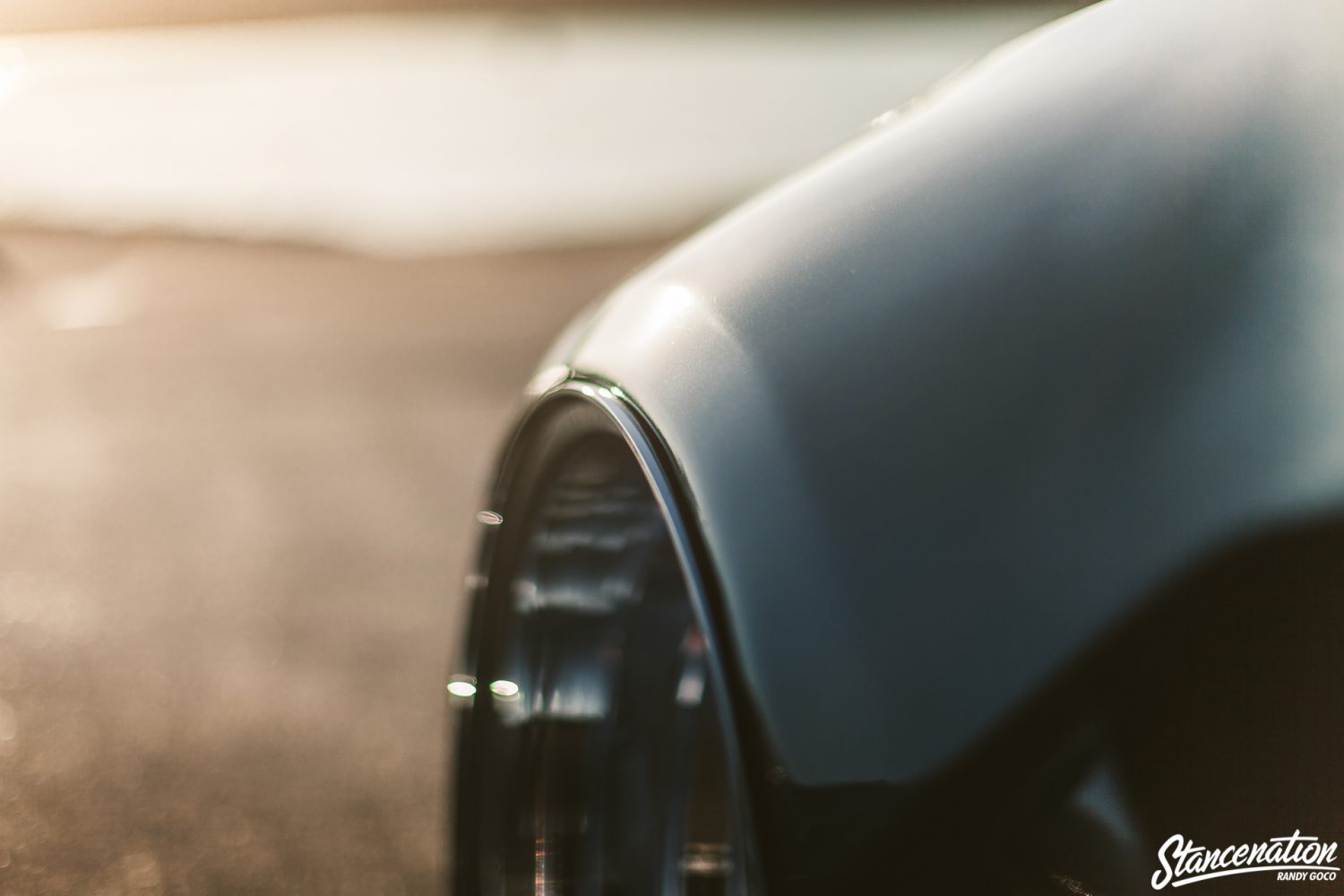 To achieve such fitment, Jose had to call upon Godspeed coilovers with UAS Bags. Aftermarket upper control arms and rear camber arms help dial in his suspension for this perfect fit. After all with the custom metal body work, everything had to be carefully measured and built accordingly to fit the massive Avant Garde F141 that clock in at a mind boggling 19×12 -20 in the front, and 19×14 -65 in the rear. I thought I was a badass with my wheel specs, but I think I should take notes, because Jose just schooled me in Wide Wheels 101.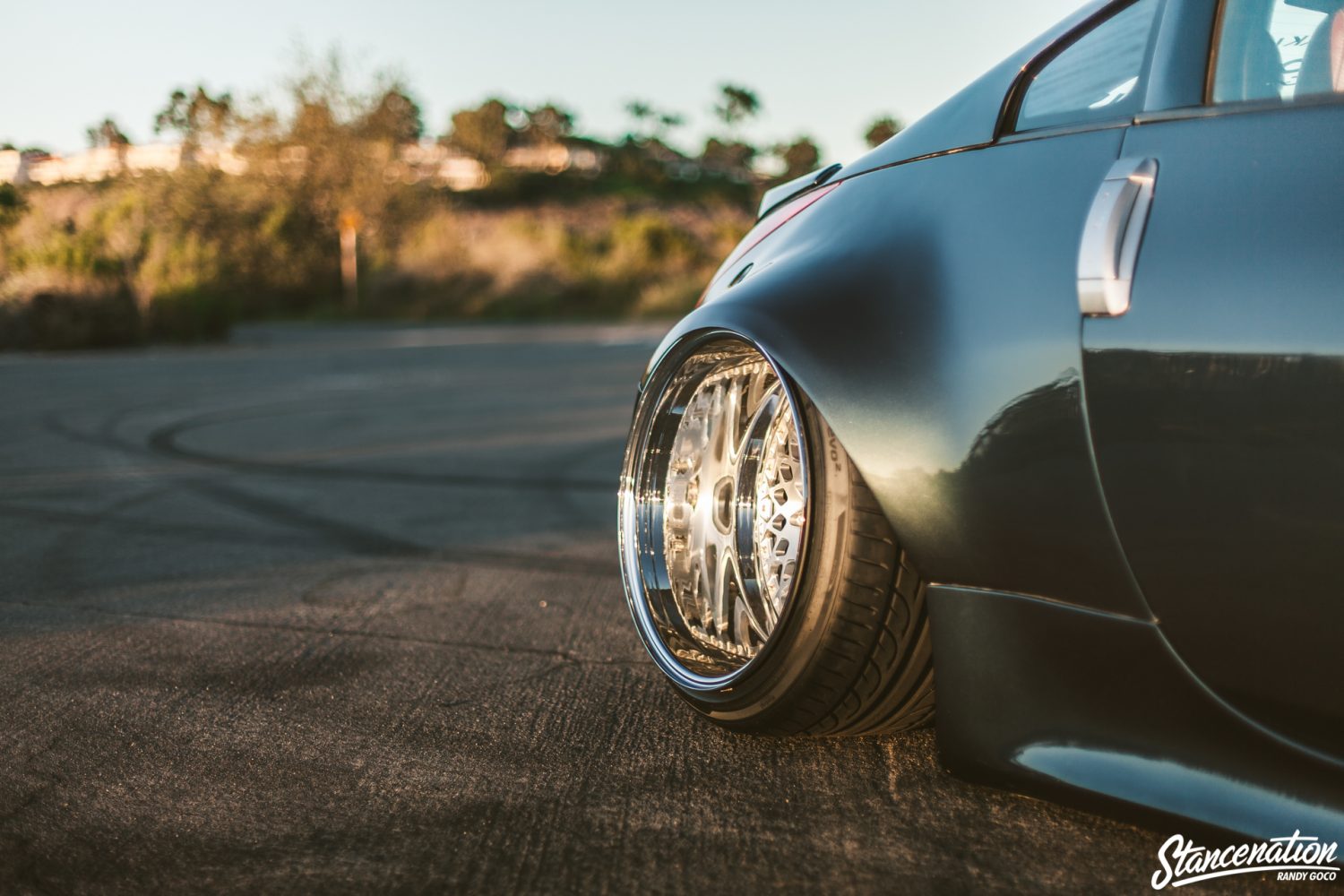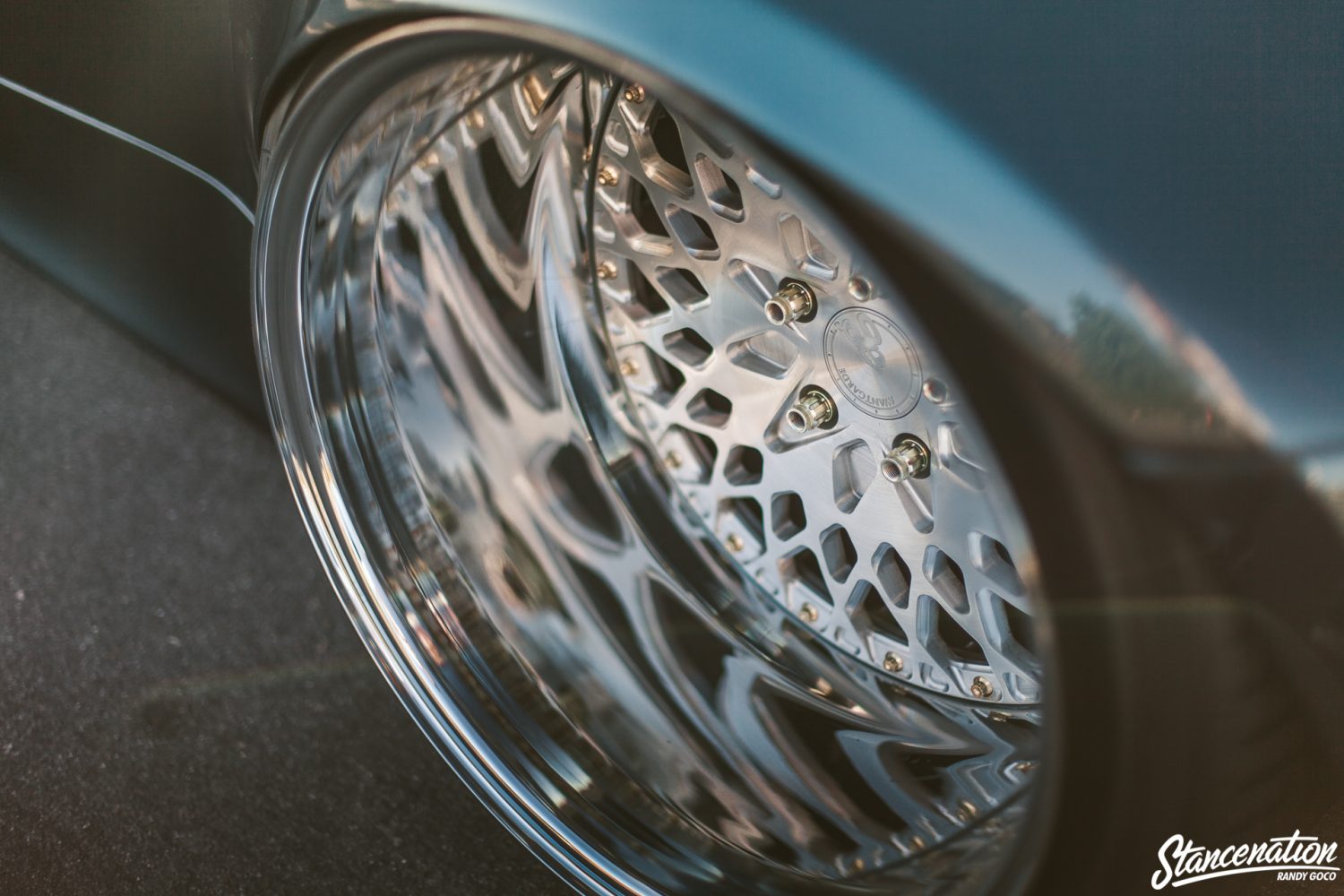 Just look at the beautiful snowflake like face. On a car or as a table in a man cave, these wheels are a work of art that I can't get over. The only thing I could think that would suck about them would be to clean each mesh window, but I believe I could do that lovingly with a soft bristled toothbrush. Below, is Jose's painted VIS Racing Aztek Carbon Fiber hood, hopefully hiding his next or future modification, as he tells us his car is currently under the knife, once again.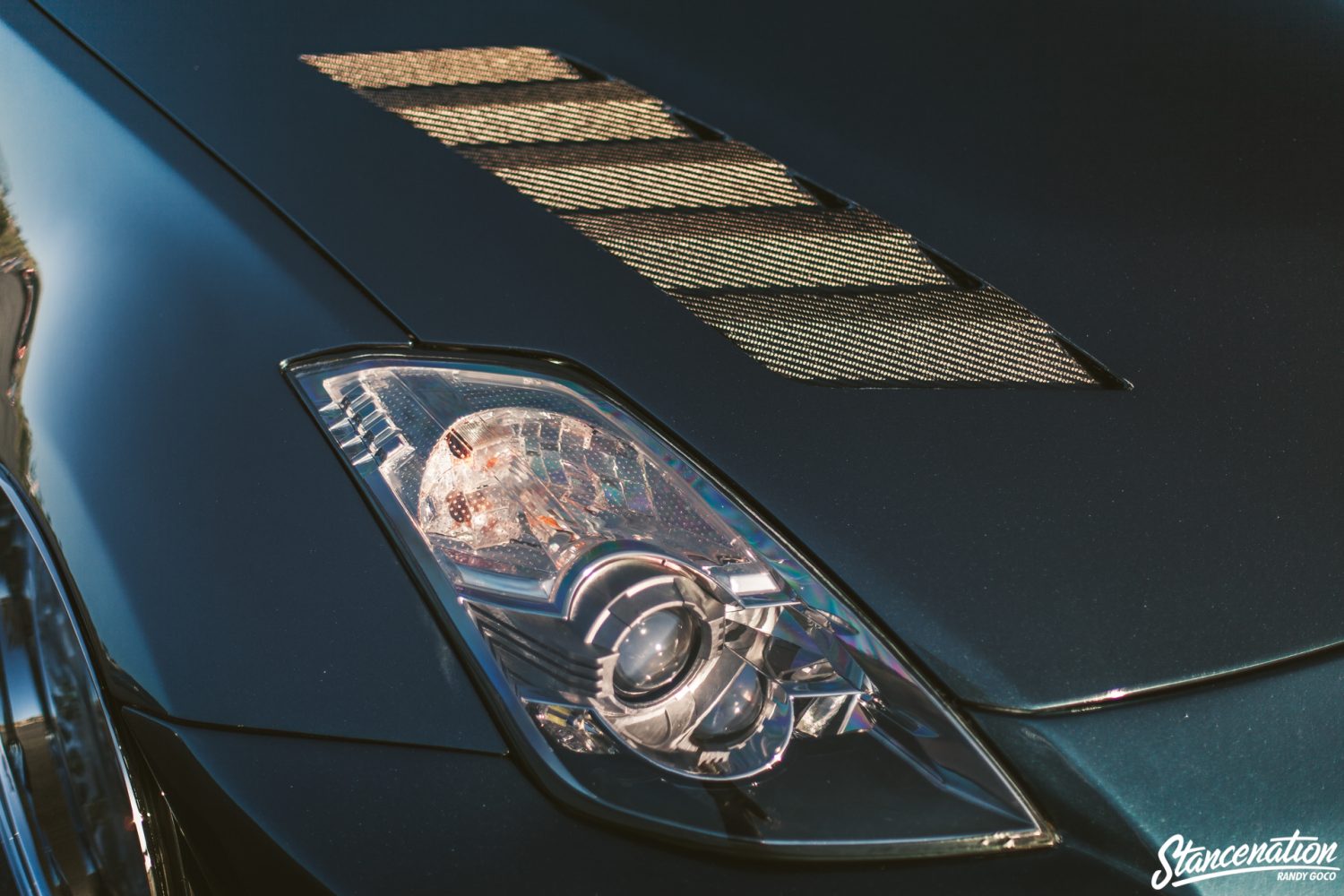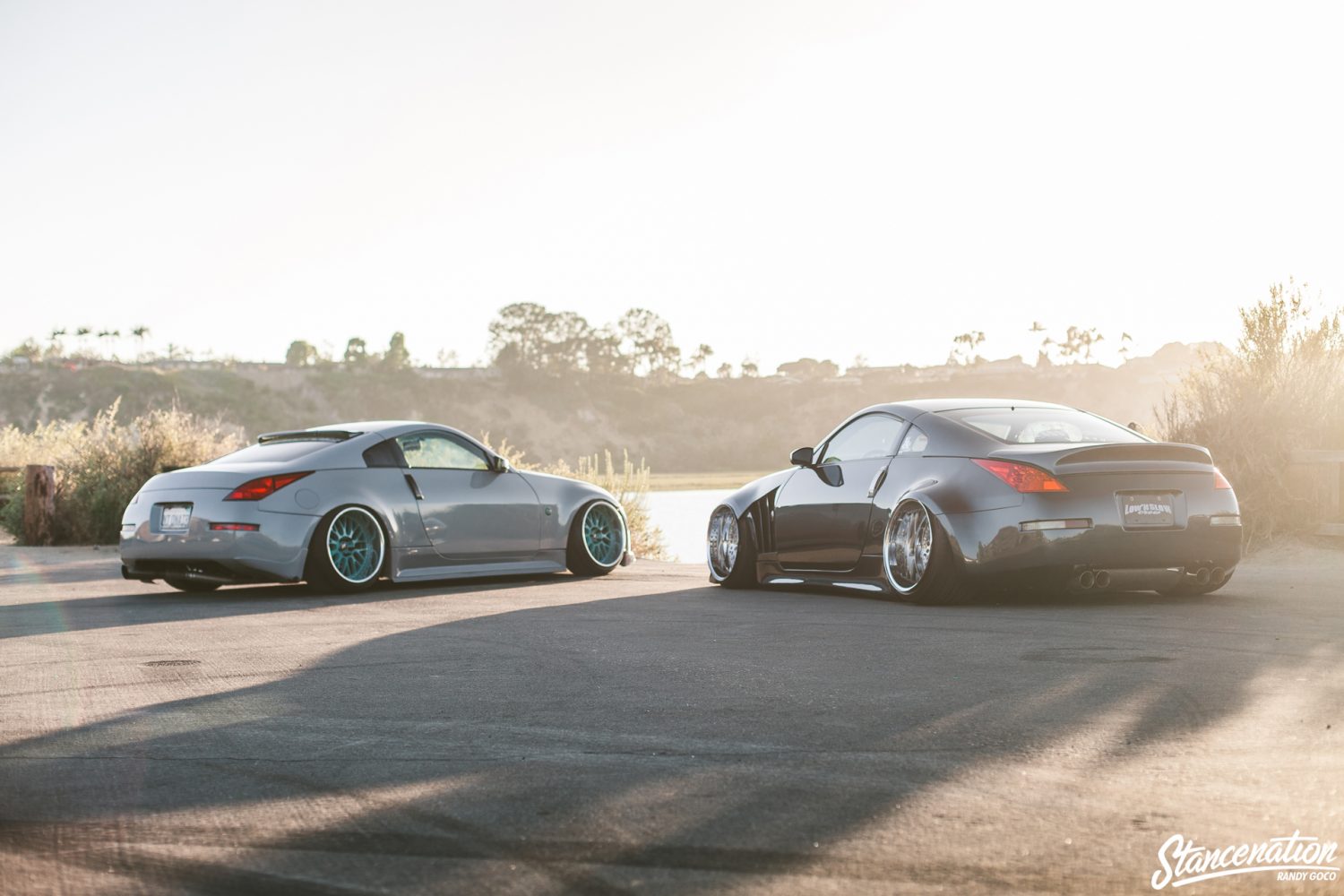 Last but not least, Riley and Jose would like to extend their thanks to Elvis and everyone else that worked on their builds or this double feature. With all that aside, let's not forget about the best pair of all, cars and the friends/memories that we make from this shared passion of ours. Because ultimately, it goes further than that, a crew isn't just its' name. It's about family and the things that tie us together. Without each other and this sense of community, I don't think many of us could imagine our lives without the people we've met through cars, because I surely cannot.