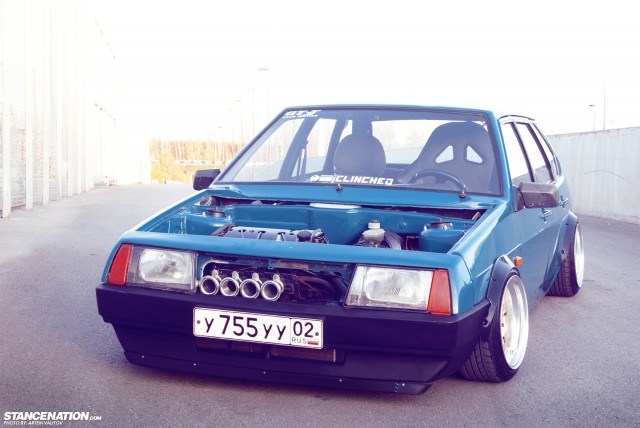 The internet has connected the planet in a phenomenal way. Years ago, it took months or even years for breakthrough styles and ideas to make their way overseas or even coast to coast. Our way of life was regionally limited. The online connection has enabled us to share our projects, trade parts, or be inspired by the creativity of another that is thousands of miles away. With this melting pot of auto culture fresh philosophies have emerged, the various ethos from each school of thought have combined to give life to fascinating and unique builds.
Photos By: Vladislav Shumilim exclusively for StanceNation.com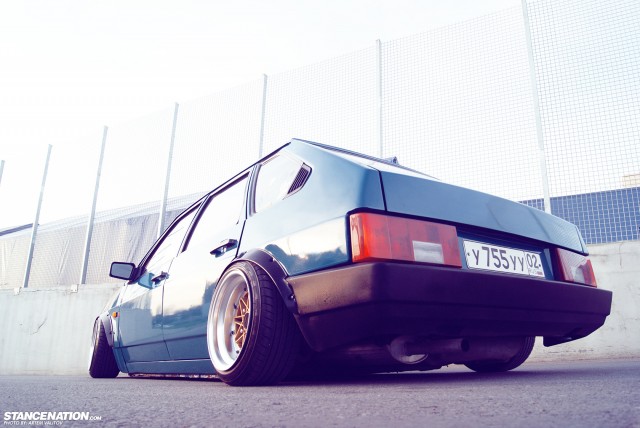 Fortunately the internet has also given life to websites and blogs such as this one. Years ago, it'd have been an unheard of circumstance for me to be sitting here in South Carolina writing about a vehicle from Russia. AvtoVAZ Lada vehicles are domestic to the Russian community and are not often seen, much less thoroughly modified, anywhere else in the world. This particular model is a Samara. They are reminiscent of many Euro-market vehicles of that era, and my mind immediately jumps to some VW-esque styling cues. The later models are known as the Samara 2 though I prefer the boxy/edgy styling of this vintage to the newer, which is honestly a little bland.
Artem Valitov has owned this Samara for 4 years and it's obvious he's sacrificed plenty of time and energy making it his own. He says he can't decipher a single component that he could name as his favorite, as the vehicle as whole needs each part in order to match his vision for the build. It's a refreshing concept to have – and speaks volumes for his work ethic and attention to detail. Too often builds make sacrifices despite having high-quality portions here and there.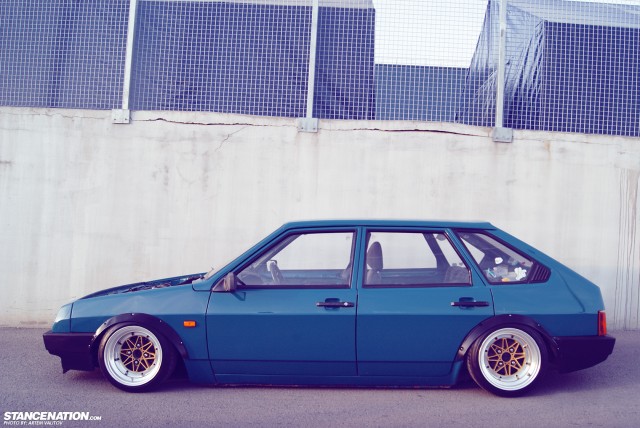 The first thing I noticed on the hoodless creation were the air trumpets for the individual throttle bodies. Artem's Samara is motivated by a 1119 1.6L block, which is one of the larger Lada engine options. The impressive ITBs were donated by a Toyota Levin 4AGE engine and feature Pipercross filters, they feed a modified cylinder head with a custom-ground camshaft. The extensive engine work is remarkable and cleanly executed with a proper wire-tuck and stiffened engine mounts. I am curious as to how the engine sounds. Other modifications such as the relocated fuel tank/lines and the custom oil pan are necessitated by the drastically lowered ride height – a smart touch.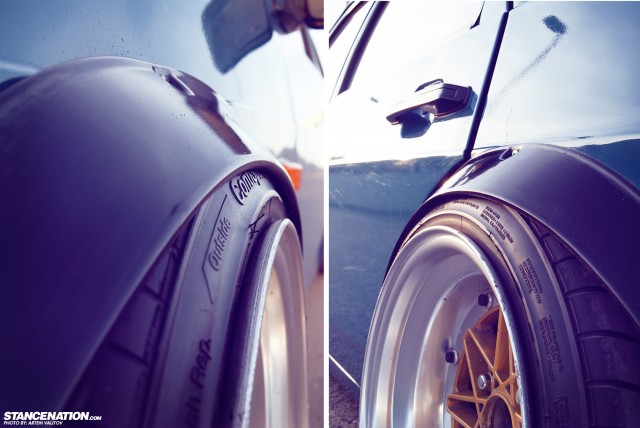 Accomplishing such an absurd ride height was not an easy task. Obviously, the aftermarket of popular cars is not present with the Lada models. The coilovers are custom and incorporate Eibach springs and Createch upper mounts. The control arms were modified and Valitov also utilized custom drop-plates in order to get the car to sit at such an extreme height. Obviously, suspension geometry changes significantly with such changes – the rear crossmember has been relocated 15mm rearward in order to compensate and achieve the correct wheel position. The wheels, like the throttles, are also more often seen on older Toyota Corollas/Levins. Deep-lipped, gold-faced 14×8" Work Equip 03s are found at each end — adding a bit of JDM influence to the Lada and fit well with the unusually-sized 195/40/14 Continental tires. Artem had to use hub adapters in order to mate the Japanese wheels to the uncommon 4x98mm PCD of his Samara.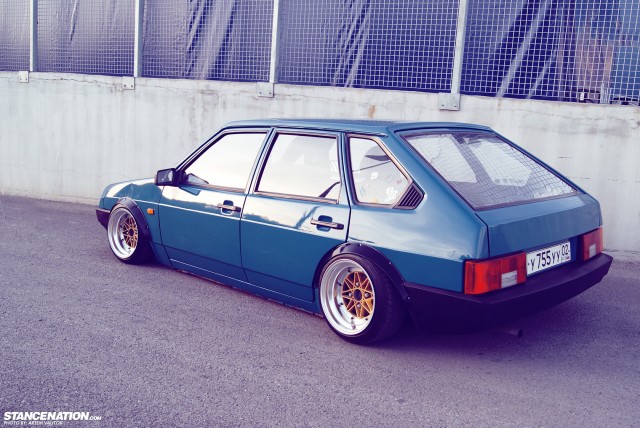 Those Equips tuck underneath Clinched fender flares that are riveted on over cut wheel arches – offering plenty of clearance for the aggressive fit and ride height. The front end is a pre-facelift model with the large, square headlights. Like the beautiful engine bay the body has been shaved clean, devoid of any badges and is finished in lurid BMW Laguna Seca Blue paint. The overfenders match the styling of the wheels well and their presence blurs the line even further between European and Japanese styles, much like the geographical location of Russia itself.
Halfway around the world, Artem Valitov has poured his heart and soul into building his car. It's a different and challenging platform but he was absolutely successful. Thankfully, the world wide web exists so he can share his creation with this writer and ultimately with many others. He tells us his future plans are focused on the interior, with the addition of a roll-cage and race seats. Of course, like anyone else, he's not finished. The project continues regardless of where you are and what you're working on. Of course, the network will be there to assist, motivate, and inspire you along the way.