Building cars can be very tricky. However, pick a popular platform, lets say, the S13, and with a quick Google search, you can pick from a myriad of build threads and guides that will explain how to do what you need to your car in terms of modification or maintenance. On the other hand, when you run with a platform that isn't part of the usual repertoire, like this Scion tC we see below, much of the parts and pieces this car is comprised of, we see that much of it is custom. It all blends together oh so well and lends greatly to its name, Seiketsu.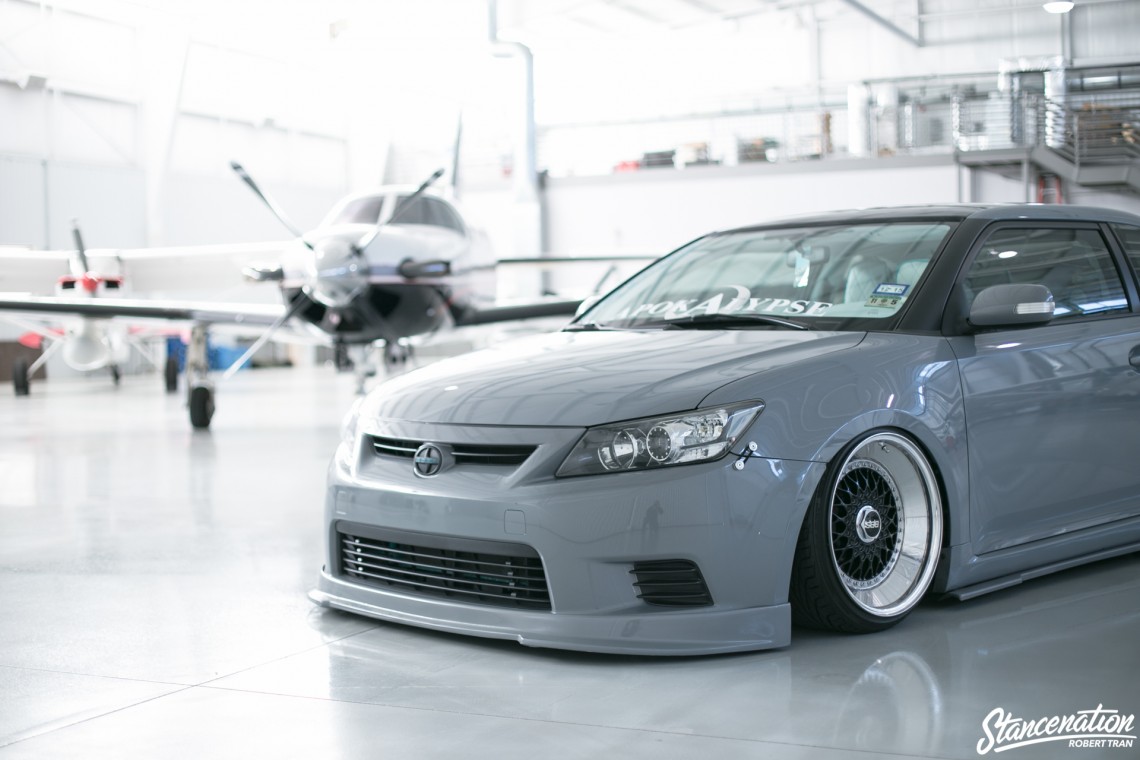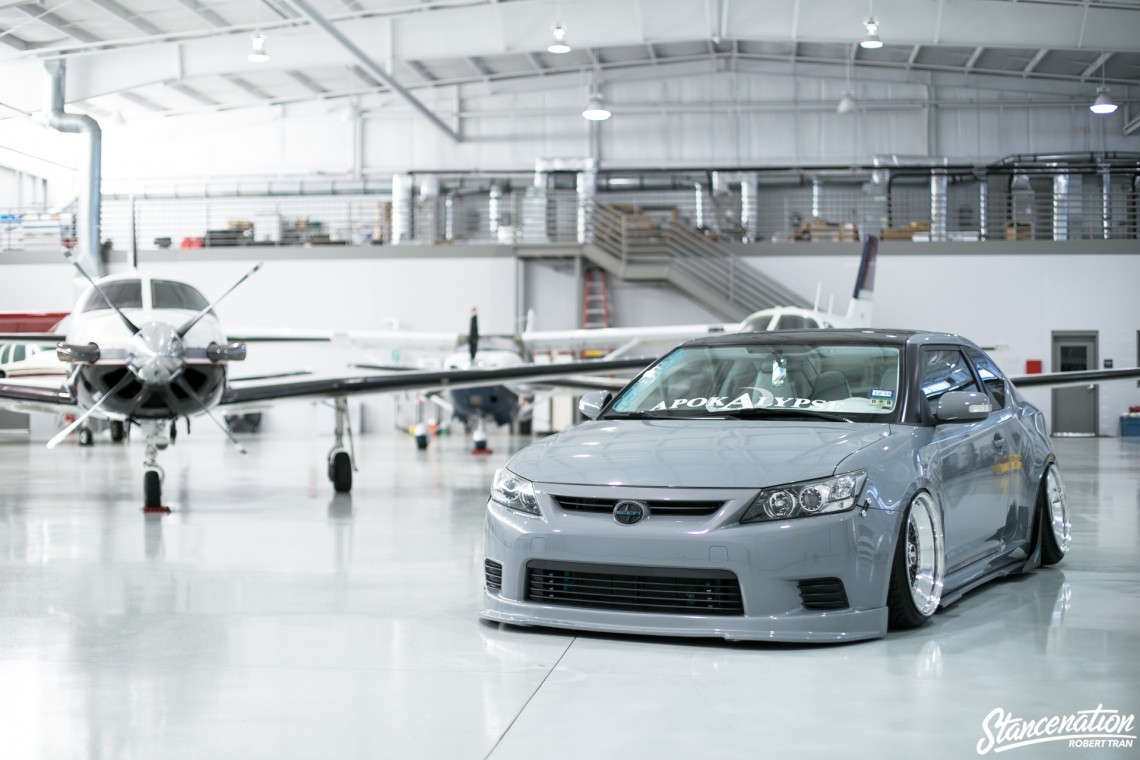 SEIKETSU, or translated from Japanese, clean like snow, is a fitting description. This car is crisp and clean, as well as refreshing and unique like a snowflake, for I have seen some similar parts, but not one quite like this. As you go through these photos, the meaning of the name will come quite clear.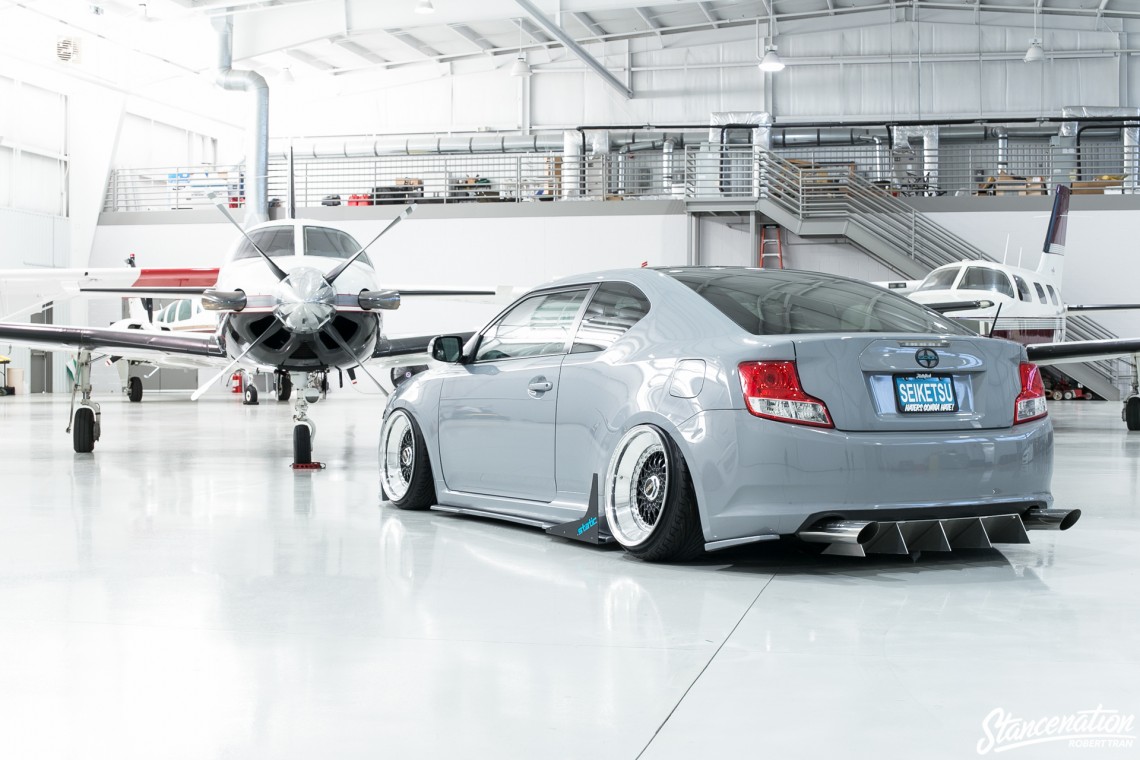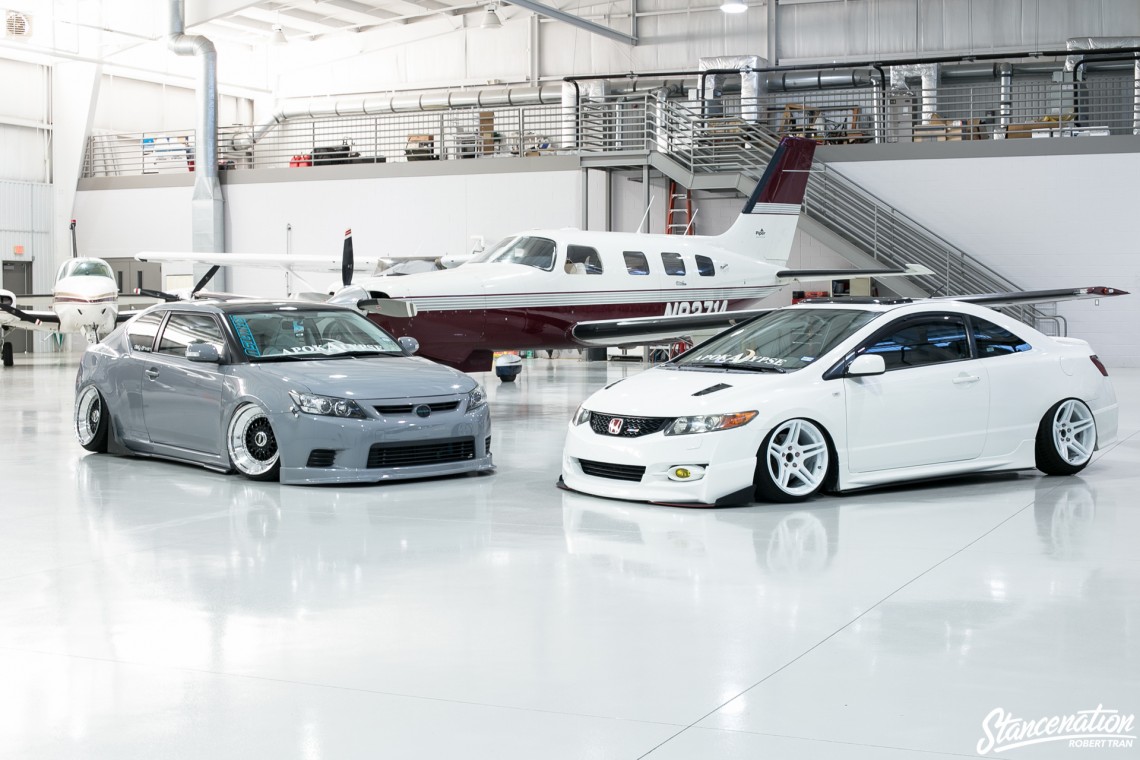 Here are some shots of Roger's tC and fellow Team Apokalypse member, Stevie Phamo's Civic, which some of you may remember from our featured a while back here. This is a great representation of Team Apokalypse and how clean their rides can be. Certainly this is impressive as both rides are static and are just barely above the ground. I can't deny that its also due to these stunning photos taken by Robert Tran.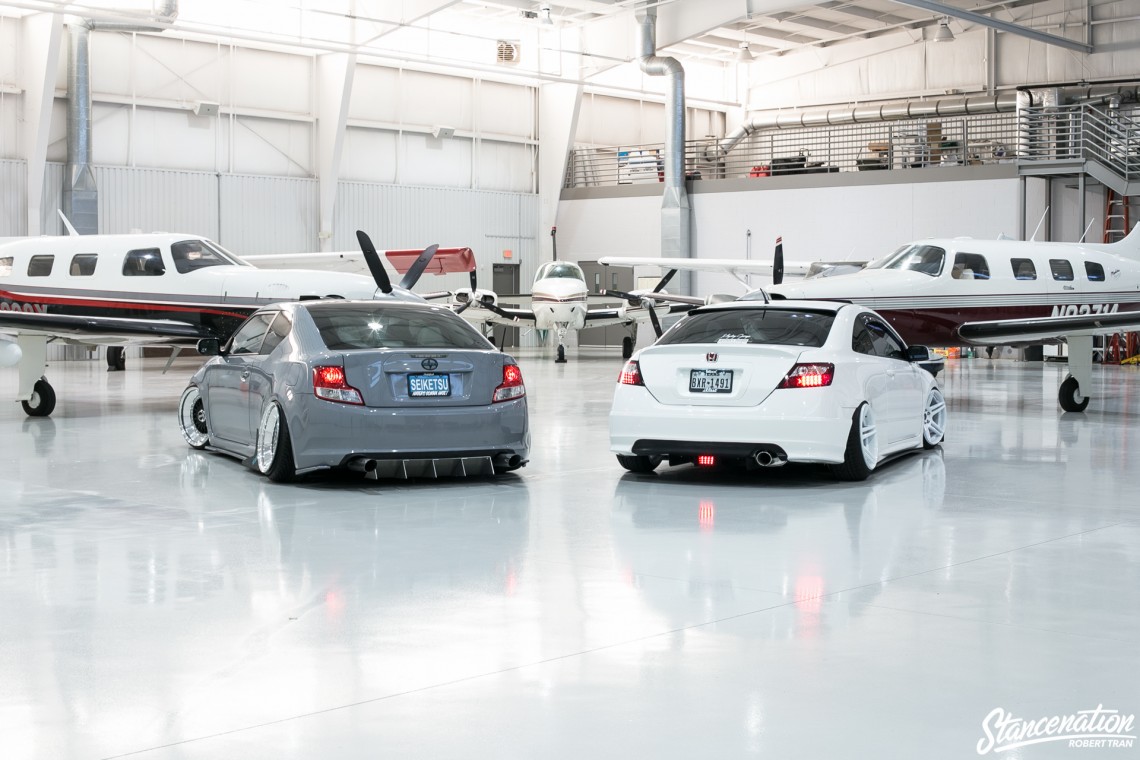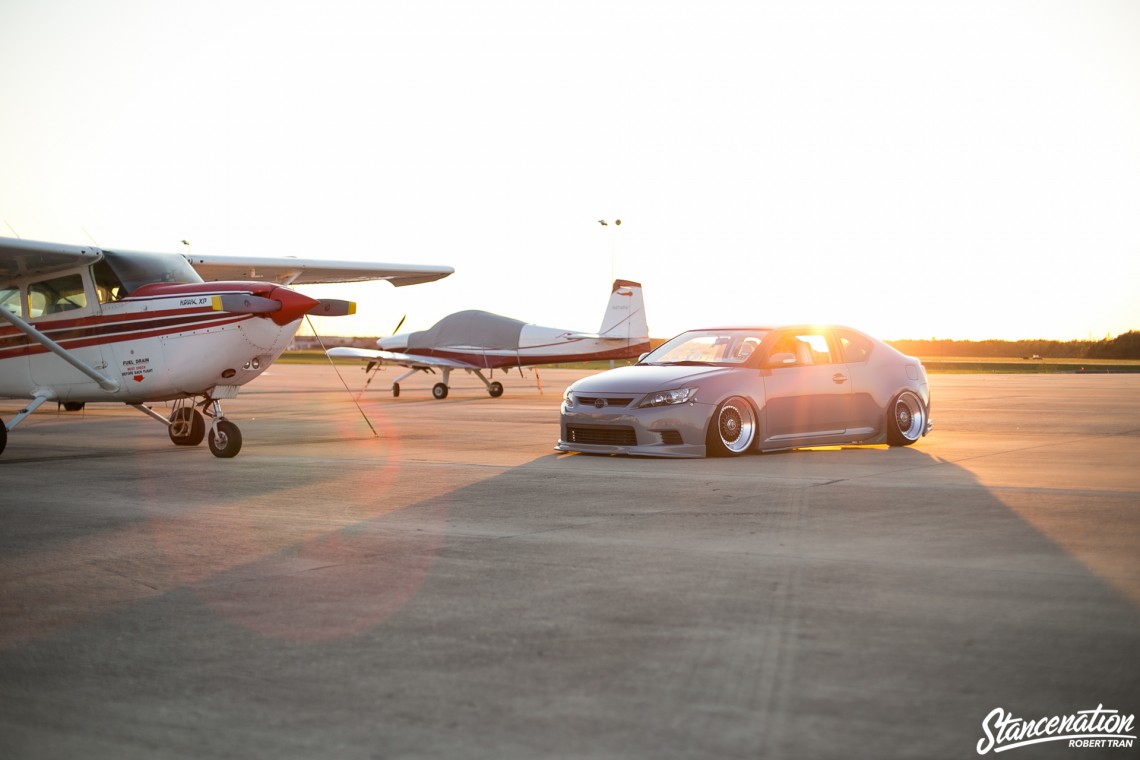 Roger Arias has owned this tC for about 4 years. Although platforms like this sometimes get undeserved flack from the enthusiast community, Roger wanted to prove otherwise. I'll even admit that sometimes, I discredit some cars because I have less of a preference for them, however, when something like this comes together in such flowing execution, I can't help but do a double take and appreciate the choices and how it all comes together.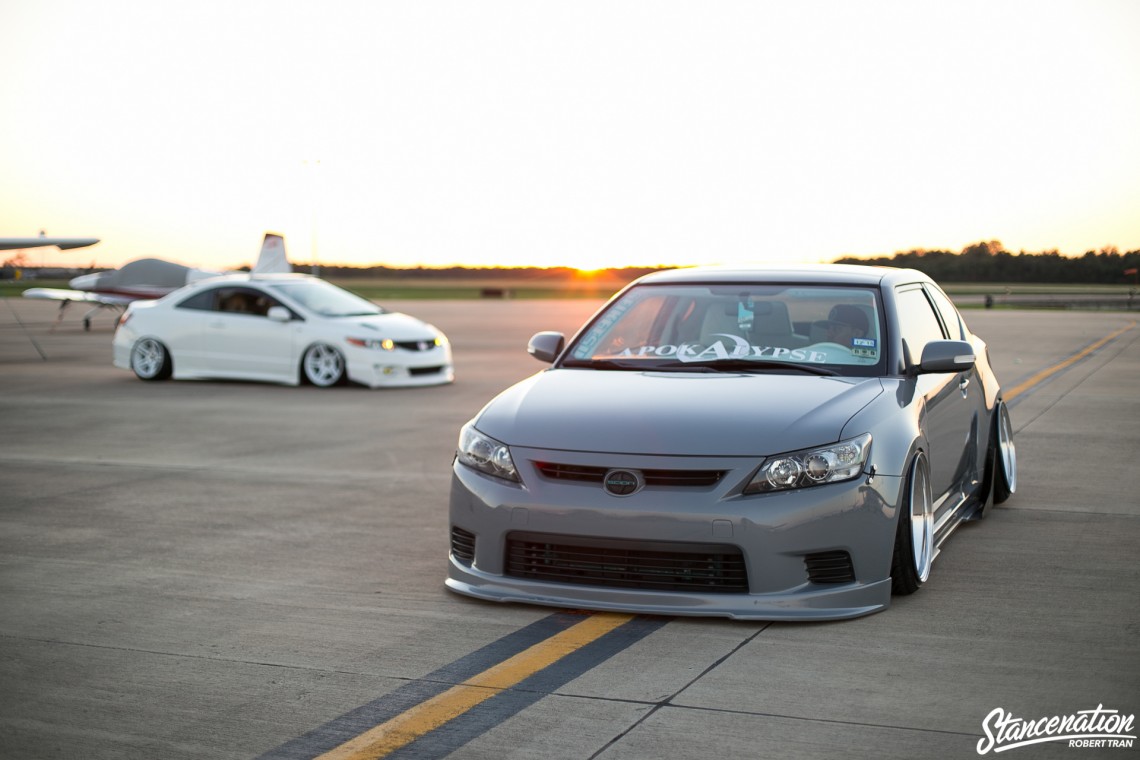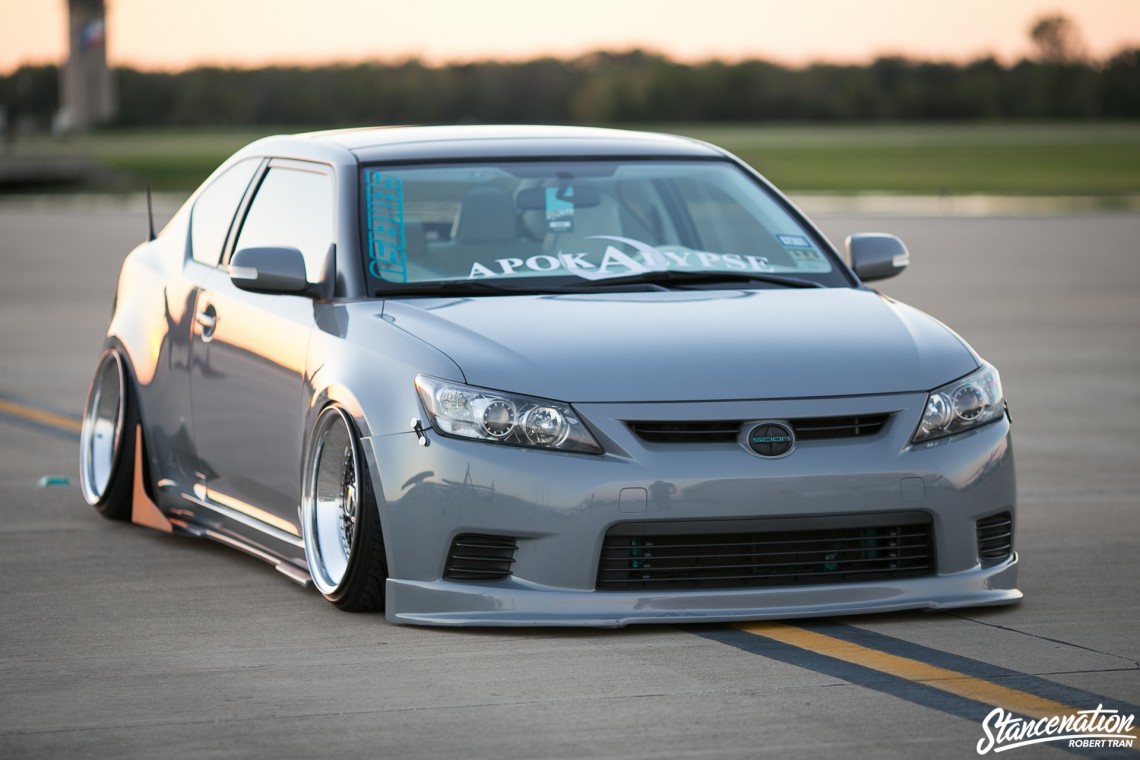 One of the hardest aspects of this build to Roger was to get his car so low to the ground while achieving such wheel to fender magic. To achieve such a low height, Roger pieced together a custom spec'd set of KSport Coilovers. He then called upon Swift for a set of their high rated springs to allow for the daily static ride. To protect his oilpan, he uses a custom built skidplate, to ensure he never gets stranded from a problem as gnarly as that.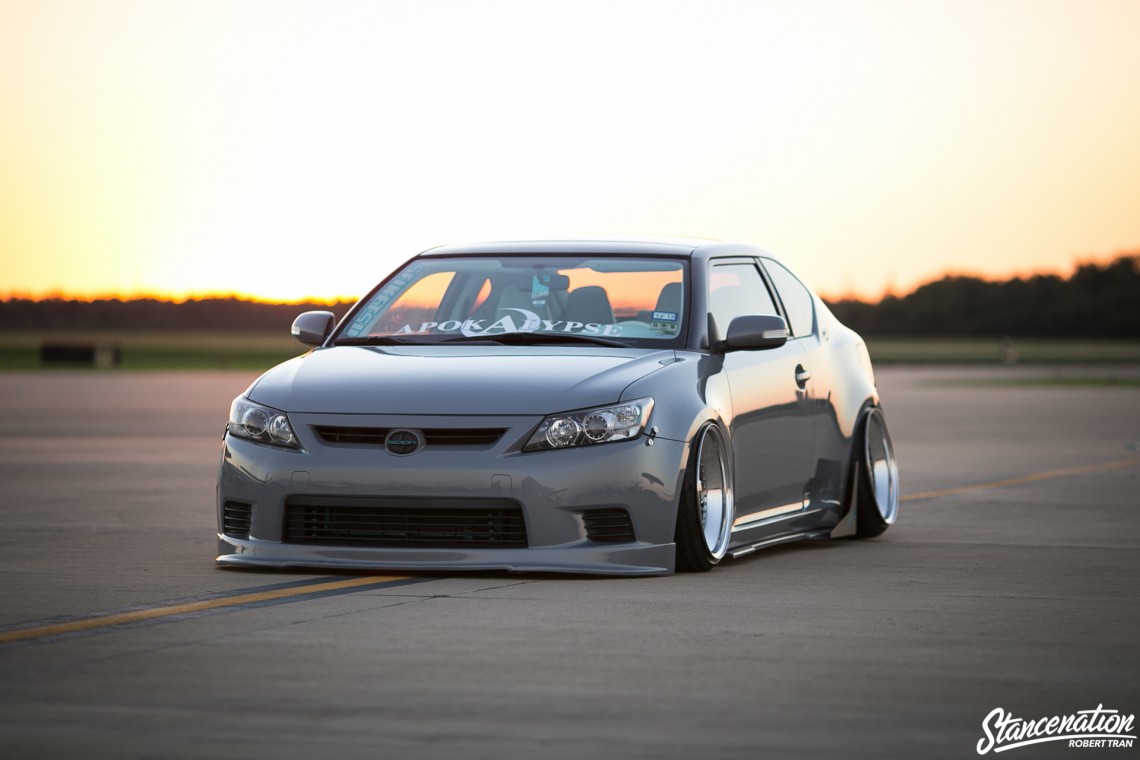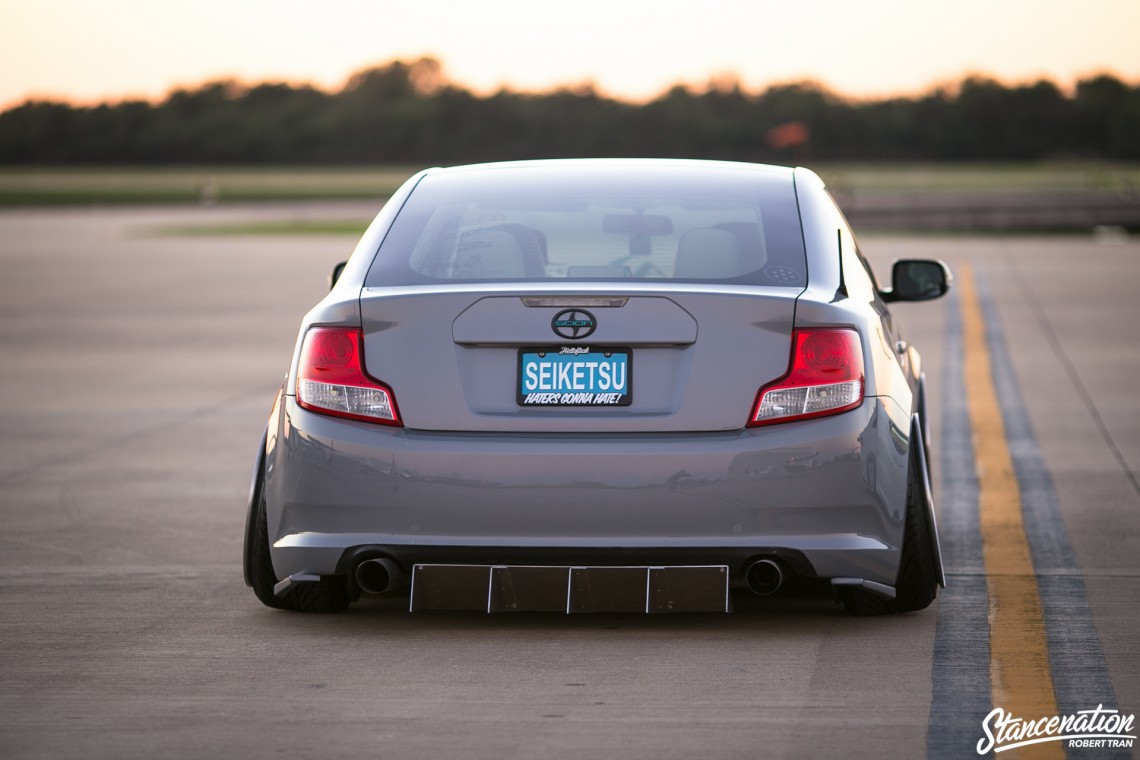 To achieve such a look from the rear, he is running a custom built rear diffuser, styled in a way I so desperately want for my own build. In addition the rear exhaust has been modified to dual, nicely rounding out the rear. To get the wheels nice and "tilty" (just the way we like them here at Stance:Nation),  Roger needed alot of pieces. SPC custom camber bolts coupled with custom camber arms that needed to be chopped and welded round out the suspension.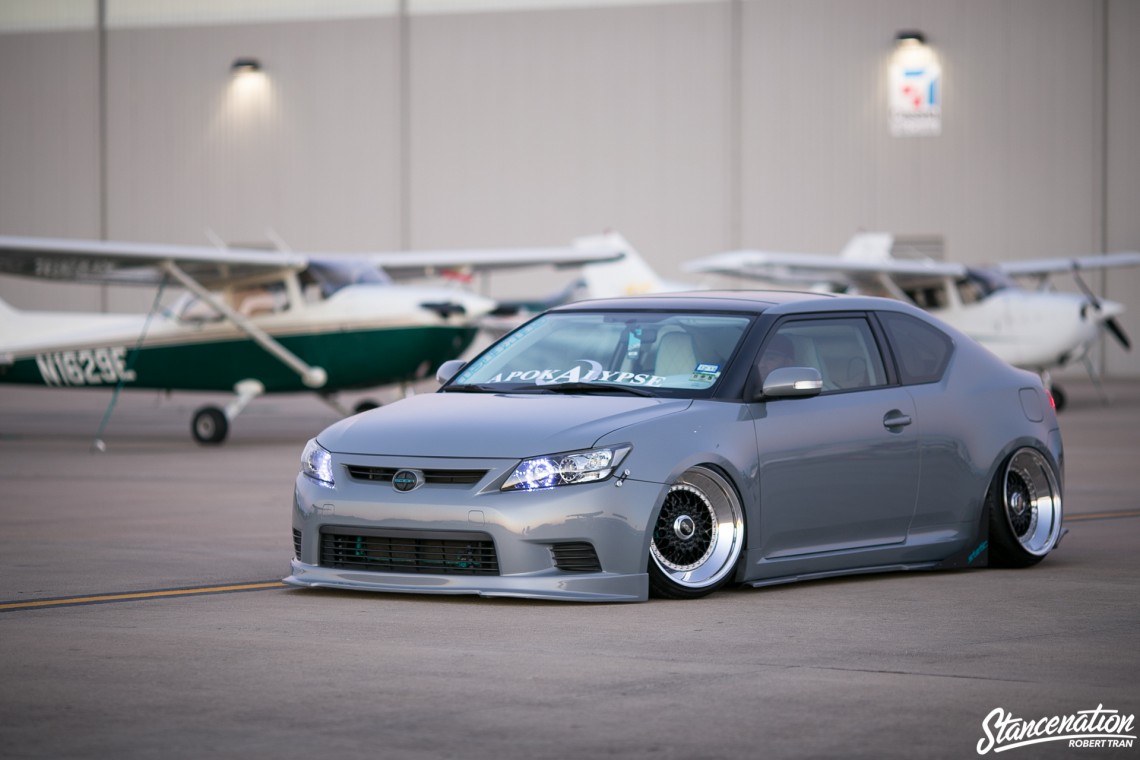 One of my favorite things about car modification on lesser chosen platforms is the ingenuity of the owners. Sometimes, if the market is limited for the parts they require a bit of work, such as the sideskirts you see – Roger headed to Nissan and sourced some GTR side skirts, that's why initially they looked so foreign yet familiar!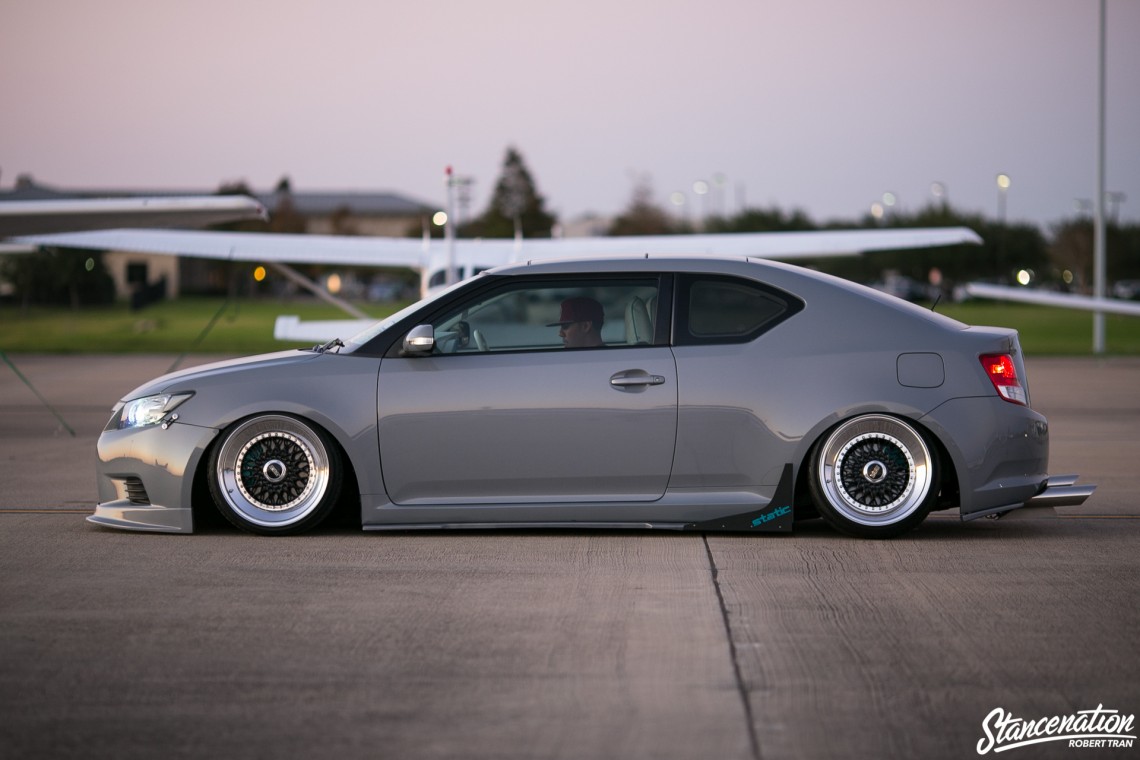 Sitting cleanly underneath the fenders are a set of BBS RS measuring out to 18×10 / 18×11.5 with polished slant lips. I think its beautiful, because it reminds me of a modern spin on the white walled tires mixed with the meshy wire like the combinations that could be found on the old school lowriders. That's just one of the many things I dig about it.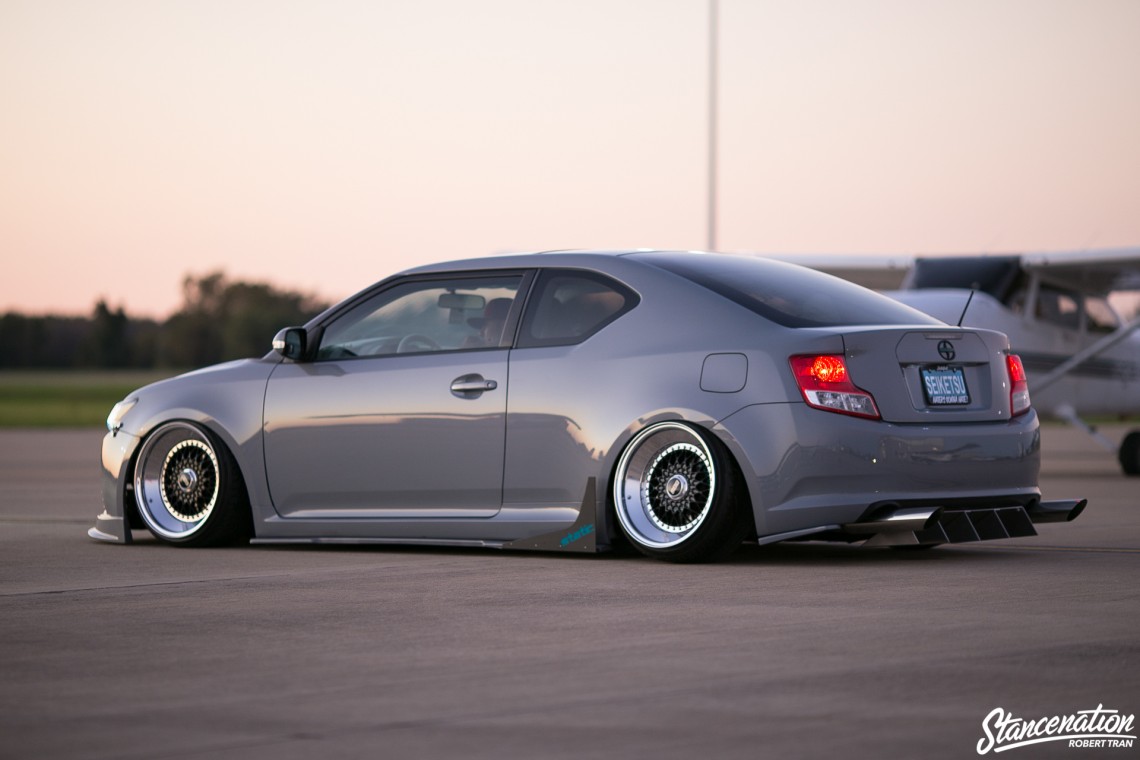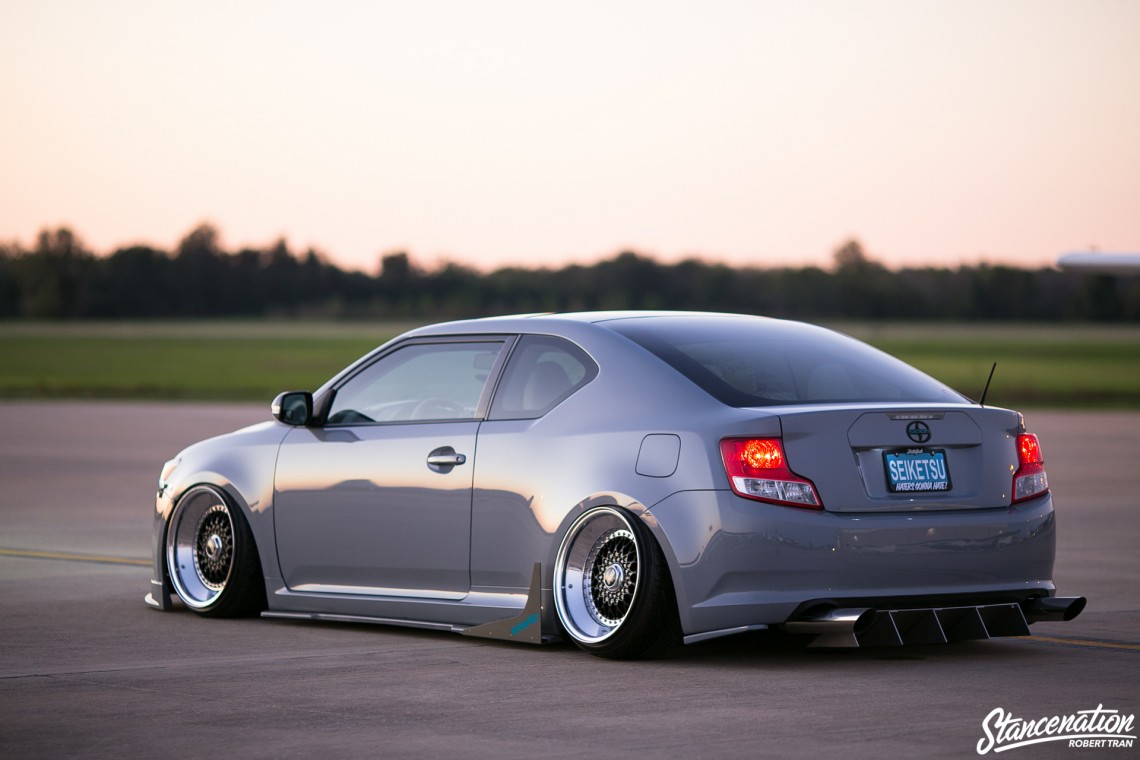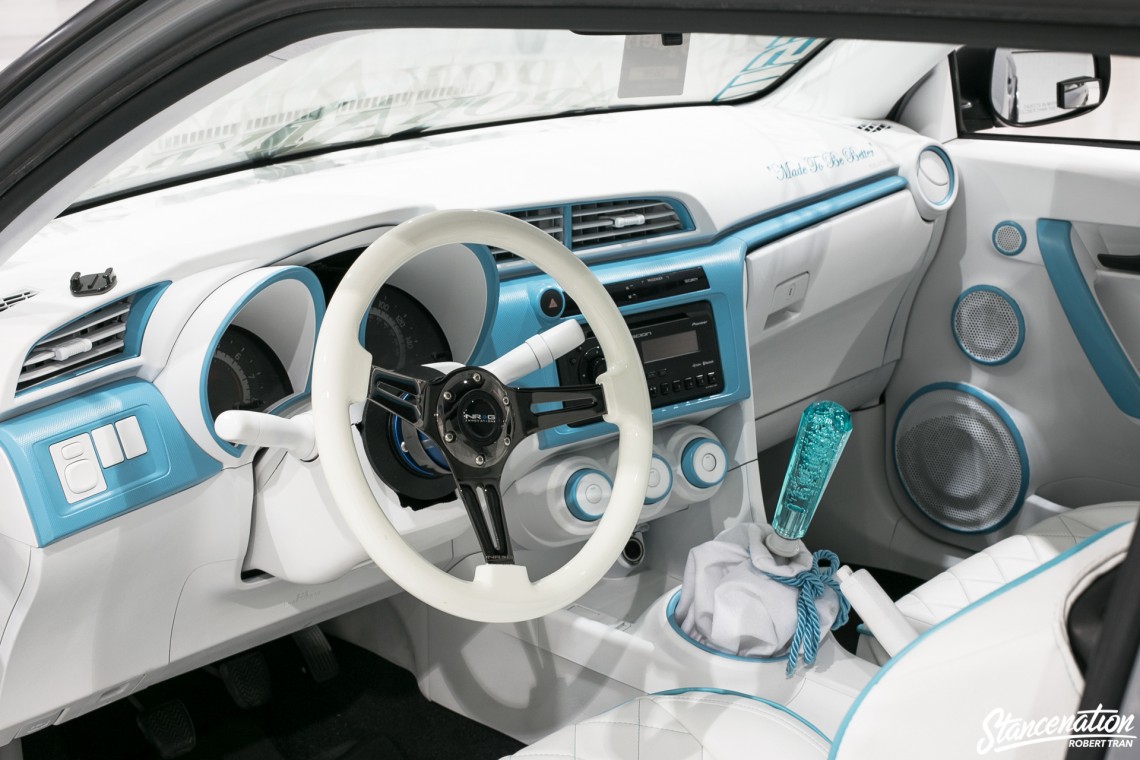 Check out the crisp white interior. The startling white is the reason behind the name, Seiketsu. Splashes of blue are sprinkled in rounding out the colorway. One fun fact about this interior is that Roger did it all by himself. However, imagine him as he has to drive for an entire week holding the speedometer while shifting with the other. It sounds absolutely tedious, but its called putting in work. Roger has done his work and has proved that tC's can shine and be "Made To Be Better".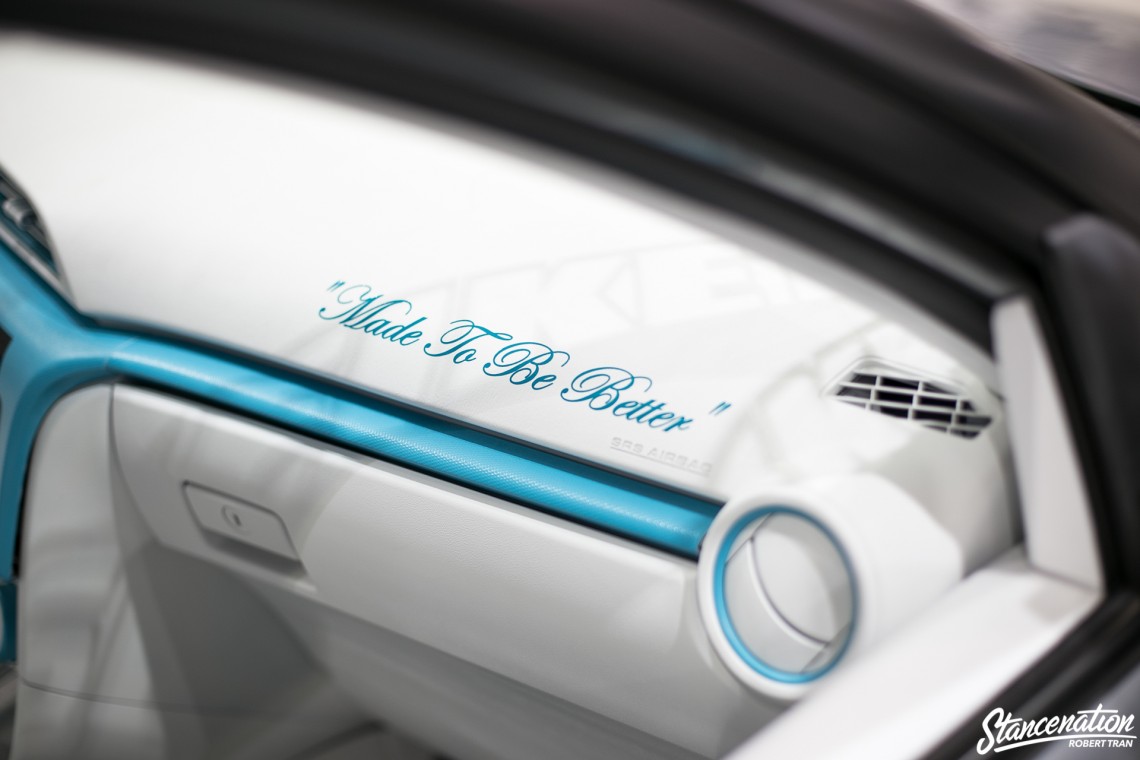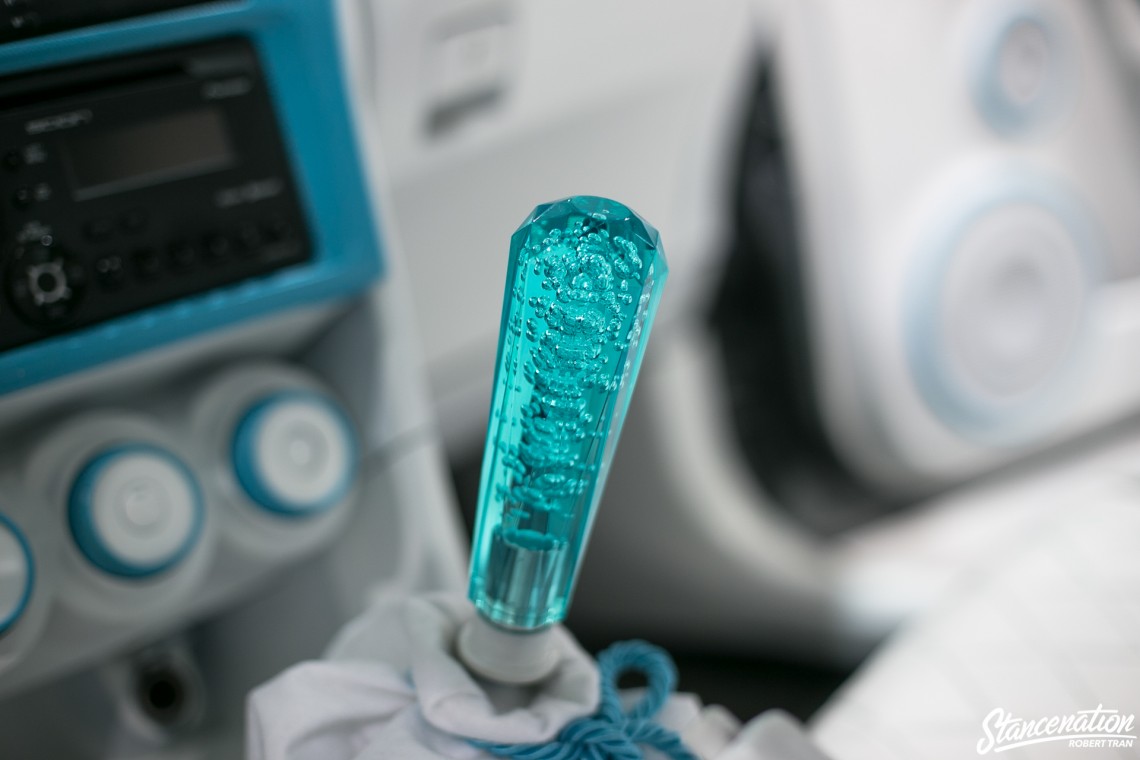 In the future, Roger tells us he plans on sourcing a kit from Japan and changing the theme of his car. It doesn't sound like a small task, but he knows that with the help of those that have supported him, he can take on nearly anything. Roger would like to give a shout out to Team Apokalypse, his family and girlfriend for always supporting and being there. Finally, he would like to give thanks to Fernando at Backyard Garage, for helping him achieve what he has done.