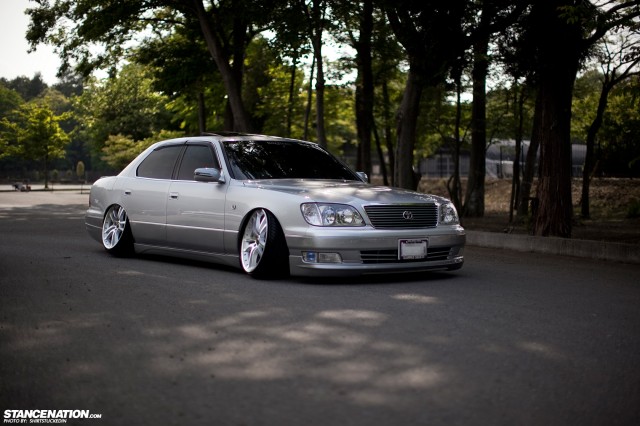 It's no secret that we're big fans of the Celsior here at S:N with a few of us placing the big-body sedan in our personal garages.  So, it comes to no surprise that when we clocked this Japanese Celsior on the net, we had to find out more.  While we weren't able to lock down an exclusive shoot (yet), our friends over at shirtstuckedin snapped these photos at a meet, and we were able to gather some specs on this low-cruising Celsior.  At first glance you will probably assume this car is rocking an air setup to be so low, but you would be sorely mistaken.  This Celsior is rolling static on Cusco Zero-1 coilovers with custom springs from Craftz sporting some serious spring rates (26k front, and 20k rear respectively).  The camber is well sorted, and the rest of the suspension is completely adjustable thanks to a host of Nagisa auto parts, adjustable knuckles, upper arms, lower arms, tension rods, and toe rods.
Photos By: shirtstuckedin exclusively for StanceNation.com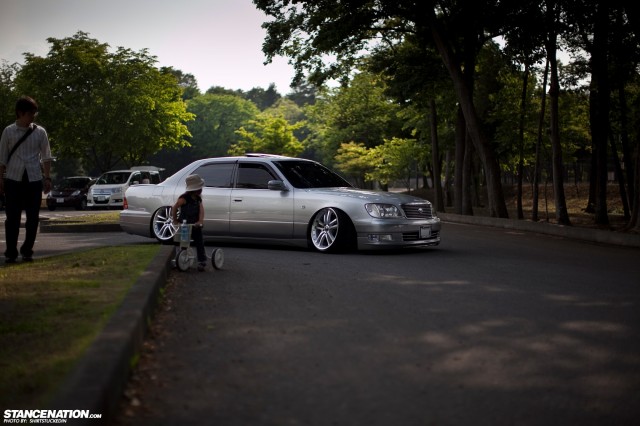 I keep saying it again and again, but there is really a lot of suspension work put into these cars, and a lot of people still don't realize that.  To get this low properly involves quite a bit of work, even the inner fenders were modified and raised and the wiring re-routed to clear the tires.  The rolling stock was upgraded to a set of Brabus Monoblock S-Types sized up at 20×9 and 20×10 respectively, and they tuck up really nicely under those fenders.  The exterior sports a bunch of subtle touches from companies like Wald and Aimgain, and has a few Mercedes touches to go with the Brabus wheels.  All-in-all this is the way I would build one these; subtle and really low on coils with the wheels tucking under the fenders instead of being flush.  This is definitely one of my favorite Celsiors, and I hope you all will enjoy it too. Enjoy the rest of the photos courtesy of shirtstuckedin.