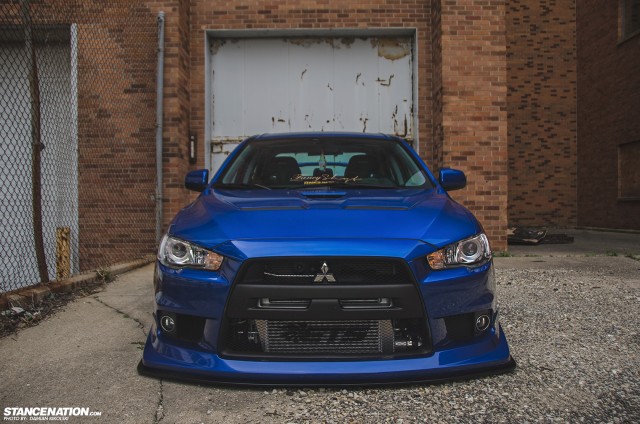 I can hear it now; the function purists and internet warriors vigorously smashing away at their keyboards to voice their distaste for anything that they don't think is right.  It's sad to see that this is what the so-called scene has become, a center for drama.  Sure, everyone is entitled to their opinion, but doesn't anyone remember the saying, "if you don't have something nice to say, don't say anything at all?"  Well, we like a little bit of controversy.  We like thinking outside of the box and doing things that aren't quite conventional.  Michael Henry from Chicago, IL, is the same way too, and in his quest to achieve the ultimate stance for his Mitsubishi Evo X did what many purists call sacrilegious.
Photos By: Damian Kikolski exclusively for StanceNation.com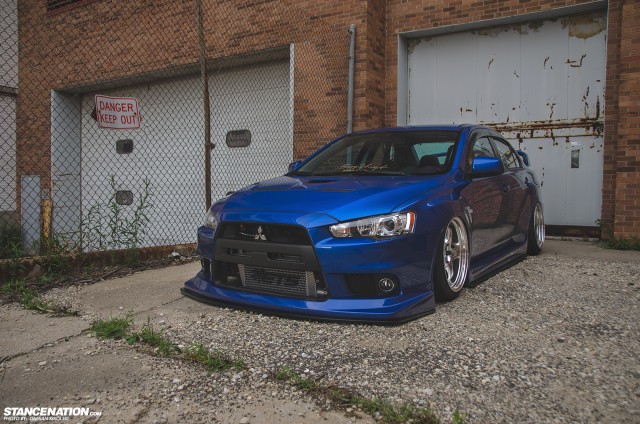 Air-ride has always been a topic of controversy.  I don't know why, but I've been caught in it a few times myself.  While all my cars currently sit on coilovers, I can pretty much promise that my next project will be on air.  Why?  For me it's definitely the convenience, and that was the reason that Michael here decided to make the switch from coils to bags as well.
     "The biggest challenge was trying to achieve what I felt was the "perfect stance".  In the process, I ended up losing all my fender lining, cracking my front fenders, and both my factory and voltex lip.  I basically wanted the lips of my wheels to be spot on flush with my fenders.  Eventually I came to the conclusion that it wasn't possible to do it static suspension, which is what made me switch over to bags.   Air allowed to to reach my goal without busting up my Voltex lip."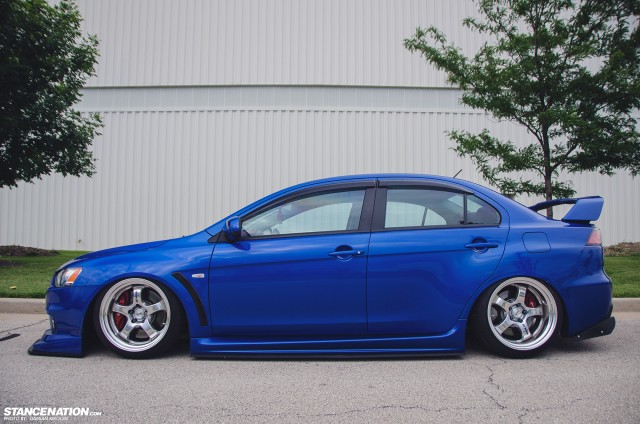 So let's take a closer look at Michael's suspension setup shall we?  Even though the "purists" have already typed a dissertation on how this car has been "ruined" I will respond in kind and explain why it hasn't even though I could simply respond that Michael has built HIS car to HIS liking and really that's all that matters.  Of course, with no off-the-shelf air-ride kits available, Michael had to get creative, and built his own with the help of Touge Factory.  The kit is centered around Airlift Performance bags on all four corners which were mated to Megan Racing shocks and struts.  For the rest of the setup, Touge Factory stepped in to help with the compressor and tank setup, as well as wire in a digital management to keep everything running smoothly.  The result is nothing short of stunning, and this X looks absolutely great on the ground.  Michael has certainly achieved a killer look while aired out, yet the car still handles great when he airs up and puts the car through its paces.  Michael certainly has the best of both worlds.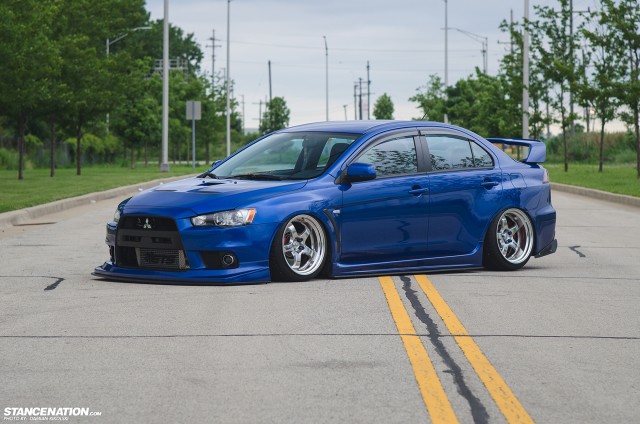 With the suspension finally sorted to Michael's liking, the next step was to figure out the right set of wheels in the right offsets so he could achieve his perfect stance.  Work Meisters look good on pretty much anything, so Michael made a good choice with the S1R for his Evo X.  The Meister S1R is a great balance of performance and style so it definitely is fitting in more than one way on this car.  Michael went with 18×10.5 +4 all around with 245/35/18 tires that provide the perfect amount of stretch to get the polished lips as close to the fenders as possible when the car is aired out.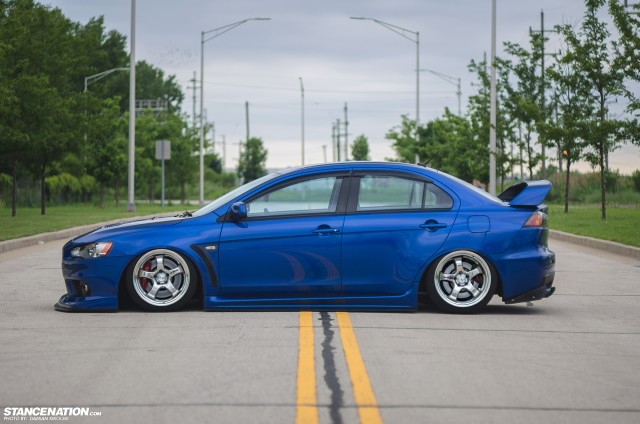 When aired up at his desired drive height, Michael is keen to point out that he still enjoys his Evo for what it was built for.  "My favorite thing is the power.  Yes it's slammed, but nothing beats punching it WOT on a highway on ramp and hearing the turbo spool up."  The Evo has a heritage rich in rally performance and is a very capable street car, and Michael still enjoys those aspects with his, proving that he can have his cake and eat it too.  The 4b11T motor has received a healthy selection of bolt-on performance goodies to boost power output to 370awhp which insures that Michael has an ear-to-ear grin every time he steps on the go pedal.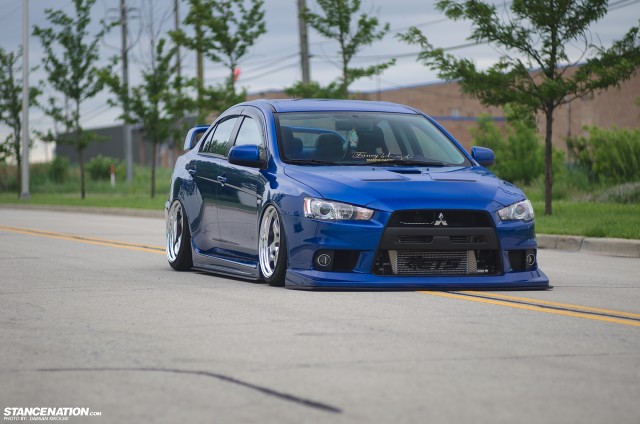 The exterior of the car has been kept clean and subtle as you don't need to do much to the X's body-lines to make it any more aggressive.  Some people go wild and crazy with aero, which is cool, but I like how Michael has kept it all very clean.  A Voltex front lip and splitter toughen up the front-end, while a Mastergrade rear diffuser and custom side-skirt extensions round out the aero upgrades.  On the inside, not much was added.  An LED interior light conversion brings things up to date while a host of gauges from AEM keep tabs on the engine performance for Michael to monitor while he enjoys his drives.
With the car all finished up the way he wanted it, and achieving his perfect stance with the air-ride and Work wheels, Michael is definitely very happy with the car.  Still, you always need to wonder what's next.  Sadly for this Evo though, this is as far as it's going.  "After slammed society putting the Evo to rest, I accomplished what I wanted with the car, won a couple of shows so its time to move on.  Next car will be a 2013 BMW 335i.  I plan on being a little more conservative with this one but, it will still be slammed, hah!"  We're definitely excited to see what Michael does with the BMW, but it might be hard to top the impact his Evo X has created.  With such a strong following of enthusiasts that strictly adhere to the car's rally heritage, you can only imagine the stir this car has created.  However, this car is here because it belongs here and very deserving of it too.  Thanks Michael for stirring the pot.  Now to sit back, relax, and let feelings be hurt.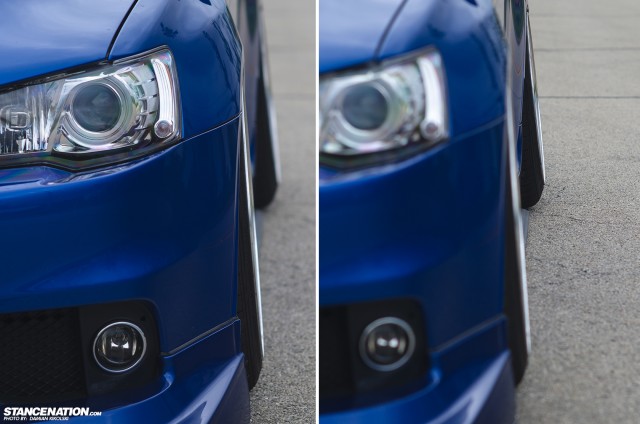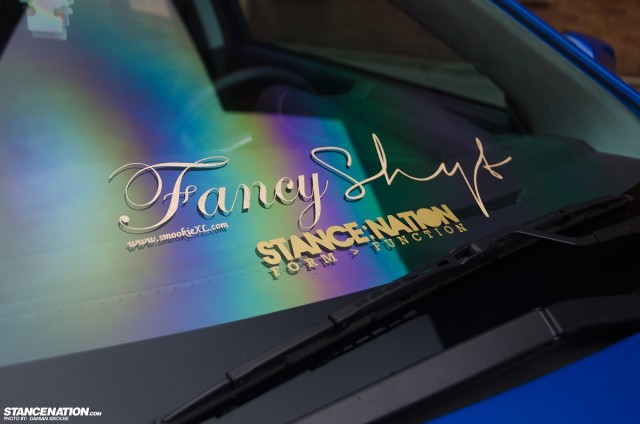 [toggle_box]
[toggle_item title="Wheels/Tires/Suspension" active="true"]Suspension:
Custom air suspension
Megan toe arms
Megan cambers
H&r camber bolts
Megan adjustable top hats
Wheels:
Work Meister s1-rs 18×10.5 +4
245/35/18 tires[/toggle_item]
[toggle_item title="Exterior" active="false"]Voltex front lip
Voltex splitter
Mastergrade rear diffuser
Custom side skirt extensions[/toggle_item]
[toggle_item title="Interior" active="false"]Full LED interior lighting
Aem boost gauge
Arm a:f gauge
Flossy red head knob[/toggle_item]
[toggle_item title="Engine" active="false"]Neo ti intercooler piping
Turbo smart BOV
Grimmspeed 3 port
Map down pipe
Depot racing test pipe
3″ custom straight pipe[/toggle_item]
[/toggle_box]