Well this article is a little different. Not only are we featuring a full blown race car that has broken countless of records, we are also letting the owner tell you his side of the story with his very own words. Sit back and enjoy!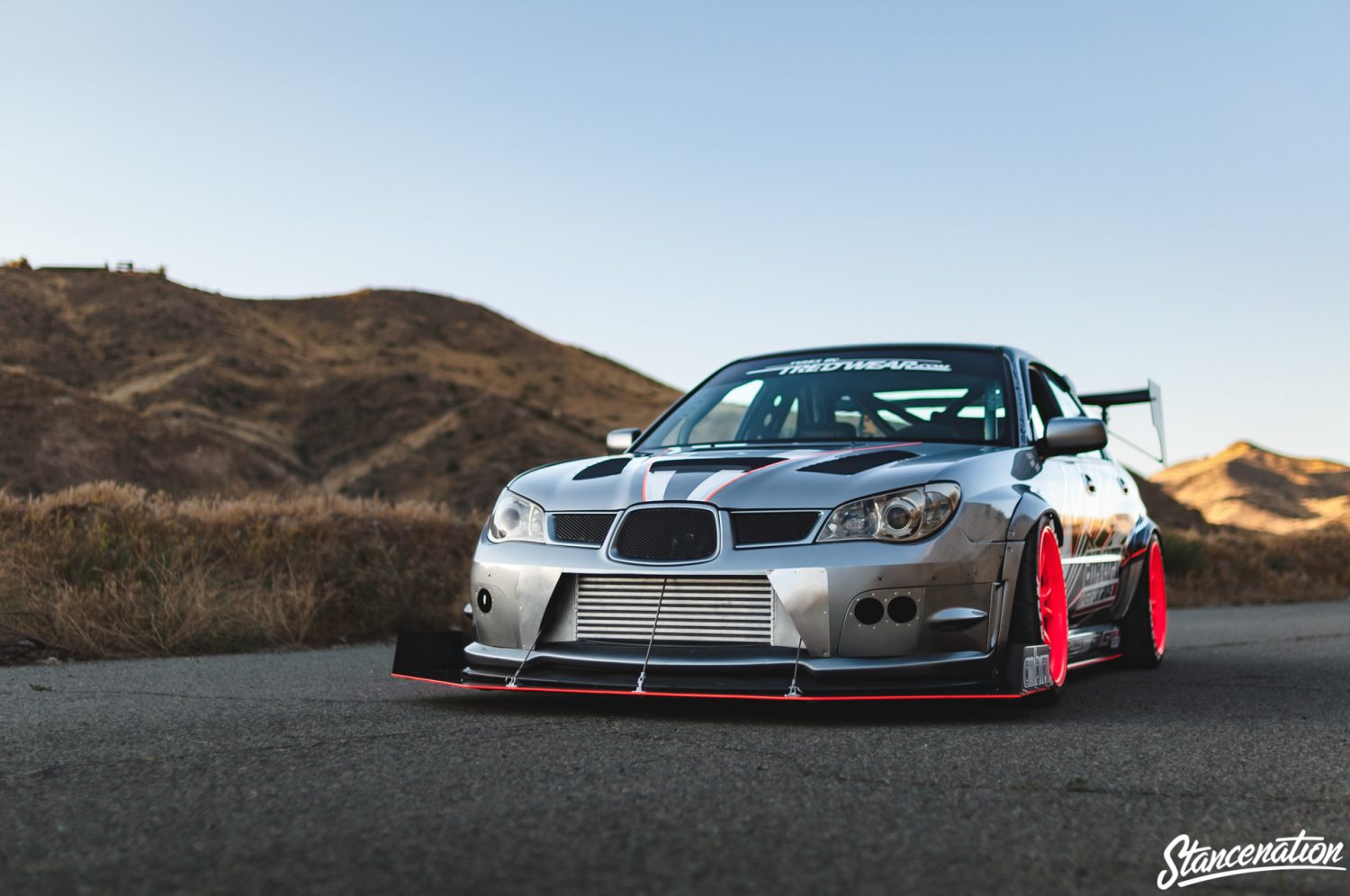 I purchased this car, my dream car, 5 years ago. The sole intention for this purchase was to have a fun daily driver that I was extremely proud of. That idea quickly took an unexpected turn on the day I bought the car. I drove for a grand total of about 2 hours, didn't even make it home, before the engine seized! The oil pickup had cracked, which is unfortunately a common problem among Subaru's. Things were off to a rough start, since the entire long block was literally trash. Everything internal had warped, bent, and just straight failed.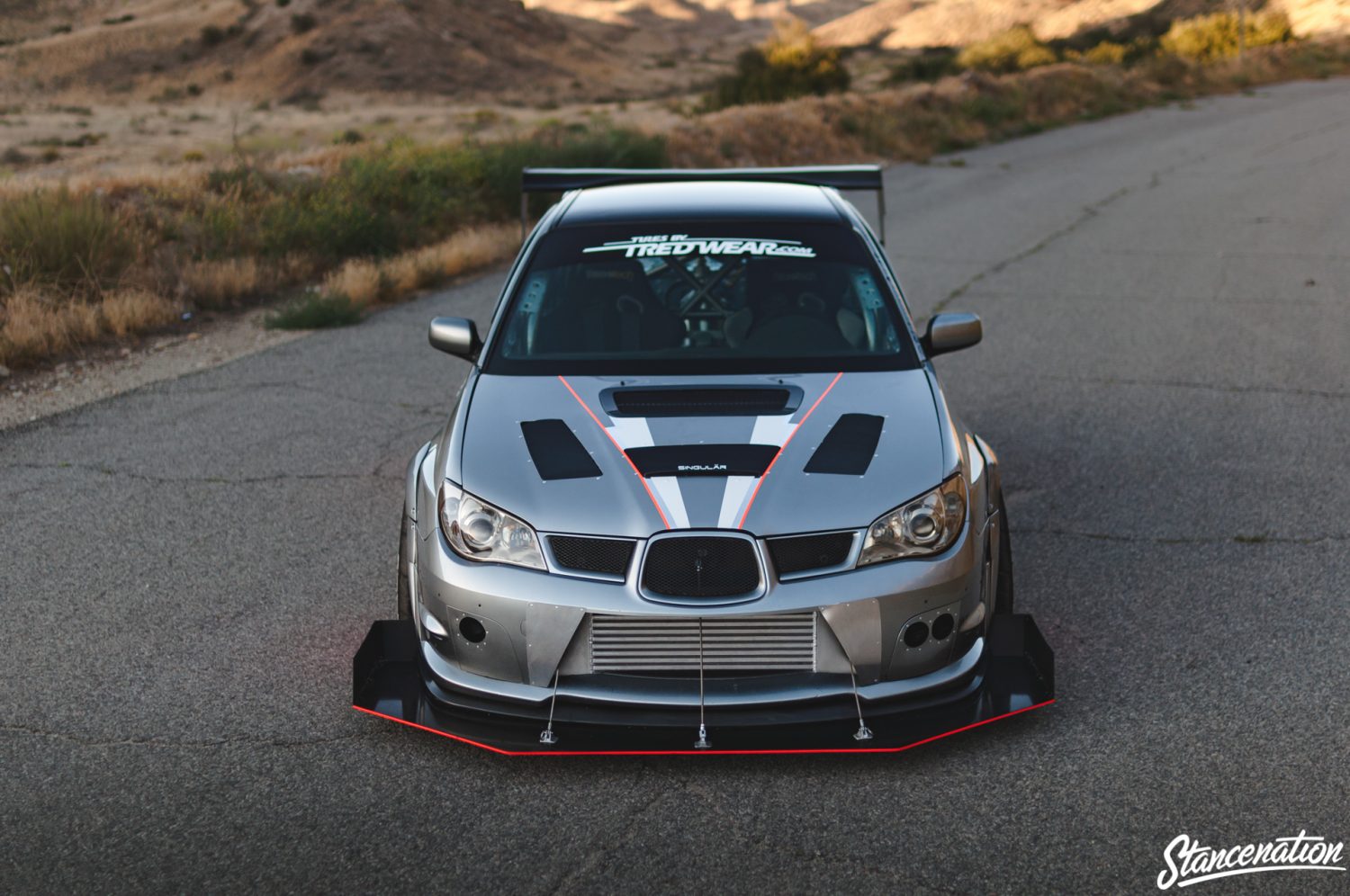 This meant that the next 4 months were spent watching my "new" car collect dust as I saved up for a new engine. Being that I come from a background of racing motocross and overall competitiveness, there was no way I was about to put money into building another stock engine. I figured I might as well do a built setup that can take whatever future turbo upgrade I may settle on. And that… Is where the snowball began.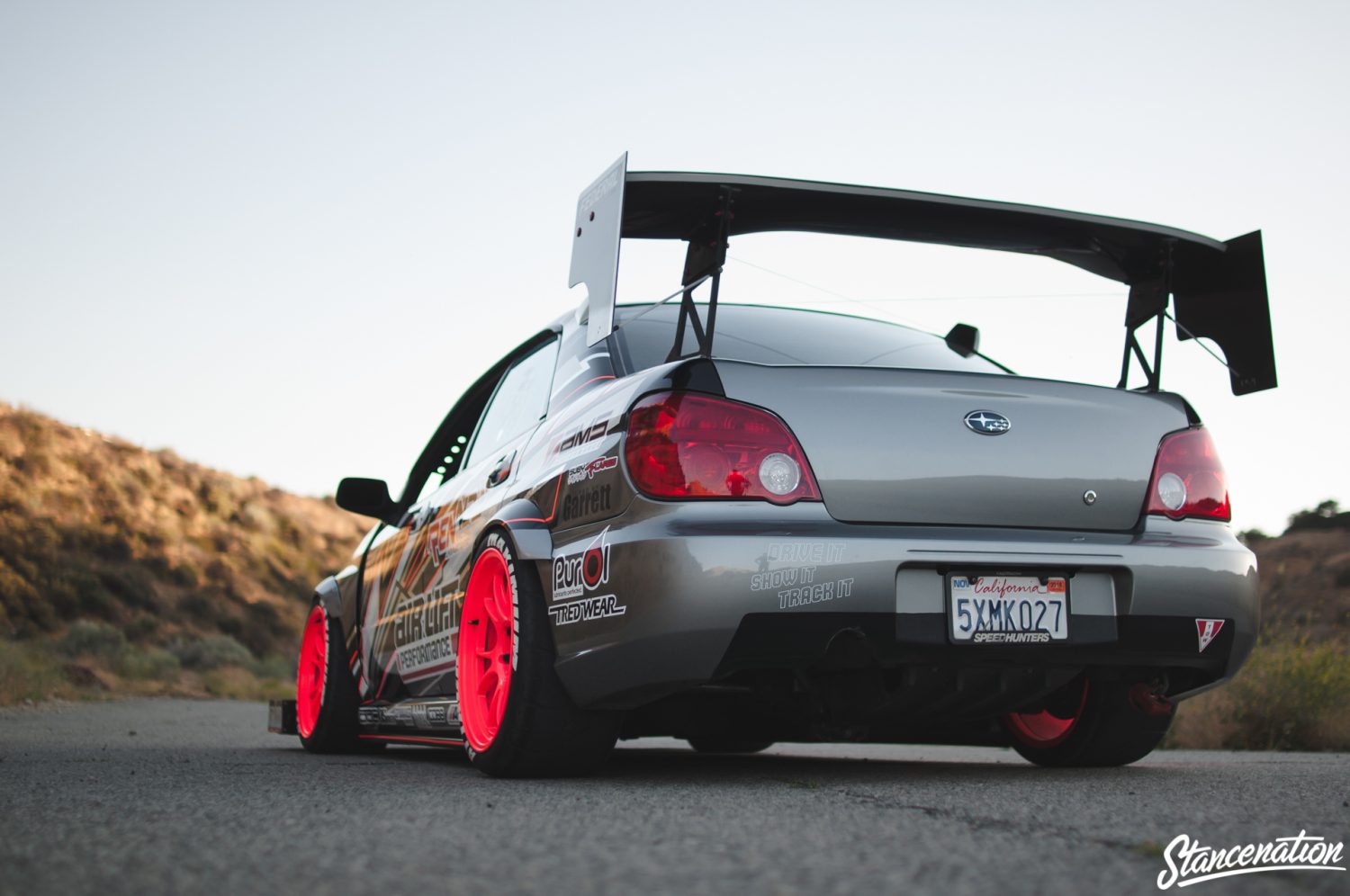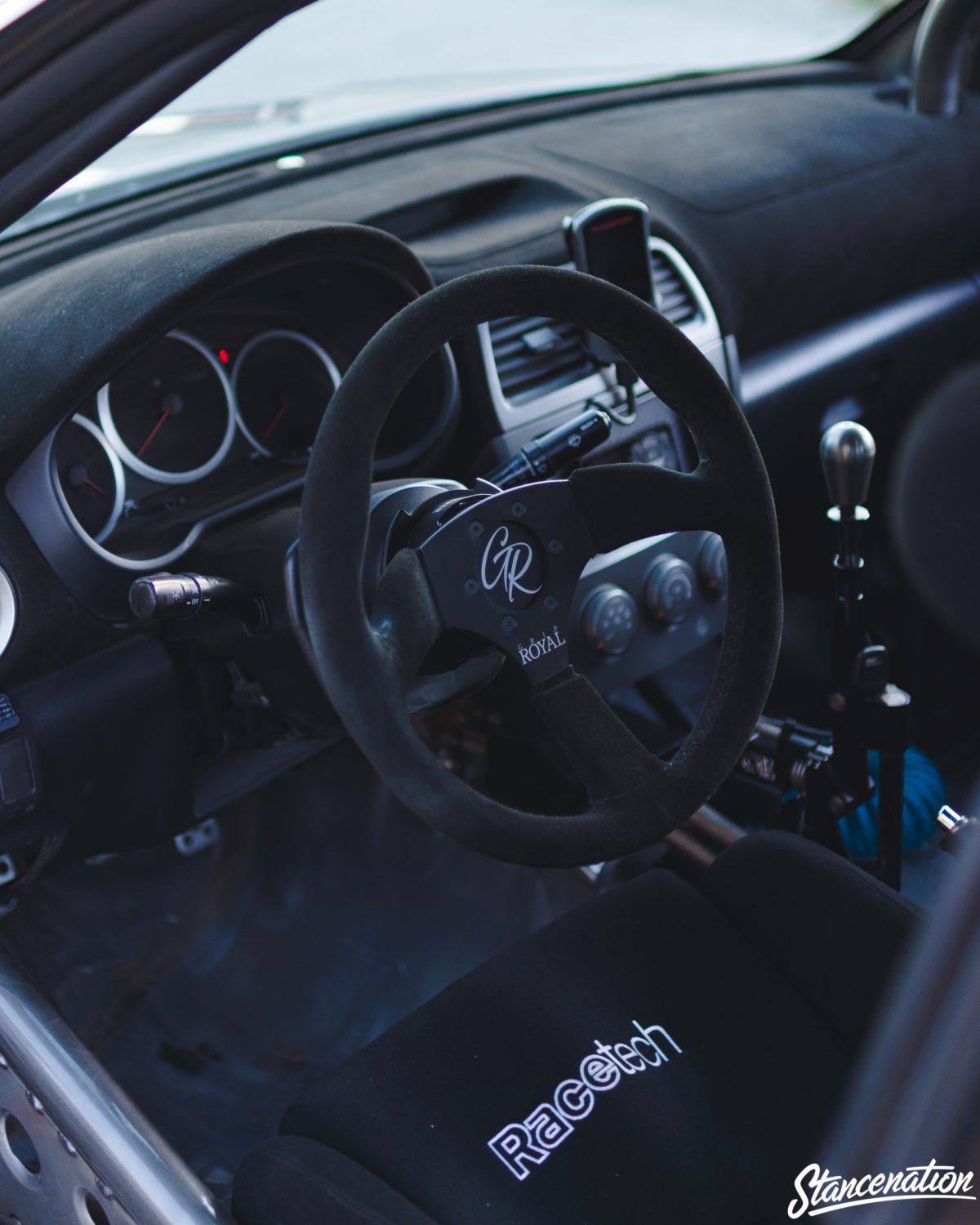 It took about 3 months to begin removing interior, 4 months for bucket seats and a roll bar, 6 months before I was hitting local tracks, and in less than a year I was sporting 400whp on an Air Lift Performance suspension setup. The fact that the car you see before you is indeed on air suspension raises a lot of eyebrows. Keep in mind this car was still being used as a multi duty machine that saw racing over the weekend, an 80 mile commute to work mon-fri, and the occasional late night car meet. When looking into suspension possibilities, I figured coilovers were my only option…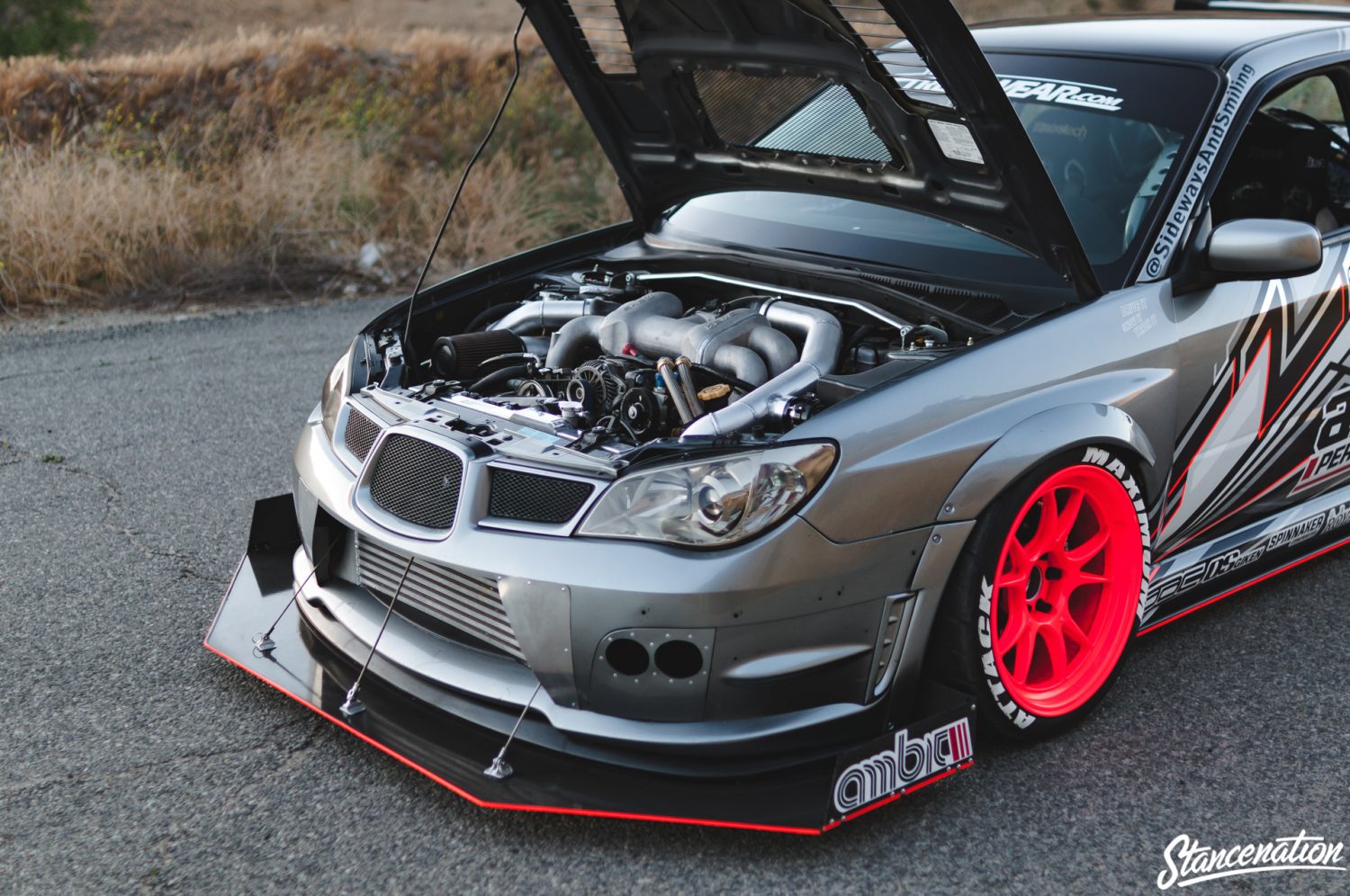 Until I came across what Air Lift Performance was up to. They had designed vehicle specific air bag kits that actually focused on performance and handling. I love low cars, but I also love cars that handle well and don't suffer from all the inconveniences that come with a low ride height. Once I realized that this was an air suspension kit designed to cover all bases and truly offer everything I was after, I was hooked. I installed the air suspension system years ago, and have continued using it to this day in order to set several track records and podium finishes across the U.S.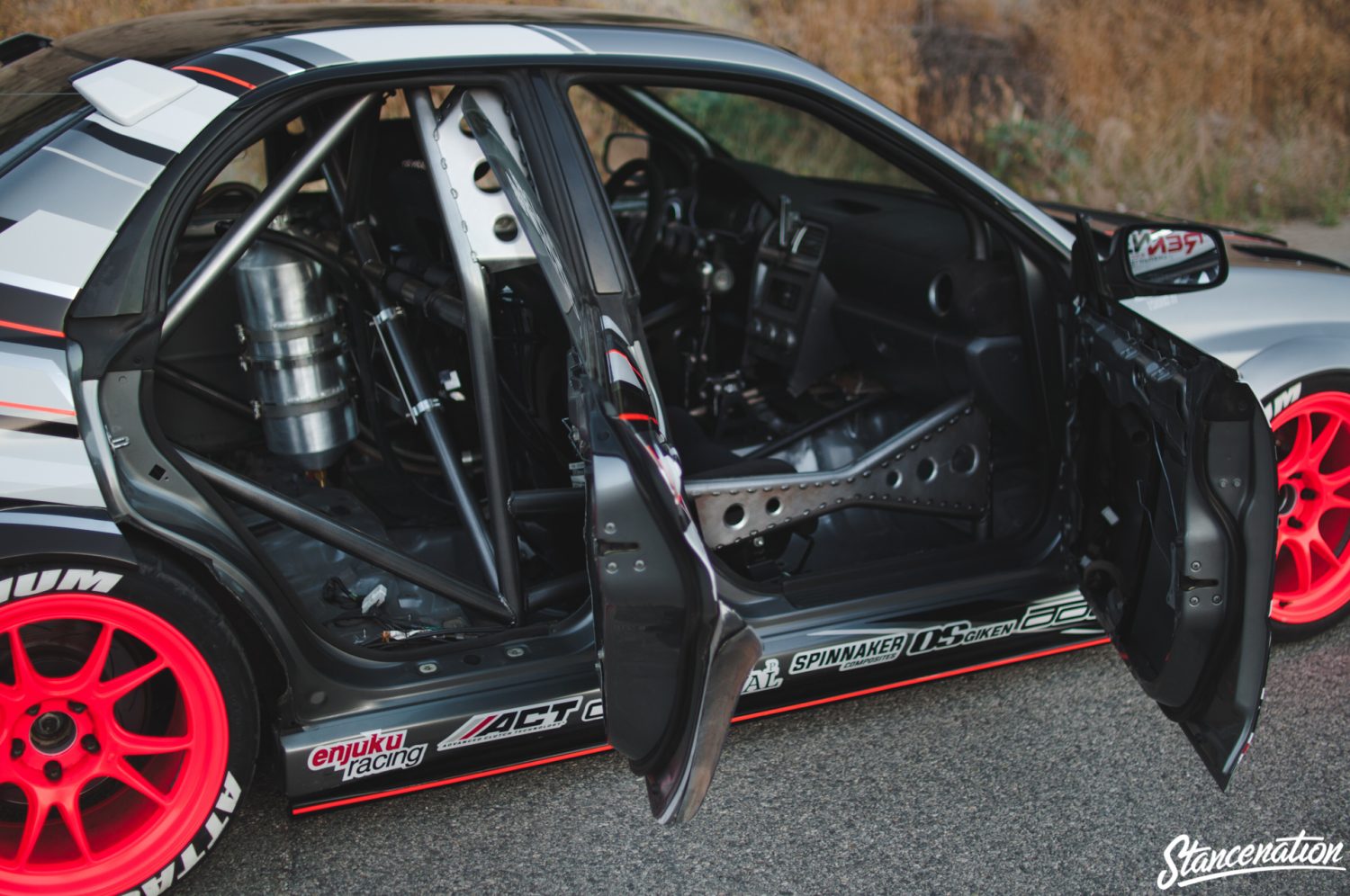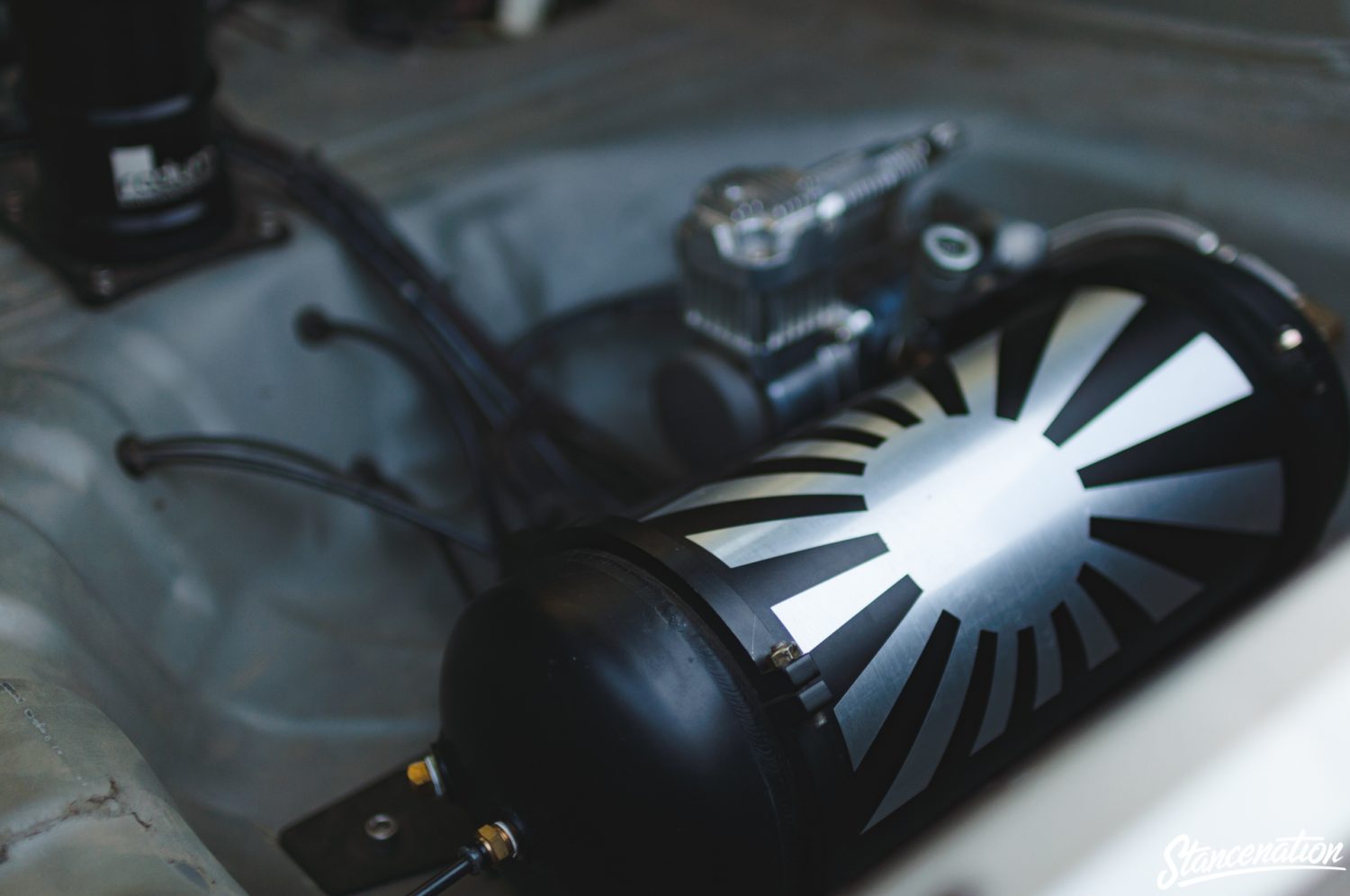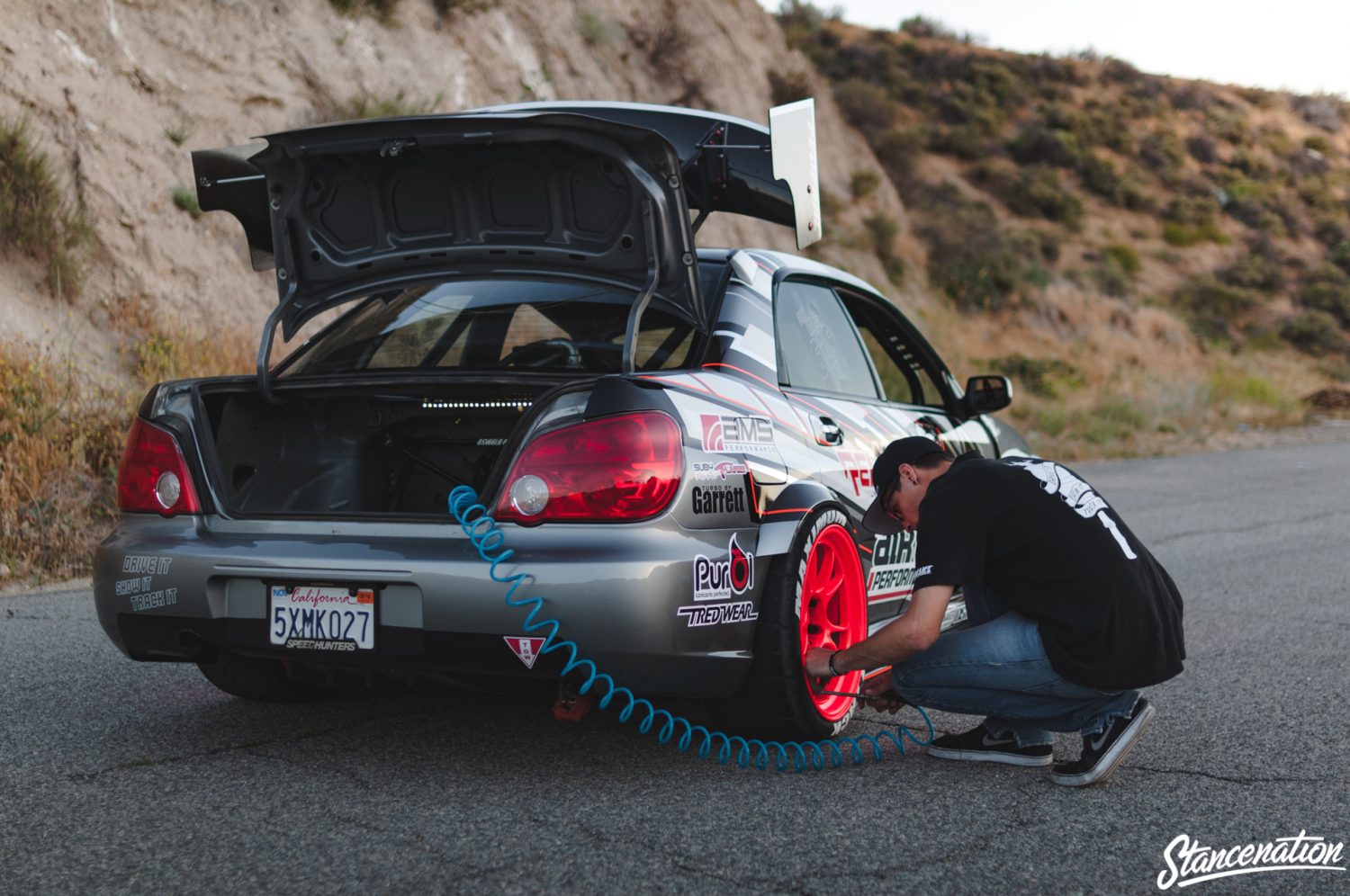 The car currently sits in it's most violent form yet. The last few years have seen non stop progression, both in the car's capabilities as well as my driving skill. This isn't something you build overnight, it has taken the majority of my life ever since I started to get it to the level that it is now. At this point, its specifically built for Time Attack.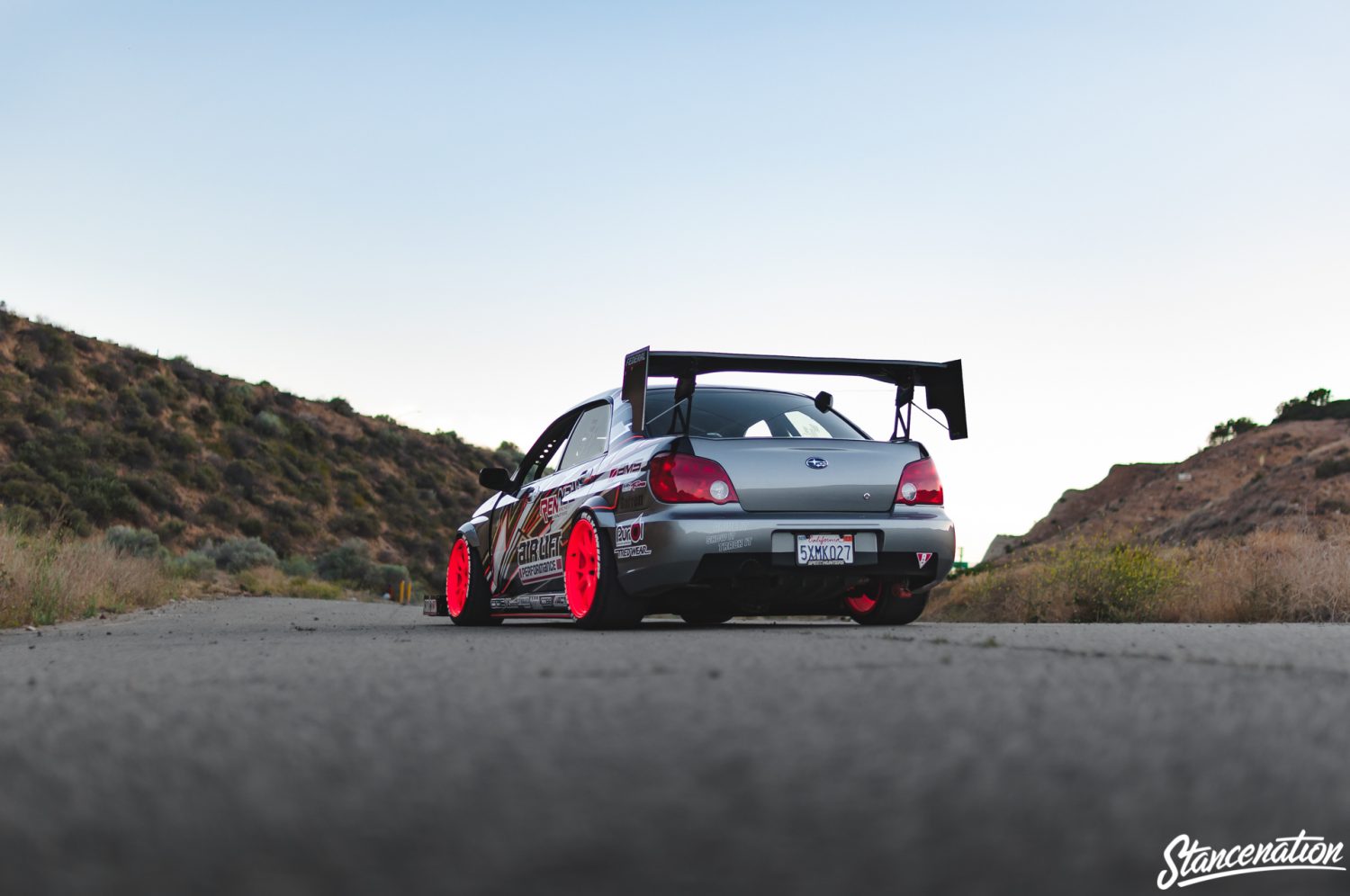 Time Attack focuses on one thing, setting the absolute fastest single lap you possibly can. It must be perfect, no missed shifts, no miscalculated braking zones, and an endless hunt for the perfect line. It's something I've grown very fond of, possibly due to the fact that there's ALWAYS room for improvement. The day you set your new personal best around a track, is the same day you realize you can do better. It's definitely an addicting sport in that manner.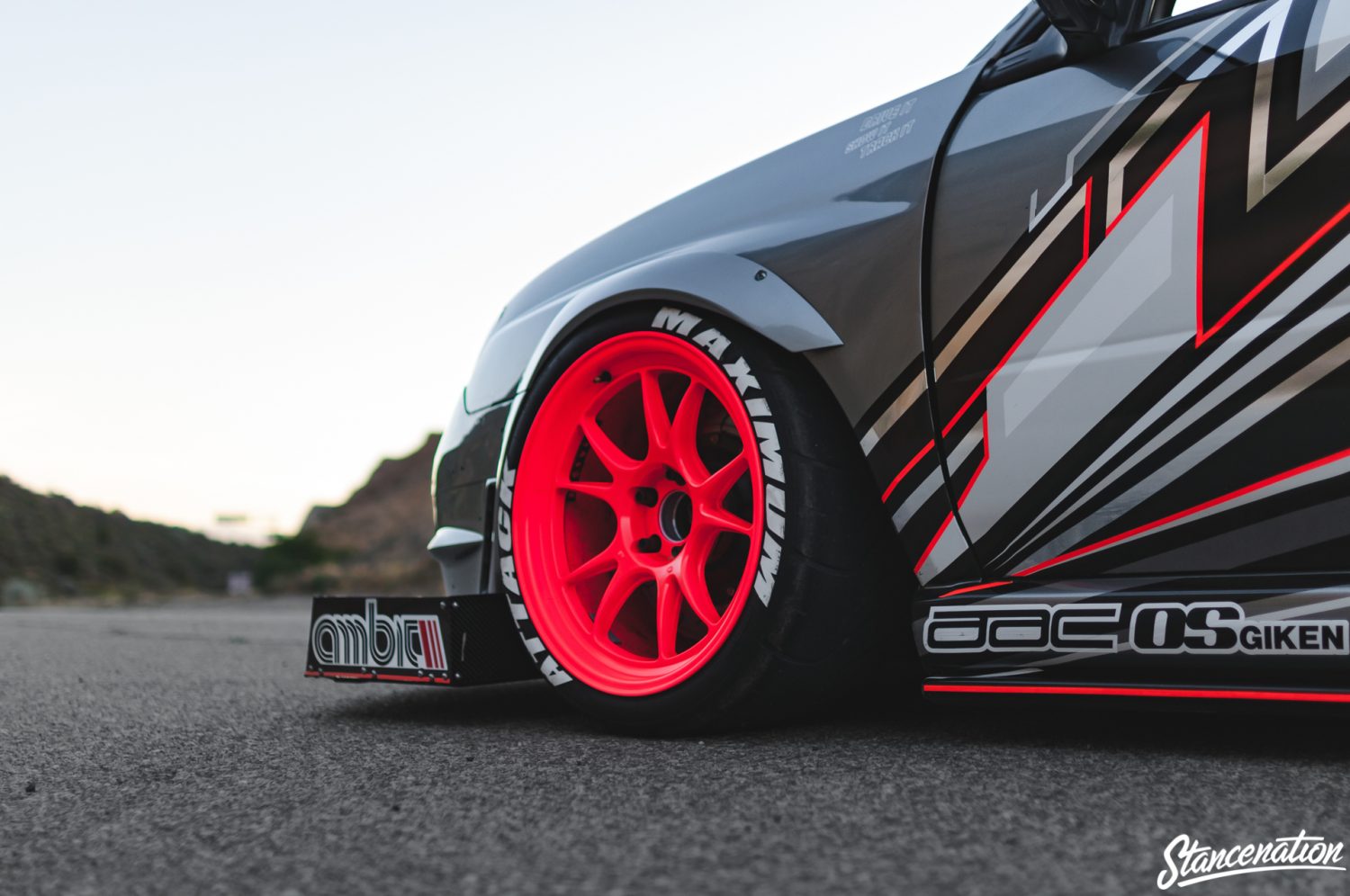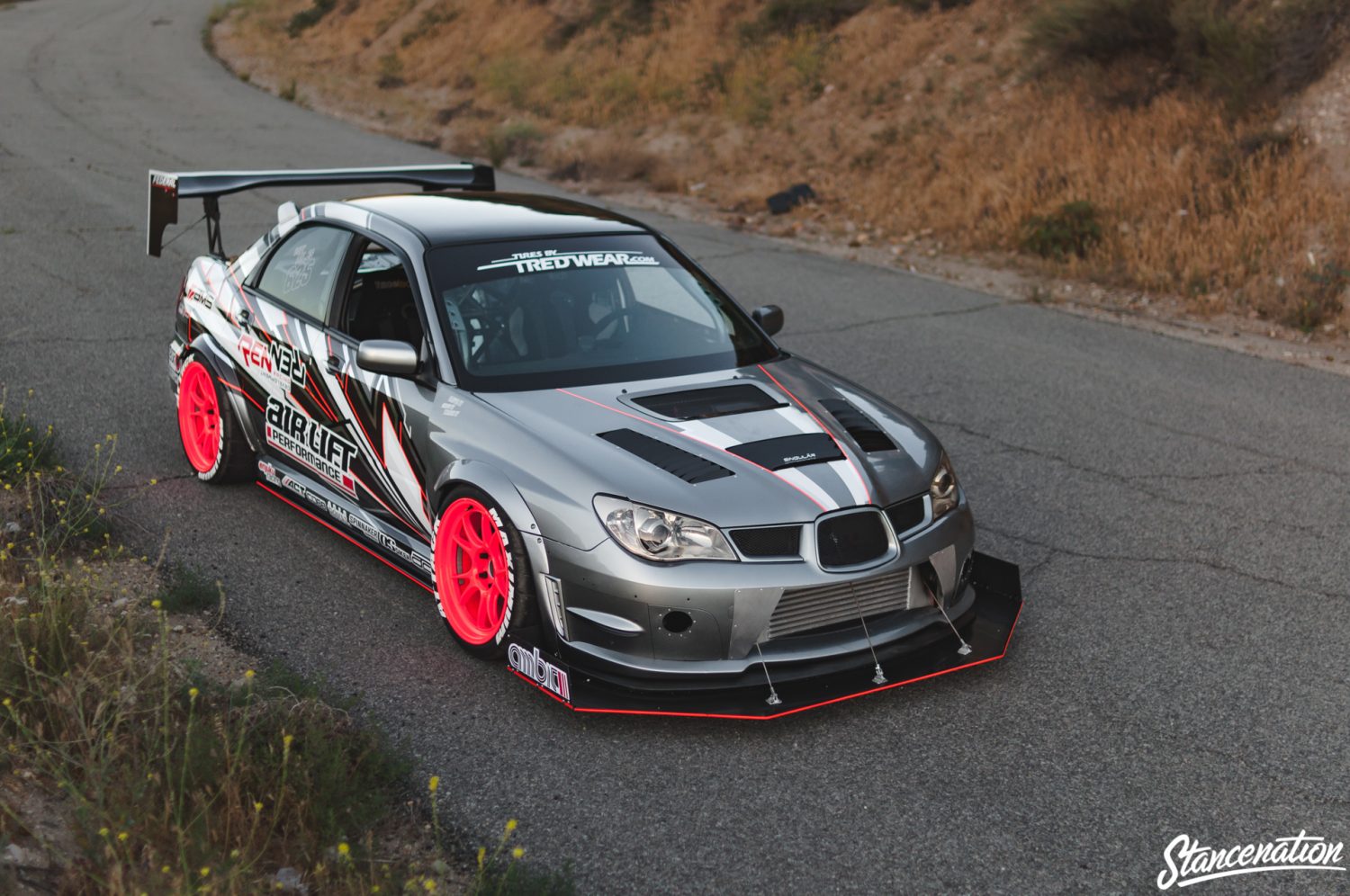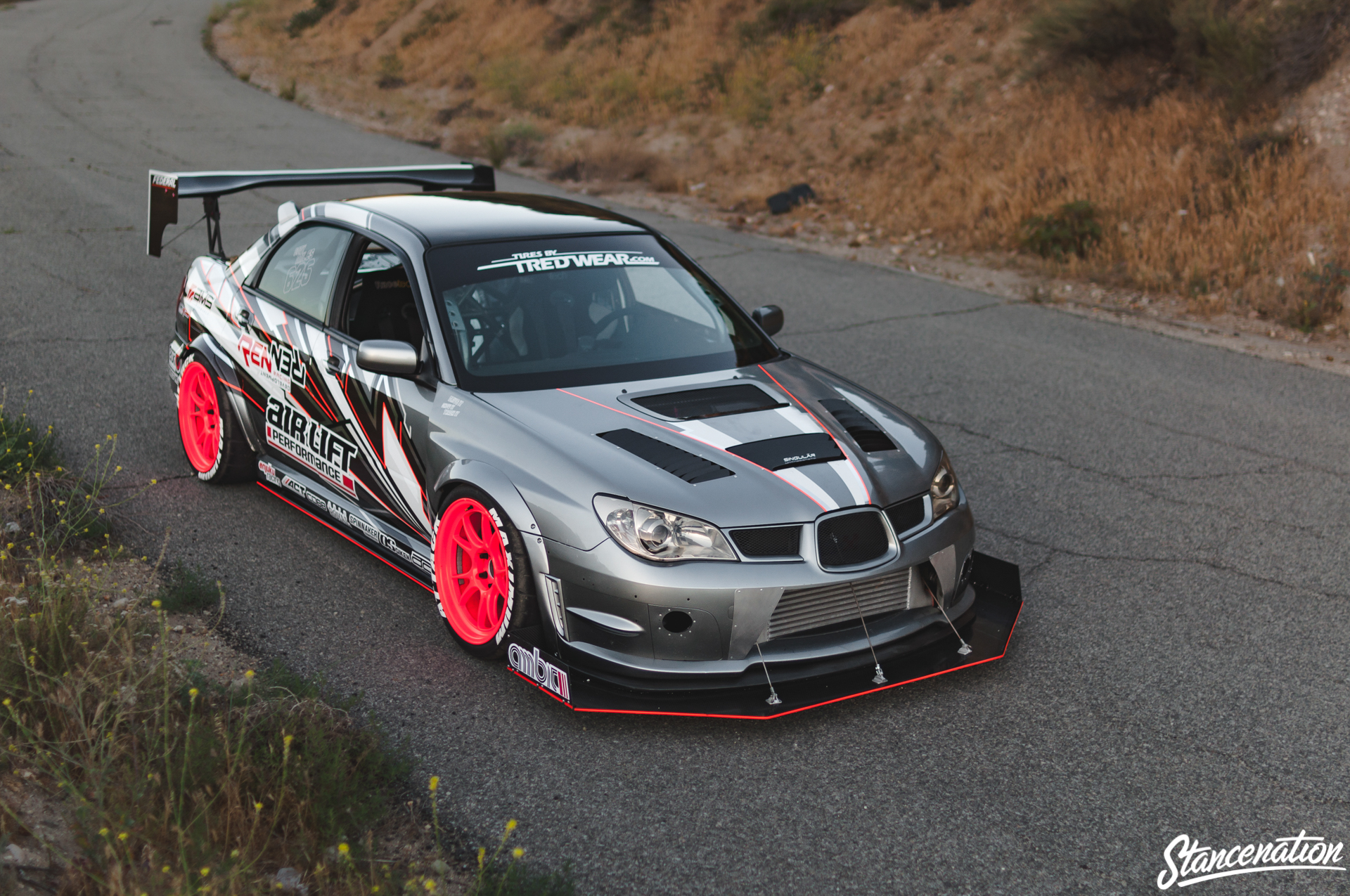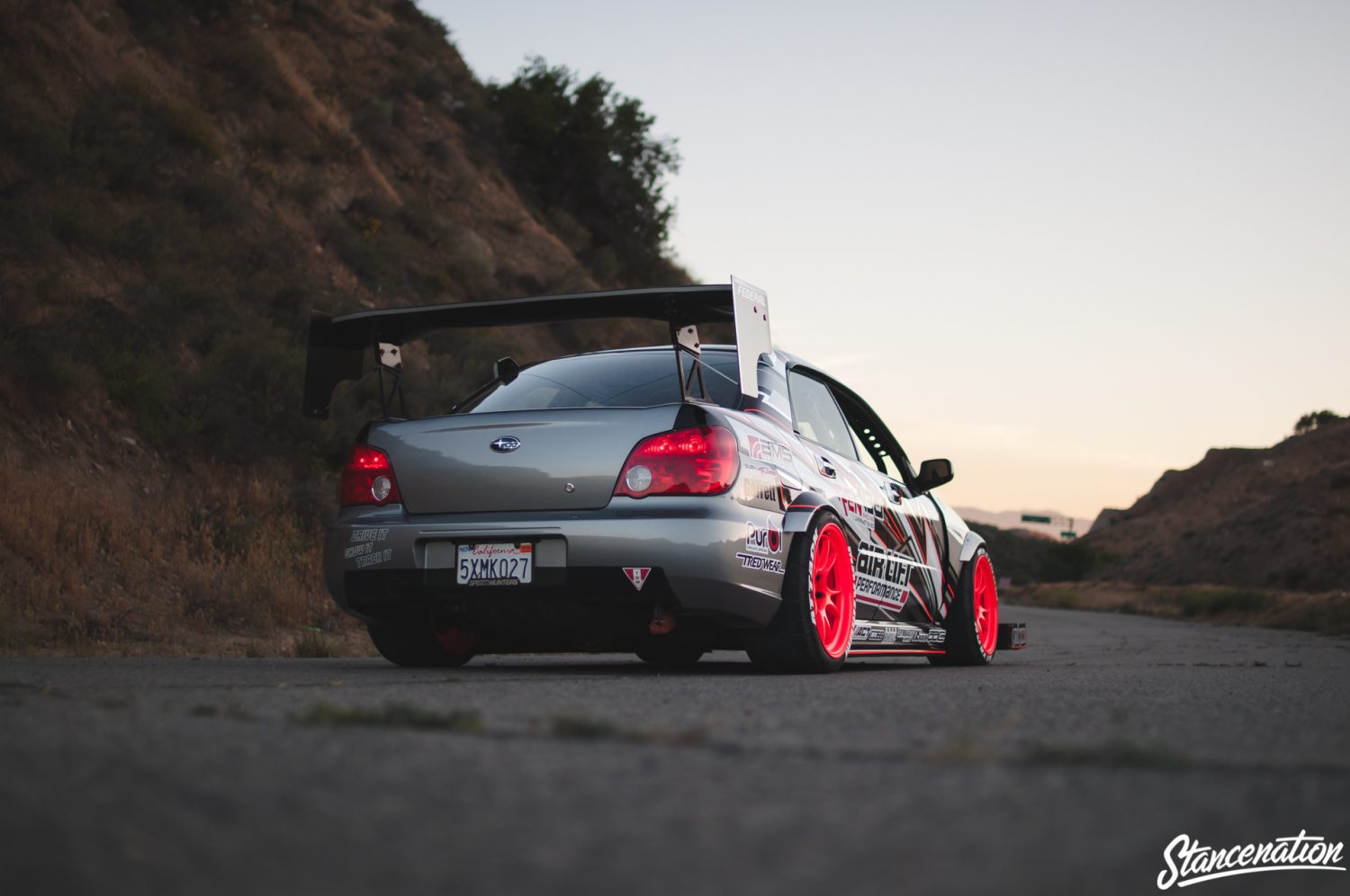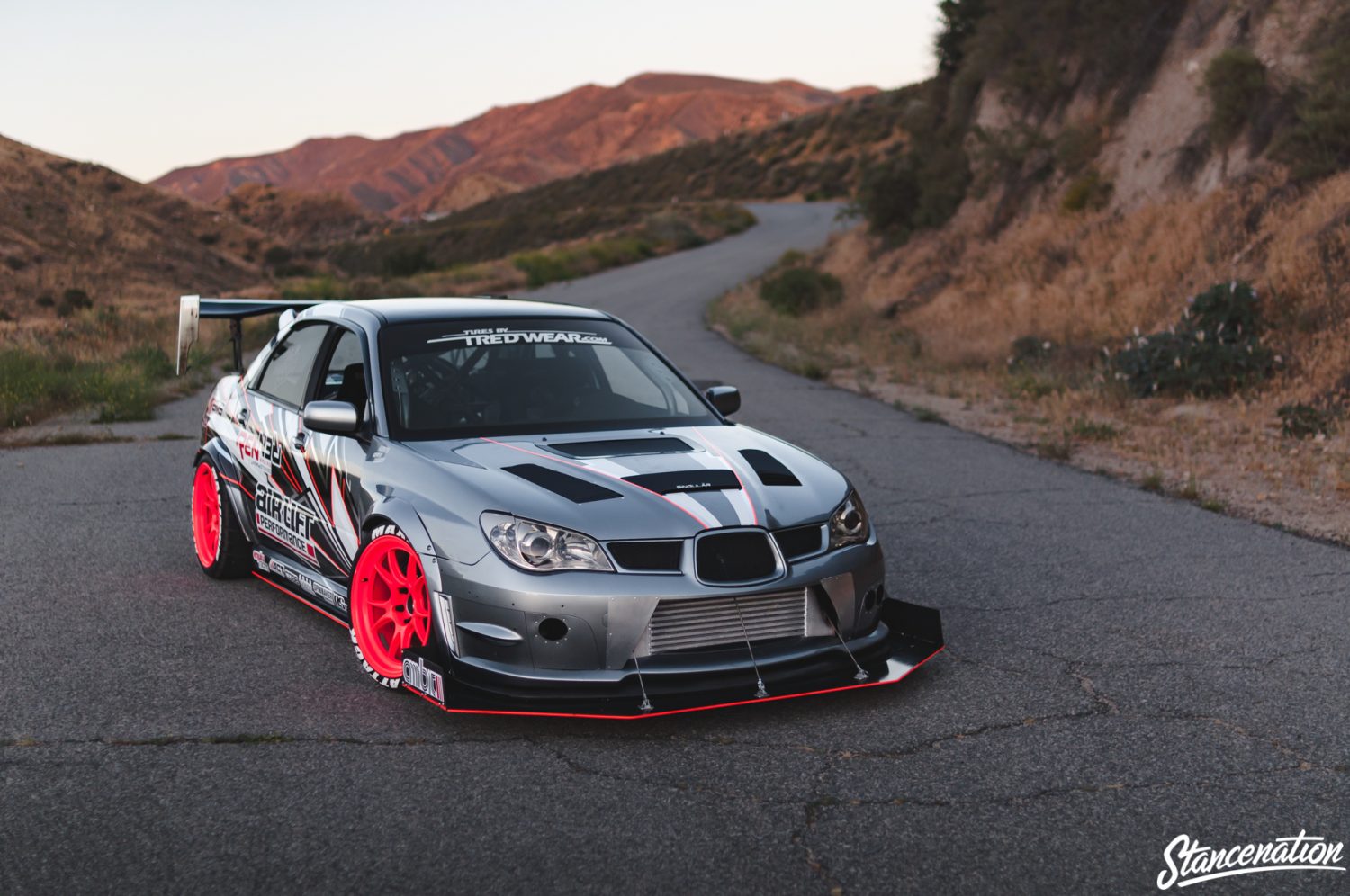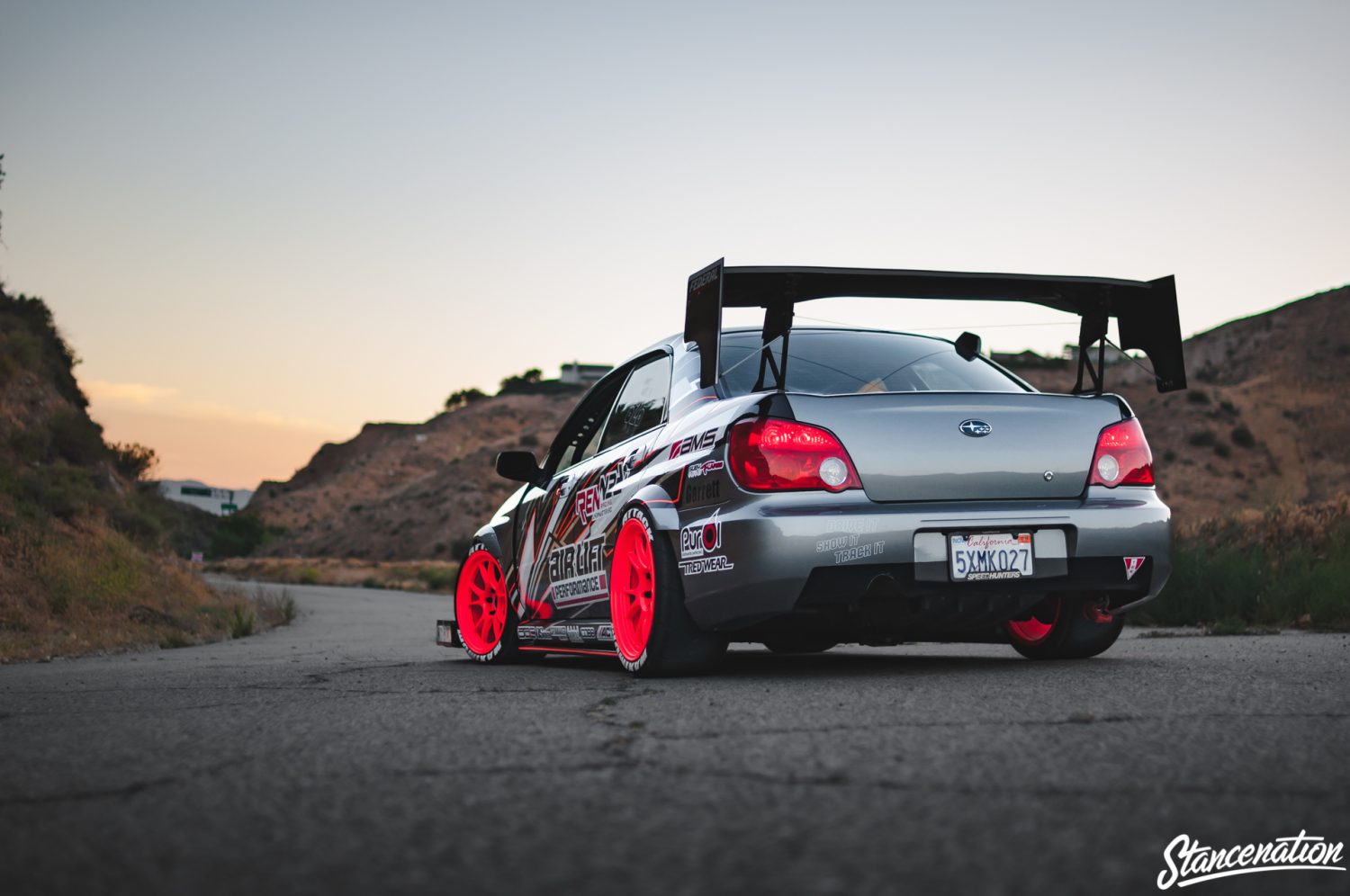 Older video of my car shot by the Gears & Gasoline guys!
If anyone wants to catch the car in action, here's a list of upcoming events for 2018:
Gridlife Midwest: Gingerman Raceway 6/8 – 6/10
Gridlife South: Road Atlanta 8/24 – 8/26
Global Time Attack: Buttonwillow Raceway 9/08
Motovicity Speed Ring: M1 Concourse 9/22 – 9/23
Subiefest: Santa Anita Park 10/21
SEMA: Las Vegas 10/30 – 11/3
Super Lap Battle: Buttonwillow Raceway 11/8 – 11/9
Year/Make/Model:
2007 Subaru STi
Output:
598whp / 532 wtq
Owner/Builder:
Cody Miles
Instagram:
SidewaysAndSmiling
Engine:
EJ25 engine, Closed Deck, Garrett Gen 2 GTX 3076R Turbo , SCAT Crankshaft, Manley I Beam
Rods, Wiseco Pistons, King Bearings, Kelford 272 Cams, Supertech +1mm Valves w/ Springs & Retainers,
AMS Intake Manifold, Fuel Injector Clinic Rails and 1650cc Injectors, Radium Engineering Fuel Surge
Tank, Aeromotive Fuel Pressure Regulator, Cobb Flex Fuel, Killer B Water Neck, Element Tuning Dry
Sump, Garrett Front Mount Intercooler, Renner Racing Development Charge Piping & Downpipe, Full
Race Exhaust Manifold + Up Pipe, Koyo Radiator, Samco Radiator Hoses, Moroso Expansion Tank, Setrab
Oil Cooler, Mocal Thermostatic Sandwich Plate, Cusco Engine Mounts, Kartboy Crank Pulley
Drivetrain: ACT 6 Puck Clutch + Prolite Flywheel, OS Giken Front + Rear Differentials, Cusco Center
Differential, Goodridge Steel Braided Clutch Line, Driveshaft Shop Carbon Driveshaft, CAE Race Shifter
Suspension & Chassis:
Air Lift Performance Suspension Kit, 3H Management, Custom Trunk Mount w/ 3
Gallon Aluminum Tank, Viair 400C Compressor, ¼" Air Lines, MSI Rear Subframe + Trailing Arms, TSS Fab
Lateral Links, Whiteline Front & Rear Swaybars, 06 STi Front Control Arms, Perrin PSRS, Super Pro Roll
Center Correction, Oswald Performance Front Subframe Brace + Rear Tri Brace, Megan Front Strut Brace
Wheels / Tires:
Ambit FF4 (18×10.5 et. 15), Federal FZ201 285/30/18
Brakes:
AP Racing 5000R Front BBK, DBA Rear Rotors, Ferodo DSUNO Pads, Goodridge Steel Braided
Lines, ARP Extended Studs
Interior:
8 Point Roll Cage, Air Lift Performance 3H Controller, Grip Royal Ace Steering Wheel, NRG Quick
Release, Works Bell Hub, Racetech Seats, Teamtech 5 pt. Harnesses, Beatrush Rear Bulkhead, Cobb
Accessport V3, Defi BF Oil Pressure Gauge, Flocked Dashboard
Exterior:
APR Performance 67" Wing + Spinnaker End Plates, Spinnaker Chassis Mount Splitter, Singular
Motorsports Hood Louvers, KS-Tech Hood Scoop Delete, Custom Oil Cooler Ducting, WRX Side Skirts, HT
Autos Skirt Extensions, Tredwear Tire Letters, Suby Flares Fender Flares, Grill Craft Mesh Grill
Sponsors:
Air Lift Performance, Renner Racing Development, Advanced Clutch Technology, AMS
Performance, Turbo By Garrett, Spinnaker Composites, Tredwear, Purol, OS Giken, Grip Royal, Ambit,
Federal Tires, Enjuku Racing, Suby Flares, Cobb Tuning, Supertech Performance, Mobile Weld Specialist