Usually, when I start writing one of these articles, it's for car that I've stumbled across maybe a couple times on the Internet, at most. This M4 is no different, I caught a glimpse of it a while back while following along with the latest builds coming out of AMS Autowerks. But, a funny thing happened this time. A few days after Elvis sent me the pictures you see here, this car started to blow up on my Instagram feed. I've seen it multiple times since then, after it won "best euro" at first class fitment New Jersey in September. From what I can tell, that particular show had a very good variety of cars, a ton of things I've never seen and a few seasoned builds that still look great even after being all over the scene for a while now. So, it really says something when a car that (and I cant believe I'm about to say this) is as standard as an F82 M4 can stand out in a crowd.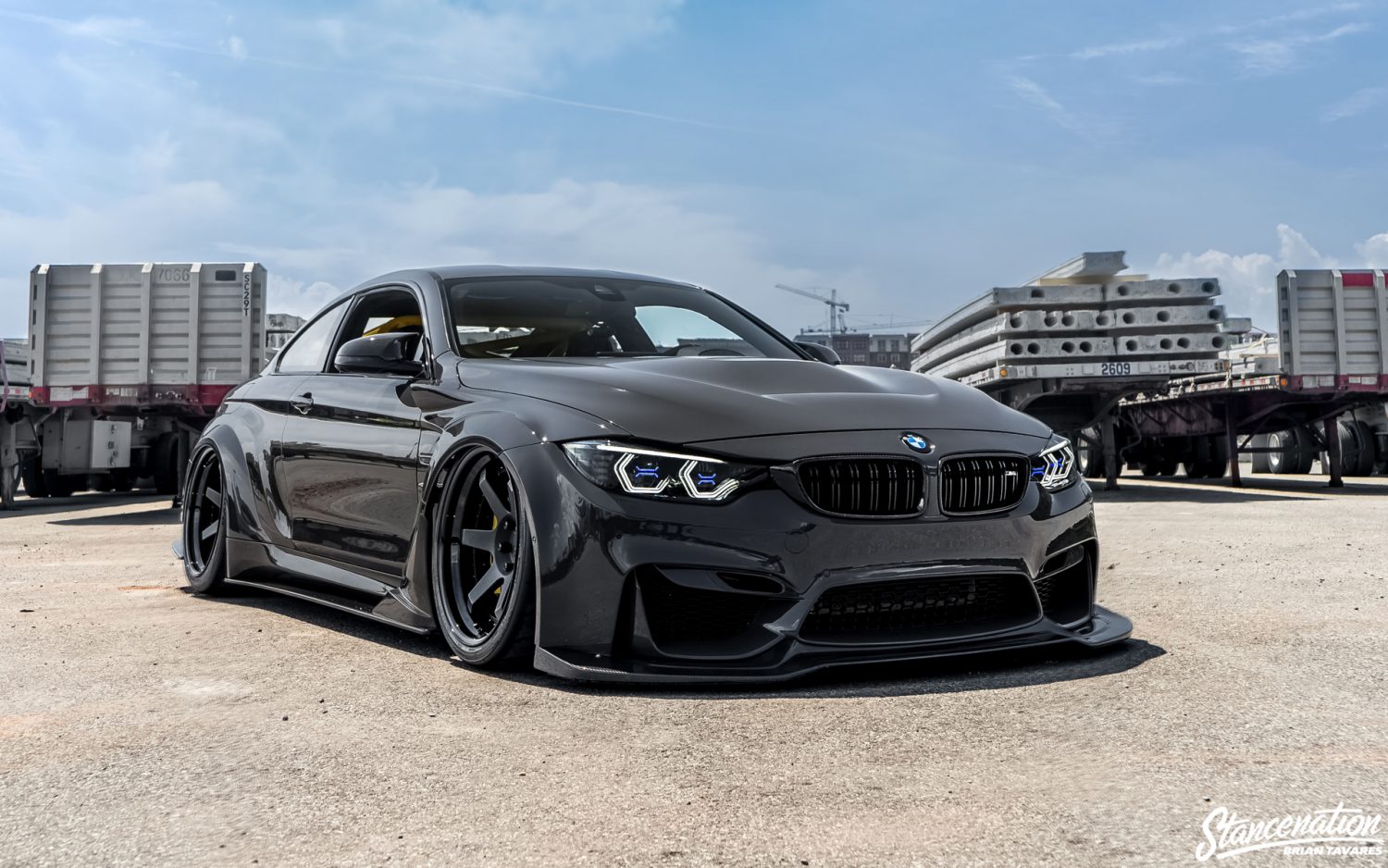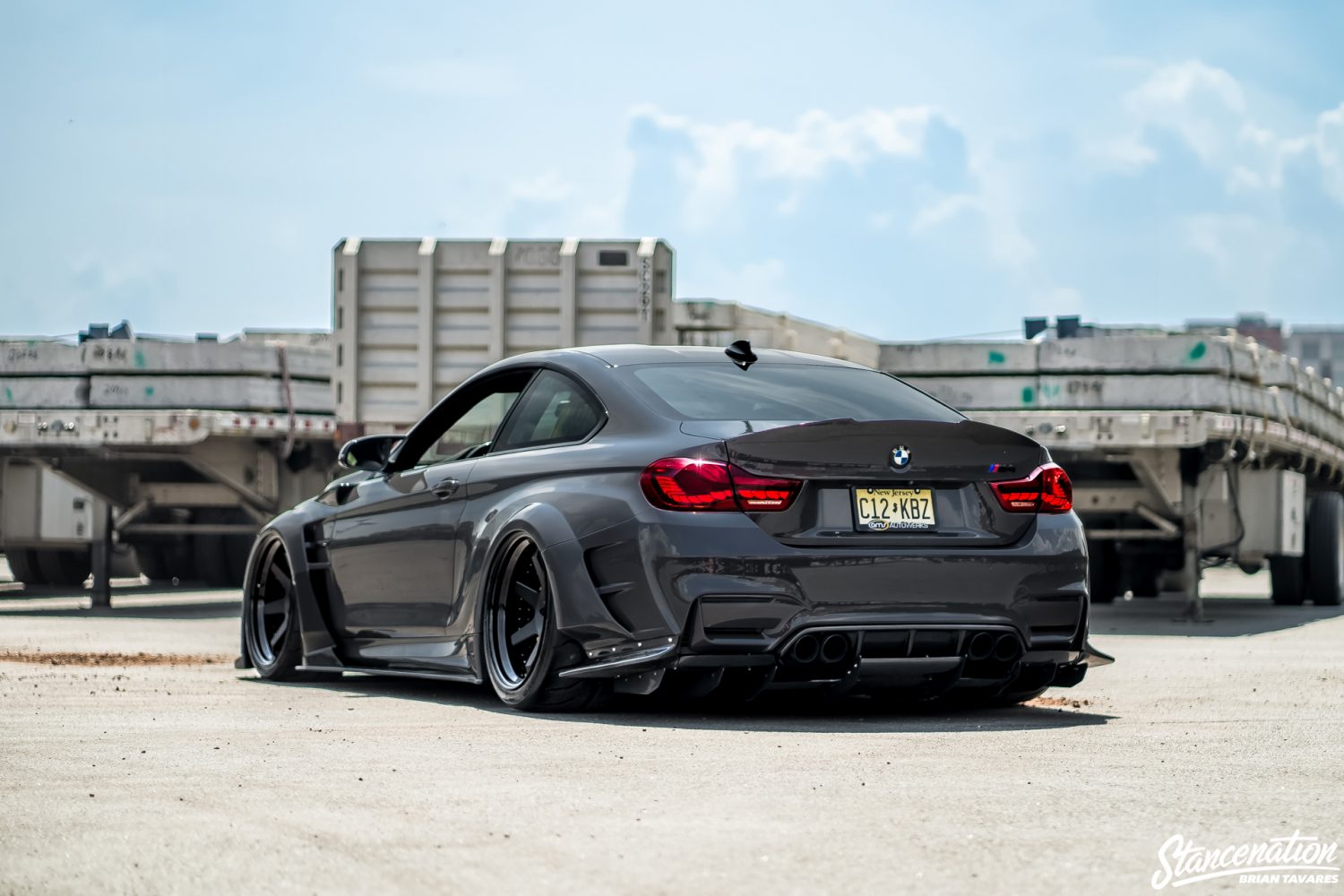 First things first. You can't talk about this car and skim past that 1 of 1 Varis widebody kit. In a sea of modified bmw's, widebody or not, Tarek found it increasingly tough to stand apart. Not only that, we all know that sometimes standing apart from the crowd is a recipe for something that's over-aggressively styled and has the potential to swing to the wrong side of the "look at me" spectrum. This kit is not that. Subtle and simple is the way that Tarek describes it and although it's tough to categorize all that aero as subtle, I tend to agree with his sentiment.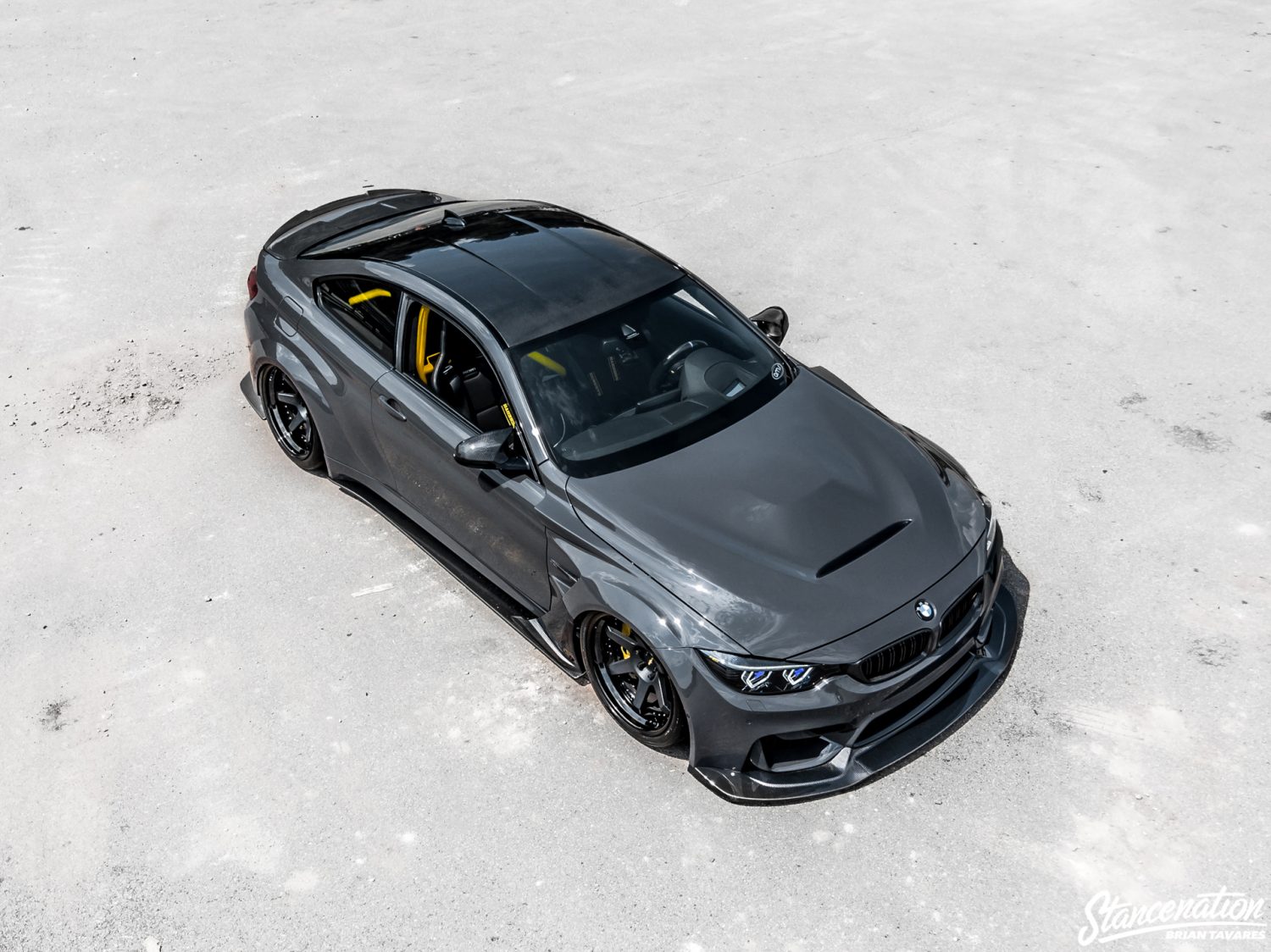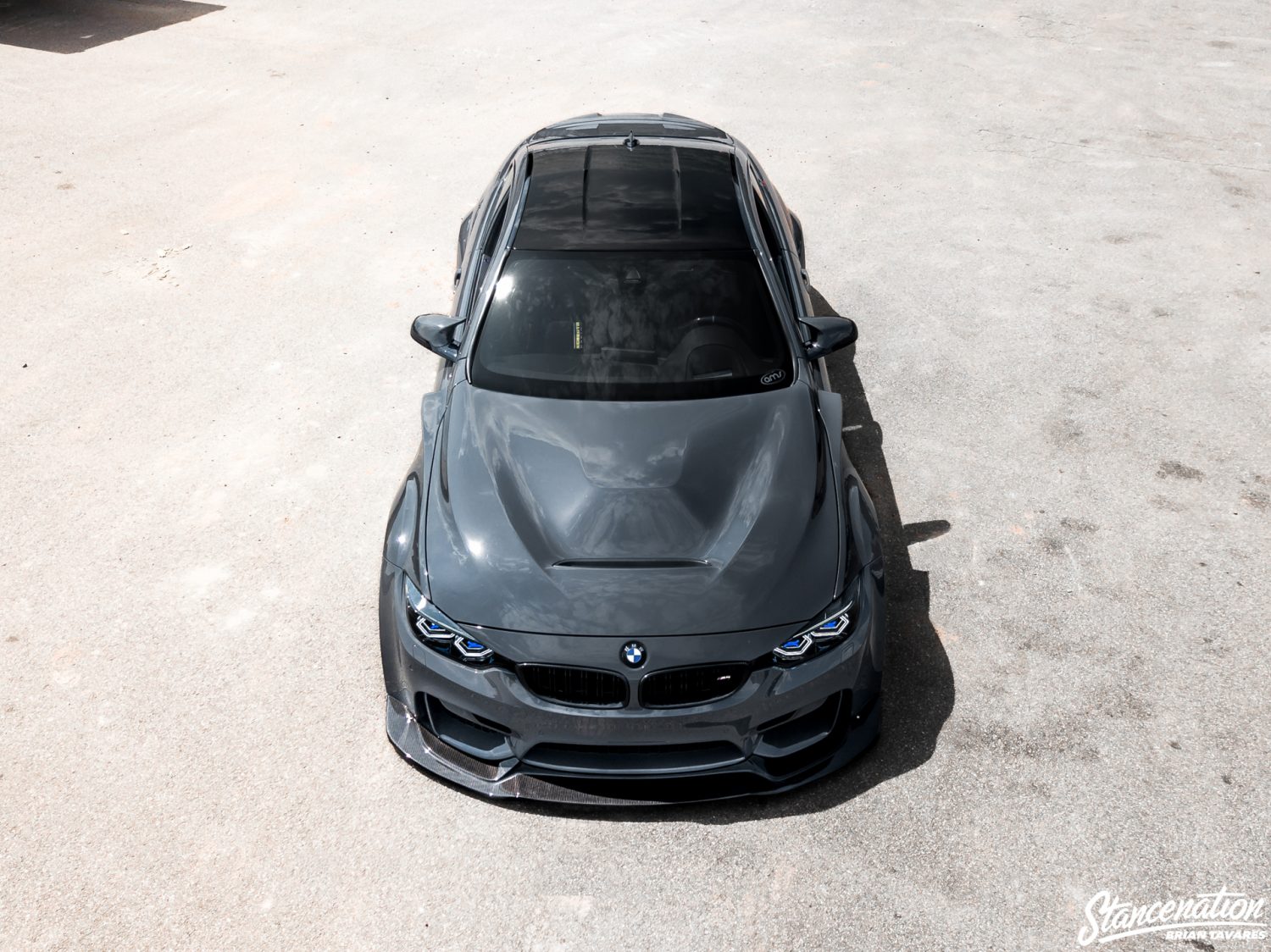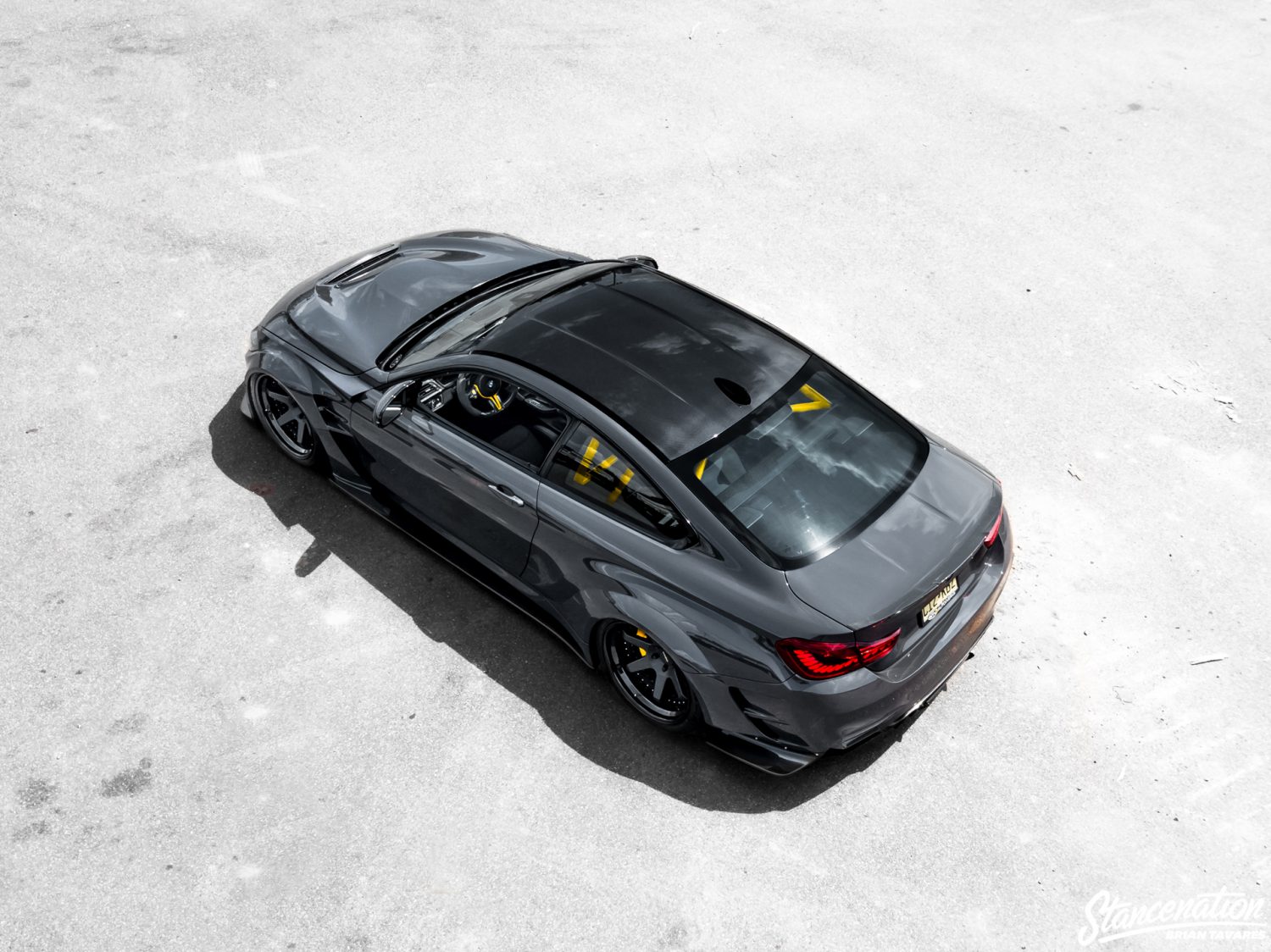 The journey for this kit came when he decided that a 1 off metal widebody was the route he wanted to go with, much like his previous Altima build (featured here in January 2015.) Unfortunately, there was a small oversight in the plans, as the M4 has plastic front fenders. So, what was he to do? Go Liberty Walk or PSM like everyone else? That wasn't going to cut it. So, he picked up the Varis kit thinking he'd at least be a bit different than the rest of the crowd. There were a few more issues though. First, he had already decided on some pretty serious wheel specs, too much for the kit he had purchased. So, it all had to be widened to shoehorn those in place. The other thing was that the complete Varis kit was just too aggressive for the overall aesthetic of this build. Something had to be toned down. Ditching the supplied canards, hood, and wing did the trick, replacing what he could with OEM BMW GTS parts to help transform the look just slightly away from racecar and more toward aggressive street car. One last thing, that paint color is a Porsche PTS (paint to sample) color called grey black. To me, a perfect offset of the carbon roof and yellow accents through the vehicle.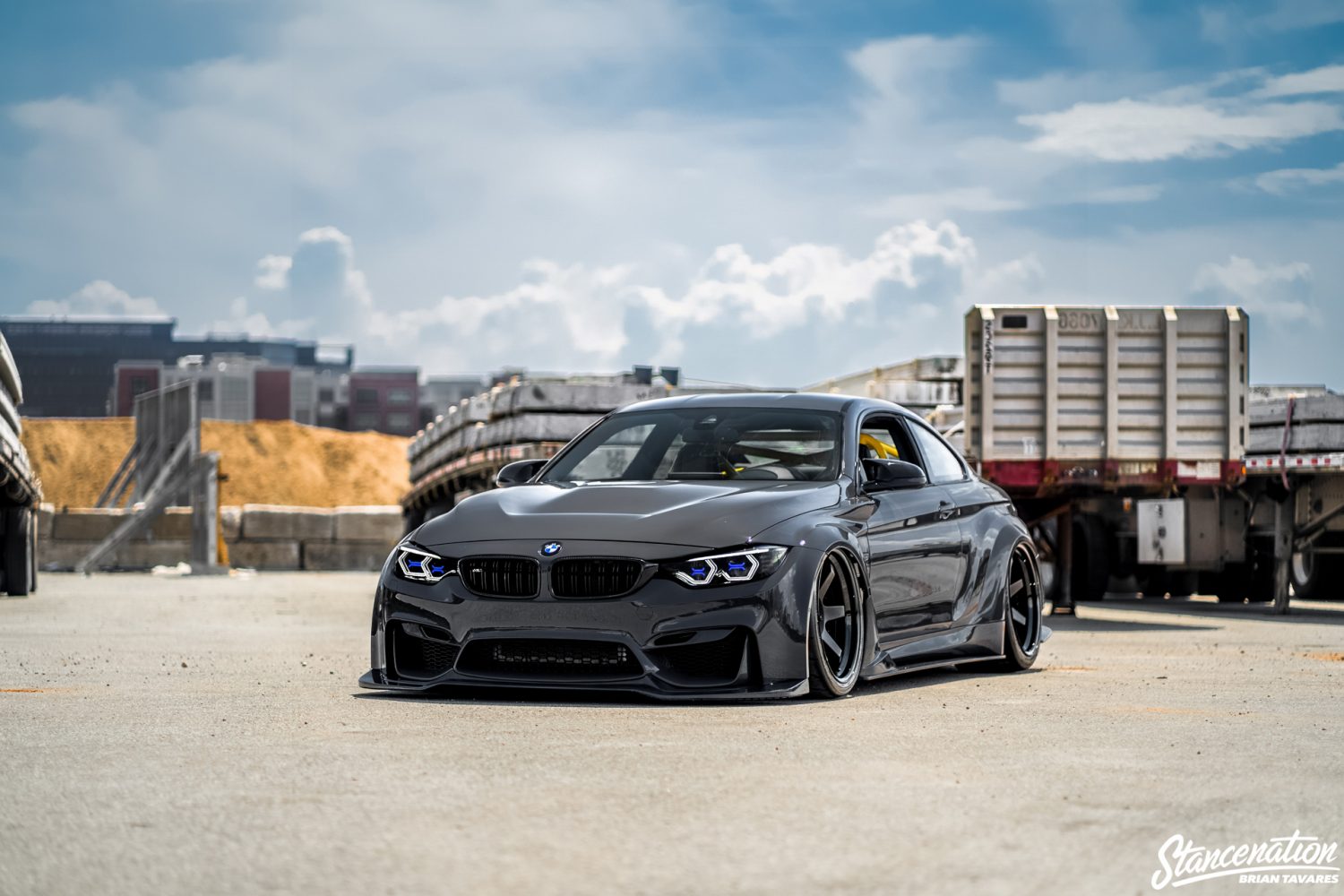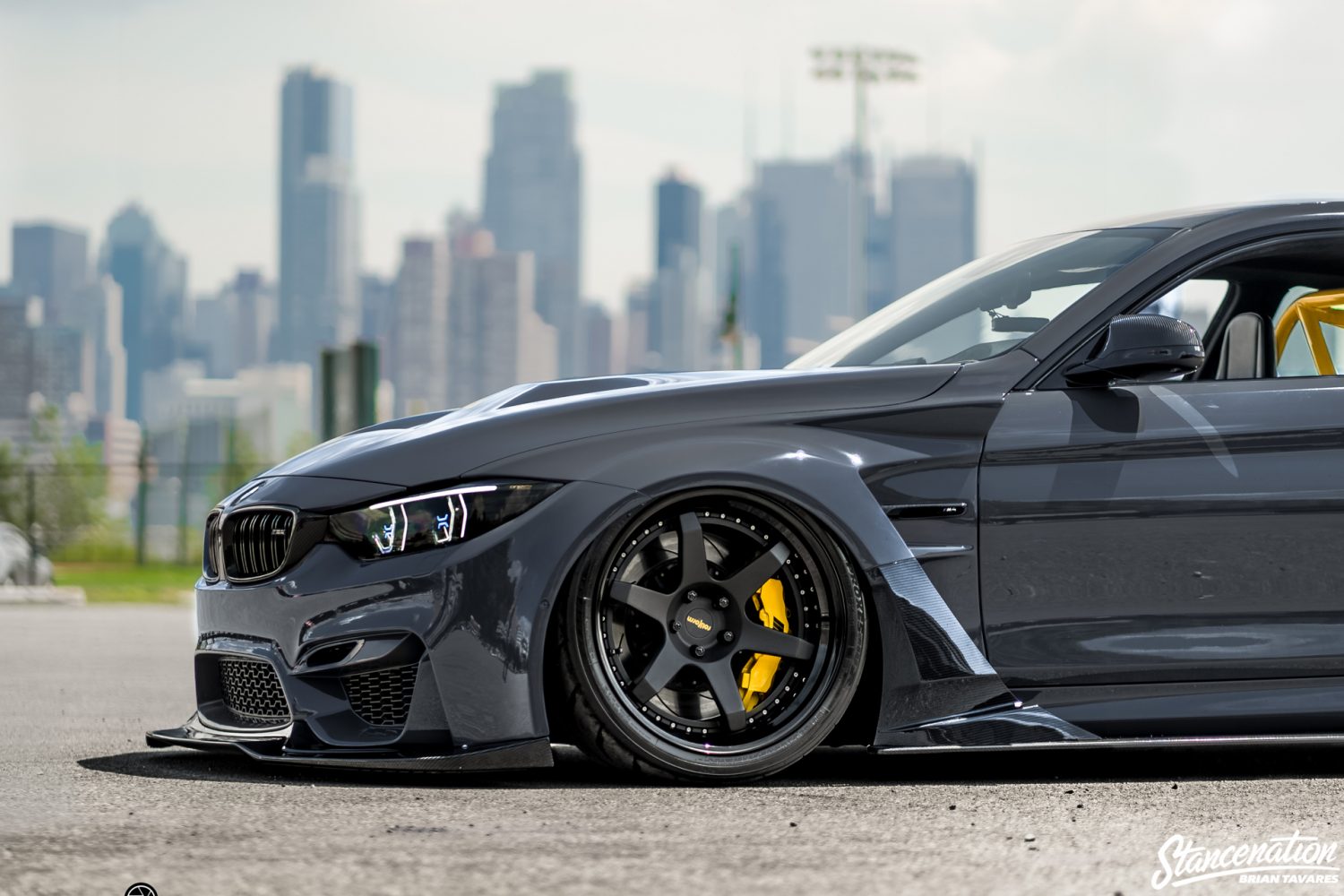 I've noticed over the years that as my preferences for cars and particular styles change, I tend to lock onto certain details in each build that stand out to me. Lately, it's been brakes that catch my eye. This car is no slouch in that department. Those 400mm D2 Racing brakes with bright yellow 8 pot calipers jump right out. So much that somehow, you barely notice the massive triple black 20×11 and 20×13 Rotiform SIX wheels. Maybe that's all part of the big picture here, a subtle detail on a not so subtle car. Either way, it all gets neatly tucked under the fenders by Airlift Performance struts and 3H management. Dinan anti-roll bars and some SPL camber arms allow him to dial in the handling on this beast.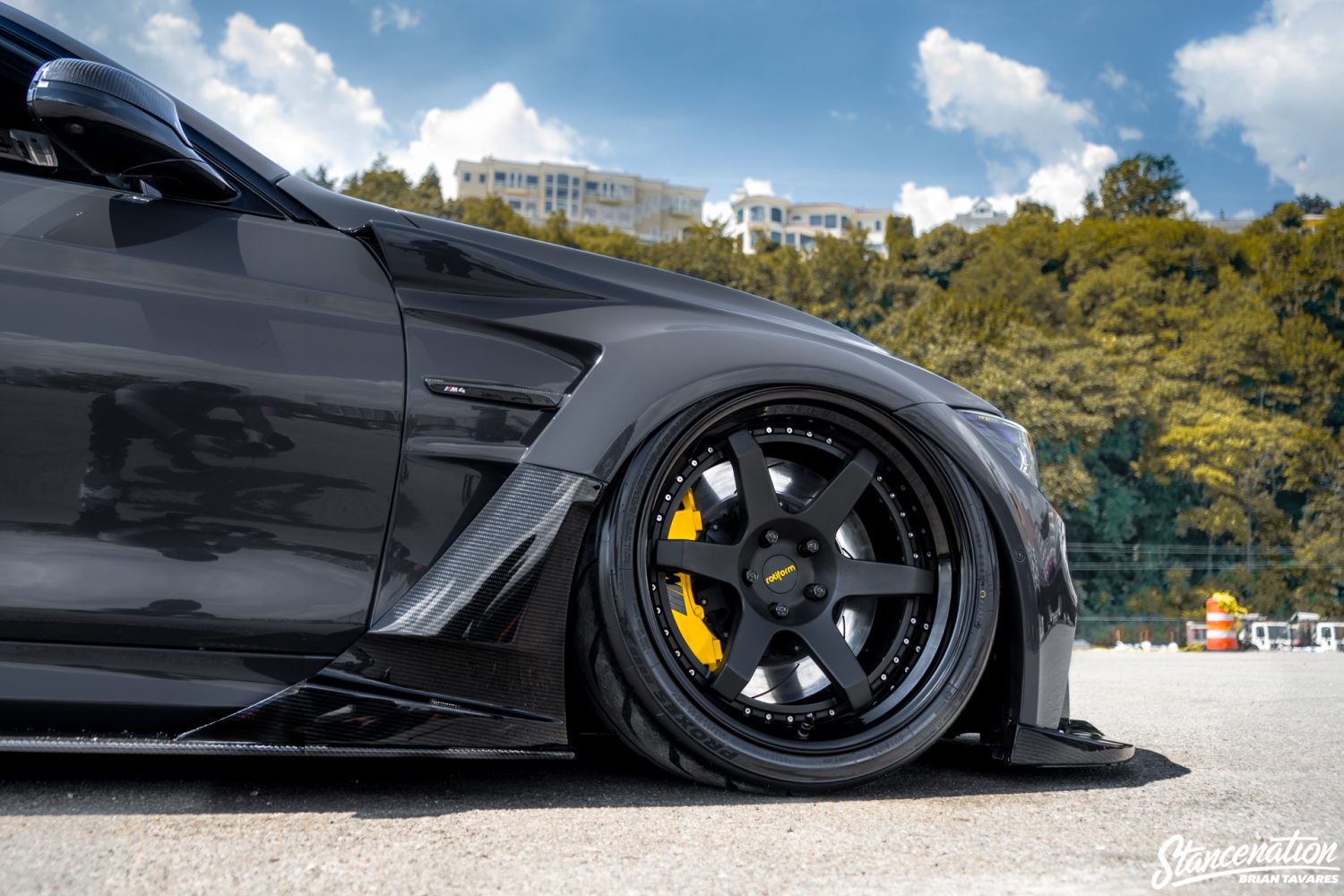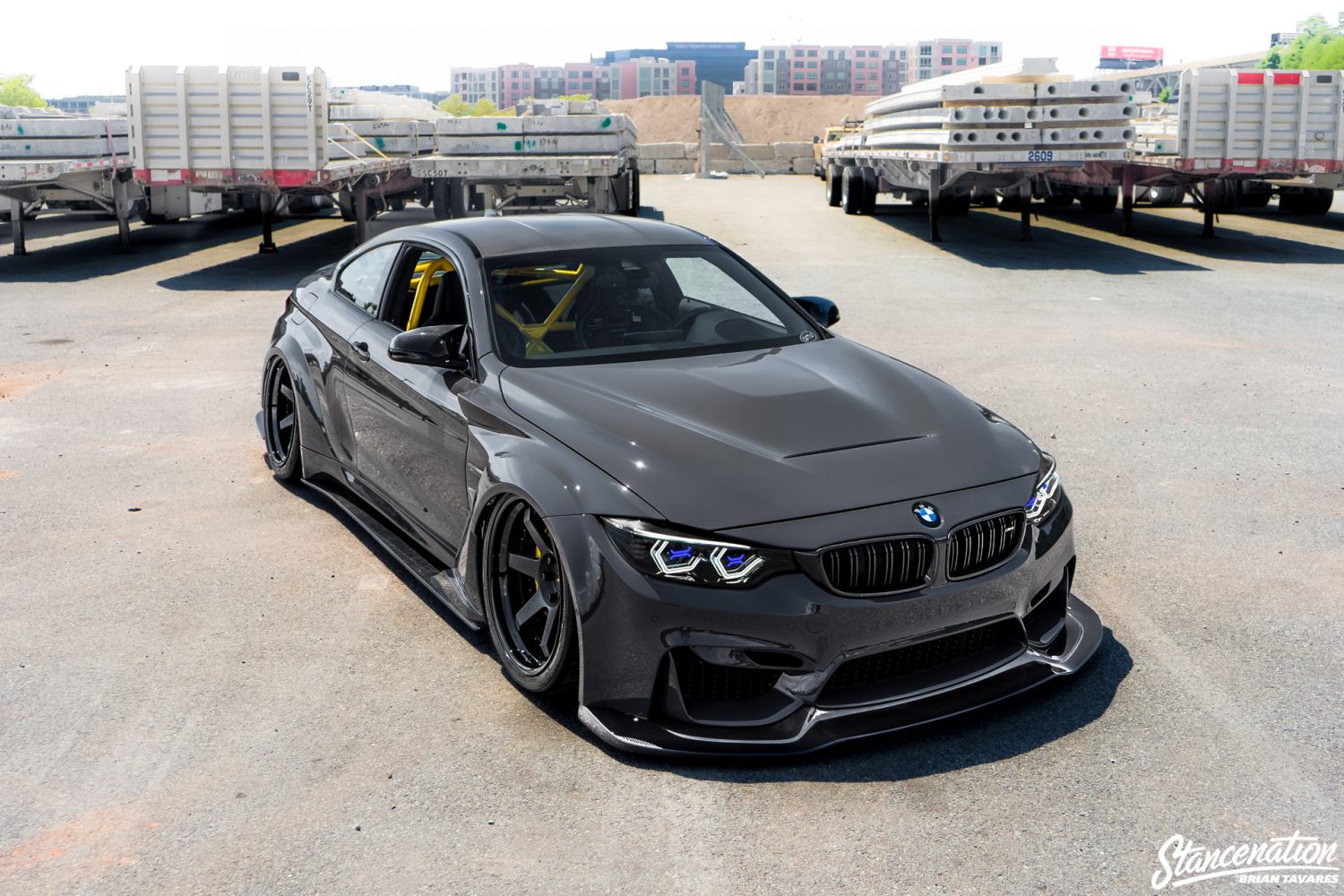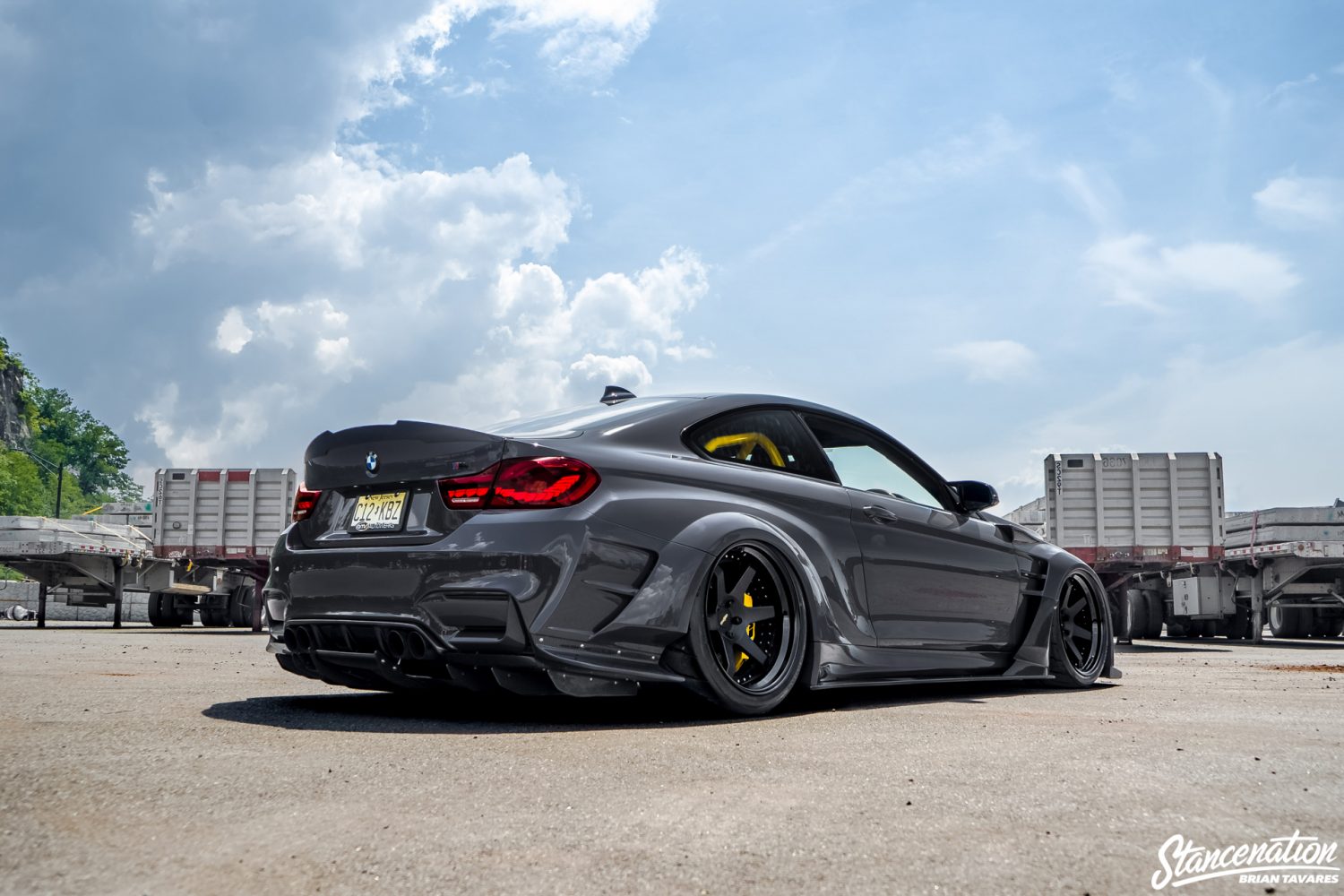 A set of beautifully stitched Recaro Sportster CS steals the show inside. But, there's so much more going on. Carbon fiber bits, from the Carismo Design steering wheel,
to the Dinmann rear seat delete fit in so well with the exterior color, while the yellow cage from Studio RSR ties in the brake calipers, the underhood, and even the Schroth harnesses.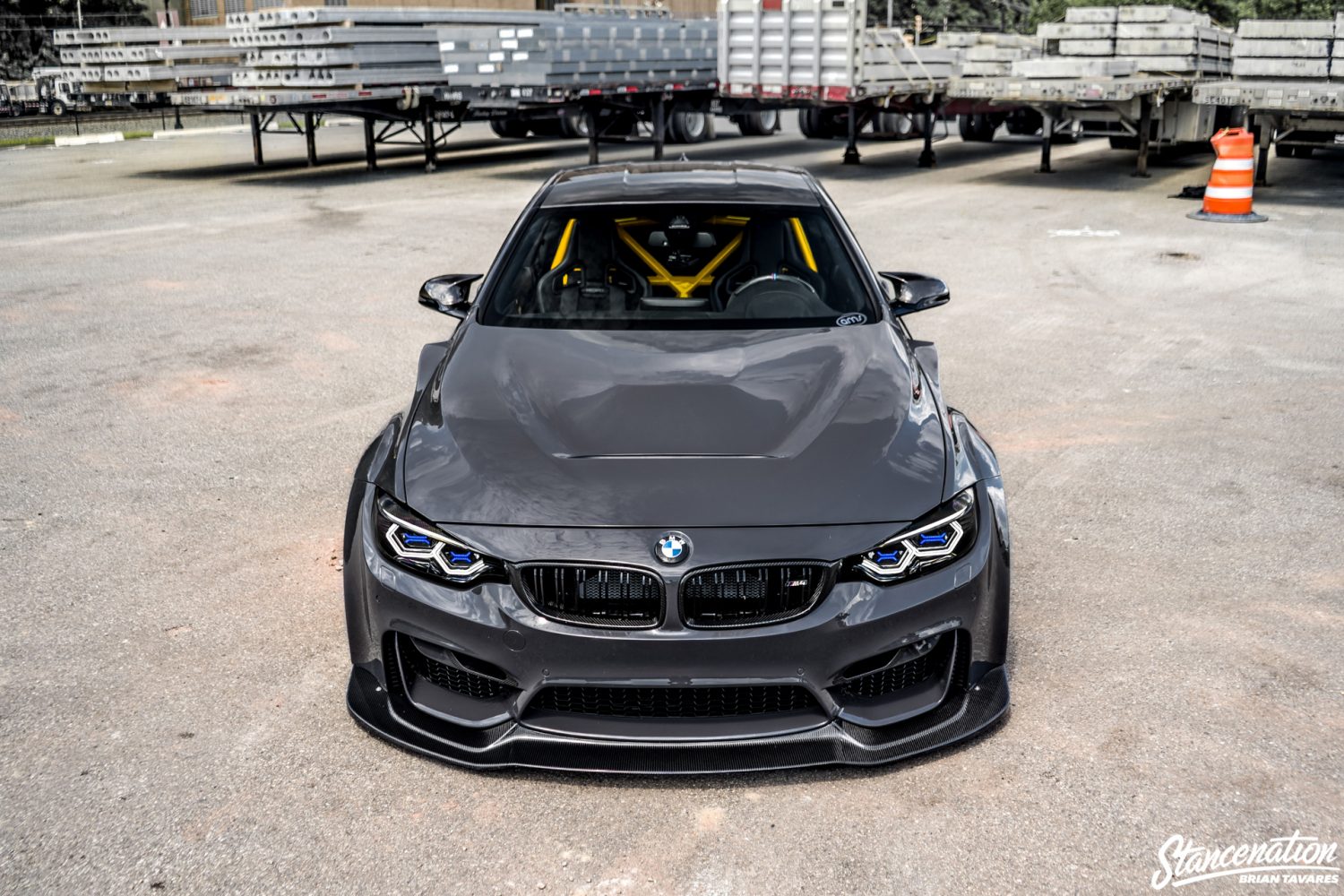 The engine is where Tarek plans to make most of his future changes. Although, it's currently nowhere near a stock power plant. Even if it was, we are talking about a pretty potent car right from the factory. Changes include a set of Pure stage 2 turbos, RK Tunes charge pipes and downpipes, as well as an RK Tunes tuner. The S55 also has a set of carbon intakes thanks to Eventuri. Plus, a few EOS parts, their intake manifold, billet top mount intercooler kit and 1000cc injector upgrade. A Maximum PSI keyed crank hub kit and a BMS billet high capacity oil pan round out the current engine mods.
Tarek says something that I had to chuckle at when explaining the way he feels about this car, "the attention it gets is also nice, sometimes…" It occurs to me that some of us are so used to building and driving cars that the general population thinks are crazy that we hardly even recognize them as anything all that wild. Your average soccer parent probably has no idea what they're even looking at when something like Tarek's M4 drives up. Yet to us, knowing every detail of every part of it here, it isn't just a crazy car. It's a work of art.