StanceNation's relationship with Aimgain started way back in 2011. The support and mutual respect we have for each other is out of this world. Both of the StanceNation cars (Lexus LS400 & Scion FRS) have had and currently have Aimgain aero on them and Aimgain continues showing us love whether it's being at every single one of our events in Japan or simply hitting us up to spend time together whenever they visit the states. This mutual respect and support we have for each other led to an idea of creating something together for not only Aimgain fans, but of course our amazing StanceNation fans as well.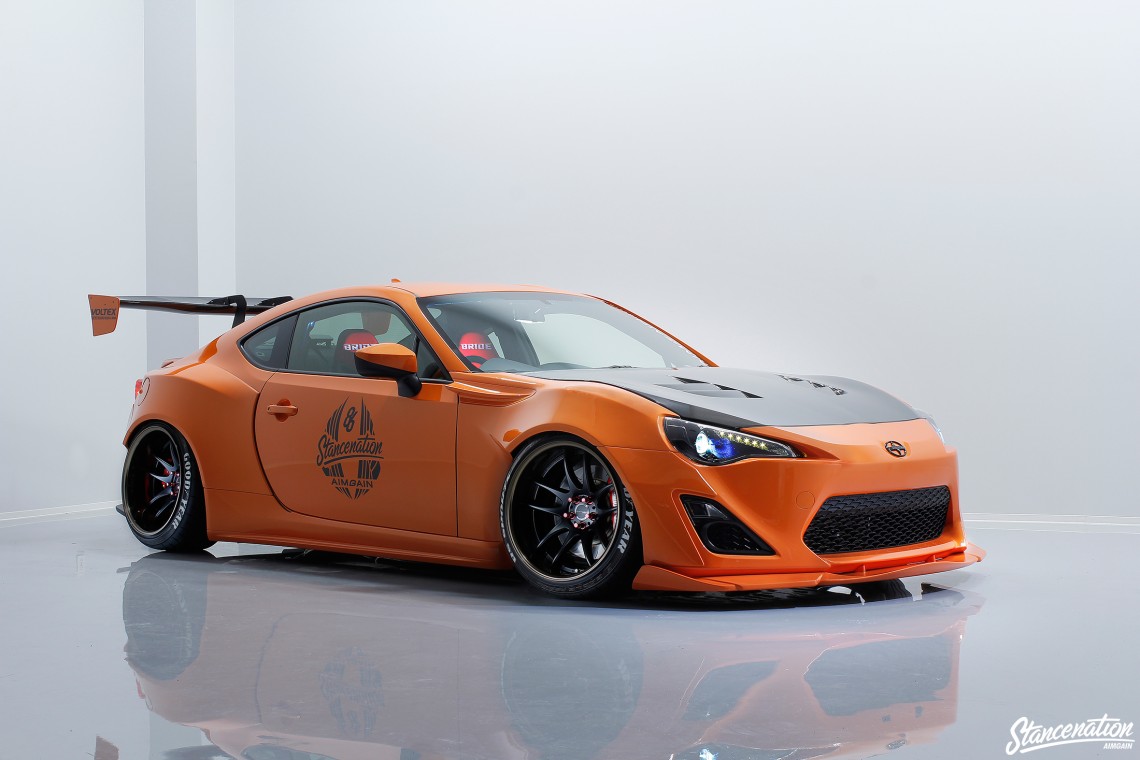 It all started back in 2014 (yes, this collabo has been in the works for well over a year!) during Aimgains visit to SEMA and just months after that we started exchanging initial drawings & renders. One of our biggest things was that this time around we wanted round fenders (unlike the previous ones). Our second biggest goal was instead of creating new body lines/creases, to instead use the existing ones and pull them out even more, resulting in very OEM like look (which happens to be 50mm wider up front and 80mm wider in the rear).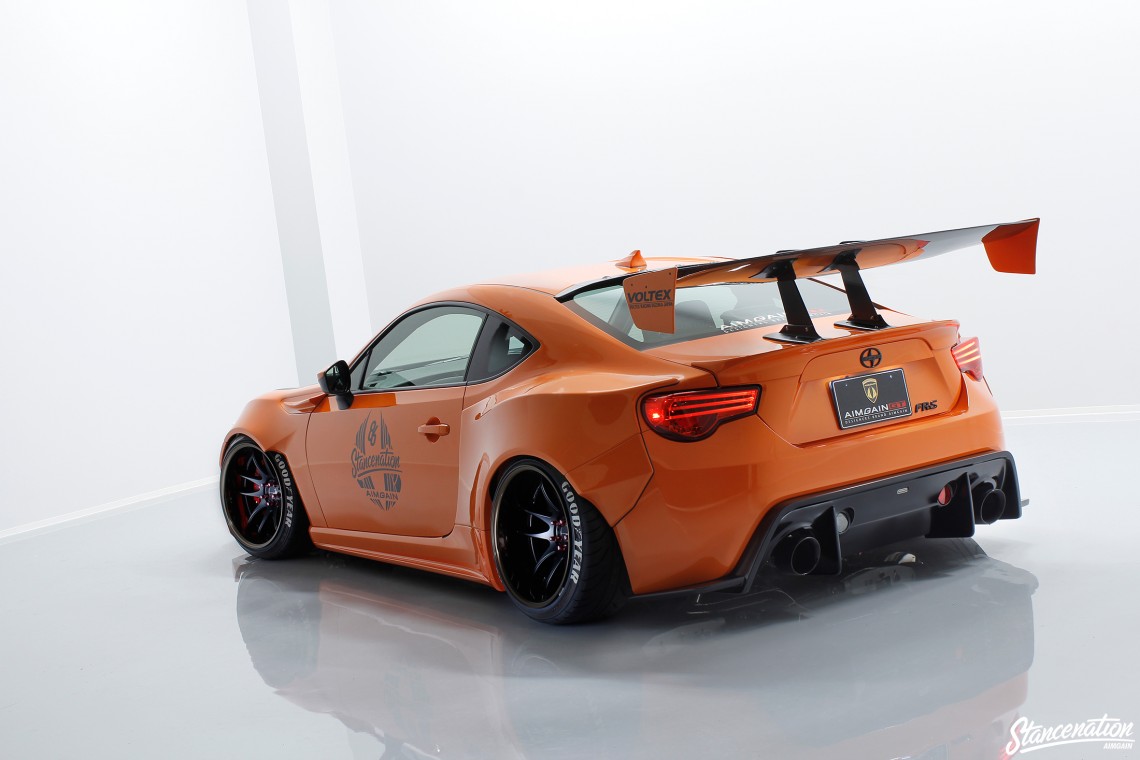 There are a ton of front lip/under spoiler options on the market for 86/FRS/BRZ's, so creating something original yet appealing can sometimes be challenging. Our take on it was to stay simple but again bring out the curves of the car. You'll notice the curved look from the overhead shot below.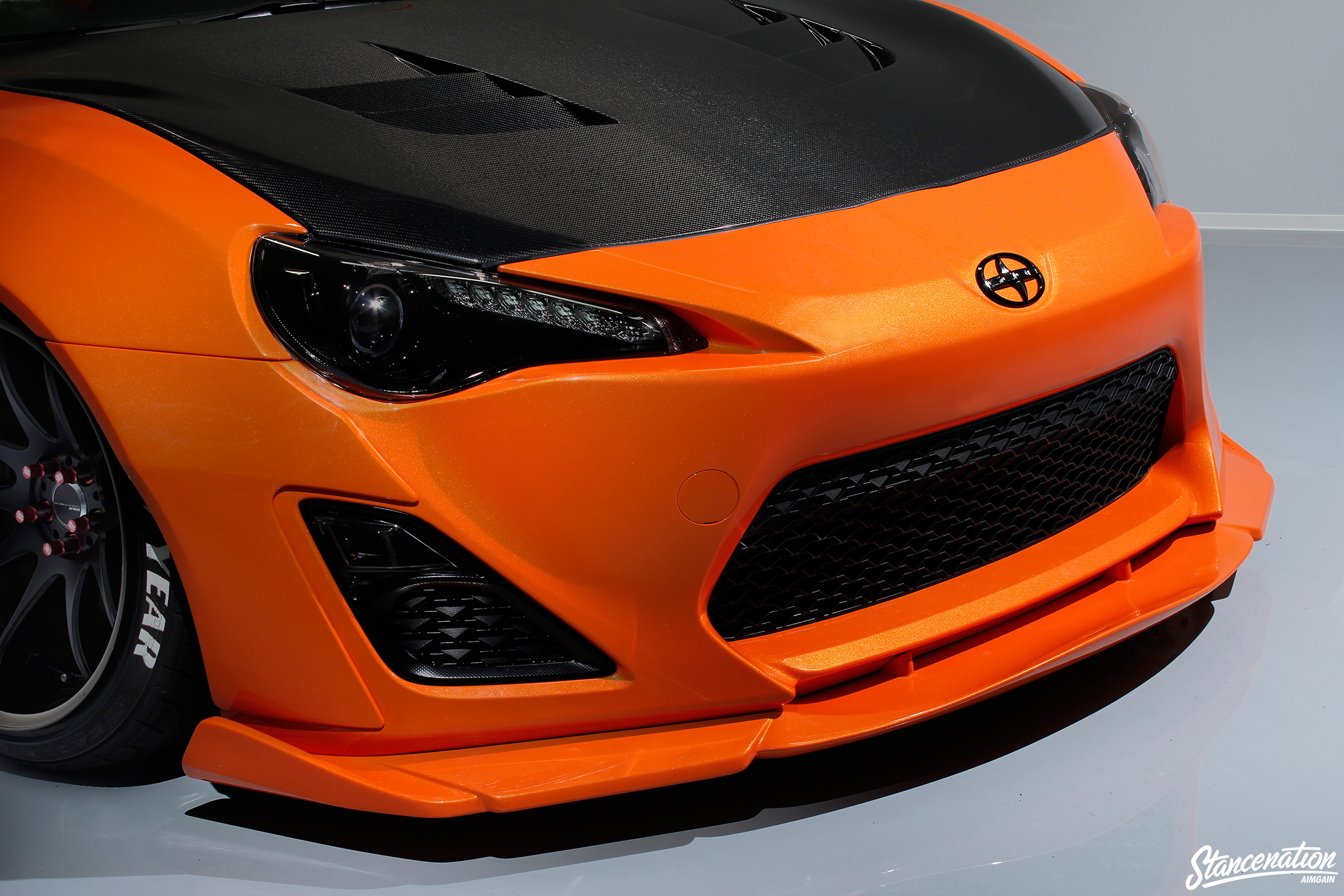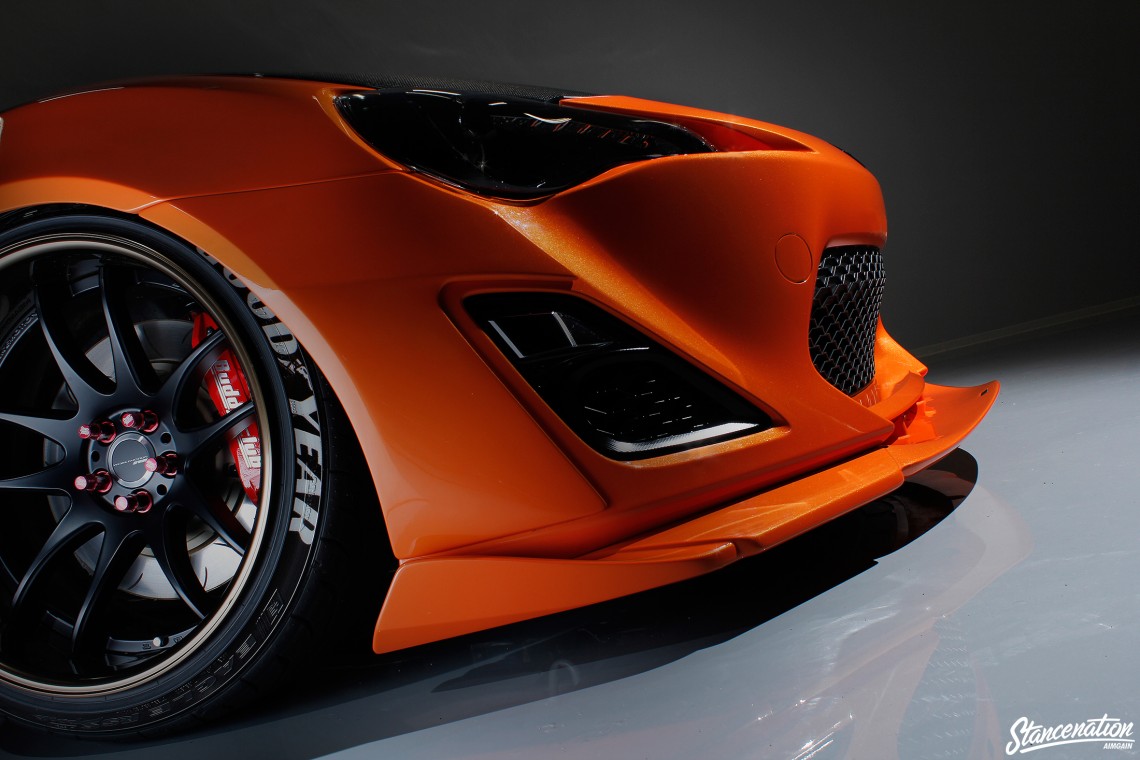 All about the details & curves.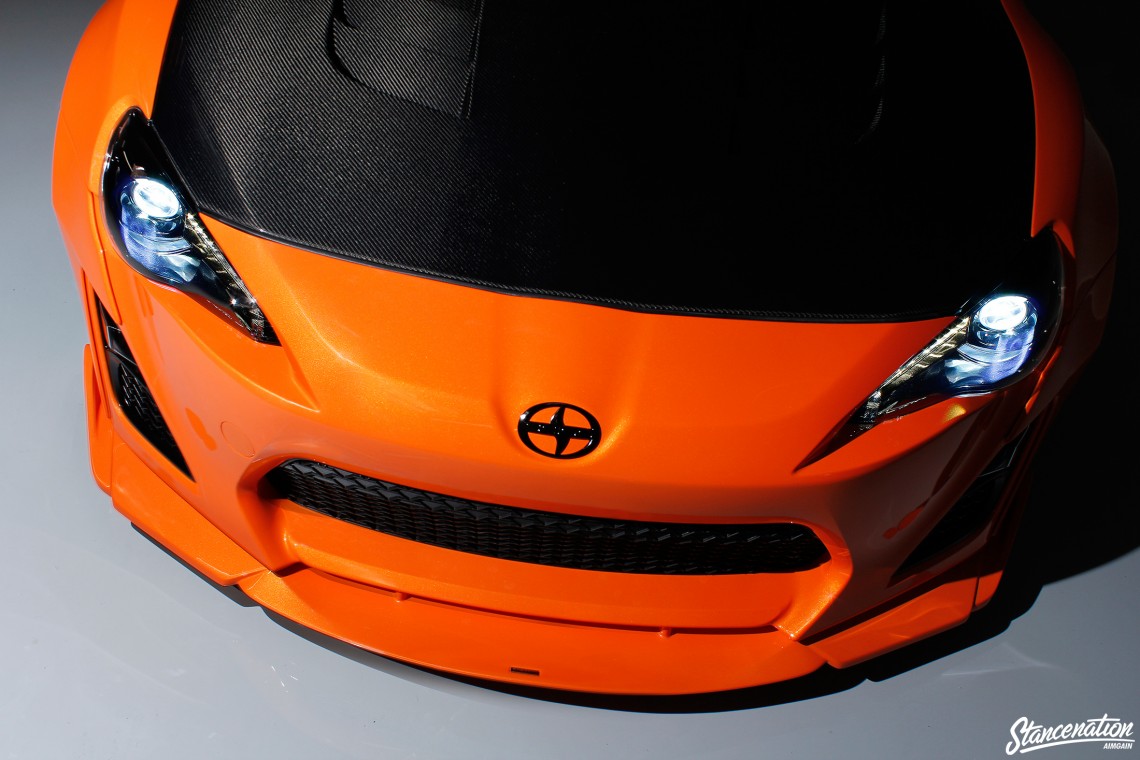 Another thing you'll notice is that this particular overfender kit doesn't require screws. As a matter of fact, the front fenders aren't "overfenders" but rather include a pair of completely new fenders. They have been widened by 50mm (around 2 inches), and as with the front lip, it's all about the curves. This particular demo car also has TRD fender garnishes installed which take it to another level.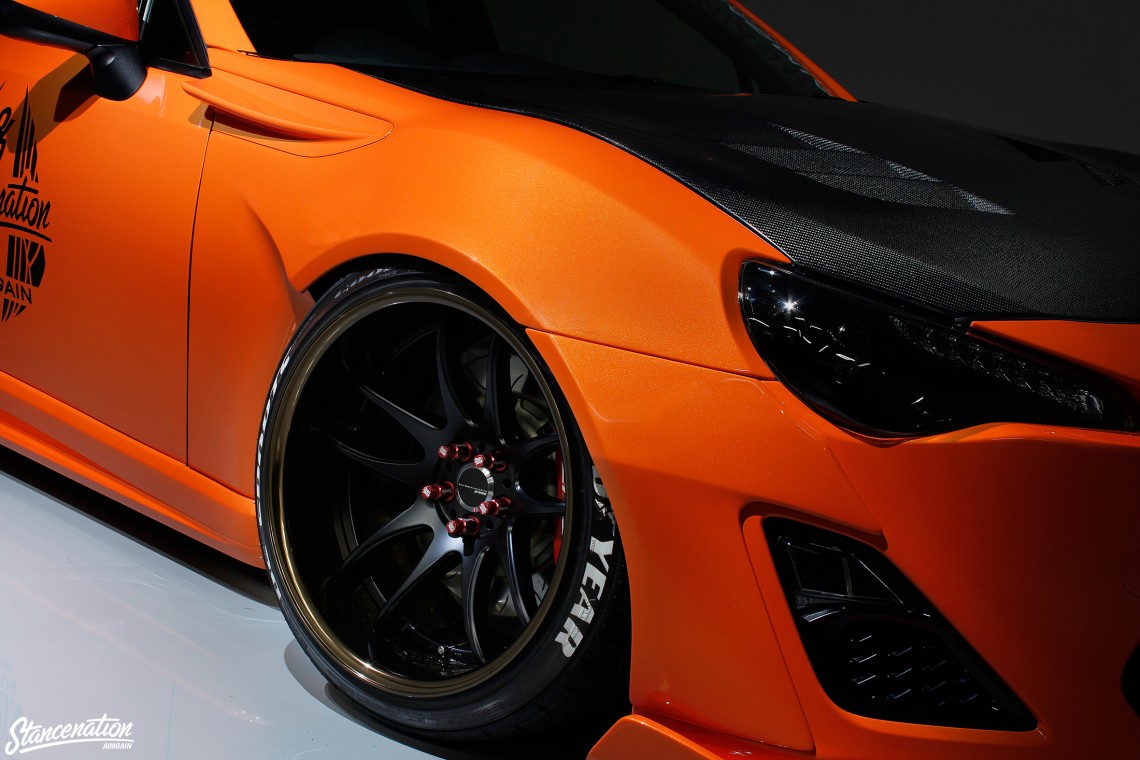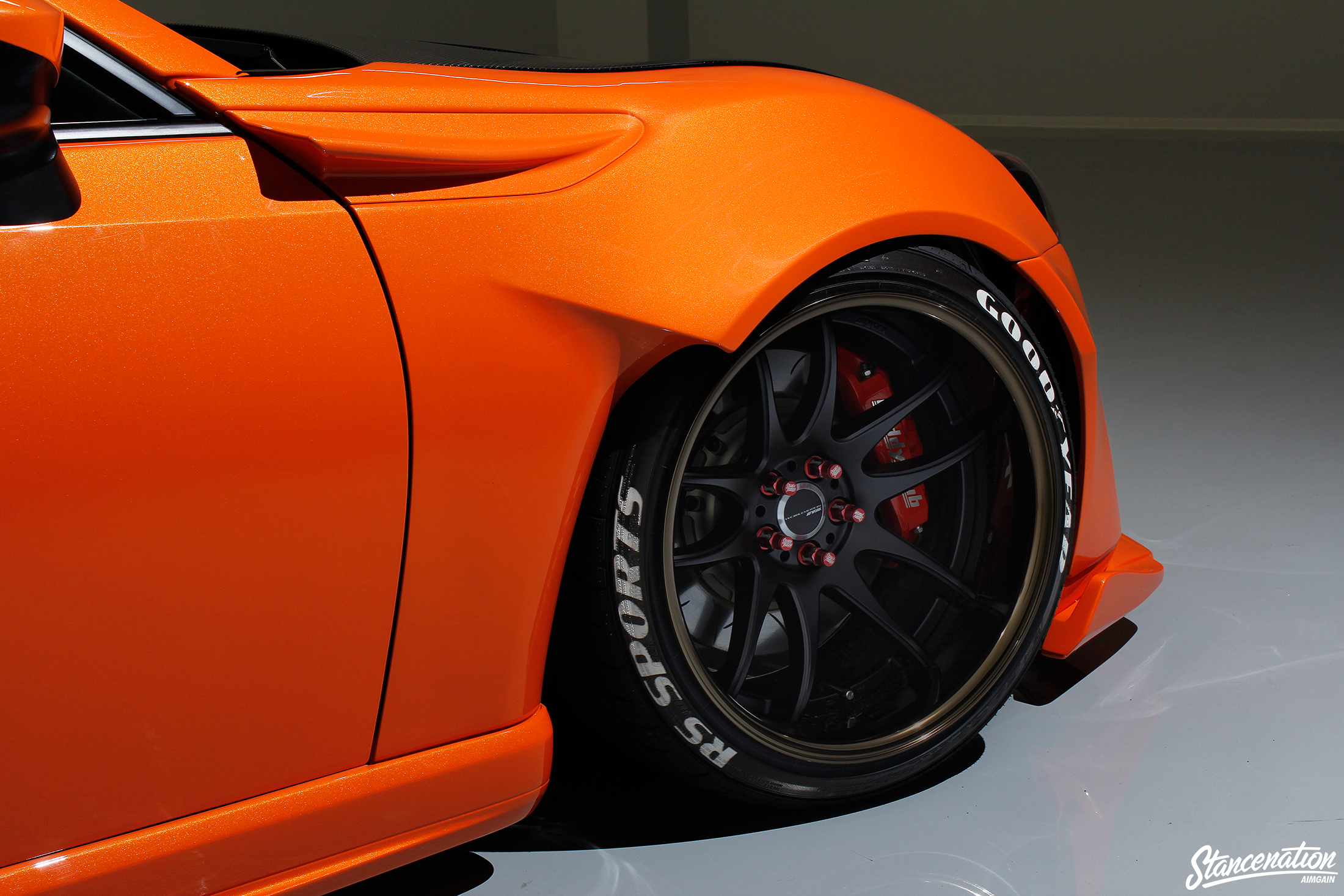 The kit also includes new side skirts. The very front of the skirt is about 10-15mm wider than original sides, while the rear of the side skirt is even wider at around 50mm in width.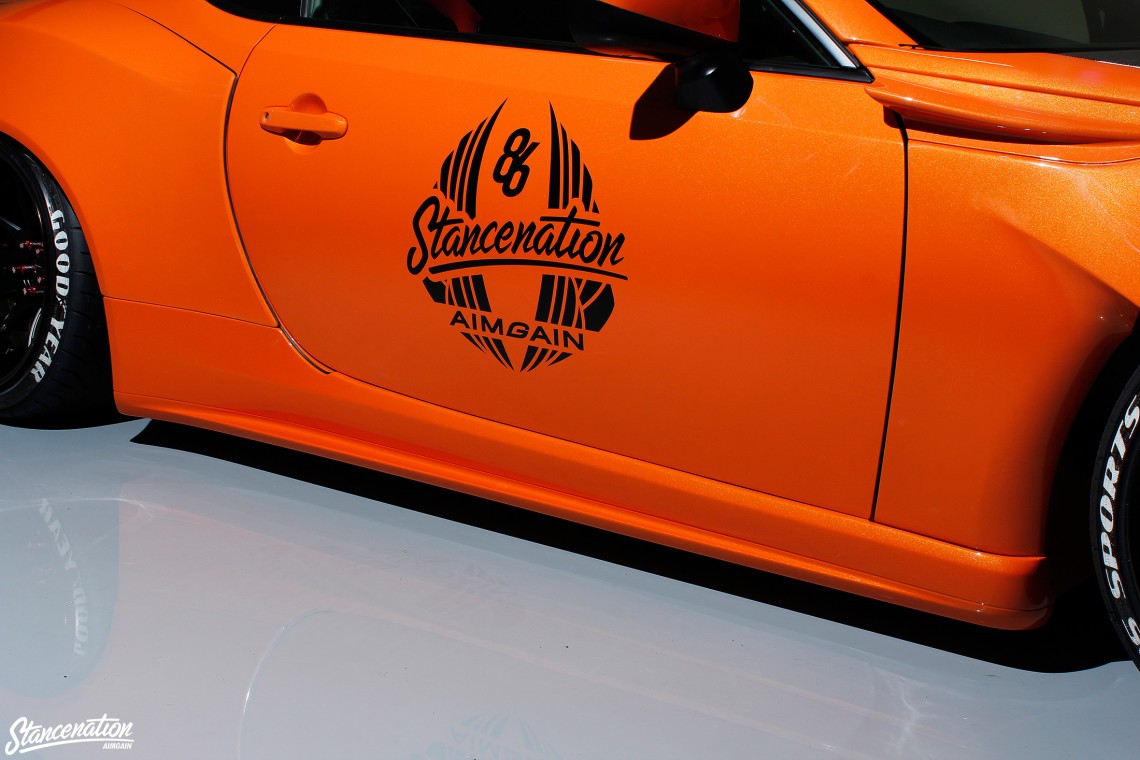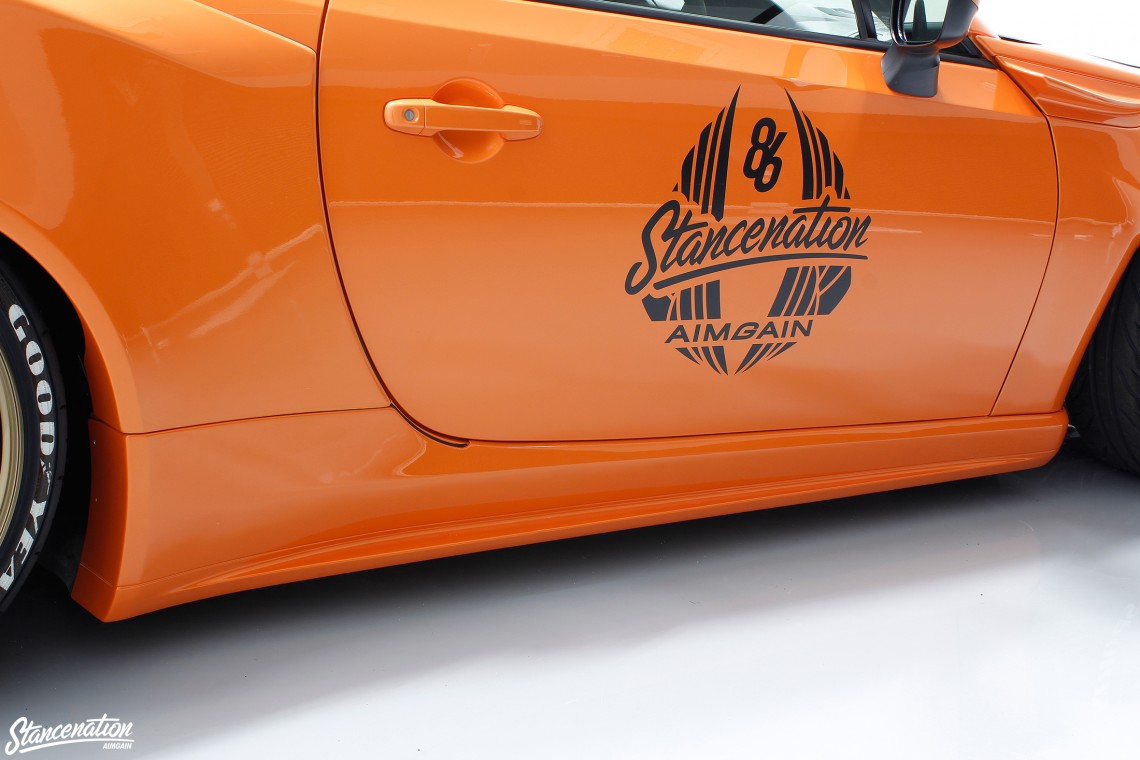 Our favorite feature would have to be the rear overfenders. We've brought out car's natural body line all the way back above the tail light into the overfender. The "hips" finally look as aggressive as the front end of the car, but because we aren't using any screws on our overfenders, it appears very OEM-like. The rear fenders still have to be cut (but not fronts!) but it'll be well worth it! You're probably wondering what's holding the fenders in their place since there are no screws. Well, we've decided to use high strength double-sided tape. Same tape used on many OEM trunk/roof spoilers. Makes installation much easier and opens up opportunities of molding the fenders onto the car with ease. Oh did we mention that rear overfenders are 80mm wide?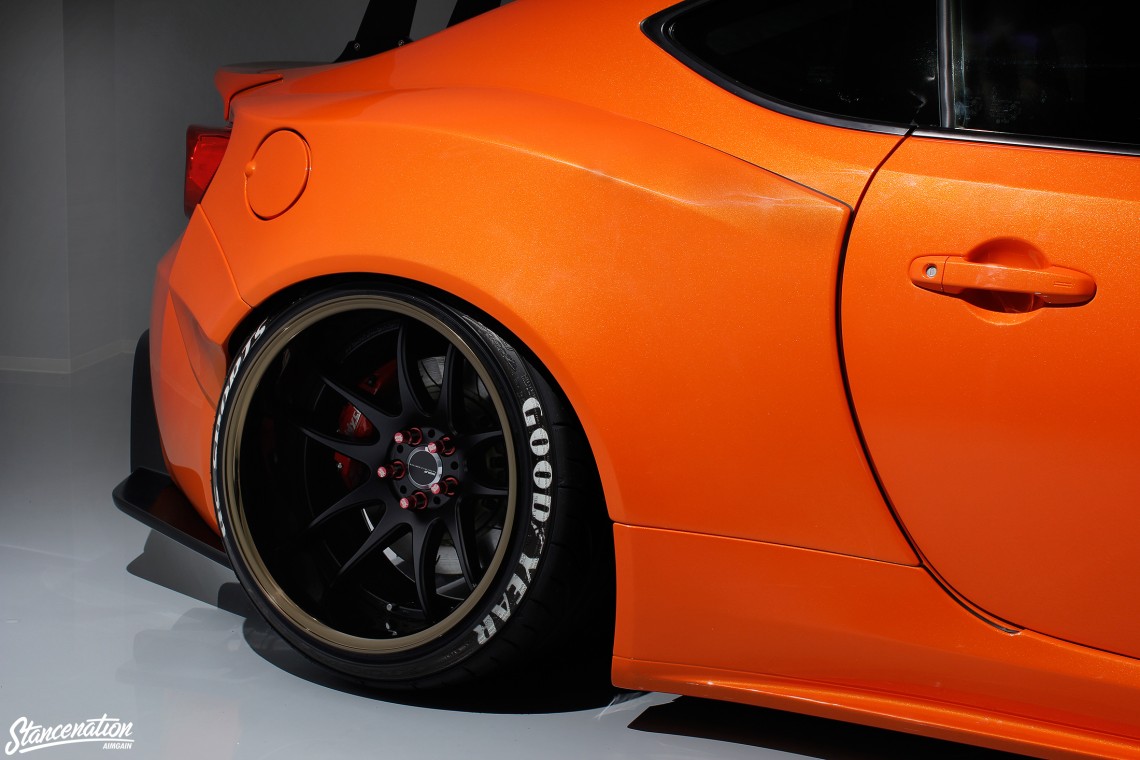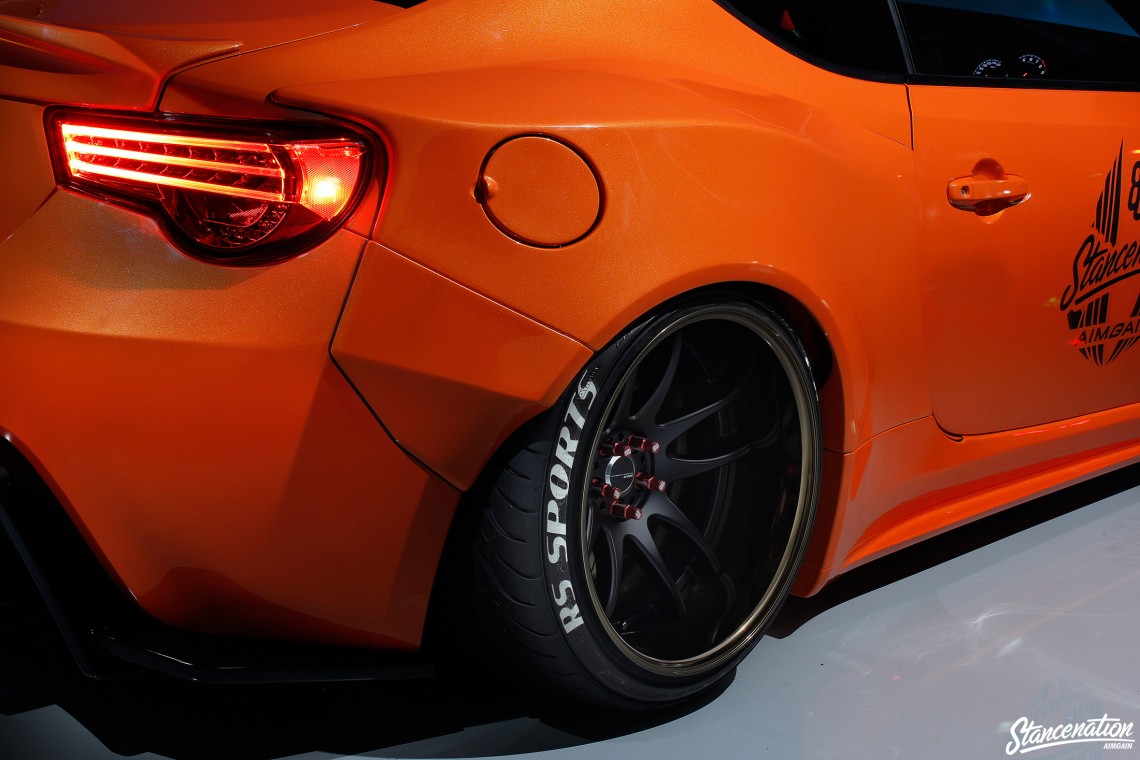 One of the things that was overlooked by everyone when we released the initial renders was the gas lid/cap. Check out the idea Aimgain came up with. You can also see just how much wider the car will be with the new overfenders.

In the back, we are using the original bumper that came with the car and simply redoing the diffuser. The two fins right under the brake/reverse light are also removable, so if you prefer a simpler look you now have that option.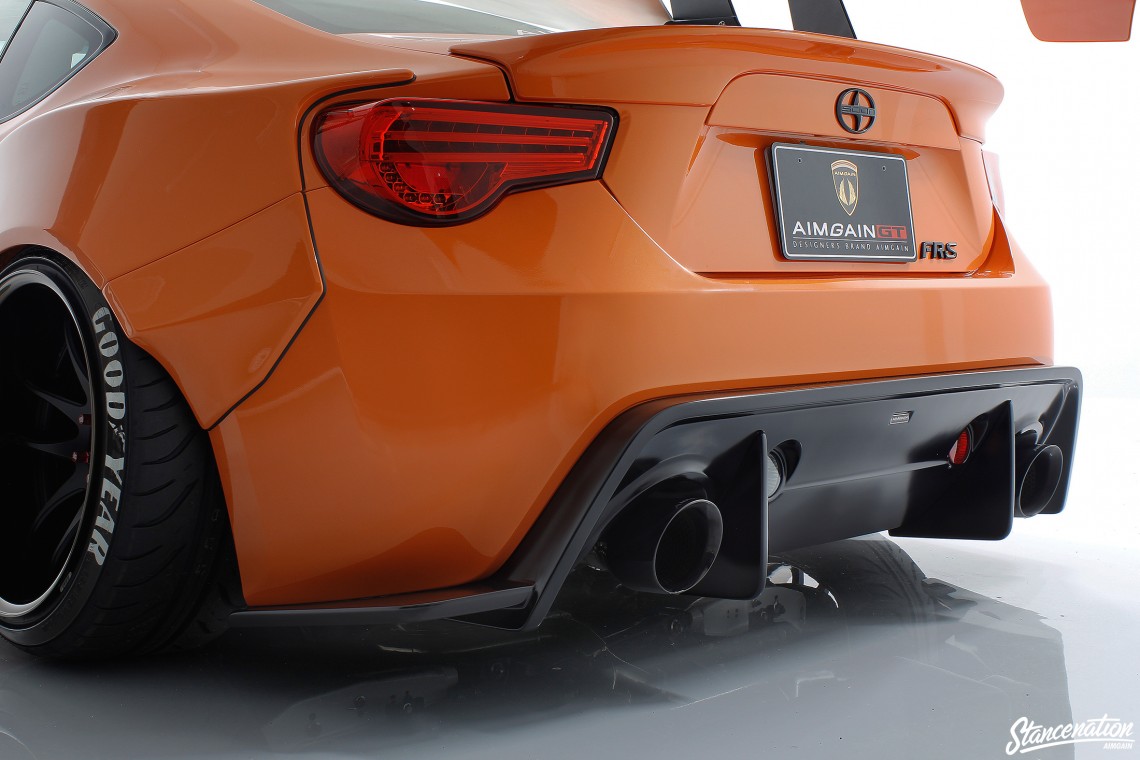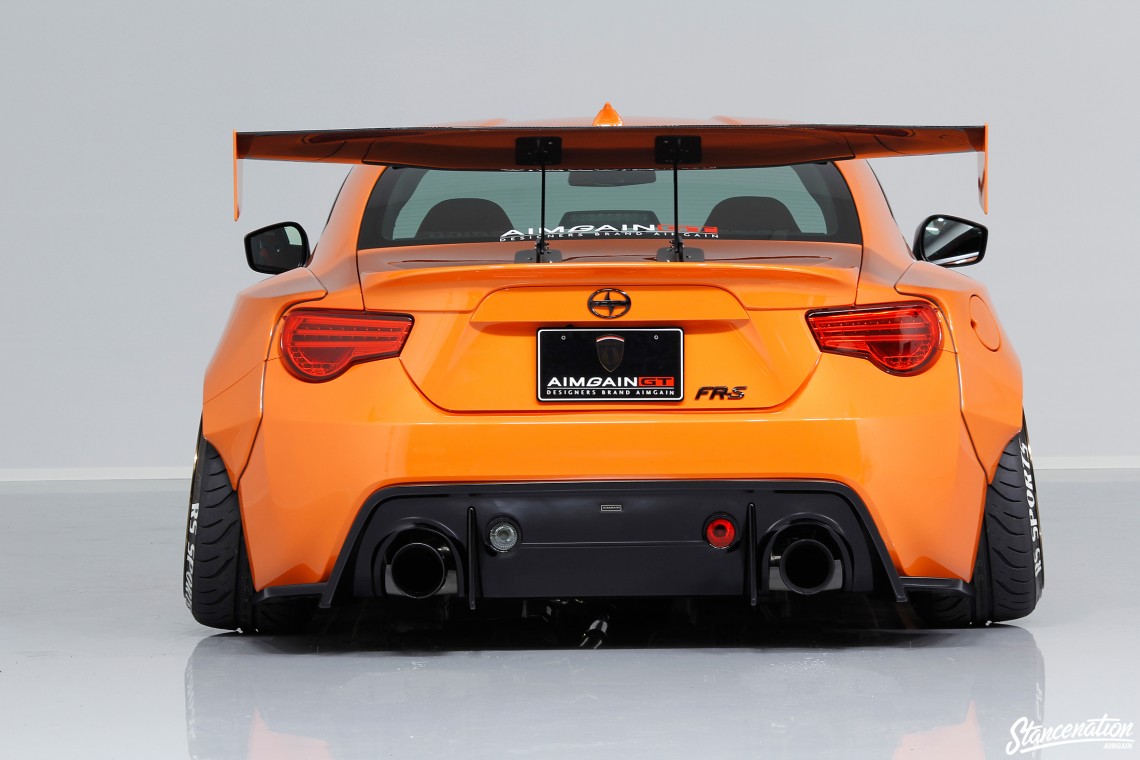 The kit also includes a trunk spoiler. Nice and simple. This particular demo car features a Voltex swan neck wing as well. Unfortunately it is not included.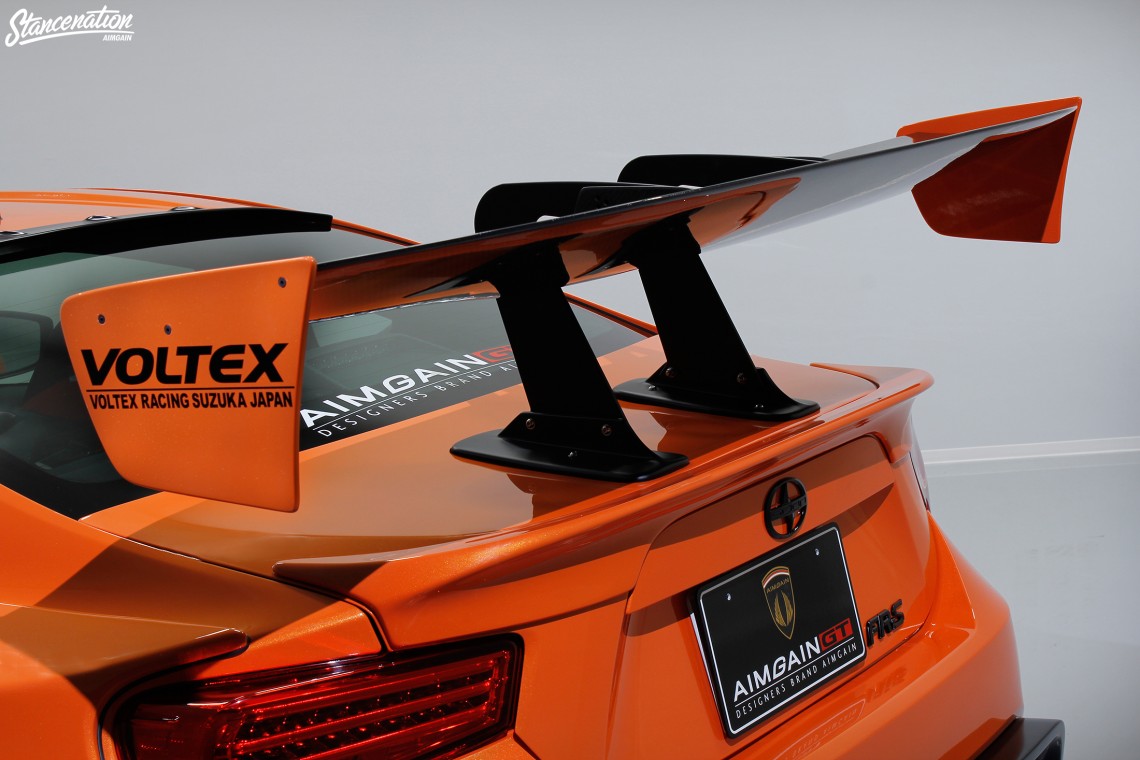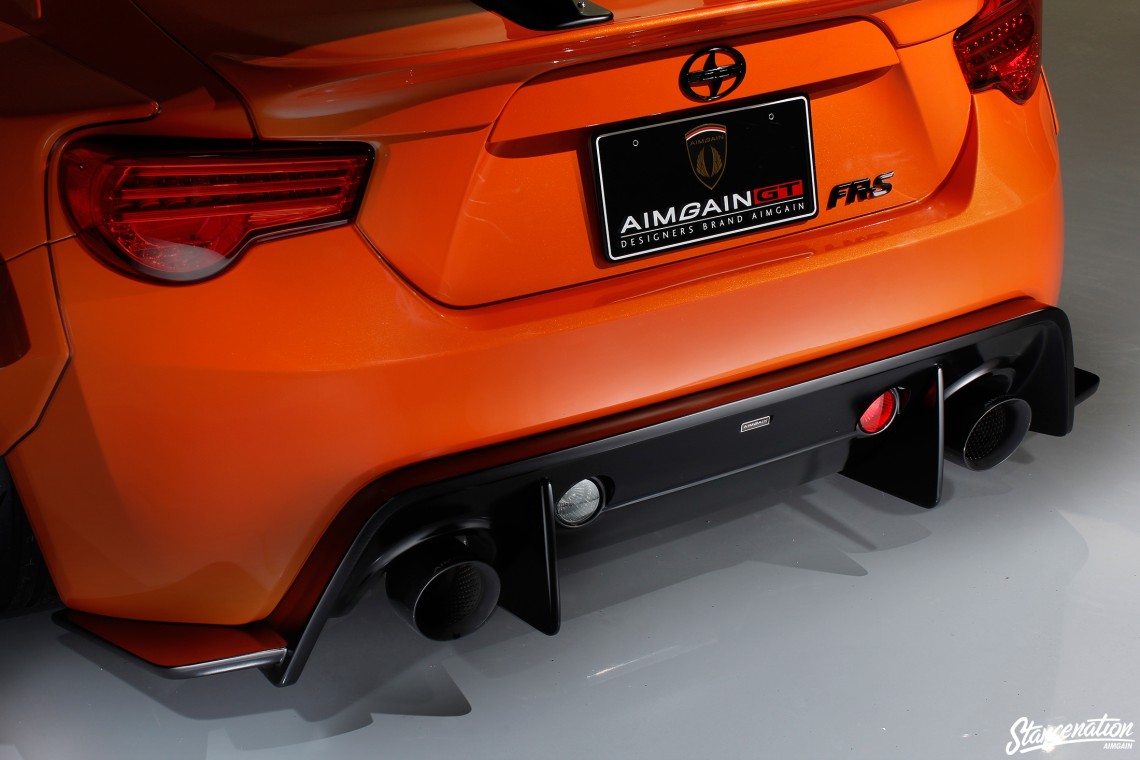 Roof spoiler & muffler tips are optional.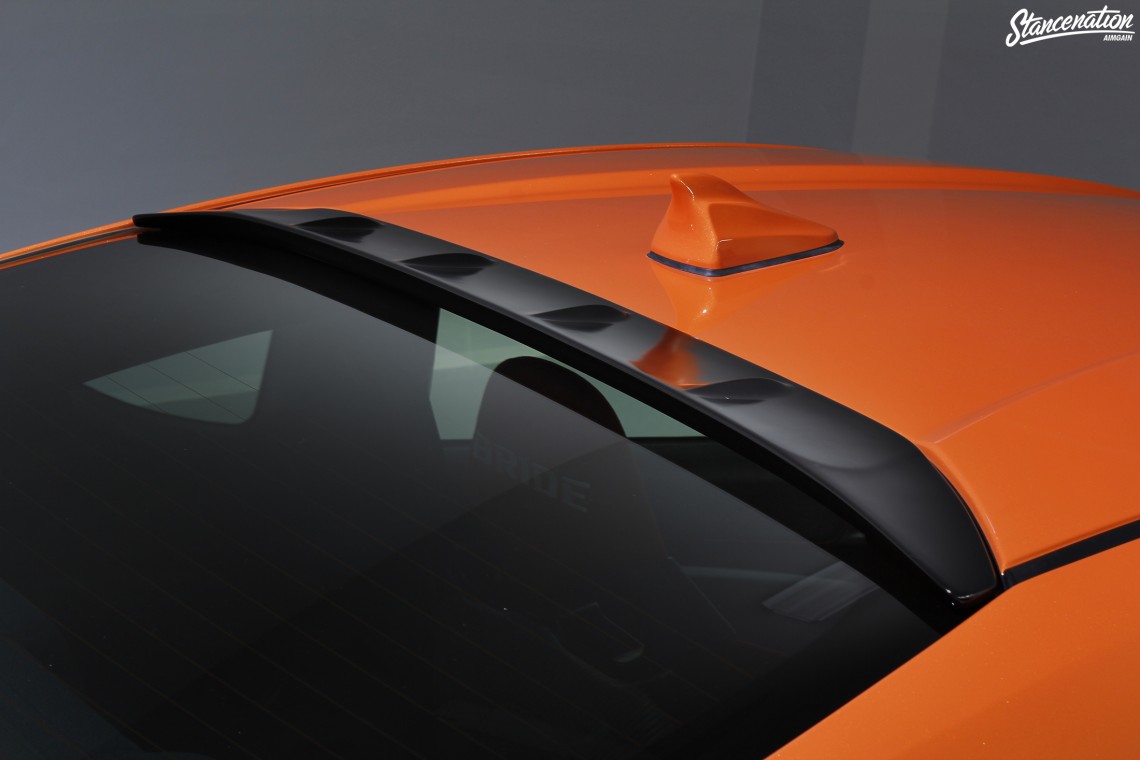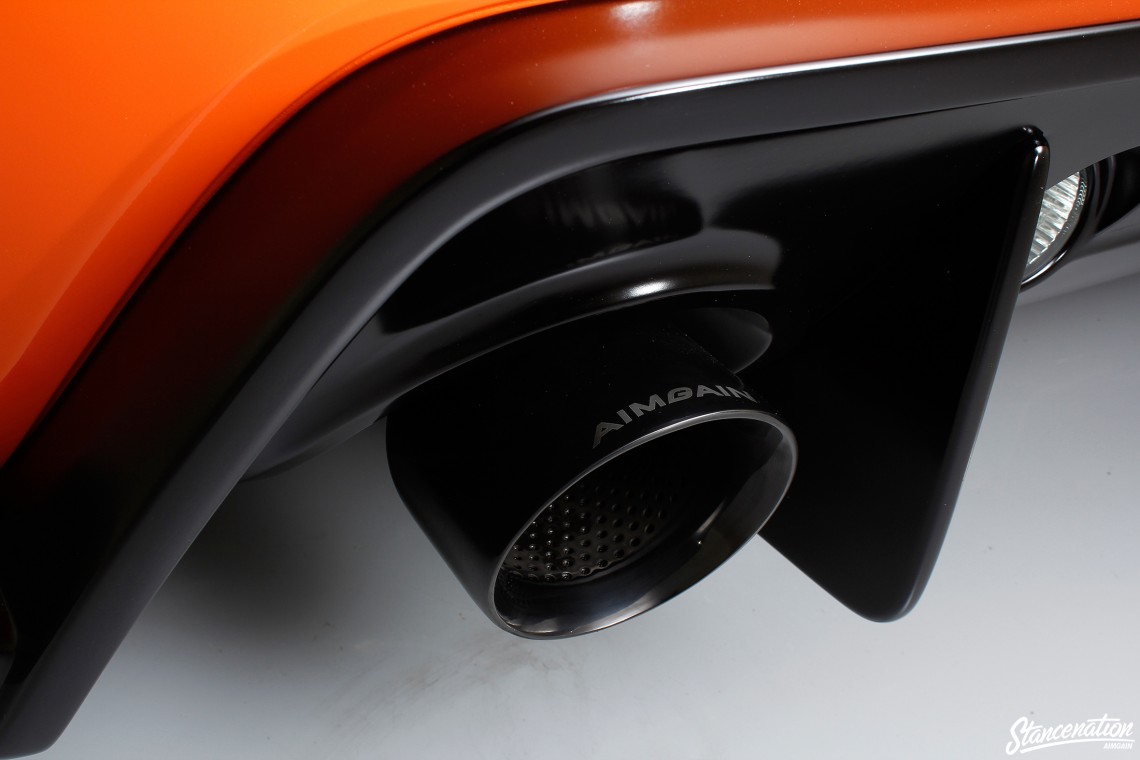 We are extremely proud to be working with our friends at Aimgain and we hope you enjoy this kit as much as we do. All Aimgain aero is made in Japan so you can expect nothing but top quality fitment. Feel free to contact us at parts@stancenation.com if you have any additional questions.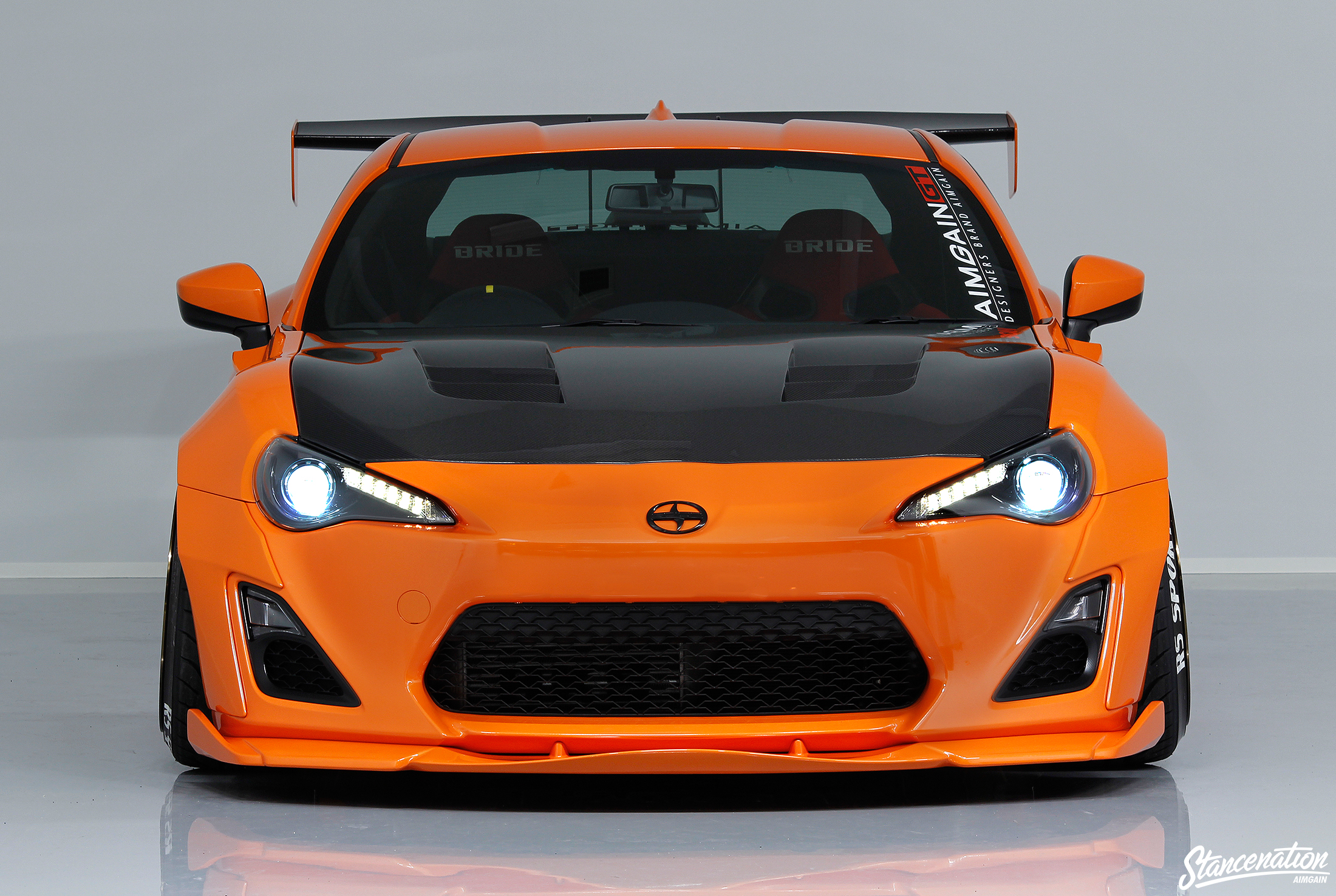 If you are interested in ordering our collaboration kit click here or email parts@stancenation.com
Full Kit Includes:
Front Under Spoiler (lip)
Front Fenders (all new fenders)
Sideskirts
Rear Overfenders
Rear Diffuser
Rear Trunk Spoiler
Price: $3800 + tax/shipping
Optional items:
Muffler Tips
Roof Spoiler
Demo Car specs:
Work CR2P Wheels
18×10.5 -13
18×11.5-26
225/40/18
255/35/18