A little while back, I was lazily scrolling through my endless Facebook feed. Amidst the multitude of car related posts, memes, and trivial nonsense, I saw that a close friend of mines had shared a posting about a car for sale. As norm, I paid no mind to the post as very few things could be swapped for my personal automobile.  However, this car was not of the norm, nor did it fall under the category of trivial nonsense. This car, believe it or not, inspired me to mod my car once again, albeit how small the modification. O Whales, as I could ramble on and on about how much I love this car, first let me introduce Vinh Nguyen's Type X S13.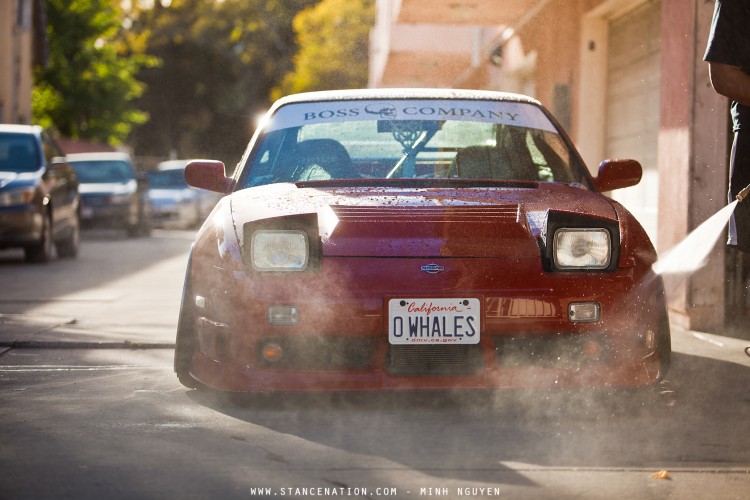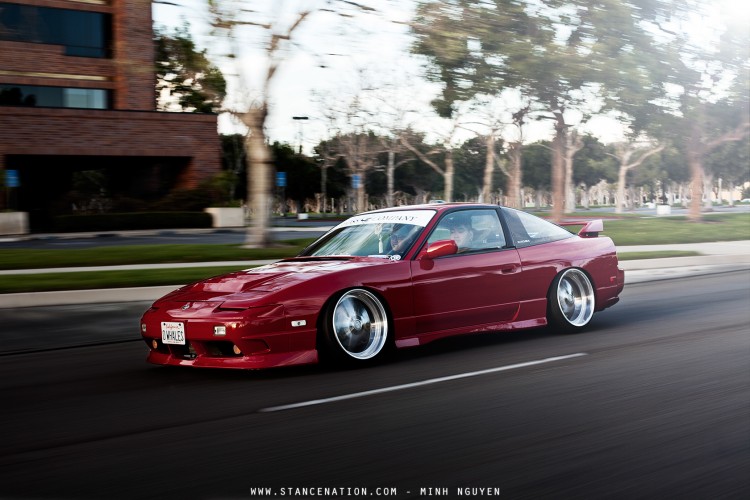 Vinh crossed paths with this particular 240sx about two years ago when he first learned how to drive manual. Purchased from a friend, Vinh paid a miniscule amount for the gargantuan potential he saw in the car. With many problems, such as a poorly executed transmission job to the engine completely cutting out on the freeway, Vinh decided to push on and build the car from the ground up, replacing a myriad of parts as he went along. Now with the addition of many quality parts, Vinh assures us that this is a fully capable drift spec monster.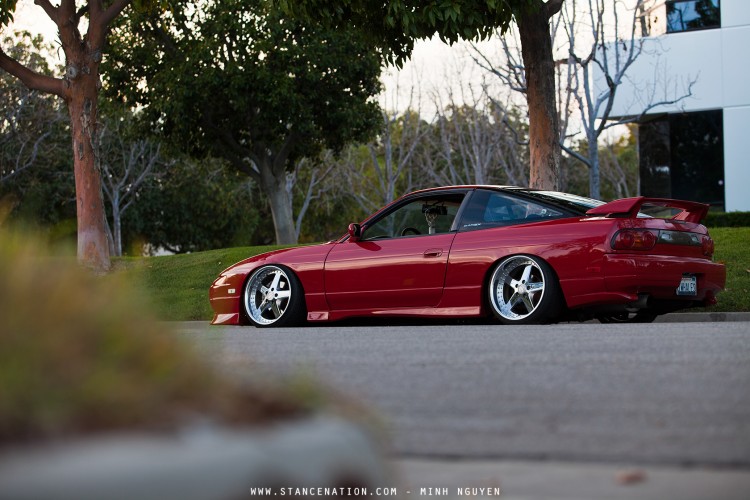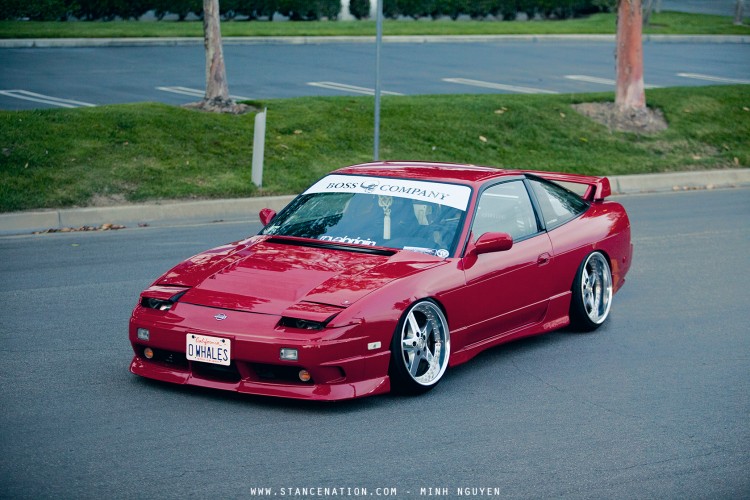 Originally from the VIP scene, Vinh gives a nod to his roots via the fusa/tsuna combo that hangs from his rearview mirror. Aesthetically, the car is incredibly pleasing to the eye as the body lines are furthered by a full Type X aero kit. The front bumper and lip, as well as the side skirts, drop the lower lines of the car allowing it to sit closer to the ground.  Opposite is a Type X rear wing that fills the rear layout of the car while a D-Max style hood sits over the boosted KA24DE-T engine providing the engine bay with increased airflow. Three stage PPG "Mars Red" paint from Tho Auto Collision envelopes this car and makes it really pop.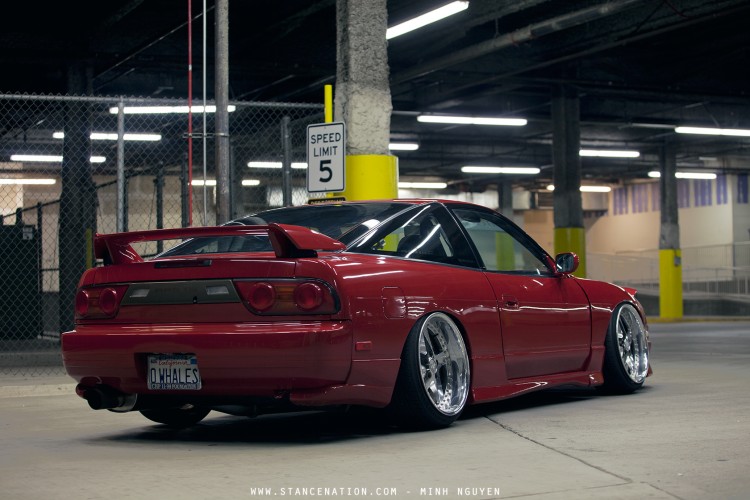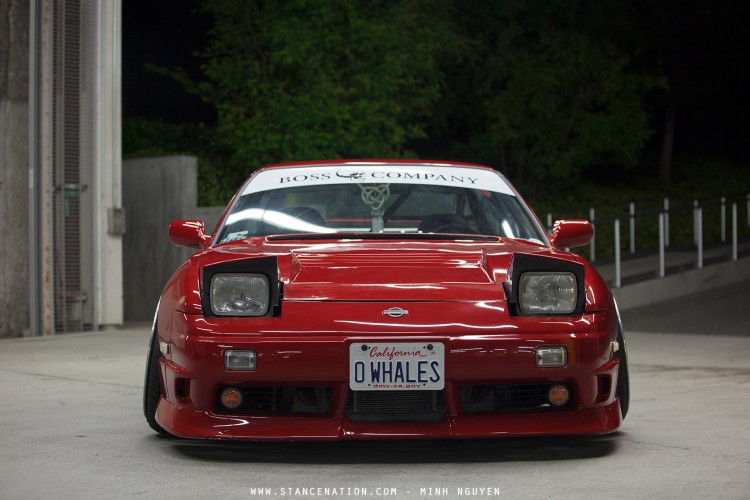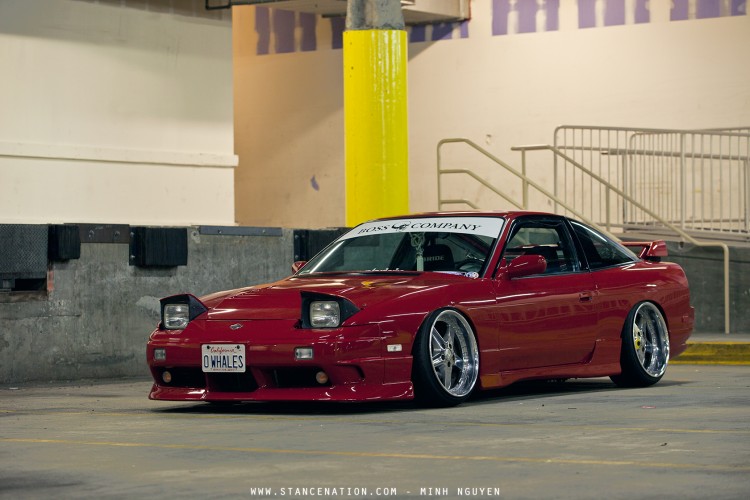 Another one of my personal favorite things about this car would have to be the wheels. Vinh utilizes the classic Work Equips as his wheel of choice. Coming in a healthy 18×9.5 and 18×10, these Equips have serious lippage. Power by Max coilovers with upgraded spring rates (16k/12k) bring this car closer to the asphalt. Aftermarket suspension components and bushings such as tie rods, RUCAs, and traction rods from brands like Moog, SPL, and GP keep this car's handling abilities at the top of its game.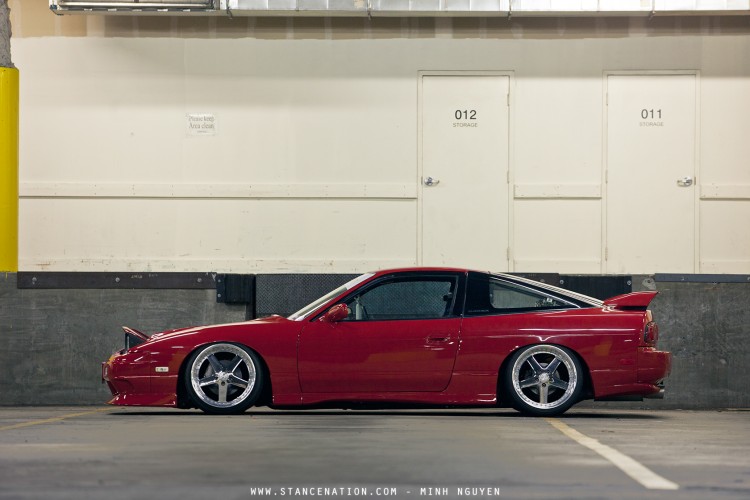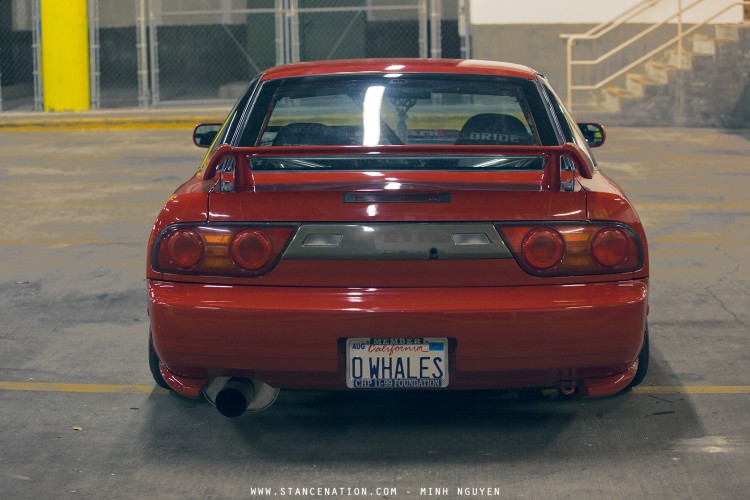 Unfortunately, as Vinh tells us, the S13 has been sold. Although he has plans for the future in regards to the Euro scene, it pains me to see such a beautiful car slip away. As the saying goes, all things come to an end and at least this car has gotten to rest in perfection, forever in the StanceNation archives (though I doubt it will do much resting in the new owner's hands). However, enough of the sad talk. We here at StanceNation would like to wish Vinh a very Happy Birthday!
Exterior
3 Stage paint from Tho Auto Collision // -PPG Mars Red
Autopilot Glass Headlights
Slim HID Ballast with 5000k Bulbs with HIGHBEAM
D-Max Rep Hood, Great fitment
Authentic Kouki Type X Bumper
Authentic Kouki Type X Bumper Markers
Authentic Kouki Type X Amber Fogs
Authentic Kouki Type X Wing
Authentic Kouki Type X Side skirts
Authentic Kouki Type X Rear Valances (Missing Center)
Replica Kouki Type X Front Lip
Circuit Fender Markers
Kouki Tail Lights (No Key)
RPS13 Kevlar Center Add on
Interior
2 Stock seats or s14 stock seats.
Greddy Gauge (Oil Pressure)
Greddy Gauge (Fuel Pressure)
Greddy Gauge (Water Temp)
New Turn signal Switch
Godspeed X Bar with Custom Brackets
NRG Steering wheel hub
NRG Quick release
Crystal Shift Knob
New shift boot (Bride material)
New hatch lift supports
Optima Yellow Top
Autopower 6 point roll cage
Suspension / Wheels
Street faction Power Brace.
Z32 Front Brakes
New Rotors front and rear
New Pads front and rear
New Brake accessories kit (z32)
Ichiba 5 Lug Swap Front and Rear
Power by Max Coilovers with upgraded springs
Power by Max solid Rear sub frame bushings
Power by Max Inner Tie rods (2014)
Front 16k Rear 12k
SPL Traction Rods v3
SPL Rear Toe Rods v3
SPL RUCA v3
GP rear traction rod.
Drift Freq Motor Mounts
Energy suspension front sway bar bushings
New front lower control arms extended 1 1/4 of an inch.
Moog sway bar ends
Moog Lower Balljoints
Moog Outer tie rod end
WORK Equips 18×9.5 and 18×10
215/35/18 22/35/18 Nitto Neo Gens
Motor/Trans
91 KA24DE-T SWAPPED
New Drain and fill bolts on the Trans and the Diff.
100amp Circuit breaker
PBM High mount intercooler
PBM Piping
Sr 370 injectors
ISIS Turbo Manifold
Aeromotive Fuel Regulator
Megan Elbow
ISIS downpipe (custom modded for KA from streetfaction)
12″ vibrant resinator
KOYO Radiator
Flex-a-lite E-Fan With temp adjustment wire kit.
Drift Freq Motor Mounts/Transmission mounts
B&M Short Shifter
DSS Steel Drive shaft
ACT Street/Race Clutch
ACT Pressure Plate
Fidenza Lighten Fly wheel
Motor's Head was rebuilt.
DEF Stainless power steering High pressure line with Earl's AN fittings
DEF Stainless Clutch Slave Line
Apexi Noir Muffler Stripped and polished
KAZZ 1.5 WAY DIFF.
RS ECU