We've all seen how most articles about the R33 GTR Skyline start, the inevitable comparison . In fact, there are so many out there that compare the R33 GTR to the other Skyline generations that it's crazy. Style-wise, the car gets a bad reputation, we all know this. As these come to age, especially from the US perspective, where they're just becoming legal, right before we're allowed the holy grail R34 GTR. I would dare to say that they're starting to experience a bit of a renaissance period. Now, while I don't even pretend to know what our Japanese fans are actually thinking about these cars, I can't help but imagine that this may be the way they see it as well.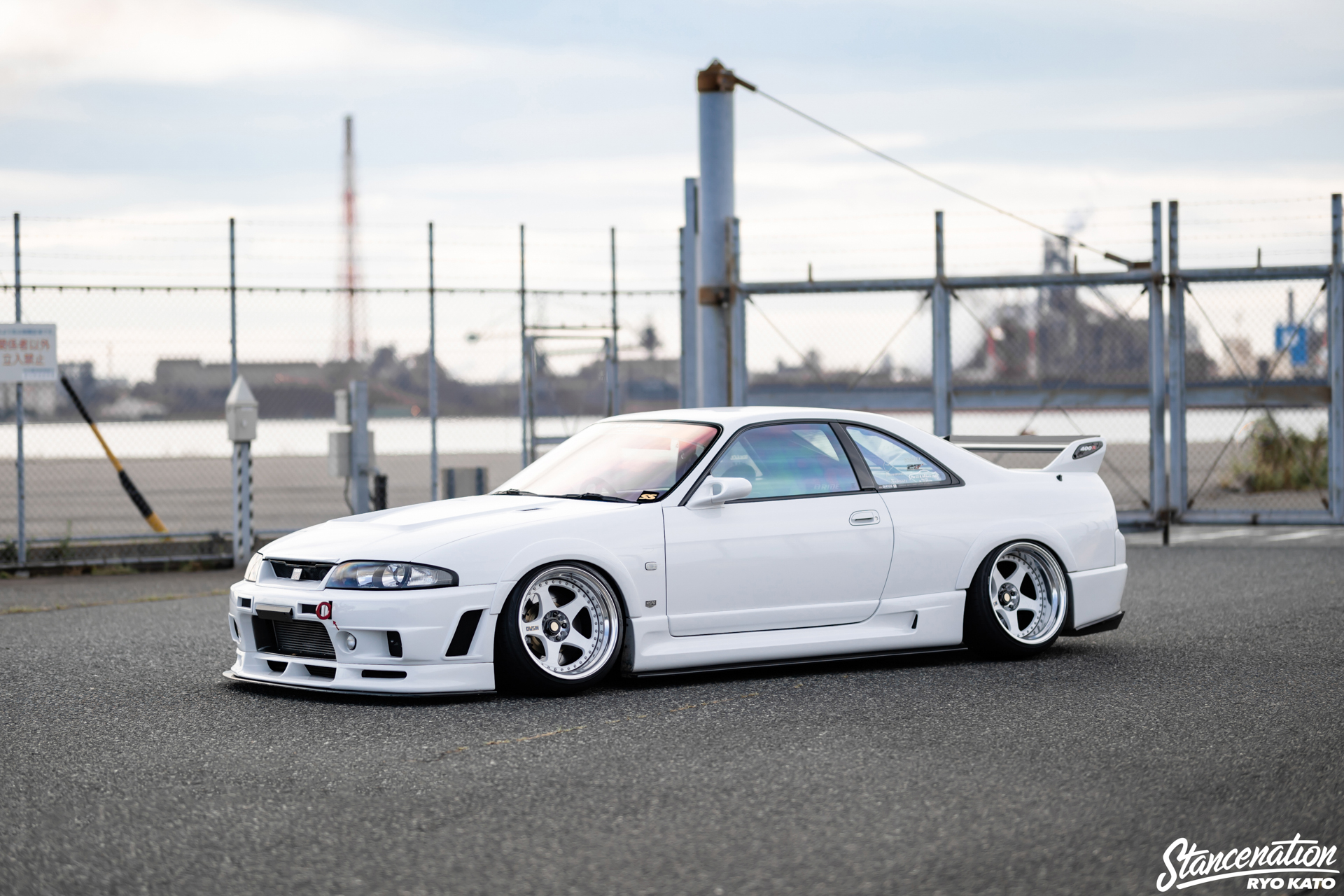 Daisuke Araki has a prime example of what an R33 GTR can be when given the type of treatment we all know and love when we look at StanceNation. Not only that, this car is chock full of 400R details, the absolute rarest of the rare when it comes to the R33 GTR world. From front to back, these 400R specific exterior parts really set this one apart from the others. Not one to leave well enough alone, Araki has added a full carbon lip kit, as well as a 400R specific rear diffuser help to finish off that aggressive Nismo aero.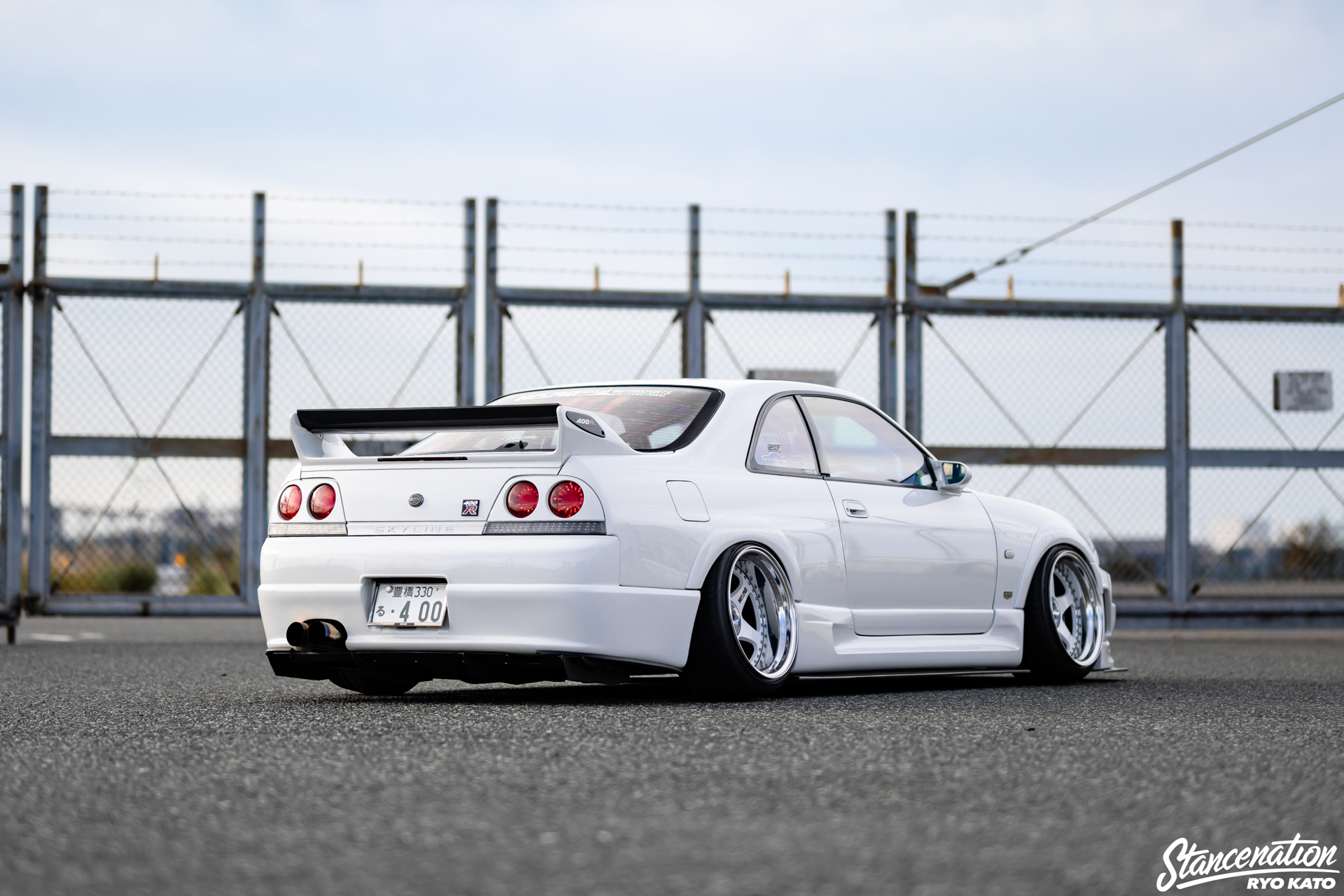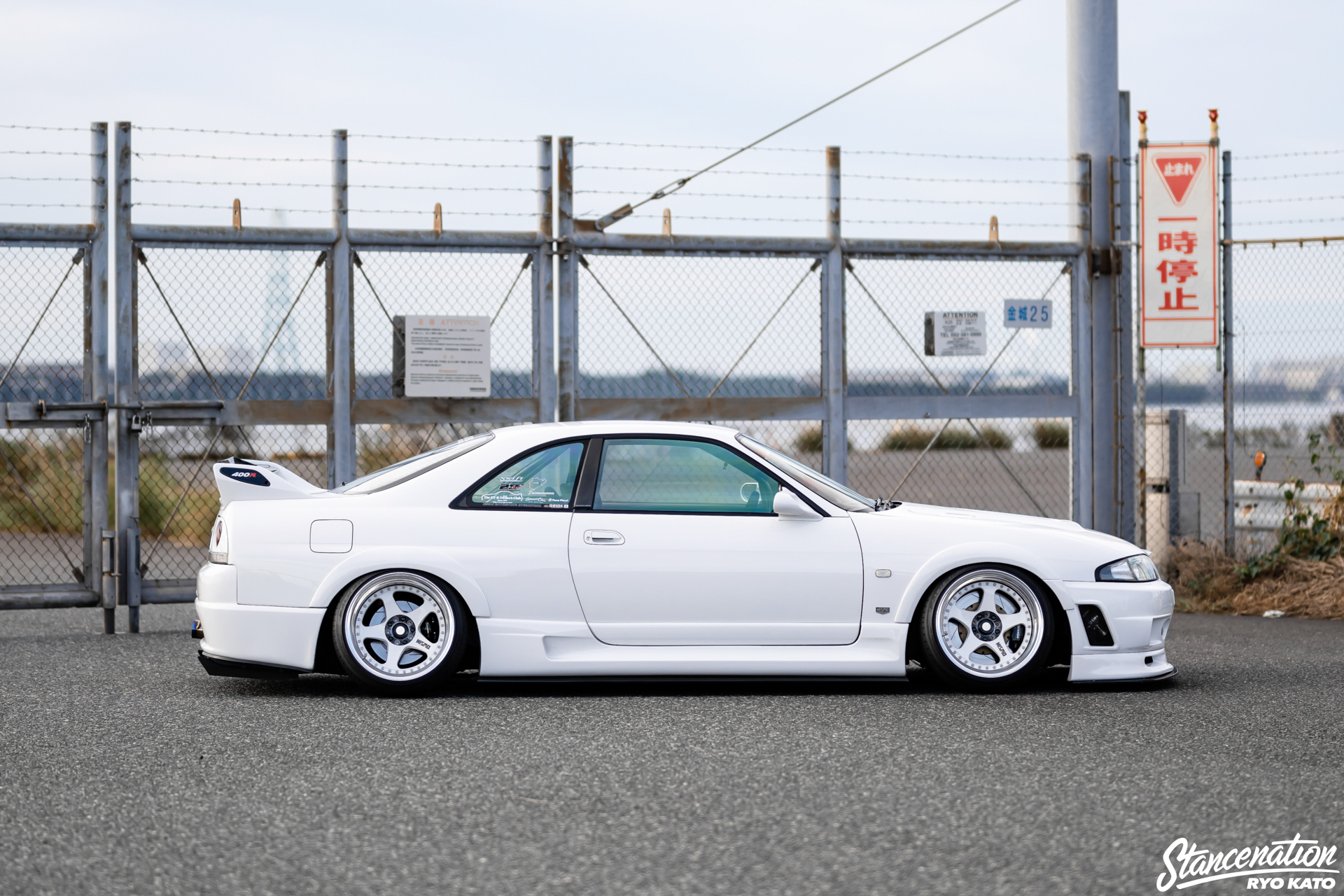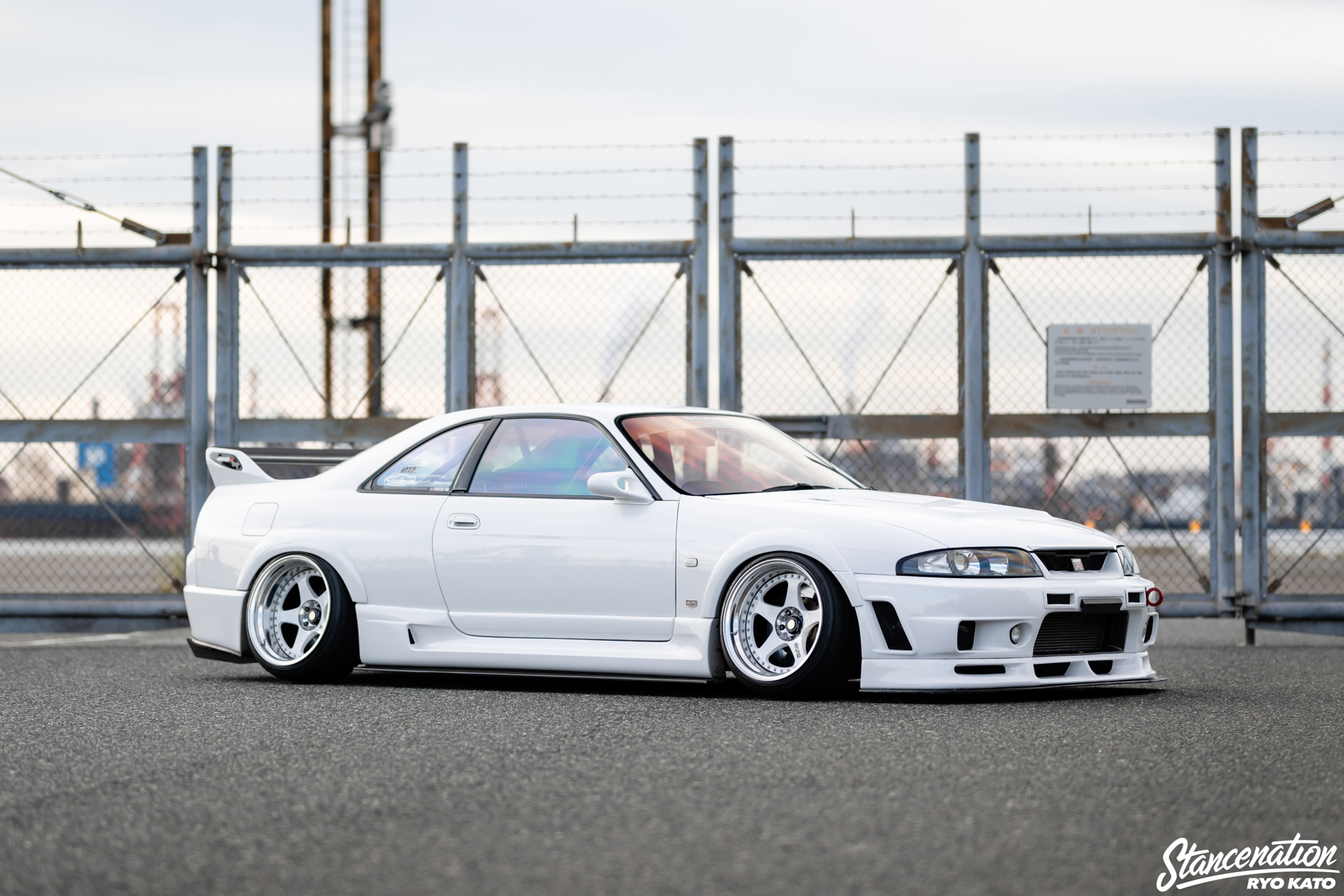 Sorry in advance if the term 400R gets a bit repetitive here. It's unavoidable on Araki's car. The endplates of the 400R specific wing for example? Carbon fiber 400R end plate trim. The 400R specific grille? It sports a 400R badge. You get my point here. All of these pieces fit together like some kind of fantastic automotive puzzle. The car is stunning, everything works together. Even the few non-Nismo parts such as the Ganador style mirrors are perfectly matched to the rest.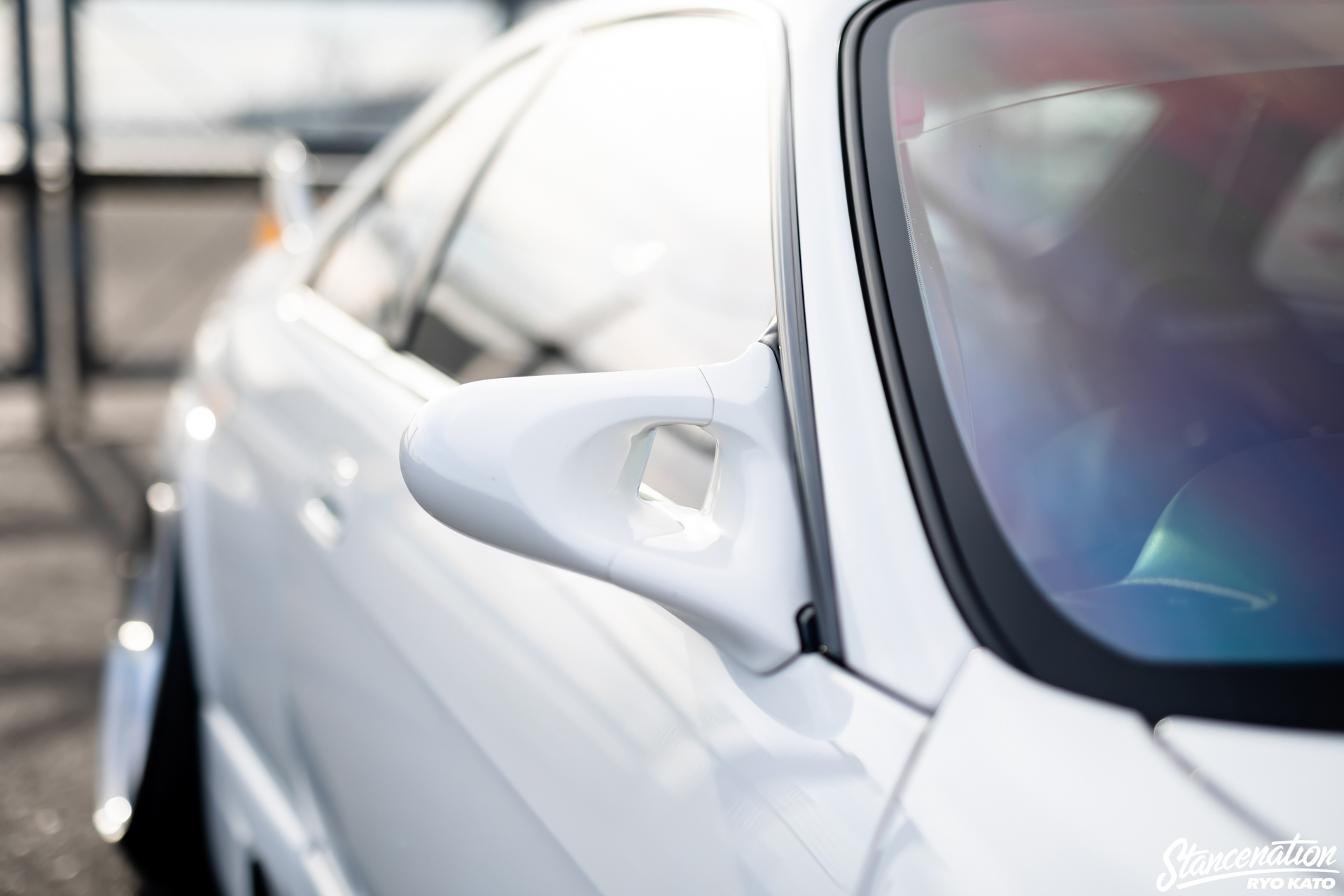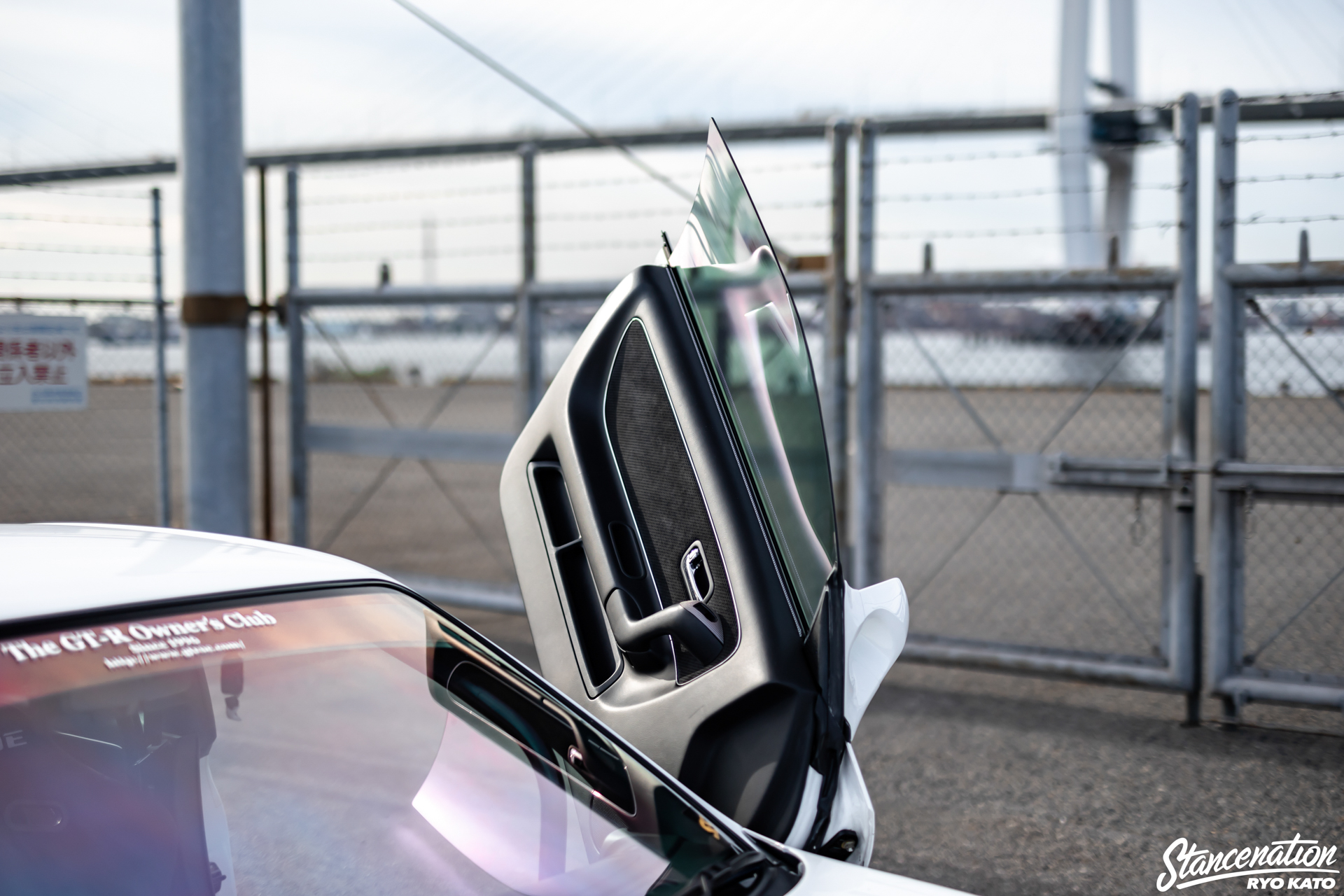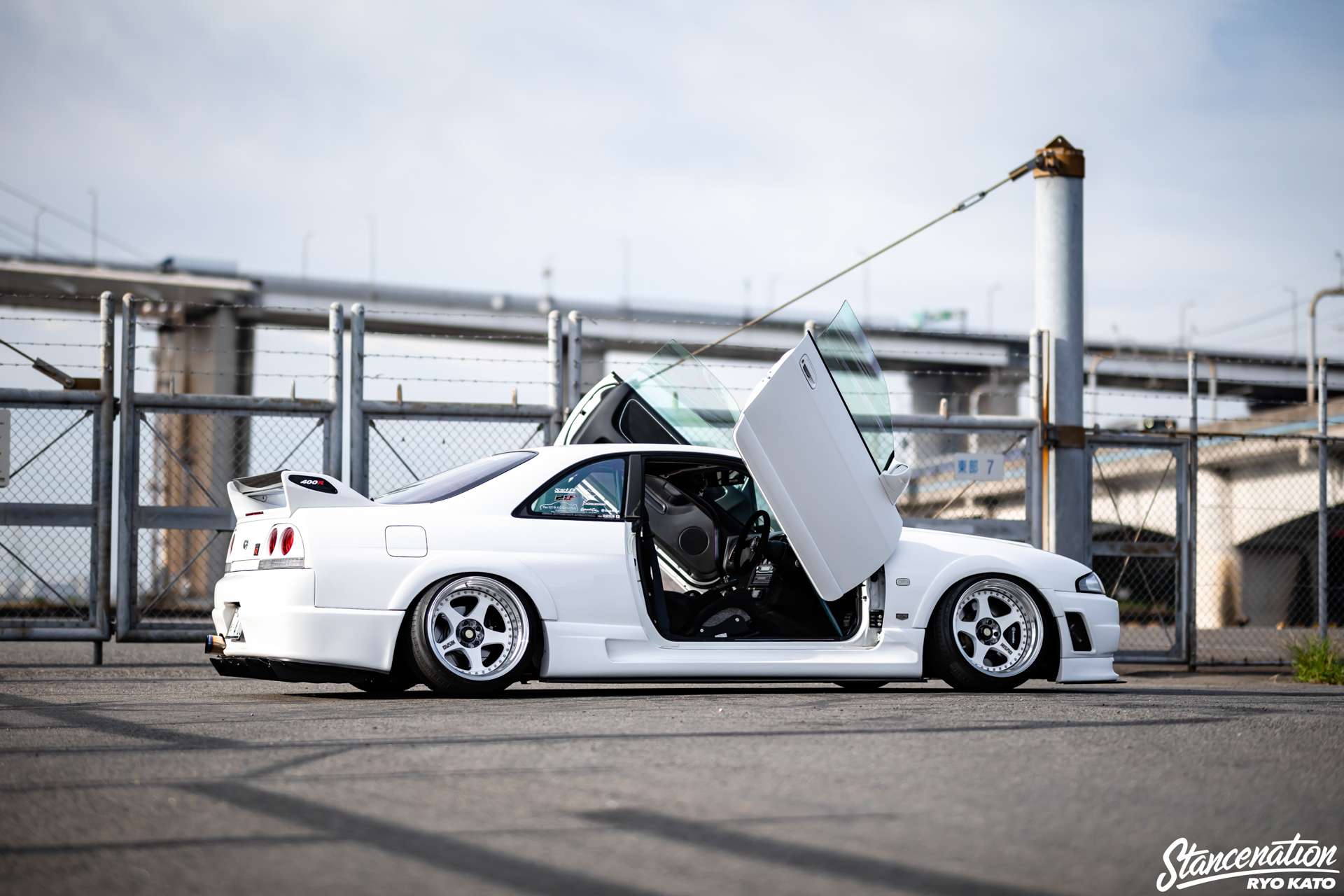 It's no surprise that one of the first things I saw when looking at Araki's car were the wheels. A classic 5 spoke wheel is always a good start in my book. When that start is a super rare set of Nismo LMGT1, it's even tougher to go wrong. This particular set have been rebuilt to 18×11 all around, with staggered offsets that are well into the negatives. Wrapped in a set of 245/35-18 Falken FK510, these wheels are the perfect compliment to the build. The super aggressive stance is a result of a bit of custom work, a set of T-Demand coilovers, and Ikeya arms.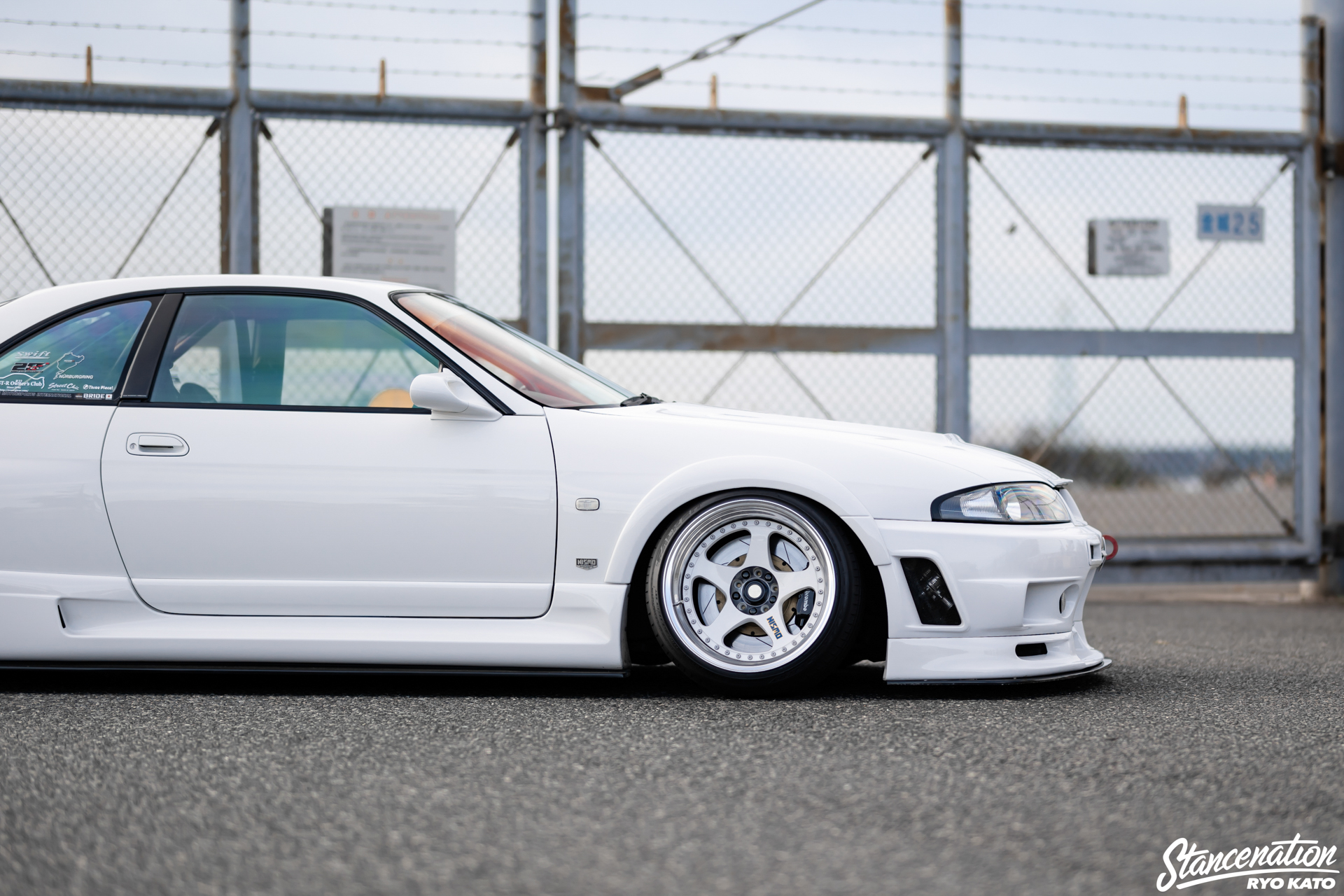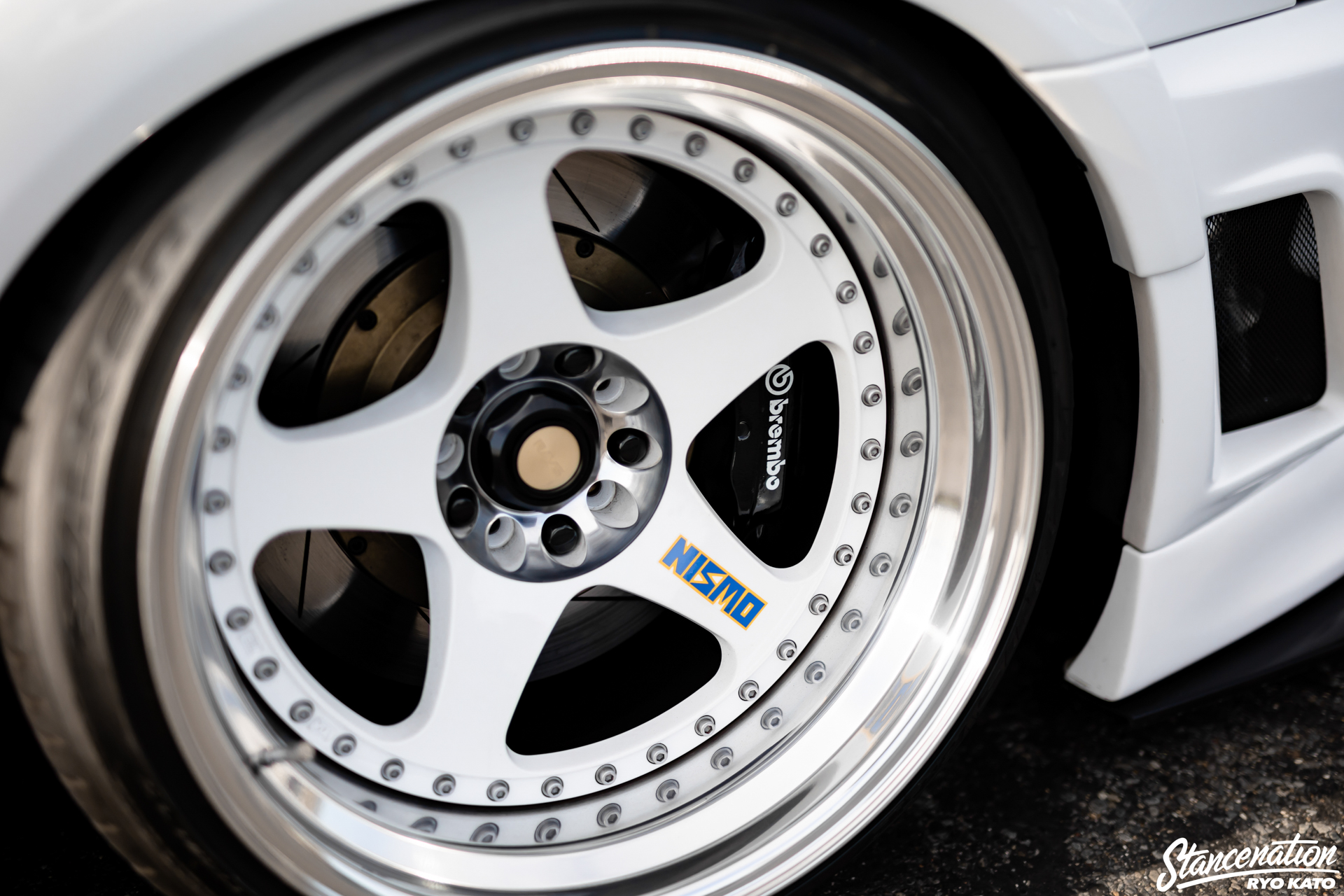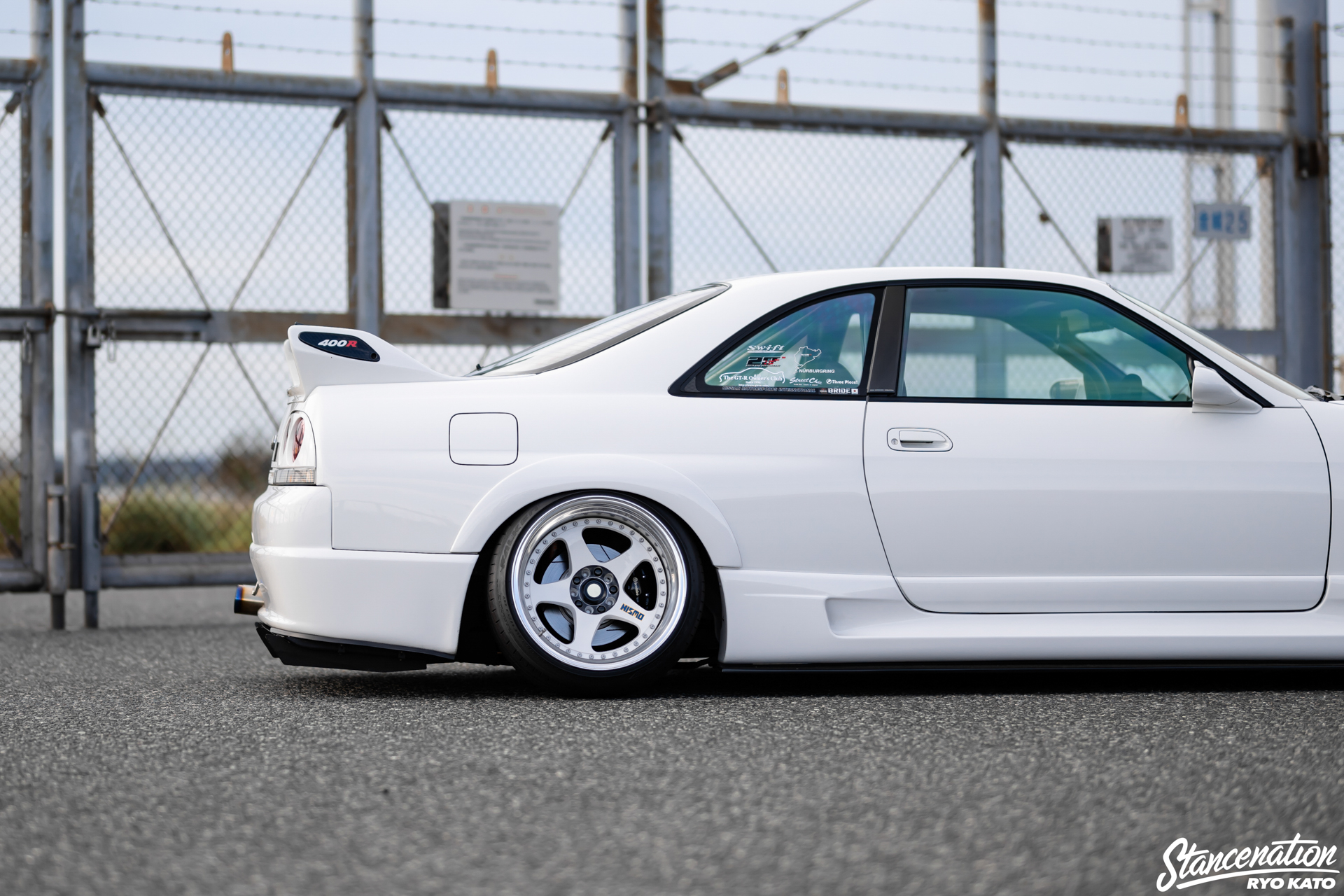 Inside is all business on this one. There's the classic Cusco safety 21 roll cage, a must have for anyone looking for anyone who is either spending some time at the track, or just wants to make sure it looks the part. Seats are another classic, Bride GIAS. Otherwise, there's a Momo steering wheel and a few other odds and ends to personalize the cabin. But, nothing more.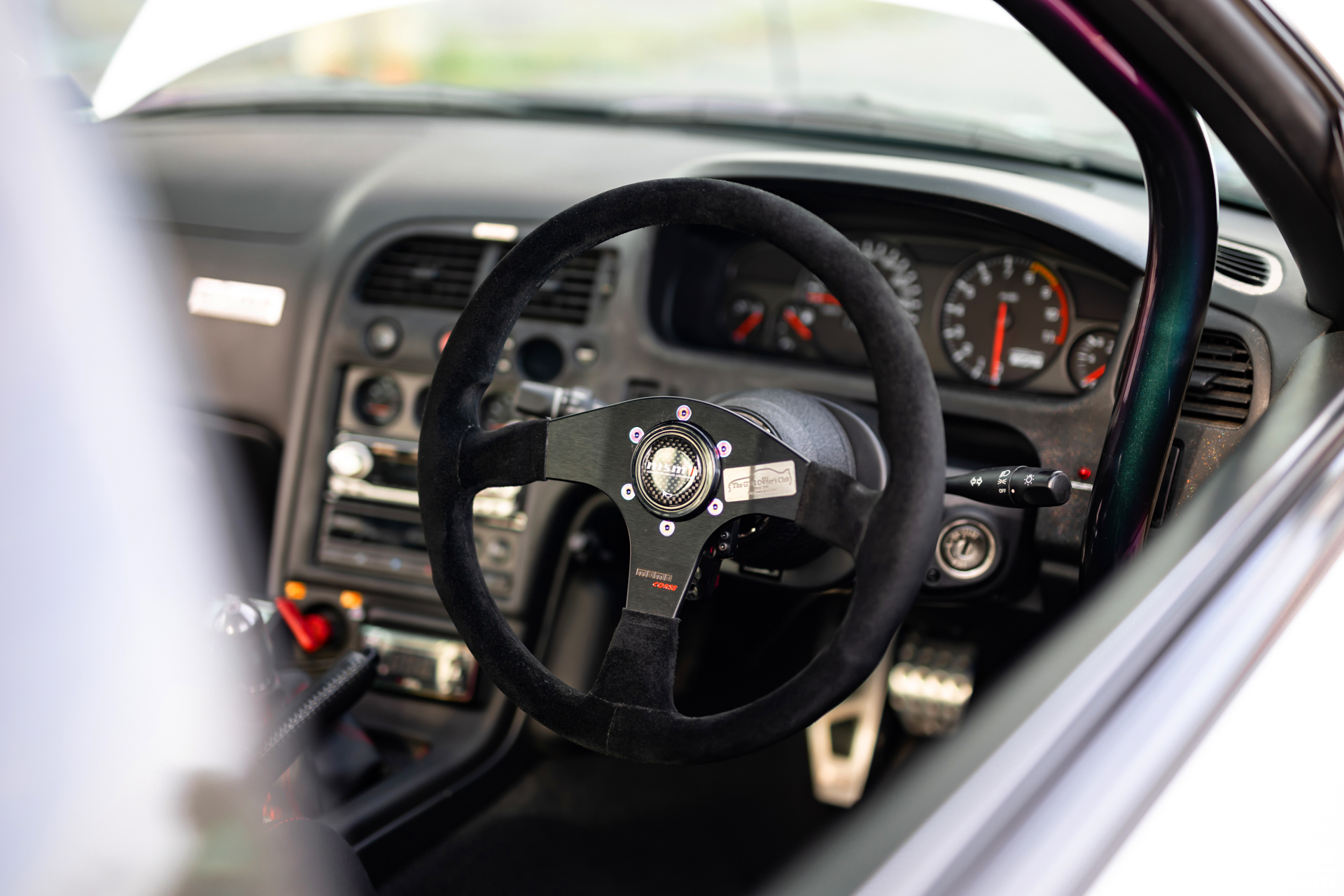 Under the hood, you'll keenly notice the famed RB-X engine cover, another 400R exclusive. It's anything but stock otherwise, HKS intercooler piping, intake, and a Trust surge tank are all out in the open under that tasty Nismo titanium strut bar. Inside, a set of HKS 264 helps to wake up the RB to put out a claimed 502ps. An A'PEXi power FC takes care of engine management duties, and the icing on this straight six cake is a custom, one off full exhaust system.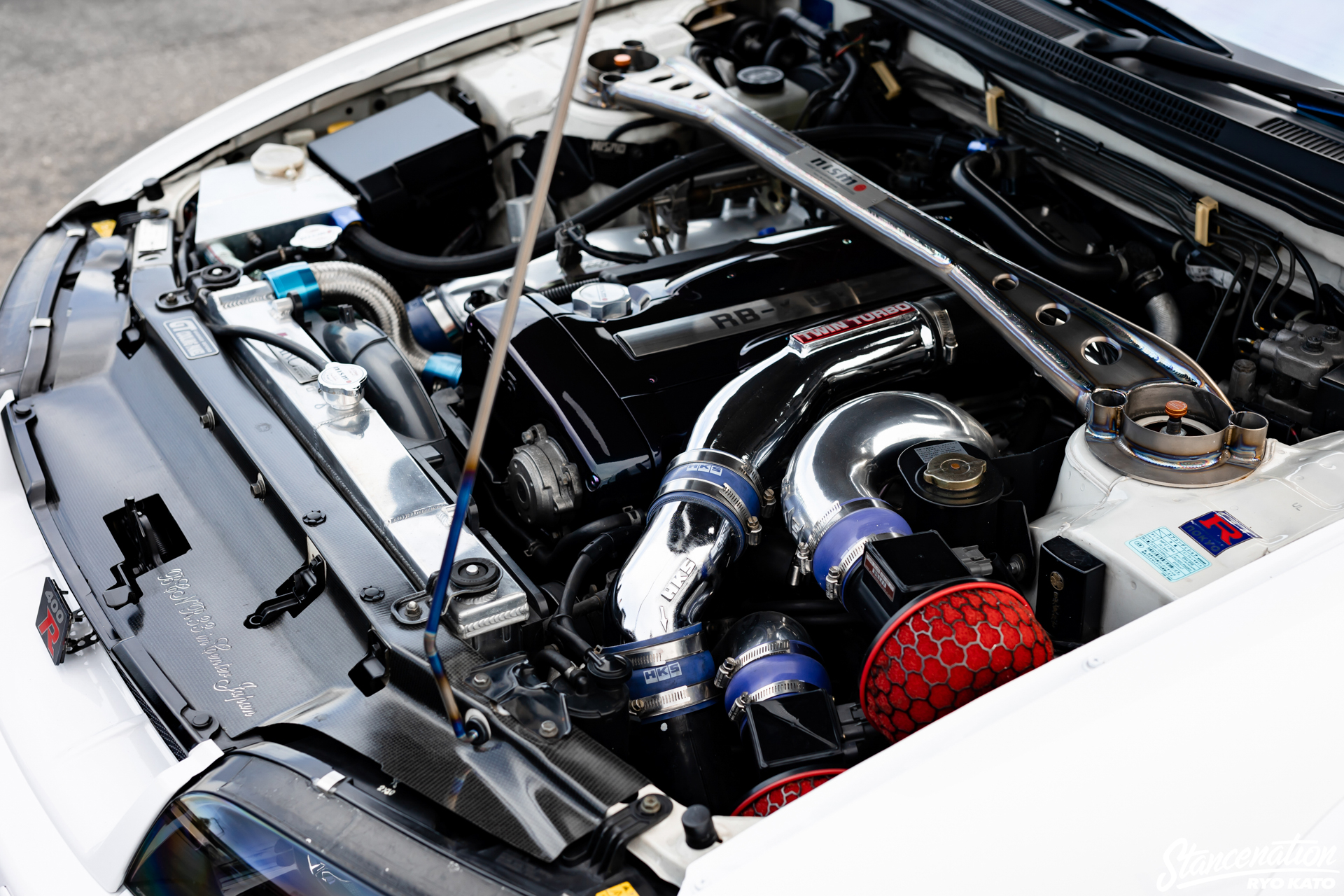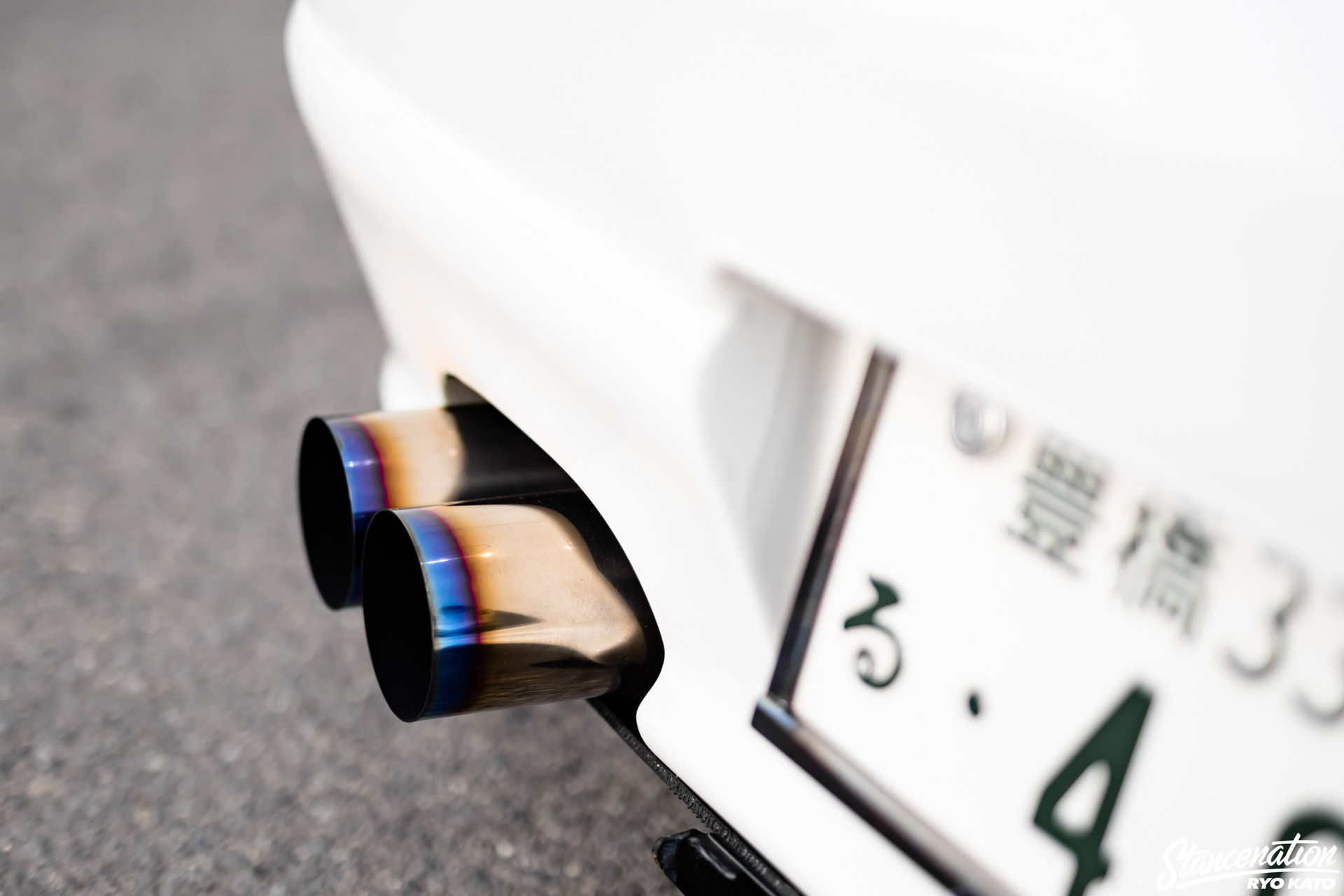 All in all, I'd say Daisuke Araki has an amazing build here, something to be proud of. It's a perfectly perfect rendition of r33 Skyline greatness. With that said, I'll leave you with a few thoughts that I've had while writing this; Do you think a build like this is held to a different standard? When we look at such rare cars and rare parts, do we find it sacrilegious to modify them in a way that may be seen as inappropriate to the gatekeepers that hold these items? Or, do we celebrate the fact that someone is
willing to push the limits, to do something just a little riskier than normal? Think it over, talk about it with your friends. In regards to the car community at large, I think we owe it to ourselves to talk about this kind of thing. If anything, it's an interesting conversation…