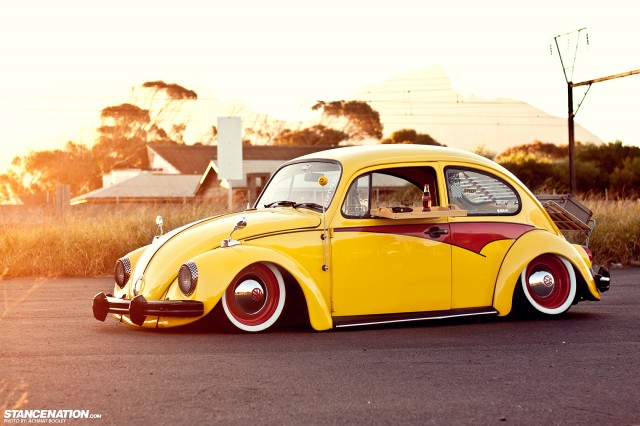 Today we are venturing overseas once again, all the way to Cape Town South Africa, to check out another ride that I hope none of you have seen before. This particular 1970 Beetle, nicknamed 'Flip', is owned by Shaakir Dollie, who has owned it for about four years, and in those years he has definitely injected his own style and attitude into the once stock Volkswagen. This build is completely backyard; low budget, with friends and family helping along the way, which is just the way it should be! Shaakir can enjoy the Beetle knowing that he put his time and effort into its construction, versus simply purchasing it as is – Truly built, not bought.
Photos & Video By: Achmat Booley & Lorenzo Lakay exclusively for StanceNation.com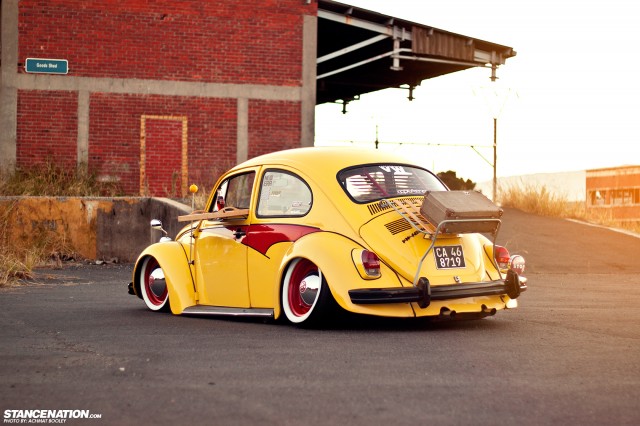 Shaakir grew up around Volkswagens, and was particularly influenced by the Beetle because it was the initial VW model, and paved the way for the now monumental brand. When he first picked up his '70 Beetle four years ago, the plans were already in motion; with all of the ideas and intentions for body work, color scheme, wheels, and pretty much every aspect of the car already laid out. So when the car came into his possession, it was time to transfer his vision from his head to the real thing, and with the help of his good friends and family he was able to accomplish his goal.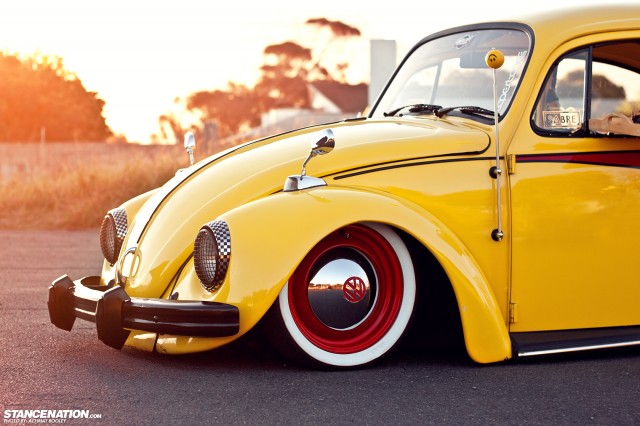 At first, Shaakir opted for a fully static suspension; using a narrowed beam up front with custom adjusters, drop spindles, and shortened shocks, and fully adjustable spring plates and KYB gas shocks in the rear. Flip was so low that Shaakir couldn't drive around with other passengers due to rubbing issues, and after dragging the bug around so much that he scraped his front adjusters out twice, Shaakir decided it was time to go air. So, with the help of YouTube, and other Internet resources, he was able to fit his Beetle with adjustable front air suspension, which gave him the ability to actually drive it everywhere around town and enjoy it, without having to worry about damaging it.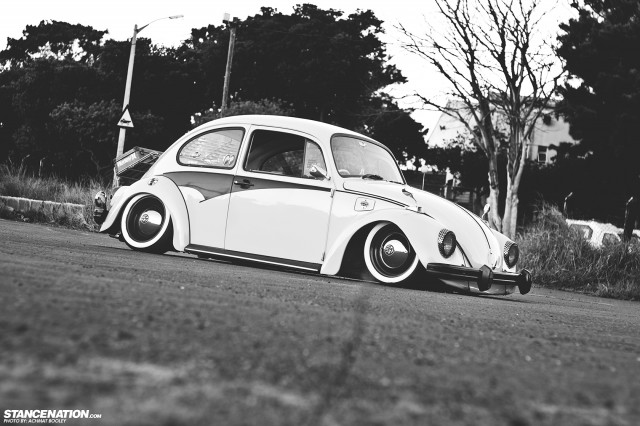 The exterior of the car emanates the beach cruiser attitude, with the bright red Australian swoop and widened Volkswagen steelies, paired so well with the Canary yellow paint. Shaakir has also made small modifications that make such a big impact on the retro feel of the beetle; such as fitting motorcycle mirrors to the turn signals, making Porsche style headlight grilles, installing tinted tombstone style rear tails, and replacing the rear windows with pop-out ones. These small modifications come together to really showcase Shaakir's style, and truly make the Beetle one of a kind, and an extension of himself.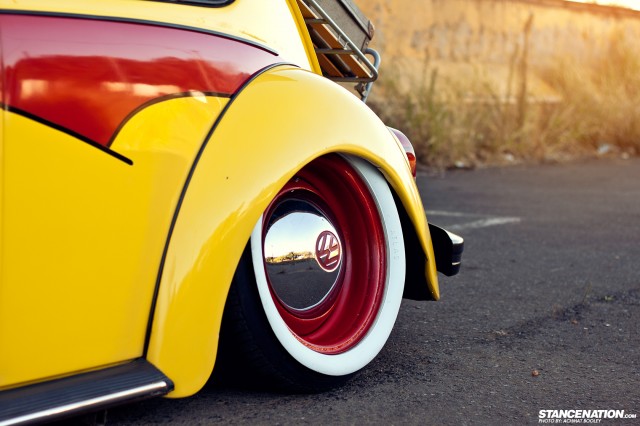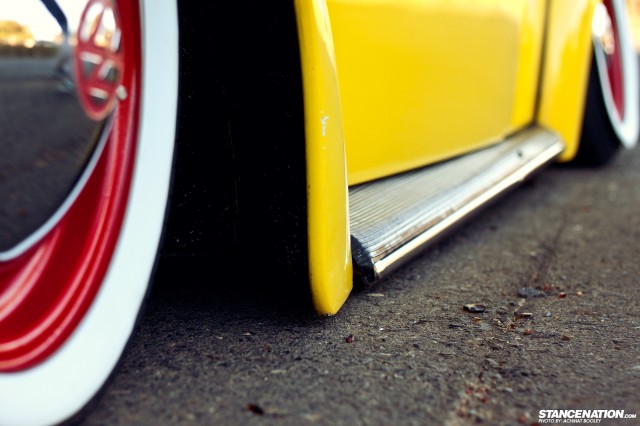 The interior has been kept relatively tame compared to the exterior, but it still carries on the vintage feel, with a color matched Canary yellow dashboard, the original OEM Volkswagen parcel tray, and rear window blinds. Shaakir wanted a modern stereo system for his Beetle, so like many other vintage VW owners, he has hidden a Pioneer deck in the glove box, paired with a Star Sound split system, and a hidden 12" Star Sound subwoofer.
As for the engine, it was also kept relatively standard, with a few performance upgrades. First off was swapping the standard coil for an upgraded Bosch Variant one, along with upgrading the standard distributor to a 009 one, and the stock exhaust was replaced with an EMPI GT 2 tip exhaust system. The transmission was upgraded to an SP gearbox, which has a lot better gearing than the original, and it is paired with a racing clutch. To finish the engine up, Shaakir had the head ported and polished, and put back together with 2mm oversized valves, and had the whole engine fully balanced before reinstalling it.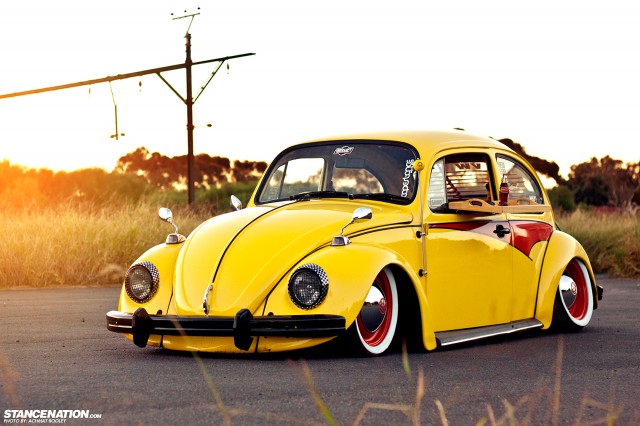 Shaakir has built an eye catching, attention grabbing classic Volkswagen, and he can crack open a cold drink on the vintage bottle opener, and take pride in the fact that he built it for no one but himself, with his own style and attitude fused into it. A car is meant to be driven and enjoyed, and the fact that this Beetle was built up by friends and family makes it that much more enjoyable.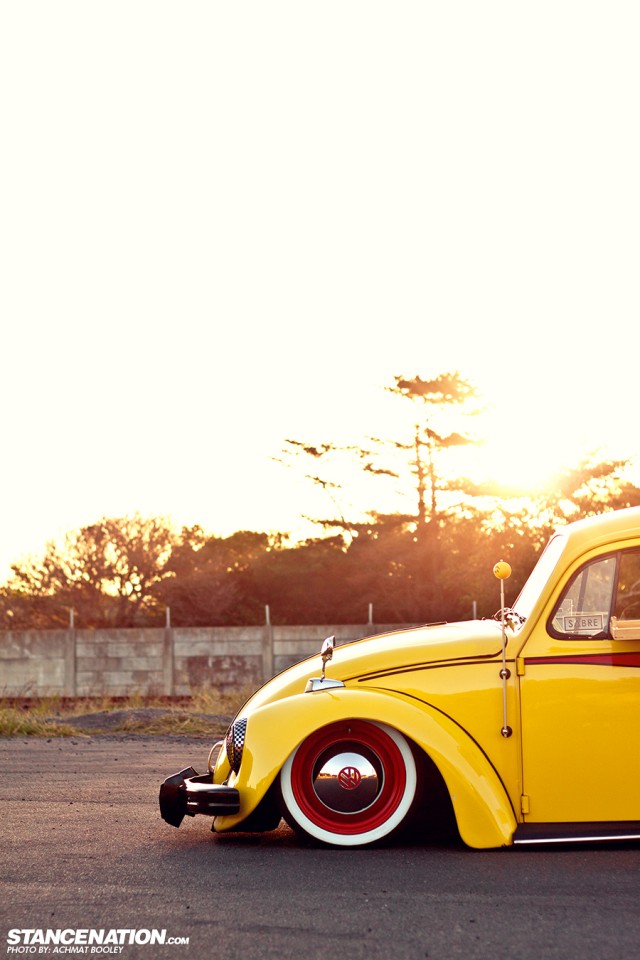 It is exciting to see the stance and fitment scene make its way across the globe, Flip is actually one vehicle in the local South African stance movement CapeStance, which is a group of like-minded individuals that share a passion for old and new school rides, as long as they are slammed! So check out CapeStance for more rides from South Africa, and let us know what you think of Shaakir's ride Flip.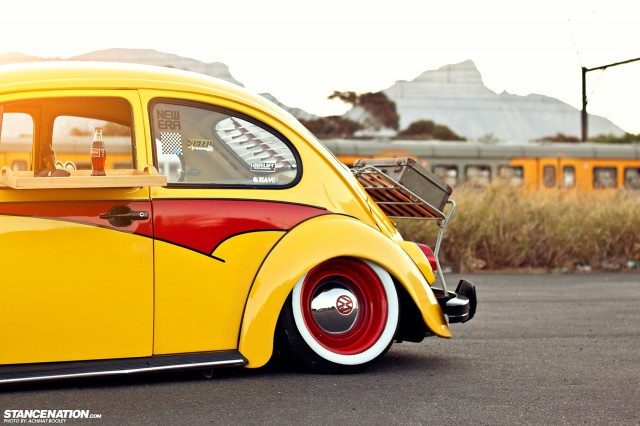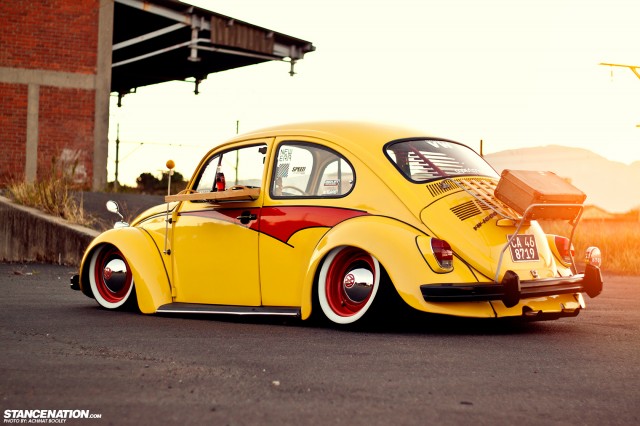 [toggle_box]
[toggle_item title="Wheels/Tires/Suspension" active="true"]Front:
Fully made up narrowed beam with custom adjusters for airbag set up
Front beam narrowed 3″ on each side for clearance of the tubed arches
Airlift bag hooked up to custom adjusters
Drop spindles with lowered shocks.
Rear:
Fully adjustable rear spring plates with KYB gas lowered shocks
Widened Beetle 15″ steel wheels with white wall inserts all round.
175/50 up front and 195/55 in the rear[/toggle_item]
[toggle_item title="Exterior" active="false"]Canary yellow paint
Australian swoop decal in red on the sides
Flushed dash & outside vents
Rear pop-out windows
Smiley faced yellow ball on the Empi double mount aerial.
Boot rack
Porsche style headlight grills
Red tented tombstone tail lights
Motorcycle mirrors fitted to the turning signal lights to give it a retro feel
Rear external stop light
Vintage bottle opener[/toggle_item]
[toggle_item title="Interior" active="false"]Eight ball gear knob on an extended shifter
Pioneer deck hidden in the glove box, Star sound split system, 12 '' star sound sub hidden in the "dog box"
Original VW parcel tray
Rear blinds
[/toggle_item]
[toggle_item title="Engine" active="false"]Upgraded Bosch variant coils
standard distributor changed to a 009 distributo
EMPI GT 2 tip exhaust
Racing clutch added to an SP gearbox for better gearing
Port and polished heads with 2mm oversized valves – after which the motor was fully balanced.[/toggle_item]
[/toggle_box]