There are not many enthusiasts that will catch more flak for bagging their cars than Subaru WRX STi owners. I'm sure they have all heard, "they are all-wheel -drive for a reason, way to ruin a perfectly good rally car". Well, I agree that the Subaru WRX STi has potential to be a great race car, but I have yet to see someone 'rally' their factory Subaru — perhaps I'm hanging out with the wrong people. Alaska native and Sacramento resident, Damien Grant, decided to build an STi that could be driven hard daily and can still roll into a show and place.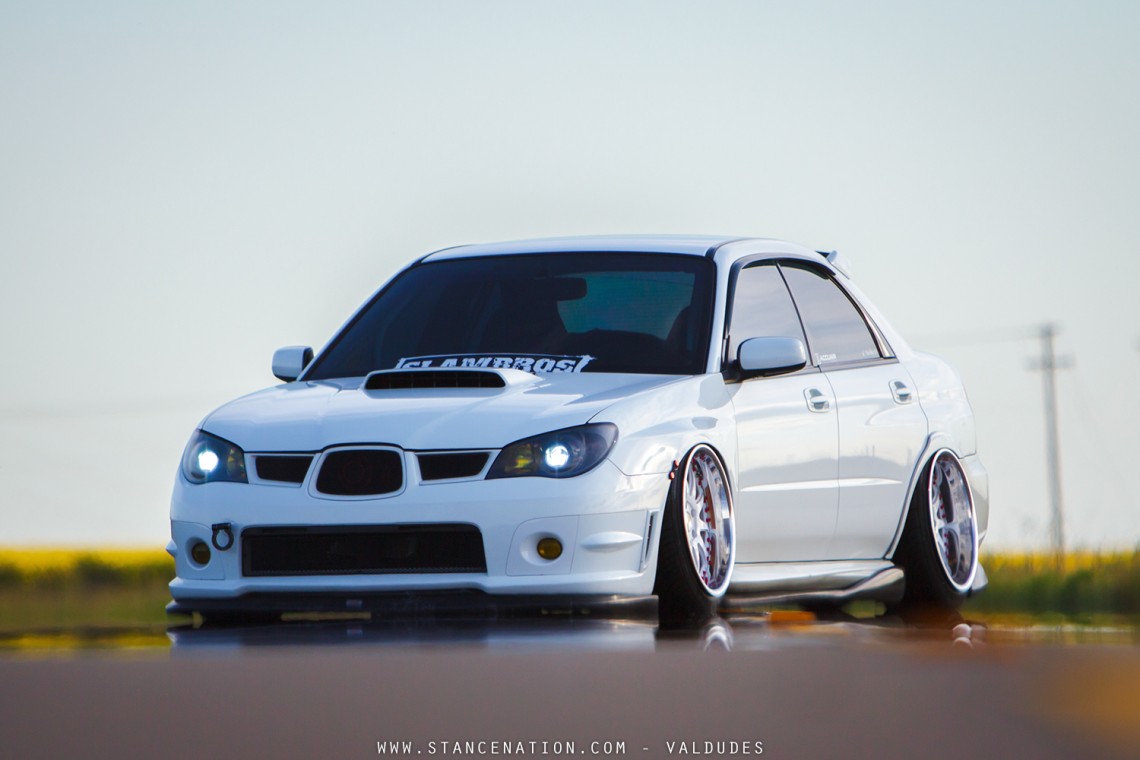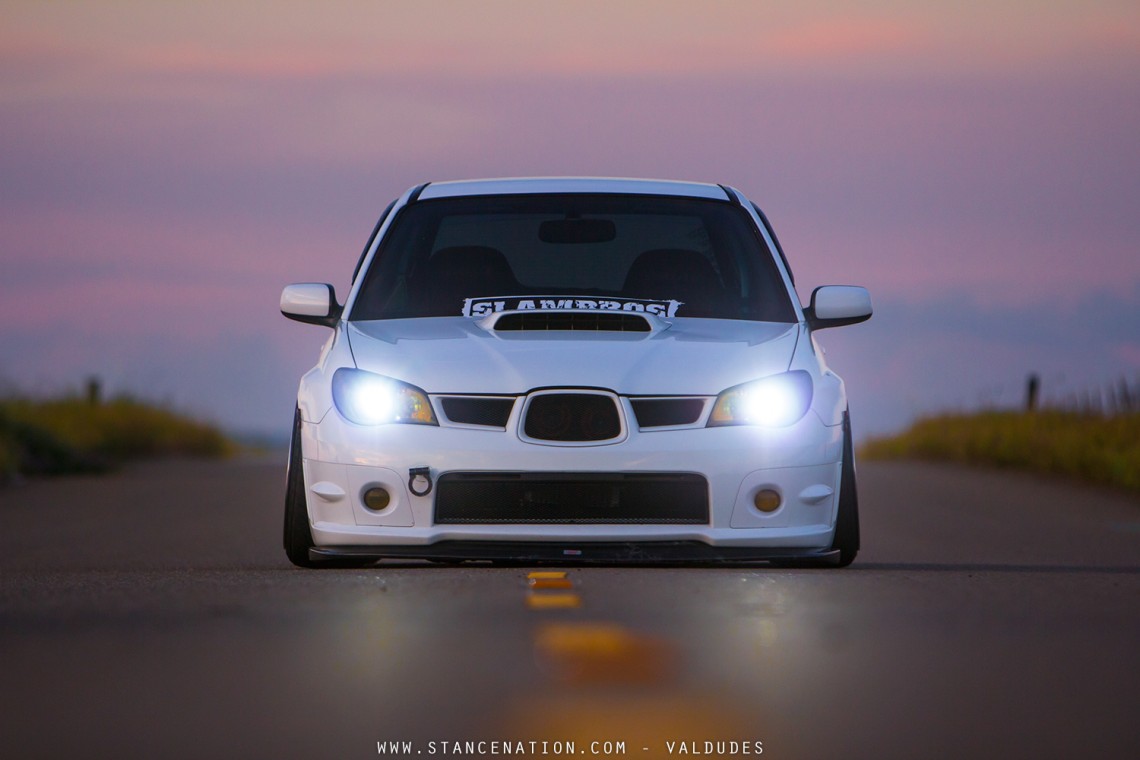 Damien purchased his 2006 Subaru STi in September of 2010 and the car has seen its fair share of stages. He always loved the STi's styling and all-wheel-drive platforms, so he decided it would be a great car to start with.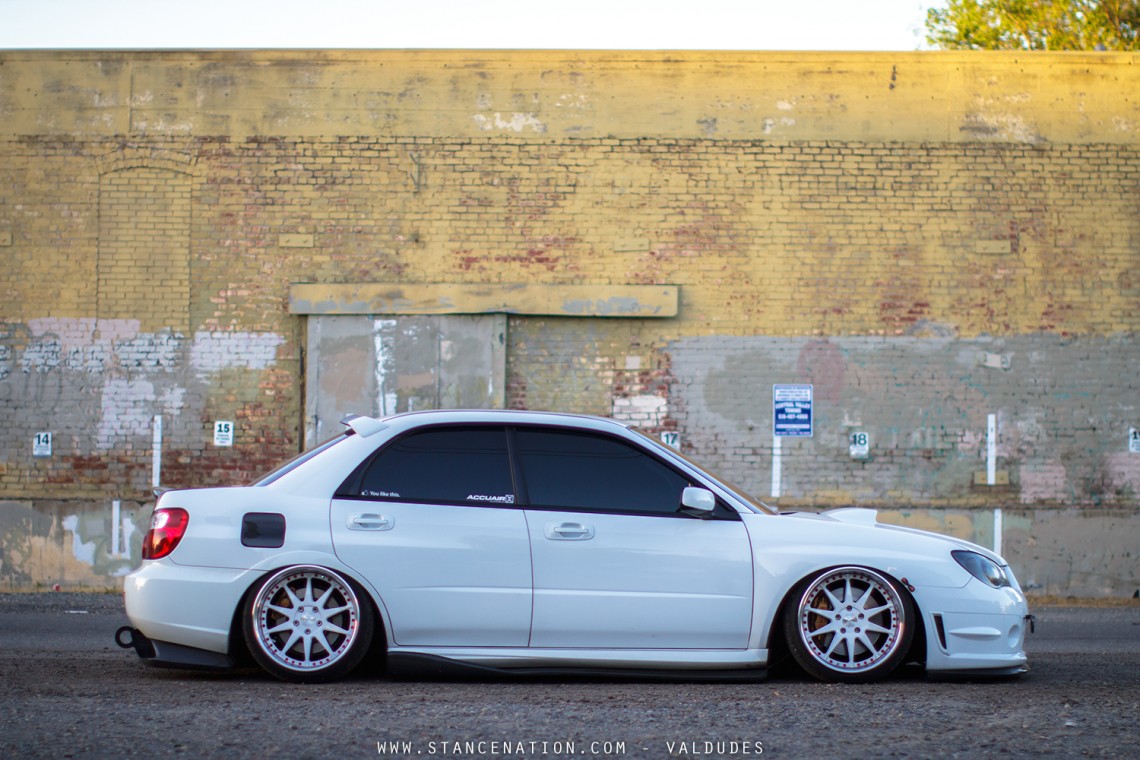 Damien's build started with a built motor. He instantly fell in love with the turbo and all of the power the motor sent to the wheels. Shortly thereafter, he got the stance itch. He lowered the car on some coilovers and eventually fitted some Work XD9s. Damien loved that setup, but quickly grew tired of breaking front lips. So, he shopped around for air suspension; blasphemy in the Subaru world.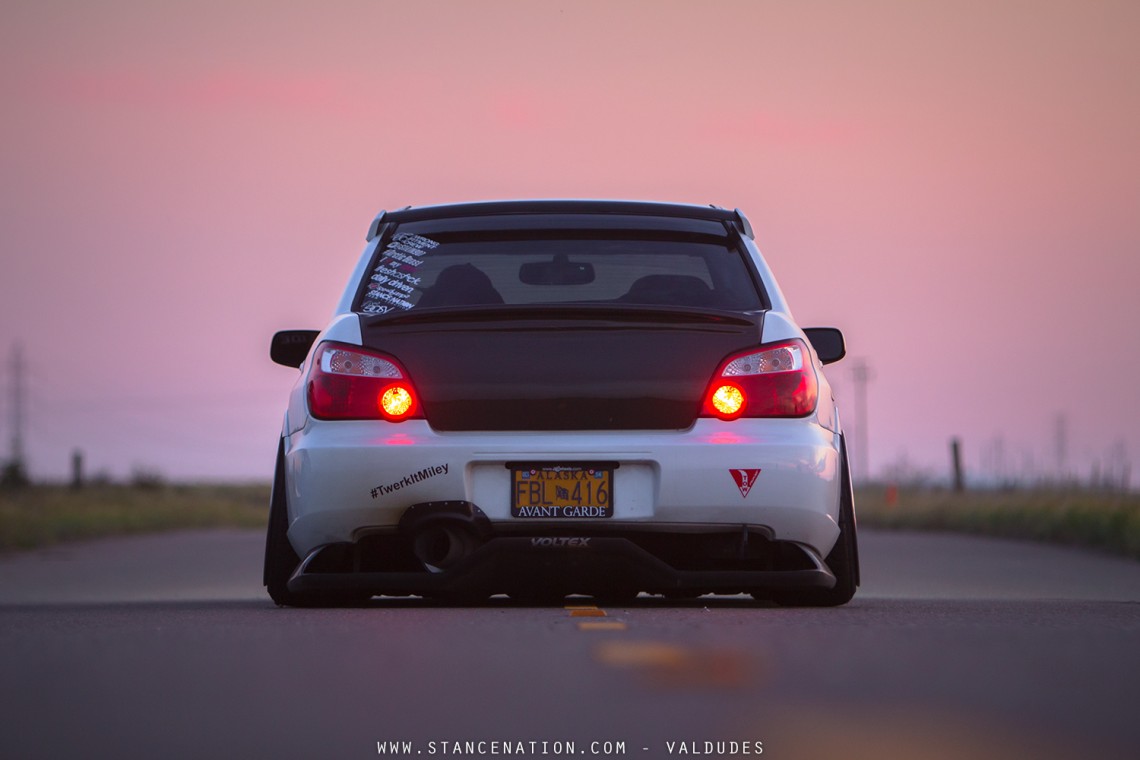 He managed to get a great deal on the best of the best. He is running an AirLift Performance Bag setup with Accuair eLevel Management. After he laid the car out for the first time he knew he needed new wheels for the new direction the car was headed in. He then purchased a custom-built set of 18×10.5" Avant-Garde F220 wheels, in Lucido White with STi Cherry Blossom colored hardware, in the perfect offset to sit lip to fender.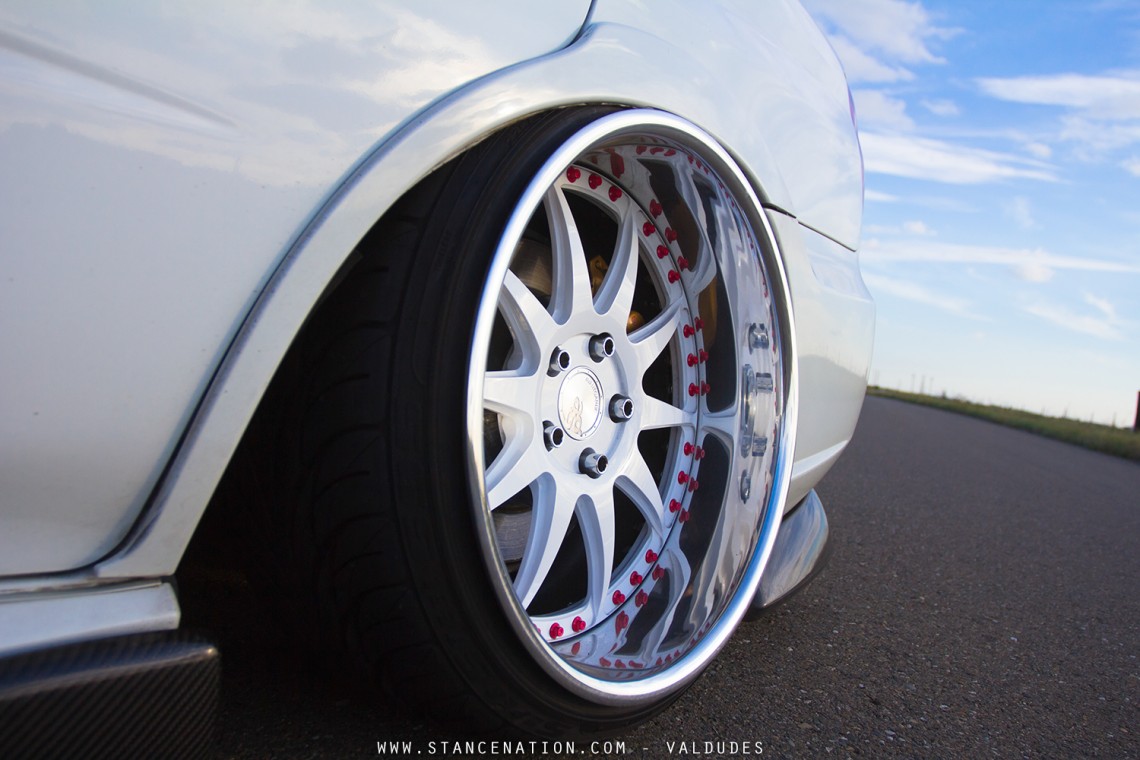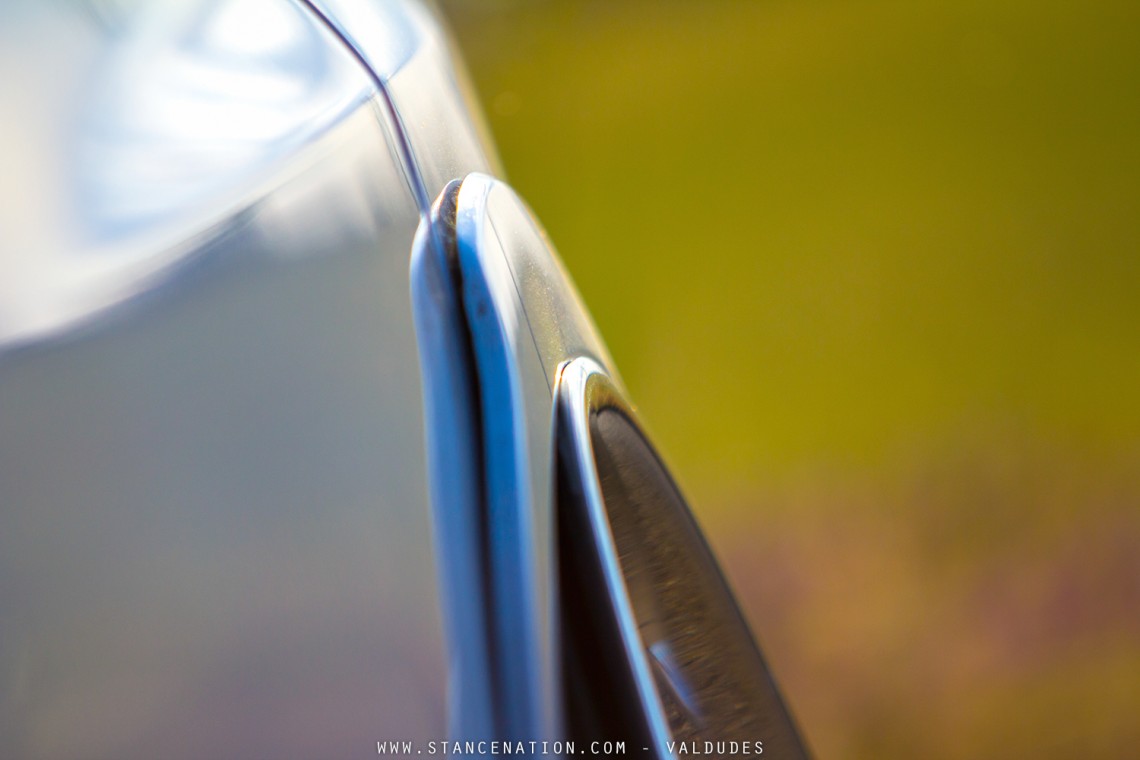 The biggest challenge Damien faced when building the car was the motor. The car is currently on its third motor. The first motor failed due to a typical Subaru problem–bad "ringlands". With the motor out of the car for repairs, Damien figured that he should take the opportunity to build it. That led to his first fully built block, but Damien soon found out that running high boost on a block that was bored over leads to a good crack in the cylinder sleeve.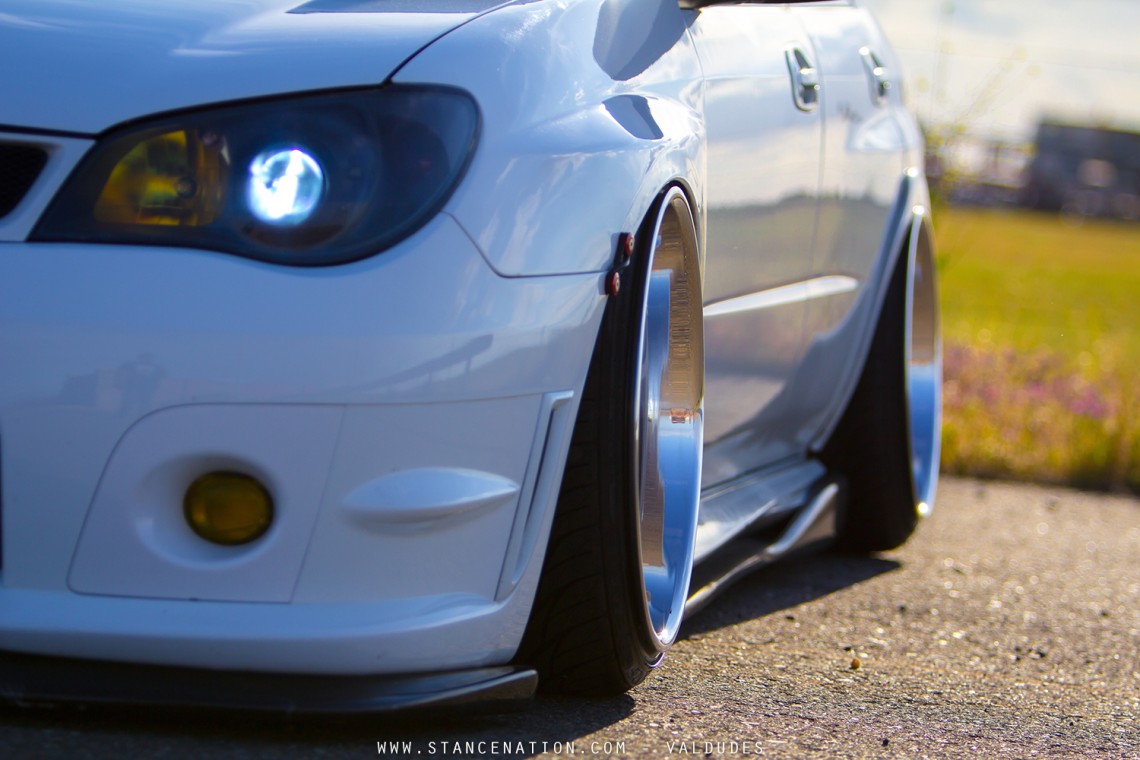 With that block behind him, he sent a brand new bare short-block into his shop to be sleeved and rebuild. Nearly everything on the motor was replaced and Damien feels confident that this motor is in for the long haul. His current motor can make a lot of power and he does not have to worry about the reliability of his daily driver.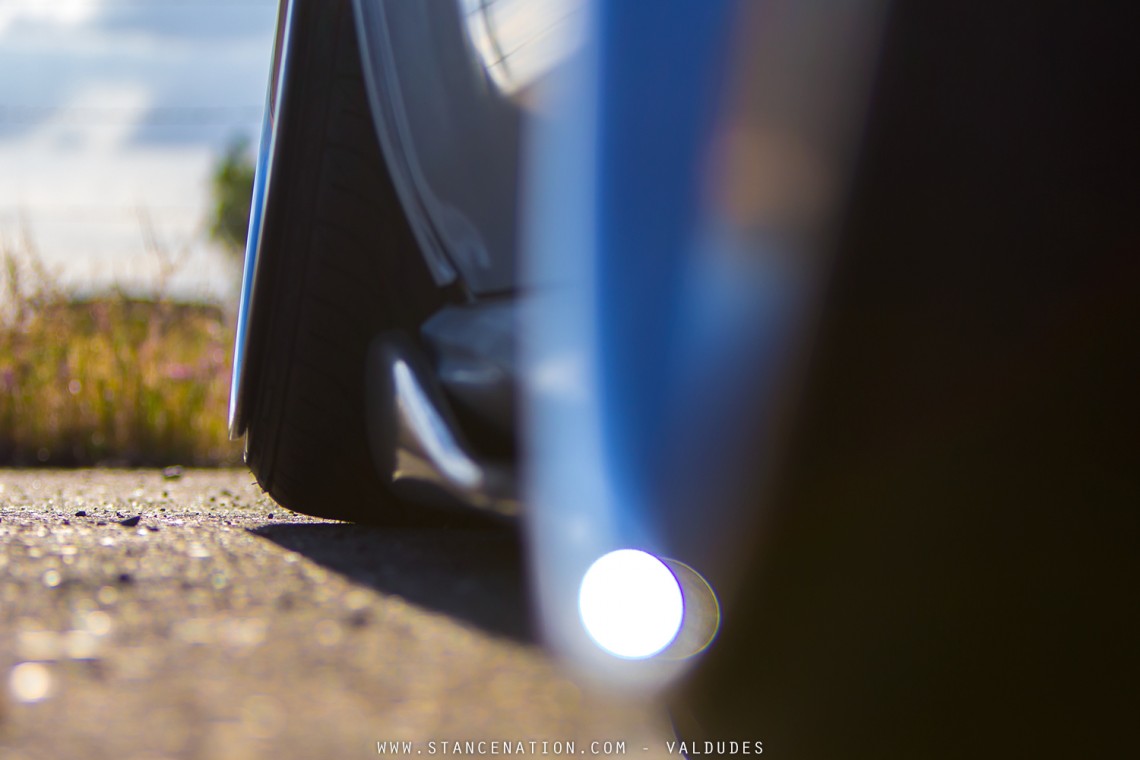 The current motor is a balanced/blueprinted L.A. Sleeved EJ257 block (0.20 over bore) with forged WiseCo 100mm pistons, Scat forged H-Beam rods, Black nitride valves, an Element Tuning GT52 turbo, and ACL bearings. He is also running a Fast Autoworks TMIC, Phenolic inake manifold spacers, an 80mm HKS Hi-Power exhaust, TurboXS 4″ wide mouth catless downpipe, ASPEC Blast pipes, AEM Adjustable Fuel Pressure Regulator, and Perrin Parallel Fuel Rails. The motor is also running a SMC 2 Stage water/methanol injection setup (80% alky/20% water mix). The motor is managed by TurboXS UTEC tuning software with a remote MAP control button (10 map options).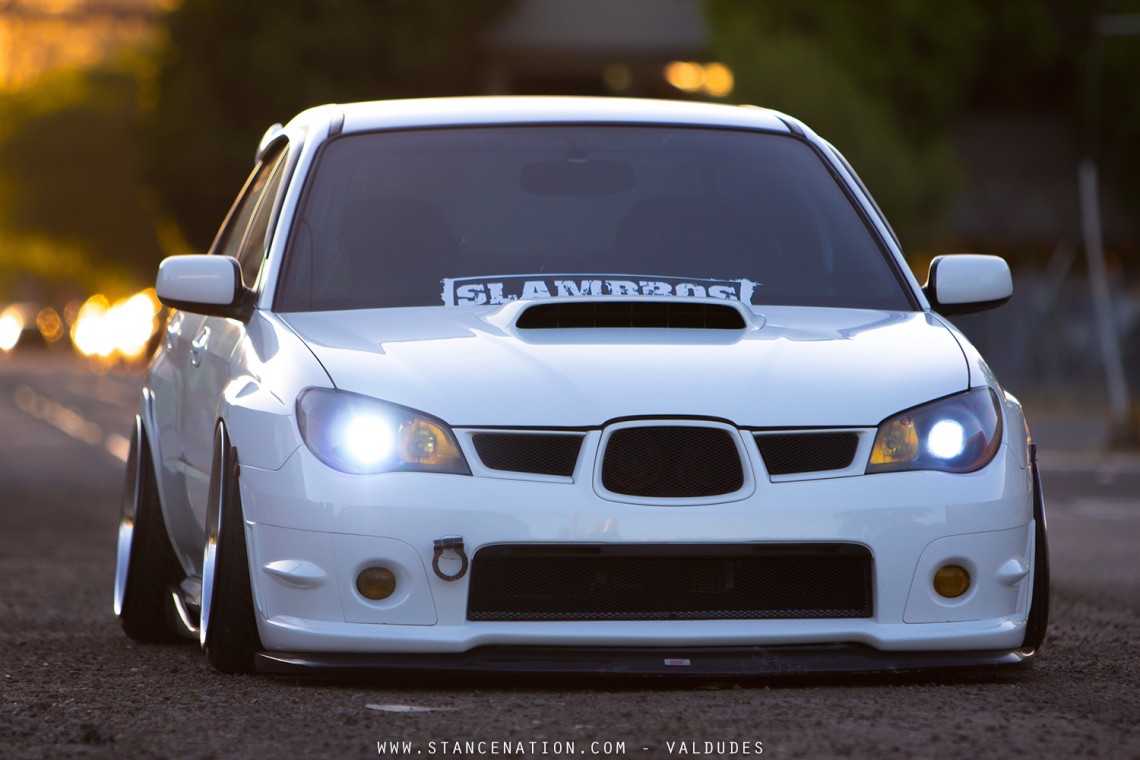 The exterior of Damien's STi is outfitted with many carbon fiber styling parts in addition to his beautiful wheels. He has a JDM S204 limited carbon fiber BaysonR front lip, Velocity "MINES" carbon fiber trunk, carbon wrapped OEM STi rear roof vane spoiler, STi carbon ChargeSpeed Bottomline Skirts, STi VOLTEX carbon fiber diffuser, and carbon exhaust shroud. He also has JDM rain visors, GrilleCraft MX upper and lower grille kit, and he replaced his OEM tail lights with 2005 model year OEM taillights.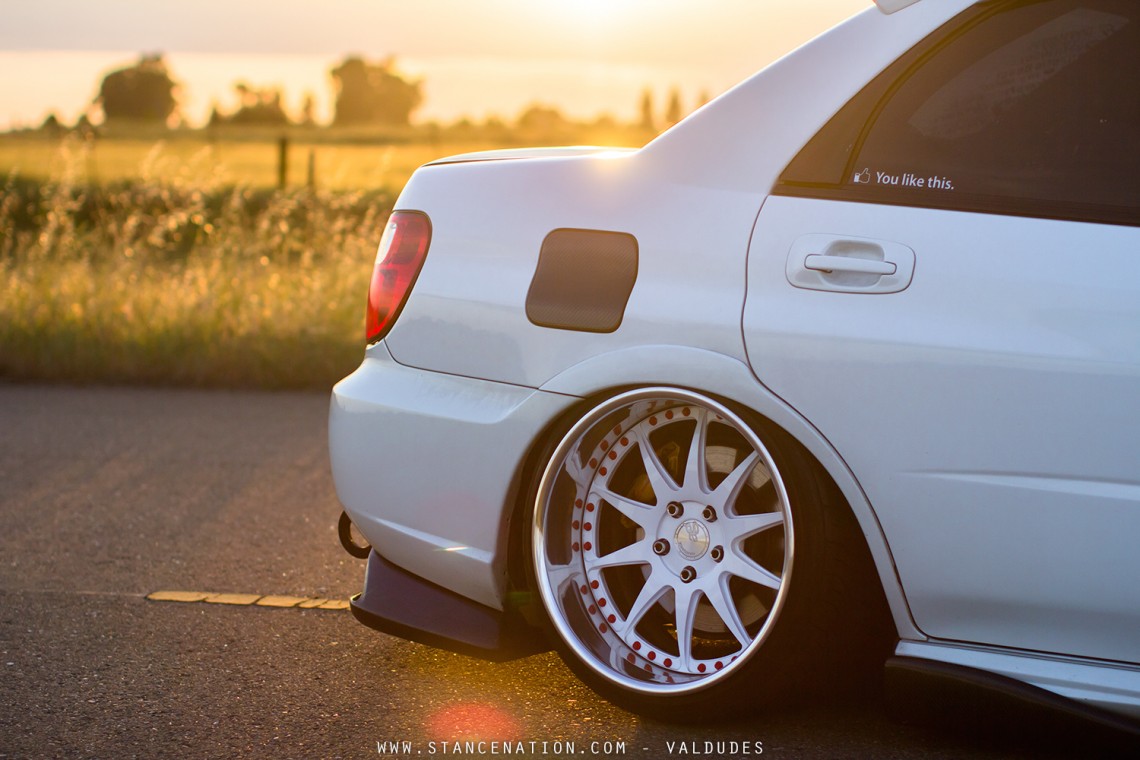 The interior of the car is equipped with a GodSpeed 6pt Bolt-In Cage, a Personal Pole Position steering wheel with white stitching, Bride Digo front seats with Sparco 4-pt harnesses, matching Bride gradiation upholstered door cards. He is also running an ATI 3 gauge clock pod with a Defi Advance BF Boost gauge, Defi Advance BF Exhaust Temperature gauge, and Defi Advance BF Water Temperature Gauge inside. He also has two AutoMeter 52mm roll cage pods with an AEM UEGO wideband and gauge inside of one, and an AEM TRUboost controller and gauge in the other. Damien also custom mounted his SMC alcohol injection control unit in the ashtray compartment.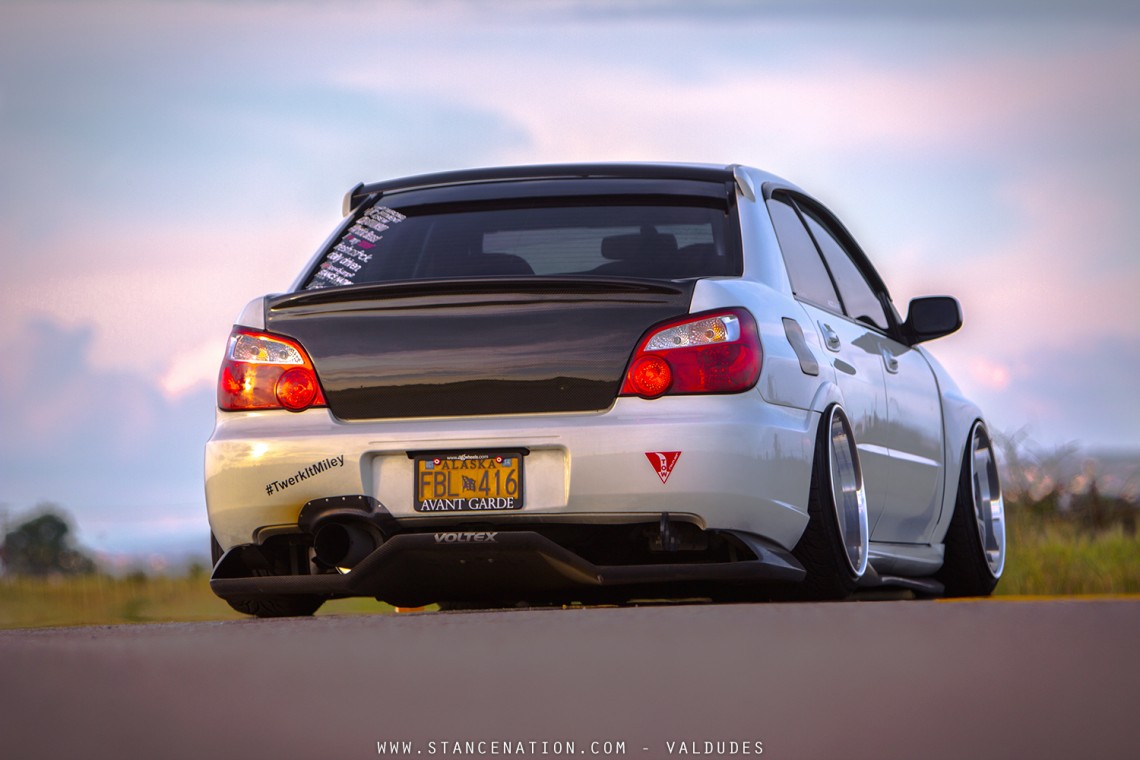 Damien's future plans for the car include powder coating his roll cage, Brembo calipers, and a few other components under the hood to match his cherry blossom wheel hardware. He also plans on adding some more goodies under the hood and to tuck as much as possible in the engine bay.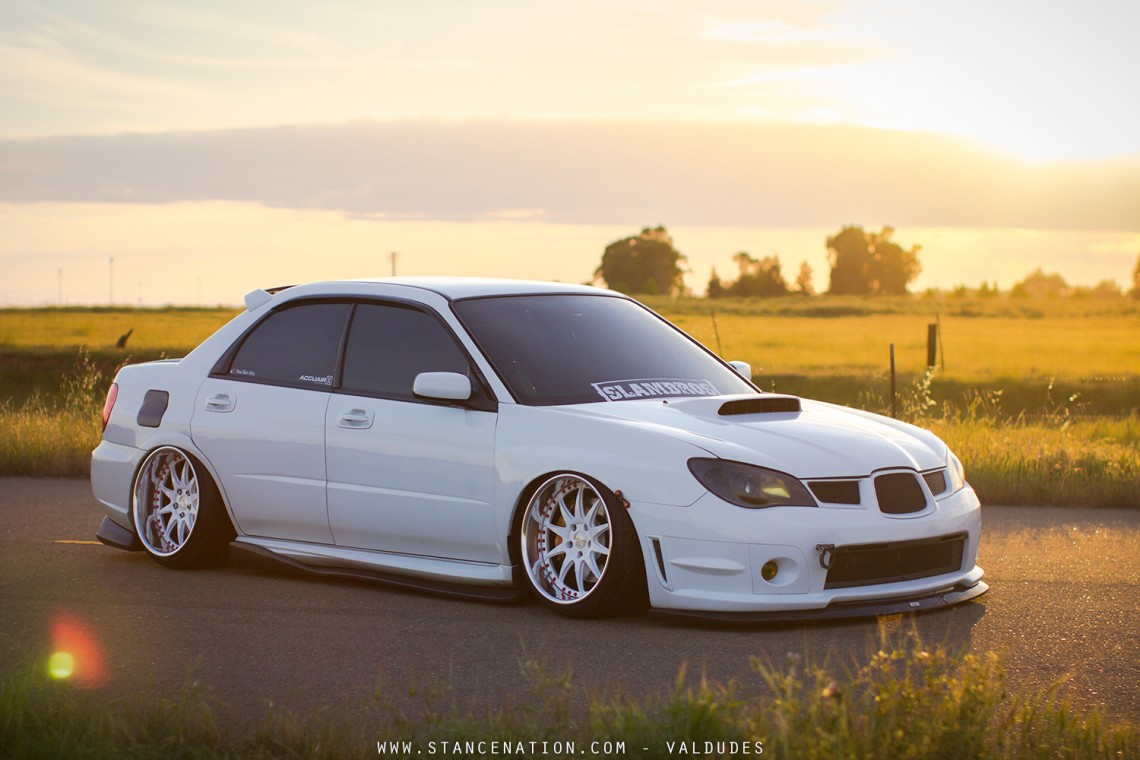 Damien would like to thank everyone he helped during this car's build: Sum at Acme Body Shop, Joel and Cho at WikedKustoms, Yuya at Avant-Garde, Brendan at Boden AutoHaus , and all the guys in the crew!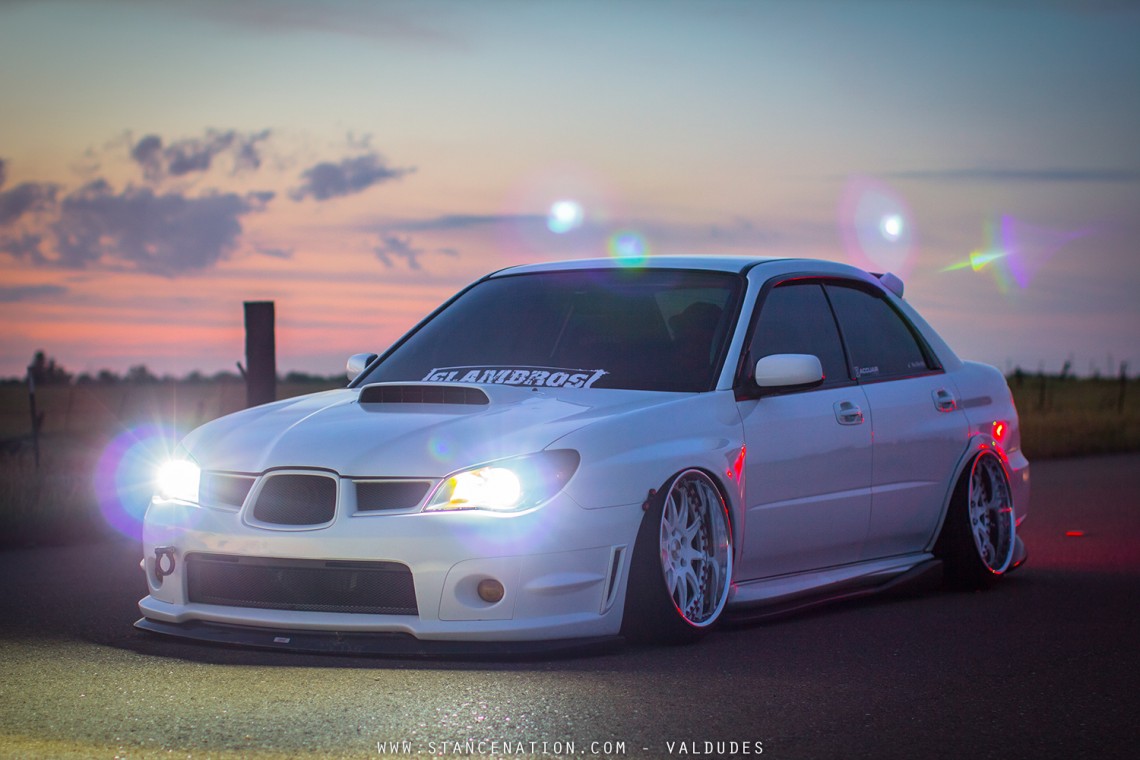 It may no longer be a "rally car", but this option suits Damien's needs much better. The mix of a daily-drivable motor with tons of power and a bagged 4-door with beautiful wheels is a perfect car, regardless of the manufacturer.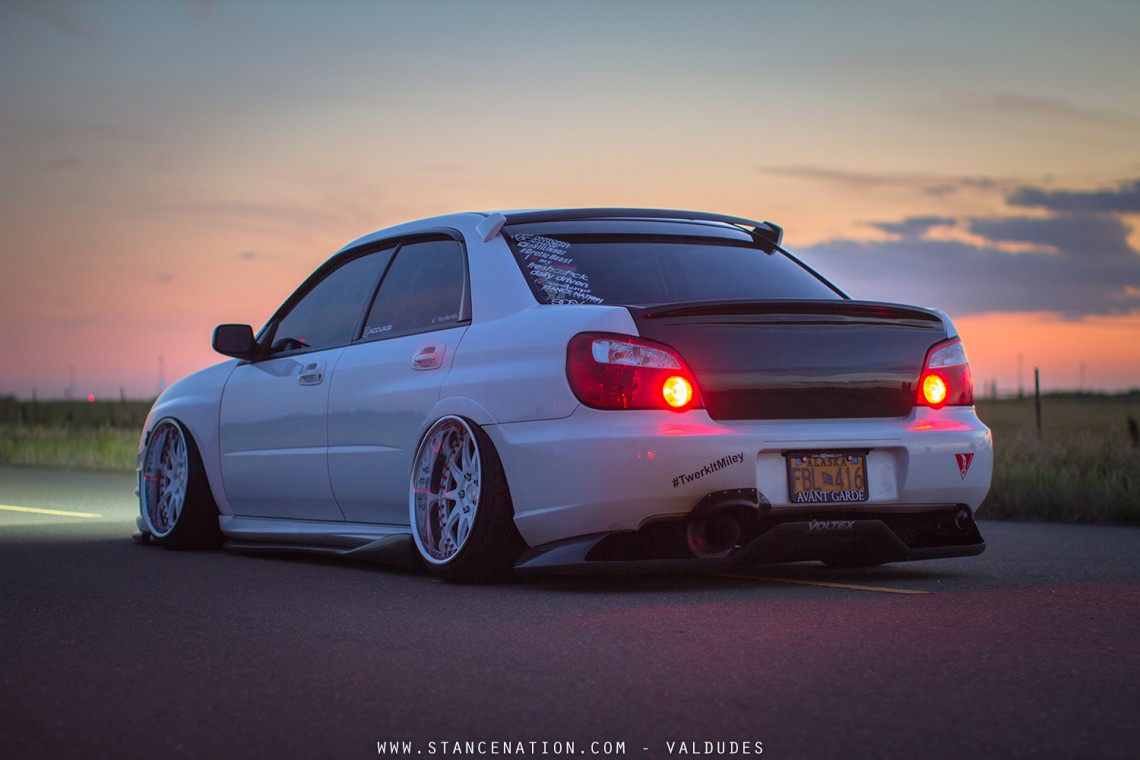 BUILD THREAD: http://www.iwsti.com/forums/3094977-post1.html
Performance:
L.A. Sleeved EJ257 block
80mm HKS Hi-Power exhaust piping
ASPEC Blast pipes
TurboXS 4″ widemouth catless downpipe
Fast Autoworks TMIC
Element Tuning GT52 turbo (Tuned to 35psi)
0.20 over bore
Forged WiseCo 100mm pistons
Scat forged H-Beam rods
Black nitride valves
11mm STi oil pump
ARP head studs
ARP main studs
3-angle valve job
CNC block resufracing
balanced / blueprinted
all new gaskets & seals
Phenolic inake manifold spacers
ACL main bearings
ACL rod bearings
Walbro fuel pump (255lph)
Modded STi factory injectors
AEM Adjustable Fuel Pressure Regulator
Perrin Parallel Fuel Rails
Perrin Shorty Intake w/ red element
Perrin Inlet pipe
Perrin Radiator Shroud
Perrin Alternator/Pulley cover
Perrin crank pulley (Red)
Perrin radiator stays
Mishimoto Oil Cooler kit with sandwich plate
Koyo SpecR Radiator
Slim fan shroud with slim fans (Anodized Red)
Greddy Type-RS BOV
Greddy Oil Catch Can
NRG fender washer kit (Red)
ACT Heavy Duty 6-puck clutch and pressure plate
SMC 2 Stage water/methanol injection setup (80% alky/20% water mix)
Group N motor mounts
Group N tranny mount
TurboXS Catback adapter (fits 4″ TurboXS downpipe to my HKS exhaust)
TurboXS UTEC tuning software
Remote MAP control button (10 map options)
Suspension/Brakes/Wheels:
Front & Rear Camber bolts
Rolled, pulled, and grinded rear fenders
Rolled & pulled?front?fenders
Avant-Garde F220 18″x10.5 et???
Lucido White w/ Cherry Blossom hardware
High Disk in front with 3.5″ polished lips
Low Disk in rear with 4.5″ polished lips
AirLift Performance Bag over Coil setup with camber plates F&R
AccuAir Management with eLevel
2 Viair 444c compressors
5 gallon AccuAir air tank
PTC fittings for 3/8″ lines
AccuAir VU4 valve manifold
OEM Brembo brake calipers
EBC Red Stuff pads
Interior/Stereo:
GodSpeed 6pt Bolt-In Cage (Cherry Blossom Red)
Personal Pole Position wheel w/ White Stitch
NRG v2.0 Carbon Quick release hub
NRG short hub
Sparco 4-pt harnesses
ALL black "STi" floor mats
Bride Digo front seats
Bride seat sliders
Bride Gradiation upholstered door cards
WRX rear seats (Black)
PLANTED seat brackets
ATI 3 gauge clock pod
Defi Advance BF Boost gauge (28psi)
Defi Advance BF Exhaust Temperature gauge (2000*)
Defi Advance BF Water Temperature Gauge
Defi Advance BF Control Unit (custom mounted under foglight button)
AutoMeter 52mm Rollcage Pods (x2)
AEM UEGO wideband & gauge
AEM TRUboost controller & gauge
SMC alcohol injection control unit mounted in ashtray compartment
Pioneer P4000 touch-screen dvd player (w/ E-brake bypass)
Rockford BD1000 Amplifier in custom enclosure
Rockford 12″ P3 subwoofer in custom enclosure
Hertz 6.5″ Energy Separates w/ crossover and tweeter (Front)
Hertz 4″ Dieci coaxial speakers (Rear)
Exterior:
07 JDM S204 limited carbon fiber front lip (BaysonR)
02-07 Velocity "MINES" carbon fiber trunk
04-07 STi carbon ChargeSpeed Bottomline Skirts
02-07 STi VOLTEX carbon fiber diffuser
06-07 JDM rain visors
06-07 OEM STi rear roof vane spoiler
3m Carbon wrap on roof vane
Carbon Exhaust shroud
GrilleCraft MX upper grille kit
GrilleCraft MX lower grille kit
Hella Supertone horn kit
TEIN hood dampers
PasswordJDM quick release bumper kit (Red)
NRG fender washer kit (Red)(2)
Front HKS tow hook (Black)
Rear Benen tow Hook (Black)
2005 OEM taillights
JDM taillight mod
JDM yellow foglight overlays
10K low beam DDM HID bulb replacements
3K foglight DDM HID kit
3k HID equivalent city light replacements bulbs
35% tint on windshield
5% tint on all side windows & front 6″ strip
20% on rear window