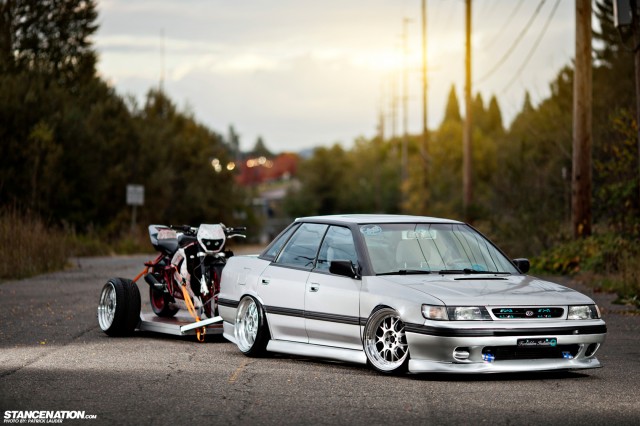 I have been in the import scene for most of my life. I worked at and managed a speed shop named Speed Concept in Portland, Oregon for a few years. I have always been a huge euro VW fan and have owned 3, however; I also love Subarus. I have had 4 Subarus but I never got the chance to build a fully fitted or "stanced car". If I was to have the opportunity to build one I would want to do something that no one else has done or improve upon something that has already been attempted, but on a budget. The budget is key to what I want because I can beat it up and not feel too bad about it.
Story by Patrick "PhatPat" McGlinchy // Photos by Carlos Perales & Patrick Lauder exclusively for StanceNation.com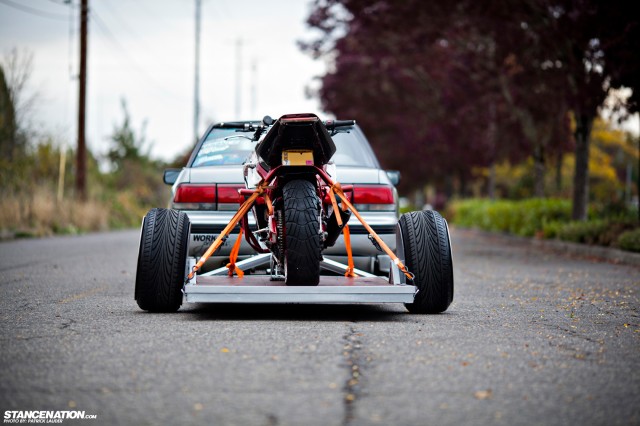 Here's the idea; basically buy a car under $2000, spend less than $3-5 grand building it and get my work showcased around the world through various media outlets such as on-line and maybe even a magazine (is this even possible?). Having had 3 other old Legacy wagons I thought having a fitted older Legacy or Impreza wagon would be a good place to start. I looked high and low, stalked Craigslist for a few months and came down to a few cars I was going to look at. Then, out of nowhere, this rare, turbo Legacy 5speed with 167k miles was posted 5 minutes before I was going go look at these other cars. I e-mailed the seller, not expecting a response, and it was up for a steal! The owner got a hold of me immediately. A couple hours and $1400 later I was on my way to building my budget build Legacy SS.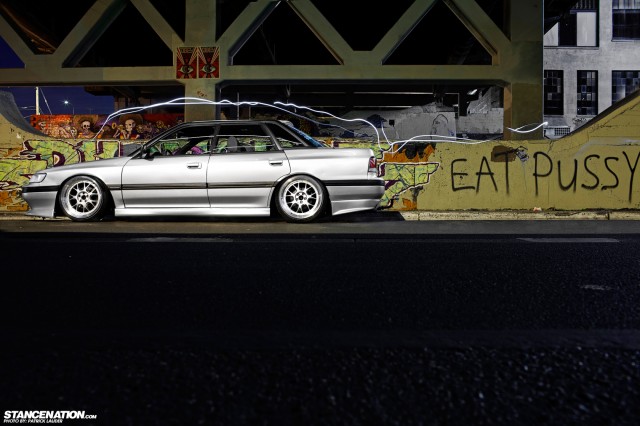 Instantly I was looking what coilovers would work from what cars, as they make almost nothing for this car, but these cars are like Legos. Most 02-07 WRX and older Impreza stuff fit! I came across a few sets and got a set of HSD coilovers for a 05 STI used for $500 ($1500 retail) and in perfect working order. I did quite a bit of modifications in order to make them fit on the car. I looked to see what the widest wheels people were running on these cars were, pricing on tires and what type of fitment I wanted but found out no one really would run bigger than a 17 x 8.5 at the maximum, so, I decided a 17 or 18×10 inch would be my end goal. I, at first, settled with a generic 17×9.75 xxr 527 +25 (boring, I know) with a 205/45/17 to fill the wheel well and get a good stretch. I knew this wheel would be a stepping stone, so once they arrived it was time to fit them on the car. Well, as you know, a wide wheel on a car that shouldn't have one well I did a lot of work for a couple weeks just to get ride height right and the wheels fitted about 1 inch of flare and pull to get the quarters right among many other modifications.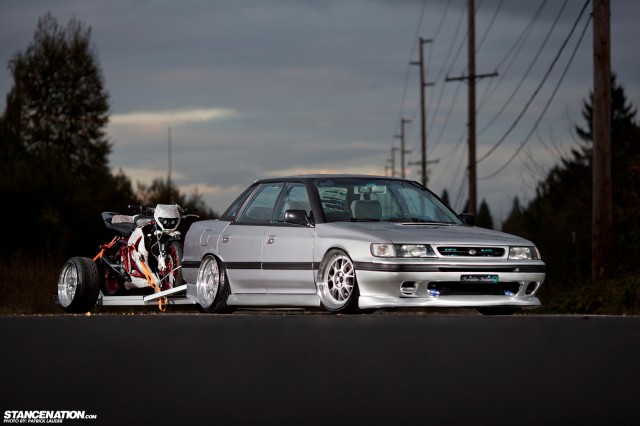 So, now that it was fitted, I needed to get the car to appear actually lower to the ground since this car had no factory lips/skirts or once again, little to nothing made for it. I went on to add a lip went thru a few and added side skirts and the rear spats, got a hitch and a diffuser to cover it (all had to be fabbed up in some manner to fit). It's funny how much positive and negative feedback come on this car because it's AWD and a Subaru, saying it isn't functional and completely pointless. I have learned to embrace the hate over the years to push me harder to succeed. I wanted to make sure people see it's fully functional for my life style!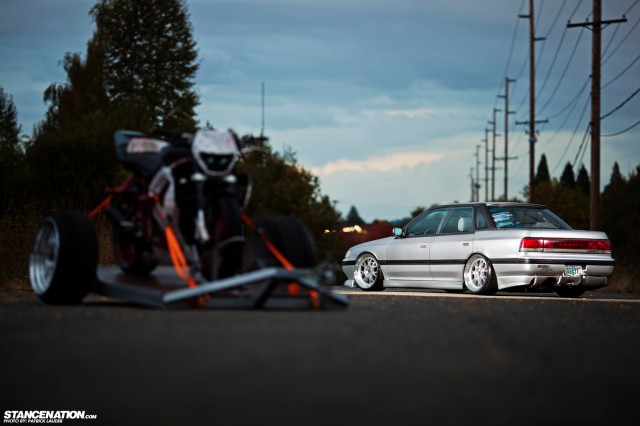 Then stunt ride, which for most of my time until I got this car was what I did in my free time (I am not good by any manner but I love the sport). I found myself being out by the stunt spot then having to drive 45 min to get my truck and bike and head back to the lot that and that equals a lot of gas, money, and headaches. I have wanted to build a slammed trailer for a long time (years). Which I did just that, I bought an $80 used harbor freight style folding trailer towed it around then tore it down bought matching wheels and custom fabbed up the trailer.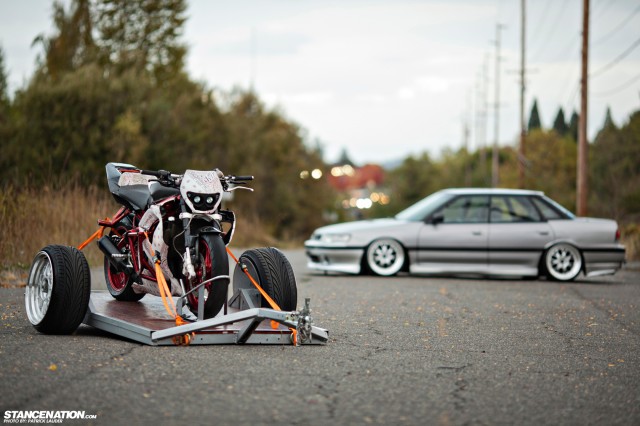 I then, after the trailer was done, took the car, bike, trailer combo to a few events. I knew it was time to get some better looking wheels and I decided it was time to step up the game and go to with Miro 368 in 18×10 +25 which, to fit, I needed 3mm spacers in the rear to stay off my coilovers I think it gives the car a little bit of a retro look with the mesh and big 3.75 inch lip. It took another few days and more pull and flare to get these to fit and brought the car even lower to the earth. As far as I have found no one is running or has ran an old Legacy like this, with a wheel and tire set up this large, this low, ever!? I'm not claiming to be the first but I may be.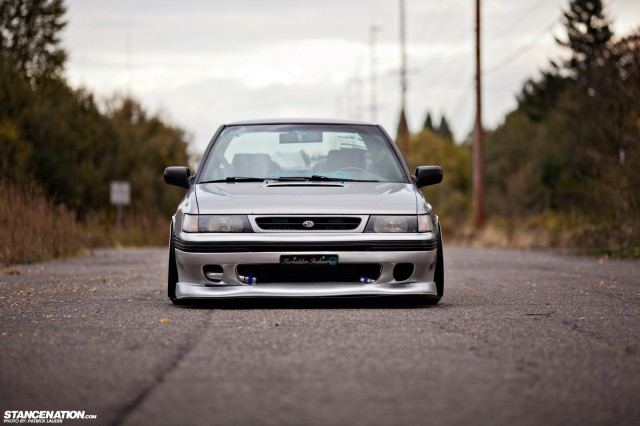 I have now had the car one year and so far this is the outcome. It is fully functional in every way for my life style, and yes, it's a daily. I am blessed to have Stance Nation even do this feature on the car as it's not a perfect car at all, but hope everyone loves it as much as I do. This car is a constant work in progress and will soon have some even more tasteful upgrades and even a different style of wheel. Keep on the look out for more of these cars to start popping up. I'm also planning out another unseen fitted car!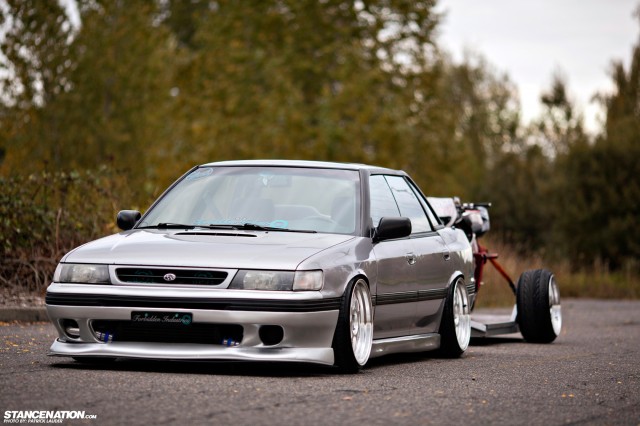 Special THANKS to my friends, family and Speed Concept for the great deals on pricing.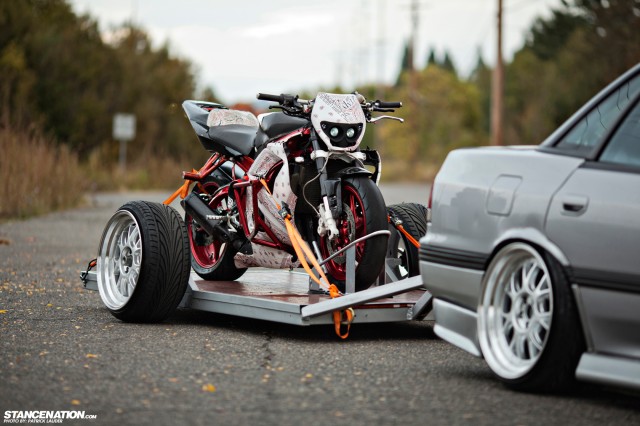 [toggle_box]
[toggle_item title="Wheels/Tires/Suspension" active="true"]
HSD coilovers from sti Modified car to mount up
front and rear camber plates and bolts
Miro 368 18×10 +25
3mm spacers in rear to clear coilover
tires 215/35/18
[/toggle_item]
[toggle_item title="Exterior" active="false"]Plasti-dipped trim Per OLD A CAR AND NEEDED IT
version 4 STI C-west Front lip with
Aluminum splitter I made to keep the lip safe from the pavement
Legacy wagon sideskirts
02-03 wrx Cwest rear spats and -02-03 wrx Cwest center diffuser modified to wrap around the hitch
03 legacy wagon Uhaul tow hitch (most important part)
custom made roof wing
shaved spoiler and tunk
All work in progress[/toggle_item]
[toggle_item title="Interior" active="false"]Kenwood Deck
all pioneer interior speakers
12 inch kick comp sub in ported box
Ipad 3 mounted to dash connected via bluetooth
Autometer gauges boost and A/F mounted in perrin gauge pod[/toggle_item]
[toggle_item title="Engine" active="false"]godspeed painted black front mount -with full custom modified wrx piping kit to fit
Hard mounted Turbo XS RFL BOV
older invidia downpipe modified to fit
Spec D exhaust lengthened and relocated hangars[/toggle_item]
[toggle_item title="Trailer" active="false"]-fully custom fabricated by yours truely
fabbed hubs to fit the 18x10s
Vinyl wood pannels for the floor
bike master removable wheel chock
-Bike
2007 R6s Fully stunt ready
2003 r1 inverted forks
2003 R1 brakes and rotors
Fully powdercoated frame parts by Vancouver powdercoating
RSC clutch lever
Gsxr1k nissin front master cylinder
2006 r1 brembo rear master cylinder
2006 r6 foot master cylinder
freestyle ingenuity 50mm clipons
Custom length steel braided brake lines all around
Forbiddenindustries.com made and installed vinyl wrap
Acerbis front headlight
Bike master rear Tail light
custom dented tank by NOY SAUCE
Michelin Piolot power front tire
Dunlop d616 rear tire
powers cage
Fully custom made steel subframe and subcage by Forbidden Industries with 2003-r1 tail section
Fullthrottle inc and Hohey 4 piston handbrake, single piston footbrake combo bracket
Renthal rear 56 tooth sprocket and DID chain[/toggle_item]
[/toggle_box]