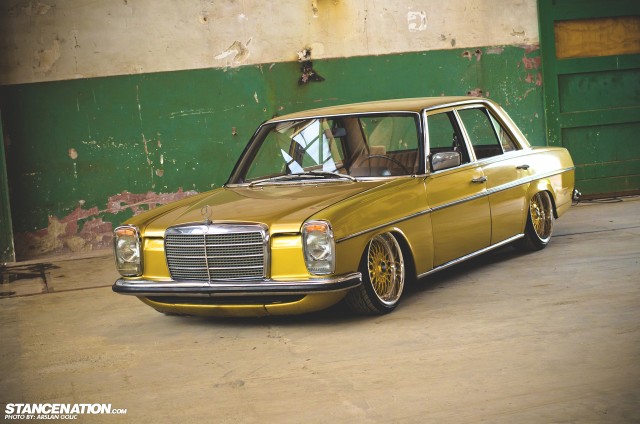 I have always admired the diversity of the automotive community. On every corner of the globe you can find car enthusiast displaying their automotive treasure. Although most enthusiast love the futuristic and functional design of modern cars, many are equally intrigued by the clean simplicity of a classic car. Some of us want high horse power and sharp turns while others enjoy a calm quiet cruise. This extremely beautiful Mercedes isn't meant to be driven on a track but that doesn't mean it cant be a trophy car.
Photos By: Arslan Golic exclusively for StanceNation.com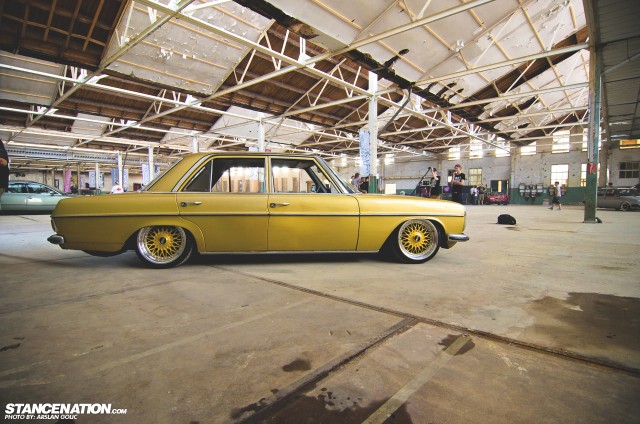 Everyday our social networks are filled with images and articles about recent advances in automotive technology. I will agree that this is all incredible to read about and a lot of fun to play with, but is it always necessary? The feel of a simple and well made classic is something incredible on a different level. I often dream about sitting on original classic leather interior with my elbow out the window, listening to great music and enjoying the cool breeze. Its one of the simple pleasures that helps you realize what's really necessary. It also reminds us where it all started.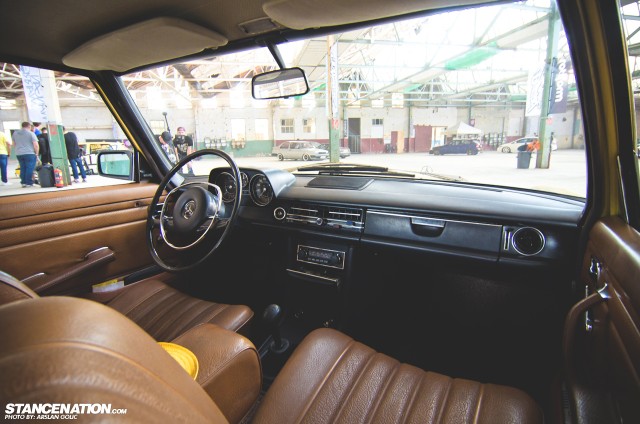 Mercedes has always been known for offering a superior automobile. This is a 1975 Mercedes Benz, model 230.4 but there has been some slight changes. The front bumper, taillights and interior where swapped for an earlier 1970 model. That's not a modification that you will hear often, this newer model has been refined with older parts. The new/old additions have given the car a cleaner look while staying true to the classic design. The golden yellow paint is eye catching but not fierce or over done. All combined, the exterior of this car is just stunning.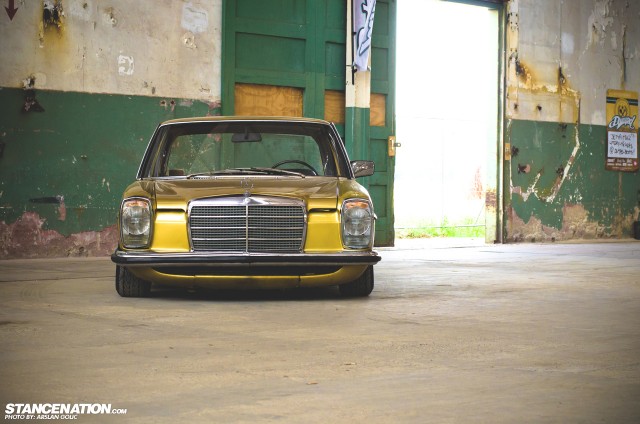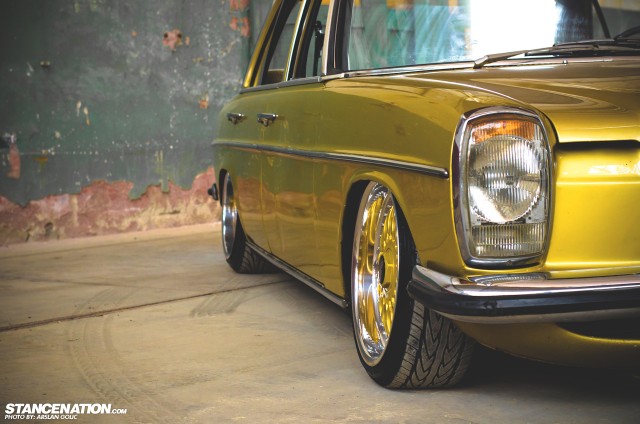 Now even though this Mercedes has seen some changes, it is mostly true to its original generation. Except of course for one obvious and important feature, the stance. This new ride height has been achieved with the combination of two different air ride kits. Part of the kit is from a Swiss company HPS combined with components from a company that goes by GAS or German Airride Systems. This stance is perfect, the wheels sit just inside the fenders with just a slight camber tilt. There is no crazy fender mods, no dramatic stretched tires or low offset, just clean classic wheels.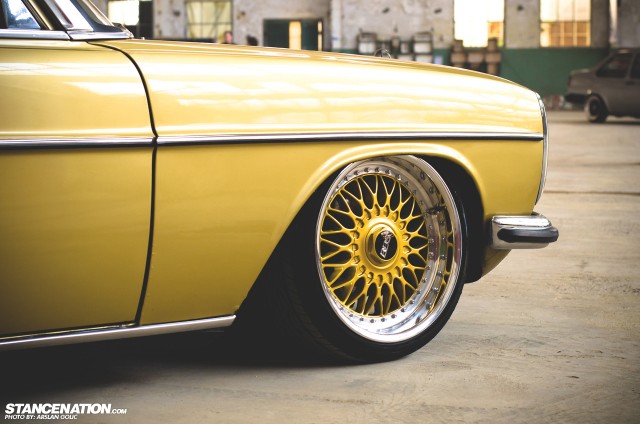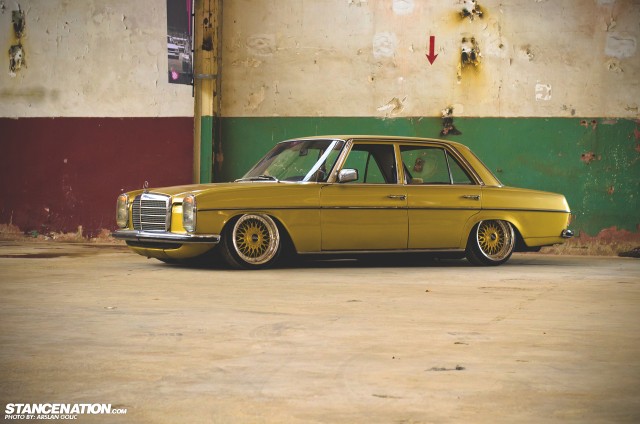 A classic ride deserves a classic set of rims. The BBS style5's can be found on many models, in many colors and sizes yet they never seem to get old. These 17in wheels are 8in wide in the front and 9in wide in back. They wouldn't fit with the original hub design so an adapter was used to change to the 5×120 lug pattern to 5×112. These gold faces and chrome lips seem to perfectly match the golden yellow paint and chrome accents of the rest of the car. This amount of Gold will usually give an "overdone" or "gaudy" look. In this case it actually seems accentuate the classy design.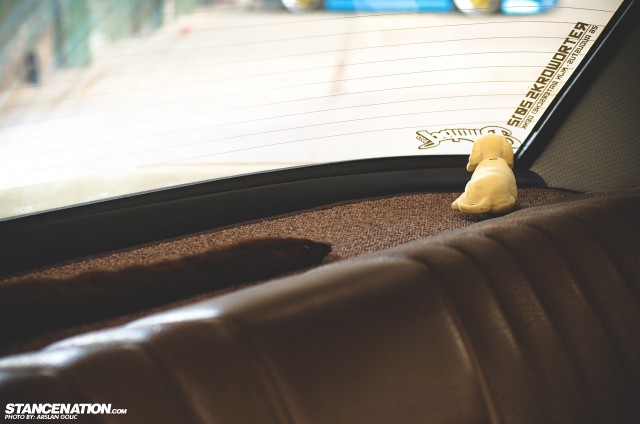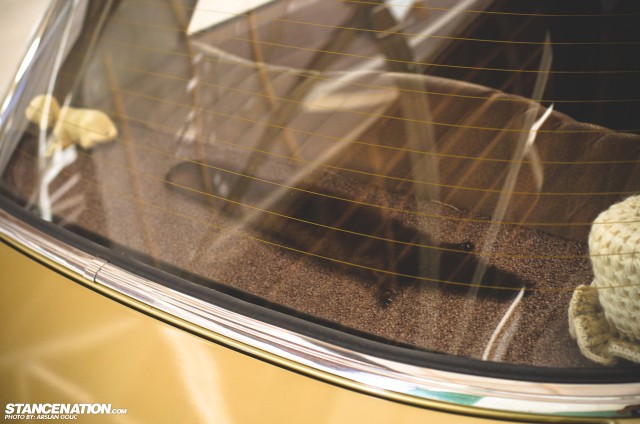 As stated earlier, this car wasn't meant to be raced and it wouldn't do a very good job if ya tried. The original 2.3 liter engine still sits in the engine bay. With right around 100 hp this engine the only reason this car would be at a race track is so the drive can look damn good driving home.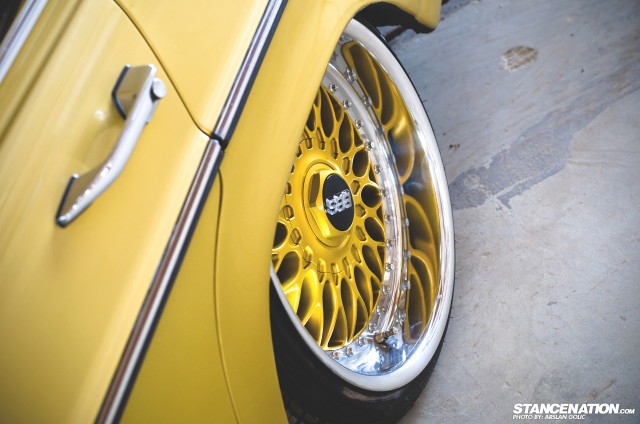 Even though automotive community has its differences, we all share one common interest… cars. Even though we can all appreciate the new "state of the art" technology offered with modern automobiles, we should never forget the simple pleasures that can only be found with the classics. Most of all this Mercedes proves, you don't always need to be at the top of the podium to take home the gold.