The Built vs Bought argument is about as touchy of a topic as the form vs function argument.  Both sides will argue to the death over which is the "correct" way to go about building your car.  There are good and bad examples on both sides.  On the built side, you have people who shouldn't be allowed to touch a wrench let alone go about building a car.  On the bought side, you have the air-heads with more money than brains who have no clue what's done to their car let alone any style.  While the do-it-yourselfers take pride in showcasing what they've poured many hours of blood, sweat, and tears into, the guys who can write the big checks to shops should take a little pride in knowing that they have that much loose change to spend.  The bottom line is, whether you're turning the wrenches or signing the checks, you're busting your ass off to be able to do either.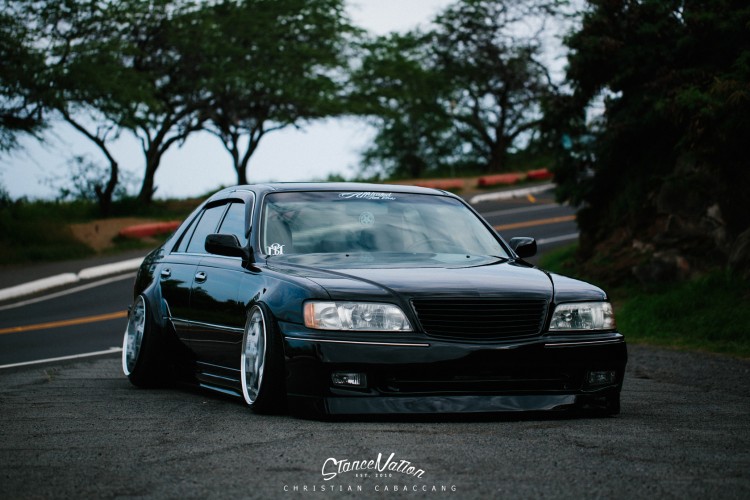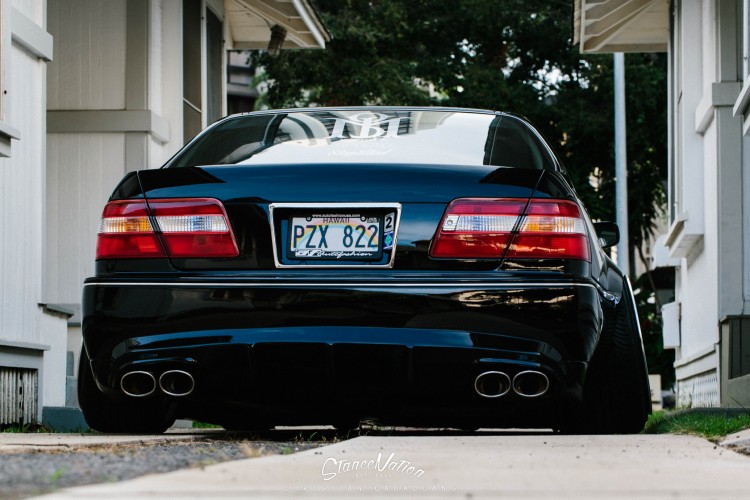 James Taasin from Waikiki Beach in Honolulu, Hawaii, is one of those people who preferred to take the build-it-himself road.  Despite being a big follower of the VIP culture, and living in Hawaii, James is far from living the "VIP" lifestyle.  "I had a budget to stick to with this build which is why I decided to tackle it on my own instead of bringing it into a shop which could have potentially costed me thousands of dollars with everything I did to it myself."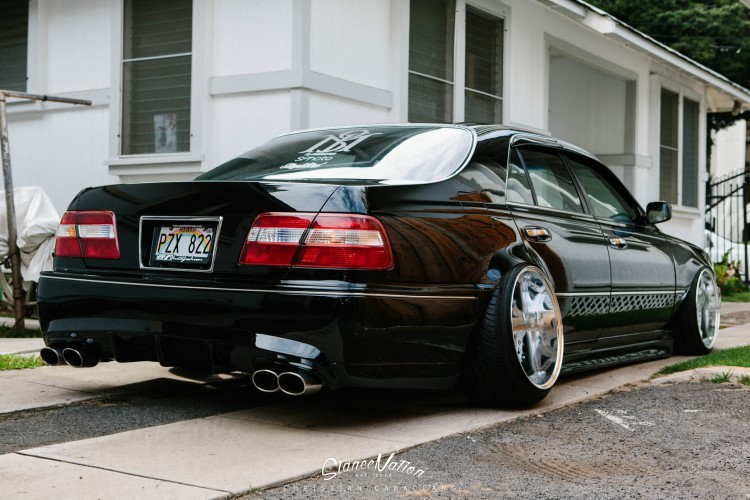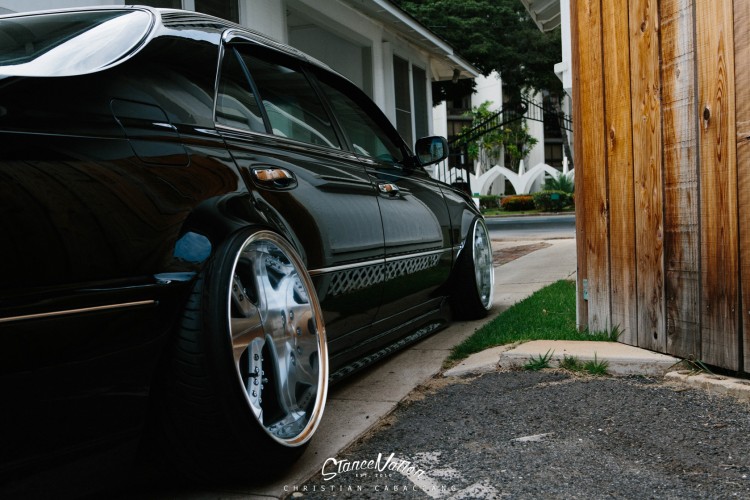 The downsides to tackling a build on your own can usually be traced to three areas; lack of knowledge, lack of skills, and lack of tools.  Luckily, our man James here is one motivated guy, plus he had some good friends to help him along the way.  The result is one of the hardest Y33s in the US in a good while.  It's a good mix of traditional VIP styling with some US flair put into it.  The color and body mods are subtle, but those big-lipped wheels really jump out and pull you in to take a closer look.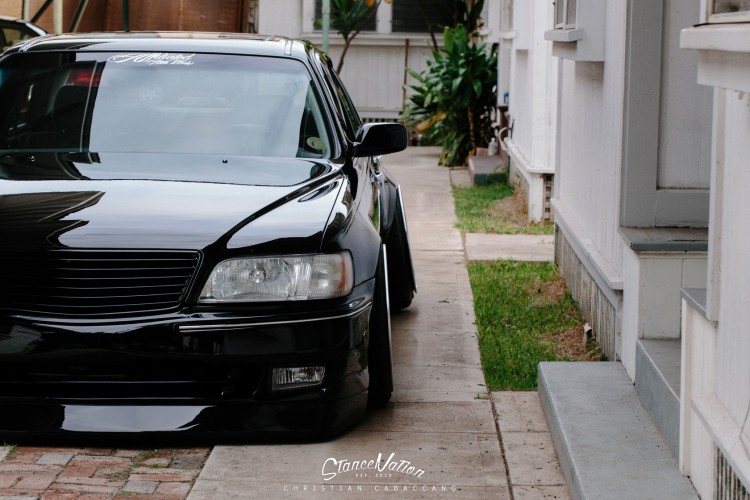 I definitely dig how simple the car looks at first, but the more you look the more you discover.  Its cars like this that really stand above the rest because they keep you coming back for more.  You might not spot the fender or quarter-panel work at first, or you might over-look the Mercedes-Benz AMG diffuser on the rear.  This is one of those cars that at a show or meet, you might have to come back a few times to take in everything, but that means the car is just that much better.  You don't pass by it, look at it once, and then forget it.  Cars like these, you remember them.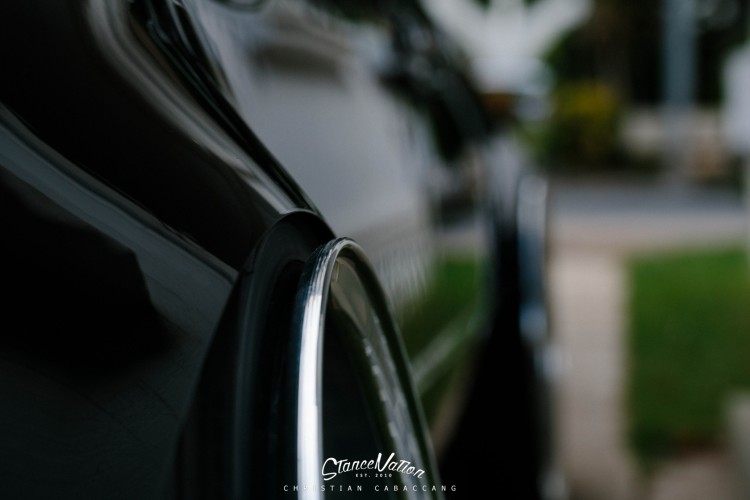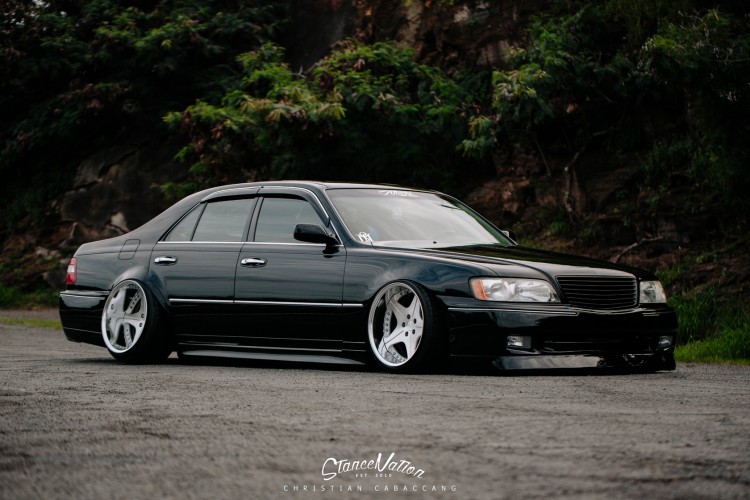 The outside of James' Y33 is what I like to call subtlety-in-your-face.  Despite being a horrible oxymoron, it's pretty much true.  The lines and paint choice are textbook, OG-Japanese VIP, while the wide-fenders, and seriously wide Ordens are more in tune with what's popular today, both in Japan and US-VIP cultures.  First, we'll start with the metal-work, done by James and friends in his car port next to his house.  The front fenders were widened 1 1/4″ on each side, and the rears were widened 4″ on each side with the rear doors being widened as well to flow with lines of the new quarters.  Metal work like that isn't easy, and James explained that there were many trials and errors along his build, but that's all part of the learning process.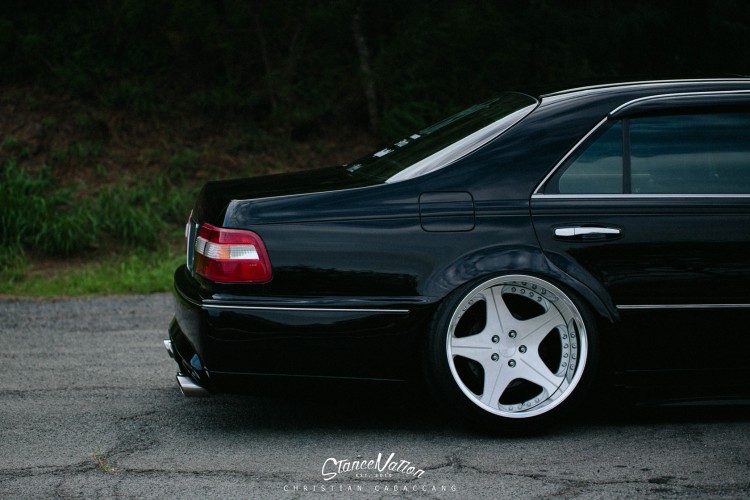 The front and rear bumpers are off-the-shelf Version Select units that were modified to fit with the widened fenders all around.  The rear bumper received further, custom treatment in the shape of an AMG diffuser from a Mercedes-Benz.  Coupled with the Top-Speed AMG quad muffler-tips on the custom, dual exhaust, it really toughens up the rear of this Y33.  The real icing on the cake for that phat-ass though is those massively wide, ridiculously dished and cambered, wheels.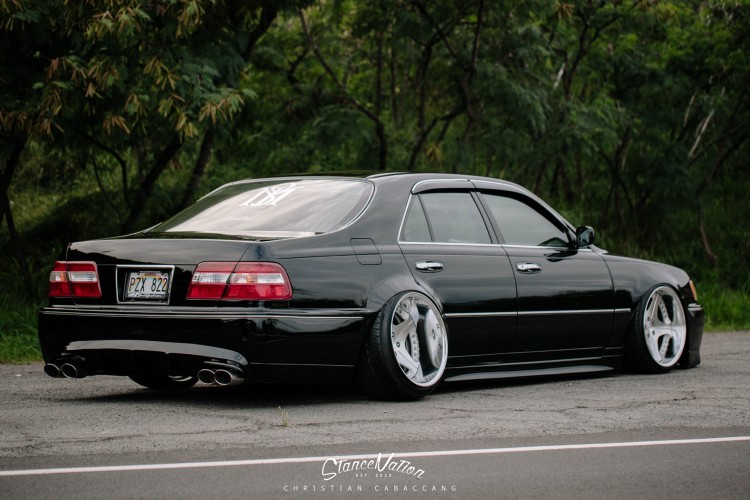 I've been saying it over and over, but these days your wheel game just isn't cool unless your rocking double-digit widths front and rear, and offsets so far in the negative that a government stimulus wouldn't bring them into the positive.  When I first saw pics and specs of these Ordens, my jaw hit the floor, and then I took a peek in my garage and looked at my SSRs (which many have said are super aggressive) and suddenly felt insecure about the manliness of my specs.  I've seen some crazy wheels in my time, but these are certainly up there and aren't just built as a display wheel.  James' Leon Hardiritt Ordens measure up at 19×10 -30 in the front and 19×12 -69 in the rear.  That's 9-inches of lip for those that can't do the math.  9…inches…of lip.  Suddenly those 18×9 +15s are looking a little…sissy (it's okay, I feel sissy with my 12.5 +0s next to these).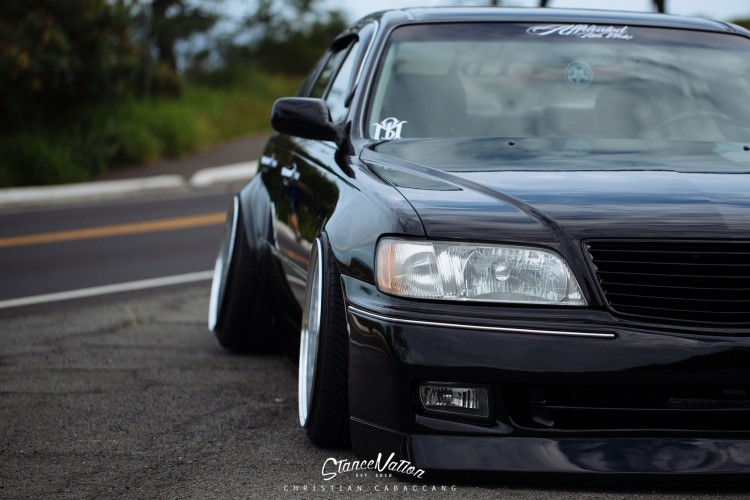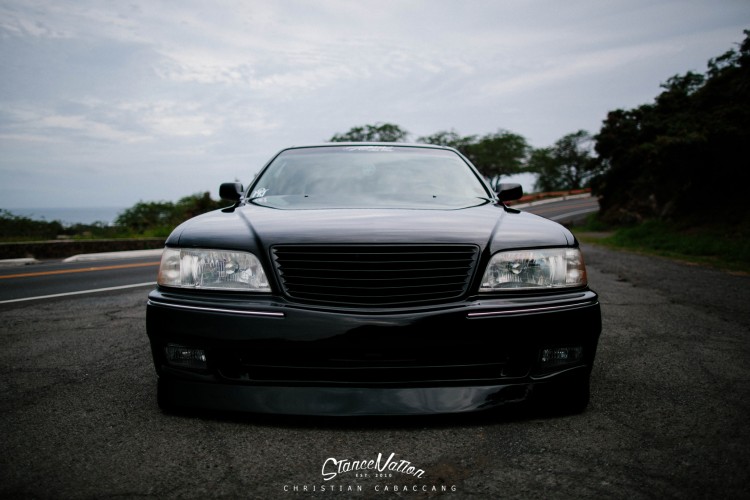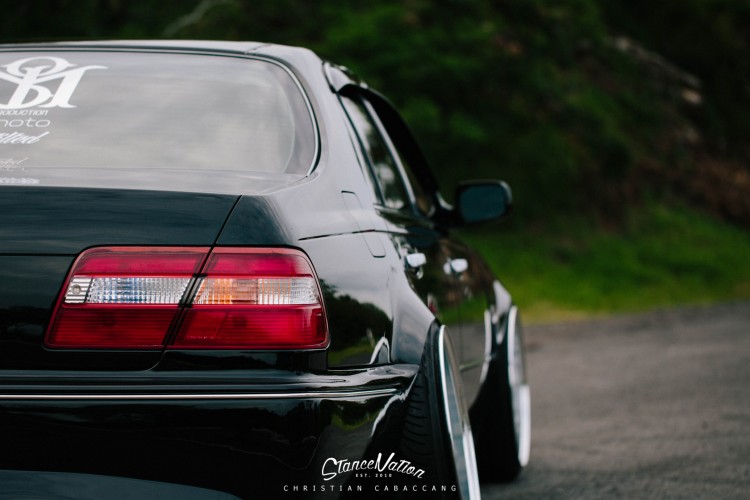 The last bit that James had to address was the suspension.  Instead of tackling a crazy, static setup, he went with a more conventional air-ride setup.  With the Y33 Q45 chassis not being too popular over here in the states when compared to Japan for modifications, a lot of parts had to be borrowed from a common chassis.  Y33 experts will know that a lot of s-chassis suspension bits swap over, so James' car is fitted with a slew of Megan Racing components including; s13 tension rods, s14 RUCA, s14 RLCA, s14 rear toe arms, and Wicked Tuning rear traction rods.  The air setup is based on BC-Racing coilovers with spindles, and UAS aerosport bags.  The system is controlled by a manual, paddle-box, a single 5-gallon tank, and single Viar 444cc compressor with 1/4″ lines.  The setup is simple, but it works, and when aired out, the stance and fitment are absolutely on point.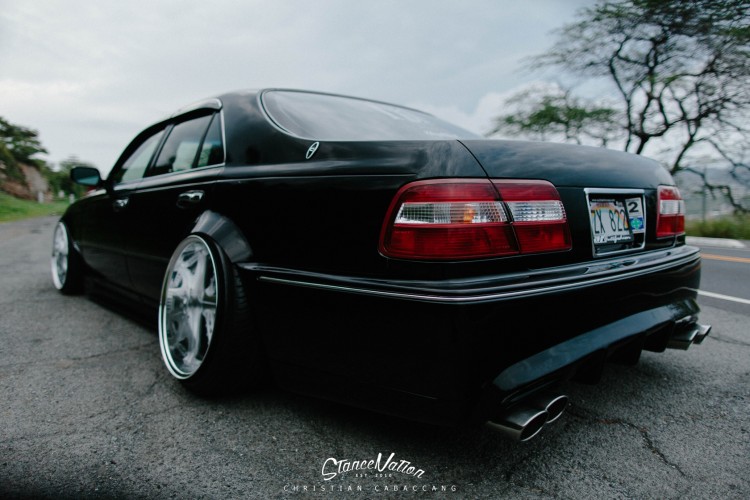 Finally, after many months of hard work and sleepless nights, James' Y33 is "done."  Thanks to a few friends, and a tight-knit crew, James was able to turn the ideas he had in his head into reality.  We're certainly happy to be sharing it with you all here on S:N, and hope it serves as some consolation for all of James' hard work.  Of course, no project is ever really done, and our man has some more tricks up his sleeve to take his car to the next level.  I'd expect to see some custom lighting with LEDs, and a full interior makeover, so stay tuned.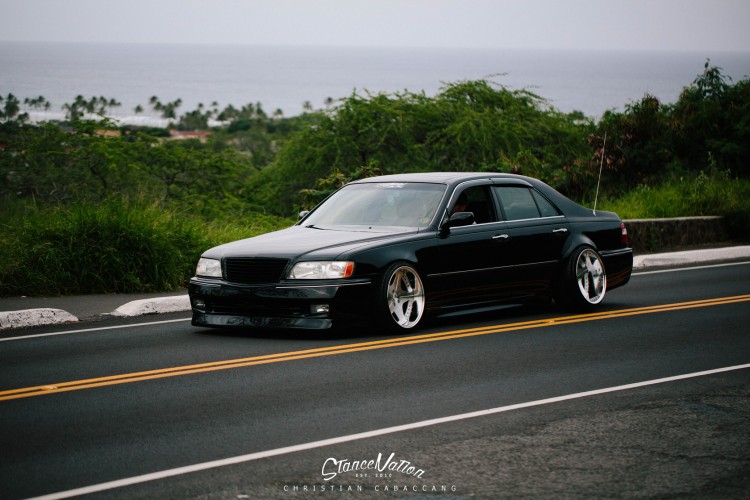 James' car is a great example of how someone with the right attitude, motivation, and determination can turn out a quality build while doing the work himself.  Even the budget builds can throw down with the big-dollar shop builds, but don't let it fool you that either are easy to do.  Whether you have the skills and determination to do it yourself, or the money and resources to pay a shop, as long as you have a good head, and a true passion for cars, you'll wind up with something you love in your garage.  Till next time.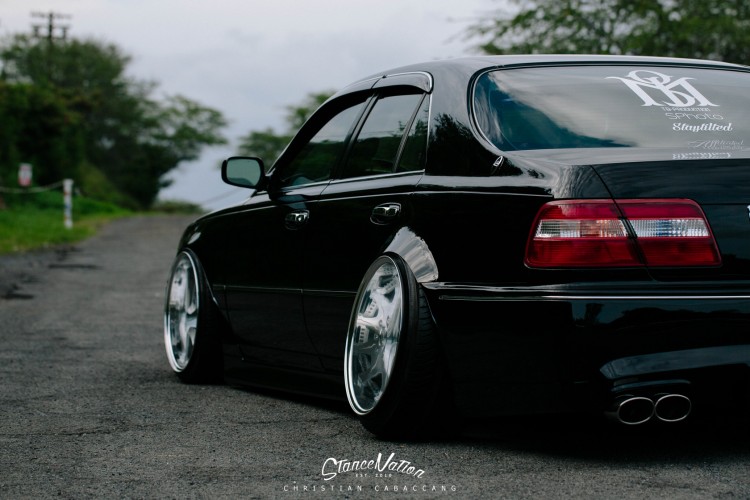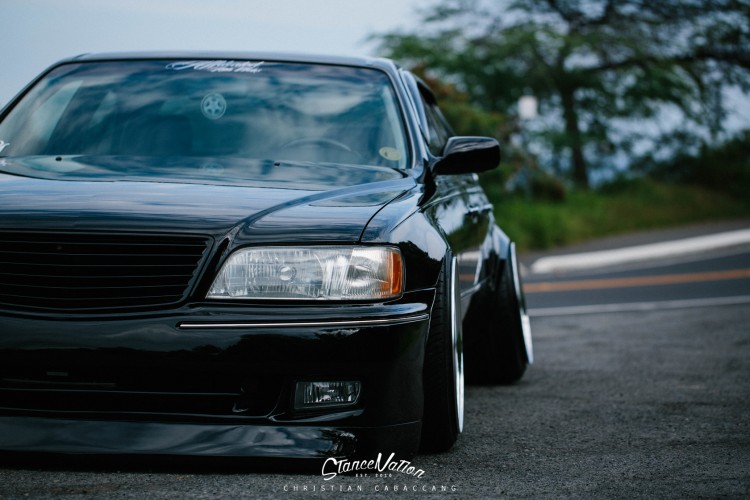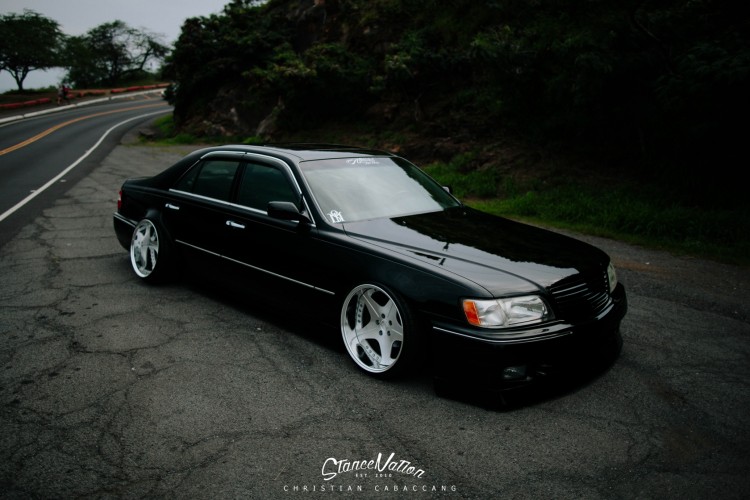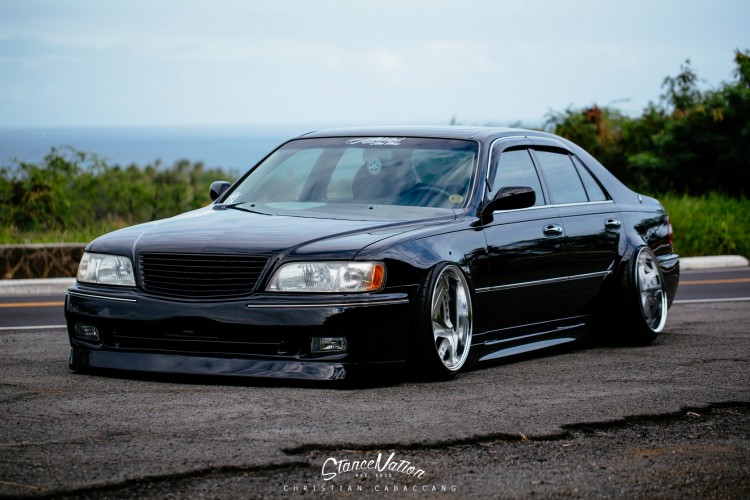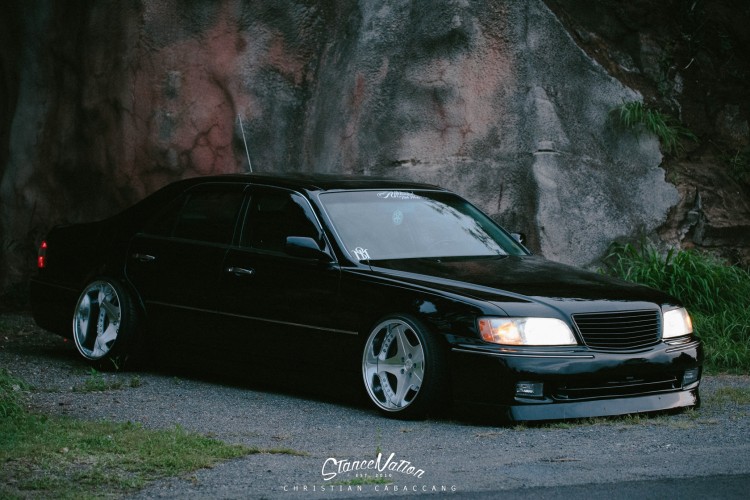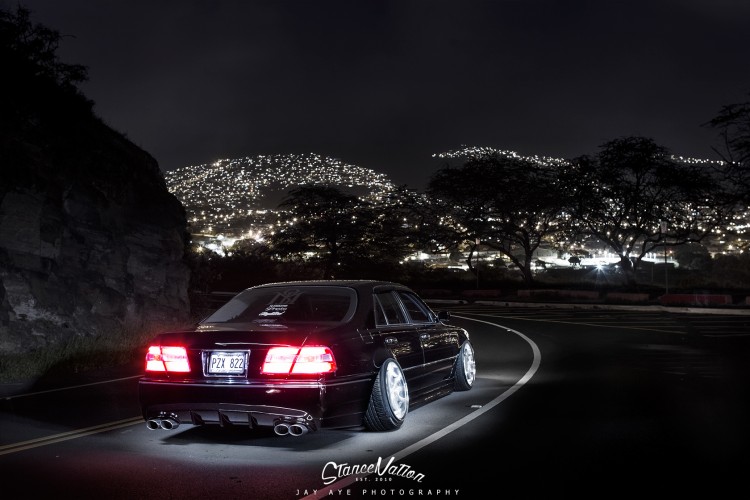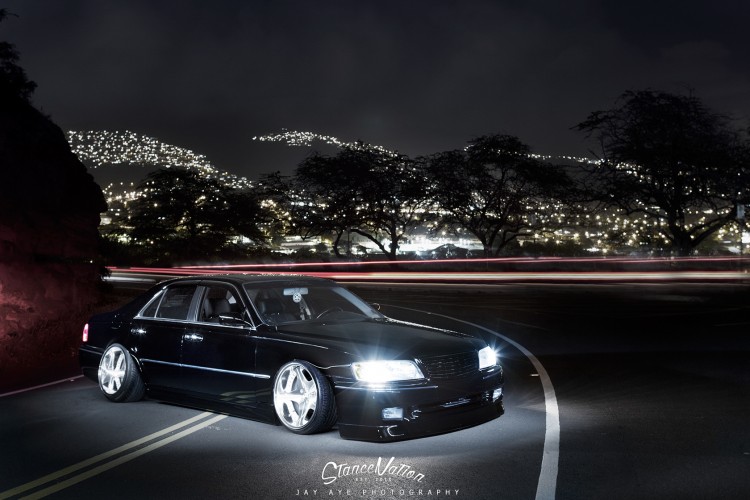 Wheels/Tires/Suspension:
19×10 -30 225/35/19 kumho ecsta spt
19×12 -69 255/35/19 kumho ecsta spt
Suspension:
S13 Megan front tension rods
S14 Megan RUCA
S14 Megan rear lower control arms
S14 wicked tuning traction rods
S14 Megan lower toe arms
BC racing coilovers with spindle option
UAS aero sport airbags
Manual paddle switches
5 gallon air tank
1 444 viair compressor
2 Dual needle Manual gauges
1/4 "air lines
Paint and finish bodywork by Thomas Samora of Affiliated auto works
Suspension install help from Keith Uyehara
Interior:
Kenwood in-dash touchscreen head unit
Headrest monitors
Exterior:
Custom modified Version select front bumper
Custom version select rear bumper widened and extended lower and molded AMG rear diffuser
Version select side skirts
GS300 fog lights
5000k hid headlights and fog lights
Custom routed exhaust from single side to dual setup
Top speed AMG style dual quad exhaust tips
1 1/4″ pulled front fenders
4″ Custom full metal rear fenders