Every few days I try to catch up with my good friend JC from Osaka, Japan. We talk about life, we talk about Japan & US, and we talk a lot about wheels. Maybe it's because JC just happens to be the official Work Wheels photographer, or perhaps there is more to it. I guess what I really wanted to say was that JC just sent me these photos which I felt the need to share with you. There is just something about these wide Rauh-Welt Porsches that gets me every single time and I have a feeling that I am not alone.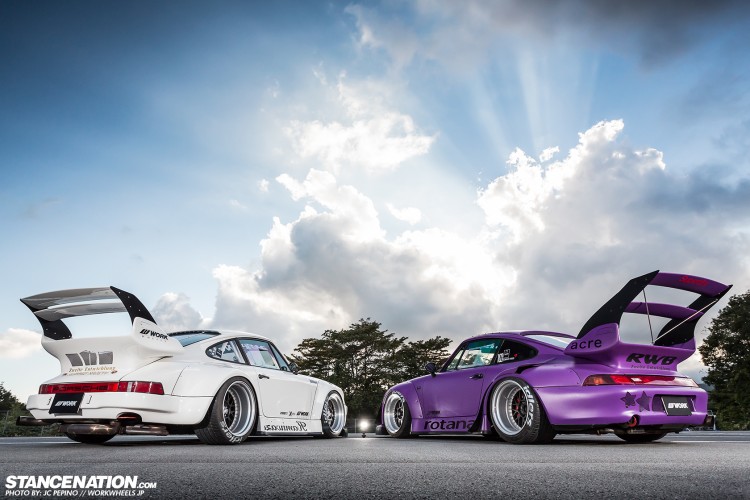 Let's start with the Kamiwaza 930 and its massive wheels. While not as aggressive as the 993, the 930 is still pushing some serious wheel. The front sits on an 18×10 with an offset of -2, while the rear is a crazy 18×12 with an offset of -65! Both of these cars are sitting on the new Work Meiser M1 3 piece wheels by the way.
How about Nakai's very own Porsche 993 (Rotana) with that crazy wheel fitment? Pretty amazing if you ask me. What's even more amazing is the wheel specs on this beast. Up front it features a massive 18×12 +2 Work M1 3 piece wheels while in the rear an even crazier 18×14 -49 sits just millimeters away from the RWB fenders.
Enjoy a couple more photos and big thanks to JC for delivering the goods!