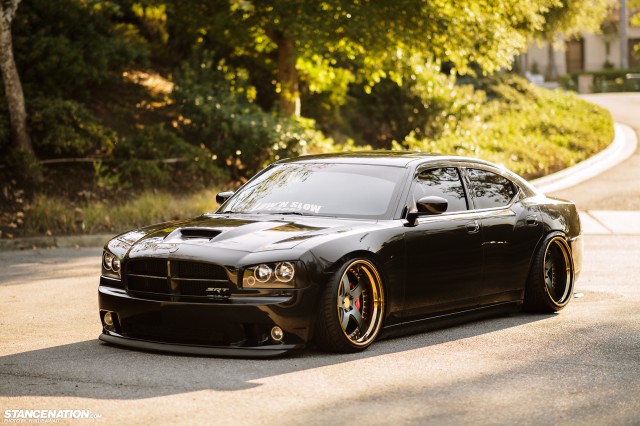 We don't always feature Dodge Chargers, but when we, do they look something like Alek's beast does. For those who have known me for more than a year, you probably know that I myself had a Charger as well. While my writing skills aren't up to par with rest of our writers, I felt that it was only right for me to write this one up. This is the only Charger out there that truly makes miss my old car. It is built on same principles as my Charger was (simple & clean, yet aggressive), but that's where the similarities end. As it sits, this is one of sexiest Chargers out there in my opinion and I am very excited to have the opportunity to share it with our fans around the world.
Photos by: Phillip Awad exclusively for Stancenation.com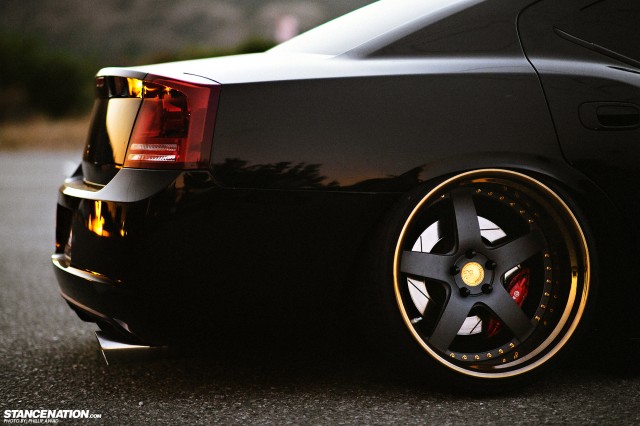 For Alek, it all started just a couple of years ago when he really fell in love with Charger SRT8's. Besides the raw power (425HP) and the cars background, not many cars come off the assembly line looking this damn aggressive.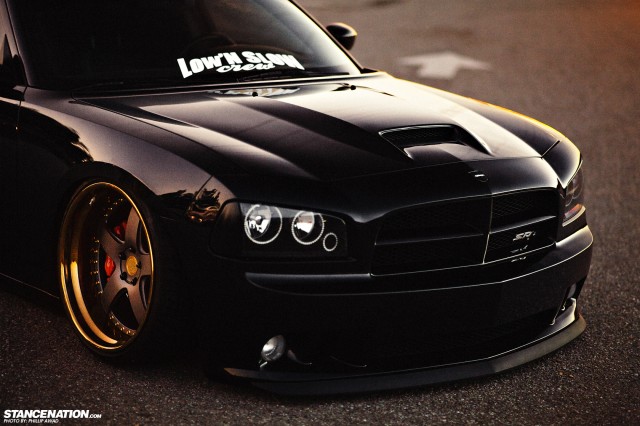 For those that are not too familiar with the LX platform (300C, Charger, Magnum), there are only a few cars that have decided to go this route and have actually executed it right. Don't get me wrong, bagged Chargers are pretty common nowadays, but not too many sit the way Alek's car sits. Main reason for lack of cars such as this is because the word "stance" doesn't really get brought up in the LX community. It's all about power and functionality for the most part.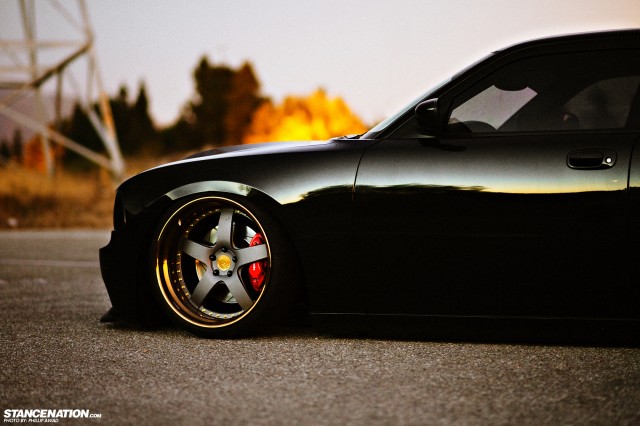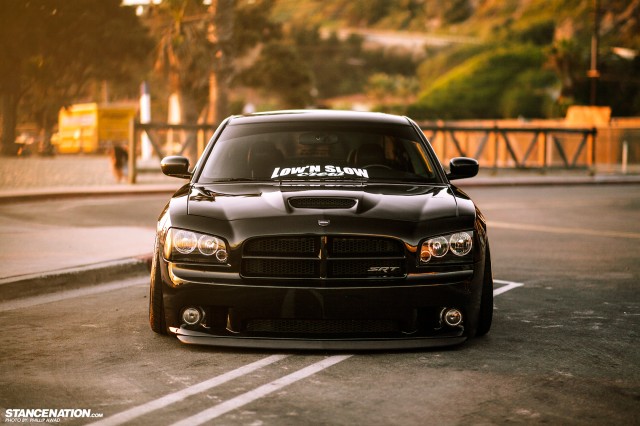 To achieve the fitment you see in front of you, Alek had to stick to air suspension (Universal Air) with BC coils, as well as a custom set of rear arms from Jay's Hot Rods. Air management is taken care via Accuair (my personal choice also). When asked if he had run into any issues during the build of this beast, here is what he had to say: "Biggest issue I had was when my axle boots were rubbing on my shock in the rear. To get the camber I needed I went the cheap route and bought camber bushings , which caused the toe to move and that moved the axle closer to the shock. Instead I spent the money on camber arms which not only fixed that issue but gave me way more adjust-ability.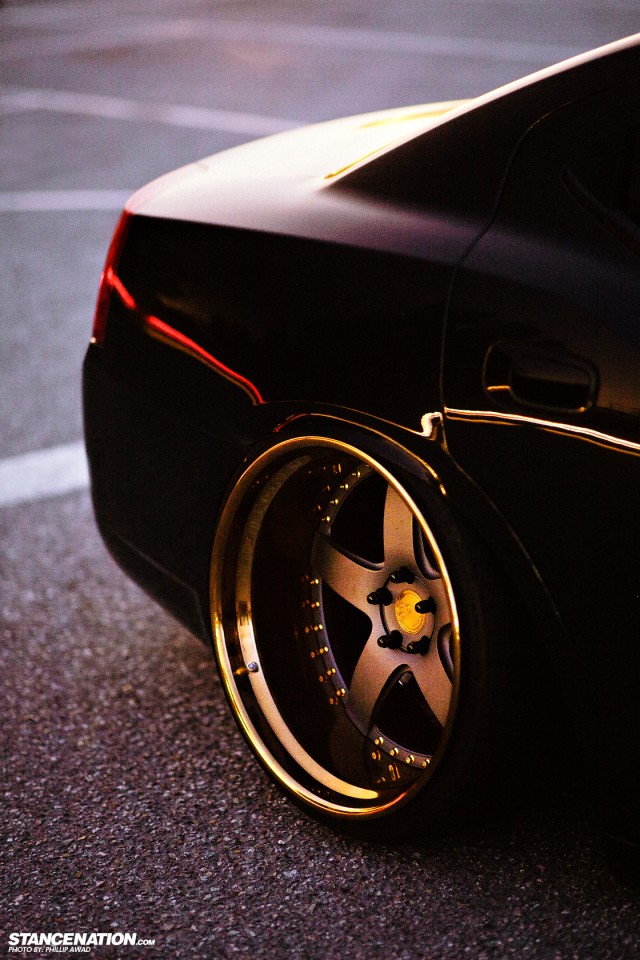 When it came time to mount some proper wheels he went straight to Avant Garde. In a matter of weeks they had built a set of their F130 wheels with mirror bronze barrels and what they call "technica titanium" centers. You want to talk aggressive fitment? How does 21×10.5 -13 up front and 21×12.5 -23 in the rear sound? The wheels were wrapped in 255/30/21 & 295/25/21 Falken tires. The results are nothing short of breath-taking.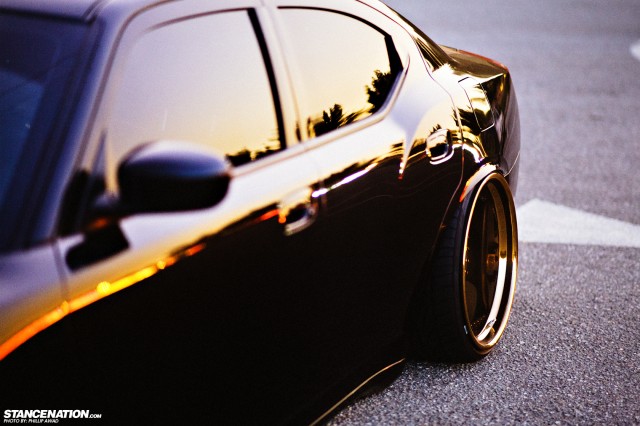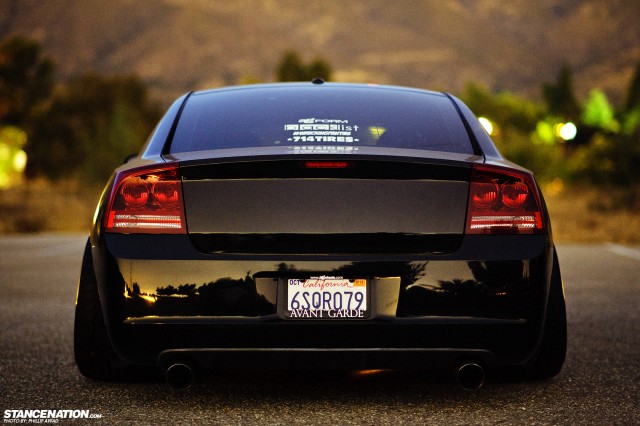 The exterior features a few simple changes as well. First, the OEM SRT trunk spoiler was removed, then the Charger Daytona front lip was added to the front bumper, and a set of custom Flashtech RGB halos were installed.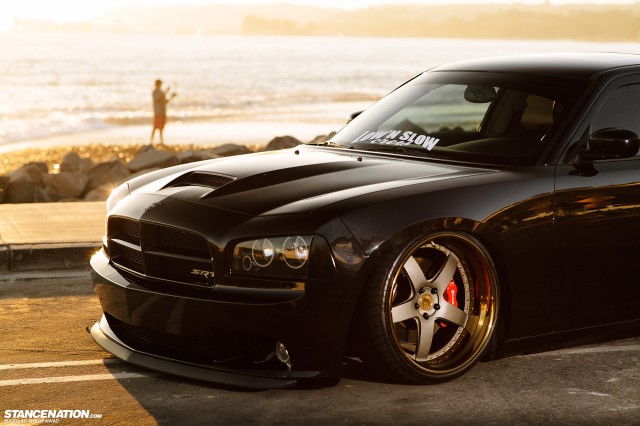 Inside the cabin, you'll find all new Billettechnology knobs, a very cool t-shifter and a custom SRT shifter plate. Other small stuff includes full red led swap on every interior light (switch made by diboblo on lxforums) & red led lighted pointer kit (made by lxforum member trs300).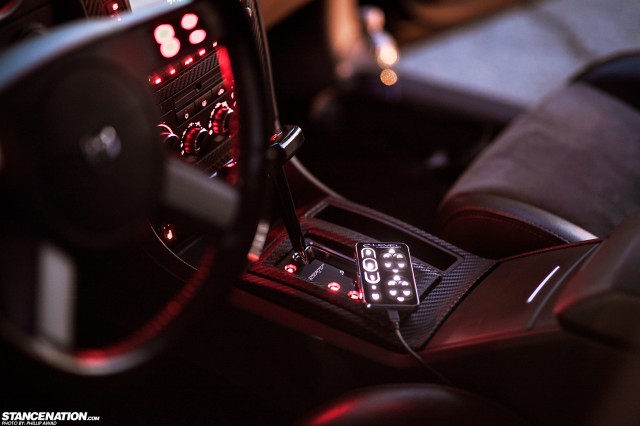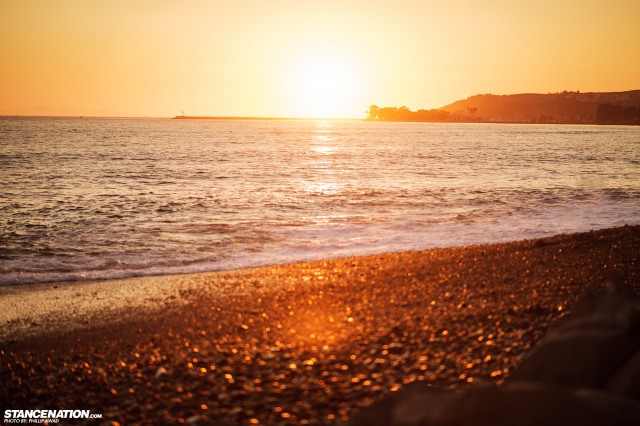 So what else is in store for Alek you ask? A lot actually. He wants to amp up the interior and make it more "his", as well as have a show-able trunk showing off his air setup, repaint his BREMBO calipers, work on his engine bay to be more show-able, as well as add more power to the beast. When asked specifically how, he of course wanted to keep it on the down low!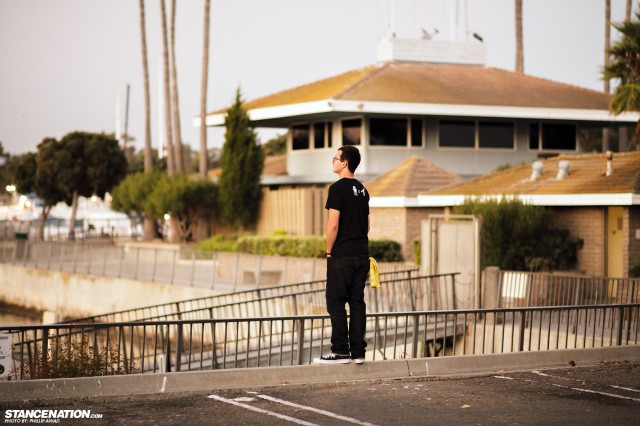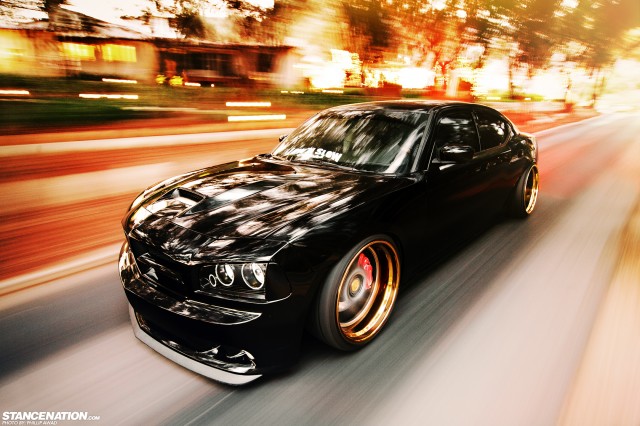 [toggle_box]
[toggle_item title="Wheels/Tires/Suspension" active="true"]Avant Garde F130
Mirror Bronze Barrel & Technica Titanium Center
21×10.5 -13 & 21×12.5 – 23
Falken 452 255/30/21 & 295/25/21
UAS Bags with BC Coilovers
Accuair Air Management
Jay's Hot Rods Rear Arms[/toggle_item]
[toggle_item title="Exterior" active="false"]
Fender Roll and flare by Eric in Long beach
SRT spoiler delete
Charger Daytona front lip
Flashtech RGB Halos
[/toggle_item]
[toggle_item title="Interior" active="false"]
Billettechnology ac knobs
radio knobs
t-shifter
shifterplate
full red led swap in every interior switch made by diboblo on lxforums
red led lighted pointer kit made by lx forum member trs300
[/toggle_item]
[/toggle_box]