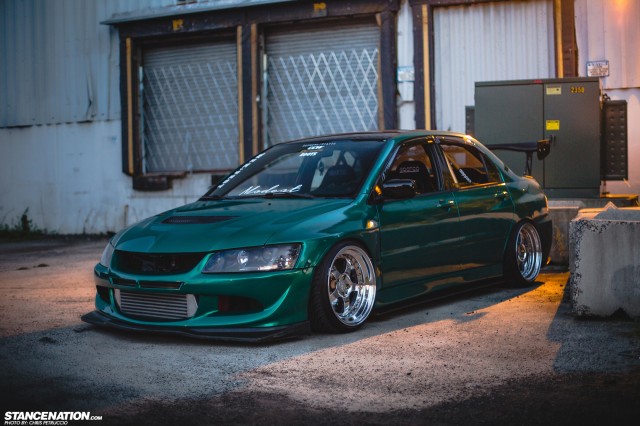 Cheesin'. UrbanDictionary.com defines it as "Smiling artificially and excessively largely, as if a picture is being taken of you." I find this to be the only way to describe how the owner, Nick Kraft, feels when the people anywhere see his car. With a high level of "neck breakery" anywhere this all wheel drive beast goes, amazement is sure to follow. Try and keep up cause this is Nick Kraft's beastly Evo 8.
Photos & Video By: Chris Petruccio exclusively for StanceNation.com
Surprisingly, Nick did not want an Evo in the beginning. Originally, he was in the market for Ap1 S2000's but he immediately changed his mind when he took a spin in an Evo. After that, he never looked back. I guess there is just something about its raw power and potential that infatuated him.  Seeing how he has modded this car and how it looks now, he's managed to infatuated me.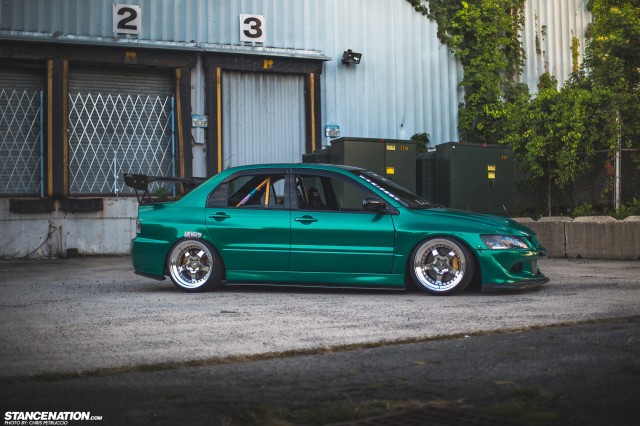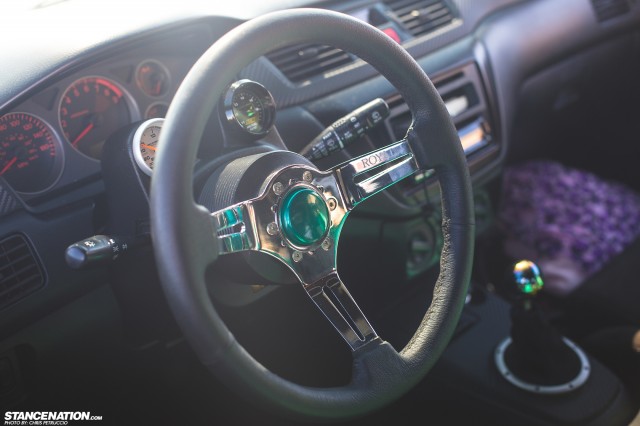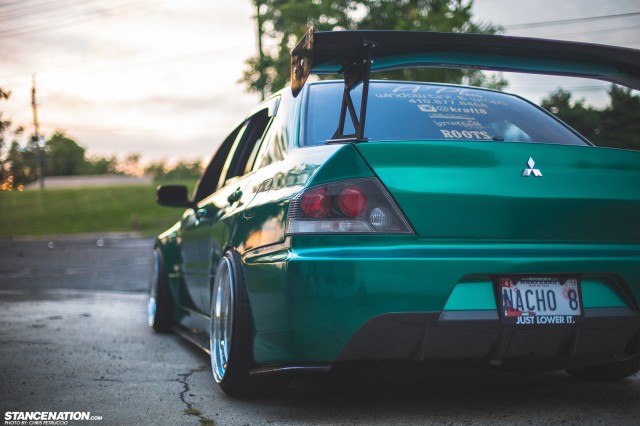 Believe it or not, Nick has had no major problems with this car, again, something many builds are plagued with. From engine problems to suspension components failing, this car shares none of this characteristics with others. Its mechanically sound and daily driven. What an unlikely combo. Its kind of like hearing rally car and stance in the same sentence. However, I'm not going to complain, because me likely.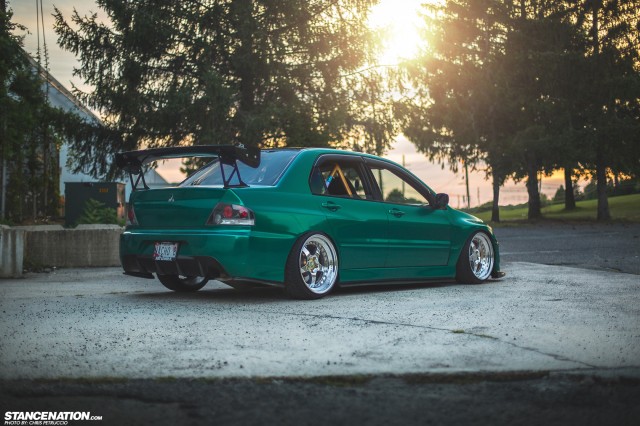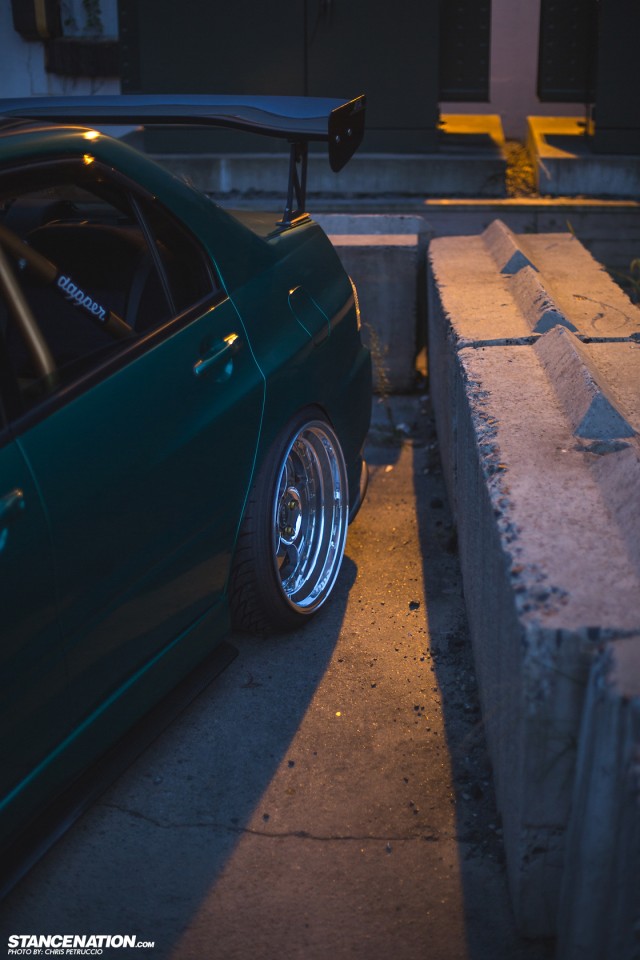 Now, before the purists begin to write up their opinions about how this car has been "ruined", have no fear. Nick tells us that one of the things that he so loves about this car is its ability to be boosted and not run into any rubbing or bottoming out while he takes out this green monster for daily driving. I mean really, how many of us with stanced cars can say the same? Jealous much?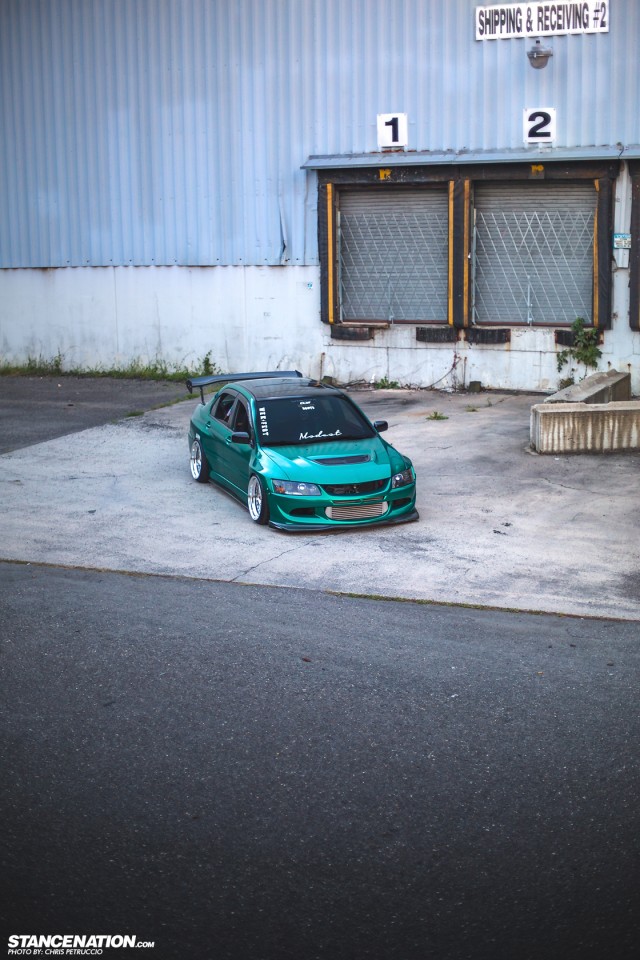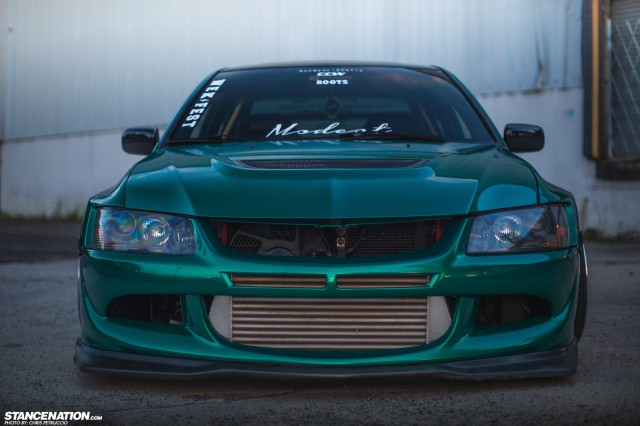 Exterior-wise, Nick's Evo is on point. He started off with a JDM rear bumper, Rexpeed CF side skirts, rear bumper extensions, and 30mm wide front fenders give it a mix of aggressiveness and a wider front end which has been chopped. In addition,  A-Plus Tinting and Vinyl of the DMV area wrapped his car in a Gloss Emerald Green Metallic. Finally, an APR GT wing sits royally on top of trunk which has the trunk key hole deleted giving the rear a much cleaner look. Who needs keys when we have remotes?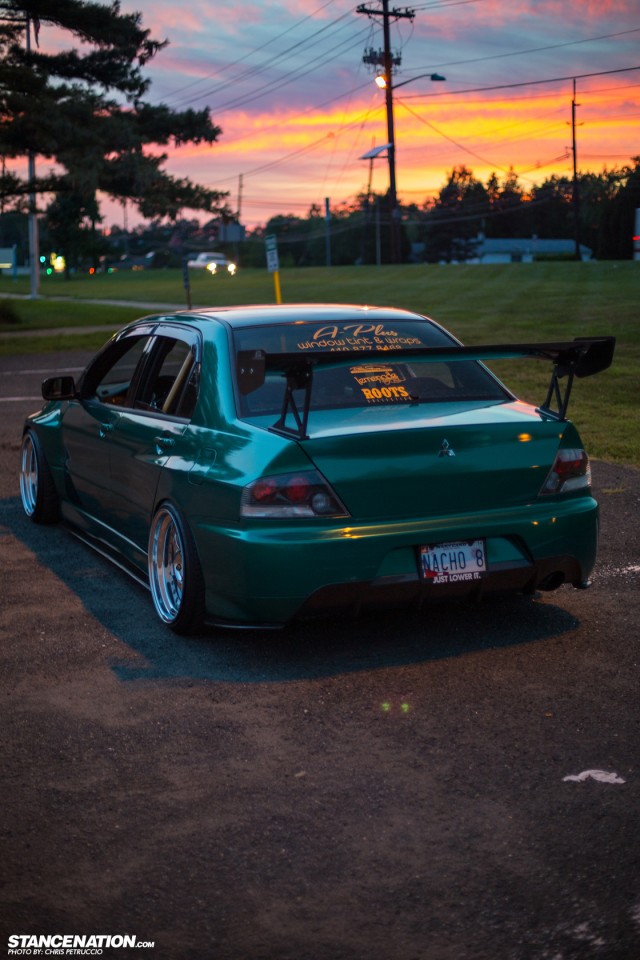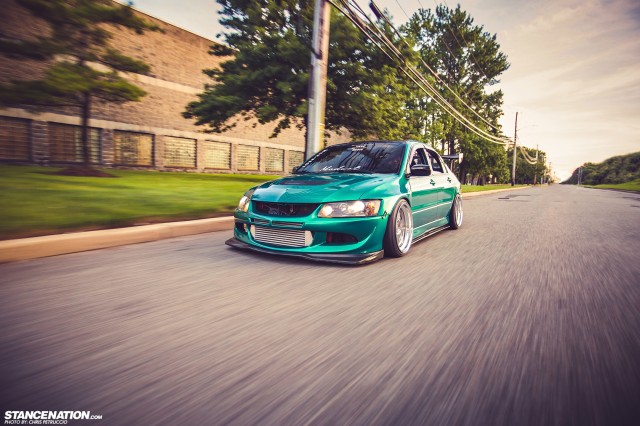 As I said earlier, this car is a daily driver, however, even at first look, its not your mom's Camry. Coming in at a nice 414whp and 347tq when it was tuned at Mellon of Virginia Beach, it makes for a very fun daily. He says it isn't anything crazy and he's happy with it now. Nick's got it all, car-wise, a boosted, free from rubbing and bottoming out daily? What else could you ask for? I for one, can say I've been bit by the green monster called jealousy.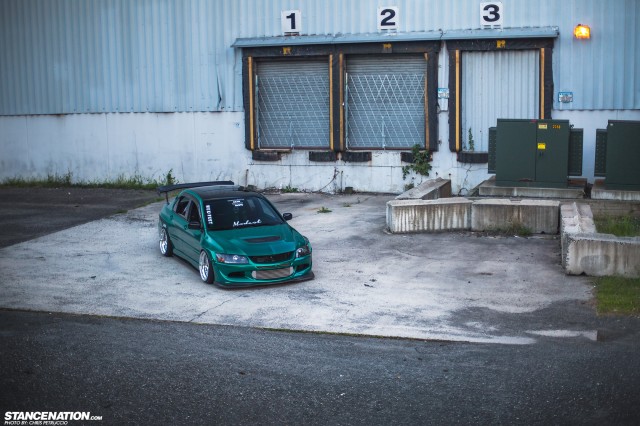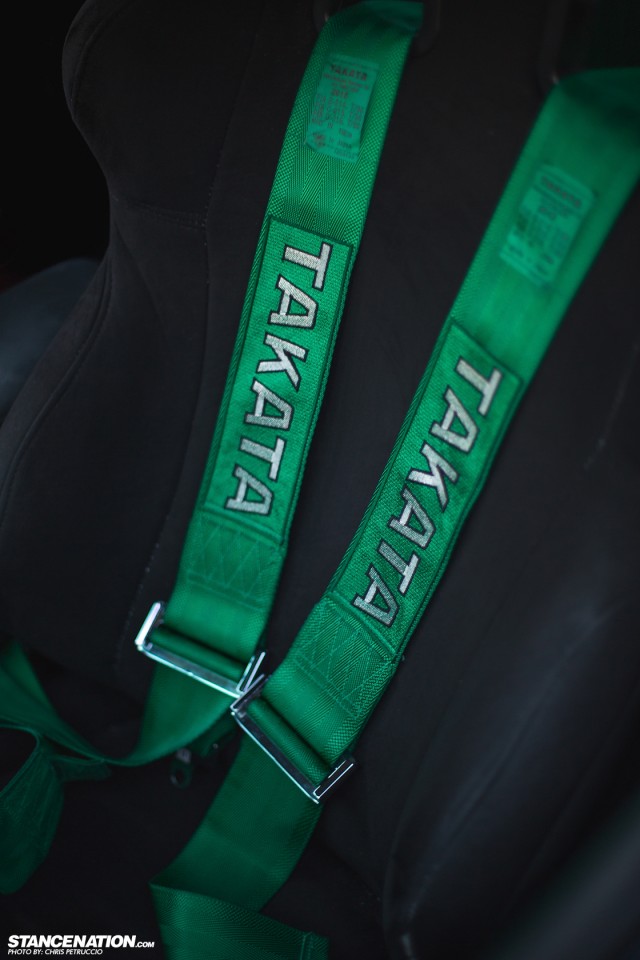 This Takata Racing Harness was the perfect choice, in my opinion, for the car. It pairs really well with the color scheme and small accents like these certainly bring out the individuality in the person modding it. Small things like this make all the difference in the world.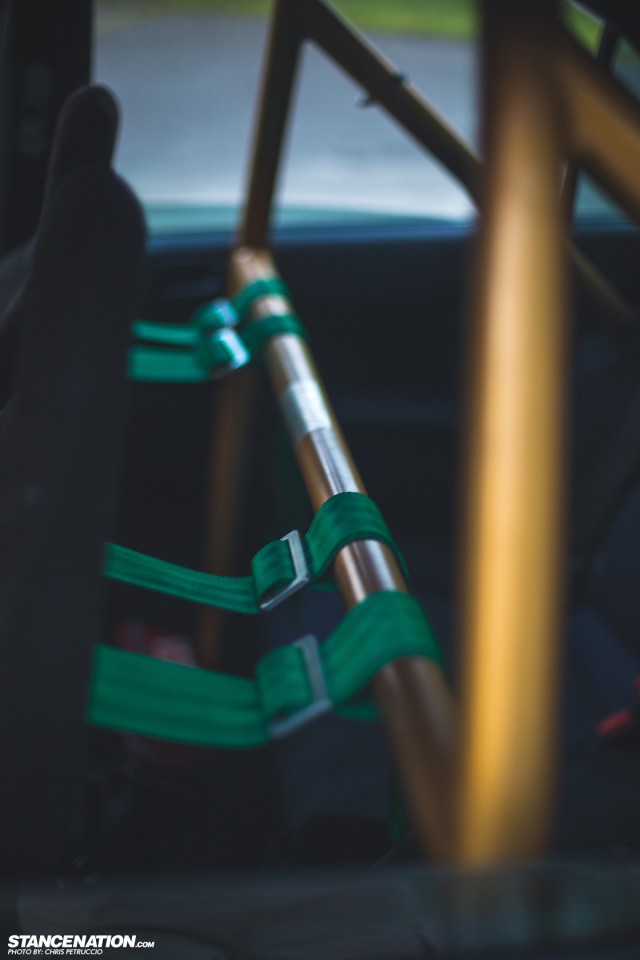 This 4pt. auto power bolt on roll cage was installed by Nick's good friend Alex Edwards who also custom cut the rear seats to allow the roll cage to be housed. (PS: Look out for Alex's bagged E90 M3 soon!) In combination with the Takata Racing harness, they both give Nick the extra safety if things were to ever get hairy. Rather than an optional mod, I find it a necessity. Click it or ticket right?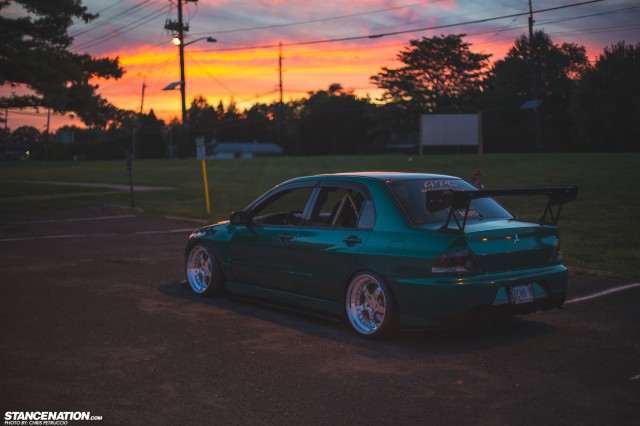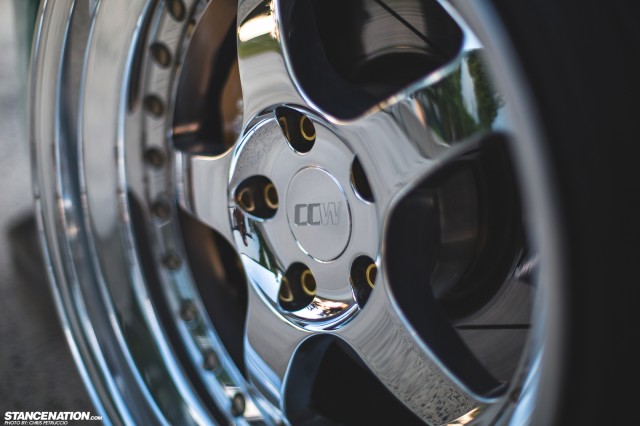 One of my very own favorite aspects of car modding is rims. Nick's beastly Evo 8 sits really pretty on 225/35 Federal tires that are stretched onto CCW K57's that measure in at 18×10 -5 and +10, respectively.  That's exactly what I like to see, low/negative offsets on stance builds. The rears fenders have been rolled and pulled to accommodate the wheels.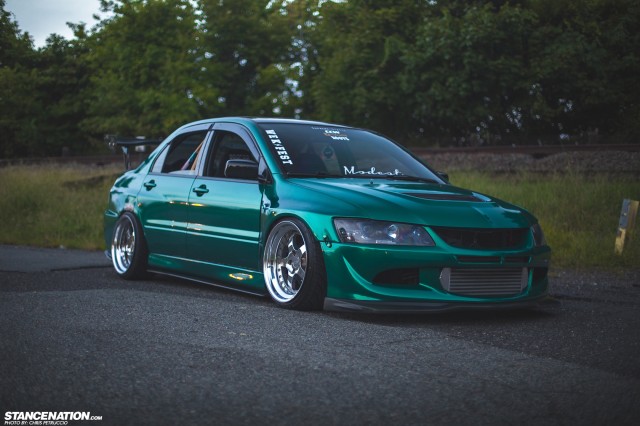 Nick tells us the next thing in line for this car is a potential color change along with a possible slightly different route. I'm not quite sure what he intends on doing but I am definitely waiting to see what he pumps out after this. Higher HP? Different wheel set up? Either way, I cant wait to see the next form this car will take. Nick Kraft, you definitely got me cheesin' as I write this.
[toggle_box]
[toggle_item title="Wheels/Tires/Suspension" active="true"]Bc racing adjustable coilovers
Agency power rear lower control arms
18×10 CCW K57
Front offset -5 with a 8mm spacer
Rear offset +10
Fully polished 4inch lips and polished face
Gold hardware
Federal 595 225/35[/toggle_item]
[toggle_item title="Exterior" active="false"]Vinyl wrapped Gloss Emerald Green Metallic
Nose chop Evo 8 front bumper
Jdm rear bumper
Rexpeed carbon fiber side skirts and rear bumper extensions
30mm wide front fenders
APR gt300 adjustable spoiler
Oem window rain guards
Rear fenders rolled and pulled[/toggle_item]
[toggle_item title="Interior" active="false"]Sparco seats
4pt camlock takatas
4pt auto power bolt in cage
Grip royal steering wheels
Nrg neochrome weighted shift knob
2 10″ alpine type r subwoofers
Alpine type r door speakers
JVC headunit[/toggle_item]
[toggle_item title="Engine" active="false"]FP Red turbo (64mm)
MAPerformance o2 dump
FP Oil line
4″ FMIC Buschur UICP and LICP 3″ downpipe
Custom 3″ exhaust with magnaflow muffler
PTE 880cc injectors
FP4r cams
HKS RS intake
Turbosmart BOV
Mishimoto radiator
Shep built transfer case[/toggle_item]
[/toggle_box]