2013 has proven to be the year of the BRZ/FRS. There are tons of builds popping up left and right, all over the US.  Before your eyes you have Greg Lilly's take on the BRZ chassis.  Greg has been in the car game for a number of years, over 20 to be exact.  He has been able to see the scene evolve into what we have today.  Greg decided to build the BRZ and get his feet wet in the fitment game.  It's quite refreshing to see a person whose previous builds leaned on the side of function and performance actually "stance" a car and do it so damn well.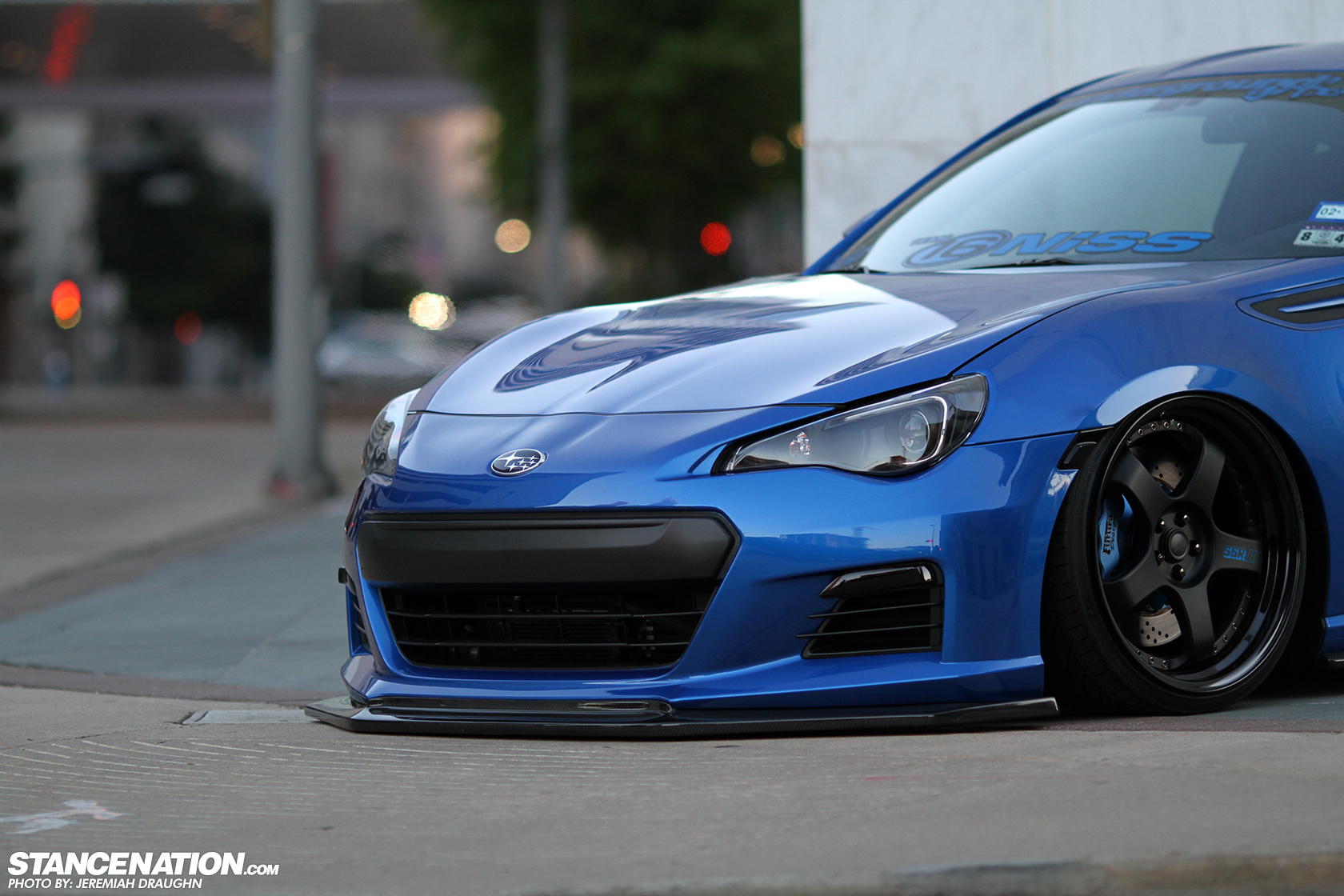 If you haven't been able to tell by now, I'm a sucker for a clean car and Greg's BRZ is nothing less than that. Being one of the few BRZ owners that chose not to fit their car with a Rocket Bunny kit, Greg is actually the one that stands out from the crowd. He has had this car built before he even owned it, picking out all the modifications he wanted, ordering them and waiting for the BRZ to arrive. That's a sign of experience and passion right there if you ask me. Often times many of us don't take the time to map out our builds. It saves so much time in the long run if you actually think about it.
Greg decided to fit the BRZ with 19 inch matte black faced SP1's made by our friends over at SSR. The SP1 is such a classic wheel and works well on multiple chassis. Greg went with anodized black for the wheel lips, which gives a great contrast while remaining monochromic. For width sizing he went with 9 inches in the front and 10 inches in the rear. Nested behind the SSR's Greg has a Futura brake kit, providing the BRZ with stopping power that could not be achieved with the OEM braking system. For suspension, Greg chose Air Lift's bag system to help him eliminate all wheel gap.  For management he went with AccuAir and their newest iLevel system, which gives you the ability to control the ride height from your iPhone.  Greg never thought he would choose air ride as suspension for one of his cars and he even says that often times he still struggles with the idea. But hey, often times we have to step out of our comfort zone to create something great. Right?
For the BRZ's aero Greg has laced the car with goodies from APR. The carbon fiber package compliments the World Rally Blue very well. It definitely helps to break up the black and blue theme of the car. A company by the name of Lightwerks took cars of the headlights which feature custom painted housing and lens swap. To finish off the look, Greg smoked the tail lights and side marker lights. Oh let's not forget about that Vortech front mount peaking through the bumper! Seeing as how Greg does come from a more "functional" side of scene, he just had to sneak in some performance somewhere in this build.
The interior is actually loaded with quite a few things, yet it retains that clean/simple look. Greg did continue his colorway of black and blue in the interior, once again showing flow (which he has done throughout the entire build).  The OEM seating has been removed and replaced with the BRIDE Stradia II Reims in the blue and black color pattern and the already-lovely-interior was redone in black alcantara with blue stitching, including the steering wheel, armrest, and dashboard.  Often times people forget about the cohesiveness needed in a proper build. It's not so much about throwing together big name parts as it is making the parts work together.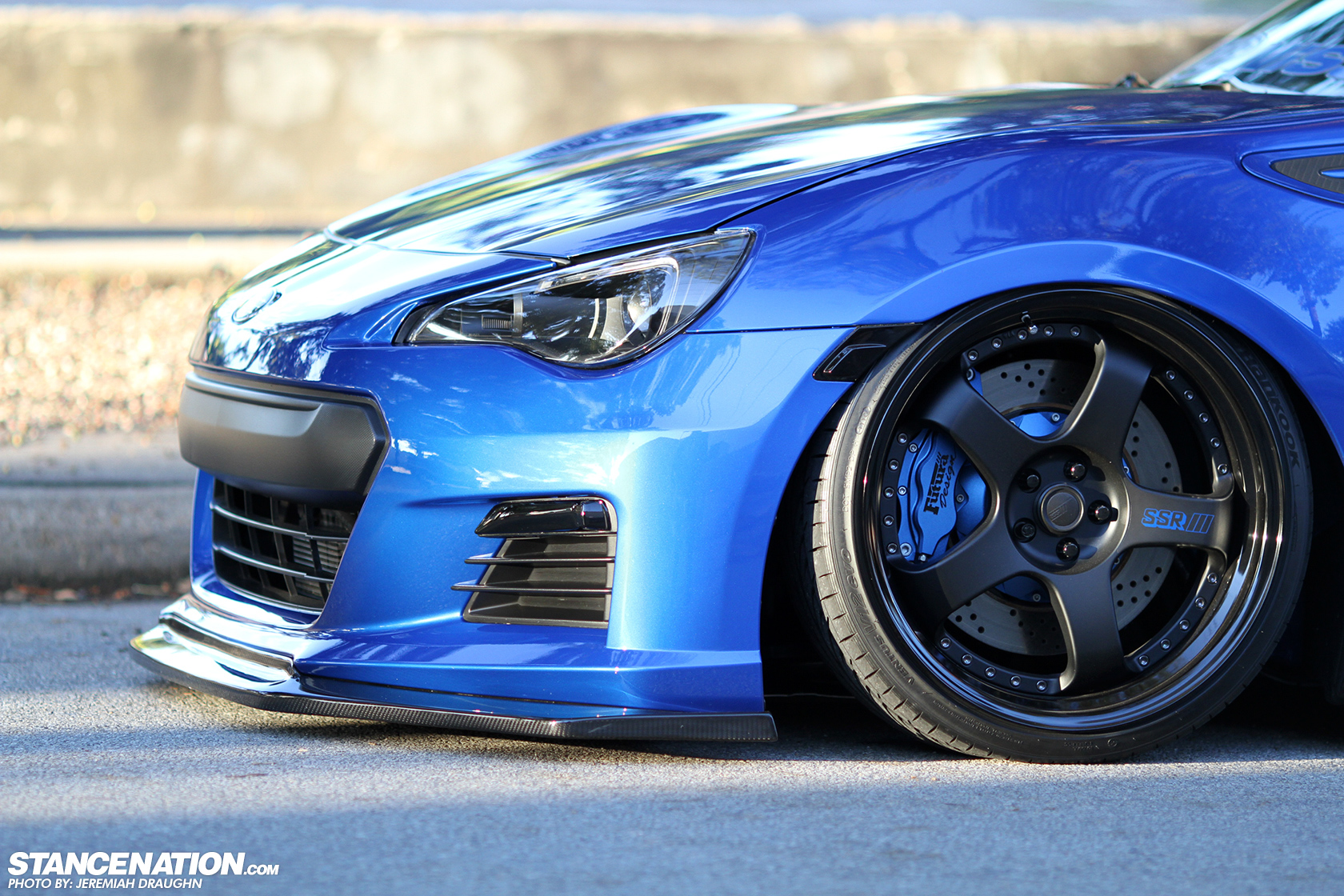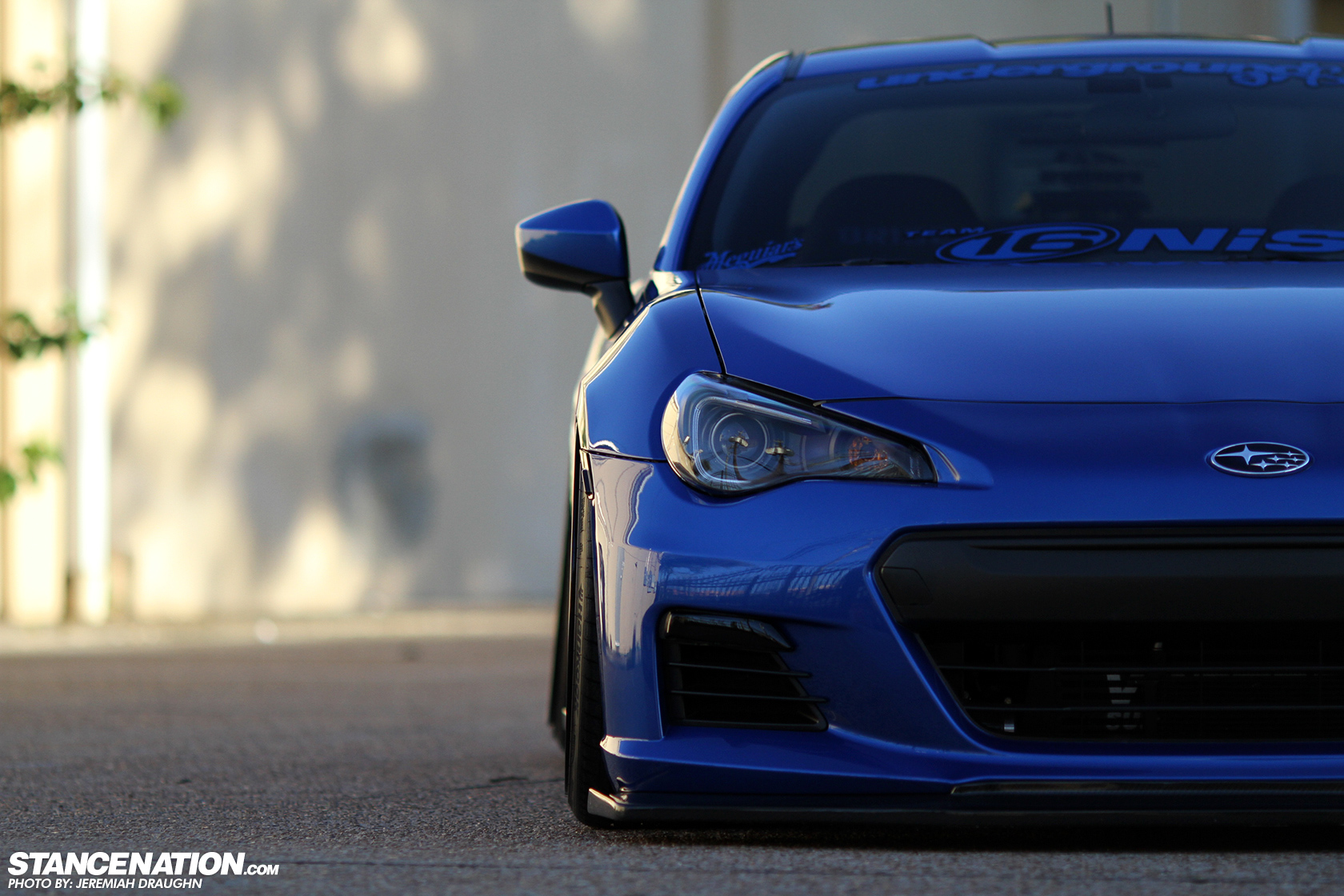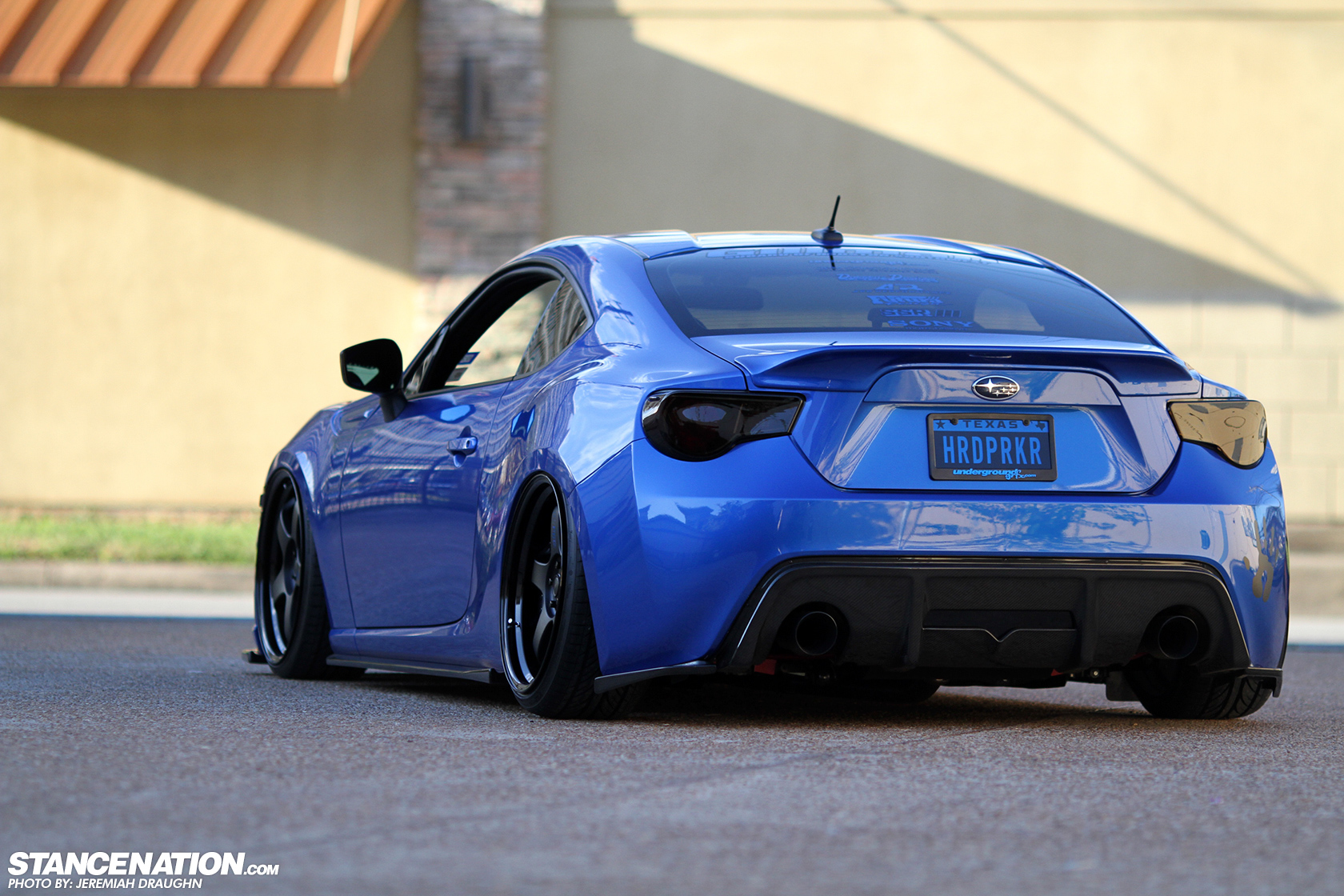 People often ask him why he chose to mod the car the way he did to which he simply replies: "If you don't like it, build your own!". Greg has plans to push way more power out of his Subaru while he patiently waits for the new STi to come out but for now we'll leave you with some more awesome photos provided by the ProperGarage.com guys! Next time you're in Texas look out for this hard parker.
Wheels/Tires/Suspension:
SSR SP1 in matte black w/ black anodized lip – 19×9 +37 NR (f) / 19×10 +37 SL (r)
H&R spacers w/ extended studs
Hankook EVO Ventus 225/35/19 (rear), 215/35/19 (front)
Air Lift Performance air bag suspension
ACCU Air management w/ i-Level
Custom dual 5 lb VIAIR tanks w/ hardlines
Hotchkis strut bar (painted WR Blue)
Perrin 22mm front sway bar
Perrin 16mm rear sway bar
Perrin rear endlinks
Perrin rear urethane bushings
Perrin front control arm brace
Perrin PSRS zero offset
Agency Power rear adjustable camber arms
Futura Design 356mm 2-piece rotors w/ blue top hat (front)
Futura Design 6 Piston calipers in blue w/ black logo (front)
Futura Design 330mm 2-piece rotors w/ blue top hat (rear)
Futura Design 4 Piston calipers in blue w/ black logo (rear)
Futura Design steel braided brake lines
Perrin Master Cylinder Support brace
Exterior:
APR carbon fiber BRZ Aero package (front lip, side skirts & rear bumper skirts)
APR Performance carbon fiber rear diffuser
Perrin shorty antenna
Version Select rear deck spoiler (TRD Style)
Lightwerks custom painted headlight housings
Lightwerks STiR lens swap
T1R blue wide mirrors
Smoked tail lights, corner lights & daytime running lights
JDM Clear sidemarkers
Interior:
Audison Bit 10 digital sound processor
Sony coaxials
Sony subwoofer
Sony amplifiers
Custom trunk enclosure
Bride Stradia II Reims seats (black w/ blue accents)
Bride seat rails
CROW harnesses
JP Coachworks alcantara upholstery (w/ blue stitching): steering wheel,  shifter boot, e-brake boot & handle, center armrest, speaker pods, knee pads, dash panel, gauge hood, lower door armrest, upper door panel, rear seats, rear seat armrest.
ARC titanium shift knob
Agency Power harness bar (painted WR Blue)
ProSport 60mm Premium EVO boost gauge
ATI 60mm vPod gauge mount
Engine/Performance:
Vortech Supercharger "Tuner Kit"
Vortech SC pulley (12-14 lbs, to be installed at a later date)
ECUtek ProECU cable and re-flash hardware
Perrin custom tune
Perrin Over Pipe
Perrin Front pipe
Perrin cat back exhaust (stealth black)
Perrin Oil Cooler
Crawford Air Oil Separator
Perrin tranny mount support brace
Perrin shifter bushing
Kartboy Short throw shifter
Braille 9lb. Lithium ION battery w/ custom mount
NRG fender washers
Current Sponsors / Special Thanks:
Gillman Subaru Southwest
Dorbritz Designs
Futura Design
JPM Coachworks
Tanabe USA
SSR Wheels
APR Performance
Sony
Excel Autobody
J Tran Studios
Mach V Motorsports